Happy New Year 2020!
Yay! A new year, and an exciting new start. I have lots of plans for 2020 which I can't wait to share with you!
My BIG painting project for the year: I'm calling it Twelve Months in an Essex Field. After driving miles in all directions painting the coast of Essex and Suffolk last year, I am doing the exact opposite this year!
I am going to focus on one field at Aldham, only about four miles from where I live. It is called Martins field and is 11.78 hectares of arable land, planted this year with oil seed rape.  Around it are hedges with many mature trees and wide field margins with lots of wild plants and flowers. It is on quite high ground, with far reaching views to Marks Tey and beyond, and it slopes down to the Roman River which forms its southern boundary. The little branch line from Marks Tey to Sudbury forms the northern boundary, and there are badgers' setts in the side of the railway cutting. I am very grateful to Sue D'Anna who introduced me to the farm owners, Adam and Catherine, and I am extremely grateful to them for reacting to my proposal with such enthusiasm, and for being so welcoming and generous.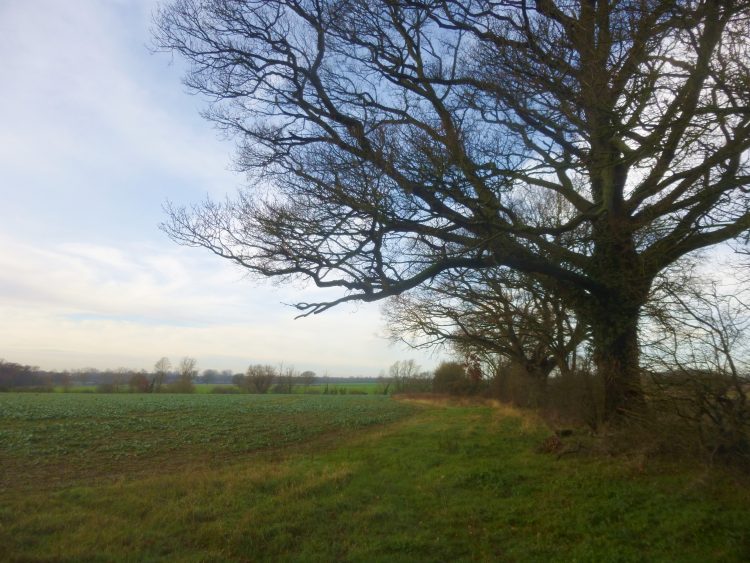 I aim to do one large painting a month, documenting the field changing through the seasons, plus small paintings or drawings focusing in on 'findings' of the month – leaves, seed heads, flowers, feathers, blossom, berries, whatever there happens to be.
Here I am, doing a recce of the field in the week before Christmas.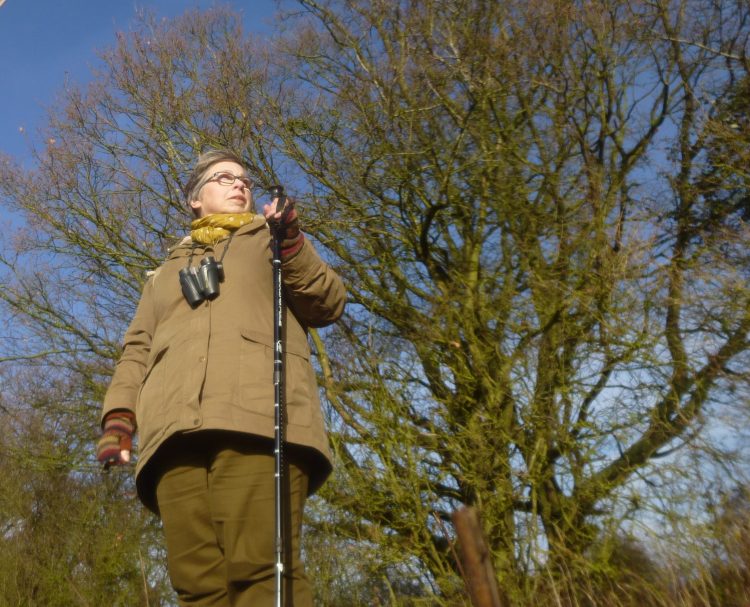 Towers in the Trees: my secondary project – quite simply, painting Essex churches in the distance across the fields . . .  I aim to start with Dedham and Great Bromley, and have had two suggestions from Instagram friends, of Ulting from the other side of the River Chelmer, and Boreham church from a footpath near the river. And just yesterday I was delighted to get a suggestion from one of my newsletter recipients of All Saints church at Brightlingsea. So if you have a view of an Essex Church which you think could make a good painting, do let me know!
Open Studios: Big change here! (Read my reasons in yesterday's post!) I shall be having two Open Studio events in the year which will not be linked to Colchester and Tendring Open Studios.  The first one will be on the 18th, 19th and 20th June – a Thursday, Friday and Saturday, open from 11.00am – 5.00pm each day. The second one will be 26th, 27th, and 28th November, again, a Thursday, Friday and Saturday, open from 10.00am – 4.00pm daily. Put the dates in your new diary!
Anglian Arts Project: In 2020 our exhibition will be held at the Essex Wildlife Trust's Naze Centre at Walton on the Naze. We are hiring their large education room for eight days, from 5th – 12th September, open from 10.30am-4.30pm each day. The big advantages for our visitors will be the EWT's lovely café just a few steps away, and the car park just outside. The room has glass doors in one wall, opening onto a seating area outside, and has room for more exhibitors than we had last year. We have already drawn up a list of exhibitors whom we would like to invite to show with us – a few of our 'regulars' but many new artists and makers too.
I'm looking forward to getting started and sharing with you here, through my newsletter, and on Instagram where you can follow me @sallypudneyartist.
I hope January gets off to a good start for you! 🙂
---