Landlines 9: Wittenham Clumps
Just finished today – this is of the Round Hill at Wittenham Clumps in Oxfordshire, climbed, walked round, drawn and photographed last year. It was on the Summer Solstice, and was the day I also climbed Ivinghoe Beacon and got to the end of The Ridgeway.
It was interesting how certain routes up this smooth grassy hill had become established, and the grass beaten down and kept short by the pressure of feet. I believe geographers call these 'paths of desire'. Various grassy plants had gone to seed in the longer growing areas, and made patches of grey-ish and lighter green colours. I also liked the way that from this angle it is only the treetops which are visible against the clouds – it makes it obvious how steep it is!
Paul Nash, early 20th Century artist, was fascinated by Wittenham Clumps all his life, and he drew and painted them repeatedly.  Two of his most famous paintings – and two of my favourites –  show them in the distance – Landscape of the Vernal Equinox  –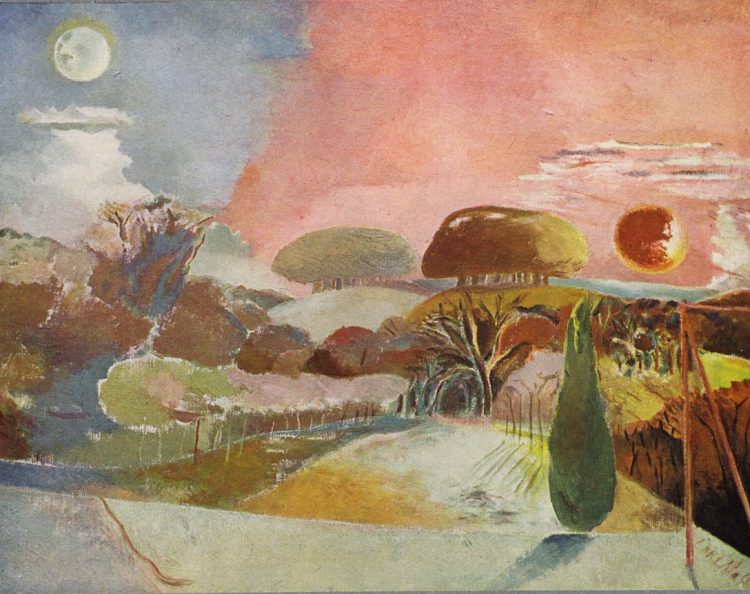 and  this one –
 Artspace, Woodbridge: In case you are in the Woodbridge area in the next few weeks, I just wanted to flag up an exhibition which you might find of interest. The 4PRINTmakers are showing at Artspace in Woodbridge from 16th to 22nd May. You may remember that I co-organised an exhibition there last Autumn – it is a lovely gallery space in a central area in The Thoroughfare. Amongst the group are two artist whom we had showing at the All Saints Arts Festival in Maldon, Anne Townshend and Miranda Chapman. Anne makes lino prints and Miranda makes etchings. Do go and have a look if you get the chance – I know it will be a good show – and there are lots of lovely places to have coffee and cake, or lunch, in Woodbridge, besides lovely walks by the river Deben.
Very cold and grey here today – I'm just waiting for the Spring to come back . . .  Hope you've enjoyed your weekend whatever the weather! 🙂
---