Leigh Art Trail
Yesterday afternoon I went down to Leigh on Sea for the Leigh Art Trail 2016. Two of our previous Lexden Arts Festival exhibitors were taking part.
Jonathan Trim has taken over Moylans Interiors at 138 Broadway, SS9 1AA, and filled it full of his lovely paintings, prints and cards. He had already made lots of sales and people were buzzing in and out all the while I was there.
Richard Baxter, who showed with us in 2015, was also taking part in his own pottery workshop and gallery, Old Leigh Studios at 61 High Street, Old Leigh, SS9 2EP. He was showing lots of exciting new work, some based on Anglo Saxon pottery, and he had some very interesting pieces that had a rich gold coloured glaze on the outside, which mysteriously came through the body of the clay during firing, and produce a lovely biscuit crackle glaze on the inside. He, also, had lots of customers looking, admiring and buying, and needless to say, I couldn't resist a little dish!
It was a beautiful hot sunny afternoon, and – for the first time ever in my visits to Leigh on Sea – the tide in the Thames was IN!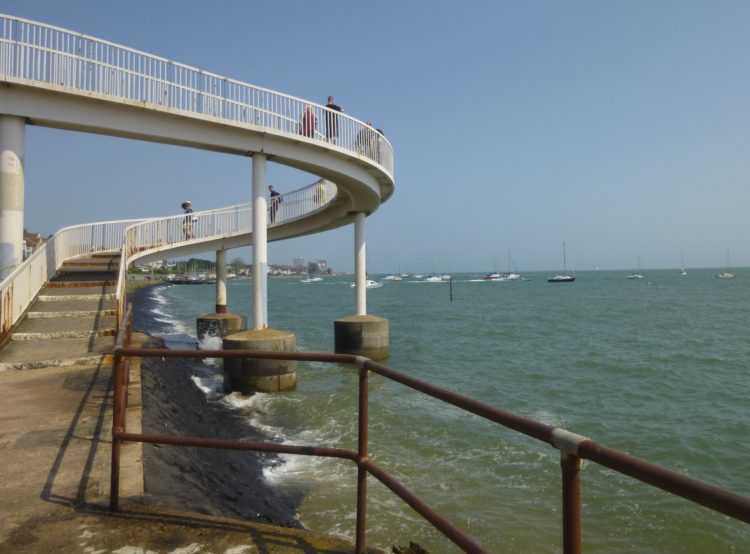 Lots of people were out enjoying the sun along the front, and I had a good walk from Jonathan's venue in the town, down to Richard's gallery on the sea front, and then along to the marina, where a number of other artists were exhibiting in a floating barge, converted into an art gallery!
The Trail goes on till next Saturday, 11th – check out their website www.leigharttrail.com for all the details. There are 31 artist's venues all over the town, as well as other events happening. I parked in a little central car park in North Street, and there are several more near the sea, as well as lots of street parking all over. Well worth a visit, and it only takes 40 minutes to drive down from Colchester.
---