Making a start on Essex Wood: April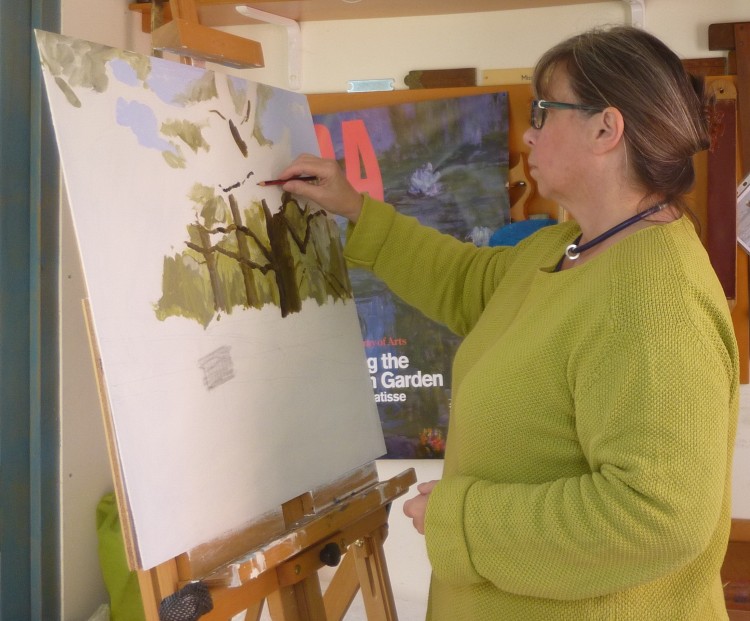 Making a start this afternoon on Essex Wood: April in the (possibly vain!) hope that I can get most of it done before we start setting up for the Lexden Arts Festival next Wednesday. I can't believe it is as near as next Wednesday.
But next Wednesday the first group of artists will start bringing their work, and the guys will start erecting the screens upon which the art is displayed, and I shall spend Wednesday afternoon, and all day Thursday hanging work, and arranging work, and then – we're off!
Not only do I think we have the best art exhibition we've ever had so far, but we have some great evening events, and more tickets are selling every day – it's really exciting! All the details are on the website www.lexdenartsfestival.org.uk so do check it out if you are anywhere near the Colchester area.
And if you come to the art exhibition do come and say hello! I shall be on the reception desk all the week, with a succession of helpful volunteers (although I fear some of them may feel like pressed men!) and I shall be wearing a name badge so you can't miss me! And just to tempt you further, we are doing lunches everyday from 12.30 – 2.30pm, in our café  – Len's Café – as well as tea, coffee and really lovely cakes and scones all day. 🙂
---