Monday morning painting
My new painting, which is a view across the bay from St Ives towards Godrevy Lighthouse, is a lovely one to be working on this grey, windy January day, as it is all turquoise sea, blue sky, and little boats – such a contrast! It takes me right  back to my wonderful Cornwall trip in September.
I sometimes think that the best stage of any painting is like this – a clean white canvas! – but this one, which I started on Saturday, is actually coming on rather well.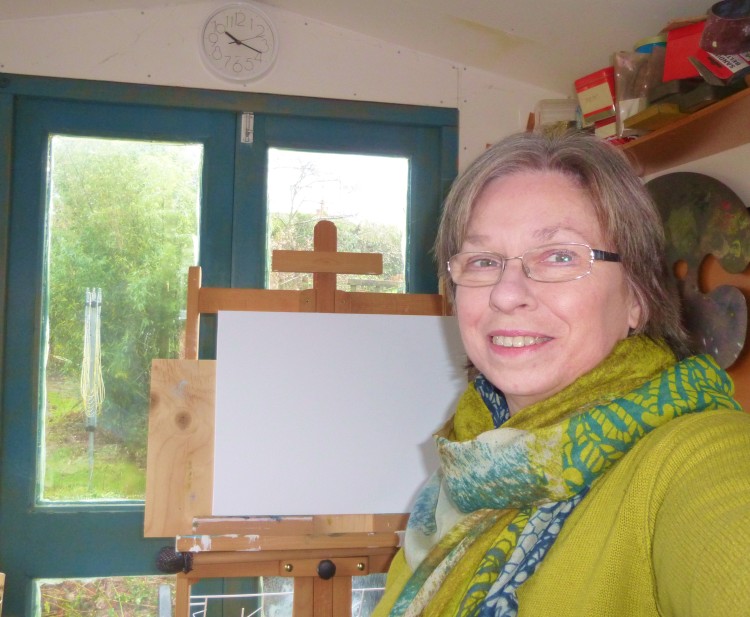 There is a new painting on the website today, the first in the 2015 Gallery, which is number 2 in my 'St Ives Dinghies' series. I was standing on Smeaton Pier, looking down onto the dinghies in the shallow water below. I think there will be about another three, or possibly four in the series.
Another new venture for the new year – as well as this blog and the limited edition canvas prints – will be some still life paintings. I've decided to try some small flower paintings – I used to love painting glass bottles, and jars, and haven't done it for several years now.
My idea is to do a little painting each month this year, very simply just a few flowers in a jam-jar, entitled 'From my January garden', 'From my February garden', 'From my' – well, you get the idea, I'm sure. I'm really looking forward to trying the first of these after I've finished the my current one.
Hope your week has got off to a good start. 🙂
---