More snow and a recipe
More snow today, through all the morning and early afternoon, although it seems to be melting now.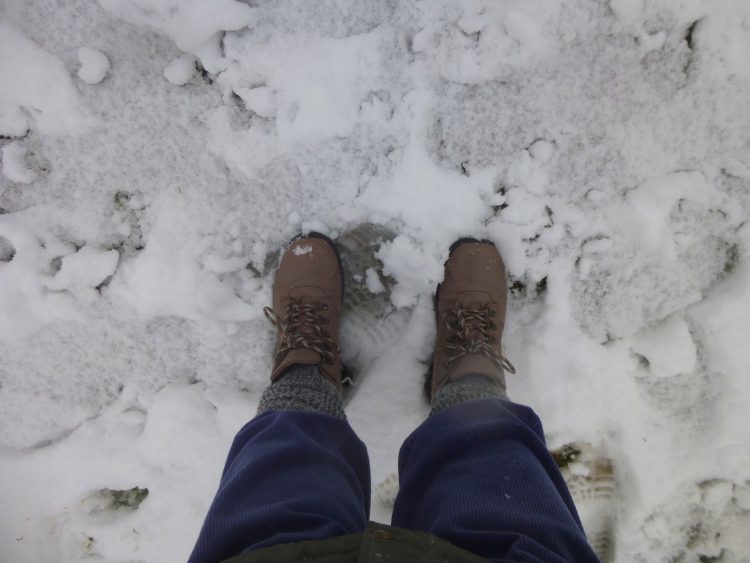 So – more Christmassy baking this afternoon – my mother's Ginger Biscuit recipe. Everyone loves them.
So I thought you might like the recipe to have a go yourself. It's very quick and easy.
In a large bowl mix 1lb Self Raising flour, a pinch of salt, 2 teaspoonsful of bicarbonate of soda, 6 oz brown sugar (muscovado is best) and 4 teaspoonsful of ground ginger.
Rub in 8 oz margarine.
Pour in about 8 oz golden syrup and mix round with a table knife.
Go in with your clean hands and squidge the mixture together until it is one big sticky heap.
Wash your hands again, and then roll balls of the mixture between your palms – about the size of a large walnut is about right. Do not add any extra flour, even if the mixture seems very sticky. Place the balls on a well greased baking tray, spaced about 3cm apart.
Bake at 200C for about 9 minutes. Watch them carefully as they burn quickly.
Remove from the oven and use a table knife to separate the edges of the biscuits if necessary, pushing them apart from each other, before cooling on a wire rack.
They keep very well in a tin for at least a fortnight, and although they are rather desperately high in calories they are a lovely occasional treat for Christmas. 🙂
---