New paintings, new pastels
The restrictions of lockdown have meant that I've had lots of time in my studio over the last few weeks!
My first painting of the year had nothing to do with any of my planned projects. It is just a little part of a footpath near my house that I wanted to paint, remembering how it looked when there were still some Autumn leaves on the trees. I pass this corner when I walk the muddy way – the best way! – to the post office, across a field and then along this bridle way called Grime's Dyke.  It is actually an pre-Roman ditch-and-bank earth work, one of three such earthworks arcing between the River Colne and the Roman River. There are remnants of all three within walking distance of my house.
My second painting this last month was Abberton Reservoir 1. I made my visit to the reservoir on a sunny but bitterly cold day at the very beginning of January, before lockdown started. There was no wind and the water was calm and reflective under a cloudless brilliant blue sky.
I thought A Year round Abberton Reservoir was a lockdown proof project. However, it is more than five miles drive from my home, and last time I went there were a lot of local dog-walkers and bird watchers – it was really quite busy. I have made the decision not to go back there until lockdown is lifted. It could not be categorised as an essential trip, and I really don't feel comfortable going somewhere where it is difficult to avoid people.
It is not a big problem, I shall just aim to paint twelve pictures in total, probably doing some extras in the summer to catch up, rather than keeping strictly to one painting each month through the year.
Soft Pastels: This is one of my art projects that I can definitely get on with! I ordered a beautiful box of Unison Soft Pastels from Jackson's Art Supplies, which had 36 colours specially selected to be appropriate for landscape work. I am using photographs that I've taken of local landscapes in the past to start me off. To begin with I am using Clairefontaine pastel mat to work on, but I have also bought some UArt 400 sanded pastel paper which I will also try. That's for those of you who like the technical side. The pastels are beautifully soft and smooth to use, and the colour selection is lovely, although I am already wishing for colours I haven't got, and can see that another order to Jackson's Art will be going in quite soon . . .
I have had four attempts so far. This was number three –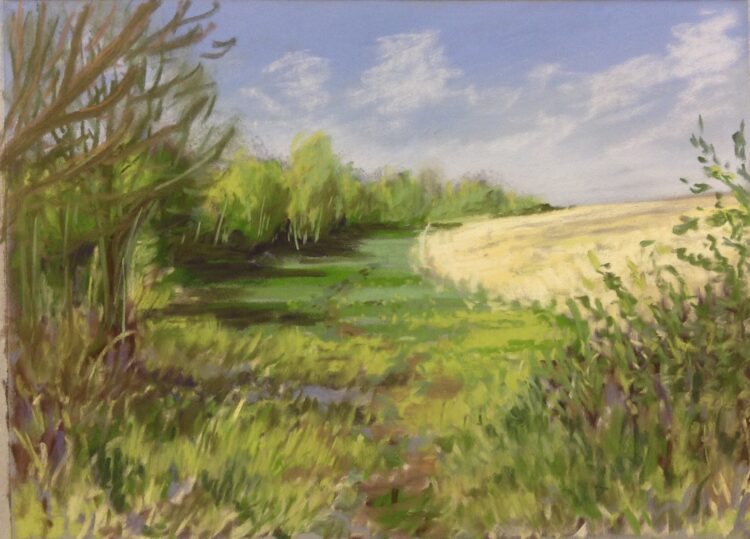 This is the edge of a field at Fingringhoe Wick. It is quite small, the paper is 32cm wide and 24cm high.
My fourth attempt –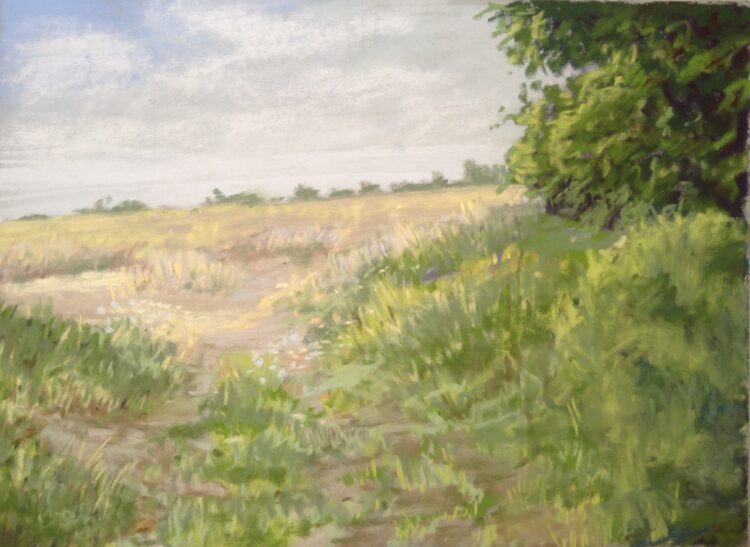 on the same size pastel mat, is the corner of My Field, just as I walked into it from How Hill field. I got in a real mess with this one, and ended up obliterating a lot of what I'd done, so that the 'tooth' on the pastel mat was completely clogged and could take no more . . . .  I rather knew how it felt! It did make me think about the importance of not fiddling and putting in too many bitty marks. It is all a learning process, and it is fun to be a complete beginner again!
Card Packs: Are you running short of birthday cards? You may be like me, and pick up nice cards from galleries, and craft shops whenever you see them. How nice it would be if we could still go to such places! But don't forget that I have a number of different packs of greetings cards in my Shop. I mentioned my Essex Wood Spring and Summer card pack in my newsletter which came out yesterday, and have already posted and hand delivered quite a few packs, with more orders coming in.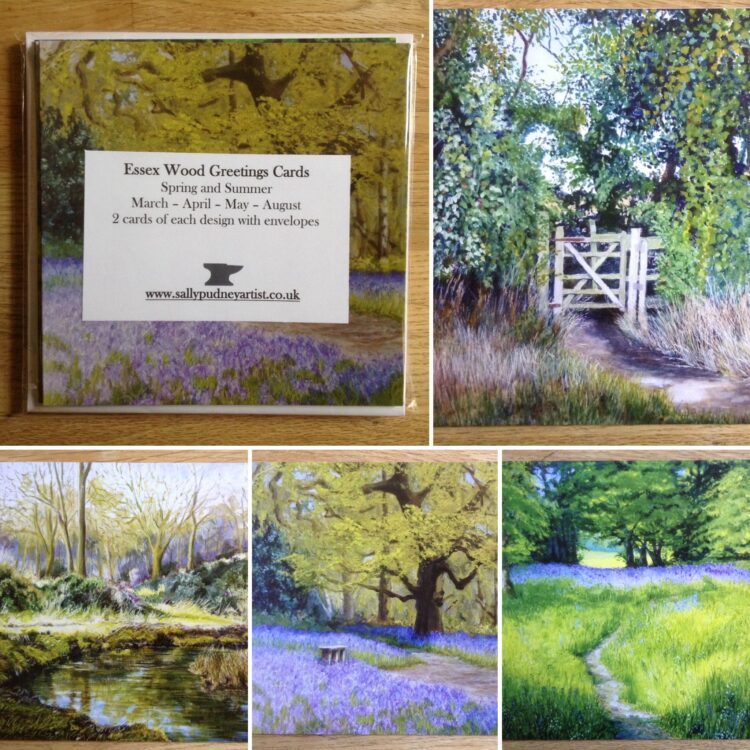 The pack contains two cards of each design from my Essex Wood March, April, May and August paintings. The cards are all square – they are slightly cropped in this image – and are blank inside for you to write your own note. There are a number of other packs, including an Essex Coast selection and a Suffolk Coast pack. Click on SHOP on the menu bar to have a browse.
I hope you are all OK. At least it is February now, and the days are noticeably longer even though it is still cold – the Spring is on the way! 🙂
---