New Prints and Newsletter
New in my website shop today is the second of my limited edition prints, this one of Higham – the River Brett and the Stour Valley: Summer.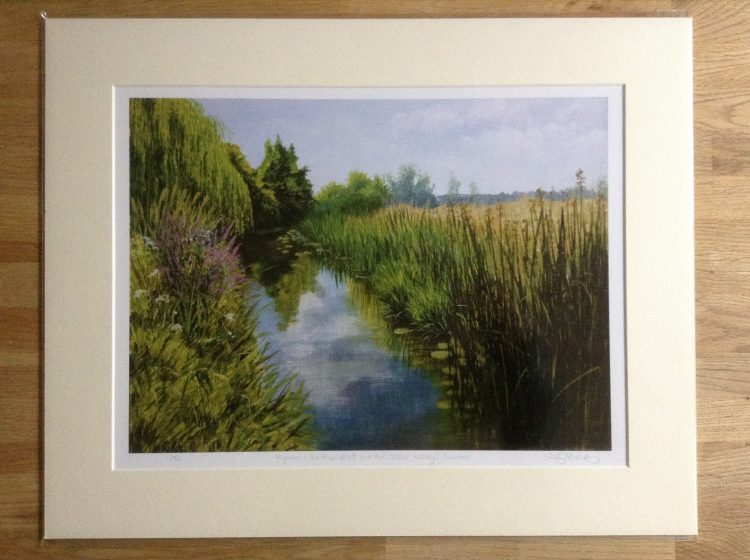 I am really pleased with how this has turned out, and I'm looking forward to getting some more paintings turned into prints in the next few months. Just click on Shop in the menu bar to see all the details. If you live in the Colchester area and would rather buy something from the shop directly from me, do just drop me an email – sally@sallypudneyartist.co.uk
Newsletter:  You may have noticed some changes to my home page in the last few days. I've had a sign-up box added so that you can leave me your email and receive monthly newsletters from me. These will be sent out using Mailchimp, so it is very secure and you can opt-out at any time if you wish. Newsletters will include details of exhibitions I'm involved with, invitations to Private Views, information about new merchandise I'm producing, and special offers just for subscribers. Later in the year it will also include information about the Anglian Arts Project, a new venture for Graham and me this year. I won't bombard you with emails – I intend to send you them only when I have something to tell you, which will be once a month at the most!
You may have also noticed that the Facebook link on my home page has vanished! I haven't used Facebook for several months now, so no point in having it there. I do use Instagram almost daily, though, and you can click through to view my Instagram page even if you do not use Instagram yourself. At present I am almost half way through the #MarchMeetTheMaker challenge, which has led to some longer quite detailed posts about everything to do with my painting.
Hope you are surviving the gales! Batten everything down and stay safe! 🙂
---