New year, new plans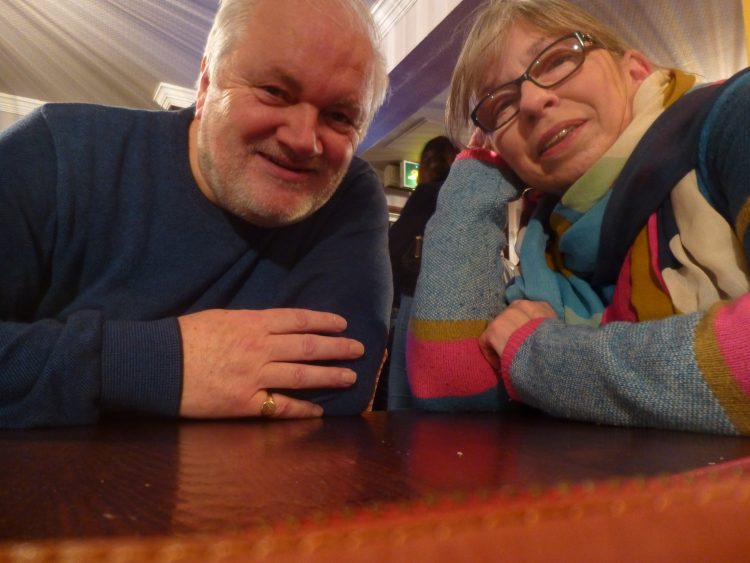 Here we are, Graham and me, seeing the New Year in last night! So now it's time for new art plans for this year. I'm excited to share with you what I'm aiming to do in the next 12 months with my painting.
Big Painting Project: In the last three years I've done From my Garden, Twelve Months in an Essex Wood, and A Year on Fingringhoe Wick. This year the subject I've chosen is Four Seasons on the Stour. The river Stour forms the border between Essex and Suffolk for miles and miles, and flows through the most beautiful countryside. I intend to follow its course, from Wrabness on the estuary, up as far as Clare, visiting a different place roughly each month. I will try to make my visits monthly, but this year I often found that there were two paintings calling out to be done from the same month – so I'm going to be a bit less rigid in 2018 and aim for 3 or more paintings in each season. I'm also going to try to include some man made structures in as many paintings as possible – perhaps a bridge, or a barn, a church tower, a jetty – whatever happens to be there! The places I aim to visit are –
Wrabness, Cattawade/Manningtree, Flatford, Dedham, Stratford St Mary, Higham, Nayland, Wissington, Bures, Sudbury, Long Melford and Clare.
So if any of you lovely blog readers live in any of these places, or know of particularly good vantage points that I might consider, do let me know in the comments! (Click on the post heading to open the comments box)
The paintings will all be either 36″ x 24″, or 18″ x 12″.
Landlines: a new, intermittent series of paintings I am keen to start, which will all be focussed on lines in the landscape: hedges, walls, ditches, dykes, green lanes, roads, holloways, canals, railways, power lines, telegraph poles, crop lines, bridges . . .
The Ridgeway: Having done 5 paintings from wonderful walks on The Ridgeway in 2016, I am planning to stay near the Uffington White Horse either in early May or early September. I will walk some of the trail going into Oxfordshire, and see what new paintings may result from that.
Fingringhoe Wick Books: I'm going to use Blurb again to assemble these from my 12 Fingringhoe Wick painting images, plus some sketches, photos, and notes that I made each month about what I saw. I am well ahead compared with last year as I have just finished the last painting, Fingringhoe Wick: December –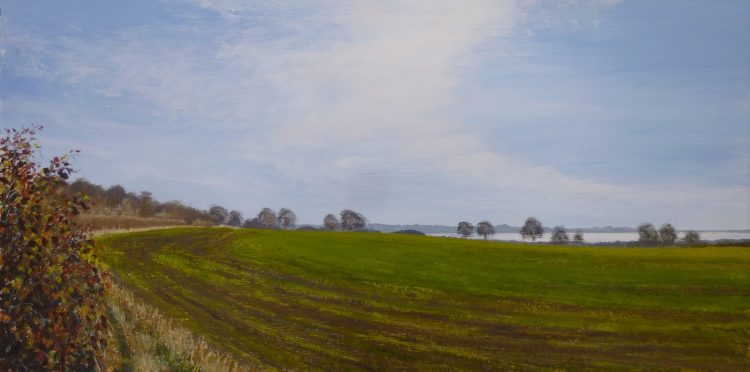 Designing and ordering the books is a job for January, so I will be launching these at All Saint's Arts Festival in May. Which leads me on to  . . .
All Saint's Arts Festival: I've posted about this new venture already, but we are very excited to be organising and running this new arts festival at All Saint's Church in Maldon from 25th – 29th May.
Drypoint: I want to experiment with drypoint printing this year!
Exhibitions: This is going to be a busy year! I will be showing at:
All Saint's Arts Festival in late May
Haylett's Gallery Maldon in July/August
Open Studios – two weekends in September
Geedon Gallery Fingringhoe in Oct – December
Art Space, Woodbridge in October
This last one, which I'm particularly excited about, is organised by a new friend I made in 2017, stained glass artist Naomi Brangwyn, and she has invited me to show with her. There will also be one or possibly two other artists showing with us.
WOW! Lots to do, and I'm looking forward to getting started this week. Hope you've got some exciting plans for the year ahead, too. 🙂
---