Looking back on 2017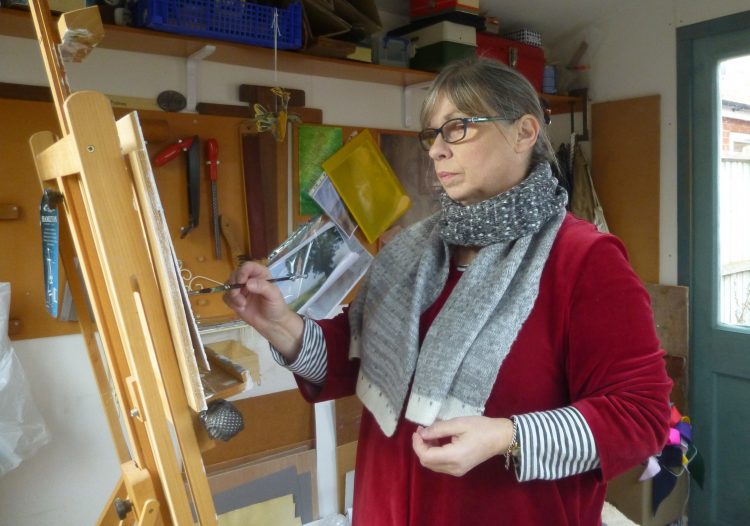 So, here I am in my studio, on the last day of 2017, finishing the last bit of my last painting in my 2017 painting project. I made it! The painting should be up on my website by tomorrow.
Looking back over 2017 . . . it has been the best 'art' year I've had so far! Yes, I know I said that last year, too, but I have topped 2016. More sales, more income, more Open Studios visitors – all round it has been really good, even though I haven't exhibited at nearly as many places this year. (That is about to change in 2018, more on that tomorrow.)
So, looking through the art goals I wrote at the end of 2016 . . .
A Year on Fingringhoe Wick: This has been a hugely enjoyable painting project. The Essex Wildlife Trust reserve is big enough and varied enough that I never had any trouble finding something different to paint each month.  I always really looked forward to going. The group of paintings are very varied in size and subject, and they were all a challenge. I intend to carry on going there, not to find material for painting anymore, but to watch the birds! It has been so good learning to recognise lots of the waders, and some of the most special moments were watching buzzards quartering the fields, seeing my first peregrine falcon and my first marsh harrier, and having great views of kingfishers.
Essex Wood Books: I published these through the online site Blurb, and was delighted with how they turned out. I've sold over thirty copies so far.
Essex Wood Greetings Cards: These have been a huge success, and introduced me to a great printer, Dan Basham of Point Graphics in Maldon who I shall certainly continue to use.
Exhibiting: I showed at the Geedon Gallery in the Spring, at Lexden Arts Festival in early summer, and did my two weekends of Open Studios. So not very much, really! I was very low on 'stock' at the beginning of the year, and also still very much in convalescent mode following major surgery for the cancer I had at the end of 2016, so I deliberately didn't line up too much. I didn't really want any pressure. I only sold two of the four dinghy paintings I showed at the Geedon – usually I sell them all – but this prompted me to show Jacqueline some of my landscapes, which she was very enthusiastic about!  So in 2018 I shall be showing landscapes there for the first time, which I'm so pleased about. Lexden Arts Festival went very well for me, and Open Studios was the best yet in terms of the number of visitors and sales. Most pleasing, though, is the number of paintings I've sold to people who have just seen them on the gallery pages of my site here, and contacted me.
So altogether a good year, and I hope yours has been, too!
Tomorrow I'll be back with my plans for 2018, but now I shall just finish by wishing you all, lovely blog readers, a very happy and healthy year in 2018, filled with exciting times, and peaceful times, and lots of joy, creativity and GREAT ART!! 🙂
---