'Painting the Modern Garden'
A lovely visit to the Royal Academy yesterday, to see 'Painting the Modern Garden: Monet to Matisse'.
I met up with my sister at Green Park, and, after the usual hot chocolate and muesli cookie at EAT, we walked into the RA's courtyard – and how glad I was to have pre-booked Friend's tickets, as the queue for tickets was out of the door!
The gallery rooms were more crowded than I have ever seen them, although the initial intense crush in the first room soon thinned out, and before long we were able to look at the paintings at a reasonable distance without having crowds of people blocking the view!
And it was so worth it! It is a HUGE exhibition, and there is so much lovely stuff there. I loved all Camille Pissarro's paintings – he is particularly good at trees, and I looked very carefully to see how he had achieved his effects!
We were both bowled over by the spectacular paintings of Santiago Rusinol (1861 – 1931) of whom I had never heard before! He painted the gardens of Spain, and they glowed with light!
Of course, we both loved many of Monet's paintings, and the room devoted to the planning, planting and development of his garden at Giverny was fascinating. But the best was left till last! Monet painted three huge paintings of the lily ponds at Giverny as a triptych, and they remained in his studio until the 1950s, when they were purchased by three separate galleries in the United States. This is the first time they have been reunited in Europe since the time that they left Monet's studio! And they were stunning! The shimmering colour and the depth are magical. Worth going to the exhibition to see them alone!
Here I am, outside the RA after we'd been round the exhibition, and purchased a few goodies from the shop!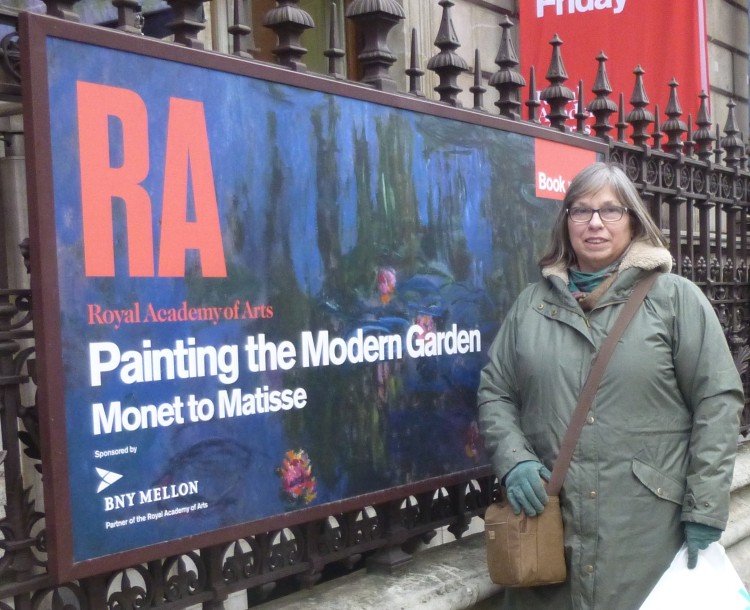 I'm going again in a few weeks time with my niece, so really looking forward to seeing my favourite ones again! The exhibition is on until 20th April, and I would strongly recommend going if you have the chance, although I would book your time slot on the RA's website before you go, to avoid the horrible queues! 🙂
---