Royal Academy Summer Exhibition
Yesterday Graham and I headed to Piccadilly to see the Royal Academy Summer Exhibition. It was drizzling when we left Colchester, but as we came up the steps from Piccadilly Tube station it was dry and bright, though not nearly as hot as it has been recently. We started off with lunch at Fish Works – how do they always manage to make everything so delicious? – and then headed into the Royal Academy, which wasn't too busy, so easy to move around and see everything.
Last year, the exhibition started being amazing outside, with the forest of metal trees and then the striped staircase – and this year was no different. Towering over the courtyard is a huge installation by Ron Arad RA called 'Spyre'. A huge tapering articulated cylinder slowly twists and turns through the air, with a camera mounted in the tip, and what it 'sees' is projected onto a digital screen mounted on the front of the Burlington House.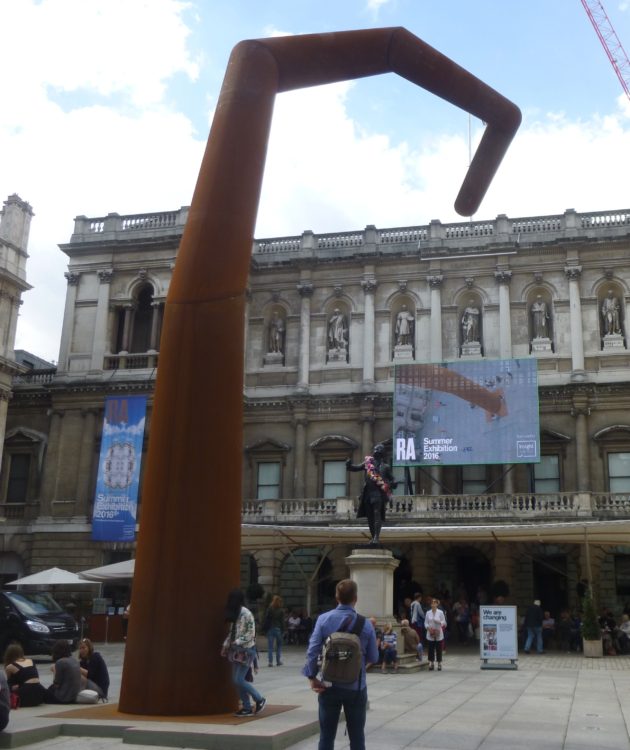 The view from the camera of the surrounding buildings and people and the sky was often sideways and sometimes upside down.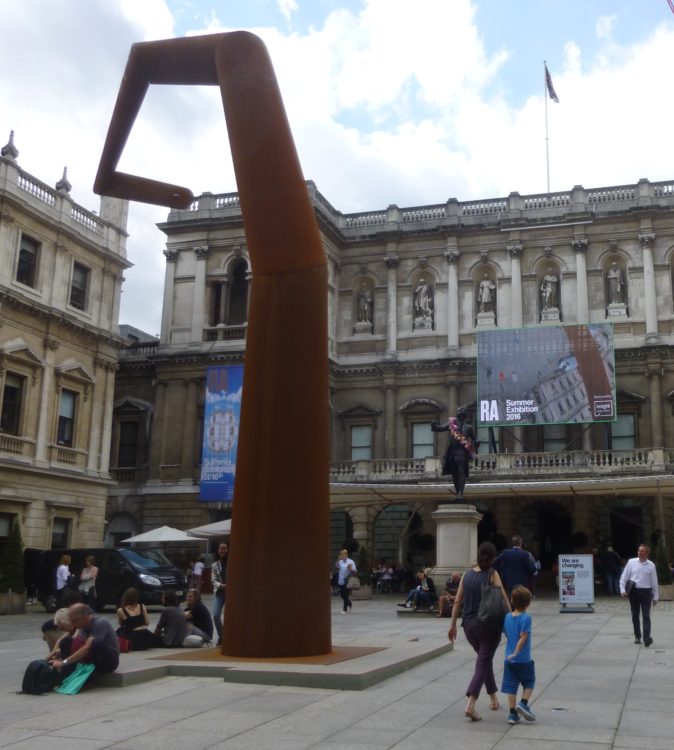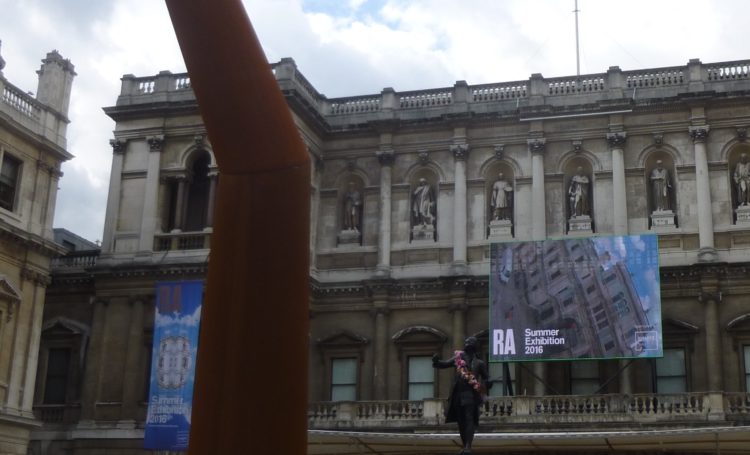 It was rather as if a small version of the Shard had decided to have a look around to see what was near its feet . . .
Once in the gallery I kept a look out as usual for work by Ken Howard RA and Norman Ackroyd RA -I particularly liked Howard's triptych of Venice, and Ackroyd's 'Thirsk Hall Remembered – Black Dexters'. I also loved the colours of Barbara Rae RA's 'Sanctuary – Autumn' and 'Sanctuary – Winter'. In the first big gallery, on the left of the Central Hall, there was a stunning huge painting by the late Albert Irvin RA, with a lot of lovely violet blues and greens and pinks – I always love the way he put colours together. In a much more conventional way I really liked Diana Armfield RA's flower paintings, 'Roses and Sweet-peas on the Kitchen Table', and 'Nasturtiums with the last of the Phlox'. She has such a skill for making the flowers vivid but delicate, clearly formed and yet airy. I am always intrigued by Jennifer Durrant's Ghirlanda series, a structure of semi-circles with fascinating colour combinations, and, sometimes, stripes.
We both noticed that there seemed to be a great many photographs and digital prints this year. Graham's favourite piece in the whole show was 'EC3M 5DJ' by Farshid Moussavi RA, which was a digital print on aluminium, and a very striking image.
I shall be visiting the RA again in about a week with my niece, and I don't doubt I'll notice quite different works then!
Friday tomorrow! – hope your week has gone well. 🙂
---