Shingle Street on the Summer Solstice
If you've read my last couple of posts you will know that I've been waiting and waiting for a dry sunny day to go to Shingle Street on the Suffolk Coast. Well, today was the day! Good interesting clouds, not clear blue sky – which is lovely to live under but boring in a painting. No threat of rain. Perfect!
Shingle Street is an unusual geological feature. As its name suggests it is a huge shingle spit which is basically a continuation of Orford Ness, but with the mouth of the River Ore making a break between the two banks of shingle.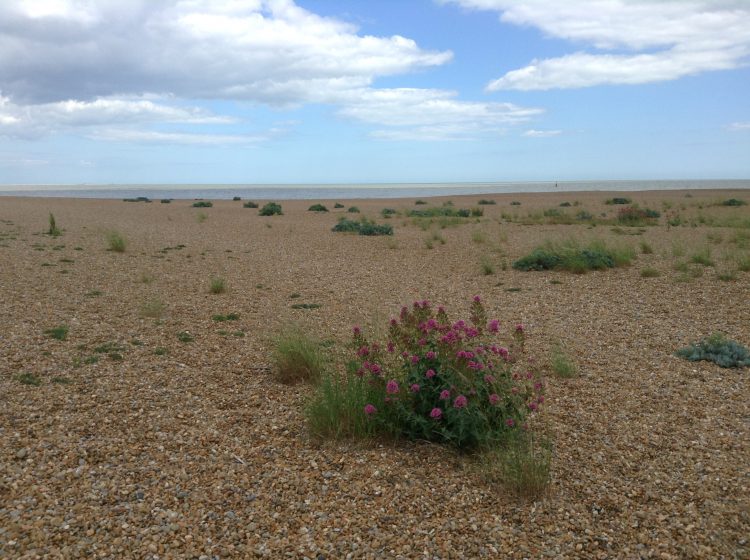 It is a very peaceful place. Apart from the skylarks and oystercatchers, and the faint clang of a bell buoy in the entrance to Orford Haven, it was absolutely quiet, and I only saw a couple of dog walkers  – one very distant, and one with a lovely black whippet called Bisto! – and two women out for a walk, all the time I was there.
One of the interesting features is the Shell Line. The letter carver, Lido Lopez Cardoza Kindersley and a childhood friend who is a Dutch potter were both diagnosed with cancer at the same time. They stayed together in one of the cottages at Shingle Street to help their recovery. During the month that they were there they began to pick up and arrange white whelk shells, first in a circle round the base of the flagpole, and then in a line going towards the sea. They came back each year to extend and repair their line, and other people have added to it over the last few years.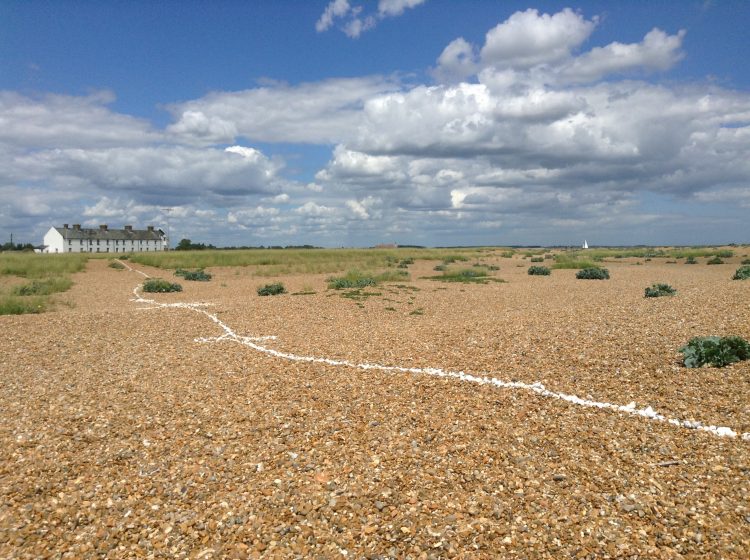 I walked the length of the shell line, and then back to sit on the shingle and draw.
The shingle is covered with all kinds of beautiful wild flowers.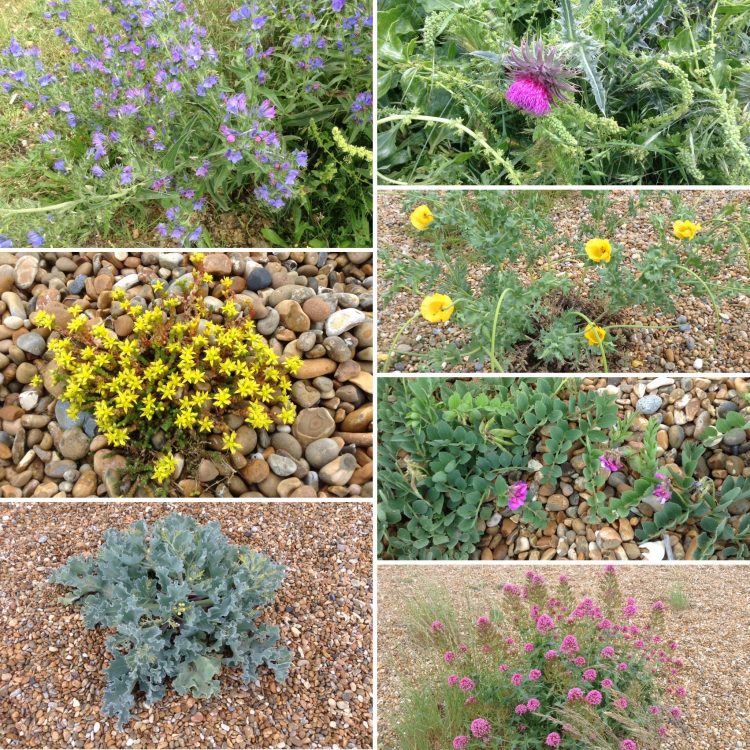 So, now I can get on with my next On the Edge painting! If you are in the area I do recommend that you go to Shingle Street. There is a little free car park just by the beach. And if you are a National Trust member it is very close to Sutton Hoo, which is a useful stop for the loo and maybe a bite to eat, as there are no facilities at all at Shingle Street itself. Oh, and I should wear stout shoes or walking boots if you go; it is very rough walking over the shingle, and there is miles of it . . . . .
Other news:
Art in the Old Church at West Bergholt. Thank you to everyone who came – it was really busy all the weekend – and many thanks to the great team who organised it. I was delighted to sell three paintings as well as some of my Essex Wood books and cards.
Colchester Art Society Summer Exhibition. I am very pleased to have got two paintings in this show which is at The Minories, 74 High Street Colchester CO1 1UE. The exhibition is on from today until 26th July, open from 10.00am – 5.00pm daily, except closing at 4.00pm on Sunday. The Private View is tomorrow 22nd June, from 12 noon to 3.00pm. Do come!🙂
---