Shingle Street finished!
Here is the latest painting in my current painting project – On the Edge: The North Sea Project.
This is the beach in front of the Coastguard Cottages, with the Shell line which I wrote about in my last post.
My next visit will be to Orford, I think . . .
Colchester Art Society's Summer Exhibition: I have two paintings in this show which is on at The Minories Gallery, 74 High Street Colchester CO1 1UE until Friday 26th July open daily from 10.00am – 5.00pm, except on Sundays when they close early at 4.00pm. There is a huge variety of work on show – worth popping in if you are in the Colchester area. And there is a very good café run by Wilkins & Sons, the Tiptree Jam people!
Shop: I've added a couple of new items in the shop – Jute bags – so there are now bags with the Essex Wood paintings for March, April, May, August, September and November available. £13.00 including postage to any UK address. Click on SHOP in the menu bar. I have also just ordered some more limited edition prints, including these two dinghies, Waiting for the Tide II and Waiting for the Tide III.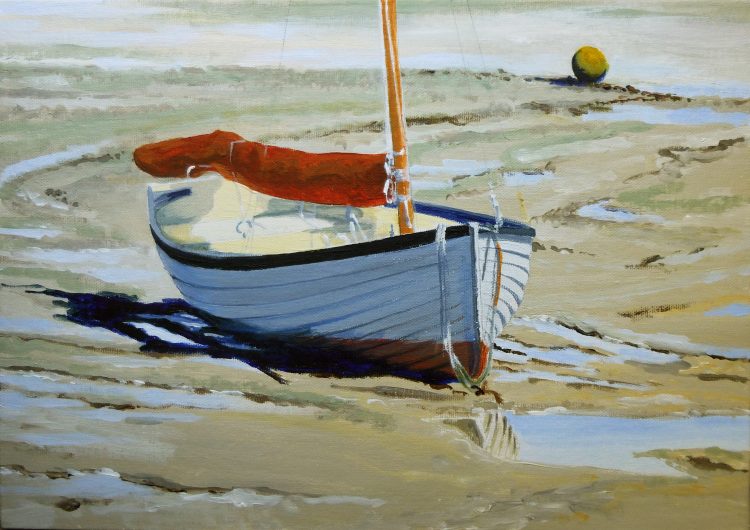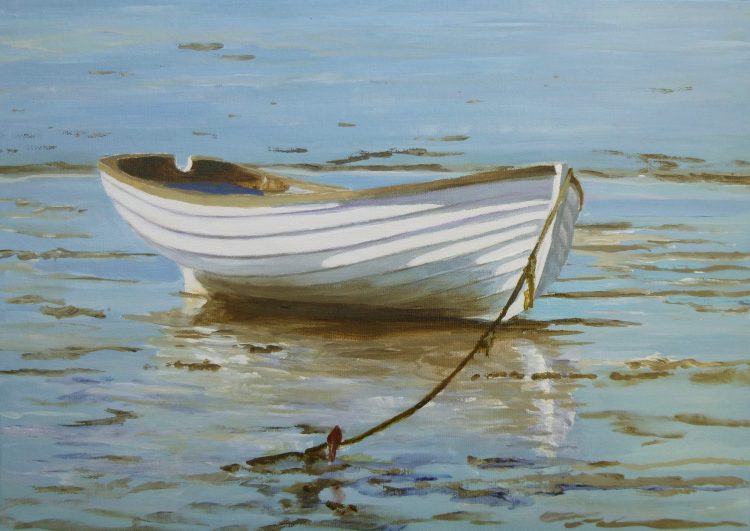 Along with these two, there will also be prints of Landlines: Track, and The Path through the Wood. They will all be available quite soon priced £60.00, mounted with back boards, signed and numbered – all ready to frame.
I was delighted to hear from Sally Patrick at the Haylett's Gallery in Maldon that she has chosen my painting 'Tessa' of another little white dinghy, for the back cover of the Summer Sensations show Private View invitation! More details on this show soon.
Don't forget you can sign up at the bottom of the Home page for my newsletter, a monthly round up of new exhibitions and new paintings direct to your inbox. The fourth one just went out this morning.
Summer seems to have really arrived in Lexden this weekend! Hope you are enjoying some summer sun wherever you are! 🙂
---