Three new paintings and a drawing
I have recently completed the next two paintings in my Essex Paths & Bridleways series, as well as the March painting for my Twelve Months on an Essex Island!
The twelfth path was along the River Colne at Wivenhoe, walking down river towards Alresford Creek.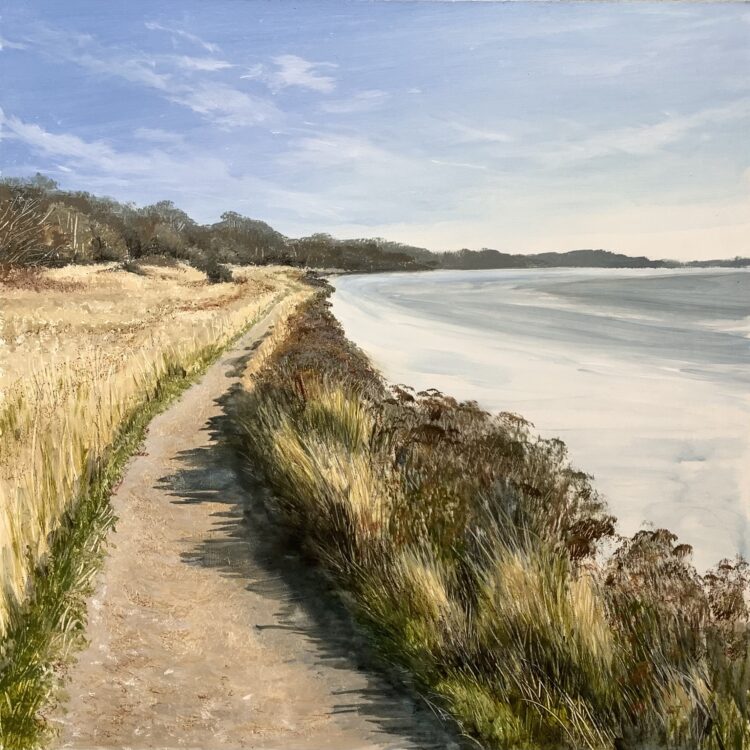 And the thirteenth painting in this series is Early Spring Field Path, which is of the field south of the Gosbeck's Archaeological Site, going down towards Oliver's Lane, in Shrub End  west of Colchester.
My March Mersea Island visit occurred in an unexpected way!
My Land Rover needed a turbo hose replacing, and as my usual garage couldn't fit me in for about three weeks I took it down to RST Land Rovers in West Mersea. They were happy to fix it while I waited so I went off down Kingsland Road to the beach for an hour or so until it was ready to collect. It was a beautiful morning, with some cirrus cloud in a blue sky. The tide was high and  I had a lovely walk.
Fortunately, although I didn't have my 'official' project sketch book with me, I did have a tiny sketch book in my bag, along with a Blackwing pencil. I did some tiny sketches, and sat on a breakwater to write down my impressions, as of course I didn't have my voice recorder with me, either. I was able to take some photos on my phone. When I got home I decided that I had quite enough to work with for the painting, the findings drawing, and the notes for the future book – I didn't need to make another trip!
The Findings drawing is only 15cm square, and this one shows three mussel shells and two flints.
The three paintings can all be found in Gallery 2022, and the Findings drawing on the Small Paintings and Drawings page.
---