Two Exhibitions
It seems a long time since the Barley Barn Summer Exhibition – I've been so busy since then that I'm only just dropping in here now with the update that we raised well over £4000 for St Helena Hospice in Colchester! What a result – we couldn't believe it. We sold over £5000 of art work in four days, and had a steady stream of visitors all the time. Each artist donated 25% of their sales, plus there were profits from the café, a raffle and donations.
For me personally it was very satisfying to see all of my Twelve Months in an Essex Field project work displayed together – the first time I have ever been able to do this with a painting project.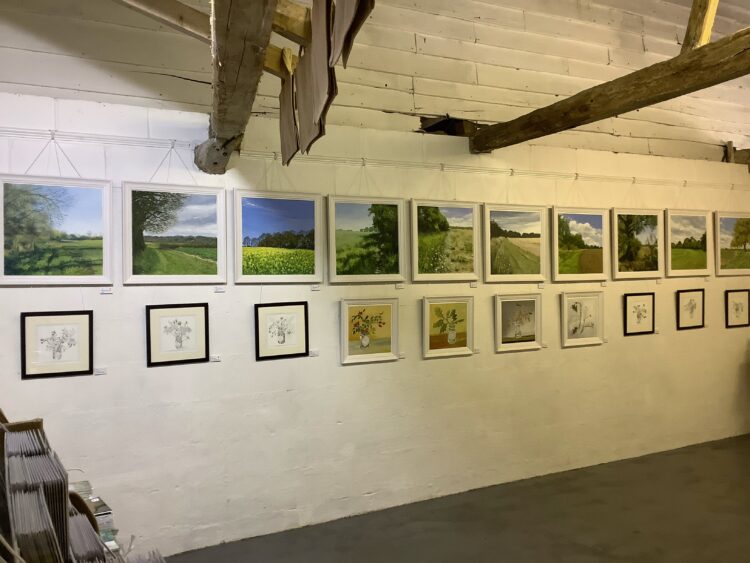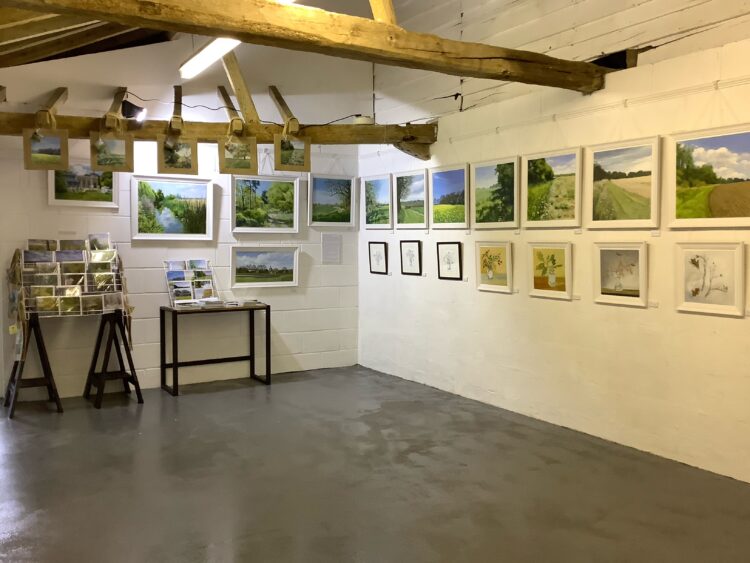 I have now sold six of the large monthly paintings, plus the 'extra' one Before the Rye Harvest. And I was delighted to sell two other paintings in addition to these, plus a lot of prints, coasters, cards, bags – and I only have four copies left of my Essex Field Book! The coasters with the Essex Field paintings on were particularly popular. Both the coasters and the Book are now in my website shop – click on SHOP on the menu bar above.
Now Graham and I are looking ahead to our next exhibition. This is our Anglian Arts Project Show at the Naze Centre at Walton-on-the-Naze in September.
As you can see we have twelve artists exhibiting, including me. Seven of them are 'new' artists that we have not worked with before, which is particularly exciting. Yesterday we started doing our pre-exhibition visits to the artists, going over to Fingringhoe to visit fused glass artist Cathy Constable. Hop over to our Anglian Arts page on the menu bar above to read about Cathy and her work – and keep checking back there as I will be adding information about each artist as I visit them. Next week I am visiting two more of our 'new' artists – Helen Maxfield and Julie Orpen.
Other news: I am still working at my Essex Paths & Bridleways series. A few days ago I added the fifth one to my 2021 Gallery page – this was Bridleway North of Oliver's.
And now I'm working on the sixth painting in the series. This one will be Path through Lexden Gathering Grounds, and here it is on the easel in my studio – this is as far as I've got . . .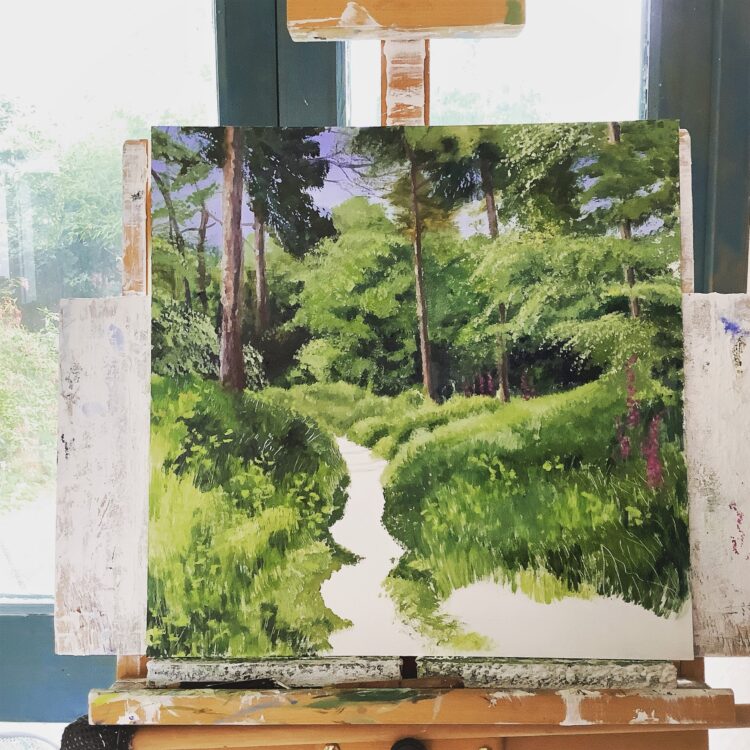 One more session should finish it I think, so I hope to get it done this weekend. The next one will be a farm track at Wormingford . . . I have had lots of positive feedback about this series, so I hope you are enjoying them as much as I am enjoying doing the walks and painting them! 🙂
---