The Barley Barn Summer Exhibition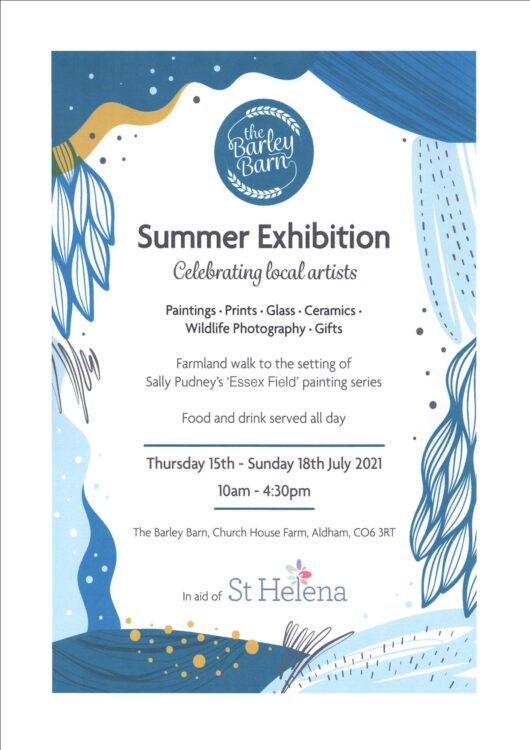 So – here it is!
The poster for the Barley Barn Summer exhibition, designed by Isobel Scott, daughter of Adam and Catherine who own the farm.
We thought it would be safely after 21st June, and all Covid restrictions would have been lifted . . . . but as that is not the case, Catherine has been working hard to ensure that the gallery and café are Covid safe. As far as the gallery is concerned you will need to sanitize your hands before coming in, and wear a face mask. Graham and I will both be wearing visors. Payment – should you choose to make any purchases – can be contactless on my new card reader. We may have to restrict the numbers of people looking round if we get a rush. However, the 'café' barn is huge, and the big  doors will be open to make it a very well ventilated space, so if you did have to wait to visit the gallery you could always have coffee and cake, or lunch, while you were waiting. Or take a walk down to The Field!
The postcode is for the farm only, so if you are using satnav it will take you straight there. Adam is putting up signs on the local roads, too, so watch out for those. Parking will be in the farm yard, in the huge open sided cattle barn. It is only a few steps from the gallery, although there are a couple of steps up.  There is a toilet block just outside the gallery, too.
My house is overflowing with all the things I am preparing for the show. As well as the thirteen large paintings, there are four smaller paintings, and six framed snippings drawings, all of which will be hanging on the walls. I'm also taking about nine other paintings of the local area. In the print browser will be the other six snippings drawings, mounted but unframed, plus limited edition mounted prints of some of the big paintings. There will also be the coasters – some with painting images on, some with snippings drawings images on. Also some jute bags with painting images on. Also greetings cards and postcards. And the book Twelve Months in an Essex Field, which I am particularly proud of!
We are all so excited about this show, and I am so looking forward to seeing some of you again, and talking about my work and the work of the other artists who will also be showing. If you have been following along since Lexden Arts Festival days you will probably remember Anne Townshend and her beautiful lino prints? – I am looking forward to exhibiting with her again. Two of her friends are also showing – Julie Orpen and Georgie Finn. There are other print makers and watercolour painters, and a glass artist and a ceramic artist exhibiting, too – all of whom are friends of Adam and Catherine.
So lots to look at, lots to look forward to! 🙂
---