Visiting the LAF artists: Naomi Brangwyn – stained glass
On Monday afternoon Graham and I went over to Felixstowe to visit Naomi Brangwyn. Naomi creates stained glass works from coloured glass and all sorts of interesting additions – stones, shells, bits of driftwood . . . Ideally her hangings are seen against a plain white wall, although some can be viewed hanging in a window, with the light behind.
Naomi showed us how she first cuts the coloured glass to size and lays it out to consider the design and make any necessary adjustments. The edges of the glass are then covered with a self adhesive copper foil, and the copper edgings are soldered together. The solder is a silver colour, but can be treated in acid to turn it black, to give the traditional 'leaded' appearance that is usually seen in stained glass.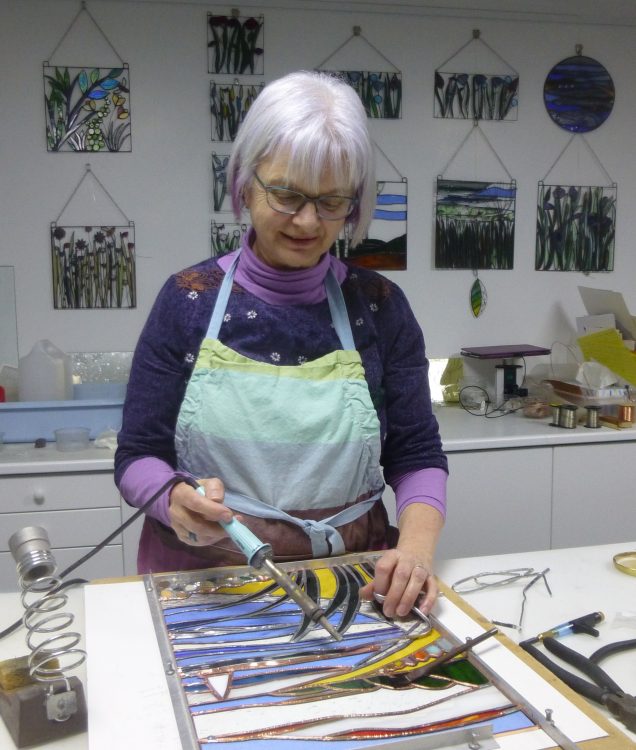 In the photo Naomi is in the process of soldering sections of glass together on a commissioned piece. Behind her, on the wall, some of her finished glass works can be seen. Naomi runs workshops both in her own studio for small groups of six, and in other venues, for anyone who wants to try this fascinating medium for themselves.
This is the first time we have featured a glass artist at the Festival, and I am sure her work is going to be very popular with our visitors.
To find out more about Naomi and have a preview of her work go to www.naomi-brangwyn.co.uk
---