Well, much to my surprise, I have just managed to get the next big Essex Wood painting finished before we start setting up for the Lexden Arts Festival tomorrow.
It is not a very good photo – I think the camera struggled with the yellow-greens and violet-blues, but it gives a bit of an idea. The light has been difficult for photography today, as we have had violent hail storms interspersed with brilliant sunshine. I will re-do this when I can do it outside, as the bluebells look nothing like the colour I painted them!
If you are in the Essex area you may like to listen up to BBC Radio Essex at about 1.20pm on Friday 29th April, as I'm doing a phone interview about the Lexden Arts Festival. Exciting stuff! 🙂
---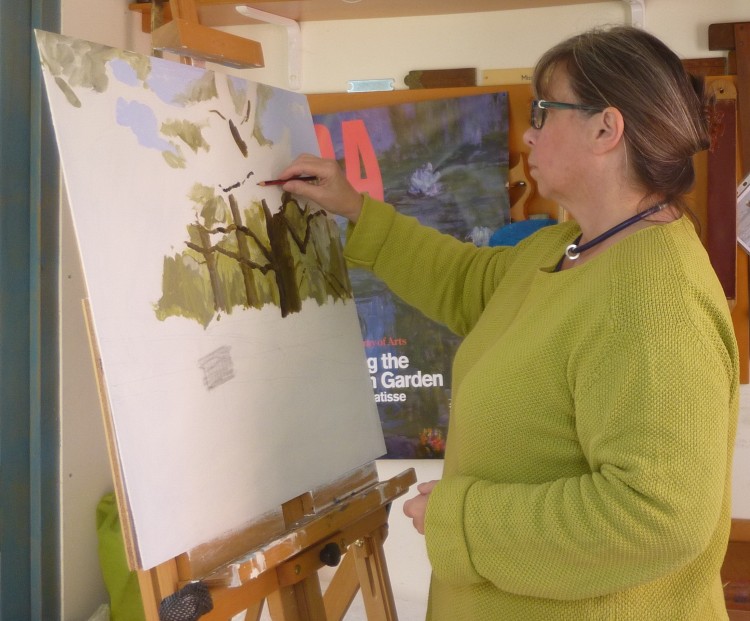 Making a start this afternoon on Essex Wood: April in the (possibly vain!) hope that I can get most of it done before we start setting up for the Lexden Arts Festival next Wednesday. I can't believe it is as near as next Wednesday.
But next Wednesday the first group of artists will start bringing their work, and the guys will start erecting the screens upon which the art is displayed, and I shall spend Wednesday afternoon, and all day Thursday hanging work, and arranging work, and then – we're off!
Not only do I think we have the best art exhibition we've ever had so far, but we have some great evening events, and more tickets are selling every day – it's really exciting! All the details are on the website www.lexdenartsfestival.org.uk so do check it out if you are anywhere near the Colchester area.
And if you come to the art exhibition do come and say hello! I shall be on the reception desk all the week, with a succession of helpful volunteers (although I fear some of them may feel like pressed men!) and I shall be wearing a name badge so you can't miss me! And just to tempt you further, we are doing lunches everyday from 12.30 – 2.30pm, in our café  – Len's Café – as well as tea, coffee and really lovely cakes and scones all day. 🙂
---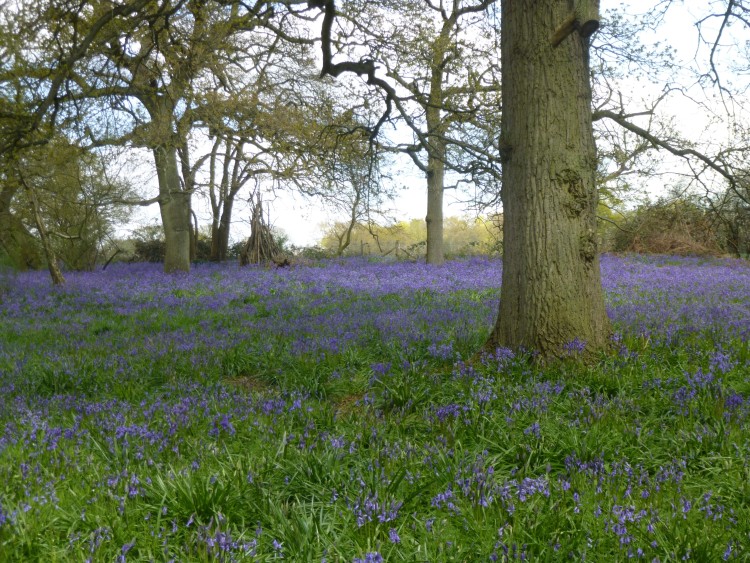 It hasn't rained since Saturday, so I thought it might just be dry enough in the wood for a visit. And I was right – the paths were quite dry, hardly any mud at all . . .  and the BLUEBELLS!!! I have never seen a bluebell wood like it.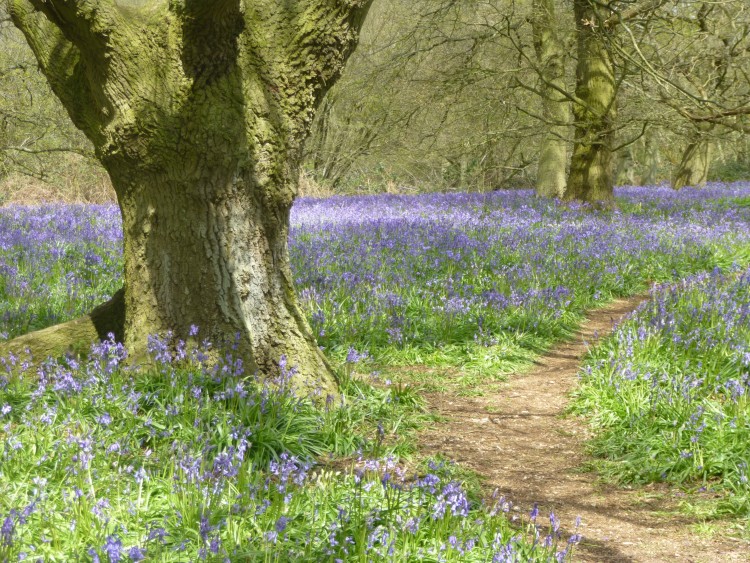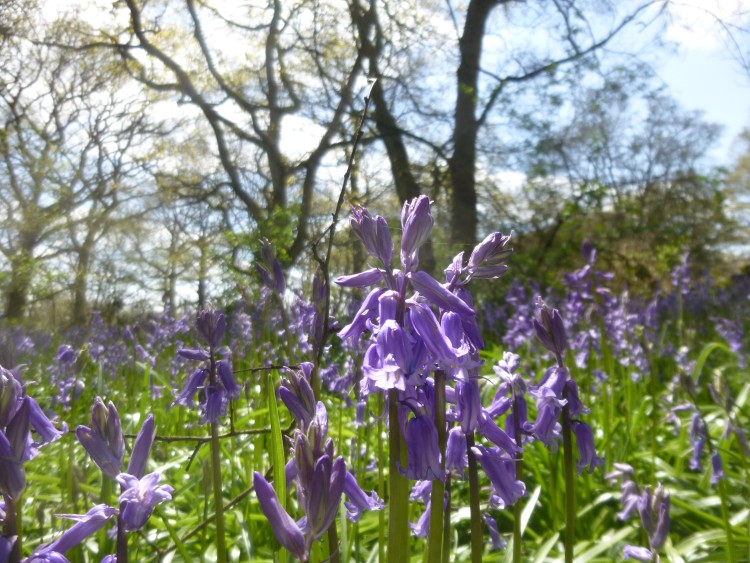 The oak trees, hazel, field maple and elder are all coming into leaf, and as well as bluebells there are a mass of wood anemones, celandines, stitchwort, and clouds of white blackthorn blossom. There were birds everywhere – I heard pheasants and green woodpeckers, and I thought a couple of times I heard a cuckoo. A tree creeper was making its darting way up an oak tree.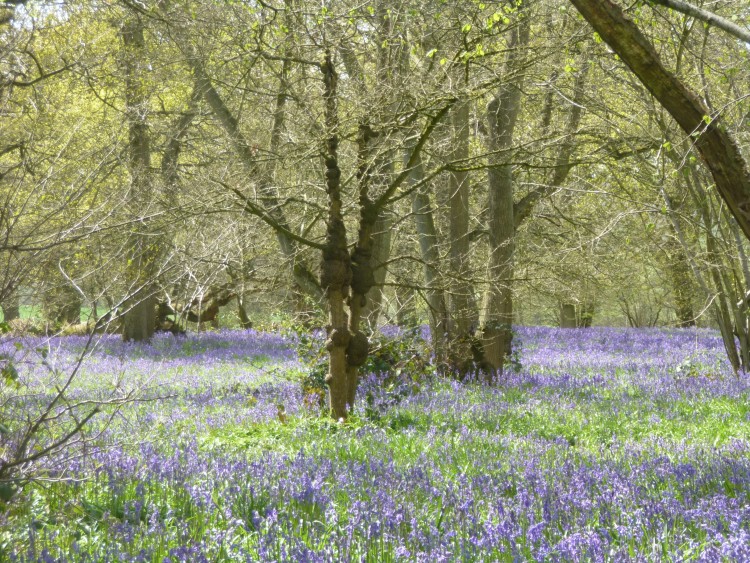 The fields bordering the wood were full of oil seed rape in full flower, so in places there was the wonderful contrast of the bright acid yellow with the blue violet of the bluebells.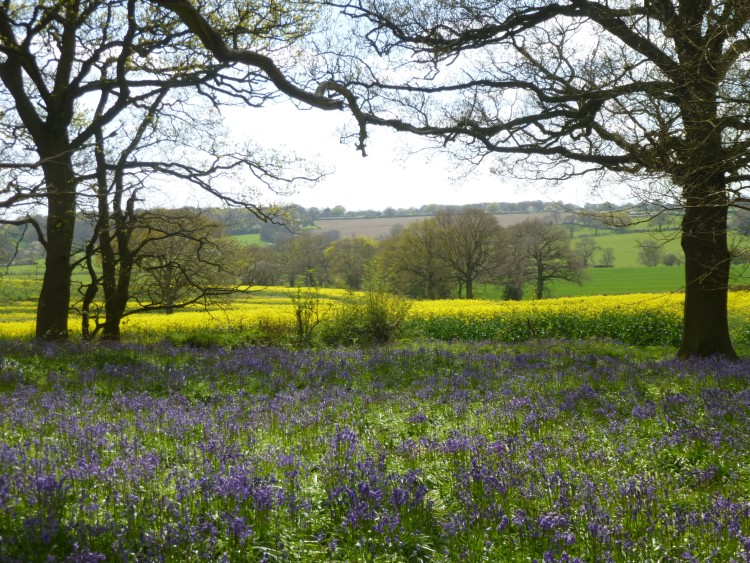 So now I'm really looking forward to getting started on my Essex Wood: April painting! 🙂
---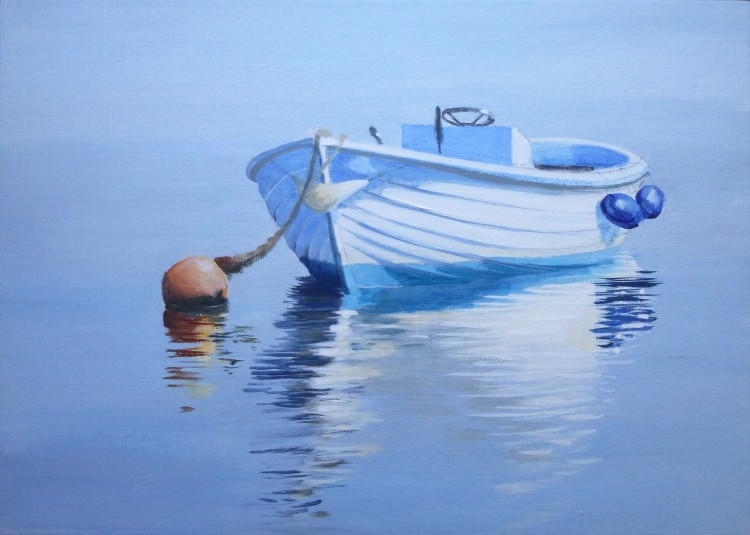 My new painting just finished this afternoon.
When is a dinghy painting not a dinghy painting? When it's a little motor boat! I found this one when I was last down at Heybridge Basin, the river still as a mill pond. I liked the way this little boat was tied up to an outsize mooring buoy, and the lovely reflections. I have painted this over the last few days while I am waiting to make the April visit to the wood. It hasn't rained today, and no rain is forecast for the next couple of day, so with a little luck I shall manage my visit this week, and the mud won't be TOO dire . . . . 🙂
---
There are two Edward Seago exhibitions on in London at the moment – what a treat! One of my very favourite artists. Yesterday I met up with my sister, Jill and my niece, Claire, and we went to them both.
In the morning – having risen above the torrential rain, and the fact that the train I had planned on taking was cancelled due to some unspecified faultiness – we went to the Portland Gallery. They have moved over the other side of Bennet Street since I was last there, which was a surprise. They are now at number 8, and their Seago show, with about 48 paintings fills the ground floor and the lower basement gallery – and is full of the most wonderful work. We particularly loved 'October Morning, Horning'. The exhibition runs till 29th April.
After lunch we splashed through the rain, up Cork Street and along New Bond Street to the Richard Green gallery at 147. Their show is smaller than the Portland's, but filled with more wonderful paintings – and they have lots of lovely comfortable chairs so one can sit and look at the pictures in great comfort. One of my favourites here was 'October Afternoon on the Thurne', and I also specially liked 'Landscape near Upton, Norfolk', and 'Calm Morning, Pin Mill' and 'June in Norfolk'. Although really it's hard to choose, as I very much liked all of them! The photo above is from the front cover of the catalogue and is called 'Cottages by the Orwell, Pin Mill'. The exhibition is on until 27th May.
So! I'd highly recommend them both if you can get into London in the next few weeks. But be aware that neither gallery is open at the weekends. Google them to check out their opening times.
We had a really lovely day, and also fitted in James Dodds' show at Messum's in Cork Street, and a quick whizz round Fortnum & Masons!
Hope you're having a good weekend 🙂
---
Some lovely new stock arrived this morning – new cards, ten different designs, ordered from www.moo.com, and six new canvas prints.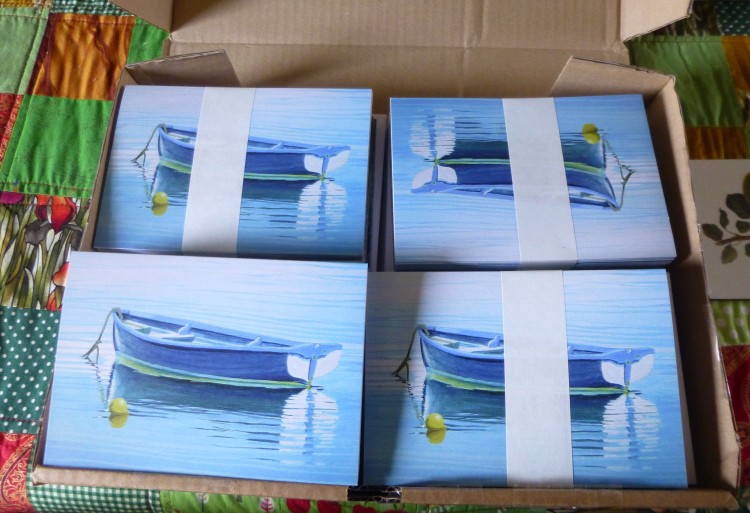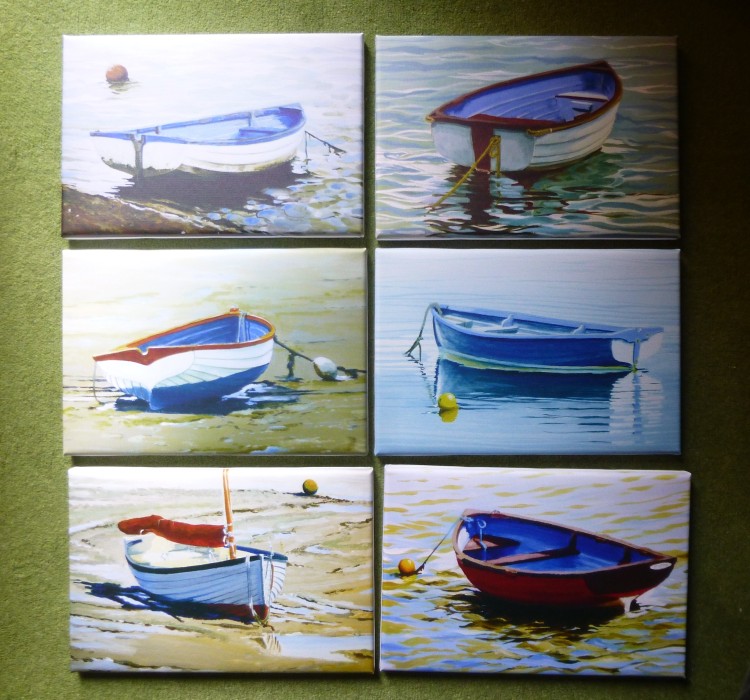 The cards are for the Lexden Arts Festival's card rack: I'm not actually exhibiting at the Festival this year, mostly due to my solo show coming up in the summer at the Naze Tower Gallery – I really couldn't get enough work done for both! – but also because I thought this year it was high time there was a real change at the Festival! Pru Green, Nat Young, and I have exhibited at every Festival so far, since 2012, but this year none of us are showing. Cathy Allen and Penny Bhadresa, who showed for the first time in 2015,  are coming back, but otherwise everyone else is new this year! I think it will be great and will make the show seem very fresh!
BUT I did think I would just have some new cards to sell!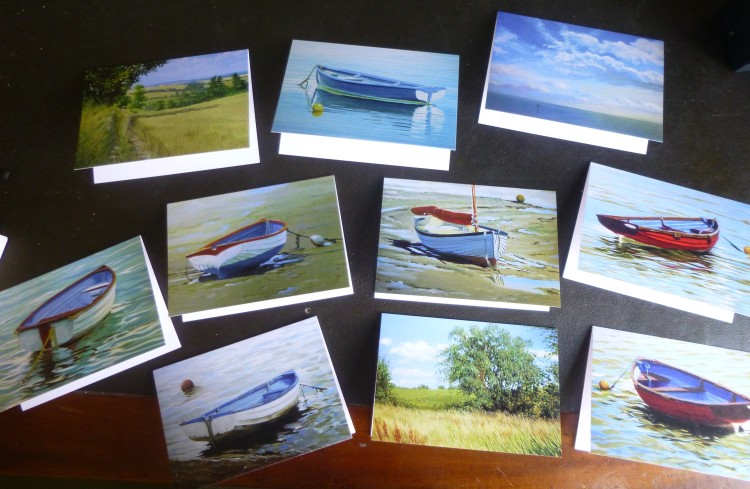 I really like how Waiting for the Tide II and Willows on the Colne have come out, and my newest dinghy, Dinghy on Still Water.
This morning I went over to my framers with a big stack of paintings, and ordered twelve frames – this is the second batch to get ready for the Naze show. When they're done I will actually have enough work ready for the beginning of June! Yay!! 🙂
---
Yes, I know, I'm a bit late with this one – but here it is! Findings from the Wood: March.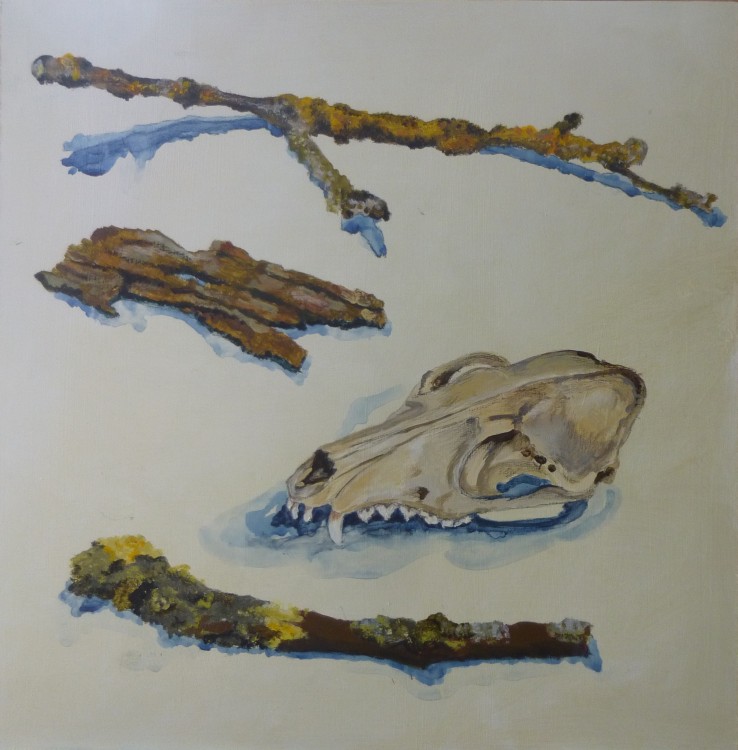 The fox skull, oak bark, and heavily lichened twigs.
I'm hoping, if it doesn't rain for the next few days, to make my April visit to the wood this week. The bluebells in my garden are just about out – a good sign! I would like the April version of Findings from the wood to be a bit more spring like – I'm thinking bluebells, and new leaves! In fact I keep dreaming up different techniques I might use to paint the bluebells . . . .
I did a bit of prep for the April big painting this afternoon, and got the next 2 foot square board primed with its first layer of gesso primer.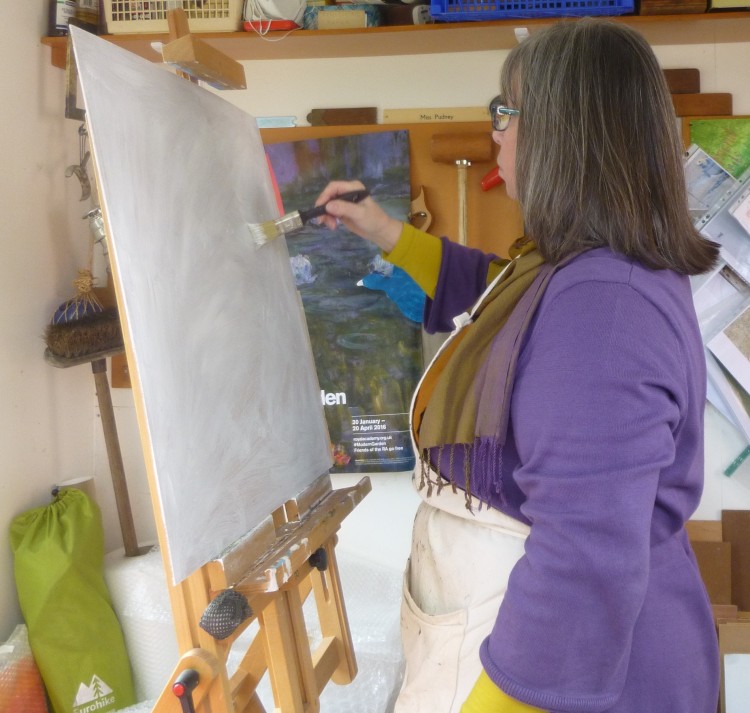 We are so busy with preparations for the Festival at the moment, that I feel I have to get ahead in any little ways I can! I'm going over to East Bergholt later in the week to collect Penny Bhadresa's beautiful lino cut prints, and last night I had an email from Jonathan Trim with some very exciting photos of the paintings that he is putting into the Festival exhibition. Tickets for our evening events are selling well, particularly for James Russell's lecture 'Eric Ravilious and Edward Bawden: An Artistic Friendship', and in between times Graham and I are rushing about delivering Festival leaflets, and finalising details of how art work will be displayed, and making up rotas of helpers . . . . we'll get there!
All the details are on the website – www.lexdenartsfestival.org.uk – where you can also purchase tickets for any of the evening events.
Yesterday afternoon Graham and I went down to the Sentinel Gallery to have a look at their new show, which is four landscape artists, including our friend, Nat Young – who has some very appealing small paintings in the show that looked very fresh. I thought the gallery looked lovely – the selection of work all seemed to fit together well – and we particularly liked some intriguing ceramics by Annabel Faraday which are printed with digital images, and some of Dina Southwell's vibrant landscapes. The show is on until the end of April, and is open Wednesday to Sunday – well worth a look!
Hope you've enjoyed your weekend! 🙂
---
I've been so busy with work for the Lexden Arts Festival over the past week, there has been precious little time to do anything else! But I did make a start yesterday afternoon – rather belatedly, I admit! – on the 'small' March painting for my Essex Wood project.  Yes, I know it's now April . . .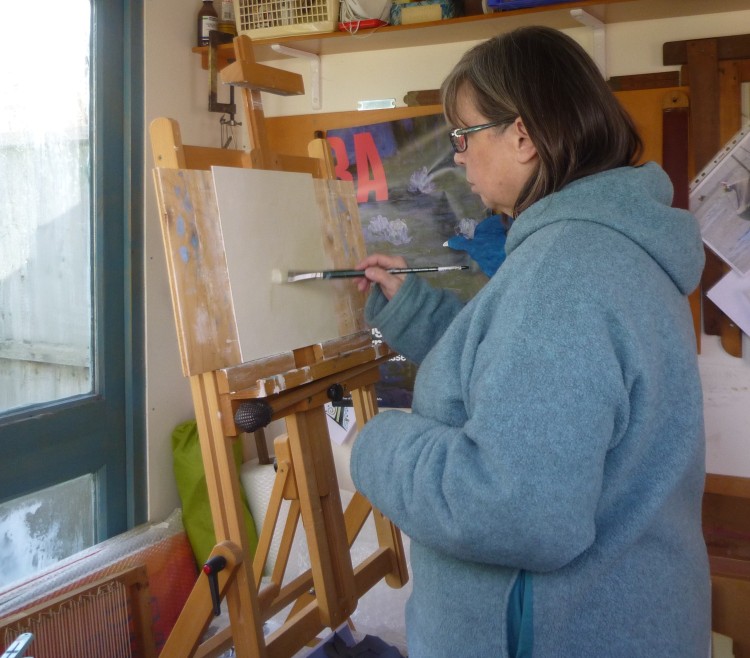 I got some subtle background colour on the board, before tracing down the drawings of the foxes skull, some rather good lichen covered twigs, and a section of fallen oak bark, and this afternoon I started painting.
I'm not worried about the fact that I'm a bit behind with this project. Last year exactly the same thing happened – the Festival took over all my time, and I remember I was painting 'From my April garden' when it was nearly the end of May! Fortunately I had picked the flowers and done the drawings in the right month! So. This month of April I shall make sure I do my visit to the wood and collect all the materials I need, and then I shall get to work when the Festival is over, and will soon catch up again. I just need it to stop raining for a few days so that I can walk round the wood without having to squelch through deep mud . . .
Outside my studio window my magnolia Stellata 'Leonard Messell' is a putting on a lovely show of flowers, and the rest of the garden is full of blossom and primroses and hellebores.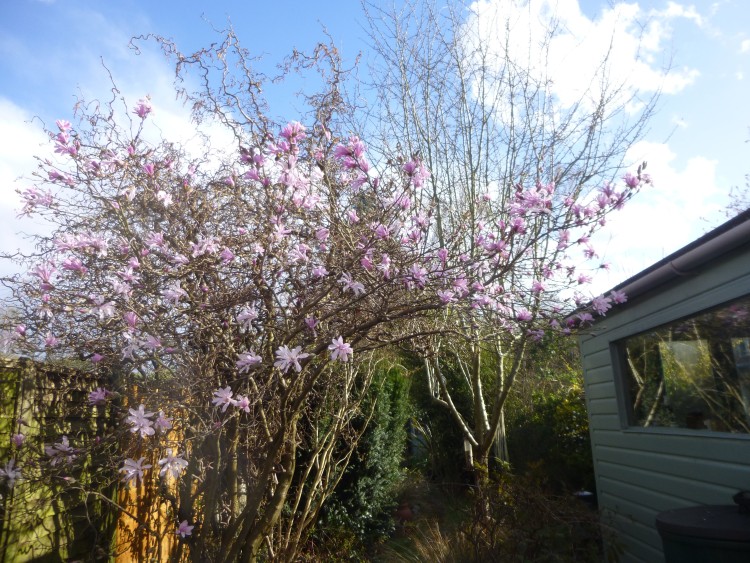 I am watching the bluebells under the silver birch tree to see when their flowers start to open, as I imagine that that will be the time when the bluebells come out in 'my' wood, and I really don't want to miss them! Either the big April painting, or the big May painting must show the bluebells!
What a lovely time of the year this is – Happy Spring! 🙂