I made my October visit to the wood, as part of my '12 Months in an Essex Wood' project, on Monday morning. It was a beautiful morning – mild, breezy, with a blue sky. I parked the car at the old church at 10.00am and set off down the track to the wood. Glad I'd got my walking boots on, as the track was muddy in places for the first time since the spring!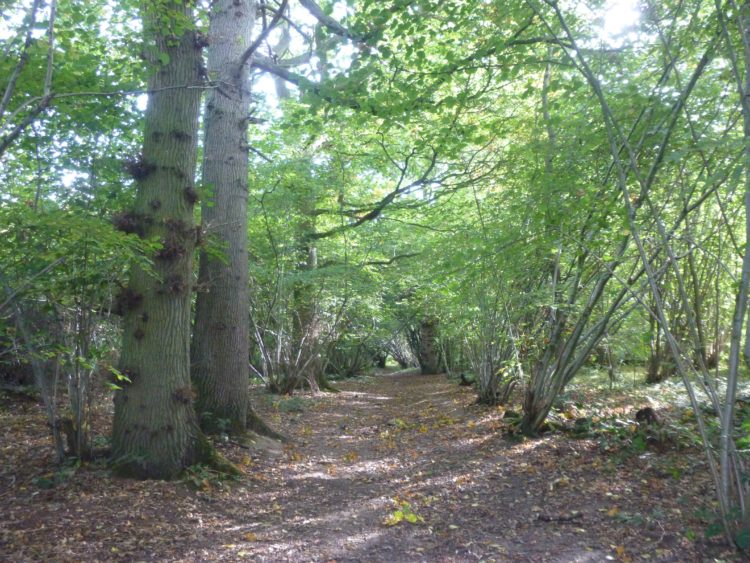 I was really surprised! I expected that there would have been a big change in colours in the wood. But although there were a great many fallen leaves on the paths, in all shades of browns, and ochre yellows, the canopy was still almost completely green. One of the few trees that was showing any colour in the canopy was a big sweet chestnut near the western boundary. Maybe next month will be the big change! I did notice that the canopy has thinned, though, and it seemed much lighter amongst the trees than a month ago.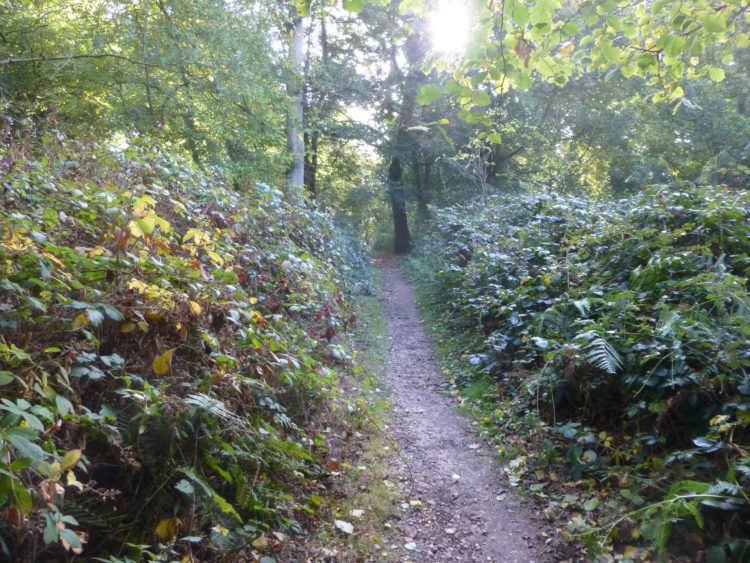 After the quietness of the wood in August and September, this month's visit had a return of birdsong. A blackbird was singing loudly as I entered the wood, and there were wood-pigeons, lots of cawing rooks, robins, the cackle of a magpie, the harsh cough of pheasants. Squirrels everywhere! And for the first time in the wood, I saw a muntjac deer, crashing off through the undergrowth as I approached.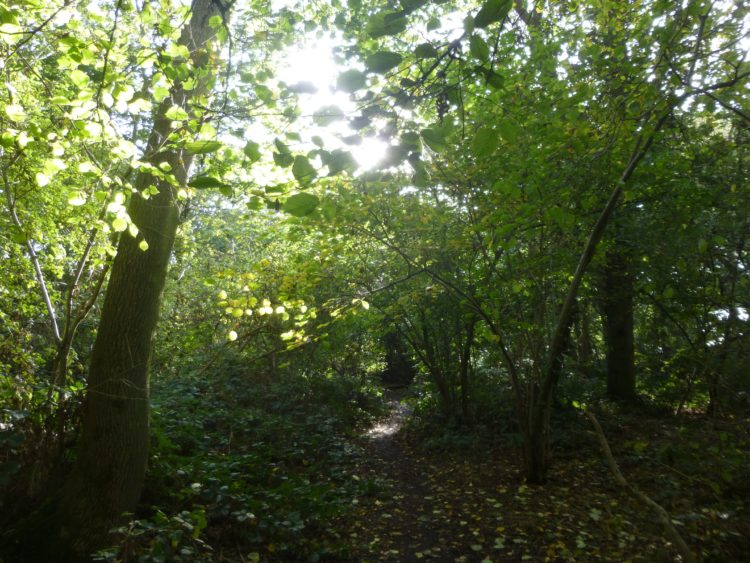 The huge ash trees were still a pale bright summery green. I particularly noticed these enormous clumps. I believe they have grown up where long ago a single ash was pollarded, and the resulting new shoots have now all grown into mature trees, very close together. I suppose, strictly speaking, that each clump is one tree, as they share a single root system.
I shall be priming up the board this afternoon to start Essex Wood: October as I'm a bit behind – having only just finished September's painting! 🙂
---
Just finished yesterday afternoon – Essex Wood: September.
This is down near the southern edge of the wood, in fact only a few yards from the little kissing gate which I painted in Essex Wood: August. At this point there are a number of gaps in the tree line, like the one shown here, where it is possible to climb out into the field. I liked the way the dappled sun lit up the mossy trunks of these big oaks and made splashes of light on the path, and also the contrast between the foreground detail and the distant stubble fields.
I made my October visit to the wood yesterday, taking advantage of the lovely mild sunny morning – I'll post some photos later! 🙂
---
I was really pleased that we made the effort to go down to the Haylett's Gallery at Maldon yesterday, to catch the last day of the James Dodds exhibition. There was lots of lovely work there, including two carved oak panels which were very effective, but the star of the show was undoubtedly 'Oban Skiff', a huge and spectacular painting. Out of the lino cut prints my favourites were 'Pearl' and 'Around the Island'. The show had had excellent sales – there were red dots everywhere!
Today, Graham and I sang for the Civic Service at St Mary's in Wivenhoe, which meant I had to get up early as we had a rehearsal at 9.30am. But the bonus for an early start was a wonderful sunrise – this photo was taken from my back door at about 7.15am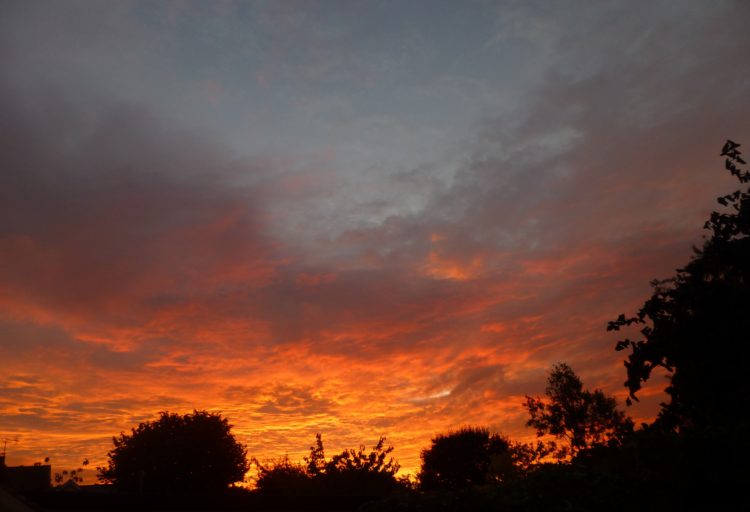 After the service we went to The Sentinel Gallery, a short walk away, to have a look at 'Gone to Press', an exhibition by four print makers and a potter. I really liked Dale Devereux Barker's highly colourful framed enamel panels. And I bought another of Pru Green's mugs to add to my growing collection.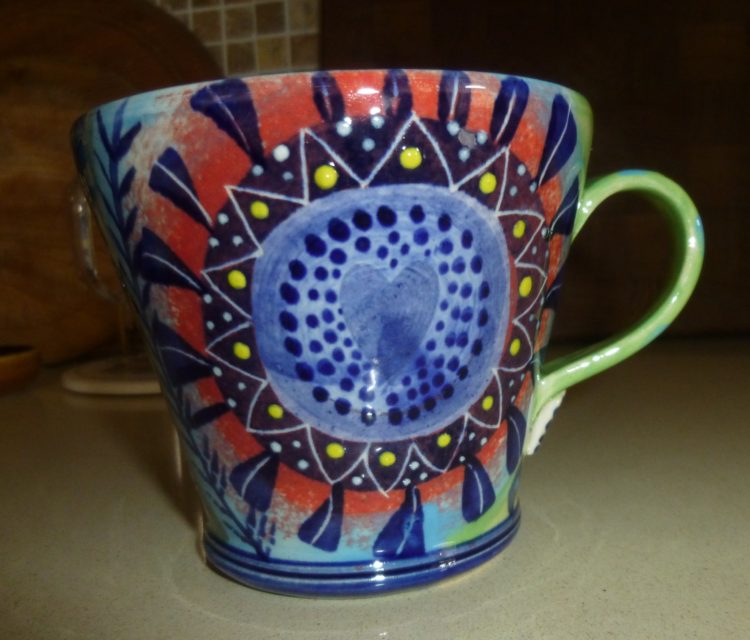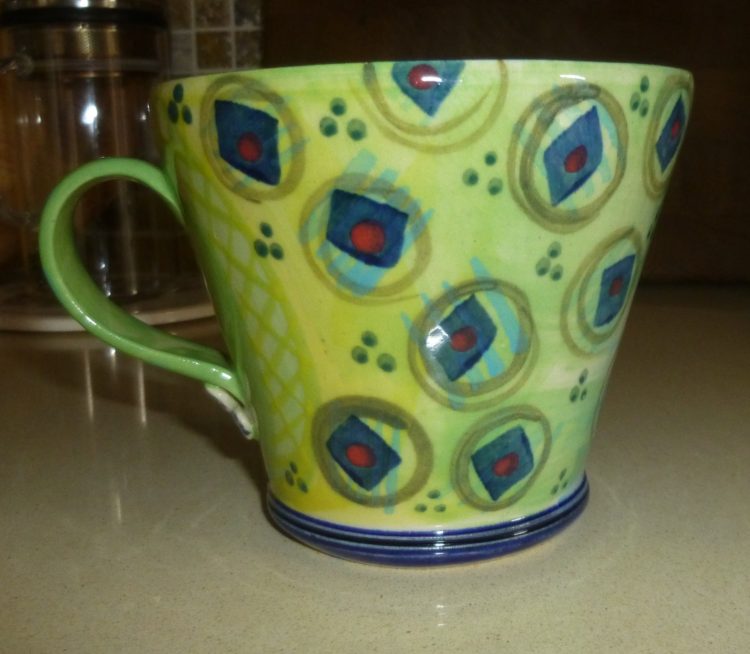 Back to work this afternoon, and a bit more done on Essex Wood: September. This is as far as I'd got by four o'clock today!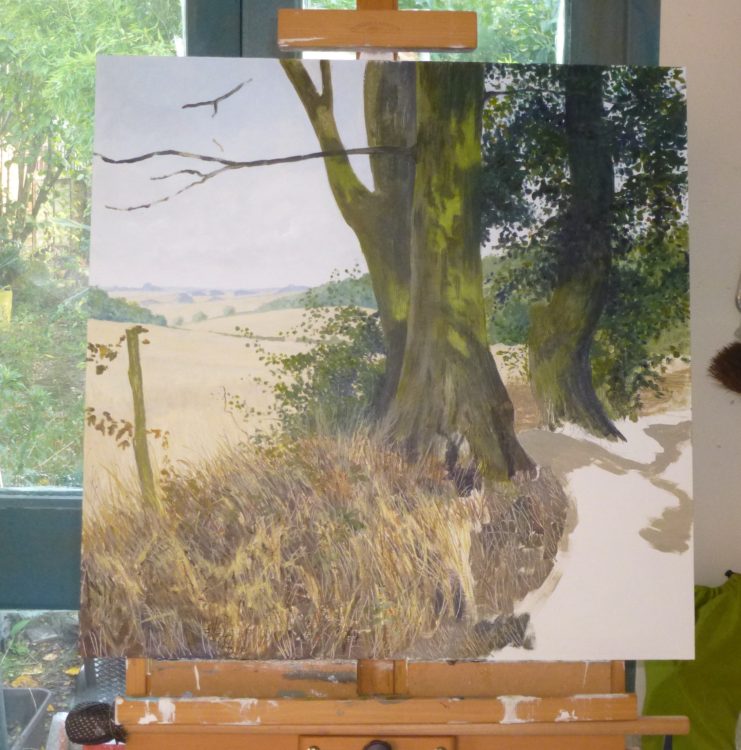 Hope your week gets off to a good start tomorrow! 🙂
---
Essex Wood: August is framed now, and off to a new home this weekend. I am really delighted with the frame, made by my usual framers, Framewerks, at Unit D4 Colchester Seedbed Centre, Wyncolls Road, Severalls Business Park, Colchester CO4 9HT. The buyers chose to have limed oak, having bought the painting at Open Studios unframed. And limed oak is such a good choice for this one! In fact I like it so much that I may use it for some of the remaining Essex Wood series. Here it is, propped up in my sitting room, all ready to go.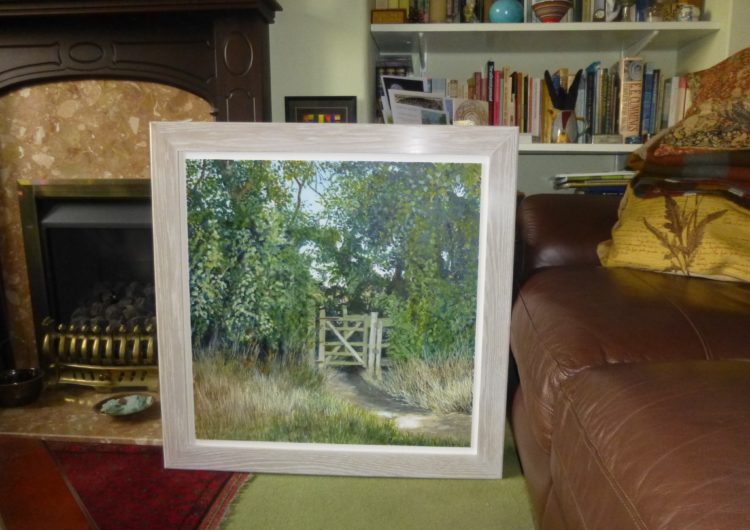 I have a new batch of 100 cards all packaged up, too. These are a mixture of favourites that are always selling out, like Dunwich Beach and Dinghy in the Sun, and some new ones which I haven't tried as greetings cards before, like Hazy Spring Morning, Suffolk, Willows on the Colne, and Waiting for the Tide III. ( Cards from www.moo.com)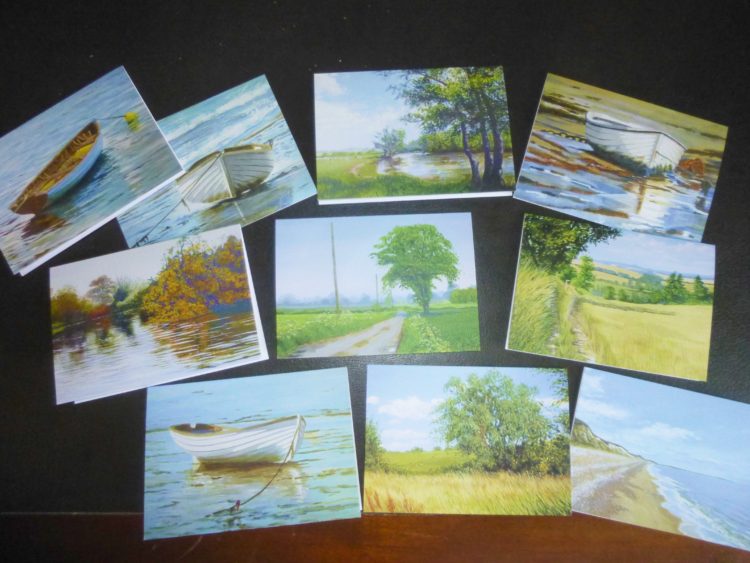 This month I am looking to find a couple of local retails outlets which would stock and sell my cards all the year round. I have a few ideas, but do let me know in the comments if you know of any likely venues! I'll keep you posted!
Back in the studio the last few days, and making progress on Essex Wood: September. This is as far as I've got – still a long way to go!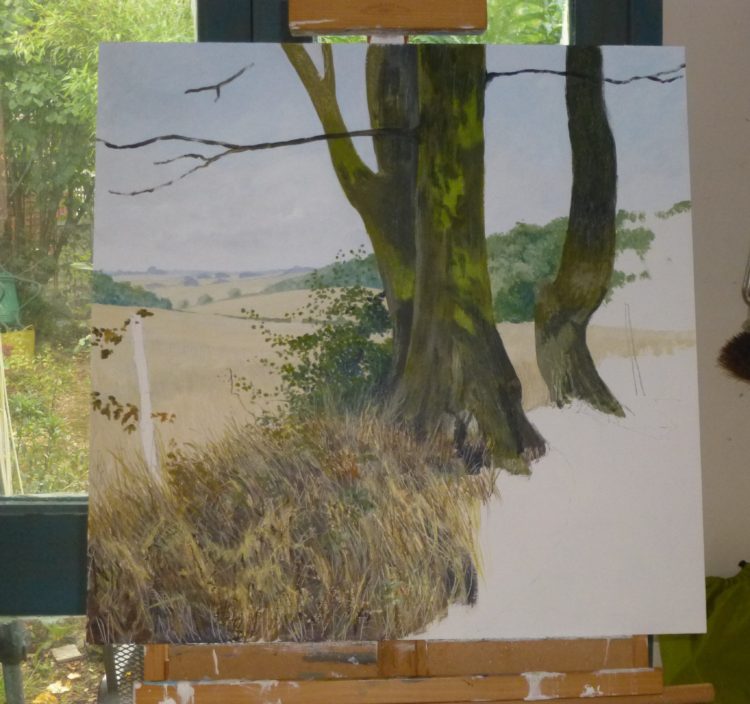 Friday again! – have a lovely weekend whatever you have planned 🙂
---
Yes, that is 'Essex Wood: September' . . . and I am only just starting!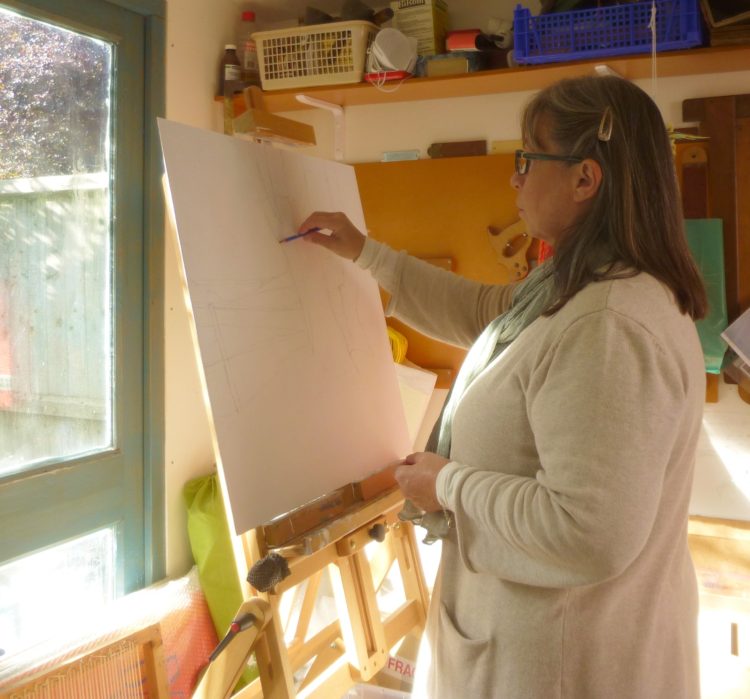 Following the two great weekends of Open Studios there was a swift change of tack. Hospital visits, scans and tests – and I've spent the last week trying to get going again after a general anaesthetic . . .
So it was really nice to get out in my studio on this lovely sunny morning, and make a very late start on this painting, even if it was only for half an hour! I'm just really glad I actually made my September visit to the wood during the week between my two Open Studio weekends, so I have the drawings and photos that I need.
A few lovely exhibitions on locally at the moment, which I am hoping to get to see, and which I recommend if you are in the area.
The Geedon Gallery's Autumn Exhibition is on until Sunday 16th October, (then by appointment until 15th December), open daily from 11 – 5.30. Margaret Glass PS MP is amongst the artists showing, and I always really admire her beautiful pastels. www.geedongallery.co.uk
James Dodds is showing paintings, linocuts and oak panels at the Haylett's Gallery in Maldon until Saturday, 15th October. It is open from Tuesday – Saturday, 10 – 5. www.haylettsgallery.com
And Dale Devereux Barker is amongst four printmakers exhibiting at The Sentinel Gallery in Wivenhoe until 30th October, open Wednesday – Sunday 10 – 5. www.thesentinelgallery.co.uk
I don't think I've wished all you lovely readers a happy October yet! So. . .  Happy October! 🙂