I've just finished reading a fascinating book called Ravilious & Co. The Pattern of Friendship by Andy Friend.
I knew a bit about Ravilious and his friendship with Edward Bawden which led to them, with their wives, sharing Brick House at Great Bardfield in North Essex for a while. At last year's Lexden Arts Festival James Russell came and gave a really interesting talk on these two artists and their connection with Essex.
This book filled in all the context and background – the large group of male and female artists, many taught by Paul Nash at the Royal College, who were friends, colleagues – and lovers – of Ravilious. I was particularly interested to read about the women artists in the group, about whom I knew very little.  Peggy Angus, Enid Marx, Helen Binyon and Tirzah Garwood all had interesting careers, painting, wood engraving, designing fabric and teaching art. Tirzah, who became Eric Ravilious' wife, produced brilliant wood engravings, which I'd never seen before – the book is very well illustrated! Marriage and three children inhibited this work, although she became very skilled at marbling paper. Much later, during her second marriage to Henry Swanzy, she began painting.
Peggy Angus owned the cottage 'Furlongs' on the Sussex Downs near Firle which features in a number of Ravilious' paintings.
I hadn't realised that Ravilious was a great friend of Paul Nash's brother, John,  either, and went on painting expeditions with him. John Nash also has a local connection, living for many years near here at Bottengoms in Wormingford.
The whole group seemed to have the most turbulent love lives, easily rivalling the Bloomsbury group for this!
I found out from a quick flick through another book which I have yet to read – Tirzah's autobiography Long Live Great Bardfield, (More on this in another post!) – that there is yet another local connection. Tirzah is buried at the church of St Michael and All Angels at Copford. So this morning I drove over there as it's only about 15 minutes up the road, to see if I could find her grave.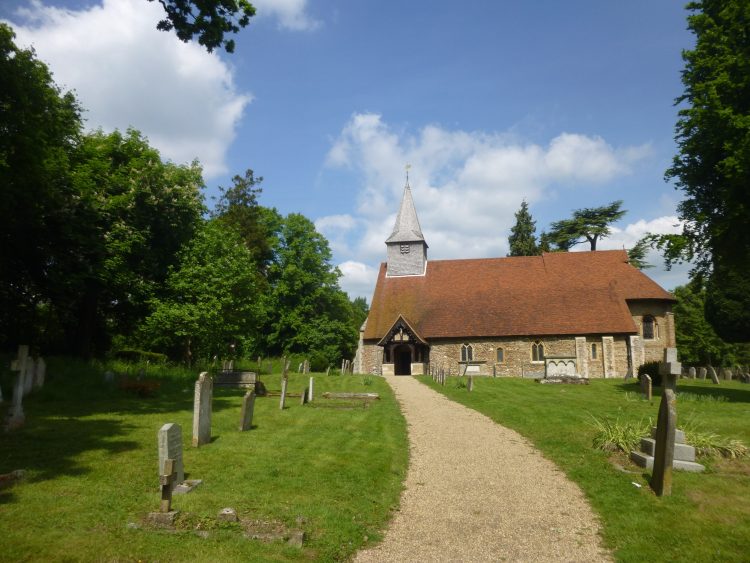 Copford churchyard was looking very pretty and well kept in the sunshine this morning, but Tirzah's grave was in a very overgrown edge, backing onto a band of oak trees separating it from the cricket ground.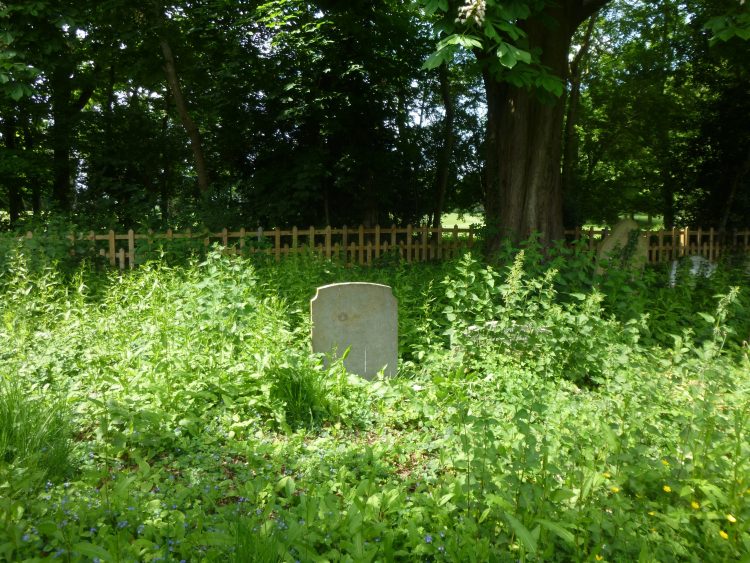 I had to carefully tread down the nettles to get this photo.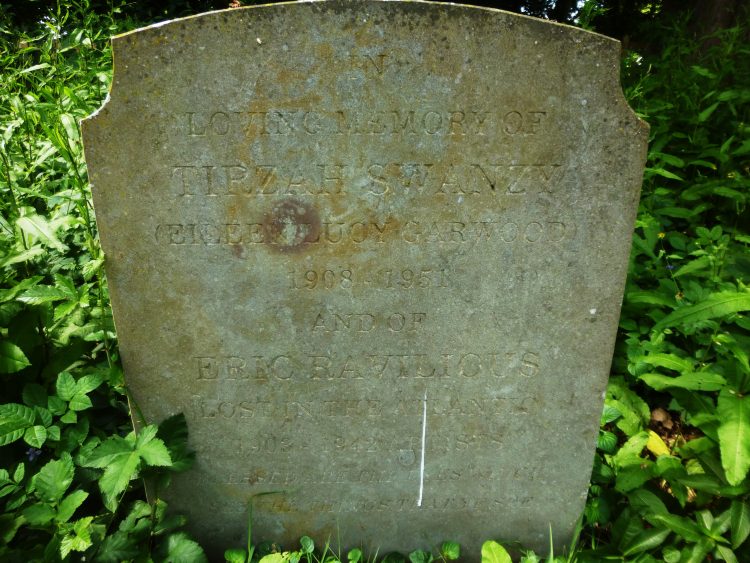 The stone reads, In loving memory of Tirzah Swanzy (Eileen Lucy Garwood) 1908 – 1951 and of Eric Ravilious lost in the Atlantic 1903 – 1942 Artists Blessed are the eyes which see the things that ye see
Tirzah died at Copford Place nursing home following a recurrence of cancer – Copford Place was suggested by Christine, John Nash's wife, as it was run by her friend Susannah Sharp, the daughter of Cecil Sharp. She was almost 42.
Four years later I was christened at the same church . . . 🙂
---
A lovely warm dry morning yesterday – so I took the opportunity to make my May visit to Fingringhoe Wick, as part of my 2017 painting project, A Year on Fingringhoe Wick.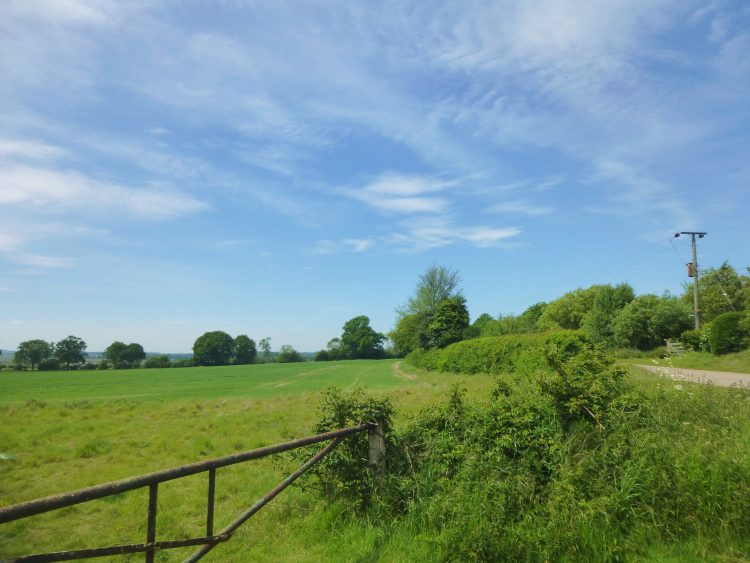 I arrived at about 10.00am, and had to be careful driving up the narrow approach road. It was hopping with baby rabbits! And outside the Visitors Centre was a sign warning of Free Range chickens on the loose! I managed to park the car without running over anything, and set off for the Kingfisher Hide.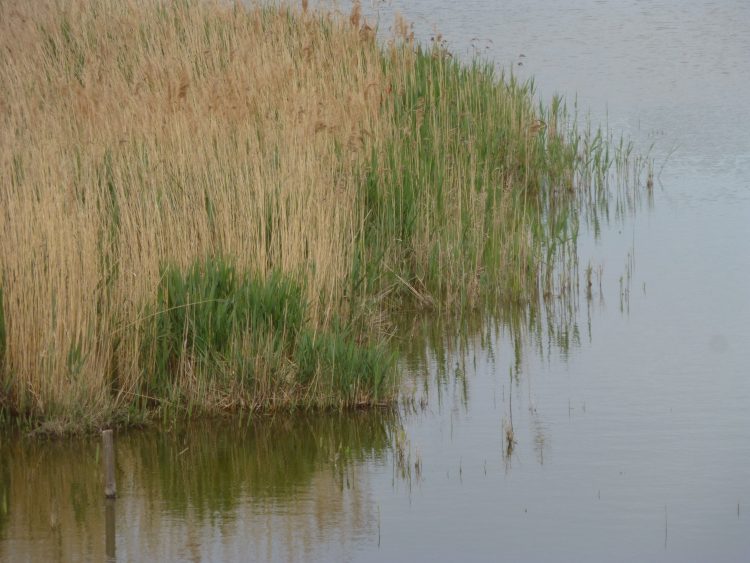 On the way the wooded path was loud with nightingales. Some only seemed a few metres away, but were still impossible to see. I did spot a pair of reed warblers, on, appropriately, some reeds, though.
I had pretty much decided that May's painting would be the view across the water from this Hide. But today, there was just a bit too much breeze, and not enough sun, and all the lovely reflections, that I saw last month, were absent. Oh well, maybe next month . . .
I walked back up the path and turned right onto the track down to the inter-tidal area, and did some drawings of the trees and gateway at the bottom of the slope. A white egret flew over, and the skylarks were loud overhead.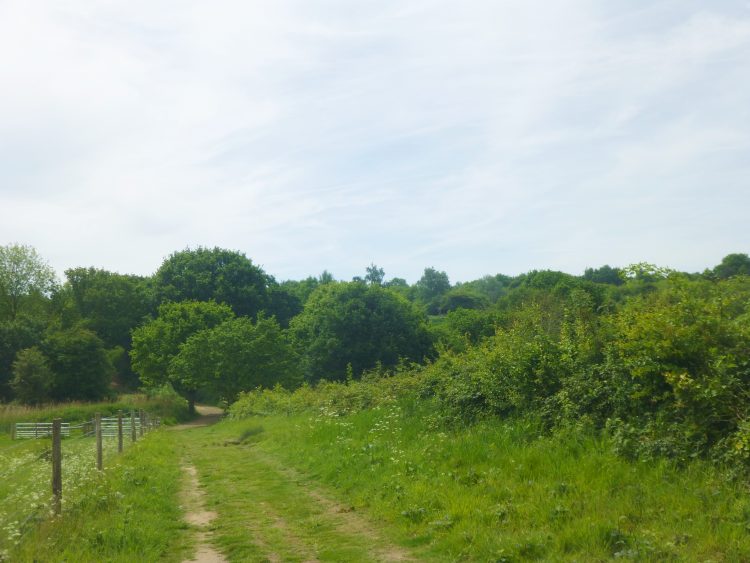 The high viewing place looking out down the estuary was my next stop. The sun was bright by now. A Thames sailing barge, in full sail, was far down the estuary. Through binoculars I could make out another at anchor further out – it seemed to be floating in the hazy air rather than the water.
All along the paths there were dog roses flowering, their prickly stems hanging out of the bushes, and curving up above the hedges.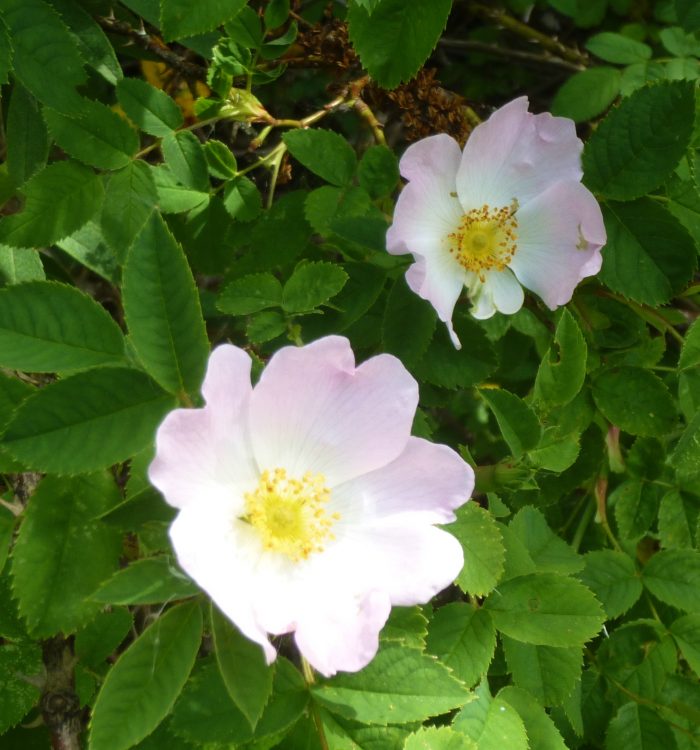 My most exciting bird of the day came when I was having coffee and cake back at the visitor's centre . . .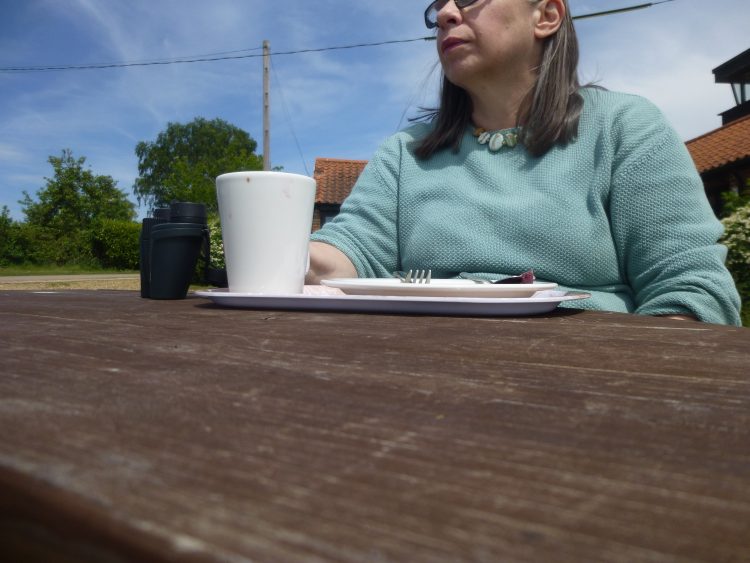 Looking out over the fields and marsh, I think I saw a hen harrier, but need to do a bit more research on the RSPB website to be sure. I'll update you in due course! 🙂
---
Just finished yesterday afternoon – Fingringhoe Wick: April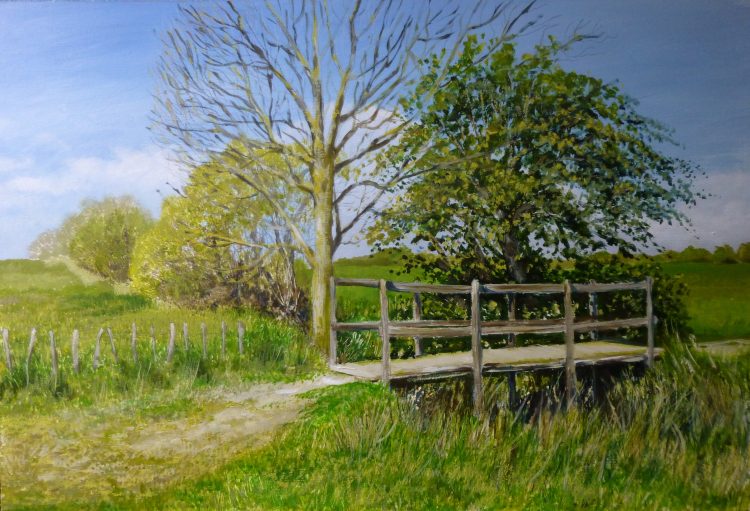 This little bridge is at the top of the slope above Margaret Hide on the new inter-tidal area.
Next up, the next in my Ridgeway series!
Friday – yay! Hope you have a good weekend. 🙂
---
Working away at Fingringhoe Wick: April today.  For once I had a good clear day so made lots of progress. As it was a drizzly dull day it was good to have an inside job!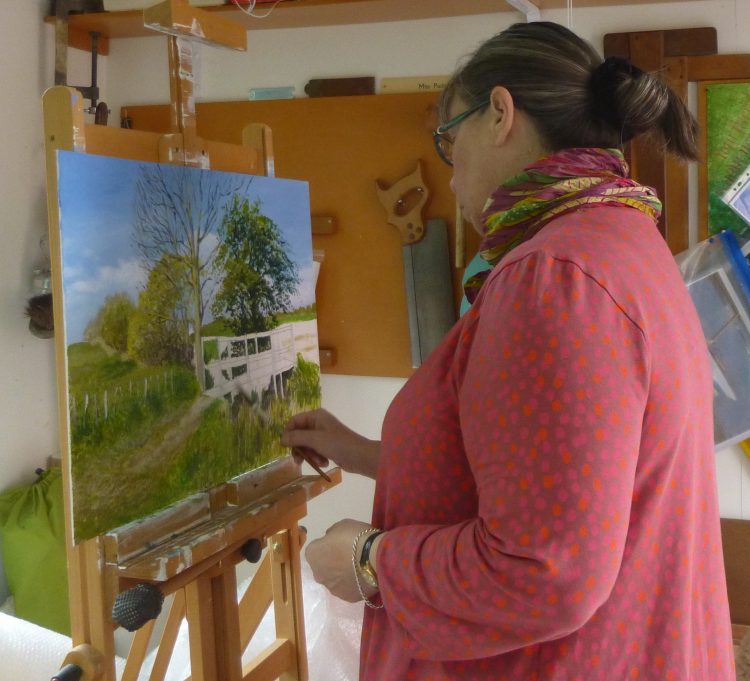 The long overdue rain in the night made the roses – Madame Alfred Carriere – open outside my bedroom window.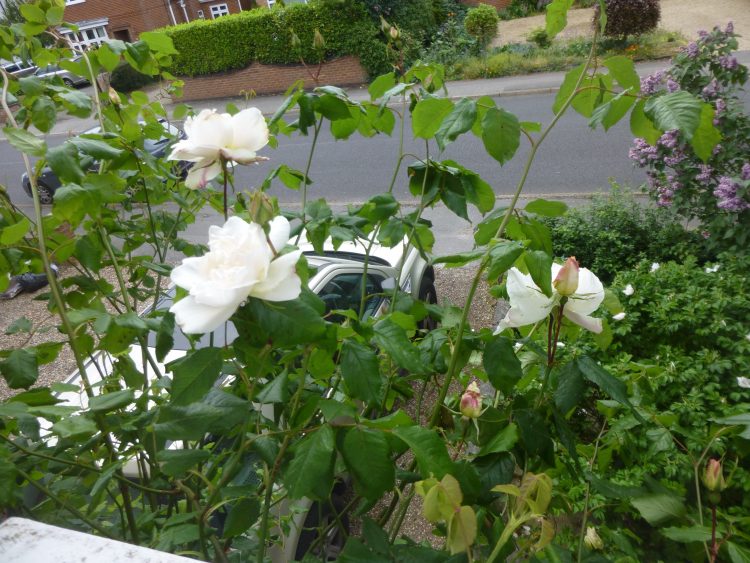 ---
I made a bit more progress on this one this afternoon, while my electricity smart meter was being fitted!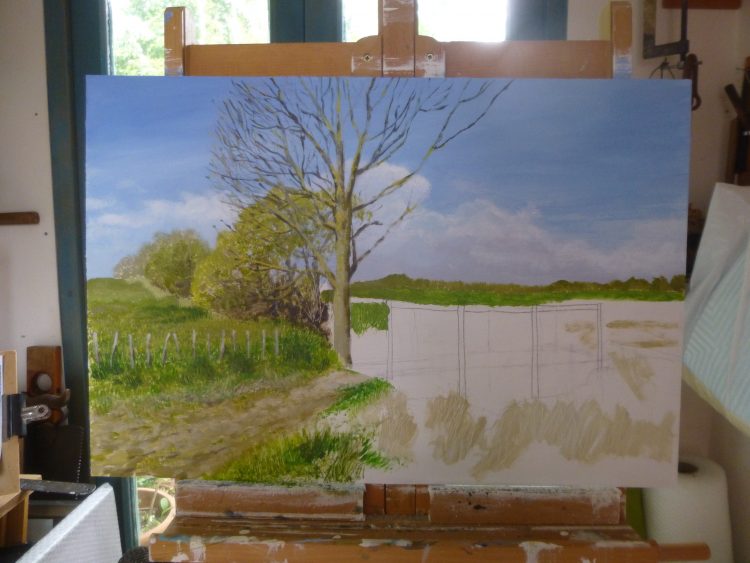 ---
It's really good to be back in the studio this week, after all the business of the Festival. So, I'm making a start on Fingringhoe Wick: April. A bit late . . . .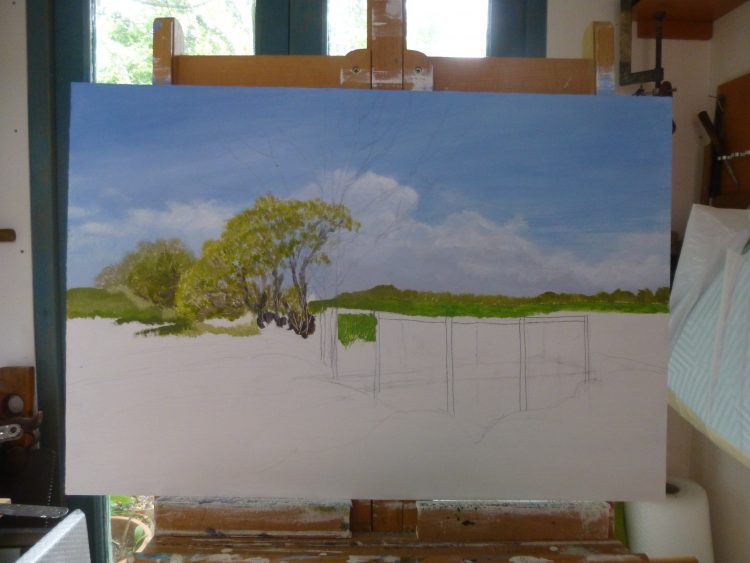 This one will show the little bridge over a stream at the top of the slope above the new Margaret Hide. Not much done so far, but it will be quite different from the first three paintings in this series, as there will be no water.
I'm hoping that I will be able to get over to Fingringhoe Wick for my May visit soon, but today was wet, cloudy and chilly, so I may wait a bit . . . 🙂
---
We had a lovely day yesterday in Cambridge catching up with two former members of the teenage choir we used to run, Beyond Blue.
We met up with Bethany Appleton at the Porter's Lodge of Downing College, where she is reading English. She showed us round the beautiful grounds of her college.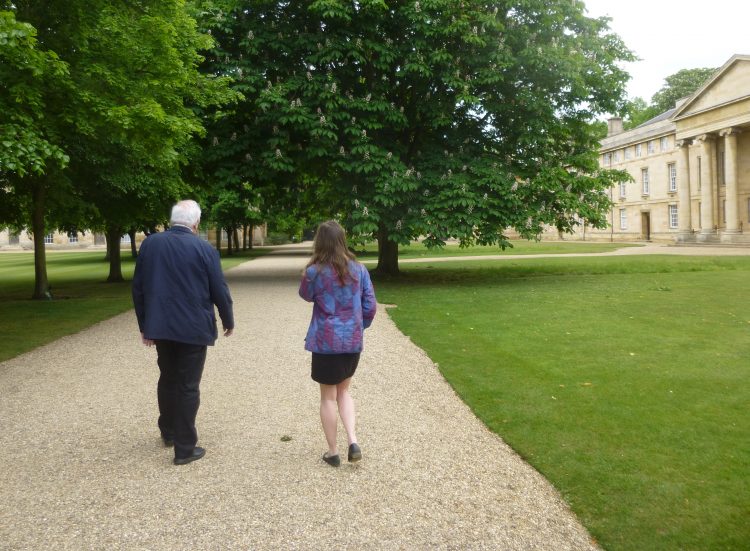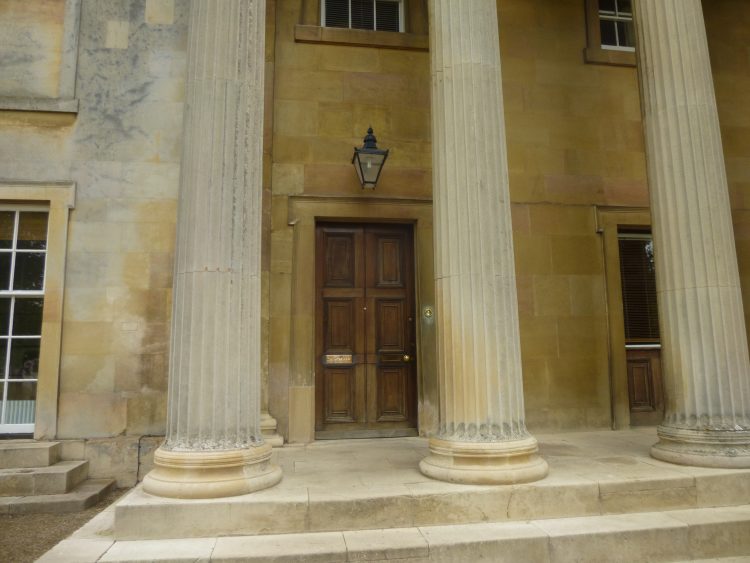 Outside, the streets of Cambridge were teeming with people, and the traffic was almost at a standstill.  Inside the college grounds it was as if we had been transported to another place entirely.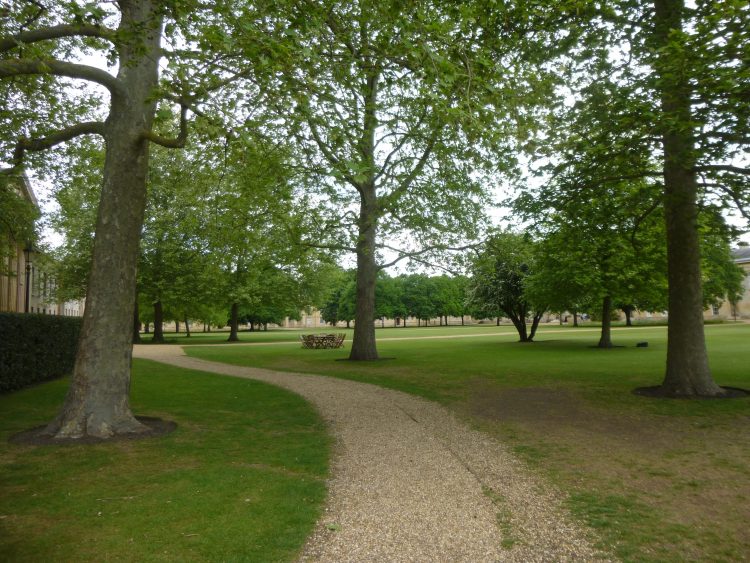 Quietness, mature trees, smooth lawns, a group of students peacefully playing croquet . . .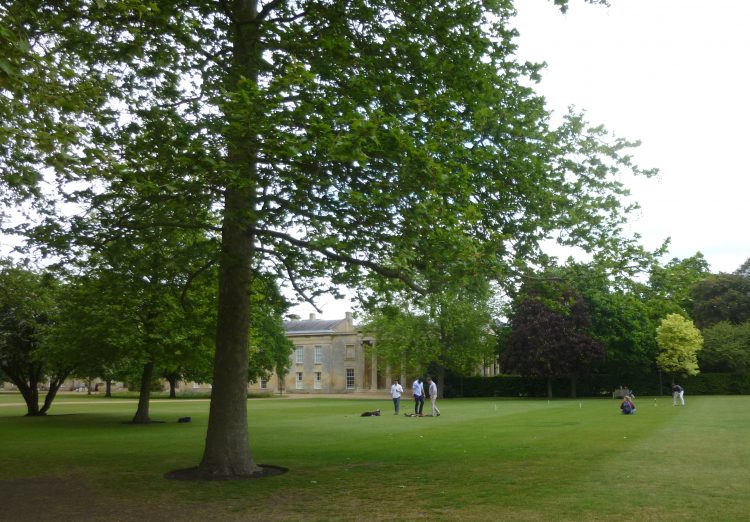 Then we went out to a coffee shop and had a really good chat, and caught up on all the news!
Later, in the evening, we headed to West Road Concert Hall to meet up with Joe Cowie, in his last year at Clare College reading Music, before moving on to the Royal Academy of Music.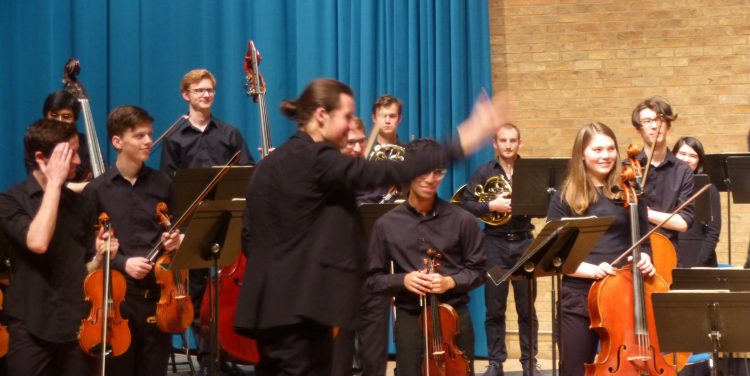 Joe had organised a concert with the Cambridge University Chamber Orchestra, with violinist Thomas Gould. They played a new work called Thread of the Infinite by Joy Lisney, followed by Michael Tippett's Fantasia Concertante on a Theme of Corelli. The second half was Beethoven's 6th Symphony, 'Pastoral'.  And it was all played with no conductor! Thomas Gould directed from the leader's desk, with the full score on an iPad, turning the pages with a clever little foot gadget, as of course he had no hands free with playing at the same time.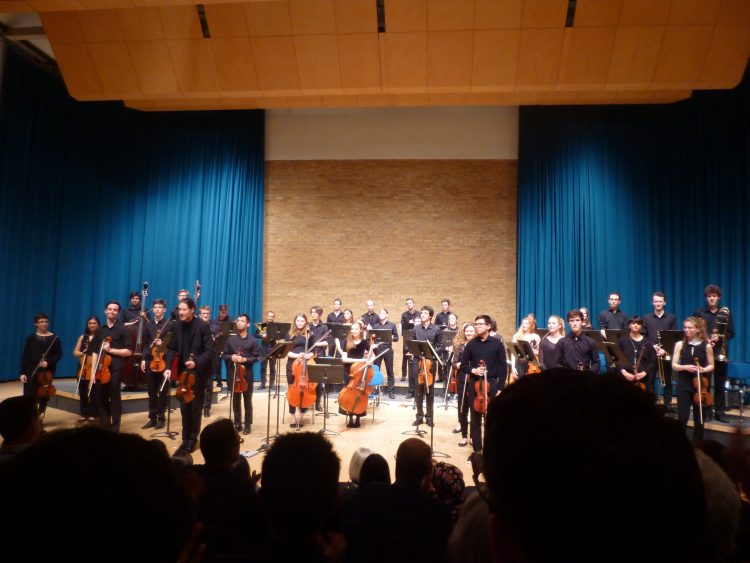 The whole concert was wonderful. They played with such energy, enthusiasm, and skill. We both commented afterwards that the students were so obviously revelling in what they were doing.
It was lovely to see  both Bethany and Joe so thoroughly enjoying their time at Cambridge!
Meanwhile, back in the studio, at last! – after the Festival – I've made a start on Fingringhoe Wick: April. Photos tomorrow!
Hope you're having a good weekend, too 🙂
---
I've been working flat out over the last few weeks organising and running this year's Lexden Arts Festival. We had a wonderful week. From the Private View on 28th April, when I had a queue of people at my Reception desk, waiting to make purchases the WHOLE EVENING – to the brilliant final concert by Matyas Bacso, it was all wonderful.
I think the exhibition was the best we've ever launched. Here are a few photos to give you an idea.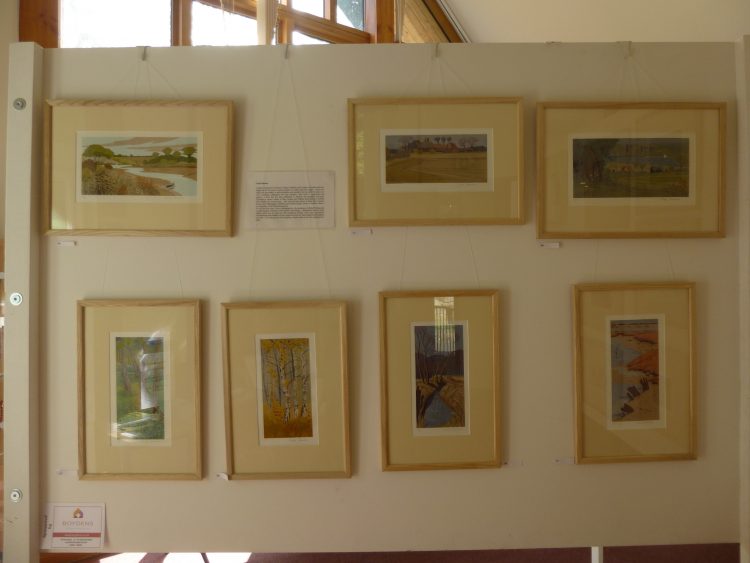 Greta Hansen's woodcut prints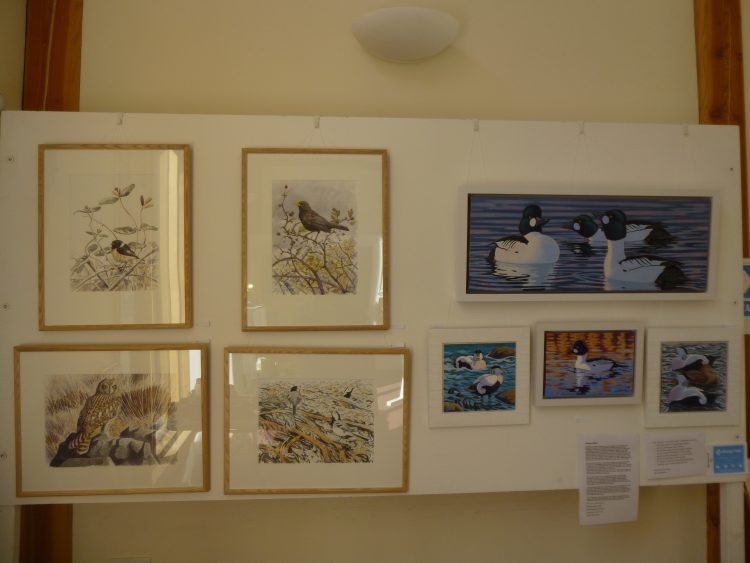 Some of Richard Allen's bird paintings – watercolours on the left and oils on the right.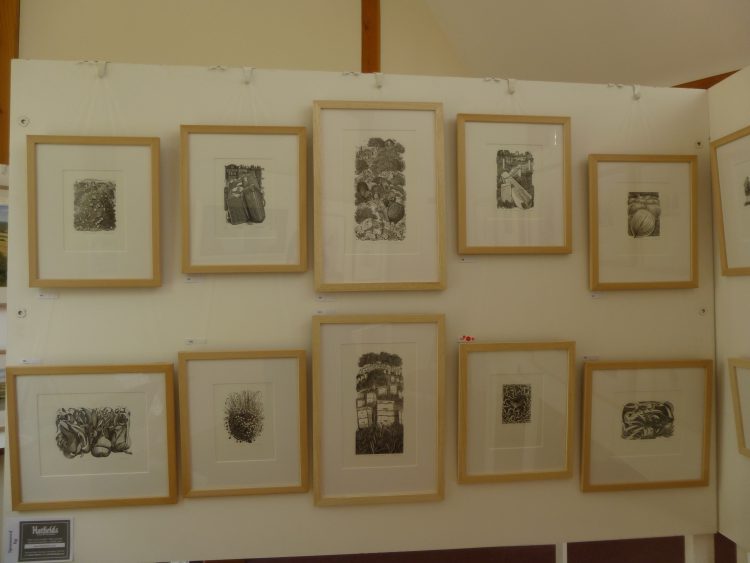 Barry Woodcock's wood engravings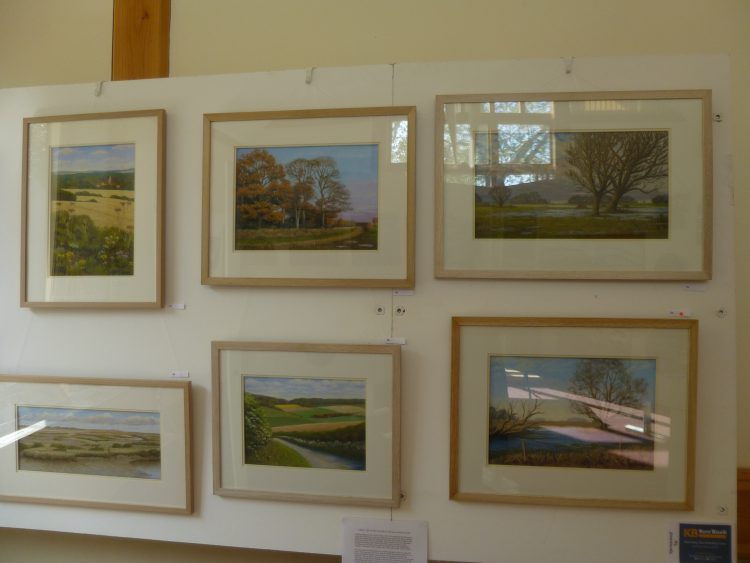 Colin Hayes' pastels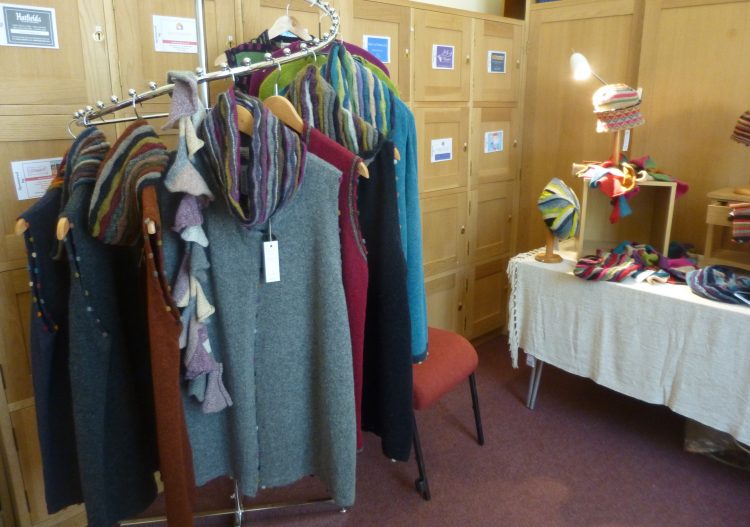 Caroline Sullivan's designer knitwear . . .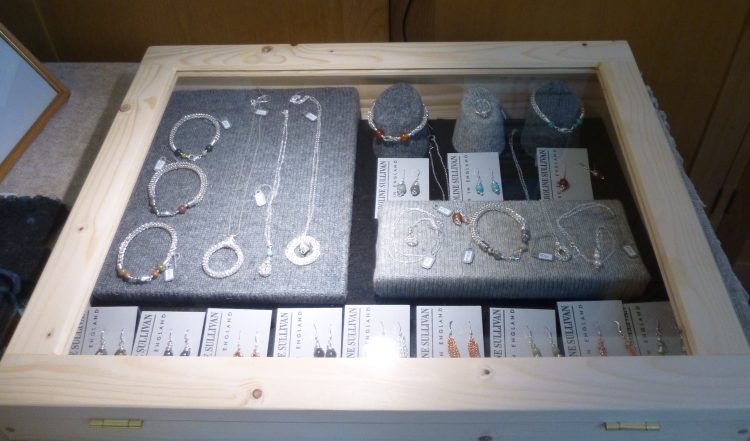 . . . and her 'knitted' sterling silver and copper jewellery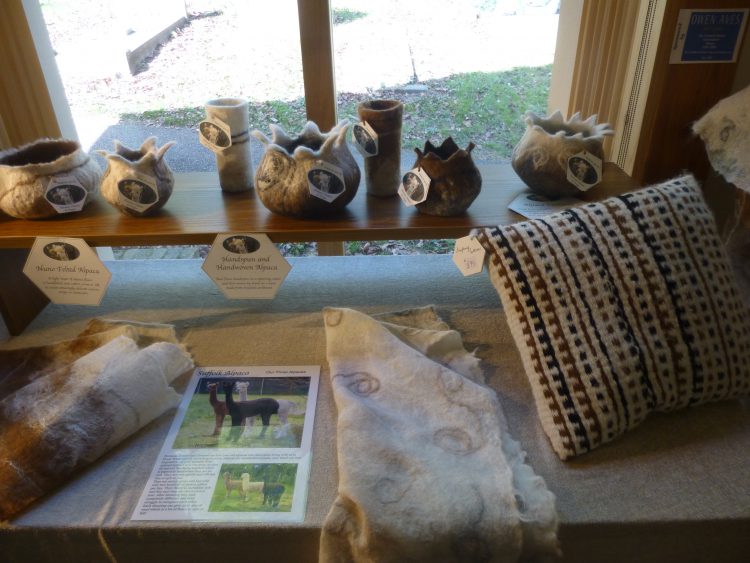 Clare Kiely's textiles from her three alpacas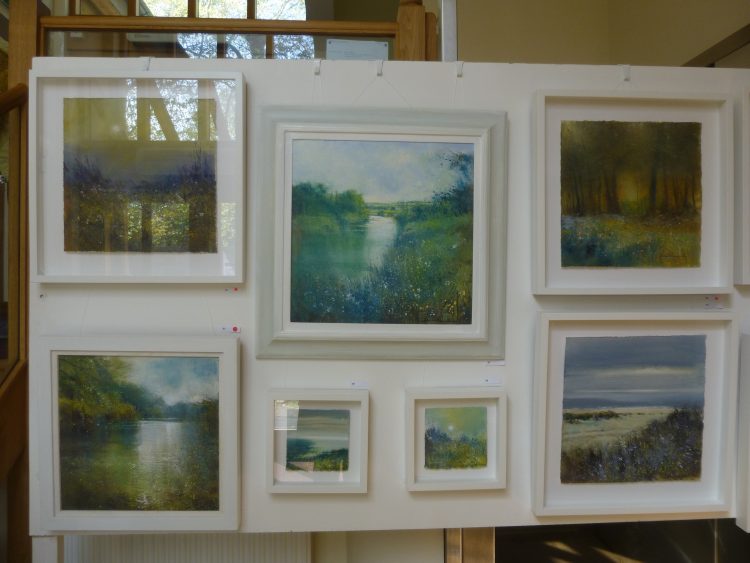 Some of Jonathan Trim's landscape paintings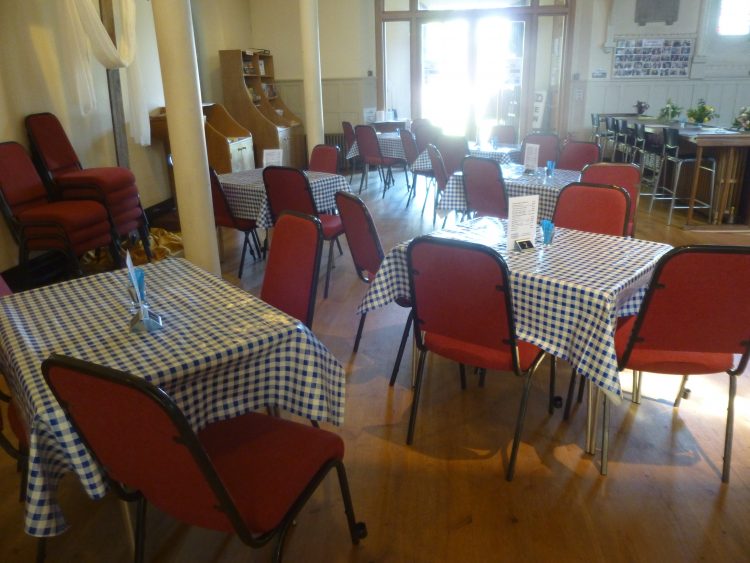 Our Festival café was very popular, and the new checked oil cloth tablecloths looked really smart.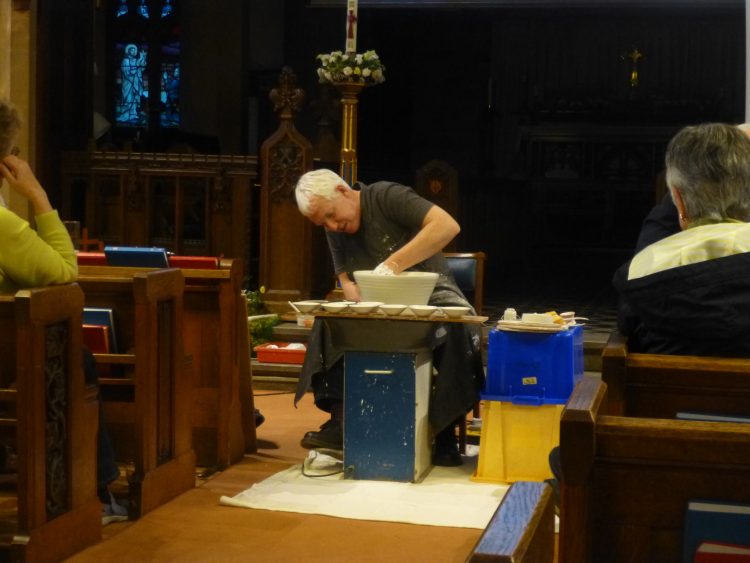 Our Bank Holiday Monday evening event was a  first for us. Richard Baxter – potter from Old Leigh – came to do a live demo, and an illustrated talk about his 35 year career as a potter. We used the camera and projection screen to allow all the audience a close view of Richard's hands as he worked.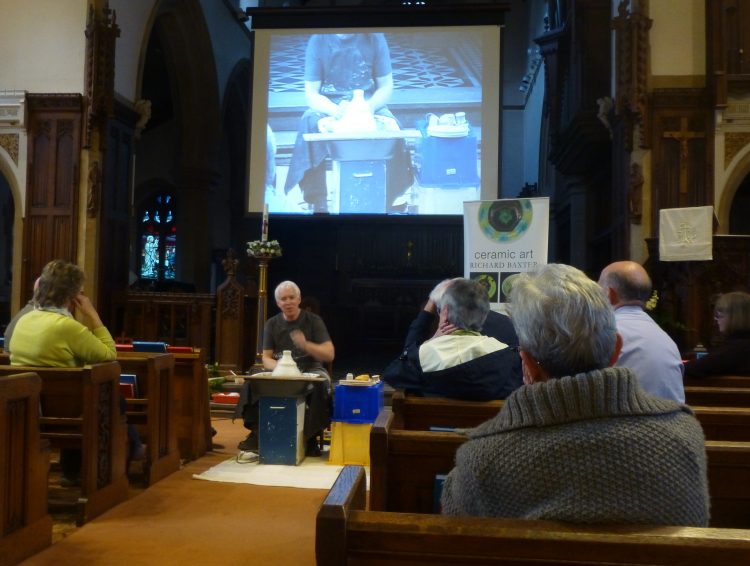 I was delighted to sell three of my paintings – Fingringhoe Wick: January, Peddar's Way III: Harpley Dams and Waiting for the Tide IV, and a huge amount of other stuff. Two canvas prints, 93 greetings cards, 28 postcards, and 19 copies of my 'Twelve Months in an Essex Wood' book. I was particularly pleased at sales of my new square Essex Wood cards, and the books – I need to order more of both!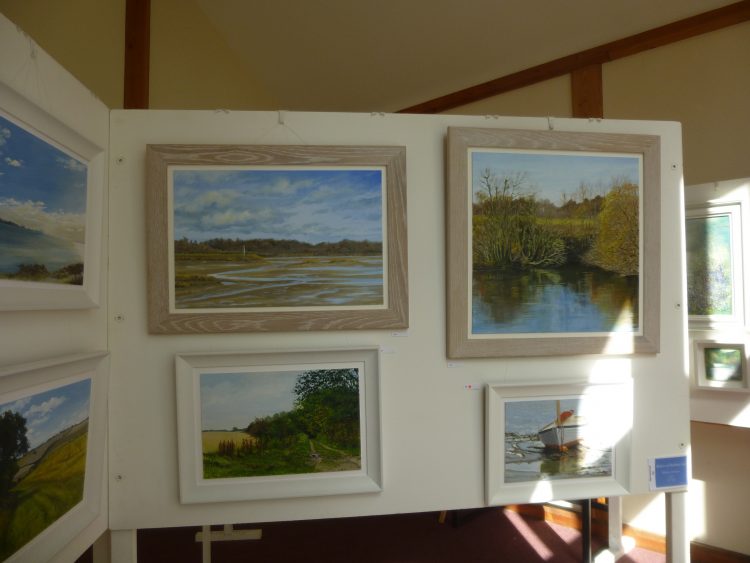 Richard Baxter was also exhibiting with us, as well as doing our Monday event.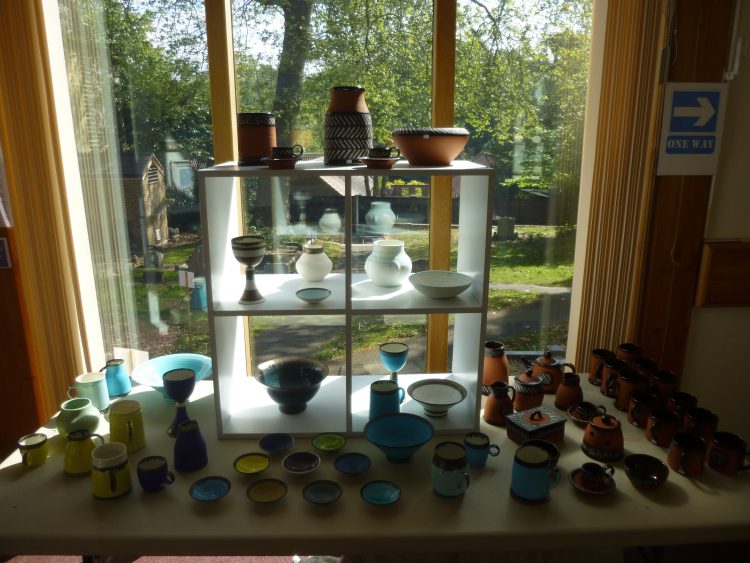 We also had two great jewellers, but it is almost impossible to take a photo of the jewellery cabinet, with the glass doors, and glass shelves, and the mirror back it just turns into a mass of reflections.
Graham and I were both delighted by the art sales – our highest yet – the café – by far the best yet – and our evening events – all really great and much appreciated by our audiences.
Our accounts show that we have made over five thousand pounds profit – but that seems almost secondary to the fact that it was such a fun week, we had such lovely visitors, everyone had a great time – and now we're wondering what to do next! 🙂