Number nine in this year's painting project – this is Fingringhoe Wick: September, finished yesterday.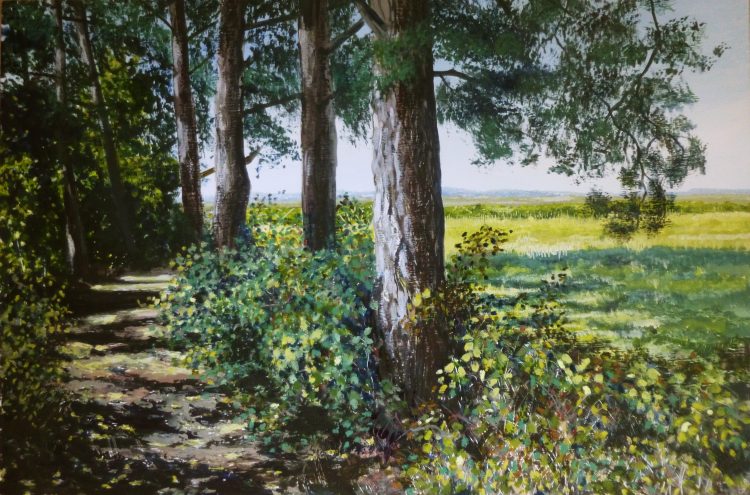 It's been a bit hectic round here recently. My new bathroom was finished on Tuesday, having taken two and a bit weeks to completely strip out, insulate, re-plaster and re-fit with lovely new things.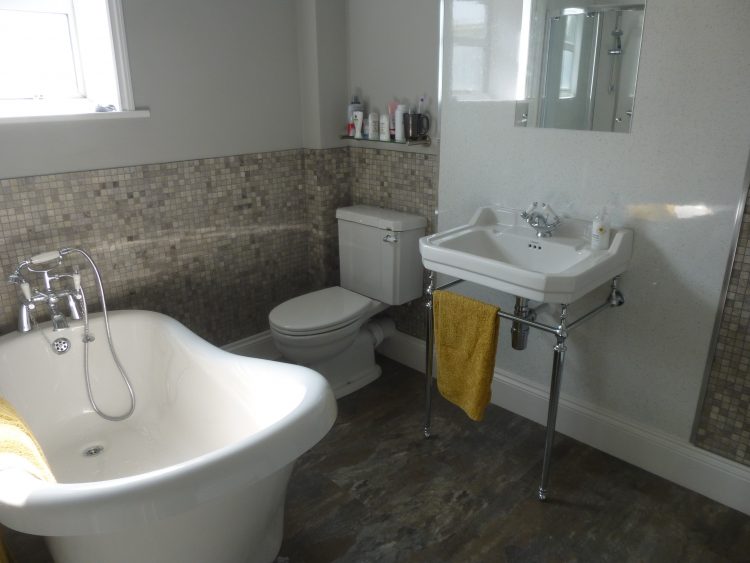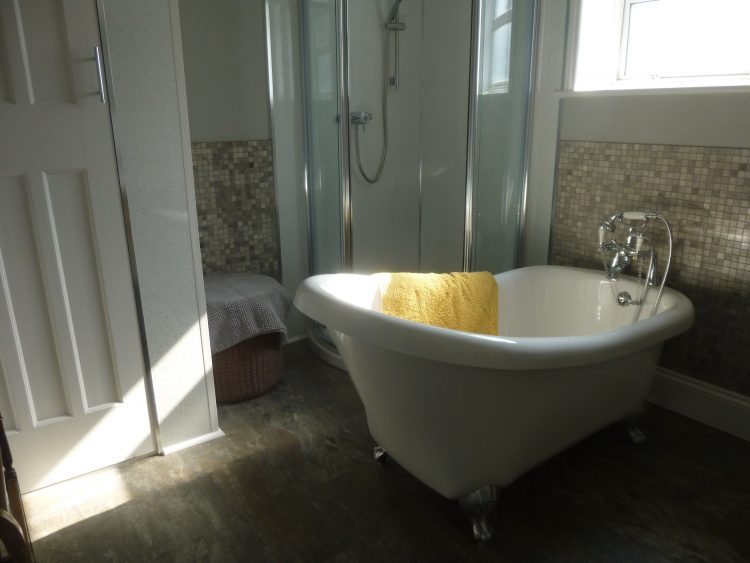 I'm delighted with how it has turned out, but inevitably it was quite disruptive. And then there was Open Studios in the two weekends in between the bathroom being done. Hmm . . .
A huge thank you to everyone who came. It was the best year so far. More lovely visitors than ever before, and more sales, too, so a win all round! Large quantities of tea, coffee, cake and chocolate flapjack were consumed,  we had some very interesting conversations, and caught up with lots of old friends.
Lots of people who visited asked me if I'm planning to do a book about my Fingringhoe Wick painting project, as I did with the 'Twelve months in an Essex Wood' book from last year. (Amazingly, I've now sold 30 of these).The answer is Yes!! I am really excited about planning this next one, as I intend it to be much more varied. The paintings are all different shapes and sizes for a start, but I intent to include some photographs and sketches, as well as text about what I saw. It is hard to believe I only have three more months to go in the project!
Next up in the studio, I think I'm going to do the next Ridgeway painting, before I make my October visit to Fingringhoe.
Almost the end of another week! Hope it's been a good one for you 🙂
---
Just a quick post to say my second weekend of Open Studios starts in 15 minutes! Open from 11 – 6 today and tomorrow, coffee, tea and cakes all ready. Do drop in for a browse and a chat if you're in the area.  The Anvil House, 45 Heath Road, Lexden, Colchester, CO 3 4DJ 🙂
---
A new dinghy up on the website today – I actually finished it last week but have only just had a chance to photograph it. This is one of the Heybridge Basin dinghies that I found a few weeks ago.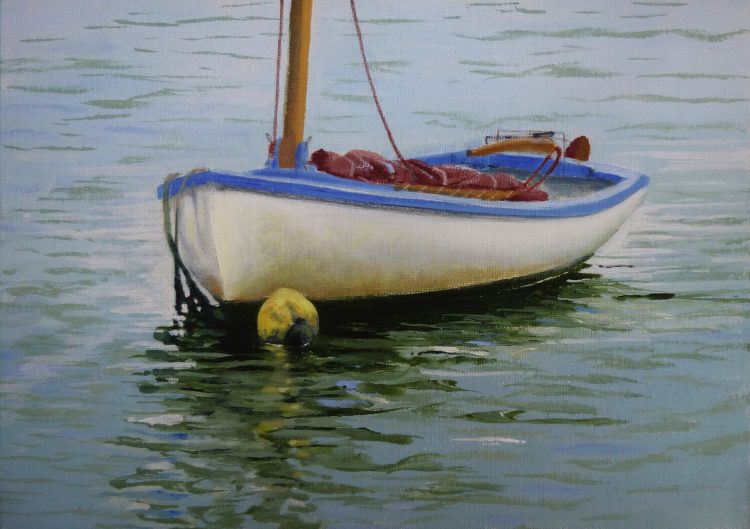 Last weekend was really busy with Open Studios – and of course this coming weekend too! – but it was good to get back in the studio this afternoon and make a start on Fingringhoe Wick: September. Not much done yet . . .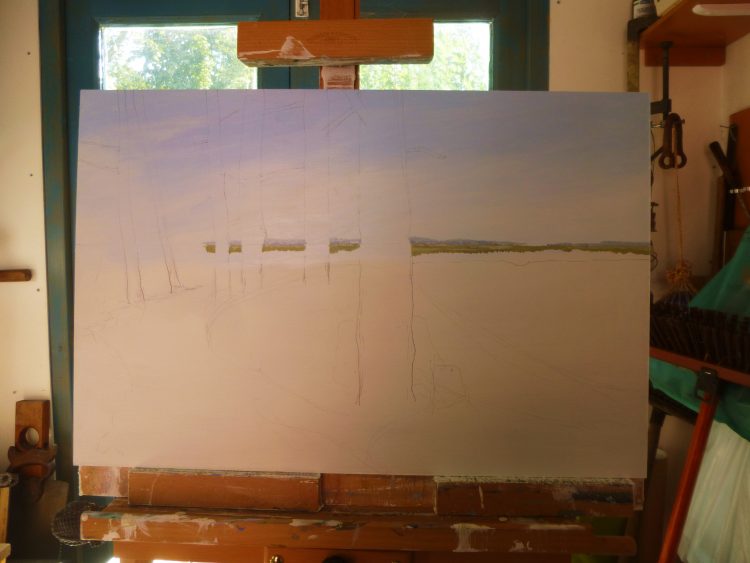 And while I was painting away this afternoon I was listening to my new Leveret CD which just arrived this morning.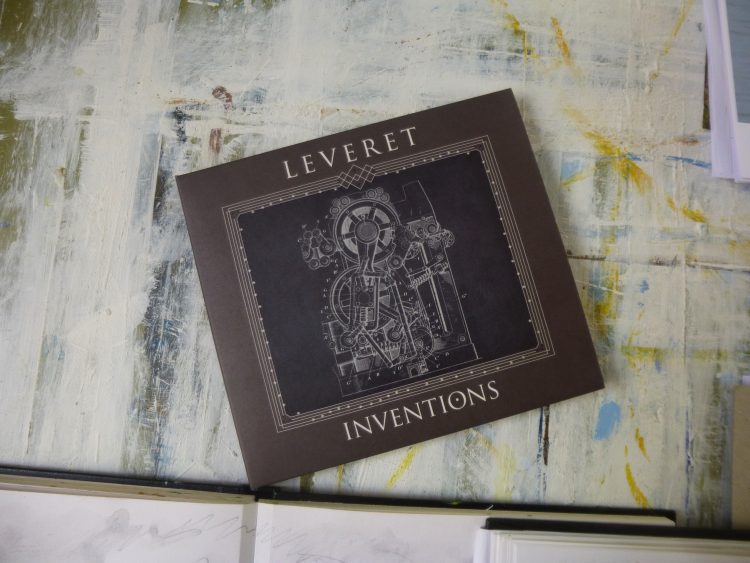 It is brilliant! Highly recommended. And all the tunes on it are composed by the three members of the group, and the music notation for the tunes is written out in the booklet! – how brilliant is that!! So I will be able to play them on my fiddle . . . rather more slowly, though 🙂
---
Today seemed like the only fine day we were likely to get this week, so I set off early to make my September visit to Fingringhoe Wick. It was a bright and breezy morning, with just a few clouds low to the horizon.  As I drove up the approach lane I spotted a likely painting scene off to my right, through a group of scots pine trees down over the marsh.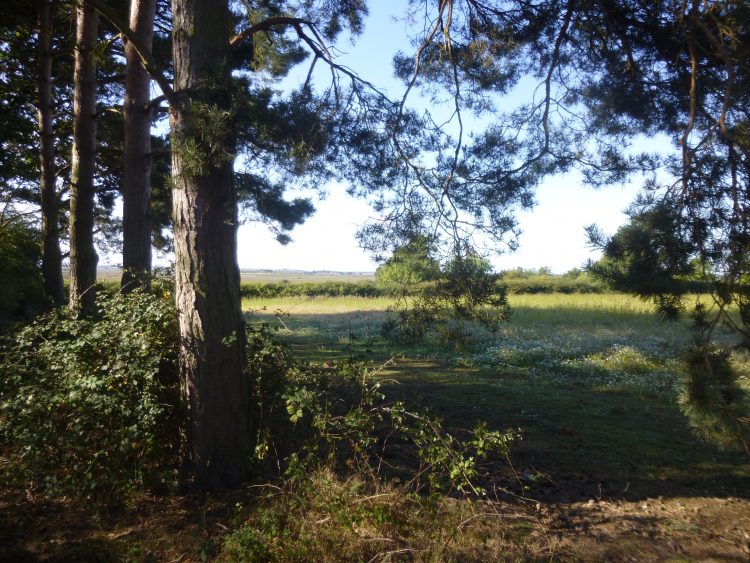 After I'd parked the car I walked back to find it. Standing in the shade of the trees drawing it was really cold! I was glad to walk through the trees to the south facing 'dog walk' path and warm up in the sunshine.
Walking back past the Visitor's Centre I next headed for the estuary shore near Robbie's Hide –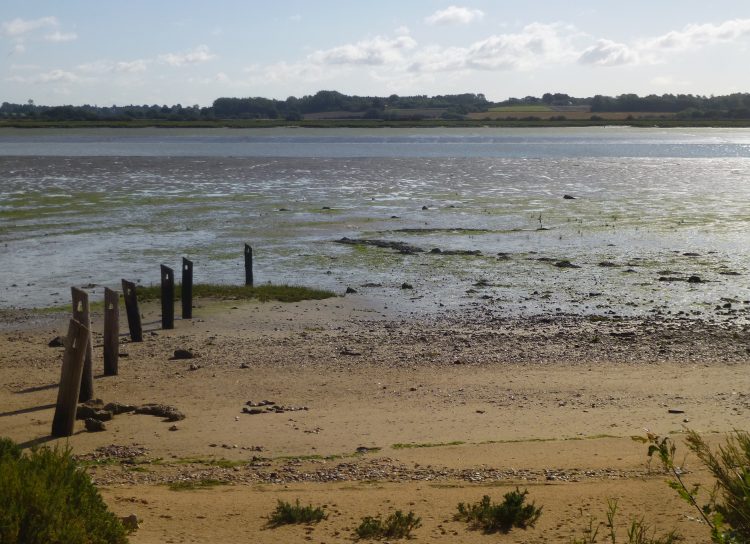 – and then kept walking down to the intertidal area. The hedges were loaded with fruit – blackberries, rosehips, haws, rowan berries, all in abundance.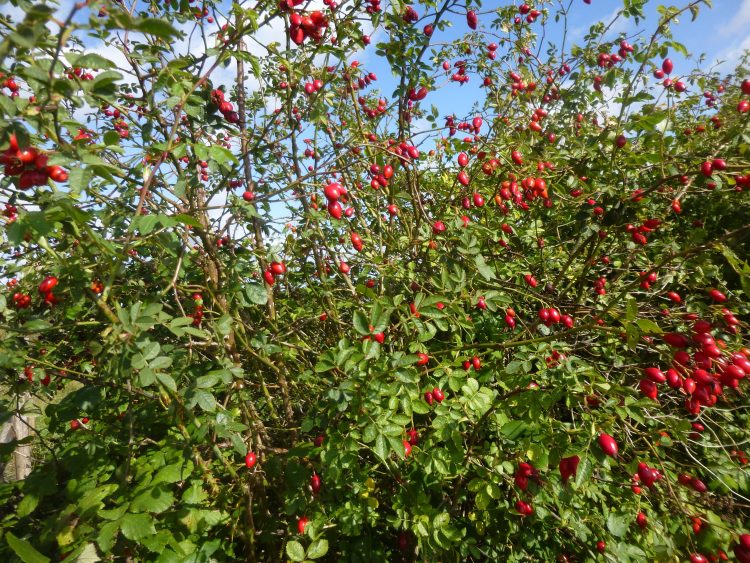 There are wonderfully rich colours beginning to appear in the grasses, foliage and shrubs, and in the lichen on tree trunks.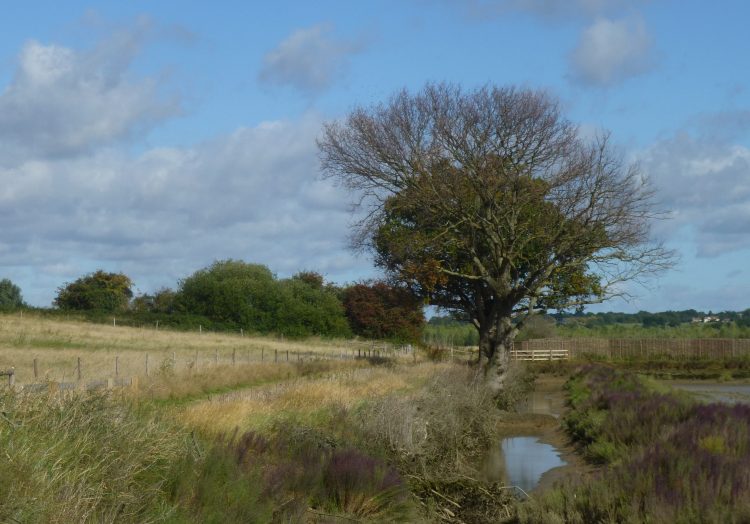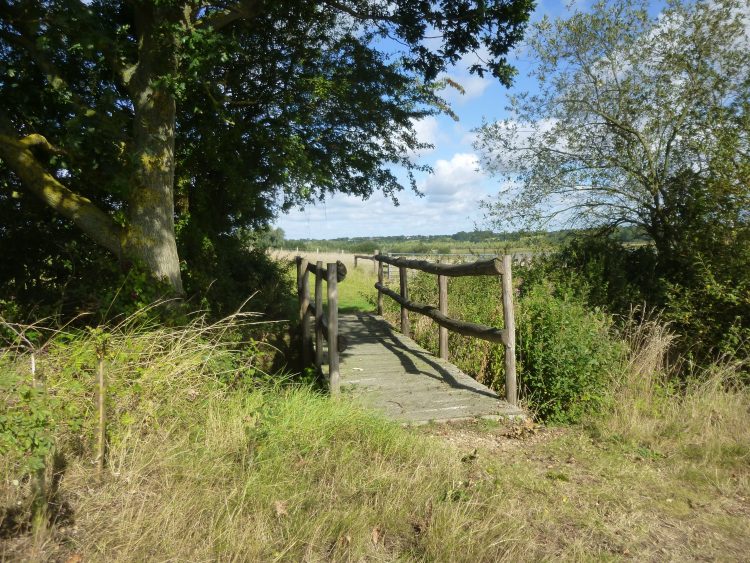 From Margaret Hide I spotted a Ring Plover, hurrying along on the mud with it's bright orange legs –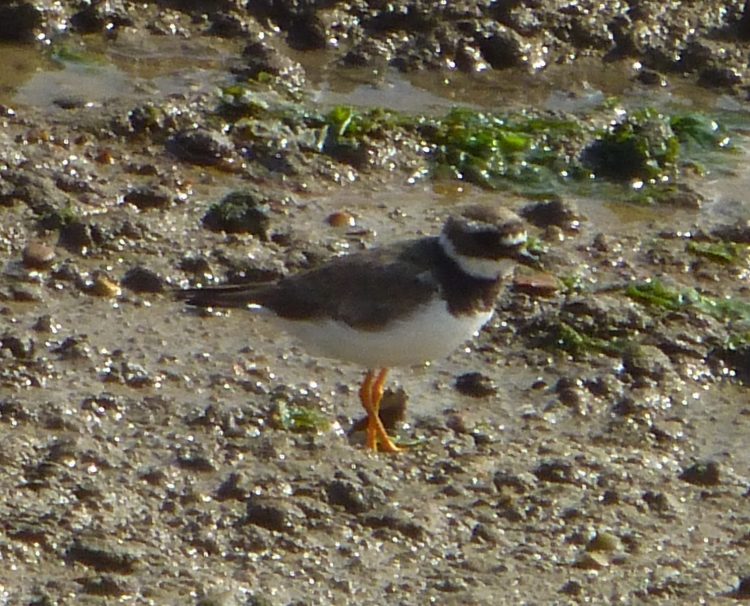 – and I also got a really close sighting of a greenshank, some whimbrel, a golden plover and a curlew – so it was a good birdy morning. I did a couple more drawings near the intertidal area, and then walked up the slope to have a sit down on my favourite bench.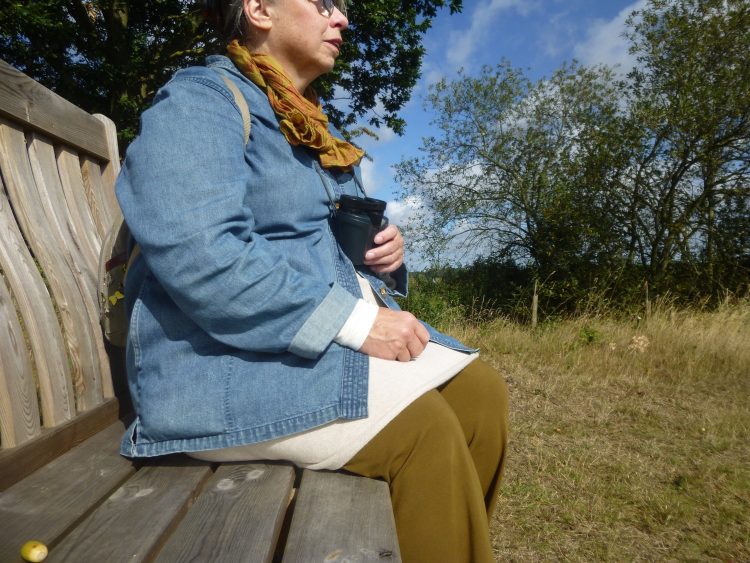 Then it was back to the Visitor's Centre. Carrot cake and a cup of tea!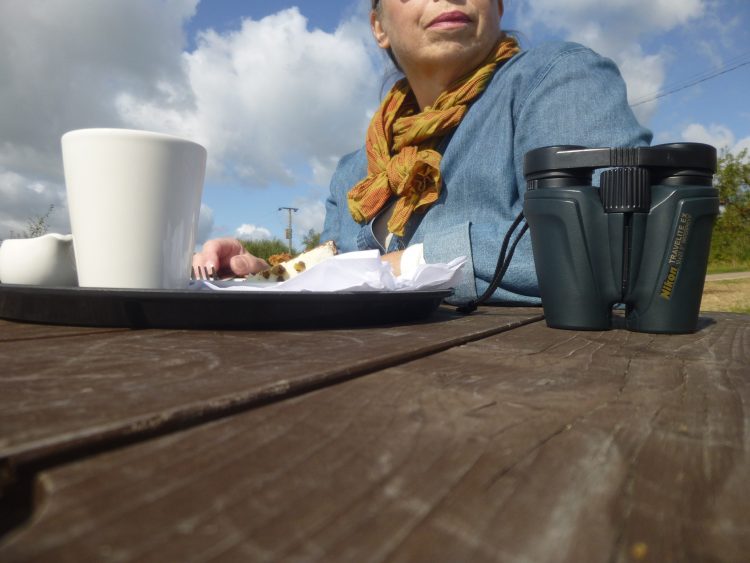 Back in the studio, I started a new dinghy painting yesterday – one of the boats I found at Heybridge last week – which I hope to have finished before the weekend, because then it is OPEN STUDIOS!!! There are lots of artists opening their homes and studios all over the area: go to www.colchesteropenstudios.org to find the listings, plus all dates and times you need to know to go visiting.
Hope you're having a good week 🙂
---
Over to Maldon this morning to Point Graphics Ltd in the High Street to collect my second batch of Essex Wood cards. I sold out of some of the designs at the Lexden Arts Festival, and I was low on all of them, so I have restocked and also had two additional designs printed – March and December.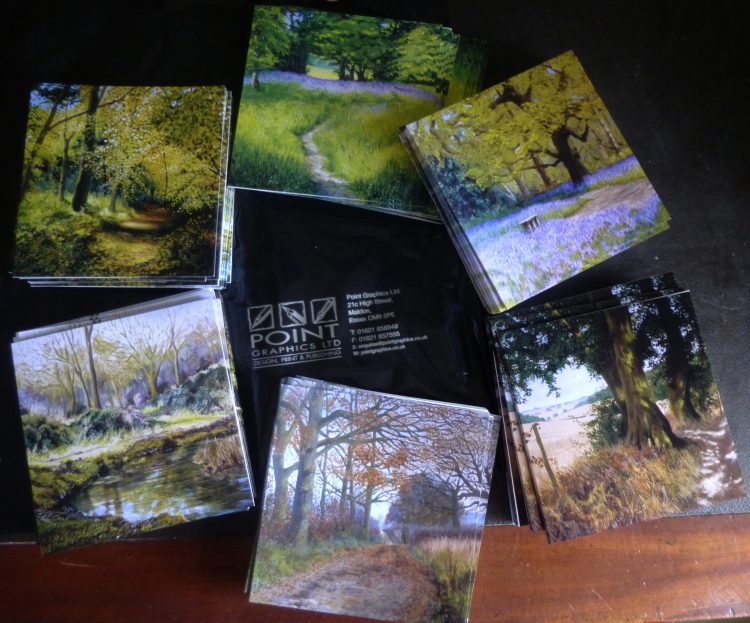 As with my first batch, I was delighted with the way these have turned out. The colours are so vivid and accurate to the paintings! I cannot recommend Point Graphics highly enough – they are so quick, and the product is so good! What more could you ask for?
After collecting the cards I went down to Heybridge basin on a dinghy hunt, and I was in luck as the tide was in and the water covered in boats. In my walk along the sea wall I found three really good ones.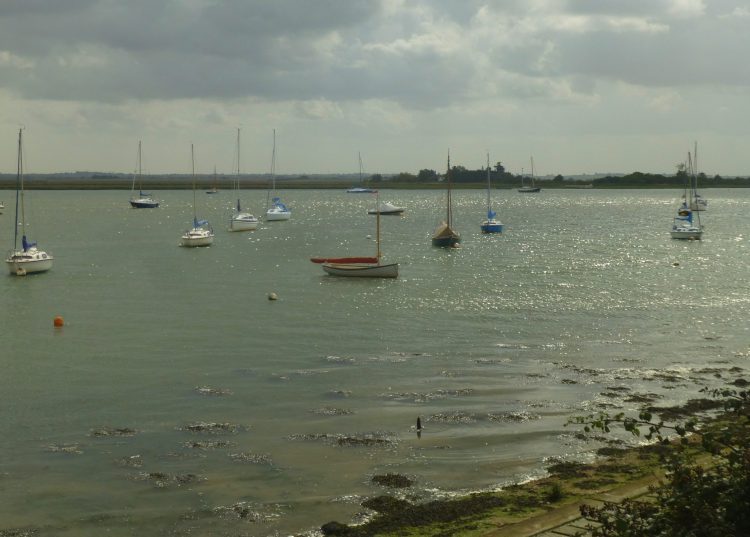 While the building work is started on my new bathroom next week I'm planning on getting one dinghy painting finished, before my first open studios weekend. Having the bathroom done the week before, the week between and the week after my two Open Studio weekends was probably not one of my more skilful bits of planning, but that's how it is!
Oh yes, have I mentioned I'm doing Open Studios . . . . ? Only ten days to go now! It would be great to see some of you lovely blog readers if you live in the area. Just to recap the details – 16th/17th September, and 23rd/24th September, open each day from 11am – 6pm, free refreshments including cake!! no obligation to buy, just come for a browse and a chat, The Anvil House, 45 Heath Road, Lexden, Colchester CO3 4DJ 🙂
---
Just a quick post to say only two weekends before my first Open Studios weekend!  I'm doing 16th / 17th September and 23rd/24th September, 11am – 6pm each day. No obligation to buy, and there will be free refreshments – tea, coffee, biscuits and cakes! The Anvil House, 45 Heath Road, Lexden Colchester CO3 4DJ – do come if you are in the area!