Just finished yesterday – I'm working so hard this month!!
This is a little lane at Mount Bures in Suffolk that I drew in the early autumn last year – but have only just got round to painting.
This is a very small painting compared with most that I've done recently – only 30cm square. Telegraph poles straggling along a country lane is a subject that I've painted a couple of times before, in Essex Lane and Hazy Spring Morning, Suffolk, but they always seem to me very evocative of a particular North Essex or South Suffolk landscape.
I've also just finished my birthday jigsaw – quite the most difficult I've ever done!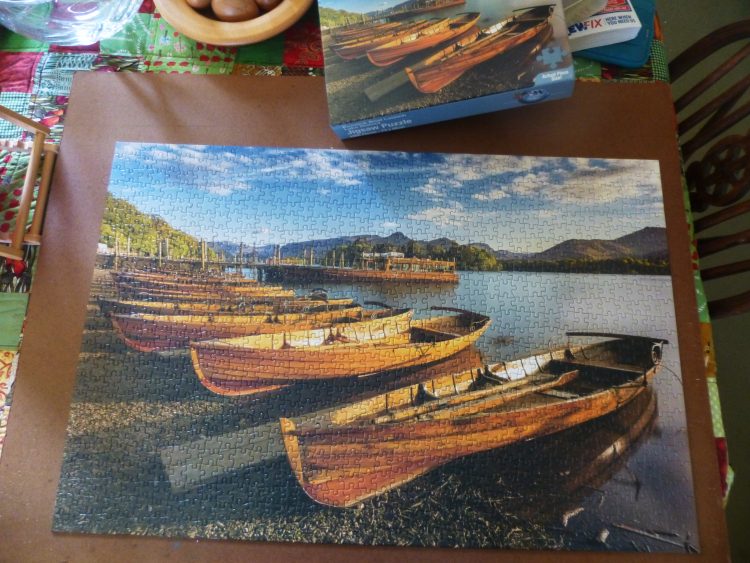 Next – it's on with the first painting in my 'Four Seasons on the Stour' series.
Friday again! Yay! Hope you have something nice planned for the weekend. 🙂
---
I've been working away assembling the words and images for my new book – the book of my 2017 painting project. Here is a little preview of the cover – what do you think?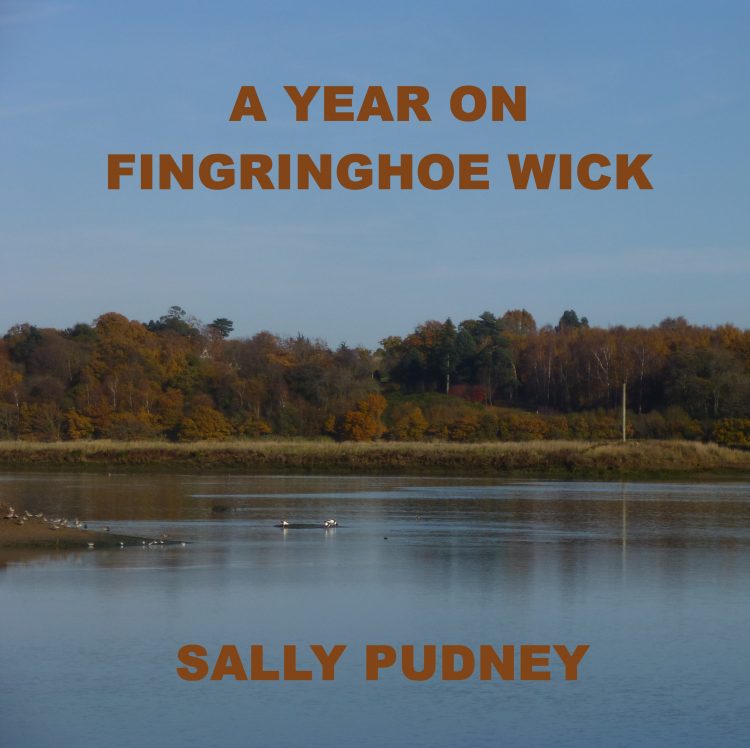 Now I've just got to do the inside pages . . .
Very cold here. We had snow earlier, which has now turned to icy rain. Keep snug and warm! 🙂
---
After the gales of yesterday it was a beautiful day here today. Just the day to start my new 2018 painting project. Off I went to the Stour estuary, to Wrabness to be precise.
Grayston Perry's House for Essex was visible across the fields in all its weirdness, against the backdrop of Stour Wood.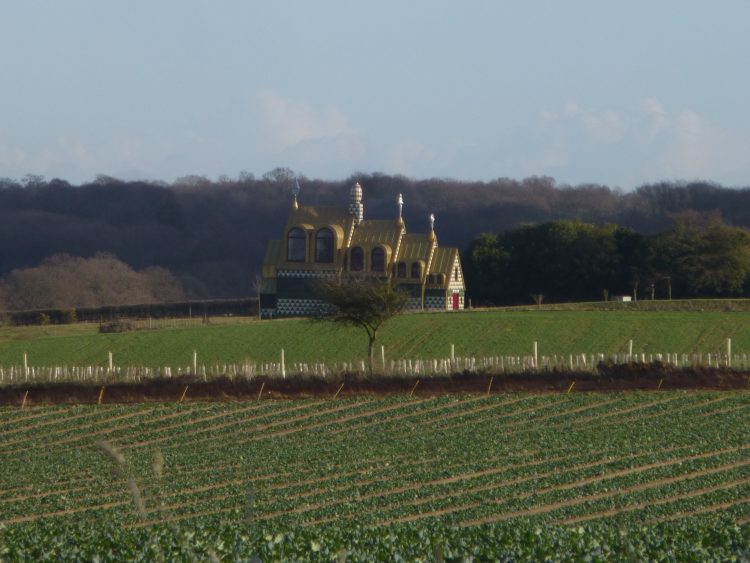 There was a good view across the estuary as I walked down Stone Lane.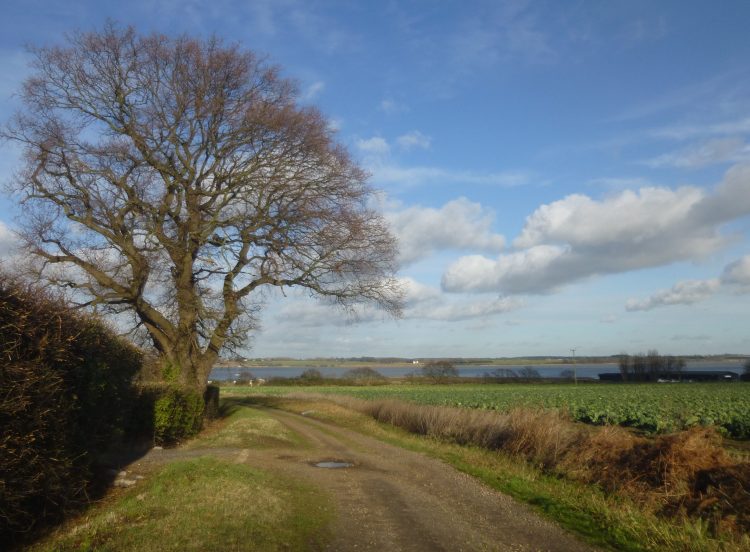 And I was surprised to discover that the shore here is like a proper beach, with sand and shells – cockles, oysters, mussels – and a black sea-weed strand at the high tide mark.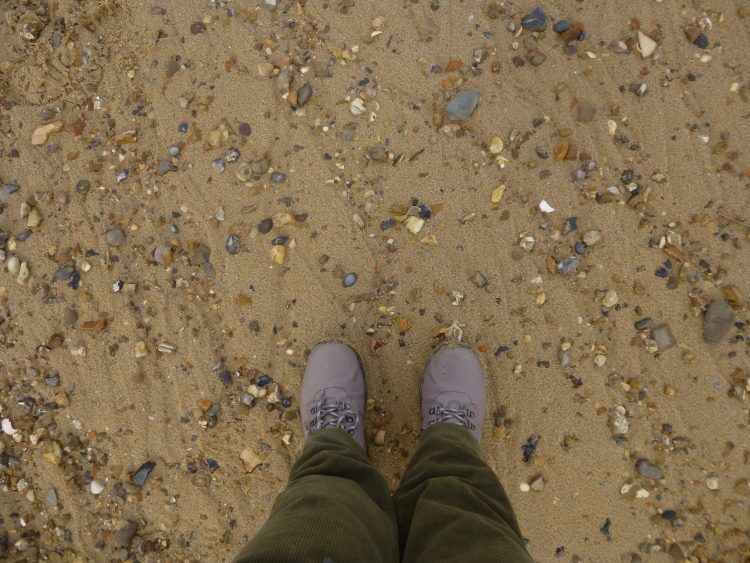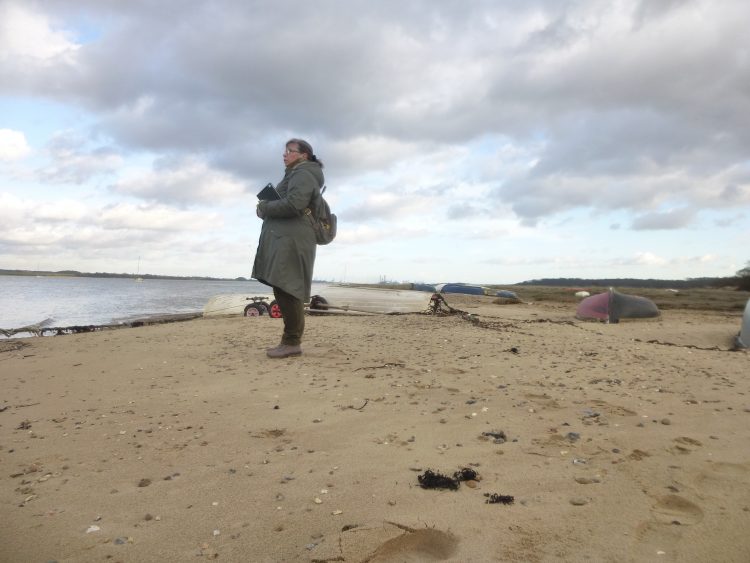 There were lovely cloud formations blowing down the estuary from the west. The sun periodically lit up the tower and buildings of the Royal Hospital School at Holbrook on the Suffolk shore.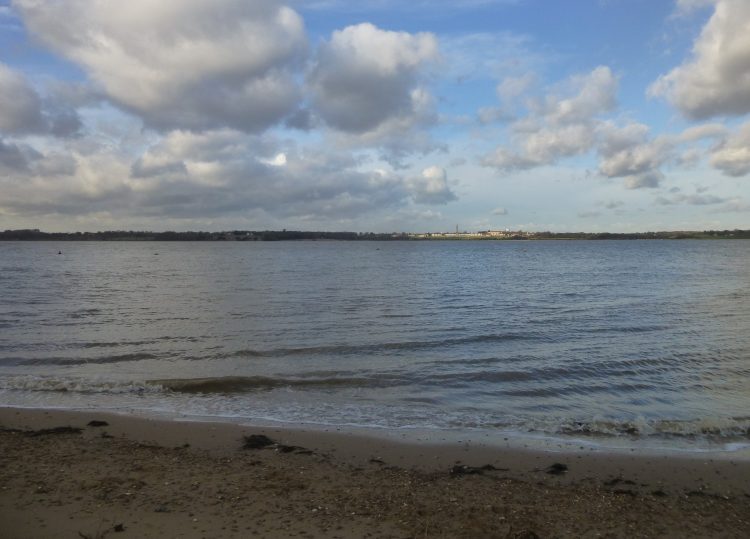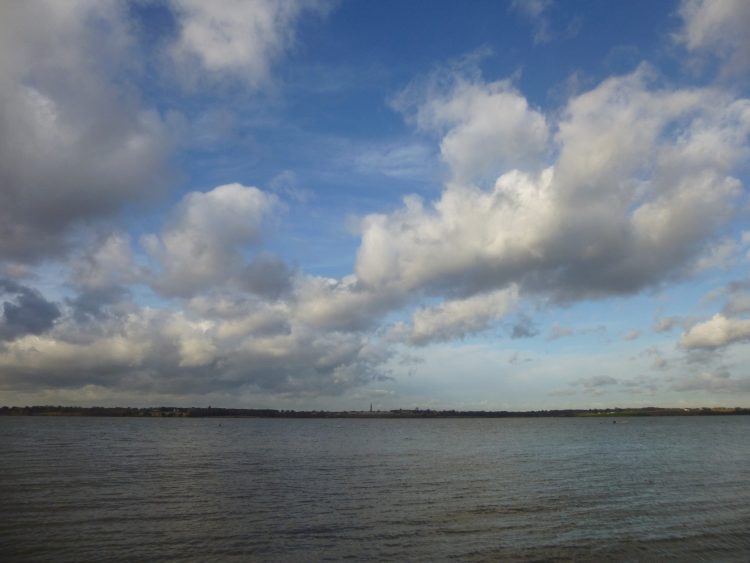 A group of Brent geese flew down river low to the water, and I saw ringed plover and redshank further down the shore line. The cranes of Felixstowe were visible in the distance. The wind was whipping down the estuary which was breaking in actual waves on the shore. Definitely a bad hair day!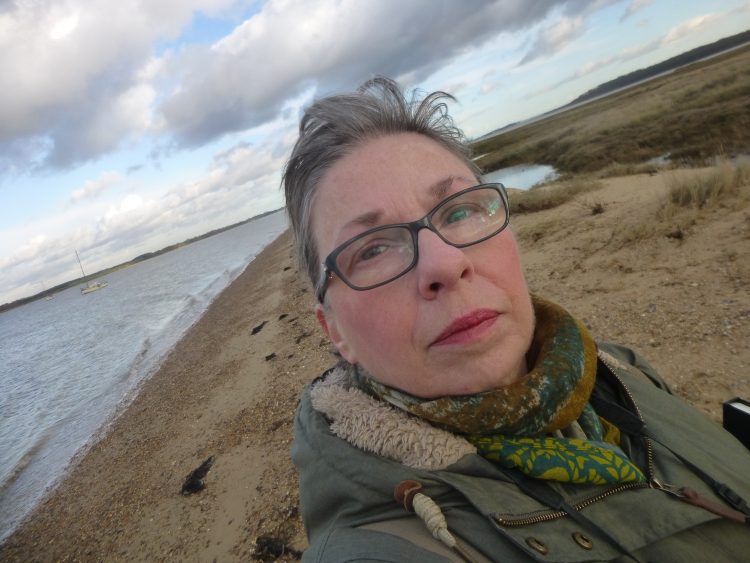 My fingers were frozen drawing despite very thick fingerless gloves, but at least I have made a start now and I know just what my first painting will show! 🙂
---
I finished painting this little dinghy a few days ago, but I've been without the internet since Monday – the Hub remaining a sullen orange instead of blue – so I've only just added it to Gallery 2018.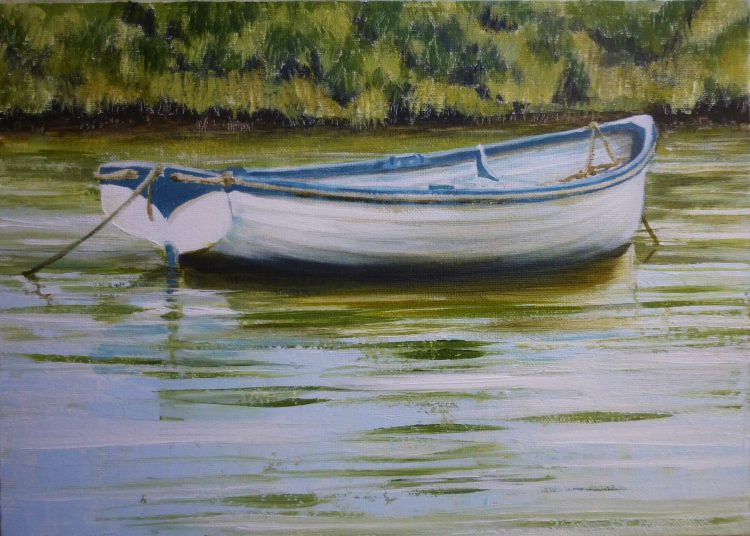 This is Blackwater Dinghy by the bank, and is one that I found last summer but have only just got round to painting!
Art Space in October: Yesterday I met up with Naomi Brangwyn in Woodbridge to have a good chat over our shared autumn 2018 exhibition at Art Space. Naomi has invited printmaker Mandy Walden to join us – you might like to check out her colourful prints of the Suffolk coast at www.mandywaldenartistprintmaker.co.uk  We will also be having one or two 3D artist showing with us, but are still trying to decide who!
We were both really impressed with the gallery, which is in The Thoroughfare almost opposite The Georgian Coffee House. We were lucky enough to meet the owner when we called in, who showed us round and discussed some of the organisational queries we had. It is really exciting to be planning this new venture – but I need to get lots of work done this year in readiness!
A huge gale last night – the conservatory roof from four doors away flew over into my garden, which shows how strong the wind was! And we are forecast snow showers I think, although it is now a beautiful sunny morning here at the moment. Hope you haven't been blown away. Friday tomorrow – Yay! 🙂
---
Here is the first in my new occasional Landlines series, focussing on different 'lines' formed in the landscape, as I described in my January 1st post.
This is Hillhouse Wood at West Bergholt – the same wood which was the subject of my 2016 painting project 'Twelve Months in an Essex Wood'. There is so much more to paint in this wood than the 12 paintings that I completed then. The landline in this one is the winding path, of course!
---
After a singing day with Clacton Choral Society yesterday, I was back in my studio this afternoon doing a bit more work on Landlines 1: Path.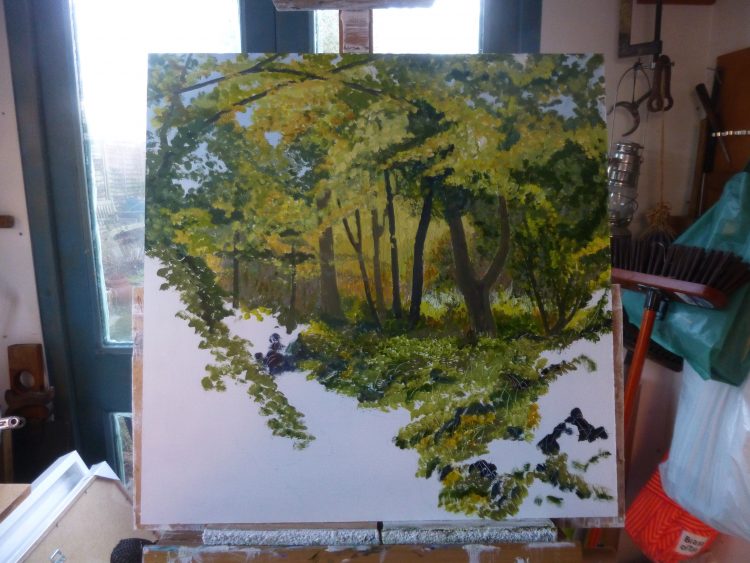 The colours look rather dark in this photo, as I took it just before I stopped for the day as the light was going. I hope to finish it in the next few days though.
AND I'm hoping, if the weather stays fine, to make my first visit as part of my Four Seasons on the Stour project later this week! 🙂
---
Making a start on the first in my new occasional Landlines series this morning.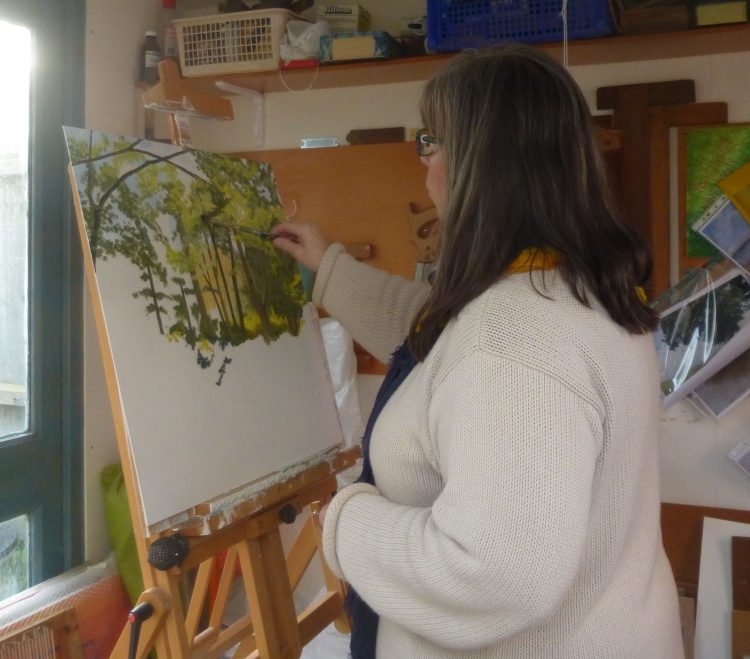 This one will be Path. So nice to be getting to work on something new! 🙂
---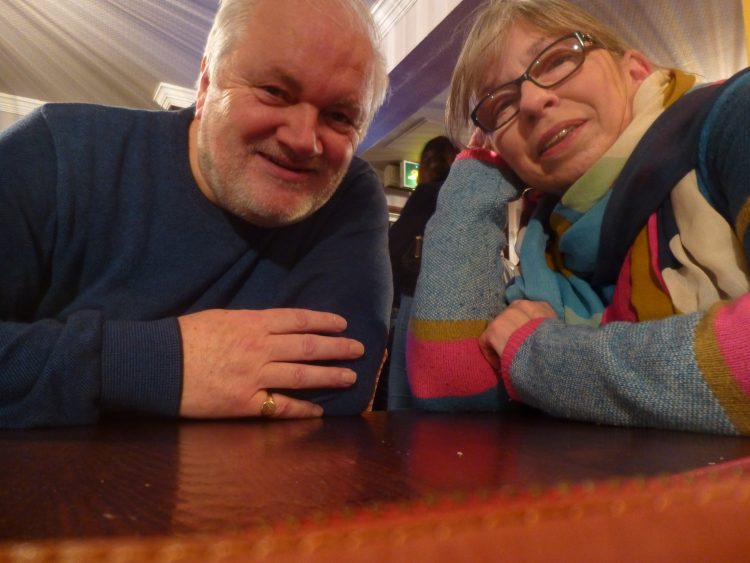 Here we are, Graham and me, seeing the New Year in last night! So now it's time for new art plans for this year. I'm excited to share with you what I'm aiming to do in the next 12 months with my painting.
Big Painting Project: In the last three years I've done From my Garden, Twelve Months in an Essex Wood, and A Year on Fingringhoe Wick. This year the subject I've chosen is Four Seasons on the Stour. The river Stour forms the border between Essex and Suffolk for miles and miles, and flows through the most beautiful countryside. I intend to follow its course, from Wrabness on the estuary, up as far as Clare, visiting a different place roughly each month. I will try to make my visits monthly, but this year I often found that there were two paintings calling out to be done from the same month – so I'm going to be a bit less rigid in 2018 and aim for 3 or more paintings in each season. I'm also going to try to include some man made structures in as many paintings as possible – perhaps a bridge, or a barn, a church tower, a jetty – whatever happens to be there! The places I aim to visit are –
Wrabness, Cattawade/Manningtree, Flatford, Dedham, Stratford St Mary, Higham, Nayland, Wissington, Bures, Sudbury, Long Melford and Clare.
So if any of you lovely blog readers live in any of these places, or know of particularly good vantage points that I might consider, do let me know in the comments! (Click on the post heading to open the comments box)
The paintings will all be either 36″ x 24″, or 18″ x 12″.
Landlines: a new, intermittent series of paintings I am keen to start, which will all be focussed on lines in the landscape: hedges, walls, ditches, dykes, green lanes, roads, holloways, canals, railways, power lines, telegraph poles, crop lines, bridges . . .
The Ridgeway: Having done 5 paintings from wonderful walks on The Ridgeway in 2016, I am planning to stay near the Uffington White Horse either in early May or early September. I will walk some of the trail going into Oxfordshire, and see what new paintings may result from that.
Fingringhoe Wick Books: I'm going to use Blurb again to assemble these from my 12 Fingringhoe Wick painting images, plus some sketches, photos, and notes that I made each month about what I saw. I am well ahead compared with last year as I have just finished the last painting, Fingringhoe Wick: December –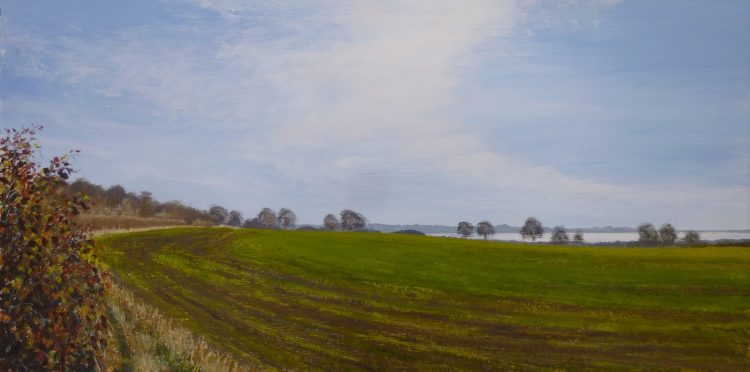 Designing and ordering the books is a job for January, so I will be launching these at All Saint's Arts Festival in May. Which leads me on to  . . .
All Saint's Arts Festival: I've posted about this new venture already, but we are very excited to be organising and running this new arts festival at All Saint's Church in Maldon from 25th – 29th May.
Drypoint: I want to experiment with drypoint printing this year!
Exhibitions: This is going to be a busy year! I will be showing at:
All Saint's Arts Festival in late May
Haylett's Gallery Maldon in July/August
Open Studios – two weekends in September
Geedon Gallery Fingringhoe in Oct – December
Art Space, Woodbridge in October
This last one, which I'm particularly excited about, is organised by a new friend I made in 2017, stained glass artist Naomi Brangwyn, and she has invited me to show with her. There will also be one or possibly two other artists showing with us.
WOW! Lots to do, and I'm looking forward to getting started this week. Hope you've got some exciting plans for the year ahead, too. 🙂