Finished at last – the latest in my Four Seasons on the Stour painting project.
This one seems to have taken such a long time! First I was busy with Open Studios, and then, last Saturday, I managed to fall over in my sitting room and hurt my right hand so that I couldn't hold a brush let alone do anything with it! And the painting didn't need much more work on it, which was frustrating! But fortunately I hadn't broken anything, and although it is still rather uncomfortable it is sufficiently recovered that I was able to get this finished over the last couple of days. Just as well, because I included it on my work list for the Artspace, Woodbridge exhibition! Need to get it framed now, and then I shall be ready.
What a beautiful week it has been! So much sunshine!
Yesterday promised to be a wonderful weather day, so I set off quite early for Walton on the Naze.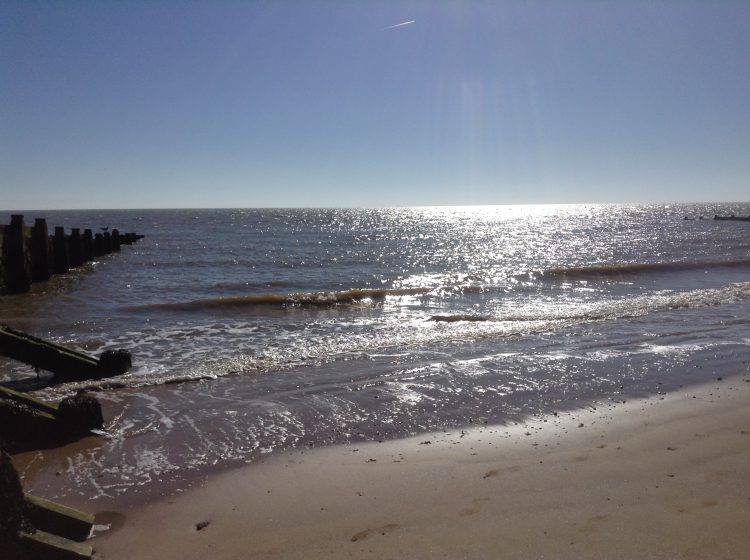 The tide was coming in, so after a nice cappuccino at the Essex Wildlife Trust centre, I went down onto the rapidly shrinking beach, and spent some time carefully observing and drawing the breaking waves and wave patterns on the beach.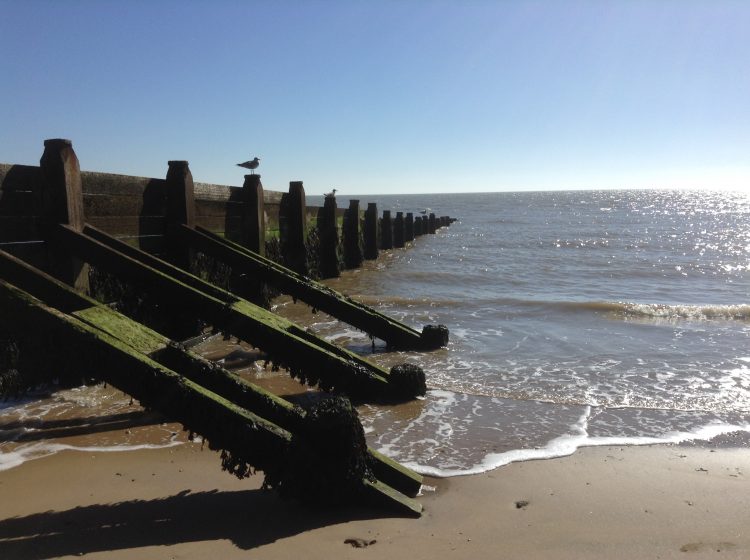 When the tide was beginning to block the steps back up off the beach, I climbed back to the top of the cliff and walked along to the end of the Naze, the Hamford Water nature reserve, and walked round the path on the top of the sea wall. The colours of vegetation on the marsh were subtly beautiful, and the curving lines of grasses and marsh ditch made me stop and do some drawing.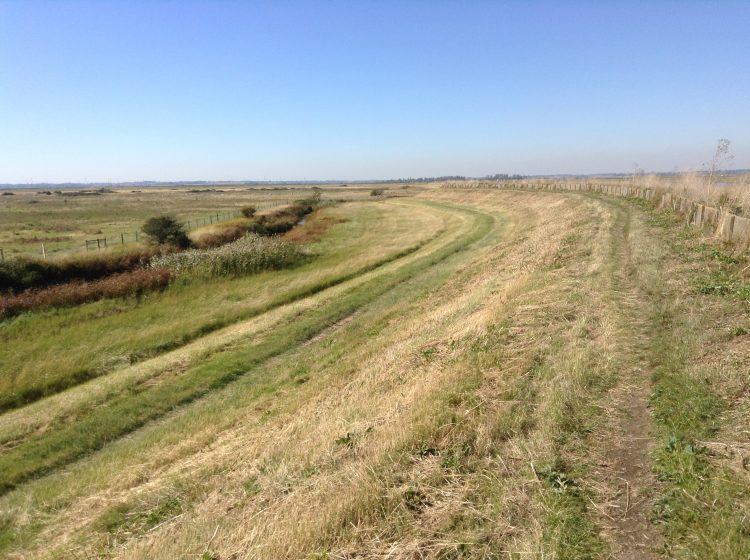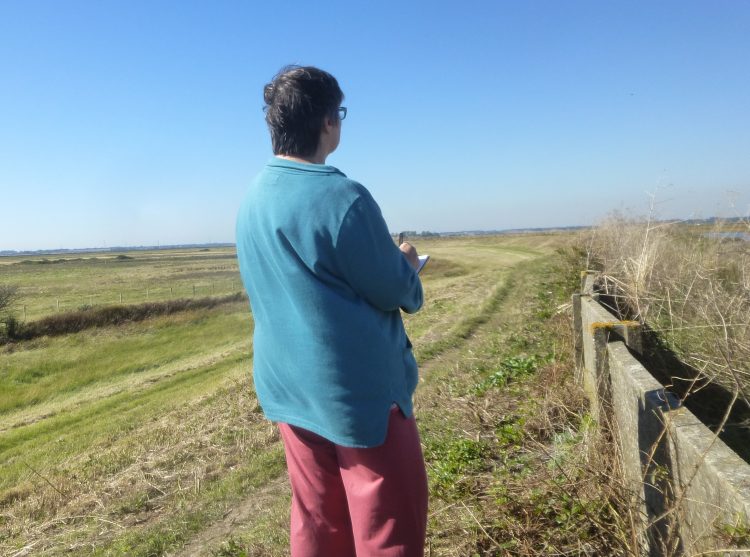 And on my walk back I picked a few pounds of blackberries from the bushes alongside the sea wall. They've gone in the freezer for now but once the Artspace show is over I shall be making some bramble jelly!
Friday again! Yay! Hope you enjoy your weekend 🙂
---
October is going to be a busy month for me, with my last two exhibitions of 2018.
First up is my Five Aspects of East Anglia show at Artspace in the Thoroughfare in Woodbridge, which I am organising with Naomi Brangwyn.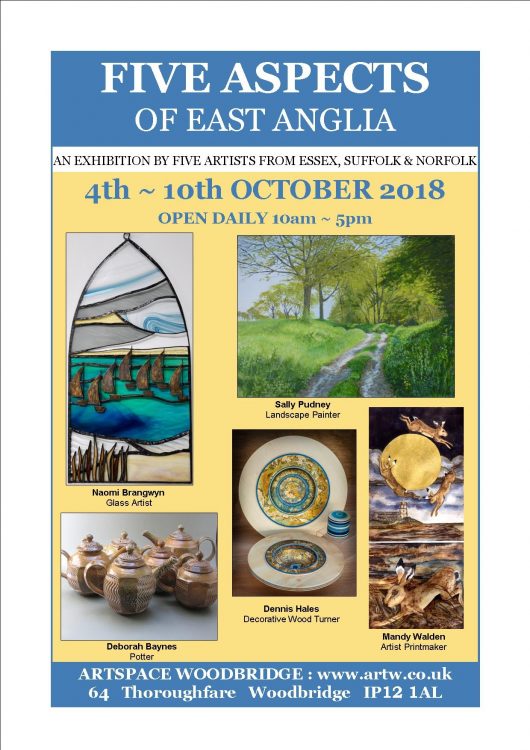 We are having a Launch Day on Thursday, 4th October, from 10.00am to 5.00pm, to which you are all warmly invited. On that day all five artists will be there to meet and talk about their work and processes and there will be soft drinks and nibbles available. For the rest of the week Naomi Brangwyn and I will be stewarding every day. It is a 'buy off the wall' show, so any purchases that you make can be taken away with you immediately – which I always think is so much nicer than having to wait!
I will be hanging 17 paintings, and will also have assorted Greetings cards, including my Essex Wood and Fingringhoe Wick designs, plus my Images of East Anglia 2019 Calendars, and my two little books Twelve Months in an Essex Wood and A Year on Fingringhoe Wick. All the details of opening hours and exact address of the gallery are on the poster above.
Two days later the Autumn Exhibition at the Geedon Gallery opens, on Saturday, 6th October.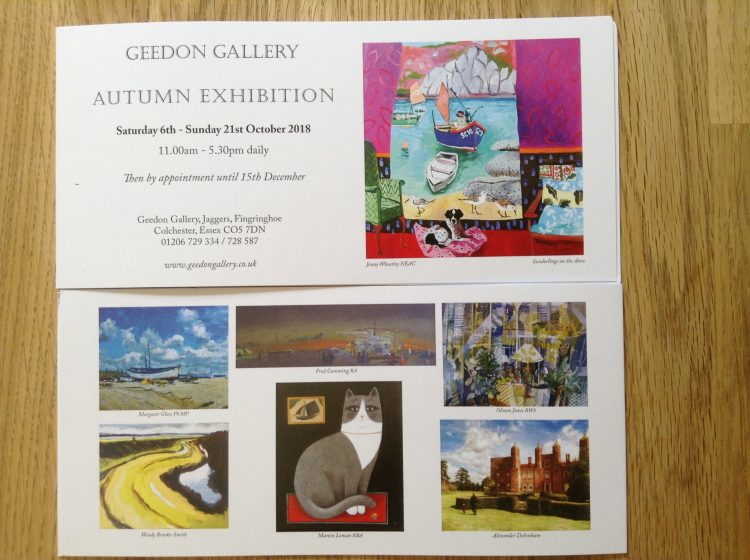 I am showing four paintings, two dinghies and two Fingringhoe Wick landscapes. The exhibition is open daily from 11.00am to 5.30pm until 21st October, and then by appointment until 15th December.
There is a huge list of other artists taking part, so lots of lovely things to look at if you're in the area and feel like a little trip out!
Simply glorious September weather here this week – hope you are managing to get out and enjoy the sunshine! 🙂
---
Thanks to all those of you who came to Open Studios – we had two lovely weekends. But now all the card racks, and browsers and cards and bunting are packed away, and things are back to normal!
This afternoon I went to the Minories in Colchester –
(what a splendid Georgian building it is!) – to see an exhibition called 'Landscape into Art'. It featured quite a number of delightful small oils of the Colchester area by Ian Hay. I always enjoy his work, and these examples did not disappoint.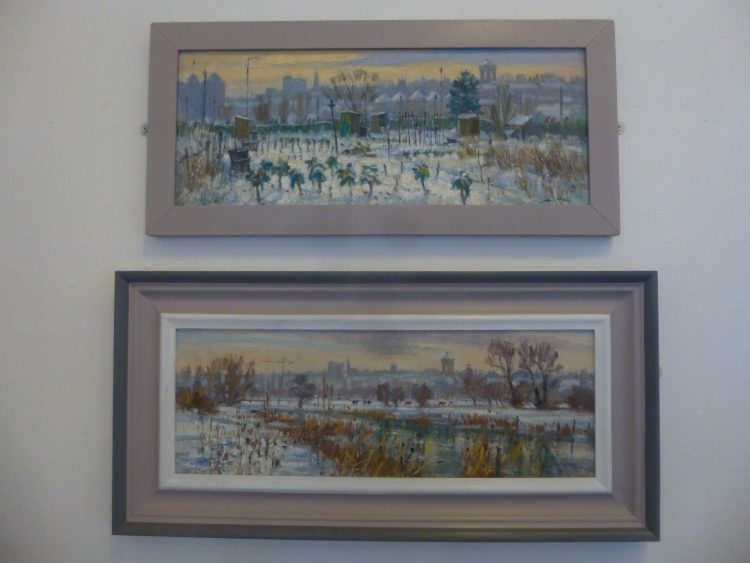 'Jumbo', the iconic water tower in the centre of Colchester, features on the distant horizon in many of Ian Hay's paintings, as seen in the two above.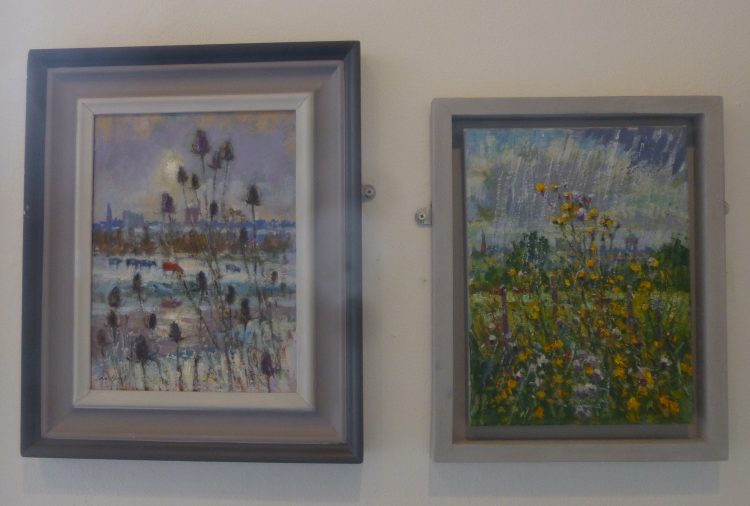 And in these two, as well, and the one below.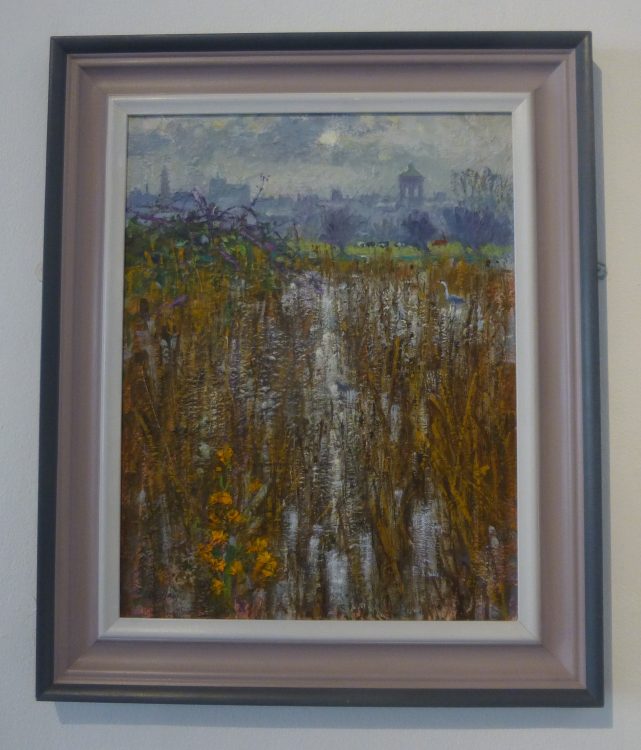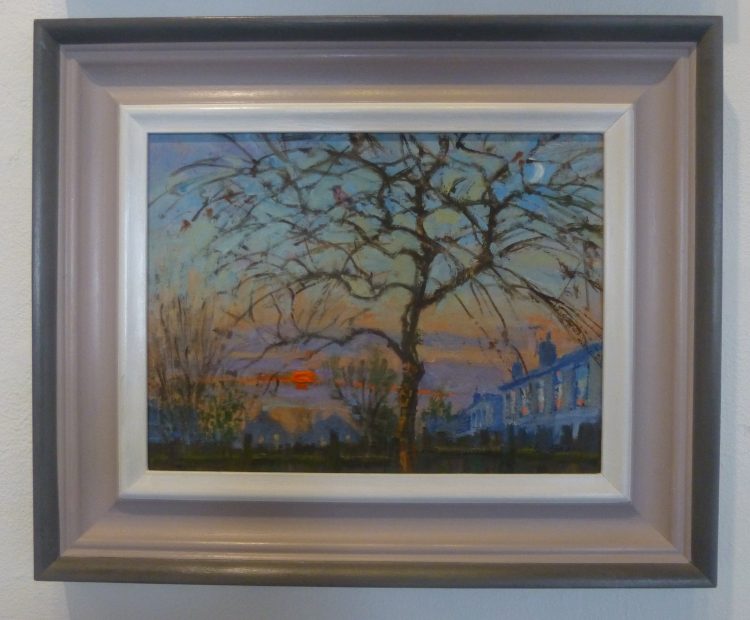 He is particularly good at handling hazy distances, misty mornings and winter evenings. The show is on until September 20th – so two more days to see it. Do go if you get the chance.
In my Studio: I've been working on Nayland: Summer in between my open weekends – this is as far as I've got!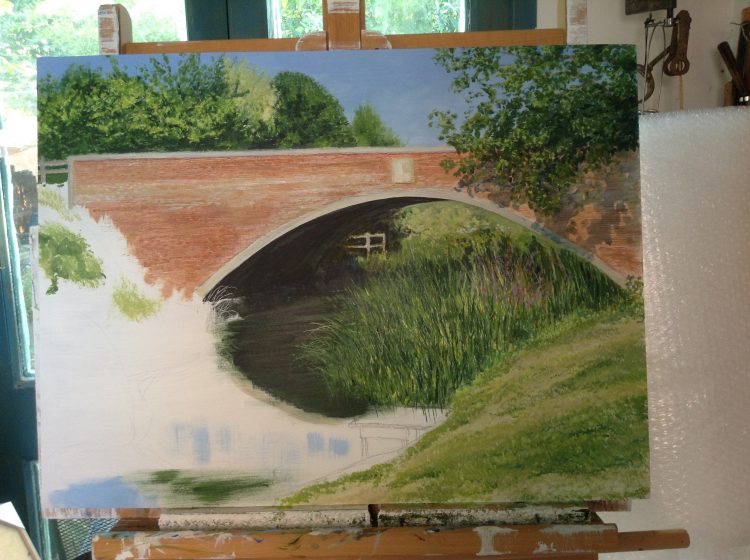 The Next Thing: Getting organised now for our Woodbridge exhibition at Artspace in The Thoroughfare from 4th – 10th October. Put it in your diaries! On our 'Launch Day' on 4th we will have soft drinks and nibbles available and all five of the artists should be there for you to meet and chat to about their work.
Hope your week is going well! 🙂
---
It was a beautiful early autumn morning here – chilly, but with a clear blue sky and sunshine. A good day to do my next River Stour visit.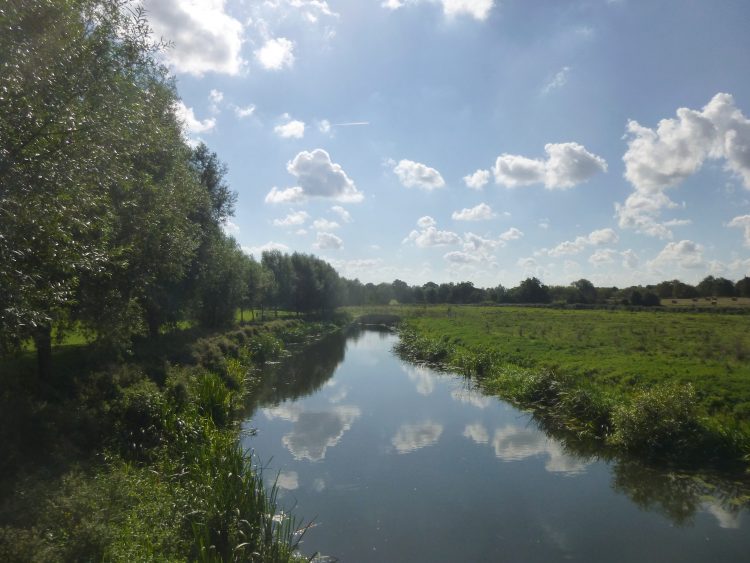 I did my 'Bures visit' in August, but it was during the summer holidays. The bridge at Bures is a favourite 'jumping into the river spot' for the local youngsters so I wasn't really able to get the drawing that I was after as this stretch of the river was crowded with children.  In addition to that I actually have enough paintings for the summer section of my project with Stratford St Mary and Higham which I have already painted, Nayland which I'm working on now, and Boxted Mill which I shall do next. I didn't need to paint Bures in the summer so I decided to revisit it as an early Autumn painting!
I'm really glad I did as the river was calm and reflective with a slightly hazy distance, as you can see above. This photo was taken from the Millennium Bridge – and this one, below, shows the bridge.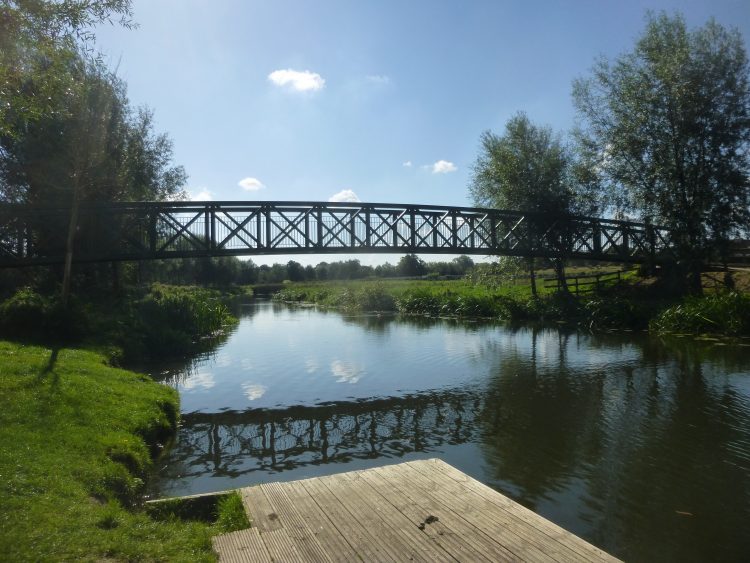 The other way, upstream, brings you to the outskirts of the village of Bures.
There were a number of ducks around, including some quite small ducklings – they must be a second or even third brood – and a pair of mute swans asleep on the Essex bank. Several fishermen were trying their luck, too, well spaced out with all their paraphernalia strewn around them, and rods, low to the water, stretching right out across the river. I really wanted to ask what kind of fish they expected to catch, but didn't dare disturb them!
Carrying on upstream I drove to Henny Street, where the Stour is right beside the road. This was not on my original destination list but it looked interesting on the map, and I'm glad I went.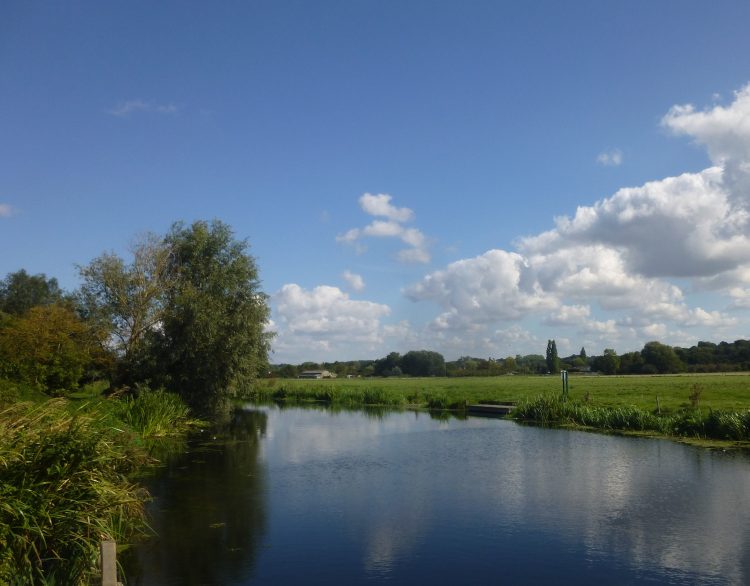 Opposite the 'Henny Swan' there is a little landing stage which advertises boat trips, so it was easy to get right out over the water,  and the river was wide and clear.
In my studio: I'm working away at Nayland: Summer – rather a lot of catching up to do here!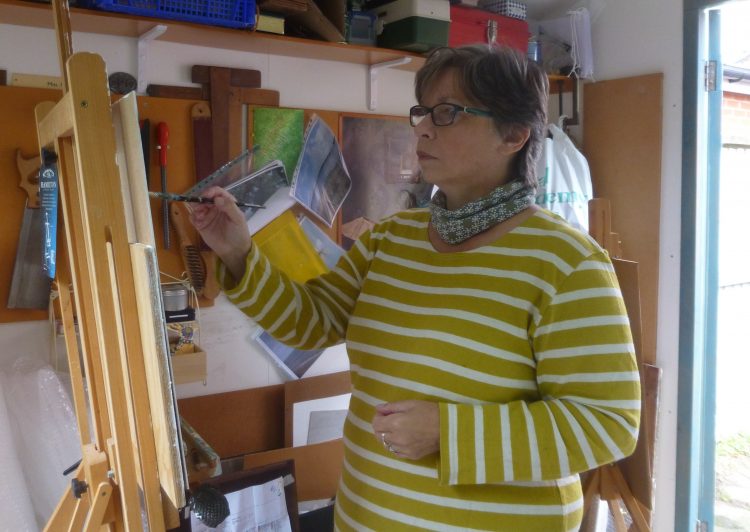 Open Studios again this weekend! Do come if you're in the area. 🙂
---
I had a trip over to Maldon this morning to collect the three remaining paintings of the seven that I had there over the summer. After having coffee with Sally Patrick I drove over to Heybridge Basin and had a windy walk by the river under stormy skies.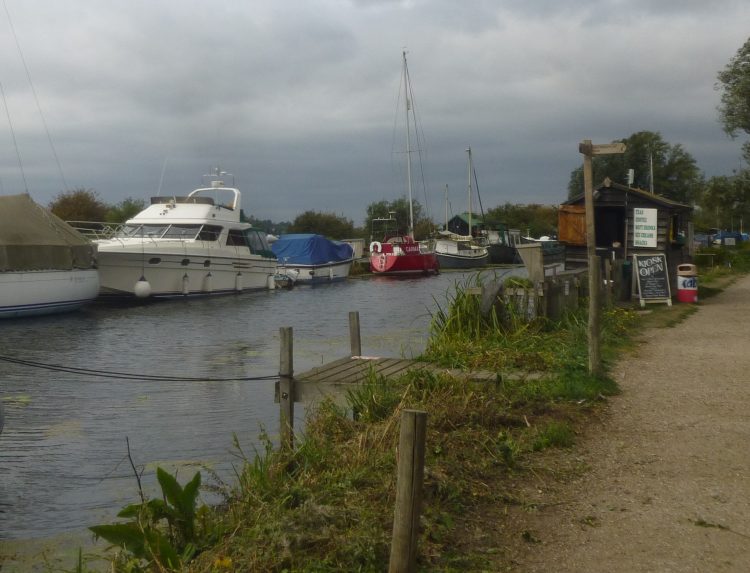 I found one very paintable dinghy down the river –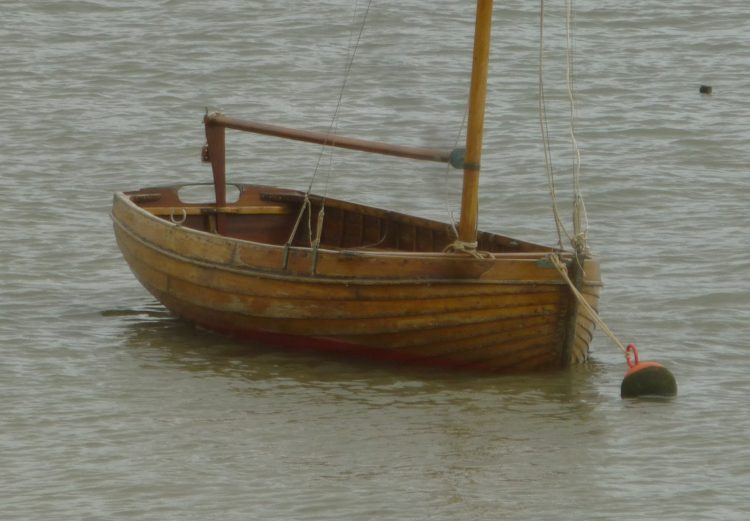 Back home, in my studio this afternoon, I am – at last! – making a start on the next painting in the Four Seasons on the Stour series.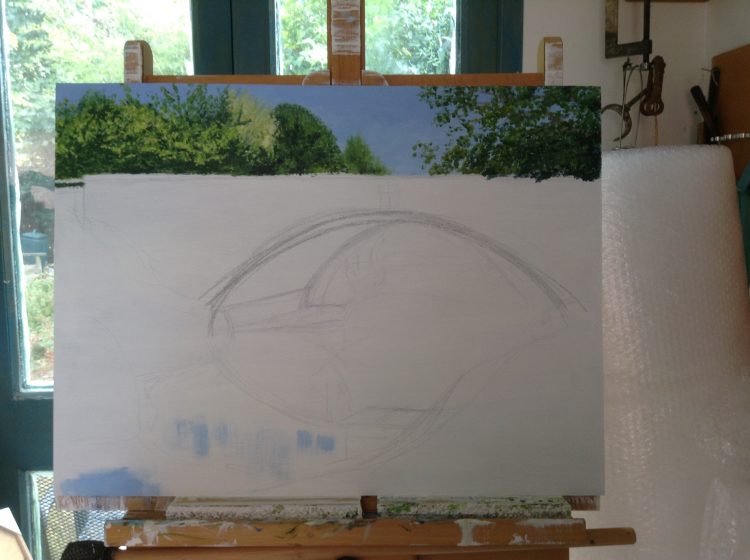 This will be Nayland: Summer – and I can already see that the BIG problem is going to be how to paint the red brick bridge and make it look like a red brick bridge without actually painting every brick! As usual I am starting the painting while thinking I really don't know how to do this . . . .
I'm hoping to make my next River Stour visit this week – but it's going to have to brighten up a lot to make it worthwhile! 🙂
---
Yes, a very big thank you to all those of you who found your way to The Anvil House yesterday or on Saturday for the first weekend of my Open Studios this year. And a special extra thanks to Graham who helped me on both days – I couldn't do it without him. (At one point he was even sitting outside in the garden looking after a most delightful and well behaved black Labrador who had come visiting with her owner!)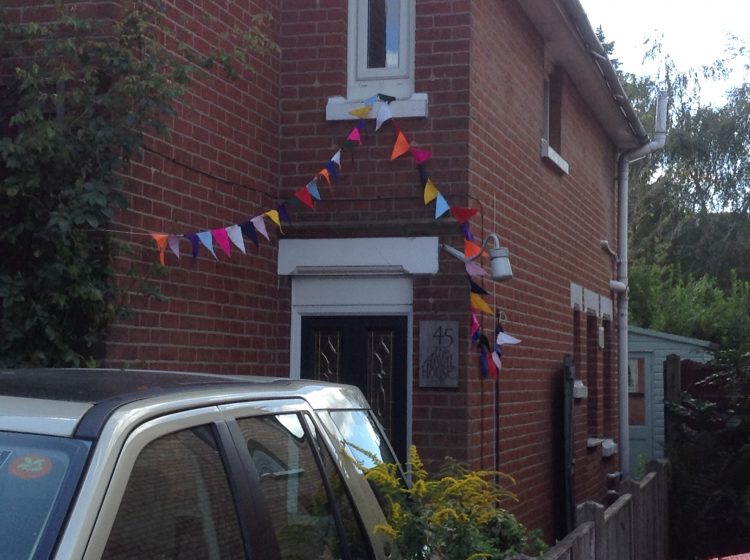 Lots of interesting conversations were had, lots of cups of tea and coffee were drunk, quantities of homemade chocolate flapjack, oat-y biscuits and buns were consumed, and all sorts of stuff went off to new homes. I believe a number of people's Christmas Presents were sorted too!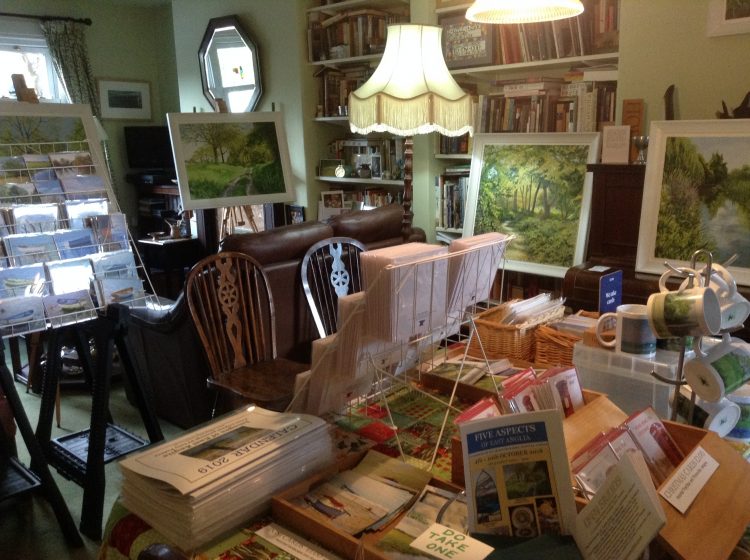 And if you didn't make it, but would like to, you have a second chance this coming weekend – when we're going to do it all over again!
Back in the studio this afternoon – mixing up sky . . . .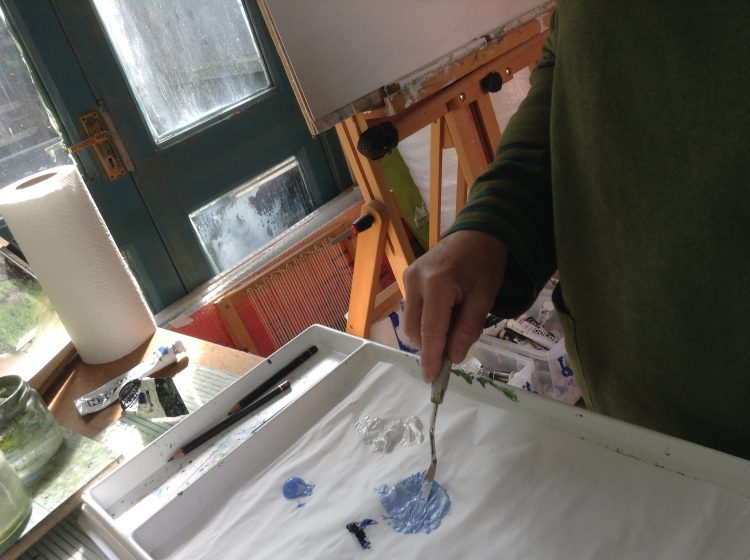 Hope your week has got off to a good start. 🙂
---
Well, only one more day to go, before this year's Open Studios begins. I've been busy hanging paintings, bagging up calendars, pricing mugs, making hanging tags to go on the jute bags . . . . Gradually turning my dining room into a shop/gallery – and wishing I had a bit more space!
Here are a few images to give you a bit of an idea.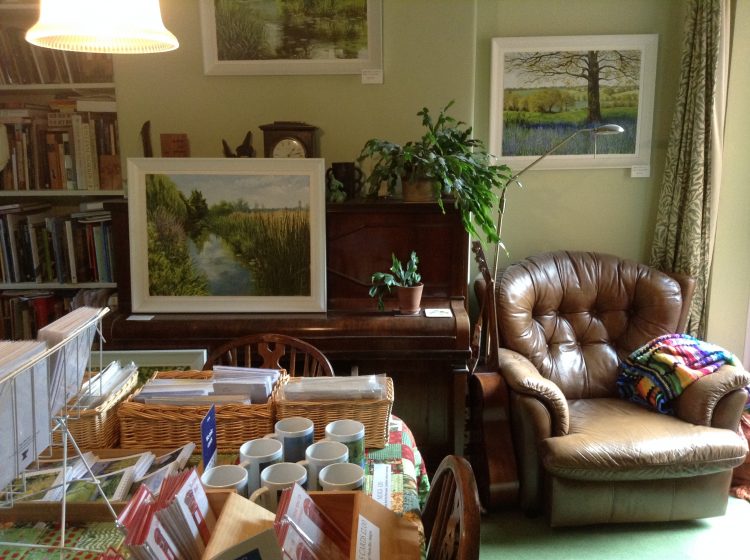 (Rainbow blanket on the chair made by my sister – isn't it lovely!)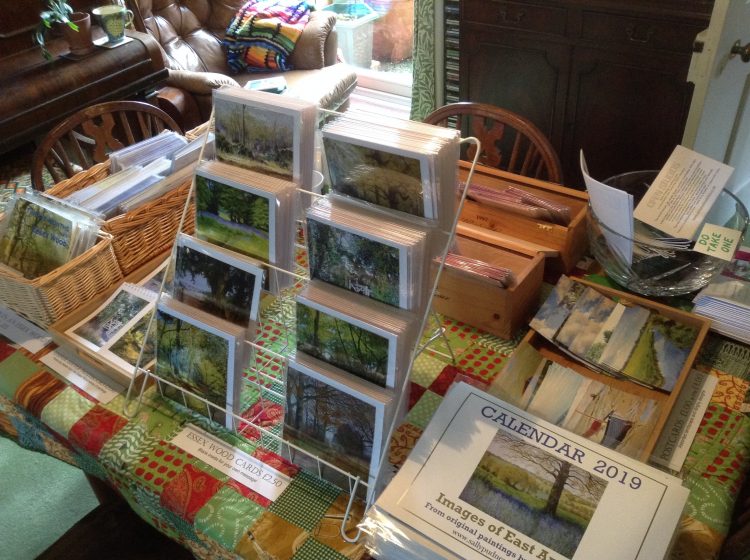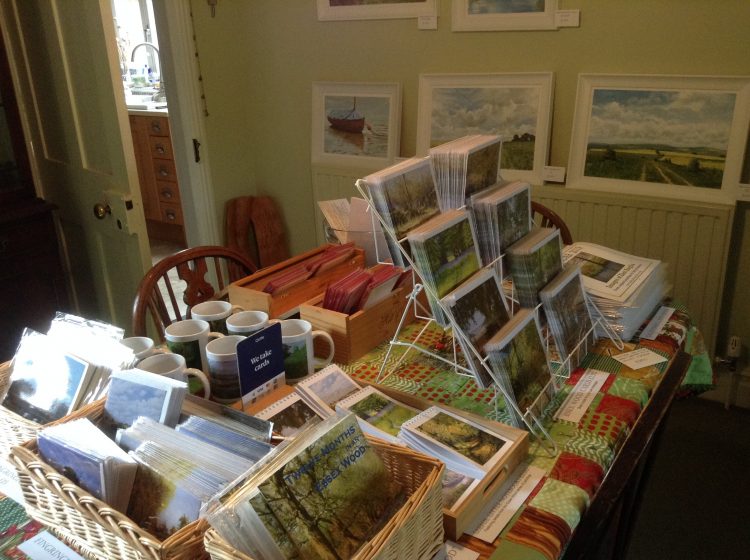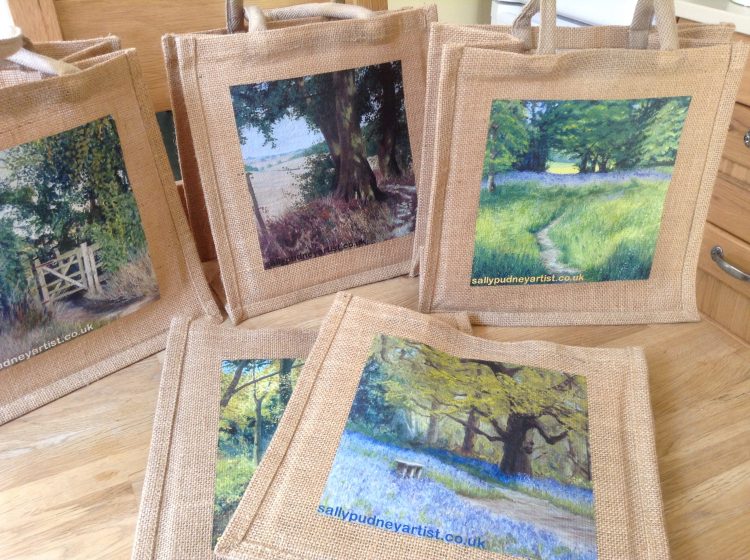 I've found a new way to display the jute bags –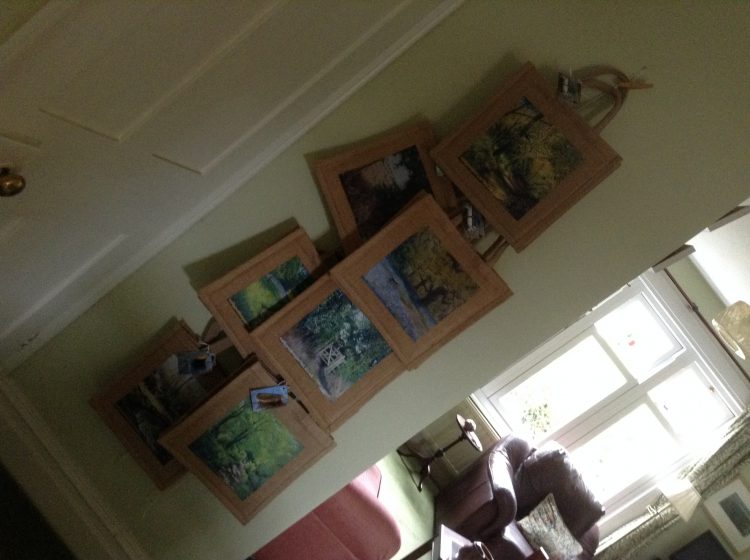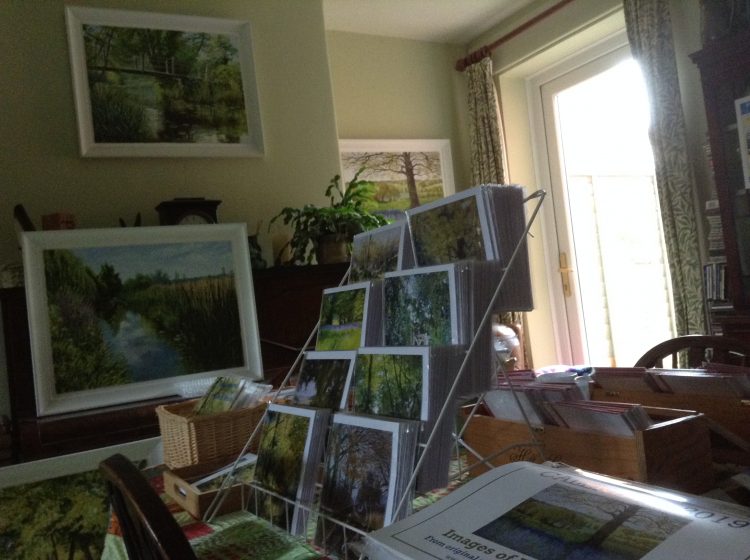 I still have to put up the easels in the sitting room with some of the large paintings – The Path through the Wood,  Landlines 7: Lane and Landlines 1: Path – but that will be a last minute job.
I've also been baking away: chocolate flapjack and oat, syrup and pecan nut biscuits so far, and some fruit and spice muffins to come tomorrow.
SO I'm almost ready for all you lovely visitors – DO COME! Open on Saturday from 2 – 6pm, and 11am – 6pm on Sunday this weekend (8th and 9th) and next weekend (15th and 16th). The address is The Anvil House, 45 Heath Road, Lexden, Colchester, CO3 4DJ. The sat-nav should bring you to the door and there is unrestricted parking in my road. The bunting will be going up tomorrow, and there will be an easel and poster in the front garden so it should be easy to spot my house if it is your first visit.
Looking forward to welcoming you with tea, coffee and homemade goodies and showing my work! 🙂