Just finished the most recent painting in my On the Edge series!
This is larger than the other paintings in the series so far, being 24″ x 16″ or 61cm x 46cm. I wanted to have space to go to town on those waves! Southwold is the most northerly place on the coast that I'm including in my project.
Other news: After a gap of 11 or 12 years I have re-joined Colchester Art Society, and I'm sending in three paintings for selection for their summer show at The Minories in Colchester High Street, almost opposite the castle. The exhibition is on from 21st June – 26th July. I hope I get something selected to be exhibited!
The Friends of St Mary's Old Church at West Bergholt have organised an exhibition over the weekend of 15th/16th June. They have had screens made to fit over the pews, and will be serving refreshments. This is the church next to which you park if you are walking down to Hillhouse Wood – which you may remember is the wood I painted during 2016 for my 'Twelve Months in an Essex Wood' project. I have three of those paintings left, so I'm sending them all in, plus Landlines: Field Boundary, which is also of the wood at bluebell time. The address is Hall Road, West Bergholt, CO6 3DU. The paintings will be on display until 3.30pm on the Sunday afternoon, but I'm not sure yet of the other exact opening times, but I'll let you know when I get the info.  If you're local to the Colchester area you might like to pop in and have a look and support them – and maybe have a walk round the wood afterwards! 🙂
---
Yesterday Graham and I went up to Woodbridge to see the exhibition at Artspace in the Thoroughfare. Our friends Anne Townshend and Miranda Chapman are part of the 4PRINTmakers group, along with Julie Orpen and Georgie Finn. This group of women artists, all working in East Anglia, came together four years ago to share their work and practice, and have had numerous joint exhibitions since. They work in a variety of print techniques, lino print, engravings, etchings and monoprints. It was difficult to photograph the work due to the reflections from the big front windows, but these will give you a little idea.
The show goes on until 22nd May and is open daily from 10.00am – 5.00pm. Do call in and see them if you're in the area. 🙂
---
Some exciting news!
I had an appointment yesterday to take some of my paintings to the Buckenham Galleries at 81 High Street Southwold, along with some of my limited edition prints, for them to consider 'taking me on' as one of their artists.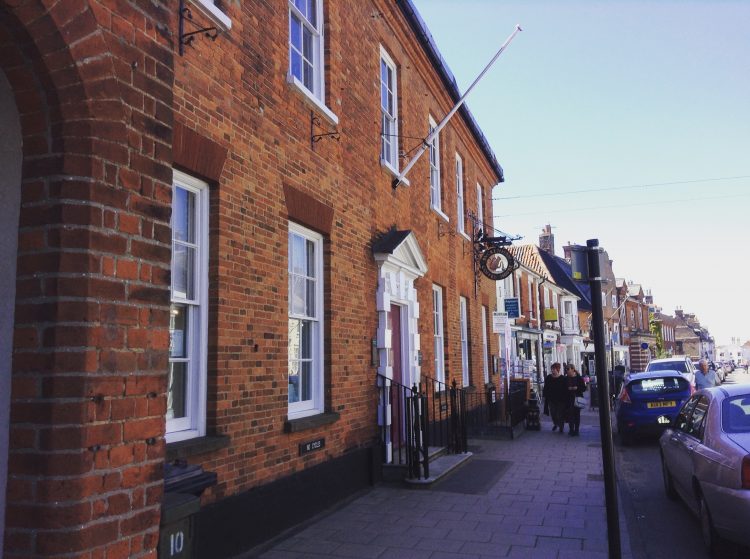 I had a lovely morning – and the upshot was that they have kept all five paintings which I took with me, and all the prints I have so far! I've signed the contract and it's all official! – so from now on some of my work will be exhibited there all the time. From 22nd June they are open seven days a week through till October, when they revert to their winter opening hours – so lots of time for people to visit over the summer! I was absolutely delighted as you may imagine.
I went down on the beach afterwards – it seemed a good opportunity to make this my official On the Edge visit for my new painting project. Southwold is the most northerly place on my list. The weather was beautiful,  warm sun, though a chilly breeze, and big crashing waves glittering in the light.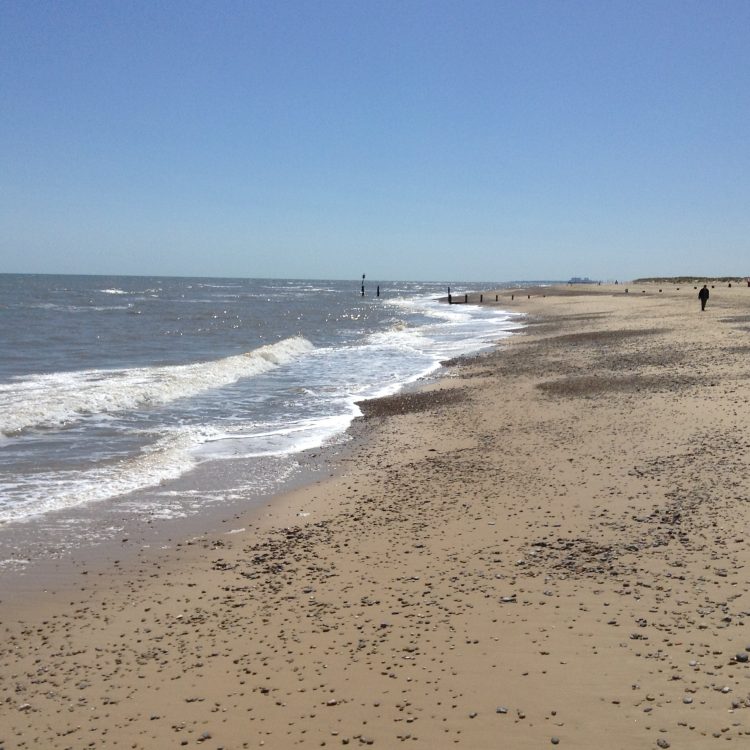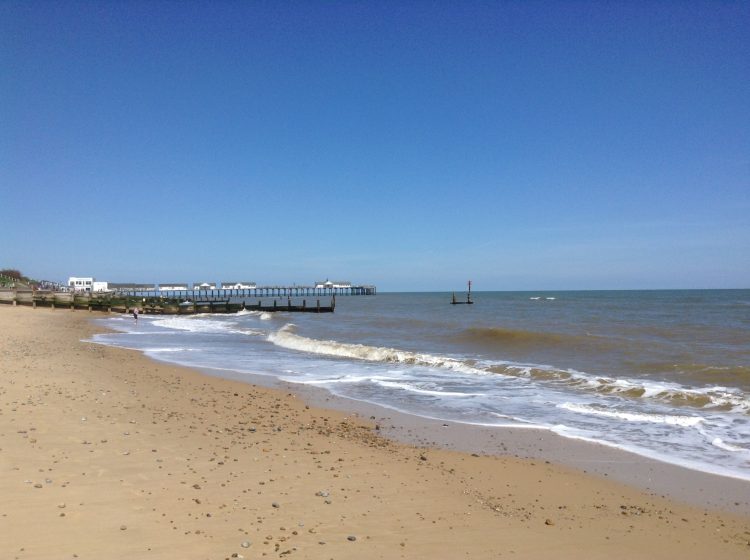 I sat on the beach and had a coffee and a snack, and then did some drawing, took some photos and went for a long walk along the edge of the sea.
What a lovely day!  Hope you've been able to enjoy some sunshine too! 🙂
---
This is the next painting in my On the Edge project, almost finished on Monday, but I just needed to adjust a few things this afternoon.
This is the view looking out to sea from the Monkey Beach. The sea was like a mill pond  and the famous Mersea mud was showing with the low tide in streaks and lumps! And there was a fantastic sky which I really enjoyed painting. Next up will be Southwold! 🙂
---
A few days ago Graham and I met up with my sister and my niece in Piccadilly to go to Messums gallery in Cork Street.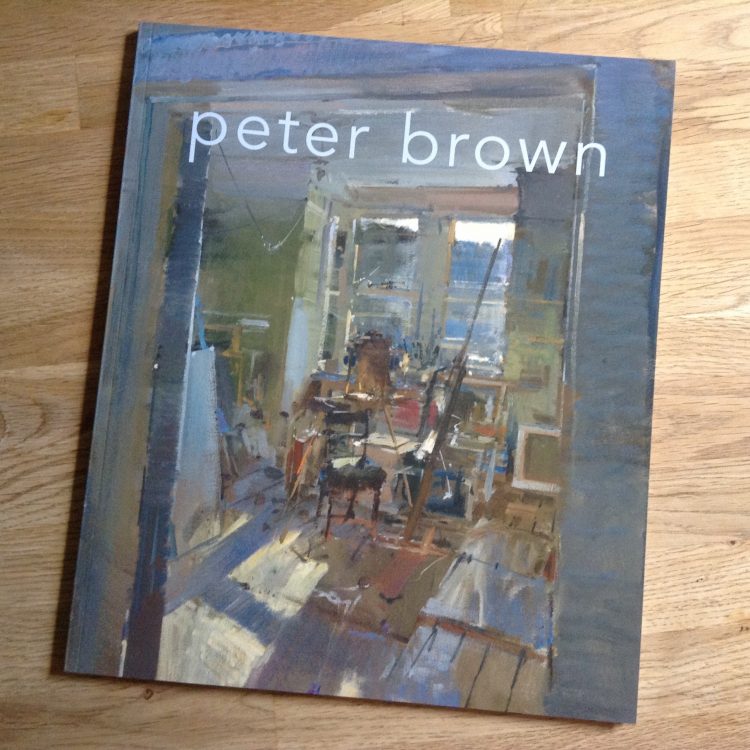 There was a brilliant exhibition by Peter Brown – nicknamed 'Pete the Street' due to his en plein air painting. The show has paintings of London, Southwold, and the Norfolk Broads, as well as interiors of his house with members of his family.
Here are a few of my favourites.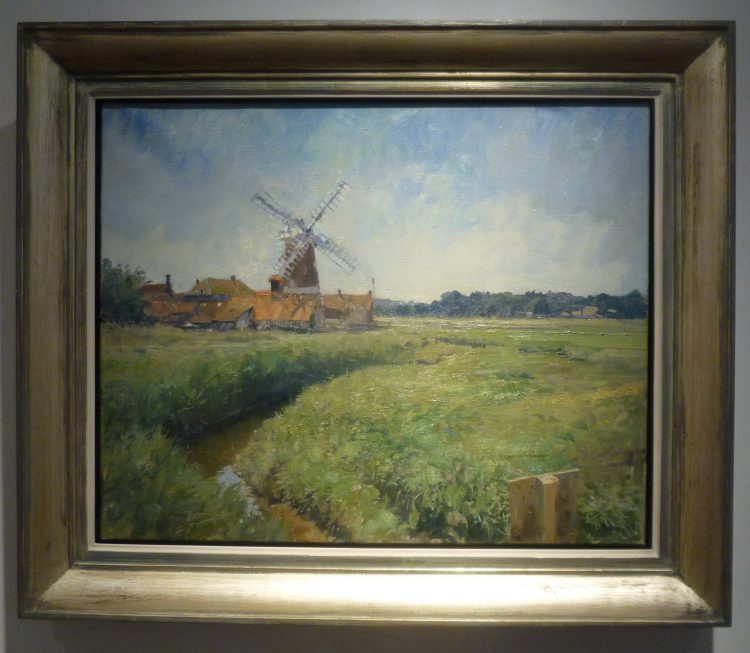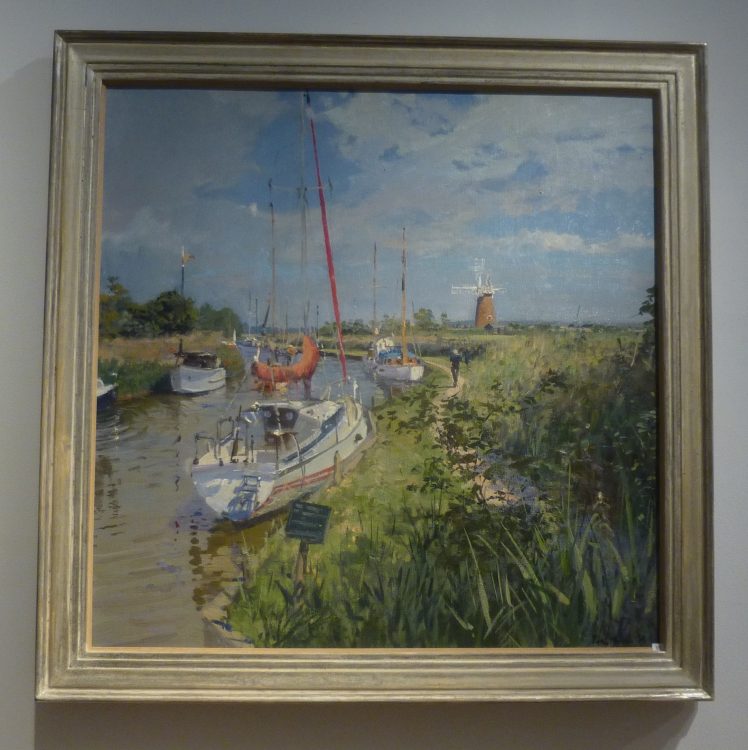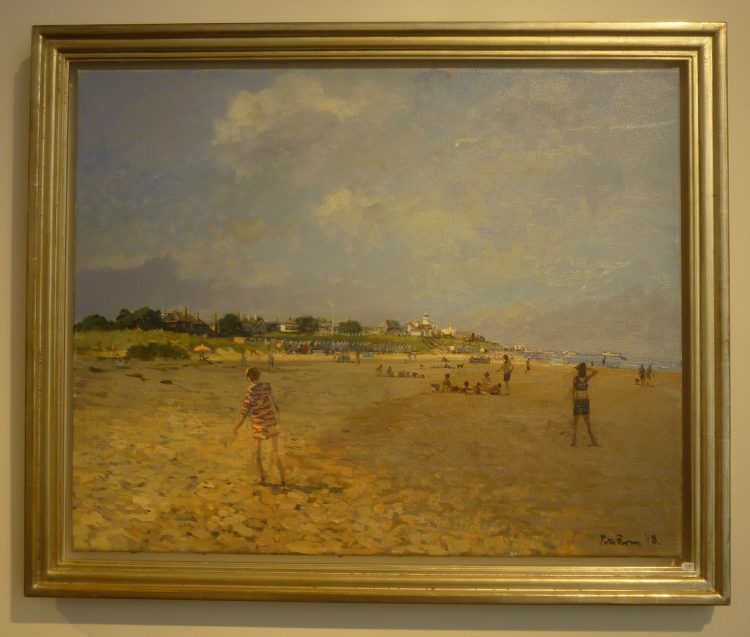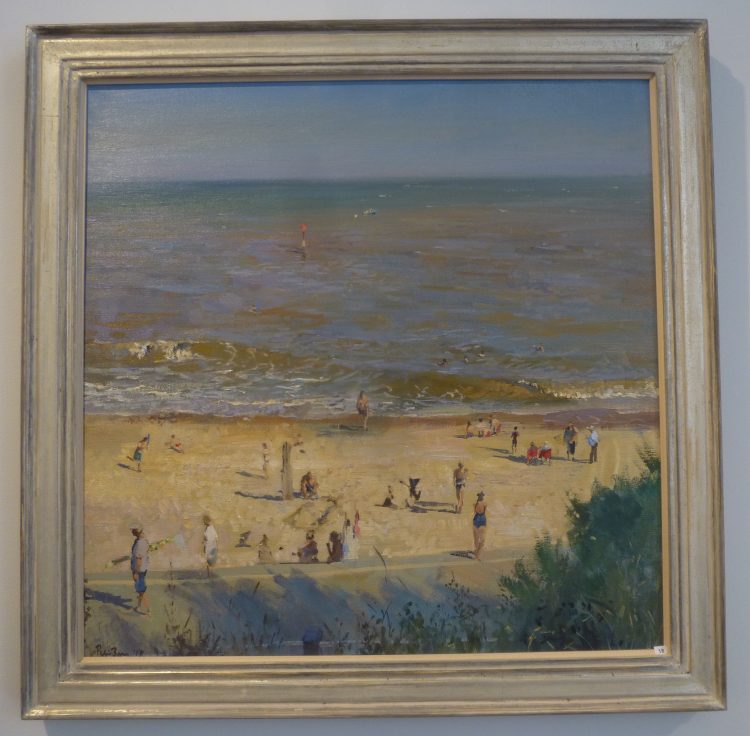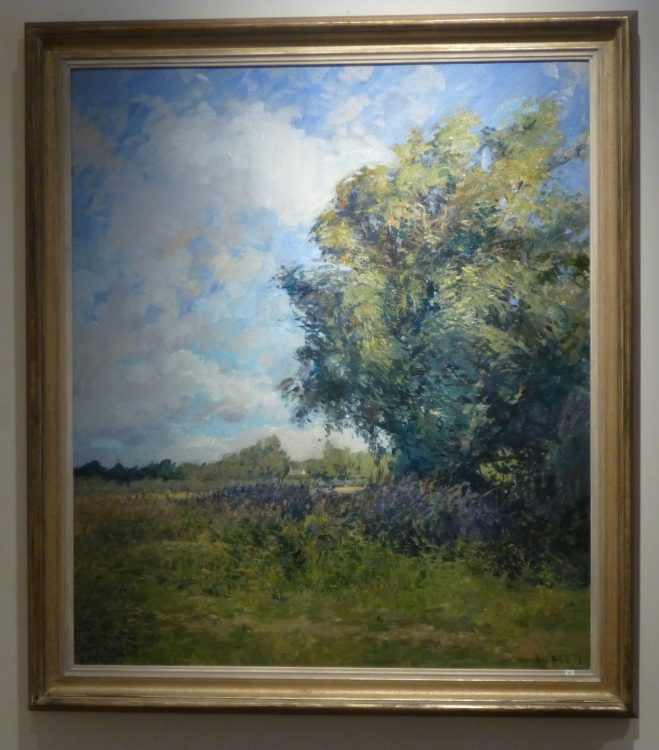 The exhibition is on until 31st May, and I would strongly recommend going to see it if you get the chance.
If London is out of reach you can see the images on Messums' website www.messums.com 🙂
---
For my new painting project, On the Edge, I decided to try a new frame. I've just collected my first trial one, and I'm so pleased with it that I've ordered another two!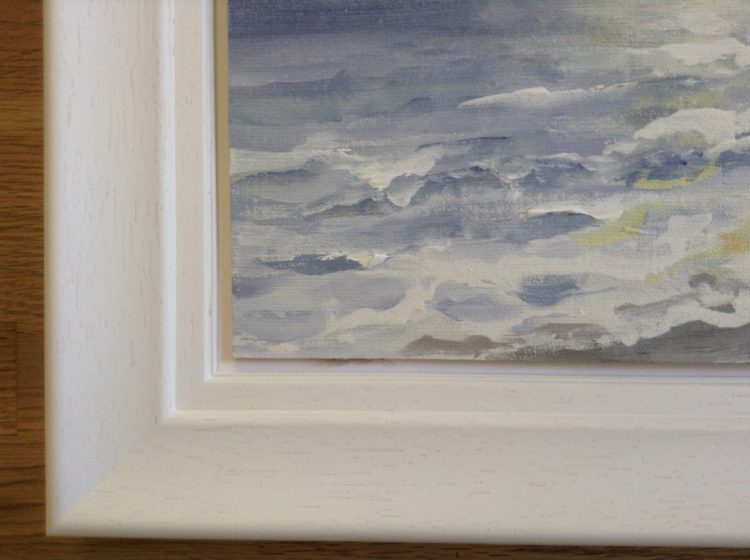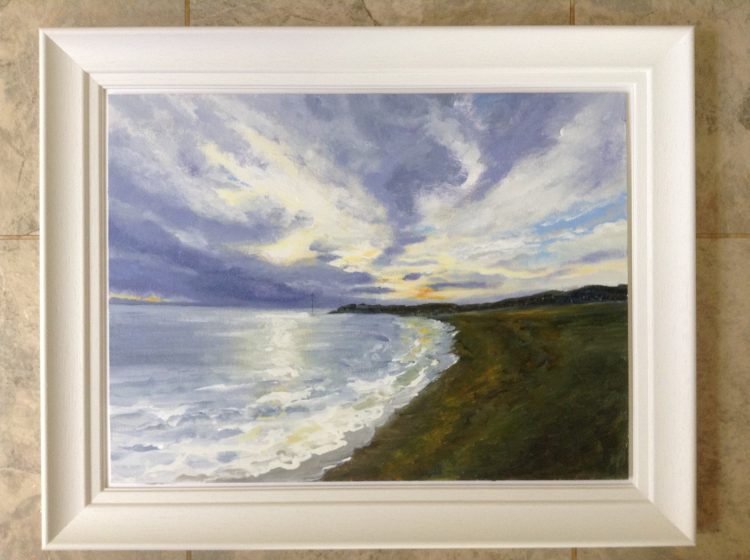 This is my first On the Edge painting sitting in the frame,  which is Holland on Sea: Sunset. And I've just finished the fourth one this morning –
I went to East Mersea last Tuesday. It had been a grey cloudy morning, and then the sun got out and it warmed up. So I quickly checked the tide table to make sure I wouldn't get stuck at the Strood (the causeway running across to Mersea Island – often flooded at high tide) and just went! I had some ideas about where I might go, but had a couple of unsatisfactory walks to start with. Then I tried a footpath near East Mersea parish church going across the fields. I was actually walking to see if I could get a good view of the church tower across the fields, when I came upon this view of the sea across a field of oil seed rape – and the colours were just stunning. That yellow with that blue!
Don't forget that you can sign up for my newsletters on the Home page of this site – just scroll down to the bottom of the Home page. My second letter has just gone out with all the details of this year's Anglian Arts Project Exhibition. And you can follow me on Instagram @sallypudneyartist.
We've had about four torrential rain storms and some hail today so far – and in between brilliant sunshine. Hope you enjoy the Bank Holiday weekend whatever you have planned! 🙂