Here is the latest painting in my current painting project – On the Edge: The North Sea Project.
This is the beach in front of the Coastguard Cottages, with the Shell line which I wrote about in my last post.
My next visit will be to Orford, I think . . .
Colchester Art Society's Summer Exhibition: I have two paintings in this show which is on at The Minories Gallery, 74 High Street Colchester CO1 1UE until Friday 26th July open daily from 10.00am – 5.00pm, except on Sundays when they close early at 4.00pm. There is a huge variety of work on show – worth popping in if you are in the Colchester area. And there is a very good café run by Wilkins & Sons, the Tiptree Jam people!
Shop: I've added a couple of new items in the shop – Jute bags – so there are now bags with the Essex Wood paintings for March, April, May, August, September and November available. £13.00 including postage to any UK address. Click on SHOP in the menu bar. I have also just ordered some more limited edition prints, including these two dinghies, Waiting for the Tide II and Waiting for the Tide III.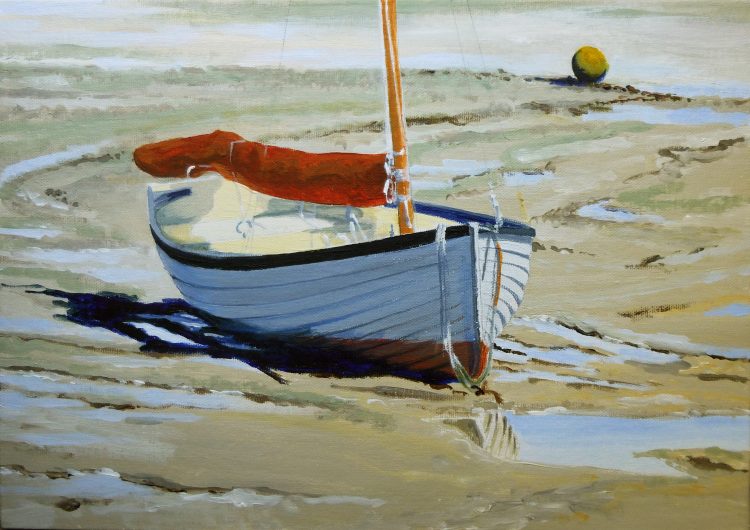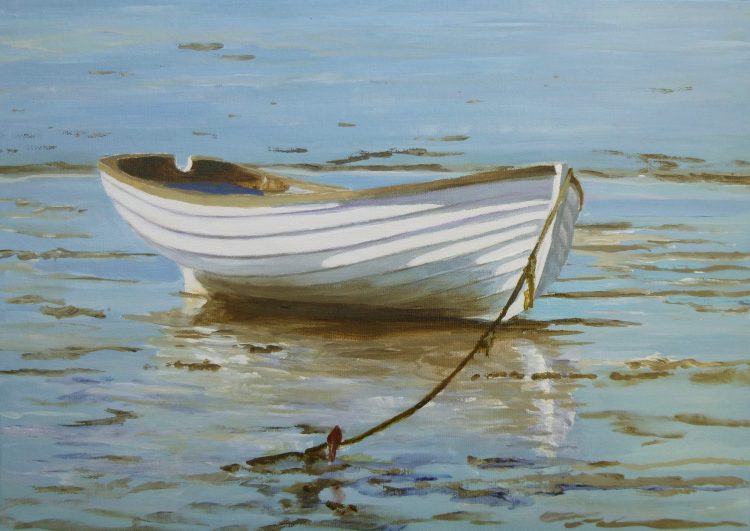 Along with these two, there will also be prints of Landlines: Track, and The Path through the Wood. They will all be available quite soon priced £60.00, mounted with back boards, signed and numbered – all ready to frame.
I was delighted to hear from Sally Patrick at the Haylett's Gallery in Maldon that she has chosen my painting 'Tessa' of another little white dinghy, for the back cover of the Summer Sensations show Private View invitation! More details on this show soon.
Don't forget you can sign up at the bottom of the Home page for my newsletter, a monthly round up of new exhibitions and new paintings direct to your inbox. The fourth one just went out this morning.
Summer seems to have really arrived in Lexden this weekend! Hope you are enjoying some summer sun wherever you are! 🙂
---
If you've read my last couple of posts you will know that I've been waiting and waiting for a dry sunny day to go to Shingle Street on the Suffolk Coast. Well, today was the day! Good interesting clouds, not clear blue sky – which is lovely to live under but boring in a painting. No threat of rain. Perfect!
Shingle Street is an unusual geological feature. As its name suggests it is a huge shingle spit which is basically a continuation of Orford Ness, but with the mouth of the River Ore making a break between the two banks of shingle.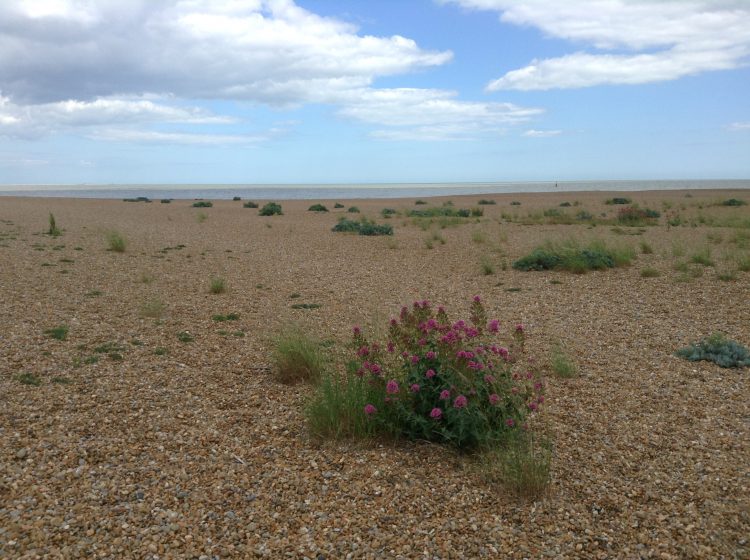 It is a very peaceful place. Apart from the skylarks and oystercatchers, and the faint clang of a bell buoy in the entrance to Orford Haven, it was absolutely quiet, and I only saw a couple of dog walkers  – one very distant, and one with a lovely black whippet called Bisto! – and two women out for a walk, all the time I was there.
One of the interesting features is the Shell Line. The letter carver, Lido Lopez Cardoza Kindersley and a childhood friend who is a Dutch potter were both diagnosed with cancer at the same time. They stayed together in one of the cottages at Shingle Street to help their recovery. During the month that they were there they began to pick up and arrange white whelk shells, first in a circle round the base of the flagpole, and then in a line going towards the sea. They came back each year to extend and repair their line, and other people have added to it over the last few years.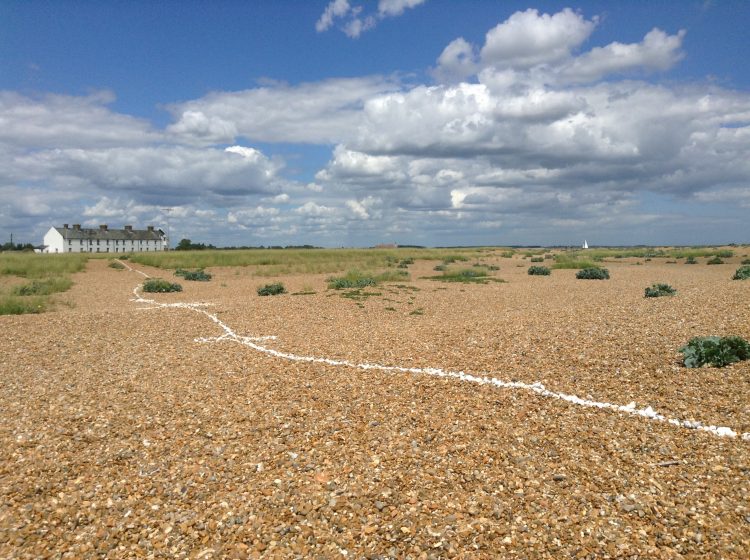 I walked the length of the shell line, and then back to sit on the shingle and draw.
The shingle is covered with all kinds of beautiful wild flowers.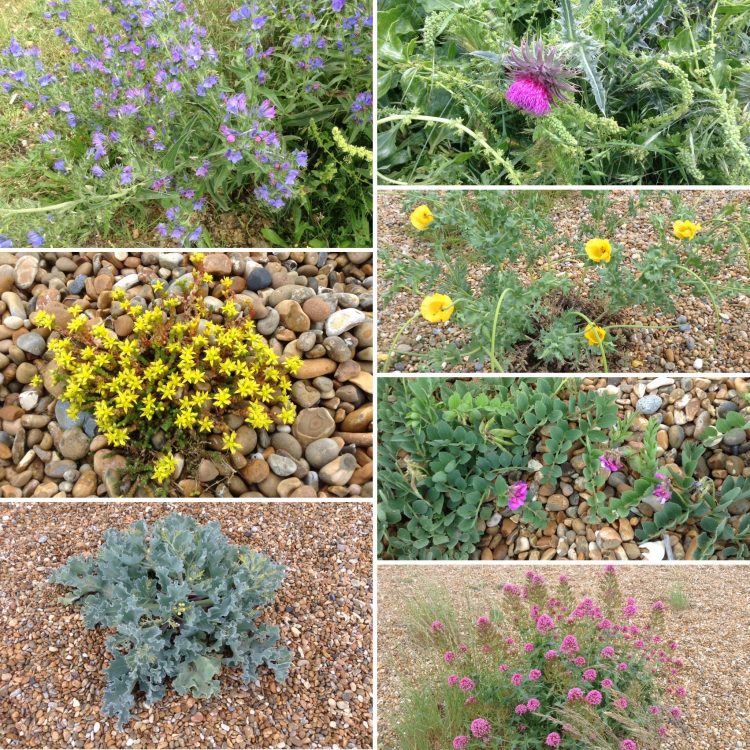 So, now I can get on with my next On the Edge painting! If you are in the area I do recommend that you go to Shingle Street. There is a little free car park just by the beach. And if you are a National Trust member it is very close to Sutton Hoo, which is a useful stop for the loo and maybe a bite to eat, as there are no facilities at all at Shingle Street itself. Oh, and I should wear stout shoes or walking boots if you go; it is very rough walking over the shingle, and there is miles of it . . . . .
Other news:
Art in the Old Church at West Bergholt. Thank you to everyone who came – it was really busy all the weekend – and many thanks to the great team who organised it. I was delighted to sell three paintings as well as some of my Essex Wood books and cards.
Colchester Art Society Summer Exhibition. I am very pleased to have got two paintings in this show which is at The Minories, 74 High Street Colchester CO1 1UE. The exhibition is on from today until 26th July, open from 10.00am – 5.00pm daily, except closing at 4.00pm on Sunday. The Private View is tomorrow 22nd June, from 12 noon to 3.00pm. Do come!🙂
---
Finished yesterday – this one is of the River Stour, upstream of Dedham Mill.
It doesn't belong to any particular series, just a view I wanted to paint – while I'm waiting STILL to go to Shingle Street for the next of my On the Edge series. The last few days have been so cold, so wet and so windy . . . .
Other news: Coming up this weekend is Art in the Old Church, at Hall Road, West Bergholt CO6 3DU. I'm putting in four paintings and will be stewarding on Saturday afternoon. There is no charge to get in and refreshments will be available as well as about 180 art works to view – and buy if you feel inclined! Do call in if you are in the area. I think the weather is supposed to brighten up at the weekend . . . . . . . . 🙂
---
I've just finished my next painting in the On the Edge series. Here it is!
I had thought to do quite a close up painting of the Chapel of St Peter, but on reflection it seemed that a view from back up the track gives a much stronger sense of it's isolation and the presence of the sea just beyond. So that's what I did!
I'm hoping that my next On the Edge place will be Shingle Street.  I saw some lovely photos on Instagram the other day posted by Celia Hart, an artist whom I follow @celiahartartist, and I can't wait to go! I need a good bright day for it, though, and at the moment it is overcast and cold! Maybe next week . . . . . . 🙂
---
I've been busy mounting some more of my limited edition prints!
At the moment I've got four paintings which have been made into prints – Essex Wood: April and Essex Wood: November, Stratford St Mary: Early Summer and Higham: River Brett & the Stour Valley: Summer.
They are mounted in slightly textured cream mounts with backing boards in cellophane display bags. Each one is stamped with this really cool embossing dye and numbered with the edition number – for example the first one of each print was 1/50.  There will only be 50 copies of each print – ever.
All four prints are available from the Buckenham Galleries in Southwold. The Essex Wood ones are £65.00 and the other two are £60.
Stratford St Mary and Higham are also available from my website shop – see SHOP on the menu bar above. I can't offer the Essex Wood ones in my shop as they are too big to post! – but of course if you are local to the Colchester area then do drop me an email and we can sort it out that way!
I am able to get new prints made relatively easily, so if there is a particular painting which you would love to have as a print do email me and  let me know! 
Getting started on my Bradwell painting today . . . . . . ! 🙂
---
While I was waiting for a good day to go to Bradwell for my next On the Edge painting, I had time to paint another little dinghy. This one is just called The Yellow Buoy for obvious reasons. It was a very tatty little dinghy on the Blackwater at Heybridge Basin.
---
Last Thursday I made my next coastal visit for my On the Edge painting project, this time going to the  Chapel of St Peter-on-the-wall  at Bradwell on Sea.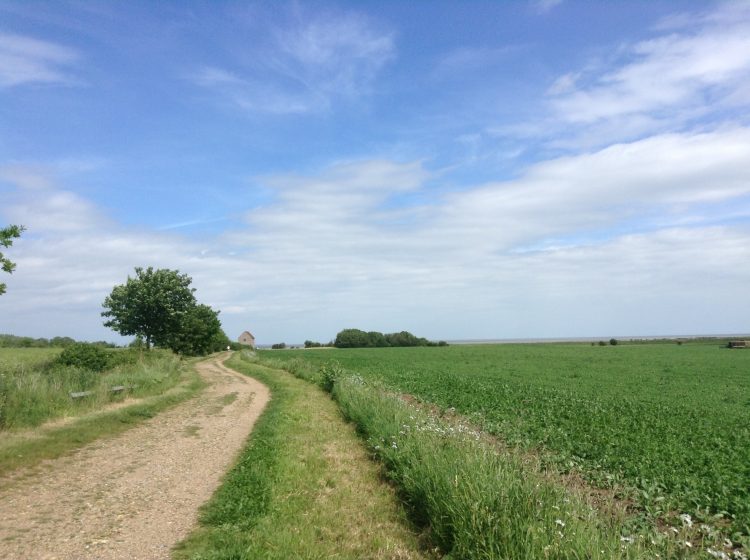 It is a very edgy place! As you come into Bradwell village you turn right at the parish church, and then wend your way on till you reach a little parking area. Access to the St Peter's chapel is on foot. The photo above was taken when I was about half way there. The landscape is completely flat. The sky is huge. And the skylarks sang and sang.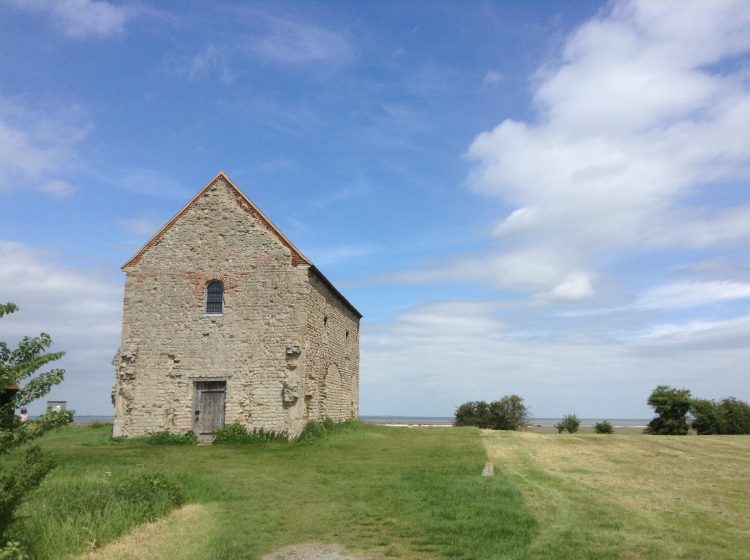 The chapel was built by St Cedd and his followers in the year 654AD. St Cedd had arrived in what is now Essex in 653 bringing Christianity to East Anglia. He founded a Celtic style Christian community on this site. He built his Cathedral of St Peter's on the foundations of the Roman fort, and was consecrated Bishop of Essex. The Chapel had a chequered history, being used as a barn to store grain and shelter cattle during the 1700s. It was restored for use as a chapel in 1920. The huge doors, used to drive in a loaded hay wagon, can still be seen in outline on the sides of the chapel.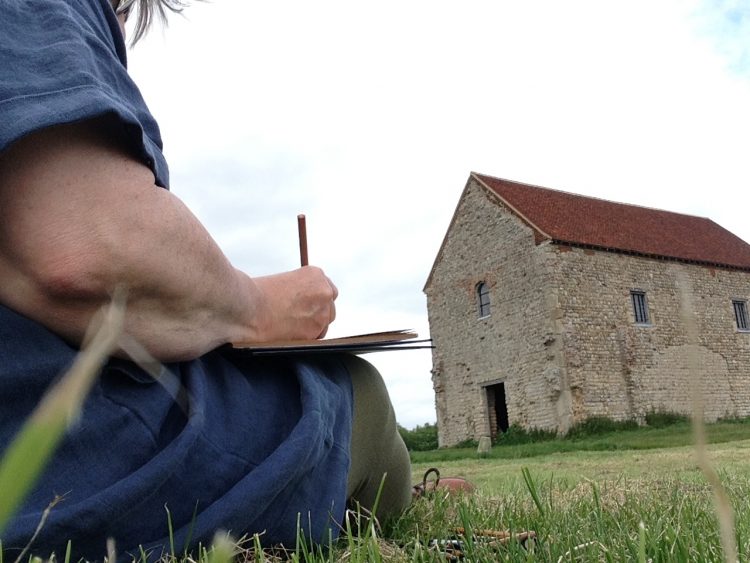 I sat on the grass and did some drawing before going inside. I have been several times before, but I'm always struck by the great feeling of peace and simplicity.
The coast here is protected by the salt marsh and cockle spit – a beach where the 'sand' is made of tiny fragments of shell.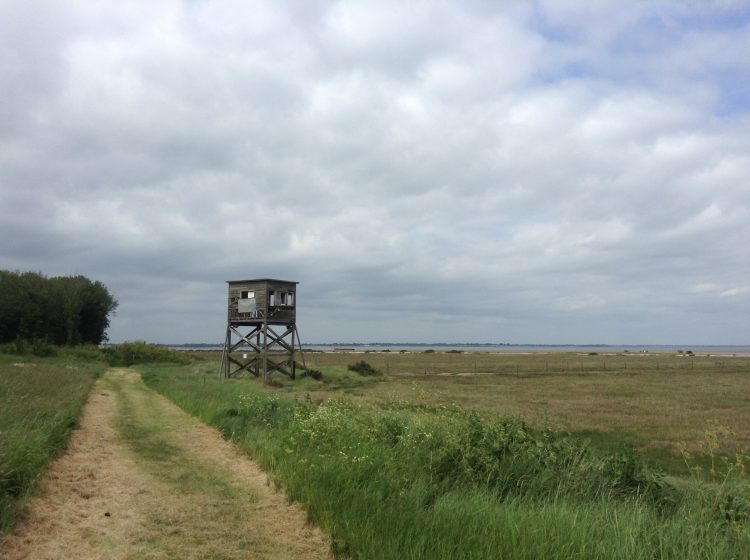 Across the Blackwater estuary is Mersea Island, where I painted my East and West Mersea paintings – Bradwell is not far from Lexden as the crow flies, but quite a trek via Maldon in the car!
I had a lovely day exploring the area and I'm looking forward to starting my Bradwell painting. 🙂