The latest painting in my Summer mini-series got finished yesterday!
This is the view across the barley fields to the pale spire of Birch Church in the distance. I think the next one might be Summer on the Beach . . .
Anglian Arts Project: The sharp-eyed amongst you lovely blog readers will have spotted a new item on the menu bar – Anglian Arts Project.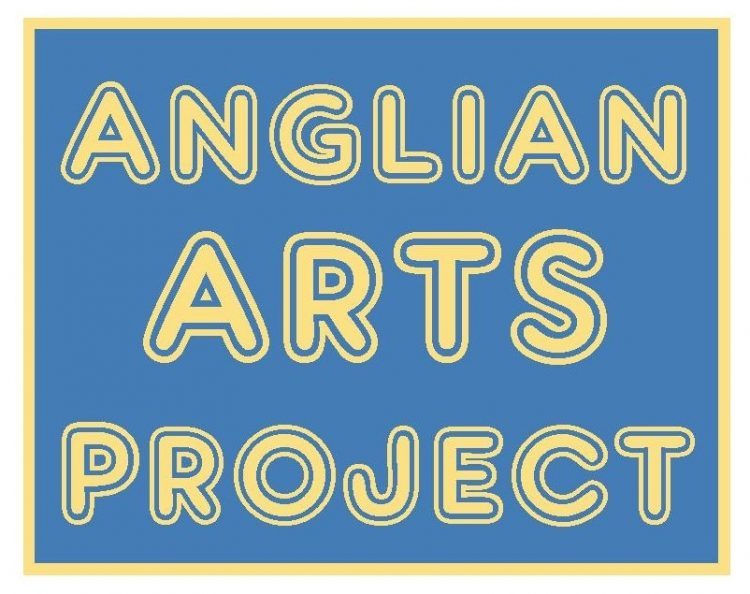 This is the new project that Graham and I are launching this October. It is a development from the Arts Festivals which we have run for the last seven years. We are very excited about it! Click the link and have a look at the poster with all the details! I will be putting up more information as we get nearer the date. You can also access the page directly through www.anglianartsproject.co.uk
On the Edge: In the next few days I'm heading up to Aldeburgh to start my next painting in the North Sea Project. So far I have completed eight paintings in this series – Southwold: Early Summer,  Walton on the Naze: Seawall, Walton on the Naze: Cloudless sky, low tide, Holland-on-sea: Sunset, East Mersea: Sea across the Fields, West Mersea: Afternoon light Low Tide, Bradwell -on -Sea: St Peter's Chapel on Ascension Day,  and Shingle Street on the Summer Solstice. To these I aim to add Aldeburgh, Walberswick, Dunwich, Orford and, possibly, Leigh on Sea. Lots to do still! 🙂
---
This is the second painting in a new little mini-series I'm doing about Summer. I painted Summer on the River – which has now sold – a few weeks back, of a view on the Stour near Dedham.  This one is Summer in the Woods.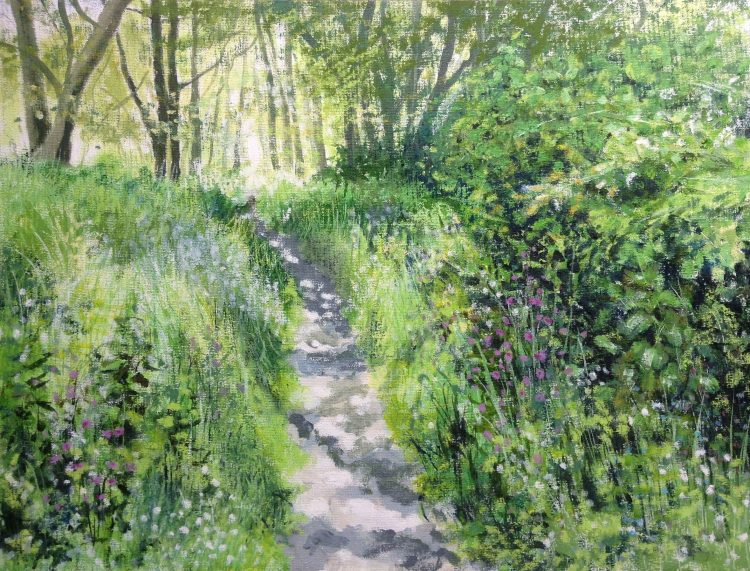 It shows a path through my usual, favourite wood, Hillhouse Wood at West Bergholt. I'm also planning on Summer in Fields, Summer by the Sea, Summer on the Heath, Summer on the Farm . . . . You get the idea! I'm just fitting these in when I'm waiting to do the next visit for my On the Edge project. At present I'm waiting for a suitable day to visit Aldeburgh and Walberswick. AND I've also got a new great idea for my next Landlines painting, which will involve a landline I haven't done before, plus a visit to Great Tey . . .
Haylett's Gallery Summer Exhibition: Just a reminder, this exhibition in which I have a number of recent paintings, starts this Saturday with a Bucks Fizz reception from 2.00-4.00pm, to which you are warmly invited. Do come if you are in the area. I shall be delighted to see you! The Haylett's gallery is in Maldon High Street, at the top of the High Street – i.e. the opposite end from the river! – and parking is available in White Horse Lane car park. There is lots of lovely work in the show, including paintings by Barbara Peirson, and ceramics by Pru Green, both of whom you may remember from past Lexden Arts Festivals. 🙂
---
The new postcards I mentioned in my last post are now in the shop!.
They feature the paintings Flatford: Early Spring I; Stratford St Mary: Early Summer; Higham: the River Brett and the Stour Valley, Summer; Nayland: Summer; and Sudbury Water Meadows: Autumn. Each pack contains one each of the five designs.
The pictures are glossy, but the backs have a pale green matt finish which is easily written on. They are £5.00 a pack and the postage is free to any UK address. Just go to the menu bar and click on SHOP!
Other news: I've painted a little wintery scene which is going to be my Christmas Card this year!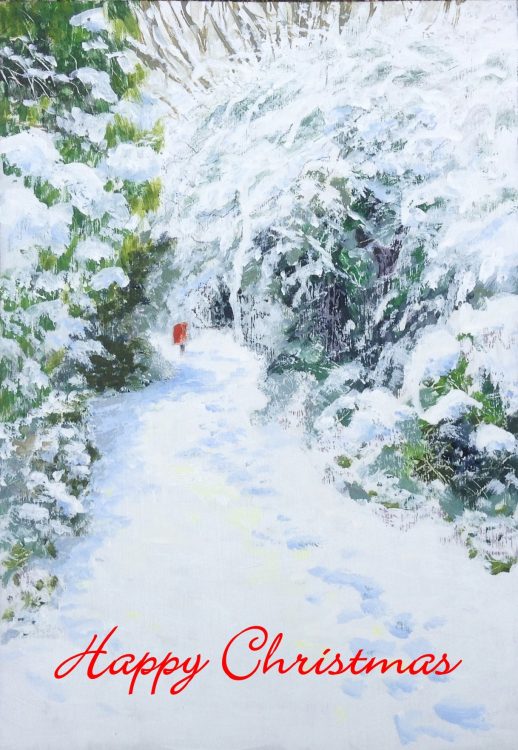 It is based on a photo I took near Stanway Green, and is called Walking to the Post. It may seem odd painting this in July but I need to get them printed and bagged up ready for Open Studios in September, and the time will fly past, I know!
Next, I need to get my 2020 calendars sorted . . . . . 🙂
---
I mentioned in my last post that I was ordering some new prints – well, here they are!
All ready to be trimmed and mounted. I'm just waiting for some new mounts to arrive from Cotswold Mounts, and then these new prints will be available in the webshop, and also at Open Studios in September. Each one will be in a limited edition of 50 copies, mounted, signed and numbered, with a back board, all in a cellophane bag, ready to frame. They will be £60.00 each with free postage to any UK address.
And something else new – new postcards!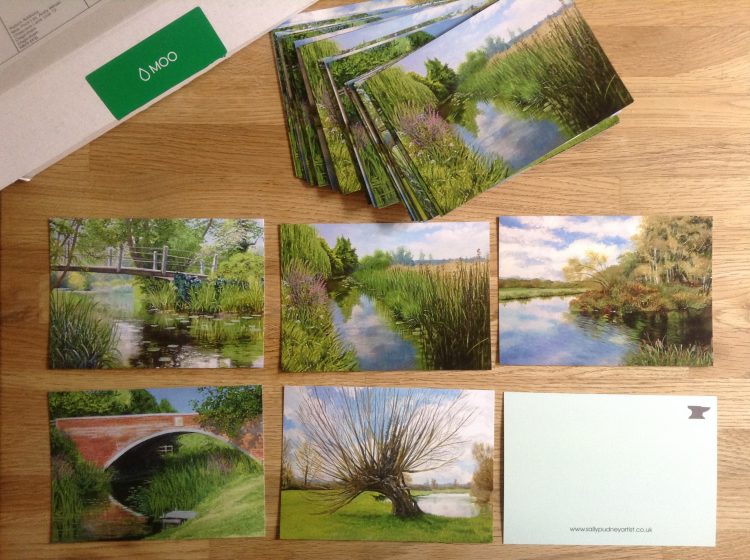 These show five of my River Stour paintings, with a plain back so you can write on them. They will be sold in packs of five, not individually, and they will also be going in the shop soon, and be available at Open Studios in September.
Open Studios: Yes, it's not long now until that time of year, and having mentioned them twice already I'd better give you the dates! I shall be opening my house and studio as part of Colchester and Tendring Open Studios on the weekends of 21st/22nd September and 28th/29th September. On each of the Saturdays I will be open from 2.00-6.00pm and on each of the Sundays I will be open from 11.00am-6.00pm. There is absolutely no obligation to buy. It is an opportunity to browse and chat, and there will be tea and coffee available, and cake! I shall have recent paintings, greetings cards, postcards, 2020 calendars, jute bags, Christmas cards, painting project books, notebooks and mugs available, so lots to look at!
Finally, do you remember I mentioned in my last post about the Haylett's Gallery's Private View invitation? Well here it is, with my painting "Tessa" as the back cover image. There is a tiny error in the text – the painting is, of course, acrylic, not gouache!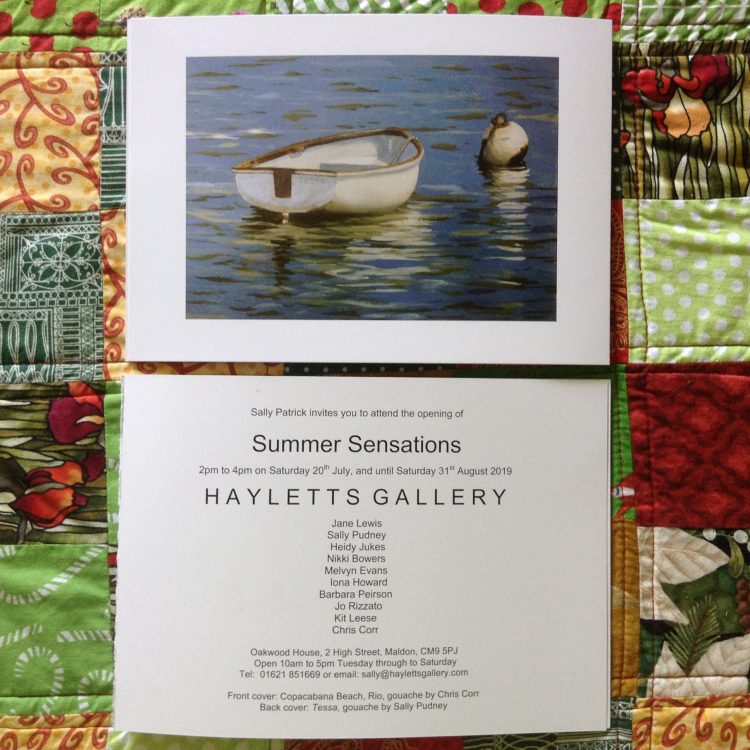 The PV is on Saturday, 20th July, with a Bucks Fizz reception from 2.00 – 4.00pm. I shall be there all the afternoon – do pop in and say hello if you are in the area. There is lots of other lovely work from the artists you see listed. Some are new to me so I'm looking forward to meeting them and seeing their work, too.
I'm very busy framing at the moment to get all the paintings ready to go over to Maldon . . .
Hope you're enjoying your weekend!  🙂