New Prints! New Postcards!
I mentioned in my last post that I was ordering some new prints – well, here they are!
All ready to be trimmed and mounted. I'm just waiting for some new mounts to arrive from Cotswold Mounts, and then these new prints will be available in the webshop, and also at Open Studios in September. Each one will be in a limited edition of 50 copies, mounted, signed and numbered, with a back board, all in a cellophane bag, ready to frame. They will be £60.00 each with free postage to any UK address.
And something else new – new postcards!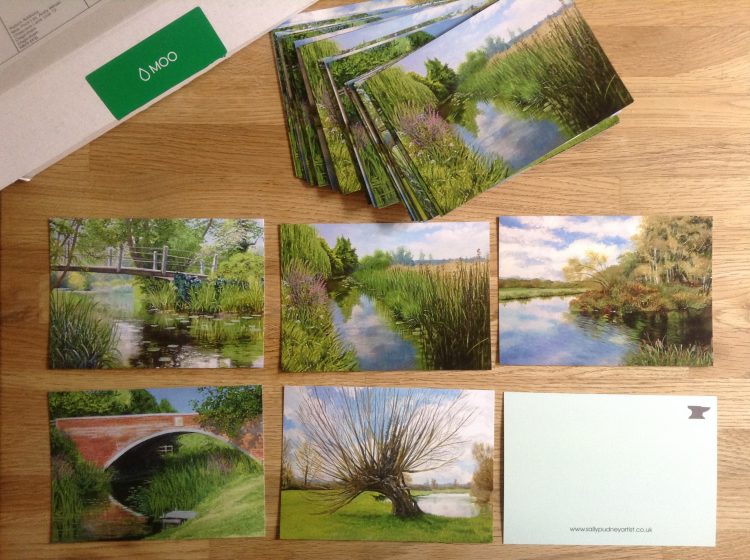 These show five of my River Stour paintings, with a plain back so you can write on them. They will be sold in packs of five, not individually, and they will also be going in the shop soon, and be available at Open Studios in September.
Open Studios: Yes, it's not long now until that time of year, and having mentioned them twice already I'd better give you the dates! I shall be opening my house and studio as part of Colchester and Tendring Open Studios on the weekends of 21st/22nd September and 28th/29th September. On each of the Saturdays I will be open from 2.00-6.00pm and on each of the Sundays I will be open from 11.00am-6.00pm. There is absolutely no obligation to buy. It is an opportunity to browse and chat, and there will be tea and coffee available, and cake! I shall have recent paintings, greetings cards, postcards, 2020 calendars, jute bags, Christmas cards, painting project books, notebooks and mugs available, so lots to look at!
Finally, do you remember I mentioned in my last post about the Haylett's Gallery's Private View invitation? Well here it is, with my painting "Tessa" as the back cover image. There is a tiny error in the text – the painting is, of course, acrylic, not gouache!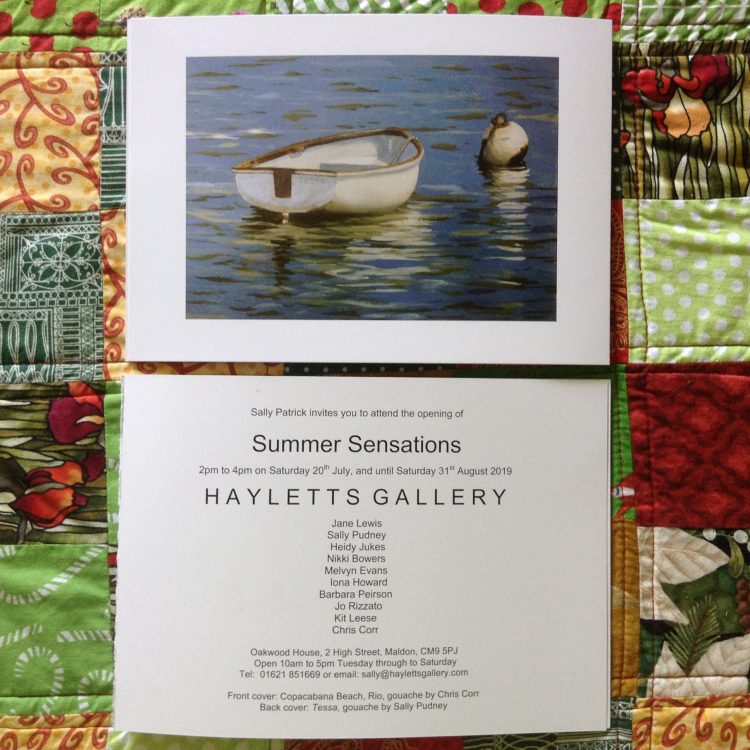 The PV is on Saturday, 20th July, with a Bucks Fizz reception from 2.00 – 4.00pm. I shall be there all the afternoon – do pop in and say hello if you are in the area. There is lots of other lovely work from the artists you see listed. Some are new to me so I'm looking forward to meeting them and seeing their work, too.
I'm very busy framing at the moment to get all the paintings ready to go over to Maldon . . .
Hope you're enjoying your weekend!  🙂
---