So – the end of 2019, and the end of the decade. A time to look back and look forwards.
It is astonishing to me, looking back, that at the beginning of this decade, in January 2010, I was still teaching part time in a primary school. I had no website. It would be another five years before I started this blog. I had only been painting in acrylic for four years. And I had just exhibited two tiny paintings at the Haylett's Gallery, that was all. Wow! A lot has changed.
Looking back at this year, it has been my most successful painting year so far, by a long way. More galleries, more paintings sold, more turnover, the best Open Studios, and the successful launch of our Anglian Arts Project.
I am extremely grateful to everyone who has supported me, in any way – those of you who have come to Open Studios, private views, and exhibitions; those who have bought cards and calendars, bags and prints, and, of course, paintings; those who have made encouraging comments in emails, on Instagram, and in person. I'm especially grateful to Graham, as without his help I would not be able to hold Open Studios – and the Anglian Arts Project is very much our joint project, and I certainly couldn't begin to do that without him either!
Open Studios was particularly interesting this year, as we asked all our visitors how they heard about it. Only one visitor had got the information from the Colchester and Tendring Open Studios booklet, or website. Everyone else either received my monthly newsletter, or had seen our A-board outside, or I had directly invited them as they had bought from me in the past. The result of this is that I have drastically changed how I'm doing my Open Studio events next year. You'll need to come back here tomorrow to find out what I'm planning!
If you got my newsletter this morning you'll already know about my painting projects for next year. I shall be writing a bit more about them in tomorrow's blog post, and also about the perfect new venue for our Anglian Arts 2020 exhibition. (You can sign up for next month's email newsletter at the bottom of my home page. Don't worry, I only send out one a month, and you can unsubscribe at any time.)
Finally: I wish you all, lovely blog readers, a happy and healthy year in 2020. May it be a year with exciting times and peaceful times, and filled with lots of joy and creativity  🙂
---
A couple of days ago I finished the twelfth and last painting in my On the Edge: the North Sea Project which has been my painting project for 2019.
This view of Dunwich Beach was from a summer visit, and it has been very enjoyable to paint this warm sea and blue sky over the last week when we have mostly had grey skies and rain and more rain!
It is quite interesting to see all twelve of the paintings in the series together, as they are so very different in mood, in weather, and in colour, although they all depict the coastline of Suffolk and Essex. I did a couple of little layouts of the whole group for Instagram, which you may not have seen, so here they are!
The first six paintings –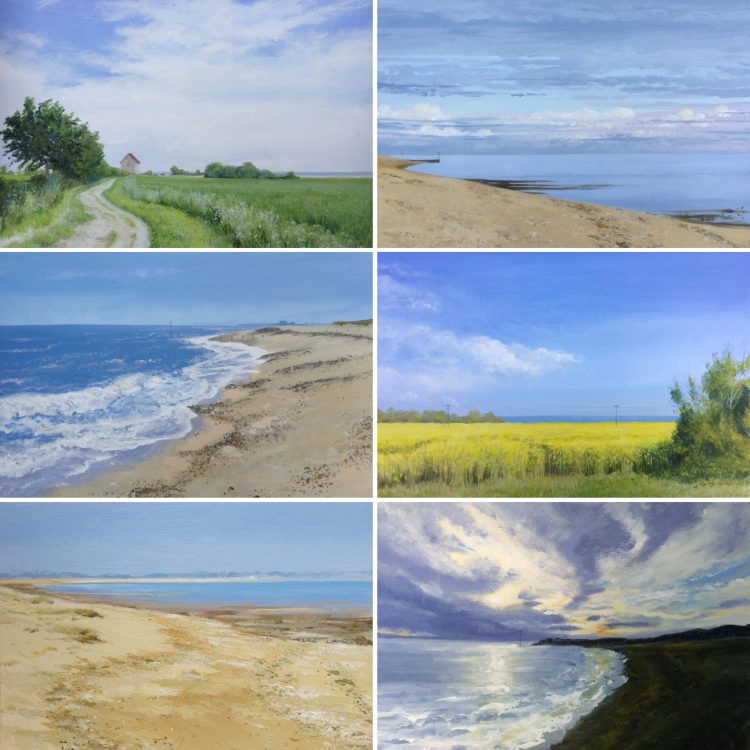 which shows Bradwell-on-Sea, West Mersea, Southwold, East Mersea, Walton-on-the-Naze and Holland-on-sea.
And the second group –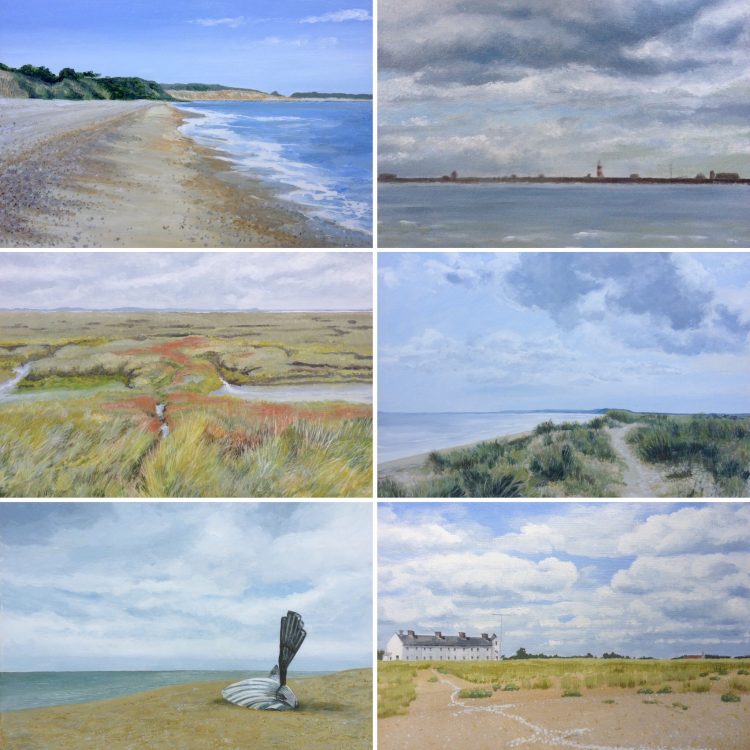 which shows Dunwich, Orford, Tollesbury, Walberswick, Aldeburgh and Shingle Street.
Some of the paintings are slightly cropped by the Layout app, but it gives a good idea of them all!
I feel very fortunate to be within a short drive of the coast. Graham and I had a (very breezy and chilly!) walk by the sea this afternoon, under some dramatic skies . . .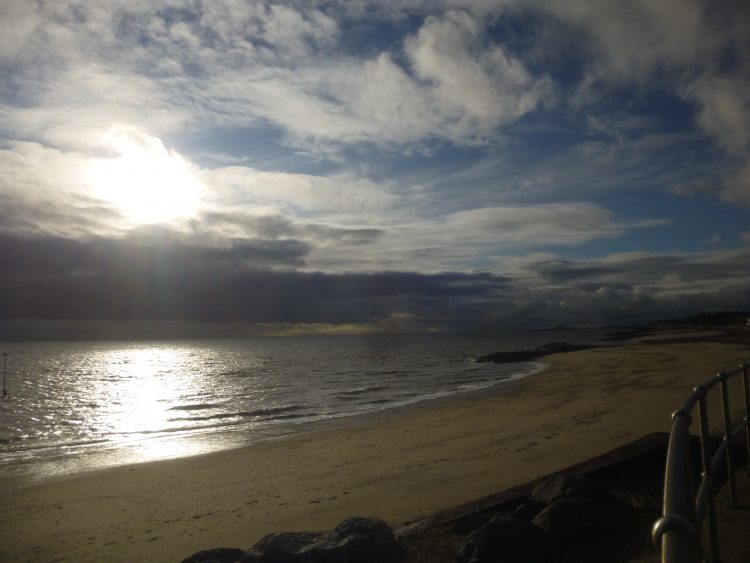 and it was good to get out for some fresh air and exercise!
I hope you manage to spend some time outside in amongst all the Christmas busy-ness, and recharge your batteries! 🙂
---
A week today it will be Christmas Day – so I thought I'd just write a little post!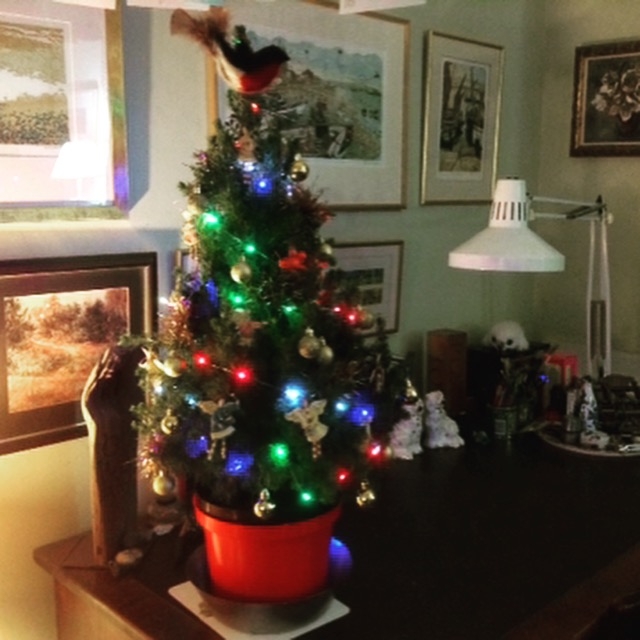 My little tree – a 'real' one this year – is twinkling away, covered in my Twelve days of Christmas fairies and some specially small gold baubles and tiny lights.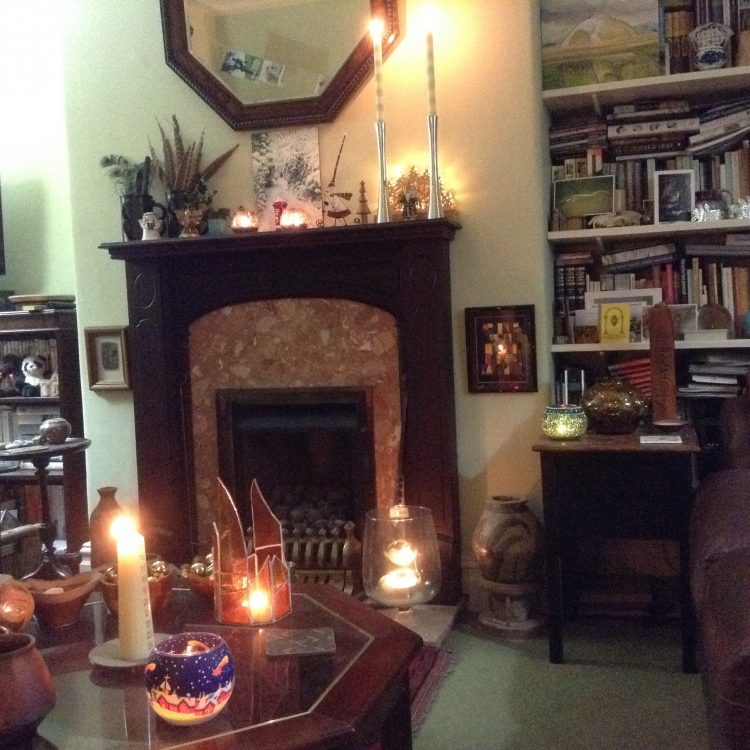 My sitting room is full of candles, with the Advent candle more than half gone now.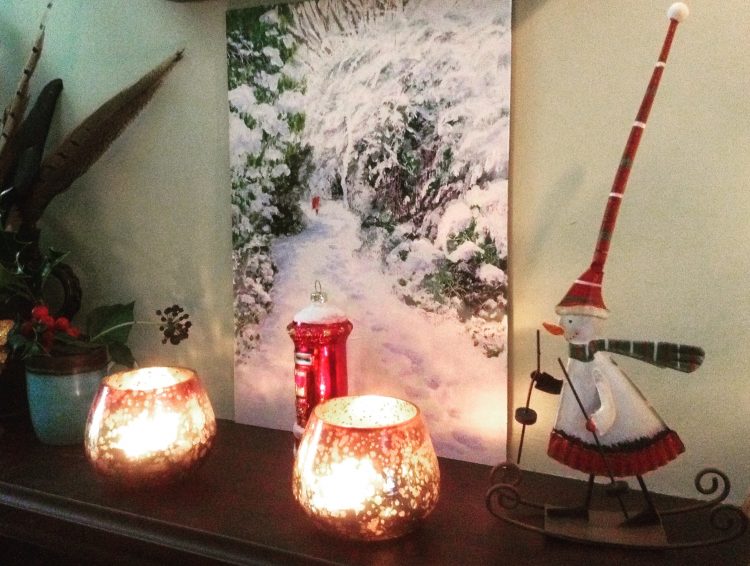 The tiny painting which I used for my Christmas card this year – Walking to the Post – is part of my mantle display, and I couldn't resist buying a post box bauble to put with it!
On the Edge: I have just wound up my 2019 painting project! I finished Dunwich this afternoon. I just need to check it in a good light tomorrow and then I will photograph it and get it up in the 2019 gallery.
And I've been thinking a lot about my painting plans for next year. My main painting project is one that I'm very excited about. I'm also excited about the new venue we have found for our Anglian Arts Project 2020 exhibition, and I am completely changing how I do Open Studios next year! I have so much to share with you on 1st January! I will be sharing some of it in my final newsletter of this year, which will go out to my subscribers on New Year's Eve.
Sign up at the bottom of the Home page to receive my newsletters, and I will drop into your inbox on the last day of each month with news of paintings, exhibitions and events.
I wish you all a very happy and peaceful Christmas time, however you spend it. 🙂