When I visited The Field, for my Twelve Months in an Essex Field painting project, a couple of weeks ago, I picked up a number of twigs blown from the trees by the storm force winds. Just like I did in January, I popped them into a jam-jar and drew them. This is the result – February Findings.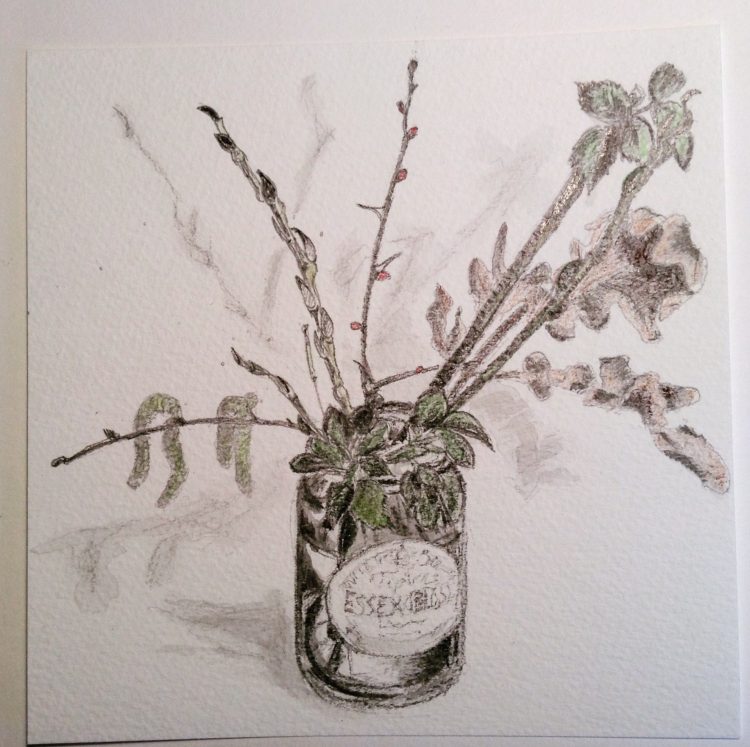 The jar has been standing on the mantlepiece since then, and yesterday I noticed something about it . . .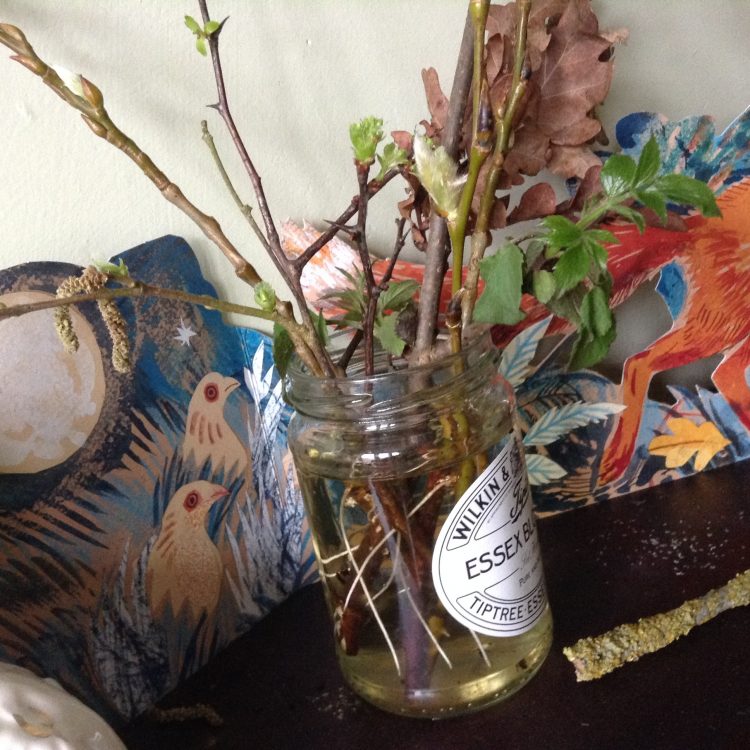 The willow twigs, which I'd picked up off the ground and assumed were dead, were opening their claw shaped bud casings into 'pussy-willow' buds! And not only that, but they have all rooted!! So I now have three potential willow trees . . . . 🙂
---
I've just added this second painting from my project Twelve Months in an Essex Field to the 2020 Gallery page.
This is right down at the bottom of the field, with the Roman River just on the left in amongst all those trees and bushes. The catkins were thick on the hazels down here, the tree shadows long across the field from the low sun, and this is where I saw all the little hoof prints from some kind of deer.
I have done a tiny drawing of some of the twigs which I picked up, which I will post soon. I'm also just planning a small painting of some of these 'findings', too.
And next up will be my second Towers and Spires painting, but not quite sure yet where it will be! 🙂
---
Yesterday I made my February visit to the field at Aldham that I am painting each month throughout 2020 for my Twelve Months in an Essex Field project.
It was a beautifully sunny morning but with a very strong cold – icy! – wind. The sky was cloudless blue as I walked down the track to the railway crossing. The Clamp field, on the left of the track is misted over with green now – the wheat coming up! The headland along Walls field, How Hill, and my field – Martins – had been cut, and there were bird scarers in all three fields which kept making me jump! The ground was not as muddy as January, so I decided to walk around the whole field. In the shade of the trees there was still frost on the grass.
There was a skylark singing almost continuously, robins flitting in and out of the brambles, and a pheasant ran out of the undergrowth by the river bank and ran off down the track squawking!
Periodically a big flight of pigeons went over – hence the bird scarers I guess! – and a lot of gulls flew in from the east at one point.
After Storm Ciara at the weekend the field edge along the river was littered with some quite big branches, and twigs which had blown off the trees – it was quite difficult walking through them!
I found a number of animal footprints where the ground was soft. All along the bottom of the field there were little hoof marks – maybe muntjac, or roe deer? And what I think was a fox print. And quite a few badger prints!
The hazel catkins are starting to come out, and were hanging thickly on some trees in more sheltered places. Elder is the only tree actually coming into leaf.
I picked up a number of twigs to bring home to draw. Hazel (with catkins), one of the willows, possibly crack willow, blackthorn, field maple, and oak with a lot of crumpled dead sepia brown leaves still attached. It will be another little graphite drawing like I did in January. One of you lovely blog readers suggested that I might make these drawing into a series of cards, one for each month – and I thought What a good idea! Thank you for suggesting it, Brenda!
I've just finished priming up the board – 45cm square as all these field paintings will be – so I'm all ready to start my February painting tomorrow.
Hope you're having a good week! 🙂
---
Just finished yesterday, this is the first painting of my new Towers and Spires series.
I found this view of the church by parking in the little narrow lane which leads down to the church off the A120, and then walking back to the road bridge over the railway. I rather liked the way that the elevated view point made the church look very settled down amongst the trees. There are a random assortments of hedges and fences on the field, which seem to enclose a car park for church goers.
When my sister and I were little girls we went to Marks Tey Primary School, since demolished and re-built in a different location. My sister's sole claim to acting fame is playing the part of Mary in the school's nativity play in this church!
Beach Bags: I placed an order for some more beach bags this morning, featuring some of my sea paintings along with seaside-y quotes. I look forward to showing them to you sometime in the next week, and then they will go into my web-shop.
Hoping to go to The Field in the morning for my February visit, by which time I hope the wind has dropped a bit. Hope you don't get blown away in these gales! Stay safe and keep warm. 🙂
---
I went up to Southwold this morning, delivering some more paintings to the Buckenham Galleries in Southwold's High Street.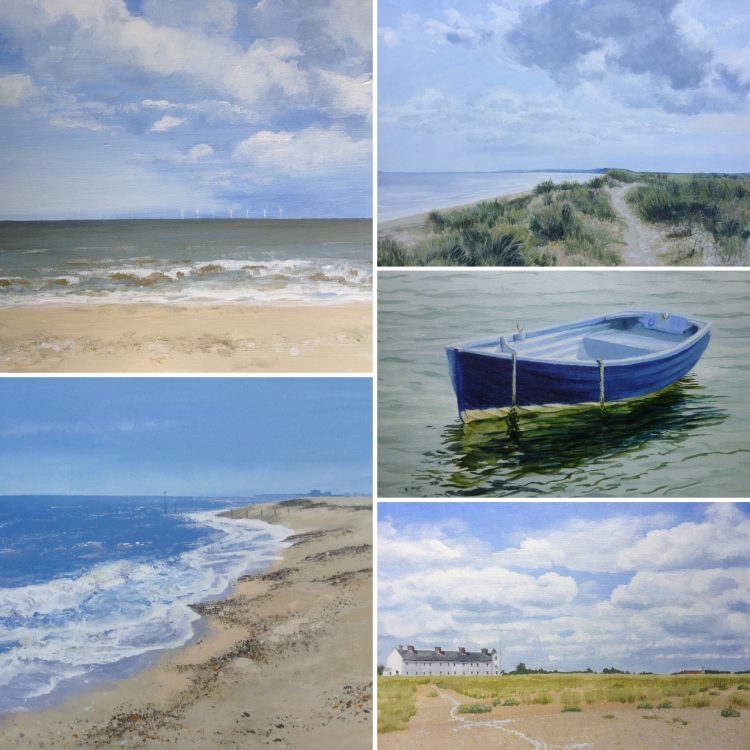 These are the five that I took, clockwise from top left  – Summer by the Sea, Walberswick, Blackwater Dinghy on the Flowing Tide, Shingle Street on the Summer Solstice, and Southwold: Summer. There are also a selection of my unframed prints at the gallery.
It was a really beautiful day in Southwold, today, with a clear blue sky and wonderful sunshine, although the wind was very strong and very cold!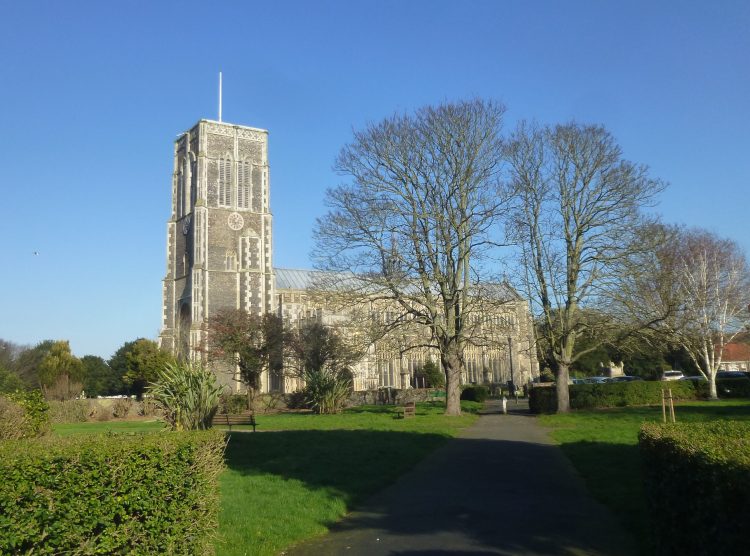 In my studio: I'm working on a painting of Marks Tey church across the fields, for my Towers and Spires series. I hope to get it finished over the weekend.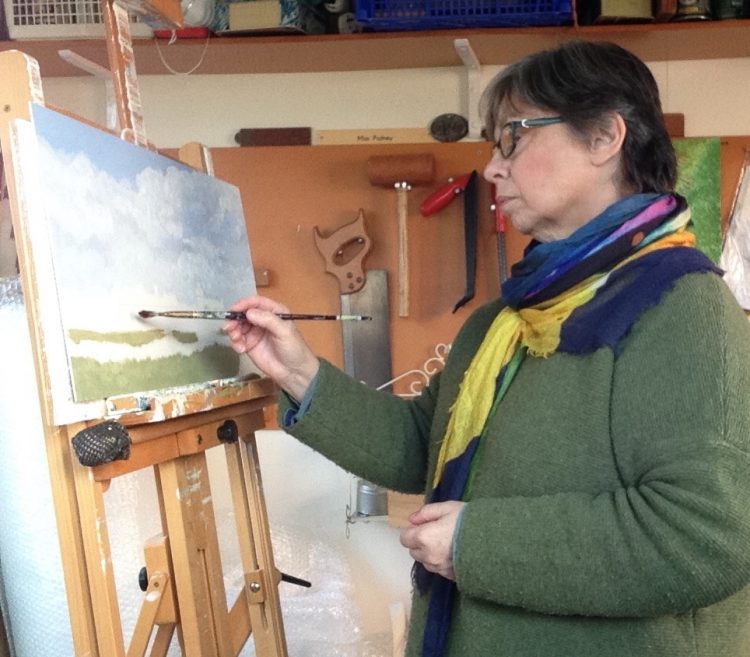 And next week – weather permitting! – I shall be making my February visit to 'My Field'. As well as the main painting I also plan to do some small paintings or drawings of some of the findings in the field, as I did in January. And having typed that I realise I haven't shared those with you! So here they are  . . .
A little graphite drawing on Bockingford watercolour paper of seed heads and twigs I picked up in the field in January, and –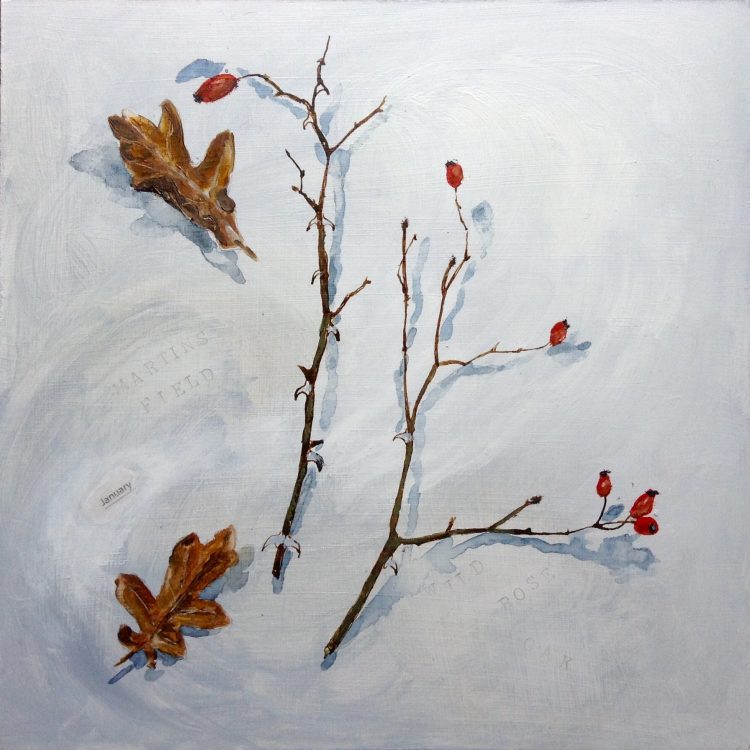 a tiny painting of wild rose hips and fallen oak leaves from the field.
Lastly, I had such a great response to the Beach Bags that I featured in my 'end of January' newsletter – thank you! In case you missed it here's a reminder: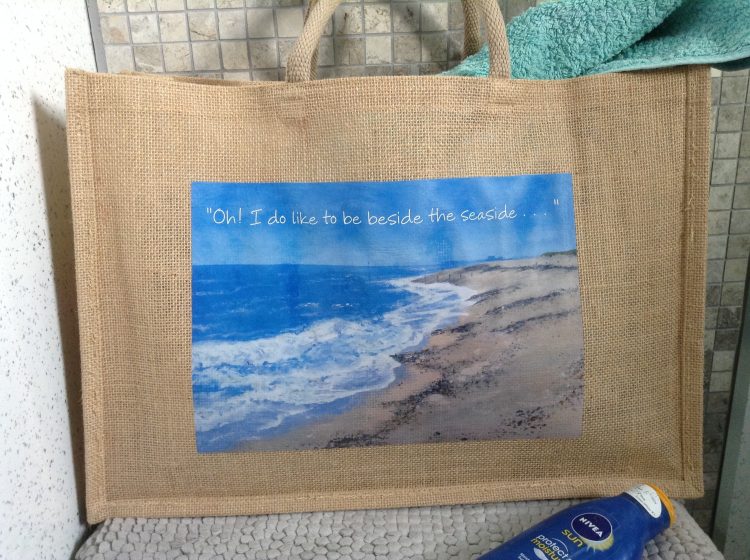 I had a number of emails from people keen to get their hands on one, so I am definitely ordering some more, with different 'seaside' paintings along with different quotes. They will go in my website shop, and also be available at my June Midsummer Open Studio event.  'Teach me to hear mermaids singing . . .'  from a poem by John Donne, seemed a particularly popular quote, which will go on a painting of Summer by the Sea.  I have also thought of using 'Gone to the Beach', 'I must go down to the seas again . . . ', and 'Sand between the Toes'. But if any of you lovely blog readers have any other good seaside-y quotes up your sleeves do let me know. 🙂
Don't forget you can sign up for my monthly newsletter at the bottom of my Home page, for news of paintings, exhibitions, Anglian Arts Project news, new merchandise . . . .