Here is the sixth painting in my Twelve Months in an Essex Field painting project!
This is the top field margin, looking east showing the wonderful wild flower growth. It is a very similar view to the one I painted in March, just a little further west. Comparing the two paintings the changes are astonishing!
I went over to the field for an extra visit last Thursday. Catherine let me know that one of the resident barn owls had been seen hunting over Martins field at about eight o'clock every evening, so I went to see if I could spot it. We had a lovely walk round the farm – but the barn owl chose to hunt elsewhere . . . . However, I was struck by how different the field was in the evening, the light, the direction of shadow, the mood. I have decided that my July painting will have to be an evening one, to try to catch this whole different look.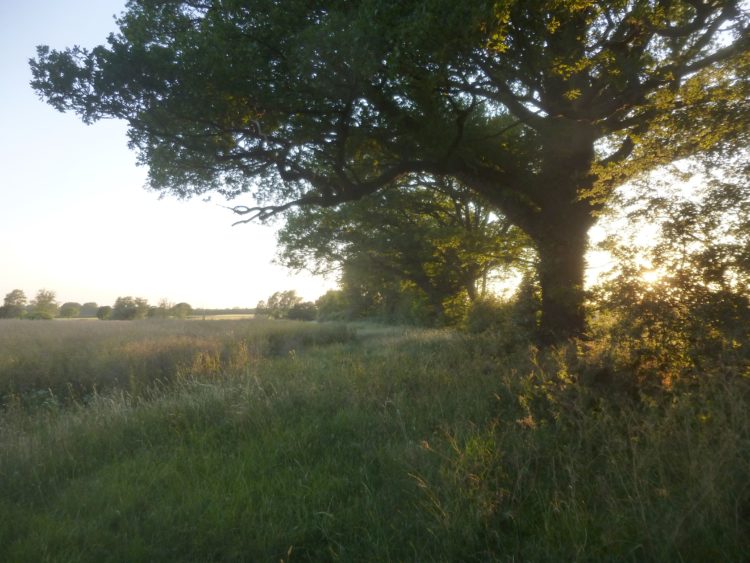 And if I'm sitting still drawing then maybe the barn owl will float by! 🙂
---
I made my June visit to The Field on Monday, and, as usual, brought back a handful of 'snippings' to draw.
This month there were actual flowers to pick.  The field margins have grown up enormously since last month. I picked a stem each of wild carrot, field scabious, ox-eye daisy, corn chamomile, common knapweed, and a mystery tall flower spike with minute yellow flowers which a long trawl through all my wild flower books failed to identify!
Here they are –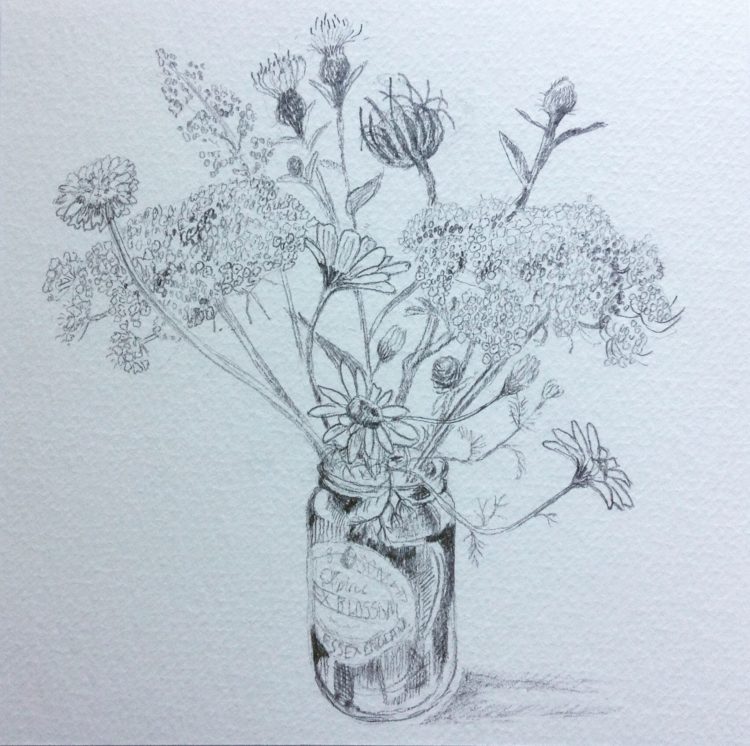 I've also just finished a little painting of a stalk of oil seed rape from The Field in April. I started the painting weeks ago but have only just done the last bit of work on it.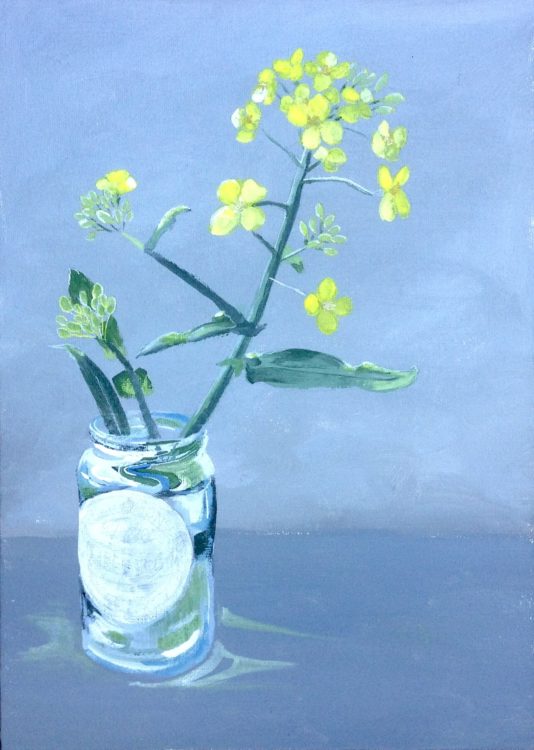 Both of these little pieces show 'Tiptree' jam-jars, from Wilkins & Sons, which is just a few miles down the Maldon road from where I live. The jar I use most often is from a jar of Essex Blossom honey, and has ESSEX BLOSSOM on the label. This month is the first time that seems sort of appropriate!
I've made a start on my Essex Field: June painting, but it is far too hot to paint in my studio today.
Virtual Online Open Studios: A big thank you to those people who have bought greetings card packs, and prints both large and mini from my SHOP page since Saturday. I has been lovely to have a distanced chat with some of you as you came to collect. My online event is going on for four more days until Saturday, 27th, so do hop over to the shop page and have a browse. One or two people have mentioned that they have an issue with using PayPal; if you are intending to collect an item, then drop me an email and you can pay on my card reader when you collect, just as you would at my normal Open Studios.I am cleaning the card reader before and after every use.
Hope you are all still safe and well, and are either enjoying the heat or at least surviving it! 🙂
---
You may recall that I was going to have a 'real' Open Studio event about now. Like all other plans in this strange summer,  it got cancelled . . .
But I have come up with the idea of having a 'virtual' event – partly online, and partly socially distanced by appointment, which might fill the gap to an extent.
It will start tomorrow, Saturday, 20th June and finish on Saturday, 27th June.
It won't be the same, of course – no home made cakes for a start! – but it will give me the chance to share some new work and merchandise with you, especially if you live fairly locally to me – and, of course, if you normally come to my house for Open Studios, the chances are you do live near me!
I have had lots of lovely new cards printed, in a good big A5 size, which have gone to make up three new greetings cards packs. I have also had eleven new mini-prints made. These are mounted but unframed, and are all in limited editions of fifty copies only. There are also lovely new 'seaside' jute bags, as well as my 'cute jute' bags, large prints, post card packs – and paintings!
Some of these things are easy to post to you. Some are virtually impossible to post – or the postage would be so expensive that it would make the item a ridiculous price. So I have made a plan . . . .
HOW IT WILL WORK:
Paintings: These will be FOR COLLECTION ONLY. All the available paintings can be viewed on my Gallery pages. If there is a painting that you are interested to see 'in real life' email me on sally@sallypudneyartist.co.uk and we will arrange a time for you to come and have a socially distanced viewing in my garden, or just inside my extension if wet. If you decide to purchase you can pay using my card reader, which will be cleaned before and after every use.
Large Rectangular prints, Small square prints, small jute bags, large jute 'seaside' bags: These items are FOR COLLECTION ONLY. They can be viewed on my SHOP page. They can be paid for in the Shop using PayPal. Once I receive your payment I will email you and we can fix a time for you to come and make a socially distanced collection. You ring my door bell and step back. I put the bag of goodies on the door step. You pick it up. Easy!
Small Rectangular Prints, Painting Project Books, Greetings Card packs, Postcard packs: These items CAN BE POSTED ( although if you live near and would rather collect that's fine!) They can be viewed on my SHOP page, and paid for by PayPal and I will post them to you. Postage to any UK address is free.
I have clearly marked everything in the SHOP either FOR COLLECTION ONLY or FOR POSTING OR COLLECTION.
I've tried to make it all fairly straightforward, but don't hesitate to drop me an email if you need clarification, of just want to ask about availability.
I hope you enjoy having a browse – I have enjoyed getting everything ready! 🙂
---
My parish church, St Leonard's at Lexden, usually have a Summer Fete in June. This year, of course, it cannot go ahead in its normal form, and instead they have come up with the idea of having a virtual online fete. Amongst the items they have planned is an art show on the theme of some aspect of Lexden – not a competition, just for people's interest and enjoyment – with three categories, Primary School age, Secondary School age and 16+.
The deadline for sending in was today at 9.00am. On Monday evening it suddenly occurred to me that I ought to be making a bit of an effort about this, and send something in for them. So I made a start on Tuesday, couldn't do anything on Wednesday for various reasons, and then painted all day long yesterday to get it finished in time.
I think I am in the 16 +++ . . . . category!
This is also, of course, the fifth painting in my Essex Churches series. It wasn't one that I had planned to do, as it is not a very interesting building from the outside (although the inside is lovely) but there we are – I've done it!
I'm hoping if the weather brightens up to get over to The Field next week. In the meantime I am preparing for my virtual online Open Studios which I mentioned in my last post.  More about this very soon!
Hope you are all still well – enjoy your weekend! 🙂
---
Just finished this morning, this is the magnificent church of All Saint's Church at Brightlingsea, on a brilliant sunny morning in May.
My next painting is going to be a little one of a stem of oil seed rape – I brought it home from the field in April, and drew it and photographed it – but I didn't get around to painting it!
Virtual Open Studios: Yes, I'm planning this at the moment! More news soon!! 🙂