Aldeburgh and Walberswick
A few days ago Graham and I had a trip up the Suffolk coast to Aldeburgh and Walberswick, the next two places in my On the Edge painting project. It started off being rather a cloudy day with dramatic clouds, but cleared up later into sunshine.
I have been to Aldeburgh so many times that I'd already decided on the view that was going to be the basis of my painting. We parked in the town centre and walked along to Maggi Hambling's scallop shell, on the beach to the North of the town.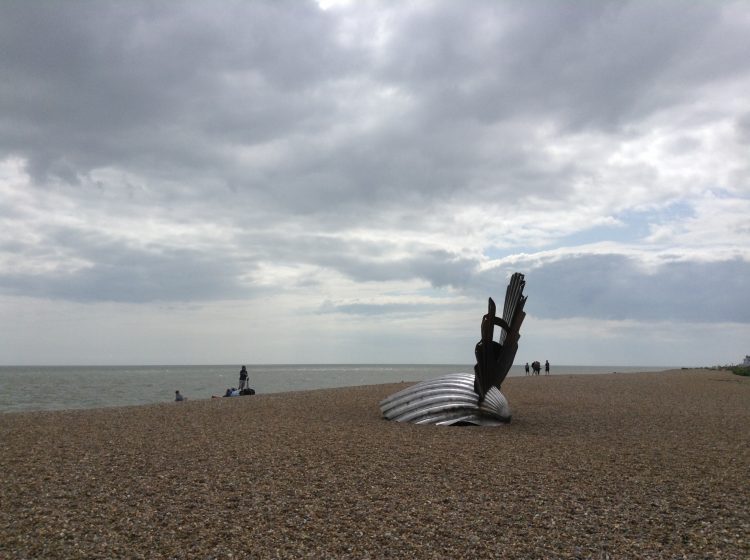 I'm going to paint the beach from this angle, including the scallop, but not making it the overwhelming feature, looking back towards the town.
While we were in Aldeburgh we went to the Suffolk Craft Society's exhibition in the Peter Pears Gallery, which, as always, was excellent. Stunning work, beautifully displayed. We were especially pleased to see lovely work from some of our friends who have shown in the past in our arts festivals – Caroline Sullivan, Dennis Hales, Greta Hansen, Pru Green, Catherine Allen, Alison Dane, Dylan Pym . . . the exhibition continues for a while yet, so do go if you get the chance.
After lunch it was back on the A12, heading up the coast to Walberswick. Neither of us had ever been there before. The actual village – small town? – through which you drive to get to the beach is extremely picturesque, with very pretty cottages. There is a large car park with paths which lead directly into the sand dunes, and so onto the beach. There were lots of families playing on the sand, in the dunes and in the sea, and I could see why it is such a popular place.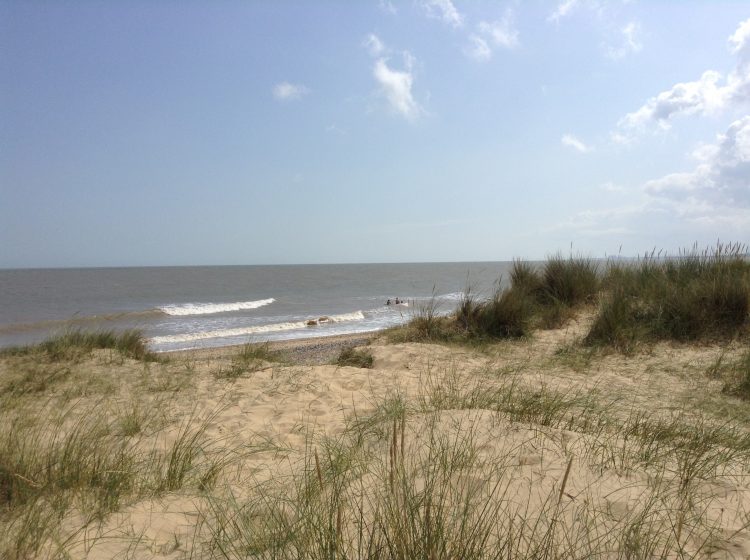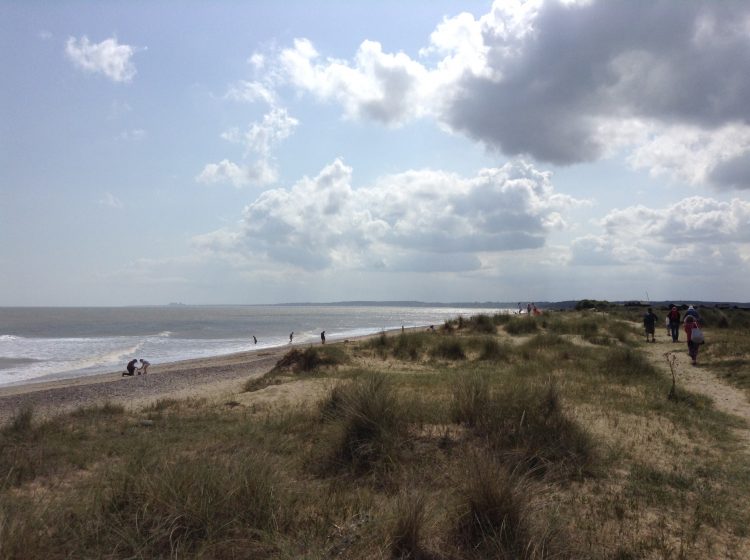 I have primed up the board ready to start my Aldeburgh painting, but at the moment I'm busy doing seven notarial faculties for the Faculty Office, which I want to get finished first. So it may be next week before I get going.
Other news:
Christmas Cards – I put in an order for these with Point Graphics in Maldon yesterday, and I'm excited to see how they turn out. They will be available at my Open Studio weekends, and also in my website shop.
Anglian Arts Project I'll be sharing a lot more about this in my next post as I've started making my visits to the exhibiting artists – so come back soon to read all about it! 🙂
---