Essex Field: August and extension news
There are no longer piles of building materials in front of my studio door, so I have been seizing on times when the builders have not been on site to get my August field painting done.
This view is looking roughly westward, right down at the bottom of the field near the Roman River. It was a quiet, warm morning when I visited. I saw the buzzards again, over the fields on the far side of the river. For the first time in several months I was able to walk right down to the bottom of the field – the huge thistles have been cut down –  where I found a thick extensive clump of ragwort, which became part of my 'snippings' drawing, along with lady's bedstraw.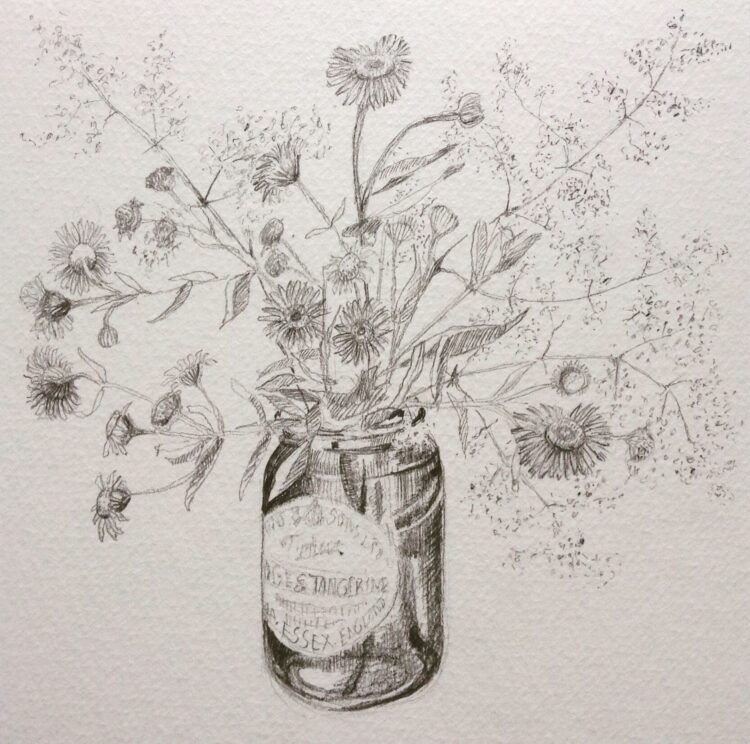 The field had, as you can see, been ploughed since last month, and I'm curious to see what the next crop will be!
The hedges were thick with haws and sloes and blackberries, and I am going to ask permission to make an 'extra' visit and do a bit of picking!
Extension news : After all the problems, and the very slow start because of them, my extension has made huge progress in the last six days. The brick work and block work is completely finished –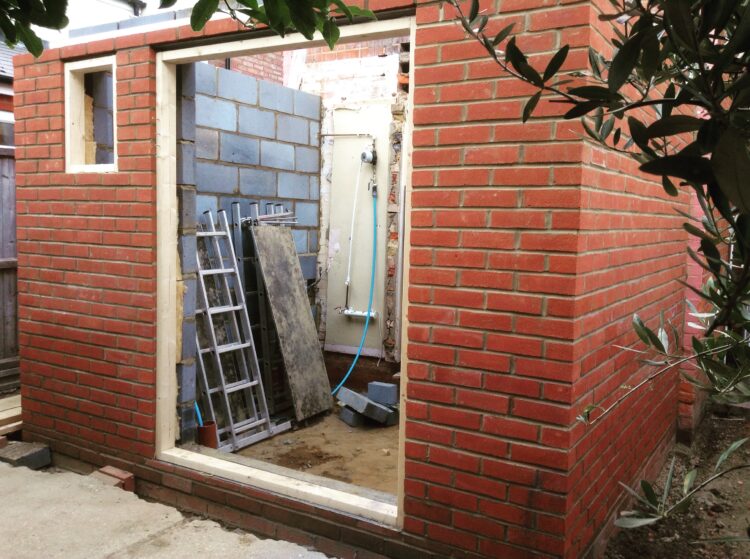 so you can see where the big glazed sliding door will be, and the little window which will be for the downstairs loo. Yesterday the roof timbers started to go on –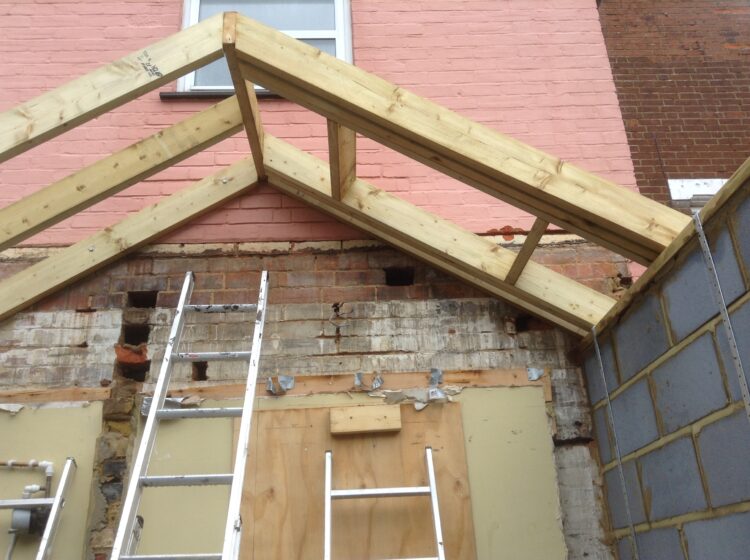 showing the rectangle of timbers where one of the two roof lights will go in. Nothing is happening today, though, as it has been pouring with rain and is very wild and windy. I'm hoping the roof will be on and felted by the end of the week, although I know it will be the middle of September before the tiles go on!
New Greetings Card Pack: My lovely printers in Maldon, Point Graphics Ltd, are printing me another new selection of cards this week. I hope to have collected them in time to share in my newsletter which will be going out on 31st August. The 'Summer' pack, which were sold out in my shop, is now back in stock again; if you have any birthdays coming up these cards make lovely and really unusual birthday cards!
If you would like to be among the first to hear about new items and other 'behind the scenes' news then just type your email address in the box at the bottom of my home page and click subscribe. I only send out one newsletter on the last day of each month, and you can un-subscribe any time if you are no longer interested. 
I hope you are all still well and coping with this strange confusing time as we ease our way out of lockdown. When I was pushing my trolley round Sainsbury's yesterday, it occurred to me that it feels quite normal to be wearing a mask for shopping,  and that itself is very peculiar . . . . . 🙂
---