Viaduct – and cards for Autumn
At the weekend, while the builders were absent, I finished off a painting of the railway viaduct at Chappel.
The viaduct crosses the valley of the River Colne, North West of Colchester. I had a recommendation from one of you lovely blog readers that if I turned up this particular lane, and walked across the footpath over the field I would get a good view of the viaduct – and you were right! – thank you!
The viaduct carries the branch line from Marks Tey, where it leaves the main London Liverpool Street to Norwich line, and goes to Sudbury. You may remember that in the early spring my last Landlines painting was of the actual track, as it runs along the cutting at the top of My Field!
Greetings Cards for the new season: I was struck by how some of the trees were already looking autumnal as I painted this picture. It reminded me to remind you of my Essex Wood Autumn and Winter Greetings Card pack. This contains cards showing my September, October, November and December paintings from my Twelve Months in an Essex Wood series.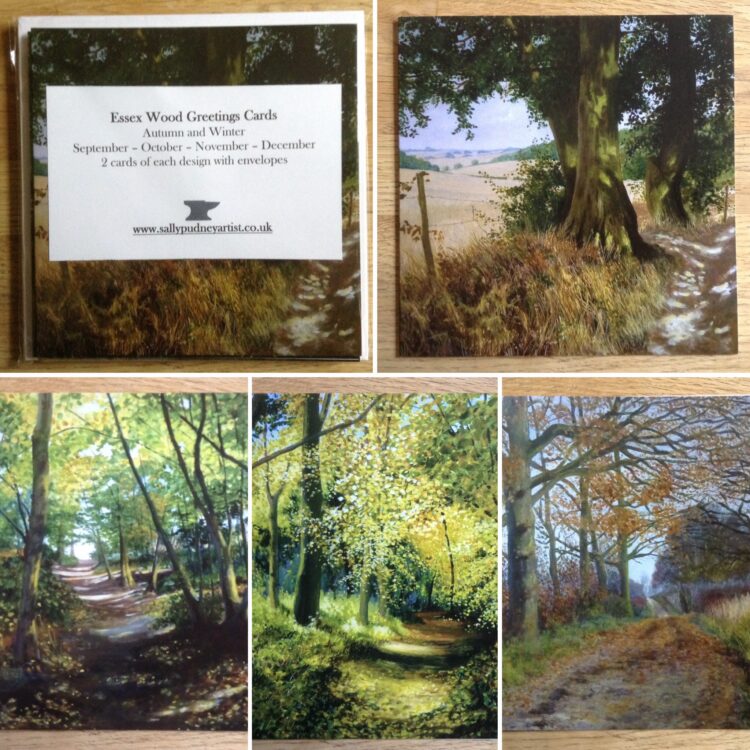 There are two cards of each design, with envelopes, and the pack is available to order if you hop over to my SHOP page.
Extension news: A lot has happened over the last week! The plaster board, floor, Velux windows in the vaulted ceiling, first fix electrics and plumbing have all been done now, and this morning the roofers are here and the tiles are going on! There seems to be an awful lot of noisy tile cutting taking place! My builder has gone to pick up the glazed doors and window, and the guttering. Progress is being made. Photos soon.
A beautiful September morning here – just about my favourite month! Hope you are able to enjoy some sunshine! 🙂
---