The Field in May
This week I visited the field at Aldham that I am documenting monthly in my 2020 painting project.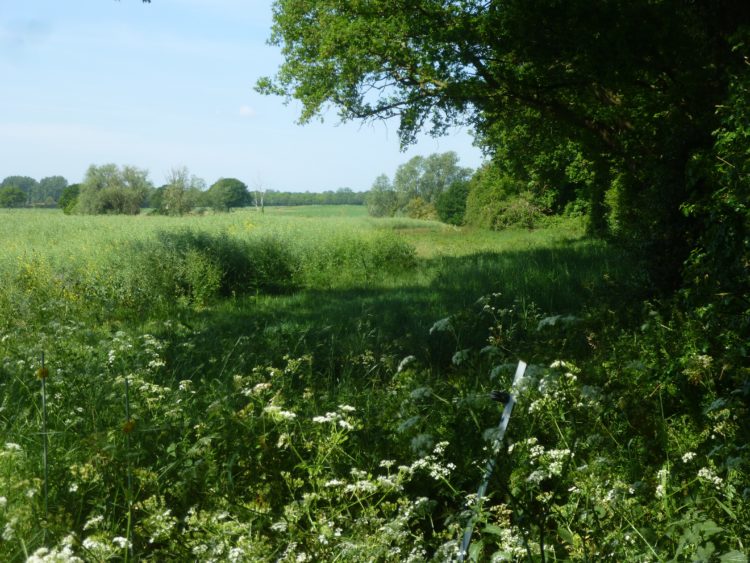 Great changes were in evidence! The oak and ash trees are now in full leaf – when I went in April the oaks were just leafing up, and the ash buds were only beginning to break.
The hawthorn is in flower, in fact some of it is already going over, and the blackthorn blossom, so thick in April, has all gone. And in its place there are tiny sloes already emerging on the blackthorn in the hedges along the top of Walls, How Hill, and 'my field' Martins.
Everything seemed extremely lush and green in spite of the very dry weather we've had for weeks on end. The oil seed rape has virtually finished flowering, there is just a smattering of yellow over the field. The field margins, which last month were sparse and flat, are now growing up thickly, with the footpath clearly visible threading through the plants.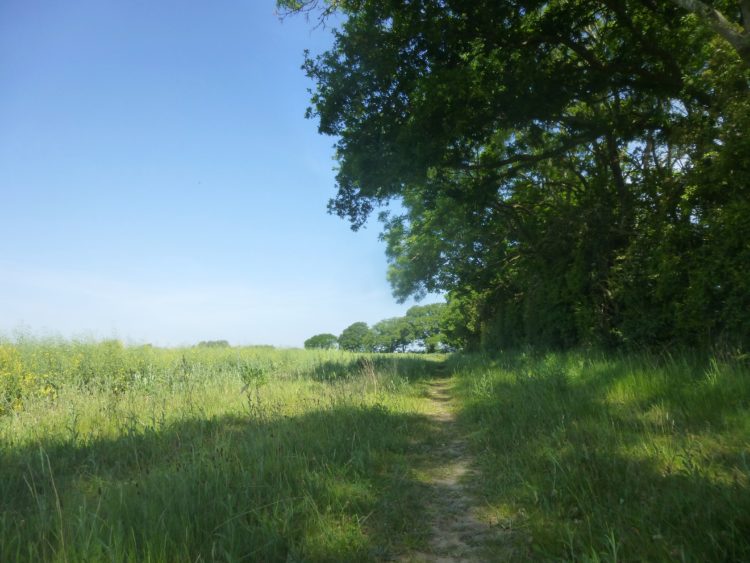 There was a new collection of flowering plants since April, too! Dog roses and field roses in the hedges, bird's foot trefoil, dogwood just coming into flower, White Bryony, and what I think was Wild Radish, although I wasn't certain about the identification there!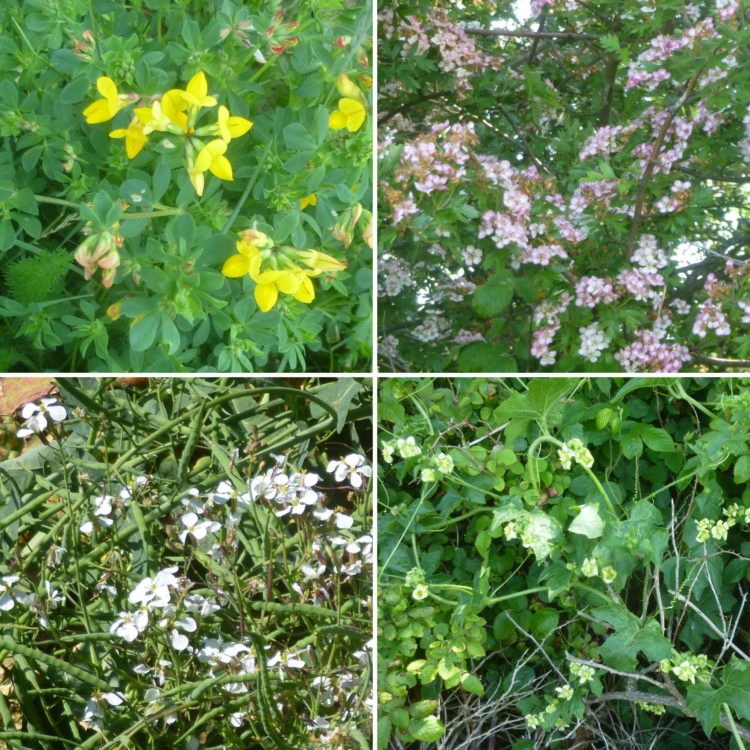 Clockwise from top left – Bird's Foot Trefoil, a particularly pretty pink form of Hawthorn blossom, White Bryony and possibly Wild Radish.
The skylarks were singing continuously, and there was a huge amount of other bird song from the tall trees along the railway cutting. Much of it I couldn't identify, except for the usual suspects of blackbirds, great tit, and chaffinch, but I recorded a few moments on my voice recorder so I hope to be able to identify some more with the help of the RSPB's website!
The ground was rock hard – no possibility of any fresh tracks! But I did spot a 'badger corridor'. If you look carefully at the photo below you can see the long claw marks of the badger's paw prints, and the tunnel through the thick grass beyond the fence.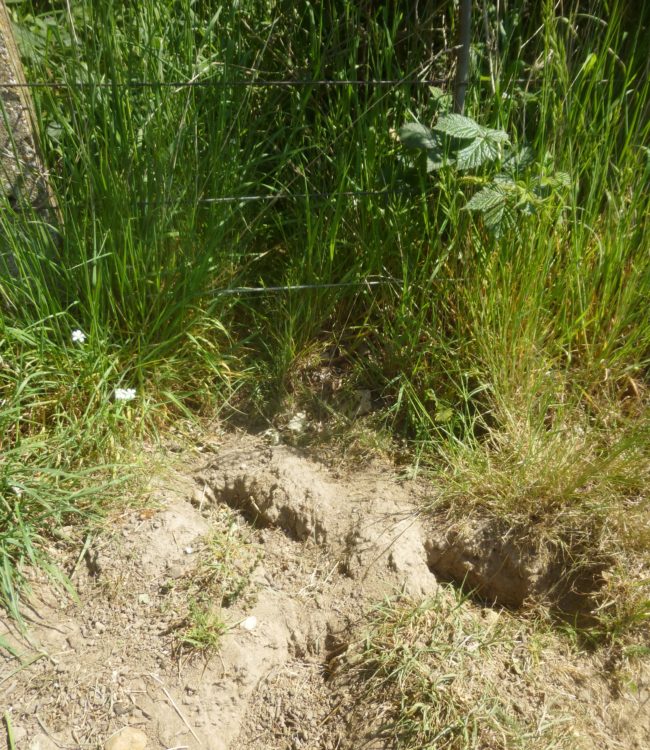 The bottom wire is also polished a little brighter than the top one by rubbing on the thick coat as the badger pushes underneath. This is leading down into the railway cutting where they have their setts.
I didn't bring twigs home this month, but grass seed heads. There seemed so many different ones along the field margin. So I shall be posting my drawing of those in a few days, and also my 'jam-jar' drawing for May is going to be just cow parsley!
Essex Churches: I went to Brightlingsea, as soon as we were given permission to go a little further afield,  to draw the church of All Saints. I was able to sit on the low churchyard wall in the sunshine, wrestling with the very difficult perspective of this complicated building, with all its different levels and decorative stonework and huge buttresses! The massive pale grey flint knapped tower looked very impressive against the cloudless blue sky.  When I've finished my May Field painting, Brightlingsea church will be next.
Open Studios and Anglian Arts Project: I have now definitely cancelled my June Open Studios. Disappointing, but there is no way in my small house that we could socially distance, and I'm sure our lovely visitors would not feel safe to come anyway! We are still hopeful that our Anglian Arts Project exhibition at the Naze Centre in Walton-on-the-Naze will go ahead in September, but that is entirely dependant on whether or not the Essex Wildlife Trust, who own the centre, feel that it is possible to re-open by then. I will let you know as soon as we know, but the decision is really out of our hands. I am thinking ahead now to my end-of-November Open Studios in the hope that that will be a possibility!
Hope you are all still well and coping, as we slowly, slowly come out of lockdown . . . Stay alert! Keep safe! 🙂
---