The last day of the month, so the next Canvas Print has gone up on the Canvas Print page!
This is a sailing dinghy that I found at Heybridge Basin, on an afternoon in the autumn when the sun was bright and the Blackwater far out. I liked the way the light lit up the interior of the boat, and the reflections in the puddles of water left by receding tide. Hope you like it! 🙂
---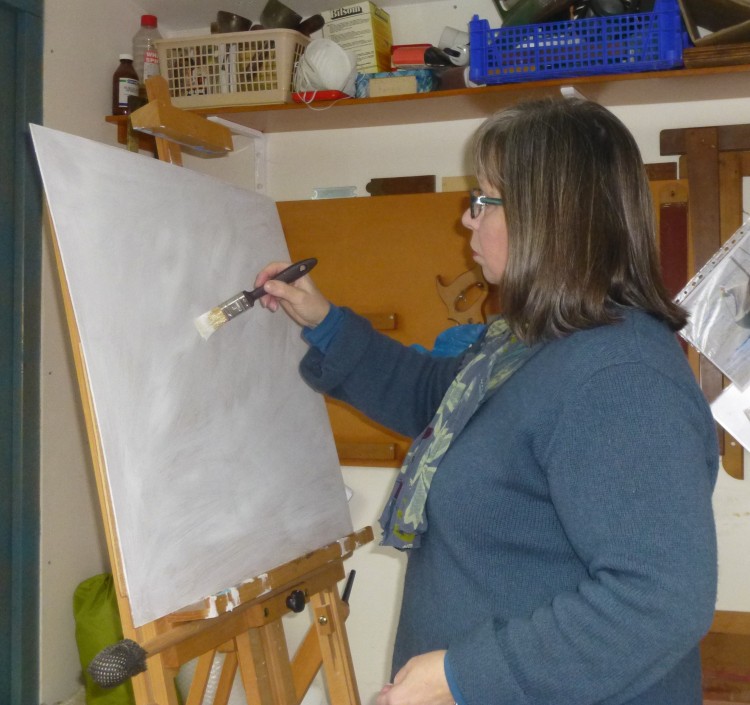 Spent a few minutes this morning priming up the first board for the first BIG January painting for the Essex Wood project. And IT IS BIG!! A lot of artists work on huge boards, but I've always worked small, so 24 inches square does seem a challenge to me. I'm looking forward to getting started on it next week! 🙂
---
A bright sunny morning in the studio, and I finished 'Willows on the Colne' – so here it is!
The timing couldn't have been better, as, when I came in to check my emails at lunch time, I found that my painting boards to start the Essex Wood project were ready to collect! And 2 foot square looks very big!! But I'm looking forward to making a start on the large January painting in the next few days. It's going to be of part of the footpath that runs along the southern edge of the wood, with glimpses of the fields through the trees. As it will be February on Monday I am very aware that I have some catching up to do – lots of work coming up!
I also collected the last two frames for my dinghies for the Geedon Gallery – 'Dinghy on the Falling Tide', and 'Poppy on the Blackwater II' – so that's a job for tomorrow . . .
And it's Friday again tomorrow – Yay! I'm looking forward to going with Graham to 'The Celts' exhibition at the British Museum at the weekend. Hope you have something nice planned too! 🙂
---
Making a start this afternoon on the sky for my 'Willows on the Colne' painting. Most of it will disappear behind the leaves of the willow trees, but the little glimpses between the leaves need to be right, so I find it is best to paint it all!
Off to the framers tomorrow with my friend Heike – deciding on a frame for 'From my January Garden' which she has bought to go with 'From my August Garden'.
A cold yellow-and-black sunset tonight.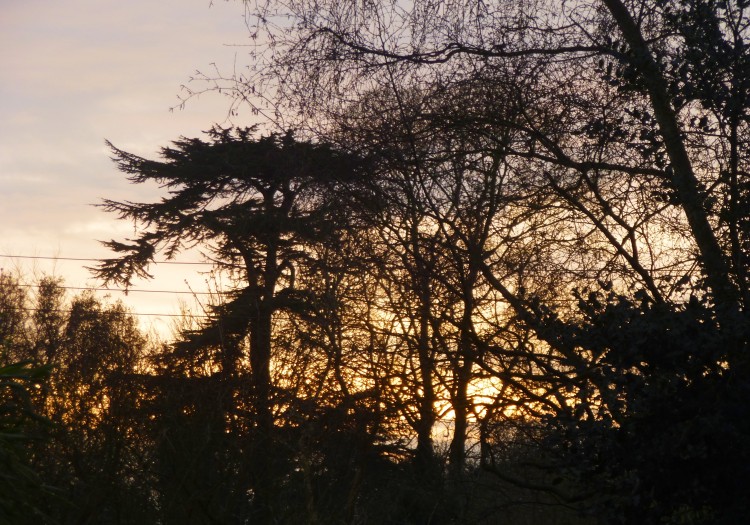 Hope your week gets off to a good start tomorrow. 🙂
---
It's been a busy week! Graham and I have had lots to do organising sponsorship for this year's Lexden Arts Festival, and putting some better financial arrangements in place. One of my paintings – 'Summer afternoon on the Colne' – went off to a new home on Wednesday – and interestingly, the lady who bought it, saw the tiny reproduction of it in the Colchester Open Studios booklet, and tracked it down from there.  This really confirmed my opinion that Open Studios is such a worthwhile thing to do. And I've finished another painting.
The new one is called 'Autumn Morning, Aldeburgh' – a painting resulting from staying in Neptune House in Aldeburgh in early November. It was a lovely bright morning, with the sunlight shining off the sea.
This square format is quite unusual for me, but it was good to try it out as I'm actually going to use it for all my Essex Wood paintings. The first batch of square painting boards that I have ordered should be ready to collect this Tuesday – I can't wait to get started! The large painting each month will be 2 foot square – so larger than usual, too! – and the small ones will be 1 foot square. I thought the square format would suit the feeling I had when walking round the wood of looking up as well as around.
I've also been considering how to frame the Peddars Way series. They are all such different paintings that it is quite a challenge to think what would suit them all. I propped them all up on the piano last night to consider the matter!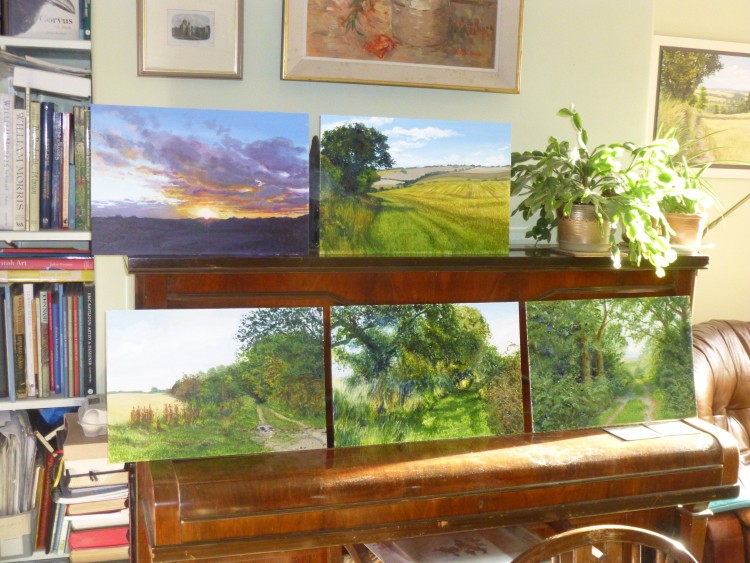 So far I have decided to mount them on a charcoal grey board, rather than my usual white, probably, and probably use an oak frame, but not such a wide one as I usually choose, as they are quite small paintings. When I get them to the framers this could all change, though . . .
While I'm waiting to start my first Essex Wood painting, I have made a start today on a painting of the willow trees in the Colne valley on the outskirts of West Bergholt, which is from some drawings I did last September. Lovely blue sky and pale, graceful trees . . .
And finally, here is a lovely January sunrise, taken from my spare room window one morning this last week.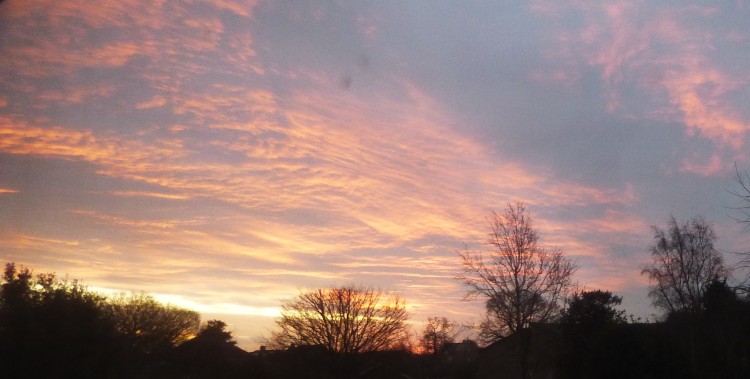 Hope you're having a good weekend. 🙂
---
Here is the latest painting on the 2016 gallery page – Summer Dinghy. I found this one near the Monkey Beach at West Mersea,  months ago. It was a lovely one to paint over the last few freezing cold days! The sea was as calm as a mill pond . . .
And here's another winter sunset that I thought you might enjoy. Fiery winter sunsets are the best!
Hope you are keeping warm and enjoying the weekend. I'm still hoping for snow . . .  🙂
---
The weather was unexpectedly fine today, and as there is heavy rain and even snow forecast for the next few days, I thought I would seize the opportunity to get started on my 2016 project, 'Twelve Months in an Essex Wood'.
Well, first, find your wood! I had, so I thought, studied the map well – how wrong can you be! – and thought I knew the way to go after I'd parked the car. I knew there was a long track down to the entrance to the wood, but sadly, I set off down the wrong long track. A helpful woman I met near the bottom of the hill put me onto the right path, and I got into the wood by what she described as the 'back gate'. She did say 'I don't know how muddy it will be . . .' The answer was VERY.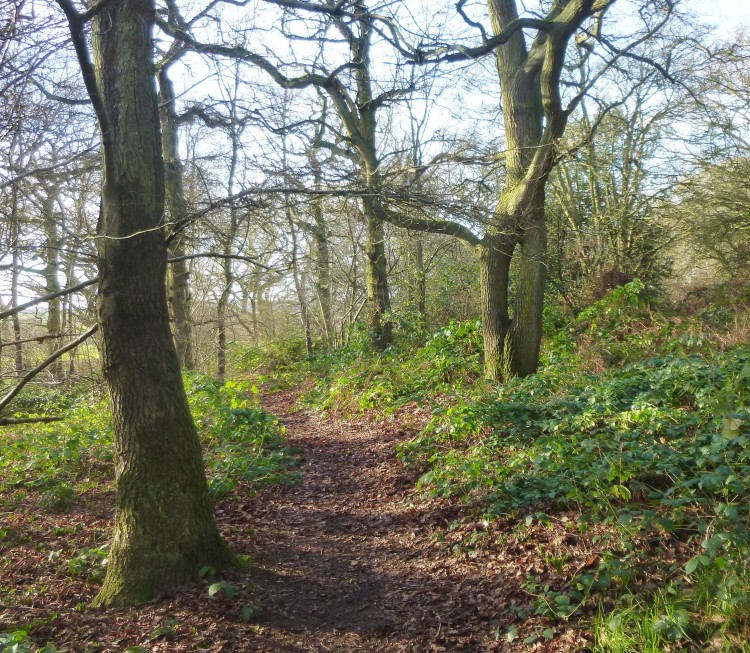 There had been a cold wind walking up the track, but as soon as I got into the wood, it was quite still, though I could hear the wind humming through the tree tops. The narrow muddy path went steeply down hill, where I crossed over a small stream via a plank and rail bridge. The stream was gurgling along, loud and fast. I tried to stick to the path that goes around the edge of the wood on the south side. When I headed more into the centre of the wood, the mud was thick, yellowish grey and clay-y. The low sun struck through the bare trees lighting up the green bark, and everything was streaked and spotted with the shadows of trunks and branches. I stopped to do some drawing on the sunny path, and also when I crossed another little stream where huge tree roots had created a series of miniature waterfalls.
It was very quiet. I heard the squawk of a jay, and a distant dog barking. A great tit called five times, and then a pause, five times and a pause. Periodically there was a great thrumming of wing beats as a huge flock of wood pigeons took off from a nearby field. Looking up, the hazel trees where covered so thickly with not-quite-out catkins, that they showed as a haze of pale yellow against the blue sky.   I could hear a pair of buzzards called to each other, though I couldn't see them.
In the centre of the wood is a large open sunny clearing with some impressive old oaks. The bluebells are already pushing up through the leaf litter.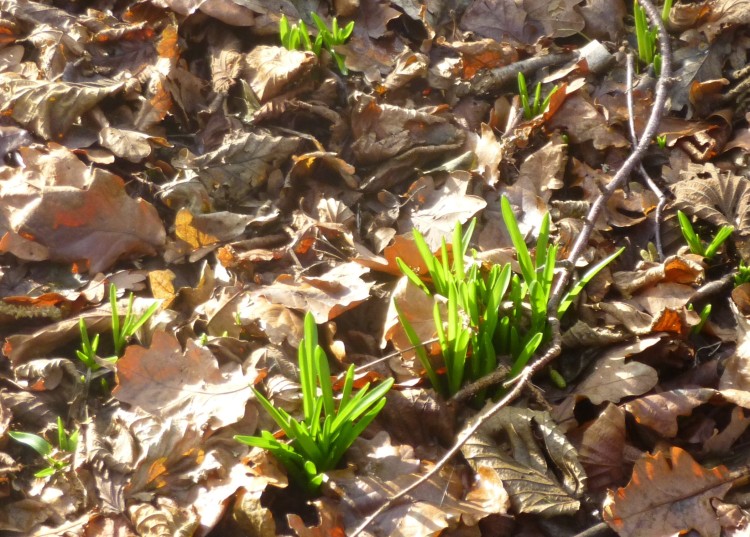 I walked round the perimeter of the wood, and back up the correct path to where I'd left the car. My walking boots were thick with mud. Next time, I'm considering whether wellingtons might be a better choice, and a walking pole. . .
---
This afternoon when I came in from shopping I actually finished my Christmas jigsaw, over a warming cup of tea – it is really cold here today!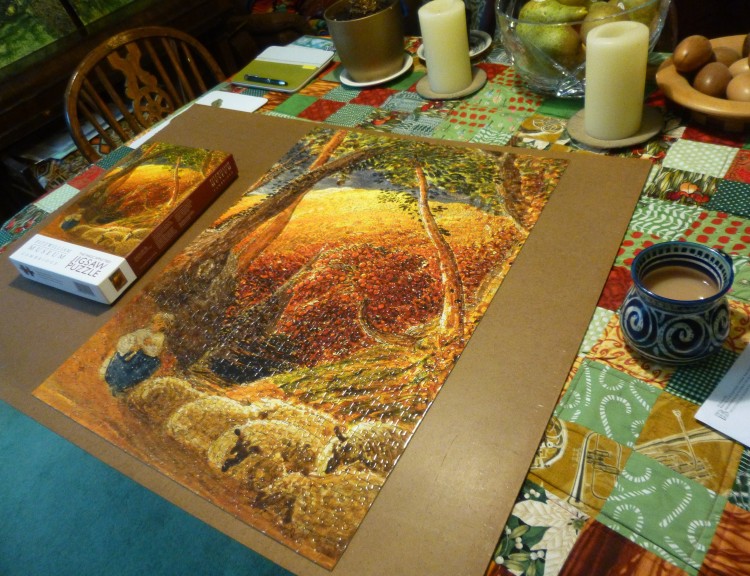 The colours are lovely, but it was so hard!
I've been working on something different today, not in my studio but at the drawing board – literally! – updating the incumbents list for the church at Woodham Walter.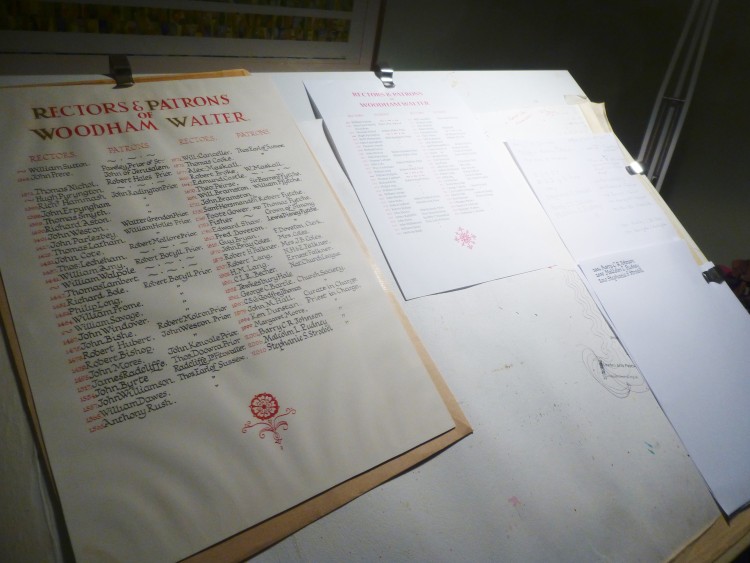 The church is really interesting as it is thought to be the first church in the country actually built as an Anglican church in the reign of Queen Elizabeth I. I'm looking forward to having a look round it at the end of the month. I was fascinated when I realised that one of the names I was asked to add was another Pudney – my surname is so unusual that I hardly ever come across another!
As I'm busy every morning this week I thought it was unlikely that I would be able to get started on my Essex Wood project until next week, so I've primed up a board to squeeze in another dinghy painting. As I came out of the studio yesterday afternoon there was a lovely wintery sunset. I just caught the end of it.
---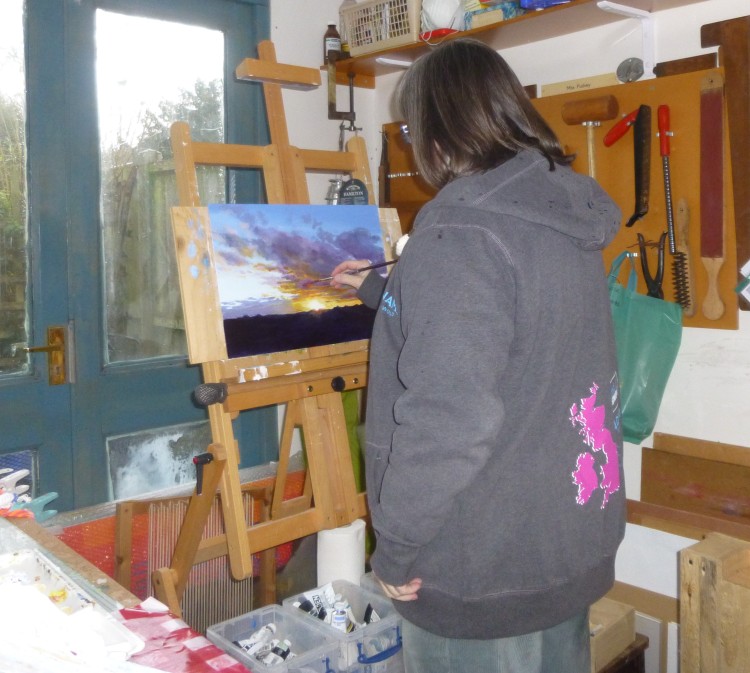 Here I am in the studio earlier today, putting the final touches to the last of the Peddars Way series of paintings. This one is called Peddars Way V: Sunset. This will be up on the new Gallery 2016 page very shortly.
Jill and I saw this lovely sunset across the fields on the afternoon that we walked the last section of the Peddars Way, out onto the beach at Holme next the Sea. We were walking back across the fields, and it was getting dark quite fast – it was in November and the afternoons are short! – when the sinking sun lit up the clouds for a few moments and I was able to quickly take a few photographs on which I have based the painting.
Hope you're having a good weekend 🙂
---
Well, it's exactly one year since my first blog post – Yay!!
So just a quick word this evening to say THANK YOU for reading and following along with my art story. I've enjoyed sharing, and I look forward to posting about lots more stuff over the coming year, which I hope you'll find interesting.
Do leave me a comment (click on the blog post title for the comments box to open) or drop me an email (address on the contact page) – I'm always interested to hear from you. 🙂
---
In the middle of December I really enjoy getting the tree and decorating the house for Christmas . . . .  but come twelfth night I love to get it all cleared up and have a good clean! So the Twelve Days of Christmas Fairies have gone back in their box . . .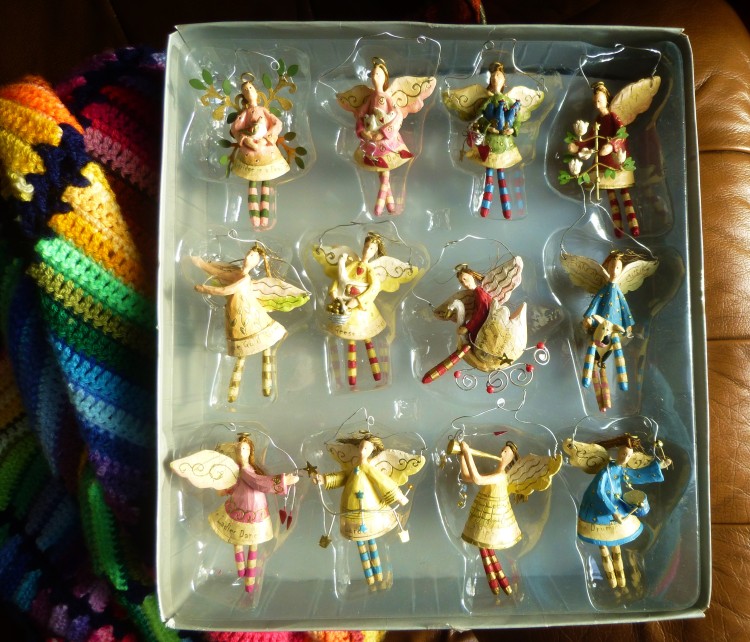 . . . and the tree is now in the back garden, and the cards are all in a heap on my desk and all the lights and stars have gone away. Henry the Hoover and I have hoovered up all the tree needles, and fragments of Christmas Cake icing and glitter (glitter? where did that come from??) so now I feel the new year has really started!
It is a lovely mild sunny morning here so I had a poke about in the garden to see whether things were starting out there. I have primroses flowering, snowdrops out and daffodils nearly out. The wych-hazel is already doing its Spring thing, and the hazel catkins on the big hazel tree are already properly out so I brought some inside.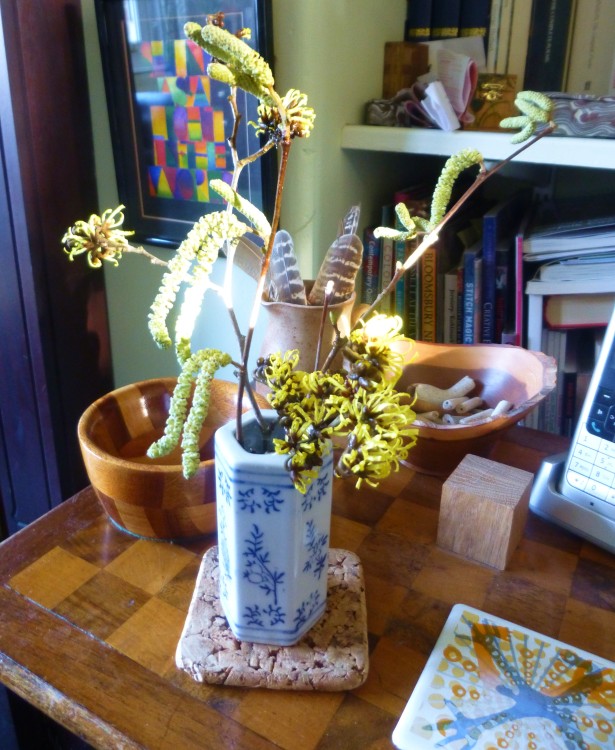 The only Christmas-y thing which isn't finished is my Christmas jigsaw. It's a really hard 750 piece one of Samuel Palmer's painting 'The Magic Apple Tree', which I bought at the Fitzwilliam Museum in Cambridge when my sister, niece and I went to their watercolour exhibition. It's a lovely painting but . . . . !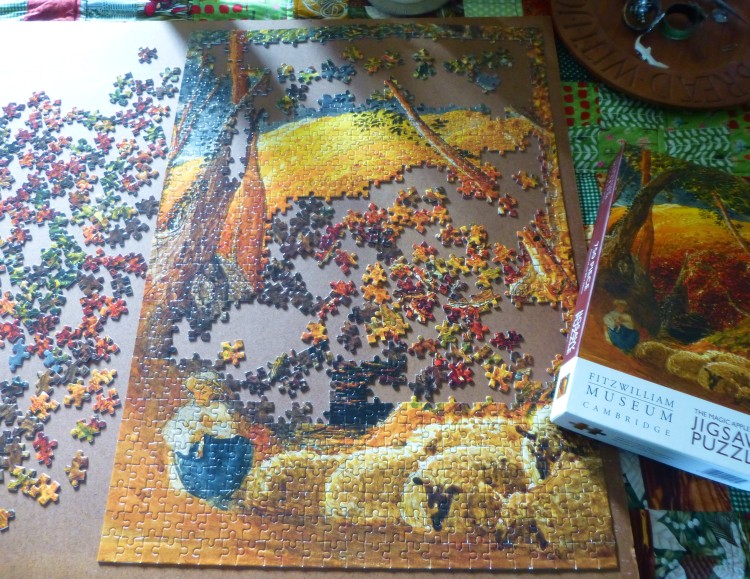 So it was good to get back in my sunny studio this morning, and start priming up some board ready to start the last of the Peddars Way paintings.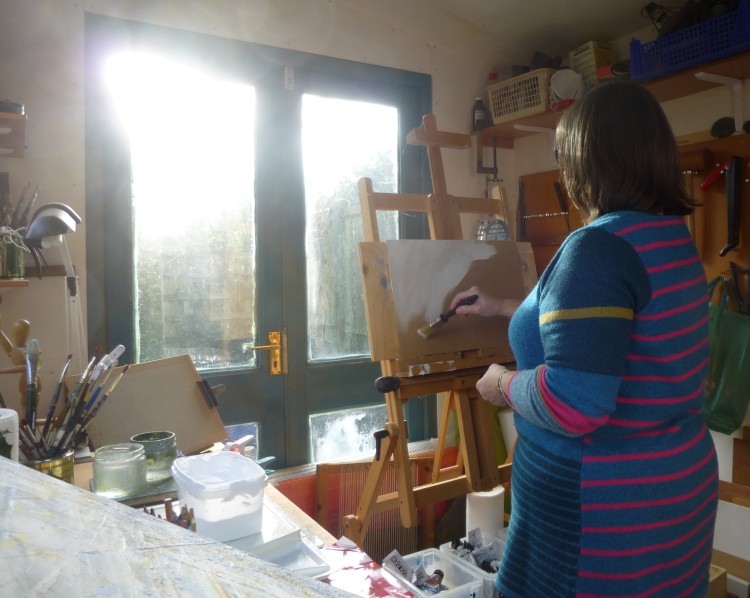 Yes! the New Year has really begun! Hope it's got off to a good start for you, too 🙂
---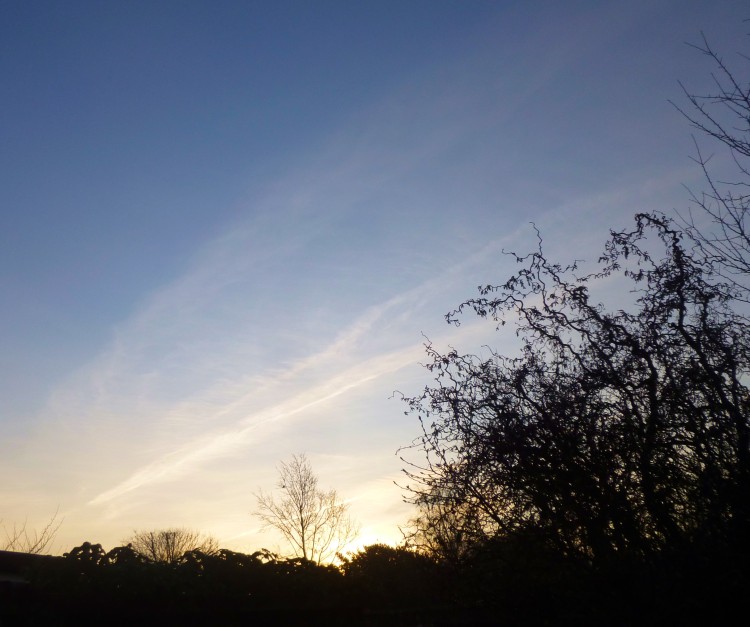 A new day, a new year, a new start . . .  I love a new start! And I have some plans for my art work in 2016 which I am very excited to share with you.
Twelve Months in an Essex Wood This is my BIG project for the year. I really enjoyed doing the From my Garden project: although it was on a very small scale it was motivating. So this year I'm trying a much bigger project, but it is another monthly one. I have chosen an area of woodland about three miles from here – a lovely mixed broadleaf wood with bluebells and lots of birdlife which is managed by the Woodland Trust. I chose it directly from their website as I wanted it to be a place I have never visited before so I have no 'already formed' impressions. Each month I will visit the wood on one or two occasions, draw, take photos and write down my impressions. I will go at different times of the day, from dawn to the evening. And each month I will paint one largish picture of a view in or from the wood, and a small painting of natural things I find in the wood. On this blog I will share my impressions, my photos and resulting art work, and at the end of the year I will use images of some of the paintings for a calendar, and also – maybe – have a little book printed with all the material put together – paintings, writings and photos. I'm really looking forward to my first visit!
Exhibitions I have a number of exhibitions at which I know I am showing this year – the details are all on the Exhibitions page which you can find in the Information drop down menu – but the one I am most excited about is a solo show I have been offered at the Naze Tower Gallery at Walton on the Naze, on the Essex coast. It will run from 11th June to 4th September, and I will be showing all my Peddars Way series, other landscapes, including some of my Essex Wood paintings, seascapes, dinghies, and some of the 'From my Garden series. Lots of work! Really excited about this!!
Sally Pudney Artist Facebook page – I've just set this up, so you may like to take a look . . .
Walking the Ridgeway Walking some of the Peddars Way this autumn was really lovely, and everyone who has seen the resulting paintings loves them, and I have paintings planned which resulted from walking some of the South Downs Way in October. So this year, I am going to stay near Avebury in Wiltshire, in the late spring, and I shall walk some of the Ridgeway and see what paintings may result from that!
And lastly – I'm going to continue with the monthly Canvas Prints, as they have been really popular, especially at Open Studios and at my ARTSTUFF stalls, which I am planning on expanding this year into different venues. I shall aim to paint a new dinghy each month so there will be lots of lovely new ones to look forward to.
Lots to keep me busy! Hope 2016 has had a good start for you, and that you've also been making some plans to look forward to! 🙂