AND . . . . . I've caught up! Fingringhoe Wick: June is on the gallery page this afternoon, just catching the last day of the month.
This is on a 'panorama' shaped board, which I thought suited the subject of the vast open sky, the distant view of Mersea Island and the Colne estuary, looking out over the field and the marsh. It is also just acrylic, with no added oil pastel, or anything else. I really enjoyed painting this one, particularly skimming in the sky with a painting knife.
So I'm back on track now, ready to do my July visit to the Wick in due course. Lots of prep for my ARTSTUFF stall to do in the next few days though, as well as lots of other exciting things coming up in the next fortnight . . .
Hope you enjoy the weekend. And Happy July! 🙂
---
Yes, it's Summer Fete time again, and I'll be having my ARTSTUFF stall at St Leonard's Fete on Saturday, 8th July from 11.00am to 2.30pm.
I'm trying out a few new things this year. I've had some lovely small jute bags done, with images from my Essex Wood series on them –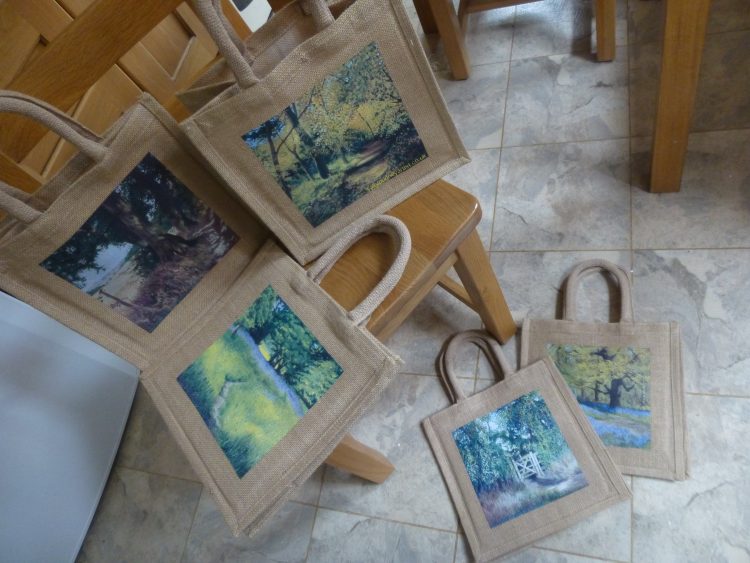 These have come out really well, and I'm delighted with the colour representation and the clarity of the image.
My second new thing – spiral bound notebooks –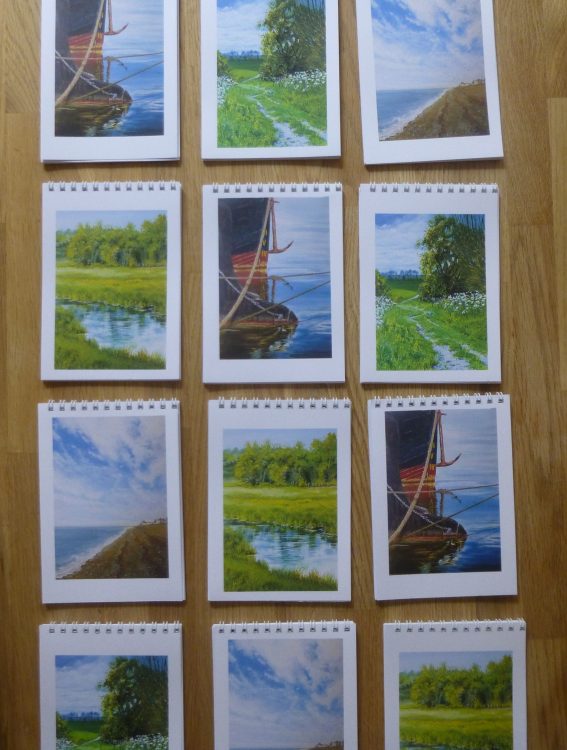 These are A6 size, with four different painting images on the front. I was thinking about getting my calendars made for Open Studios in September, and thinking what a pity that it is the only time in the year that I use my binding machine, which was quite expensive . . .  so I started mulling over what else could I bind?? And these are the result. If they prove popular I'll make some more for Open Studios.
My third new thing – aprons! They haven't arrived yet. I'll share them when they do! I've also ordered more mugs in different designs, as I've almost run out of these and they are always popular.
I will also have all my usual greetings cards, postcards, the Essex Wood Books and limited edition canvas prints on the stall.
Lunches will be available, and there is a barbecue and a bar, as well as lots of stalls and games – a real old fashioned fete. Do come along and say hi! And if you can't come, but would like any of the items I've mentioned, drop me an email at sally@sallypudneyartist.co.uk
Update on Fingringhoe Wick: June tomorrow – progress is being made! 🙂
---
A second session on Fingringhoe Wick: June this afternoon, which I started at the weekend.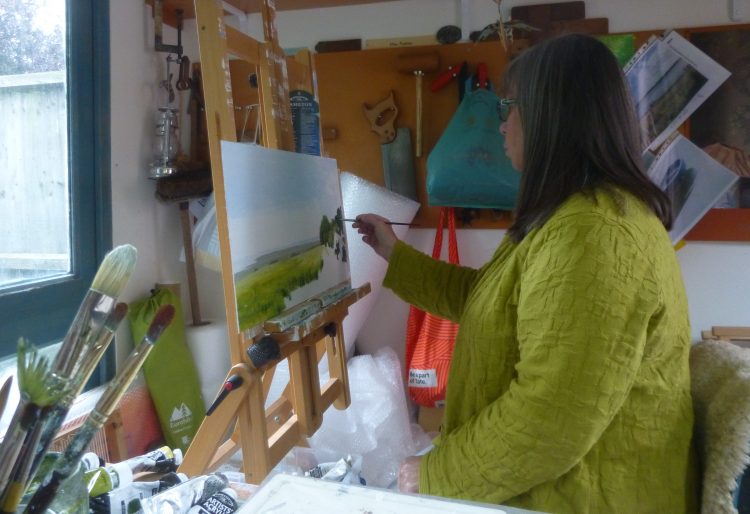 This is a scene along the 'Dog walk' path, looking down over the fields towards the marsh and the mouth of the Colne estuary. There is going to be a big tree on the right hand side of the painting – which may appear tomorrow!
And yes! it is important that the artist wears a cardigan to match their painting . . .  🙂
---
At last! Fingringhoe Wick: May is on the website today.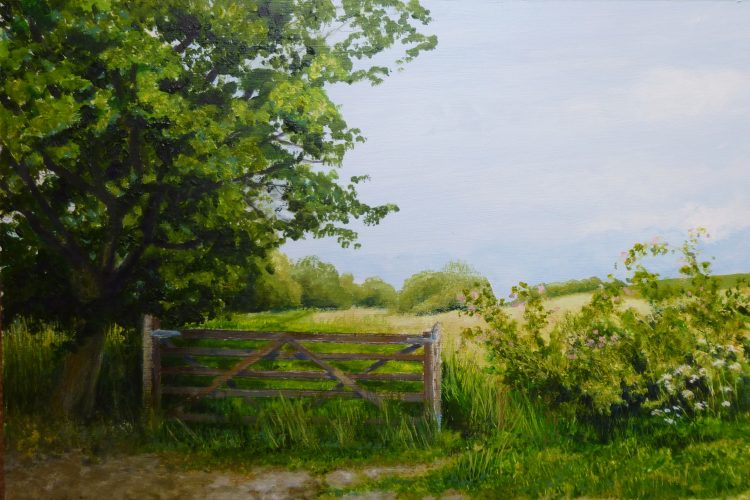 This gate is on the path that leads to the inter-tidal area and Margaret Hide. The main path goes down a dip, and then up a steepish slope between two fields. The gate is on the left at the bottom of the dip. I liked the way that the gate has clearly not been opened for ages. There is a little track round the side of it, though, where people have squeezed round the gatepost!
It has been much cooler today – such a relief!
And it's Friday! Yay! Enjoy your weekend whatever you have planned. 🙂
---
I've just finished reading the autobiography of Tirzah Garwood, artist and designer, wife of the artist Eric Ravilious.
Long Live Great Bardfield was a really fascinating read, and in many places very funny. Tirzah starts at the very beginning, with her parents marriage, and goes through her childhood and adolescence in a charmingly random way, picking out things that she remembered vividly. In some ways the first part of this book reminded me of Gwen Raverat's Period Piece – a favourite book of mine – in her account of her childhood, but Tirzah continues into adulthood, marriage and motherhood.
She writes about her difficulties deciding who to marry: Bob Church, who offered conventional security, or Eric Ravilious, who offered freedom and independence. A very telling sentence was, I thought, 'I think if I'd been left alone I shouldn't have married either of them.' Her work as an artist was really important to her, and her wood engravings are striking. Her life with Eric Ravilious could not have been easy. They had little money and Eric fell in love and had affairs with other women within a few years of their wedding. They seemed to constantly entertain and have people to stay, and lived in domestically challenging houses! Inevitably Tirzah's own career as an artist dwindled, while Eric's flourished. Tirzah writes about it all with remarkably little resentment! She was writing her autobiography for 'her descendants' and her daughter, Anne Ullmann, has edited it and added to it, bringing the story up to the time of Tirzah's death at the very early age of a fortnight short of 43.
The copy I was reading was beautifully produced by Persephone Books, in their trademark elegant grey cover.
Although it is a thick book, the excellent binding meant it was easy to read, opening flat with no problem. A nice touch is the use of one of Tirzah's own designs on the end papers and the book mark.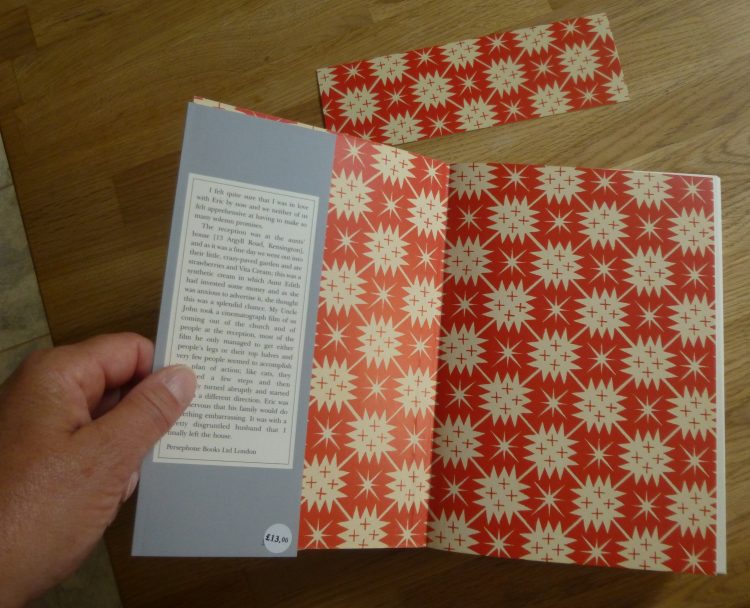 If you are interested in the art world between the wars this is a very rewarding read.
We've had a thunderstorm and a downpour here this morning, and thank goodness it is a lot cooler now! Temperatures over 30 C are not good for working! Out into the studio now to get on with Fingringhoe Wick: May, which is almost finished. 🙂
---
Happy Summer Solstice!
I did my June visit to Fingringhoe Wick this morning – and goodness! it was hot.
I started by walking back up the lane and along the 'dog walk' path, as I'd spotted a rather good view over the fields and down onto the marsh, and I spent some time drawing it.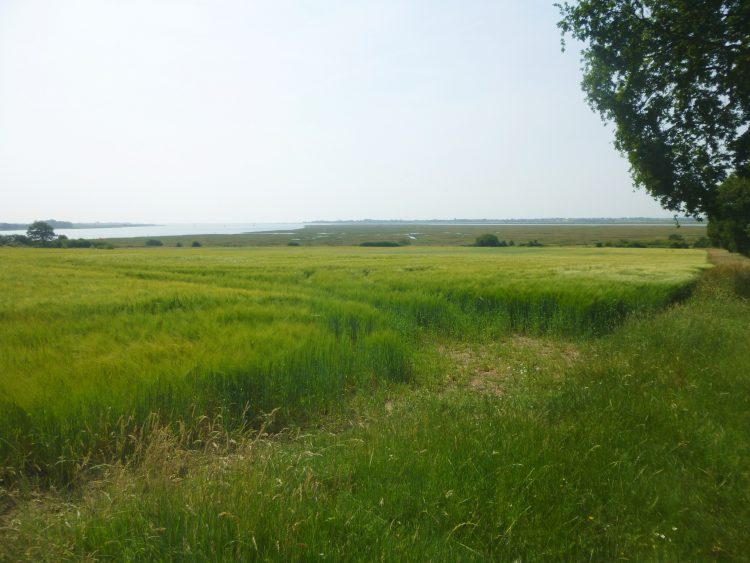 The grass at the field edge was full of scarlet pimpernel and purple vetch.
Walking back up the lane I saw a beautiful scarlet and grey Cinnabar moth. Not a very good photo, but I couldn't get very near, so this was on maximum zoom.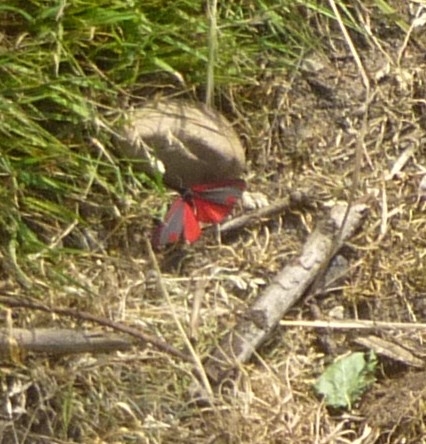 This Speckled Wood butterfly was a bit more obliging and sat still for longer.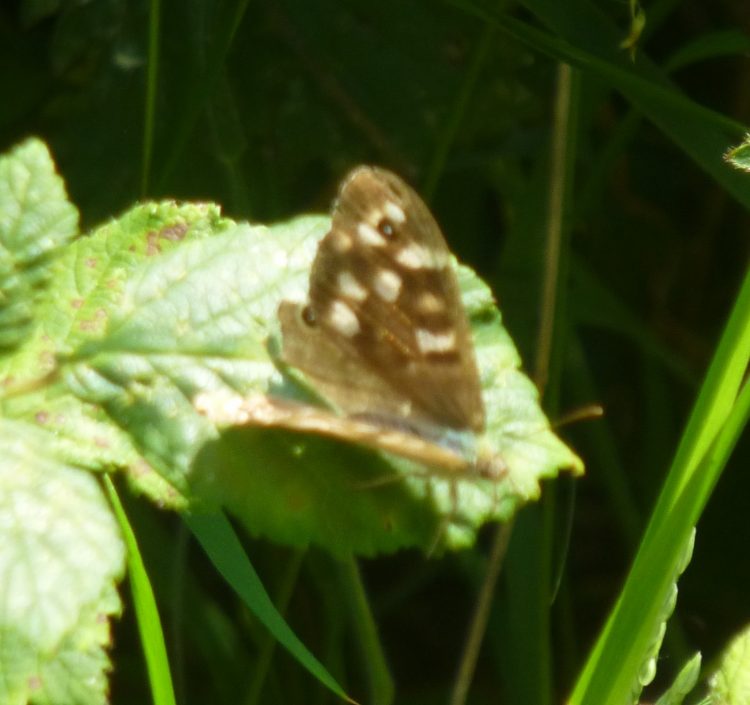 I walked down to the Kingfisher hide. It was seriously hot in the hide, but I got a good view of a moorhen mother feeding her chicks.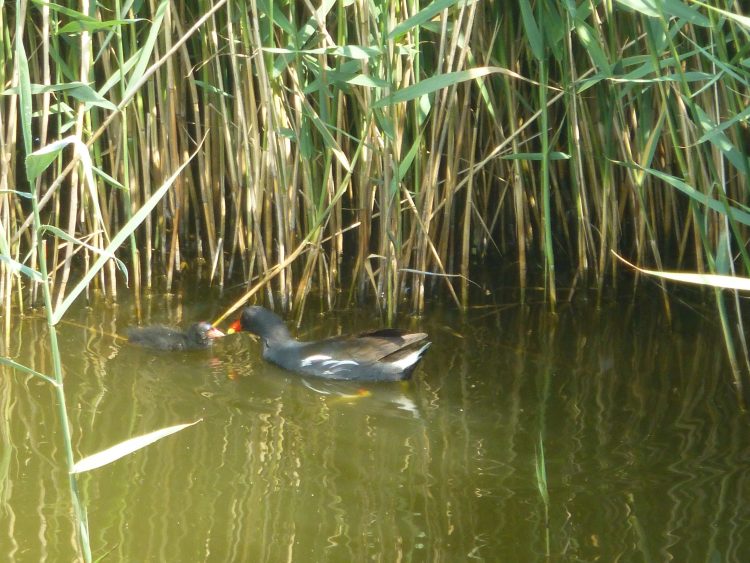 The reeds around this lake are looking beautiful now, but again, there weren't any good reflections, so I shall leave painting this view for another month.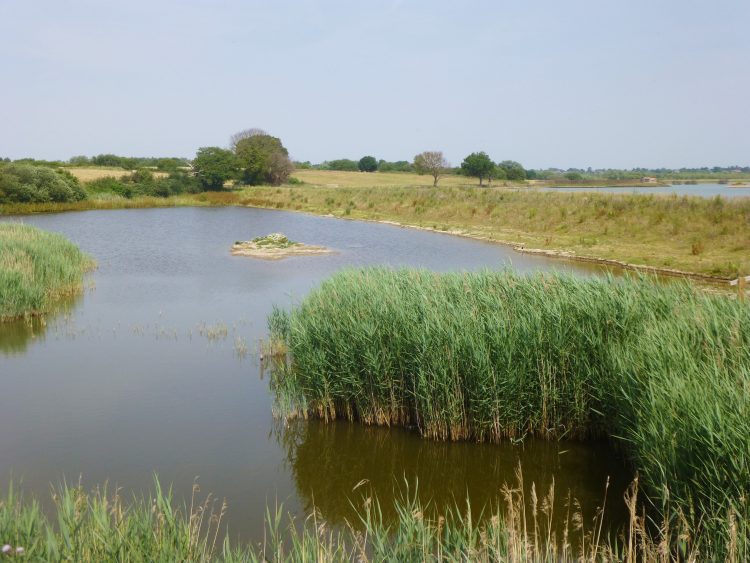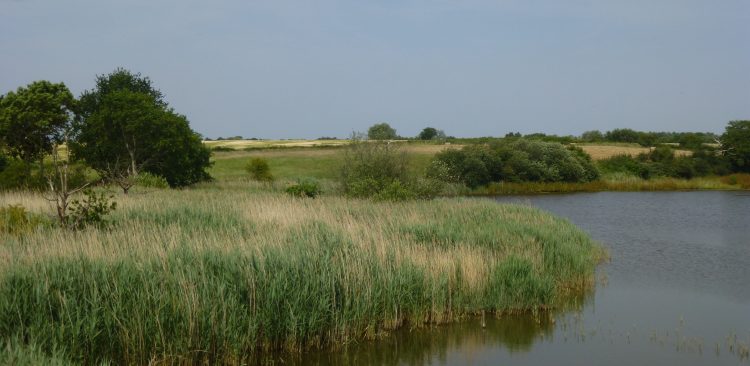 I saw very few birds this morning. A coot was sitting on her nest with male in attendance on the lake near the Centre, and a little grebe was diving there, too. A mallard with a string of well grown ducklings was gliding about on the Kingfisher lake. I heard a cuckoo almost continuously the whole morning. But no buzzards, or marsh harriers today.
After a drink and some delicious cake outside the centre –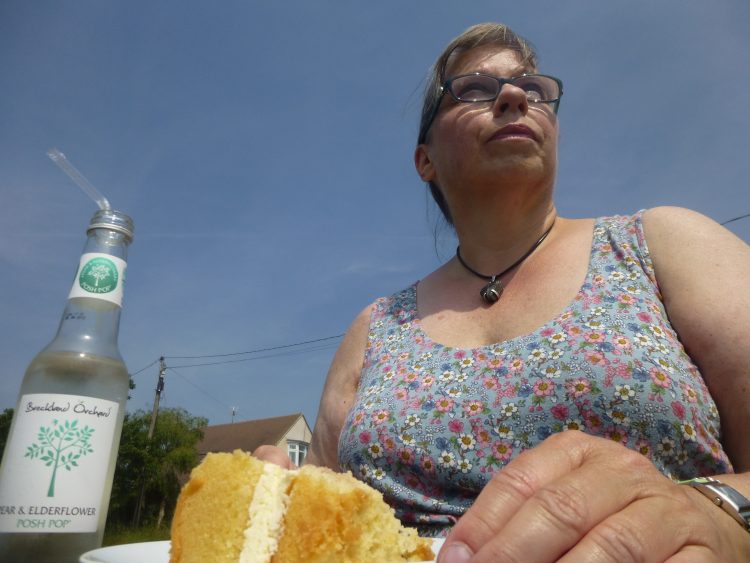 (very odd perspective!) I drew the same field that I'd started off in, but looking in the opposite direction.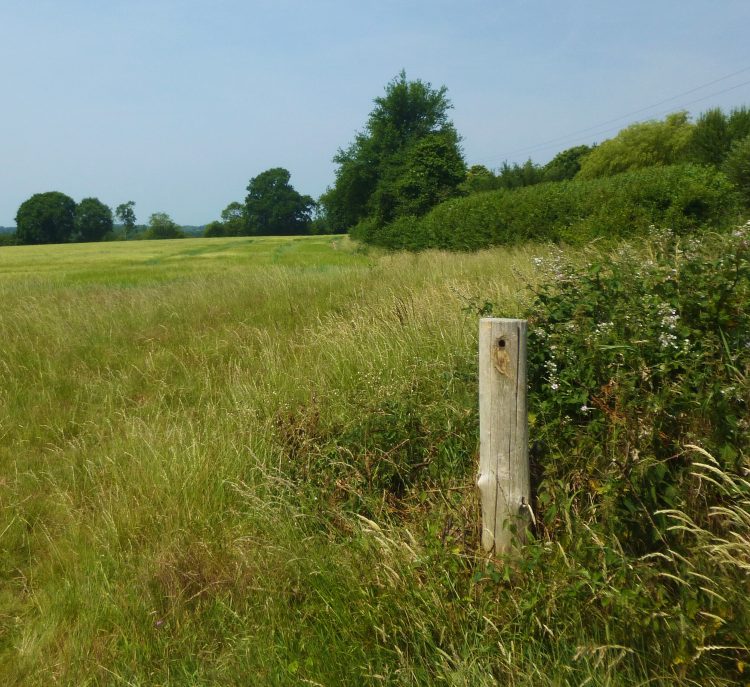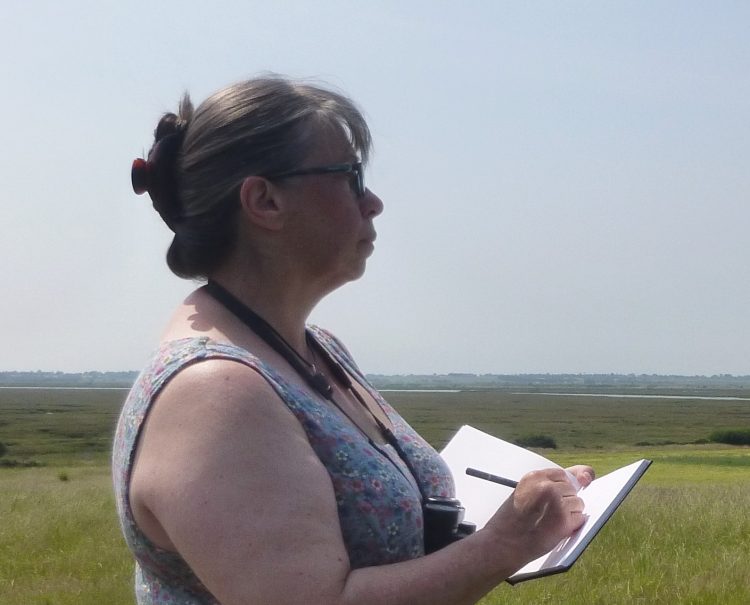 By that time it was too hot to do any more!
Keep cool! 🙂
---
On Friday Graham and I went down to Leigh on Sea  to catch the 20th Leigh Art Trail. Jonathan Trim and Richard Baxter, both exhibitors at this year's Lexden Arts Festival, were both participating. Jonathan takes over Moylans Design in Broadway, and turns it into a gallery for the week, and of course Richard has his own gallery anyway so they had both had a really good week. We visited them, and then had a wander round some of the other venues.. They were very mixed! In some of the shops it was really difficult to see where the art work was, even!
Julie O'Sullivan's venue, miss annabel dee's gallery and studios, at 153 Leigh Road SS9 1JF, was really good though. It is Julie's normal studio space and she had her beautiful hand-built stoneware displayed in the front gallery and in her studio. And she was also there to talk to visitors about her work, which makes such a difference. In my opinion, that is what Open Studio events are really all about – not just sales, but meeting people and talking about what you do. That's what I love about doing Open Studios myself in September.
I was fascinated with the way Julie's organic looking pots incorporate things she has found along the Thames estuary. They really are rooted in the landscape.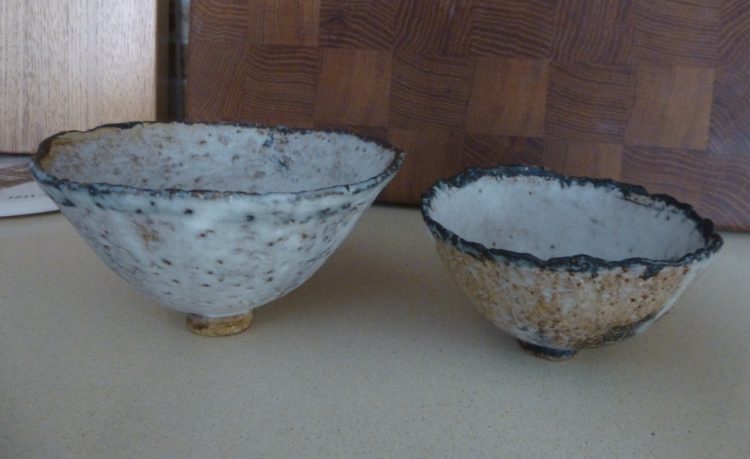 The two little pots I bought both had sea glass in the bottom, which, during the firing melts, and makes a little glassy coloured pool.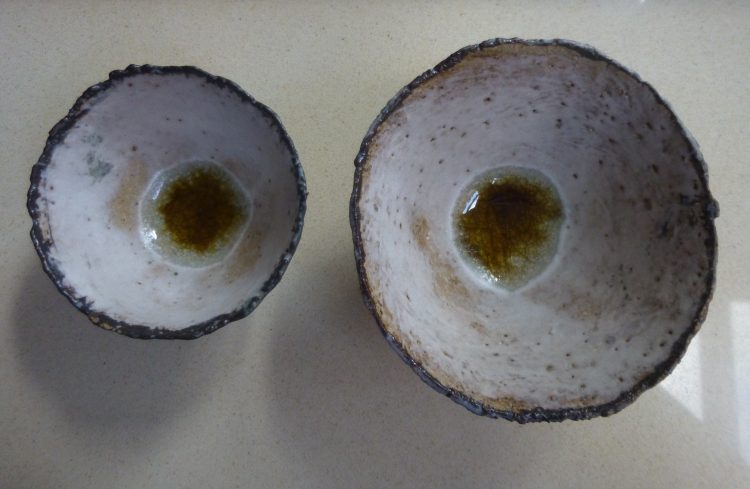 She had a huge variety of these – it took me ages to choose! Her large pots also have an acoustic element as we found out when talking while looking inside them!
To find out more about Julie's beautiful work go to www.julieosullivan.co.uk
---
Getting a bit behind with this year's painting project – A Year on Fingringhoe Wick – but I've no doubt I can easily catch up. I've been making a start on my May painting over the last few days.
I haven't got very far yet as I've been out rather a lot, but I'm planning on a solid afternoon's painting tomorrow – provided it doesn't get too hot in the studio!
Keep cool! 🙂
---
I meant to write this a couple of days ago! – but the days turned out rather busier than I expected . . . so here is my second update about my trip to Galloway.
The artist E A Hornel lived in Kirkcudbright, and his house and garden are now run by the National Trust of Scotland.
Broughton House is full of his rather strange paintings of Japanese subjects, but also has a wonderful collection of early samplers. His studio is just as he left it – always interesting.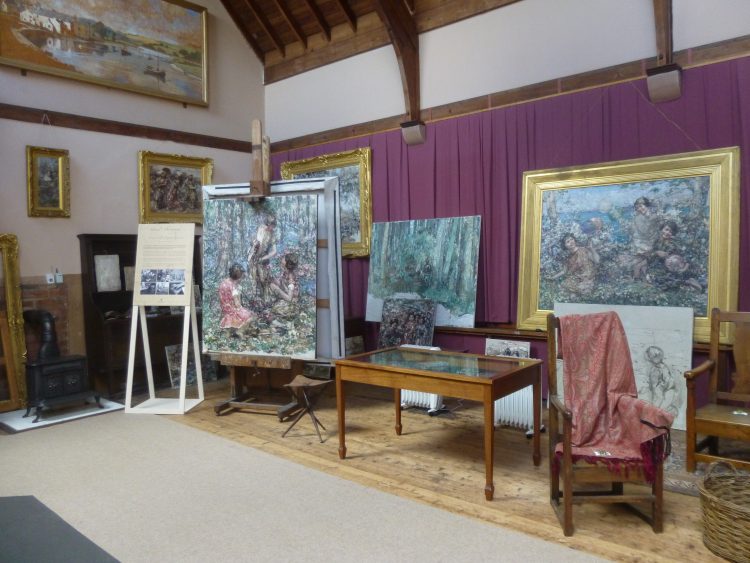 And the garden is really beautiful. It was a lovely sunny day and I really enjoyed looking round.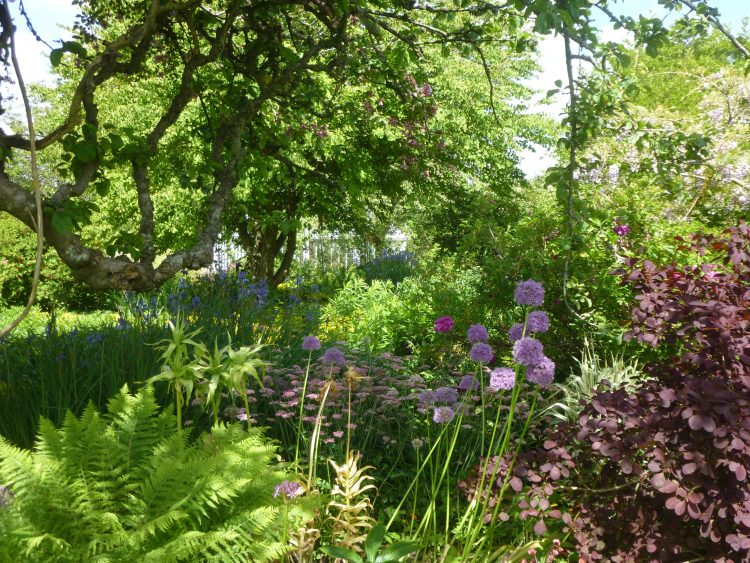 Another artist who lived in the town in the early part of the 20th century was Jessie M King. Her house, Greengates, has a beautifully executed mosaic over the front door.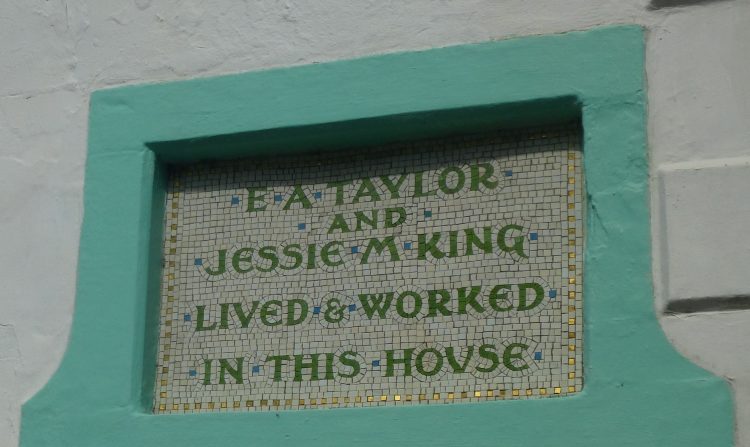 She and her husband were friends of Dorothy L Sayers and her husband, who often visited the area and stayed in the town. Dorothy L Sayers' detective story 'Five Red Herrings' is set in and around Kirkcudbright, and it is obvious that Lord Peter Wimsey is supposed to be staying in the little row of 'artists' cottages that Jessie and her husband renovated and let, behind Greengates.
Another lovely garden I visited was Threave House. The blue poppies were particularly impressive – what an astonishing colour! I have never seen them growing so profusely. This is just one small clump – and there were masses of clumps!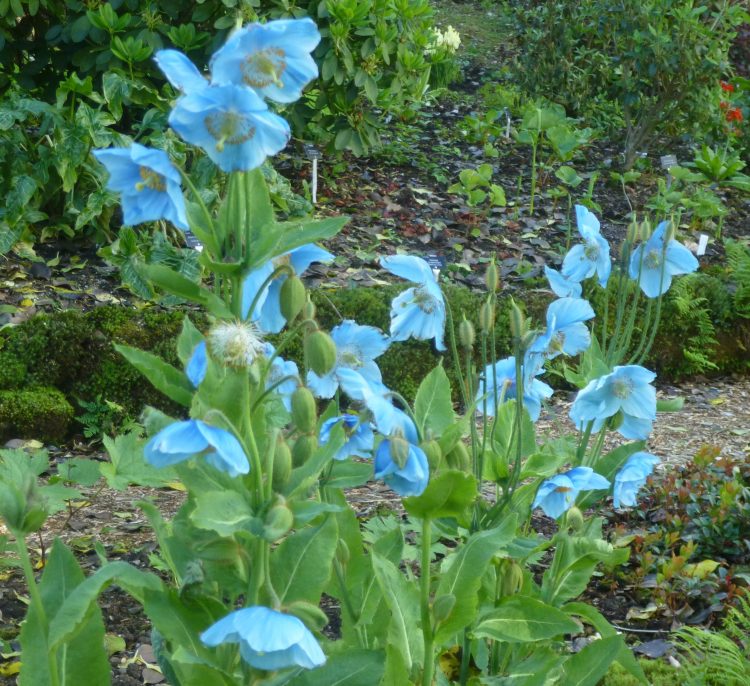 Thinking of wilder flowers, on both the Mull and Isle of Whithorn we saw early purple orchids, and also some pale mauve and white ones. I'm not sure if they are another species or just colour variants, a little like white bluebells.
A real highlight of my week in the cottage was visiting the Kite Feeding Station near Cross Michael. It was really difficult to find, but as I turned – eventually – down the right lane, I could see a great cloud of Red Kites circling in the sky expectantly.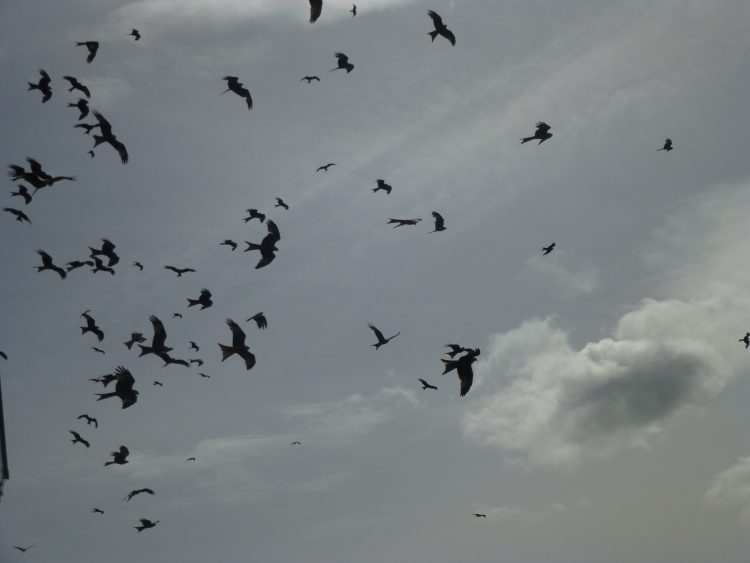 It was an astonishing sight to see these huge beautiful birds swooping down to take the meat spread out for them.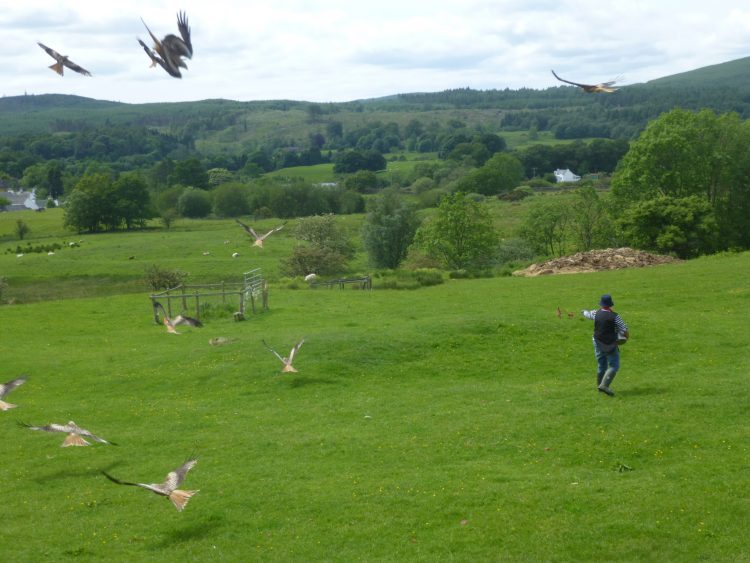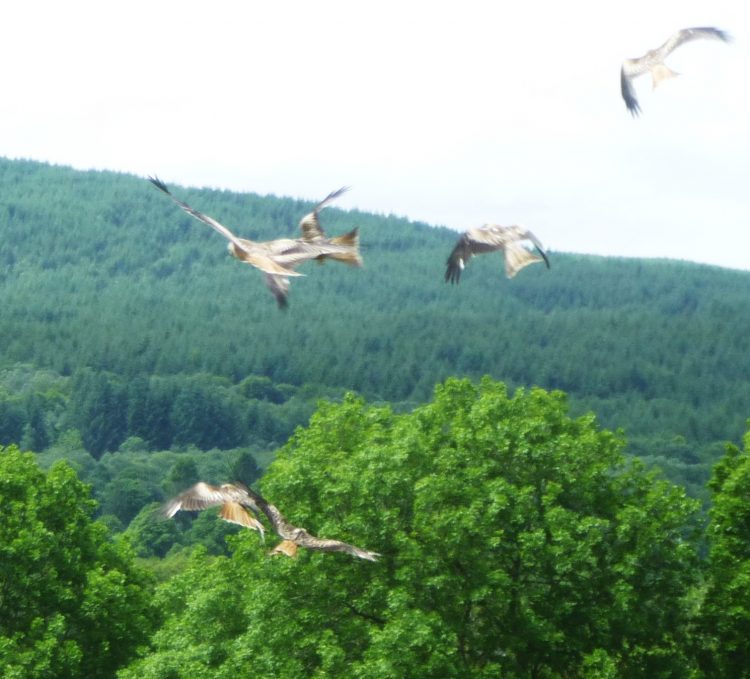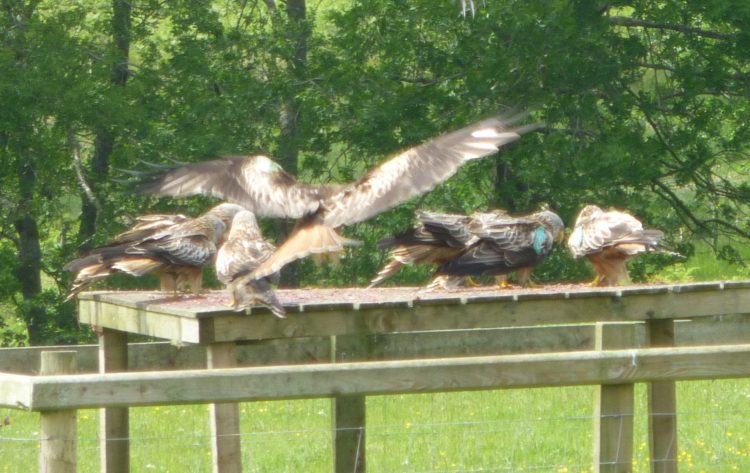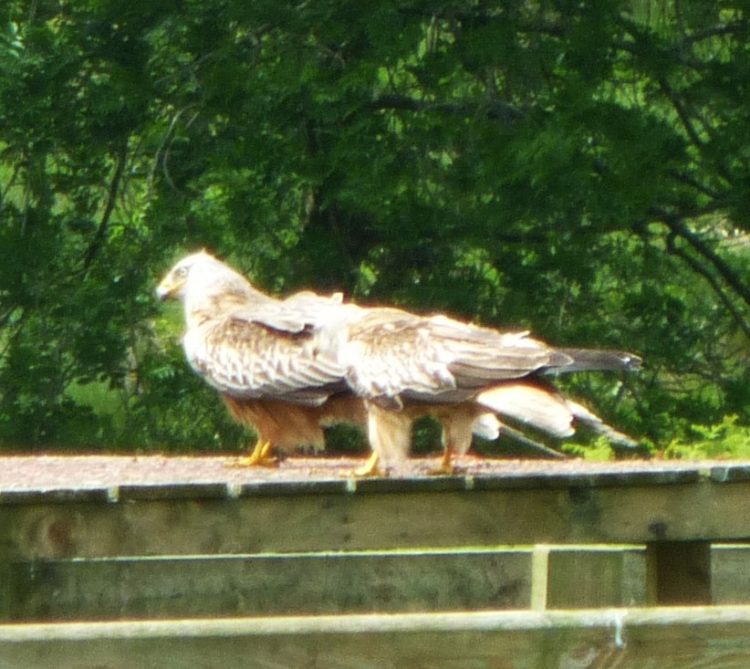 There were easily 60 or 70 birds there. It was very hard to get good photos as they fly so fast, and twist and turn in the air in an extraordinary way. Looking at some of my photos carefully it appears that some of the kites were even flying upside down. Many of them were tagged with blue wing tags. One of these can be seen two photos up.
My last trip of the week was to see the ospreys nesting at Threave Castle.
They were quite a distance from the viewing platform, but through my binoculars I could clearly see the male sitting on a dead tree near the nest, and the female on the nest – and while I was watching one of the young osprey popped it's head up briefly. The volunteer manning the platform said they thought there were two and possibly three nestlings. The walk round the nature reserve gave some good views of the landscape around the castle.
The countryside around Galloway was beautiful – this is Ross Bay, which opens out into Kirkcudbright Bay, the estuary of the River Dee.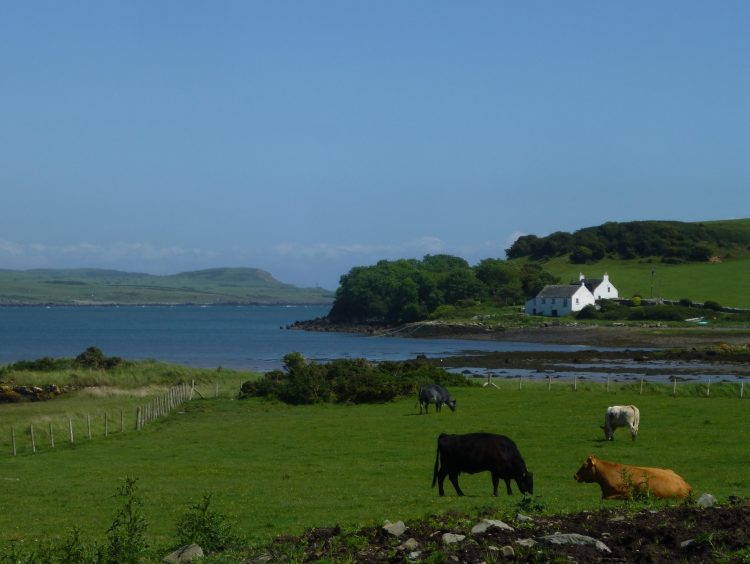 I've been back almost a week now, and have just started Fingringhoe Wick: May. I really need to get down to work next week and do some catching up  . . .
Hope you have a good weekend 🙂
---
I got back at the weekend from an eleven day trip to Galloway in South West Scotland – walking and doing arty things and wildlife things.  Part of it was staying with a friend, Jenny, and part in a little cottage in Borgue near Kirkcudbright.
I drove up to Jenny's at the end of May. She lives near Kirkinner, in a lovely cosy house with a very pretty garden in the middle of nowhere. I really enjoyed my stay with her, and loved getting to know her animals – Lucy Dog, and Guillemot and Oboe, the two black and white cats.  And, when I arrived, Woody the springer spaniel, was visiting from Jenny's neighbour.
We visited some amazing places, including the Mull of Galloway . . .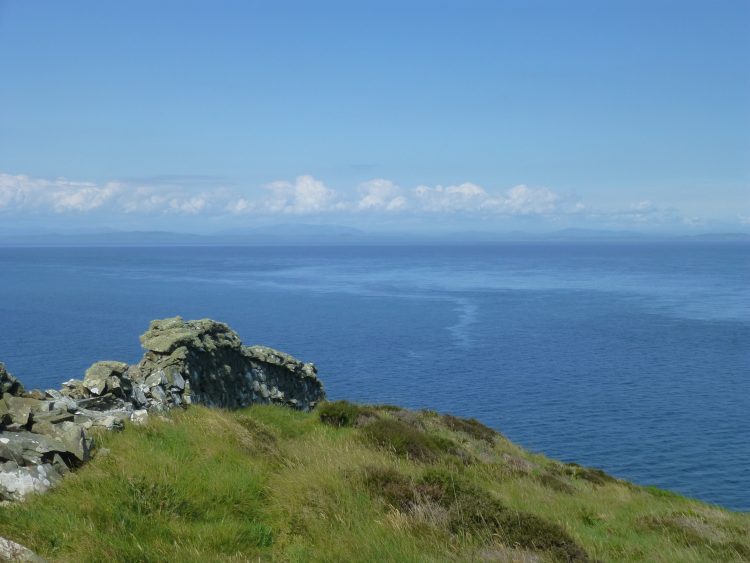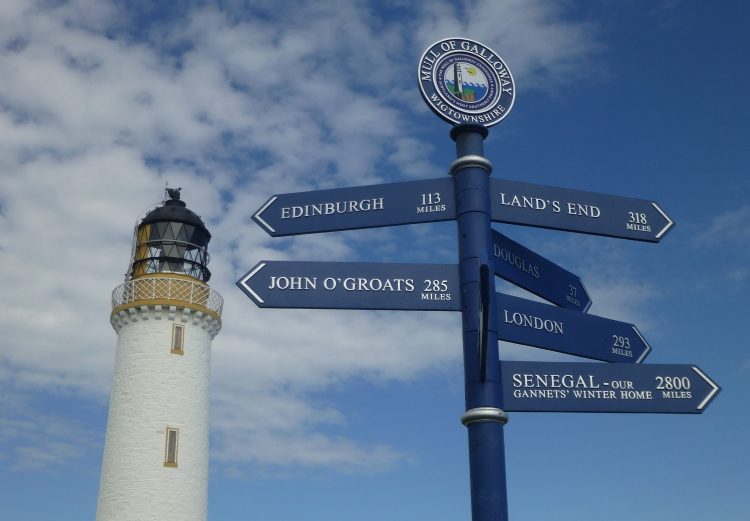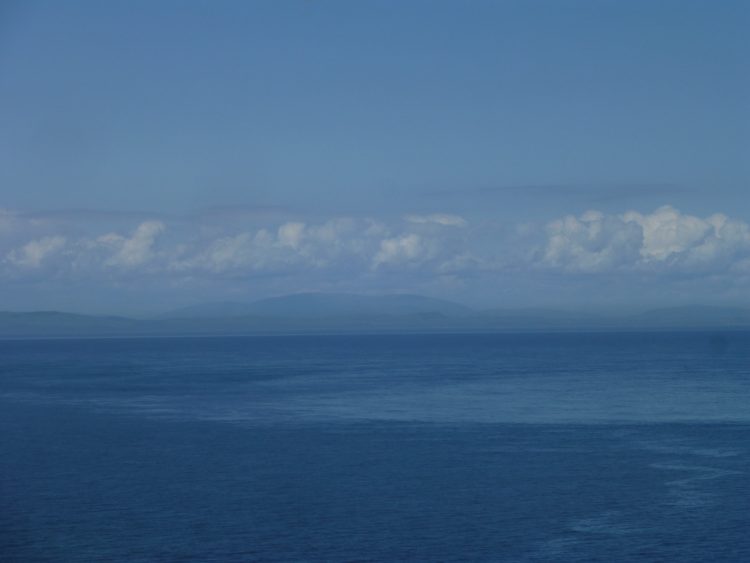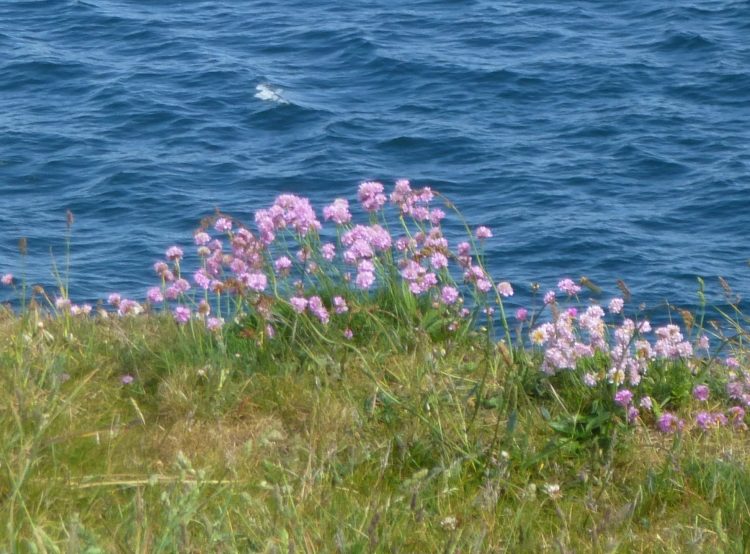 It was a beautiful sunny day and the views were wonderful. We could see Ireland – or was it the Isle of Man . . . ?          I loved the colour of the thrift against the blue of the sea.
We also went to the Isle of Whithorn – equally good views, including the hills of Cumbria. The dogs relished a visit to Brighouse Bay, and we clambered over the rocks to a beautiful sandy bay near Port Patrick, too.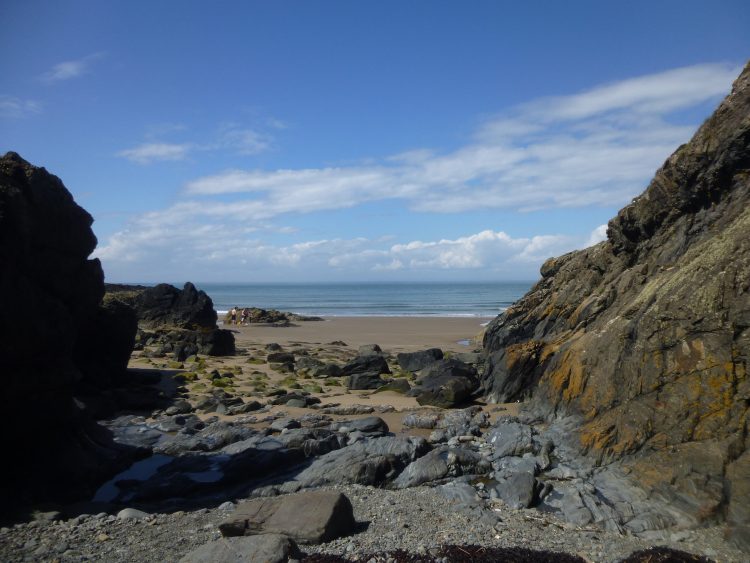 Jenny was delighted to see the black guillemots back in the harbour at Port Patrick, and they whirred round like clockwork toys!
We had a quick visit to Borgue, so I could see where the cottage was, then lunch in Kirkcudbright before going to The Bookshop in Wigtown. And what a shop – one of the best second hand bookshops I've every been to! I was delighted to find Jean Goodman's biography of Edward Seago, which I have been trying to find for ages.
More tomorrow – Red Kites, Ospreys, and some Scottish artists to come! 🙂