To Aldeburgh today to the summer exhibition of the Suffolk Craft Society at the Peter Pears Gallery in Aldeburgh High Street. Graham and I have been going to this every summer for about the last 15 years – but this year the new house took priority so I went by myself!
It is a really good show as usual. Some of our previous Festival exhibitors had some lovely work in – Catherine Allen and Alison Dane's jewellery, Greta Hansen's prints, Dennis Hales turned wood and Caroline Sullivan's knitwear.
I really loved David Bartram's Oak Blue Grass River Table which was spectacular. And I also liked Deborah Baynes robust ceramics and Stephen Broadley's beautiful turned and inlaid wood standard lamps.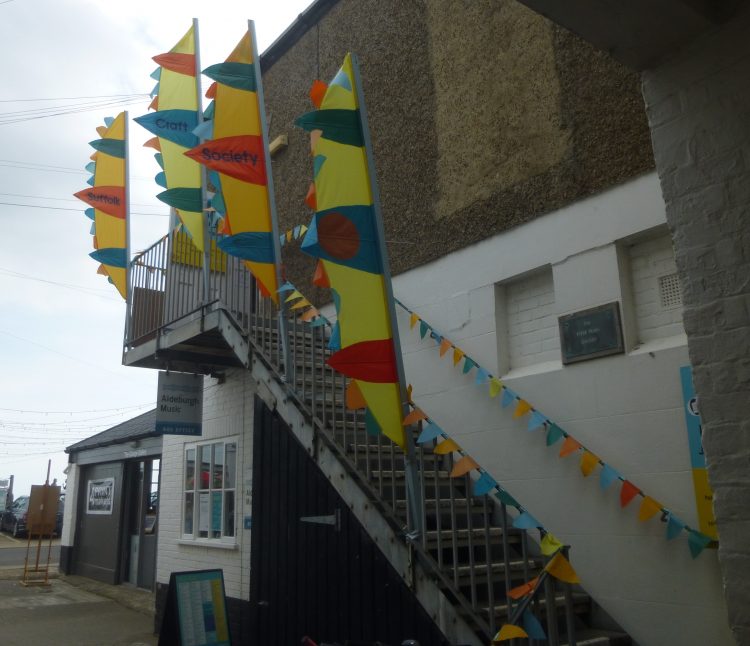 Just to the seaward side of the steps leading up to the Peter Pears Gallery is another exhibition of printmakers in what I believe is known as the Garage Gallery. This is by the easel in the photo above. I was very pleased to meet Anne Townshend again, who is showing her work there with a group of about 5 other printmakers. It was very well set out, and a good show. Anne's work looked lovely, and I really liked the work of Miranda J Chapman, too.
Both shows are well worth a visit if you are in the area, but I think they both finish on Bank Holiday Monday, so you need to be quick!
I had a browse round Thompson's Gallery and found a lovely Edward Seago –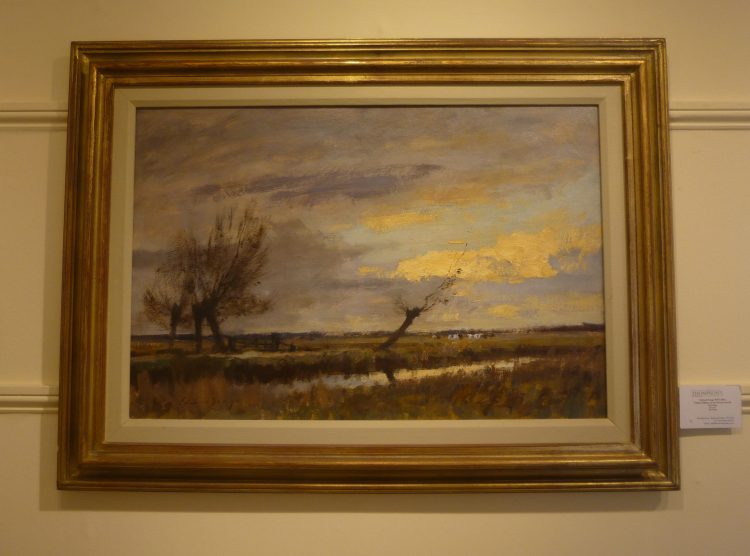 – bought a lovely new painting apron in Joules in the High Street –
and had a sit on the beach –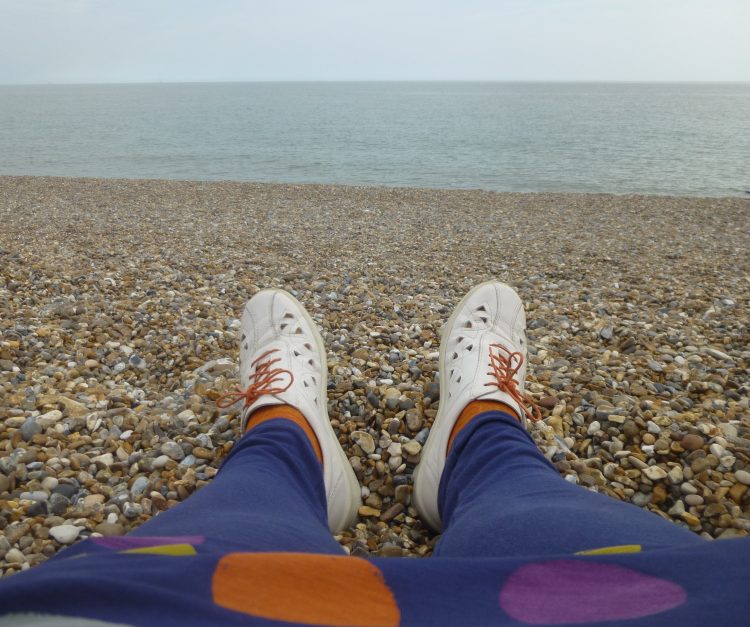 I stopped off at Snape Maltings on the way back to get a bite to eat, and found the most extraordinary mirror installation on the lawn outside the concert hall.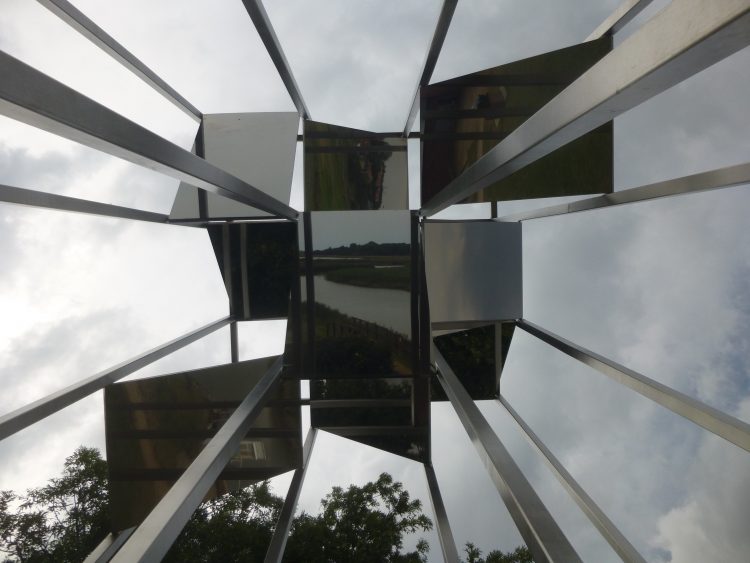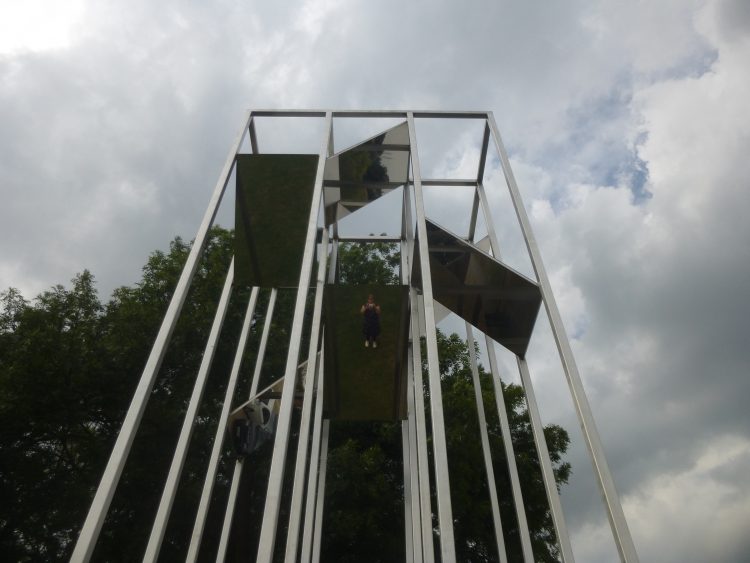 Very intriguing! (Can you see me?)
Hope you are enjoying the Bank Holiday weekend 🙂
---
Yesterday I got the calendar binder out of its box, and set to! Last year I managed to ruin two of the calendars I'd printed by messing up the binding stage. But things are looking up! This year they all got bound with no mishaps.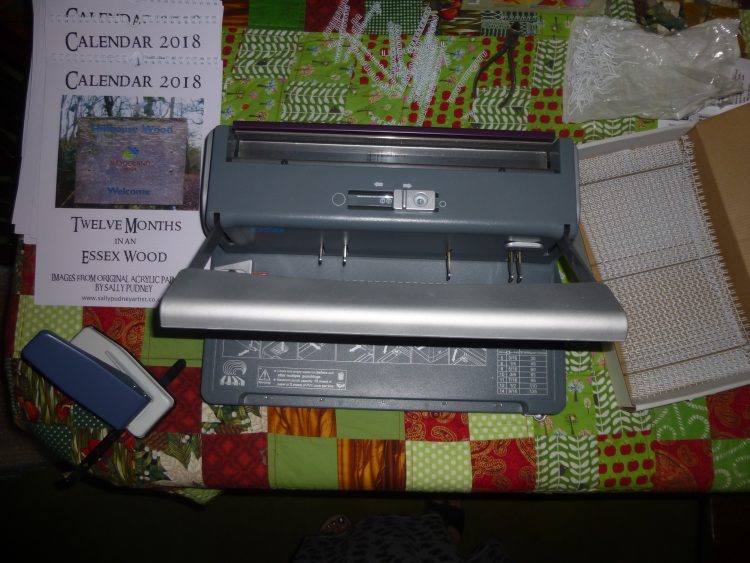 As a little light relief I drove over to Wormingford and Mount Bures to do some drawing.
I intended to have a look at the field that already I've painted twice – in Before the Harvest, and Essex Field Path II – and see what it looked like after the harvest. Unfortunately, it has not had a cereal crop in it this year, and was not looking at all appealing. So I carried on to Mount Bures, to have a look at the church, which was open and beautifully kept. It is build of a rugged mix of flint and bits of brick in lovely colours.
I also found some much better 'post harvest' fields in Mount Bures – with a lovely wispy sky as well.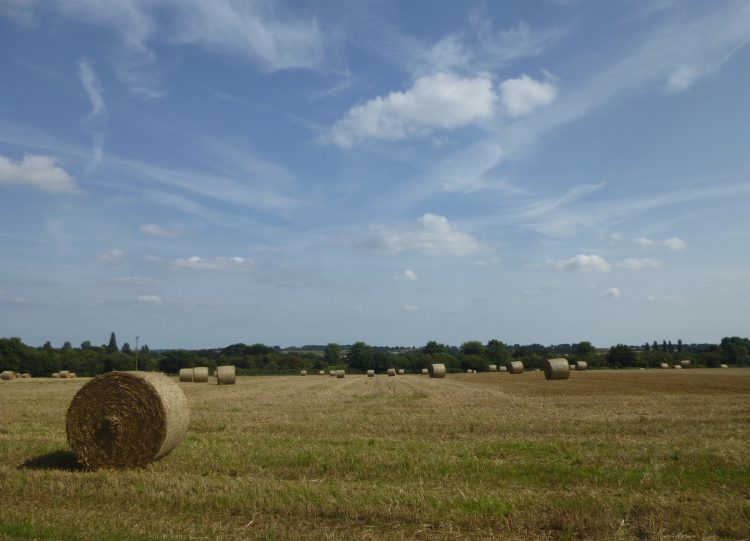 ---
Just finished this afternoon – Fingringhoe Wick: August.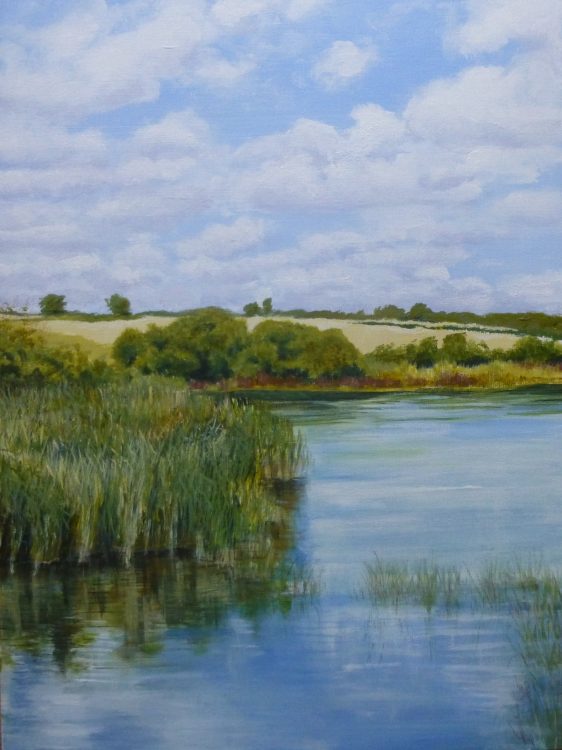 This is the view from the Kingfisher Hide, looking slightly to the left inland.
I've been busy printing calendar pages, too – getting ready for Open Studios in all sorts of ways.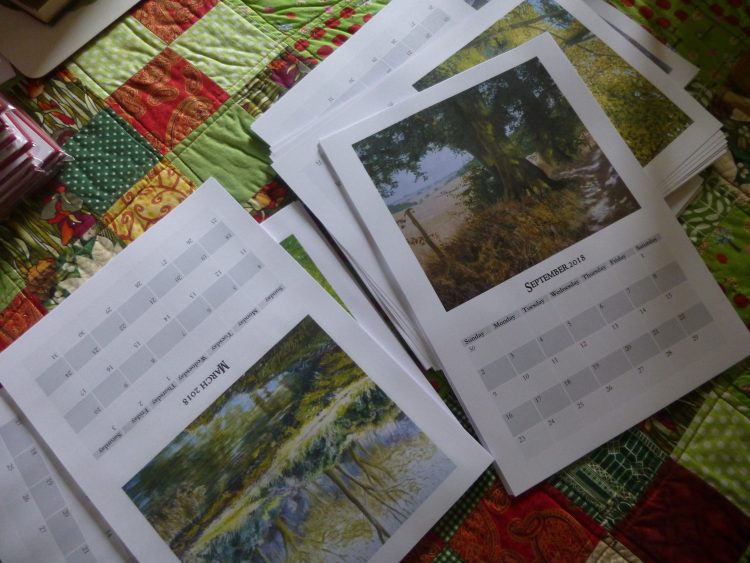 The only thing I need to do now is print the calendar covers, bind them all, order more Essex Wood cards from the wonderful Point Graphic printers in Maldon, collect my ordered picture frames, frame a pile of paintings . . . . .
And less than a month to go! Lots to do! 🙂
---
Over to Felixstowe today, to the studio of stained glass artist, Naomi Brangwyn, for a one day workshop. I met Naomi when we invited her to show at this year's Lexden Arts Festival. I'd often thought I would like to have a go at stained glass, so the opportunity to do a one day workshop with Naomi was great.
We were a small group of six students, three beginners (including me!), and three with varying experience.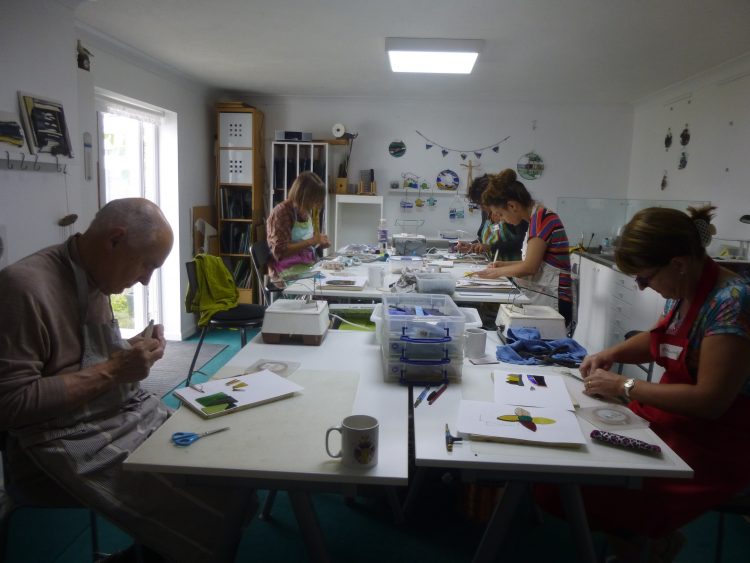 I had planned to make a design showing an anvil inside a horse-shoe – alluding to my house name The Anvil House – but once I'd done some practise cutting using a diamond cutter I realised that this was far to ambitious to start with, and I changed my idea to just a horseshoe!
First we had to cut the glass pieces to fit. Next, having lightly ground the edges to make them safe to handle, we fitted copper foil around each piece.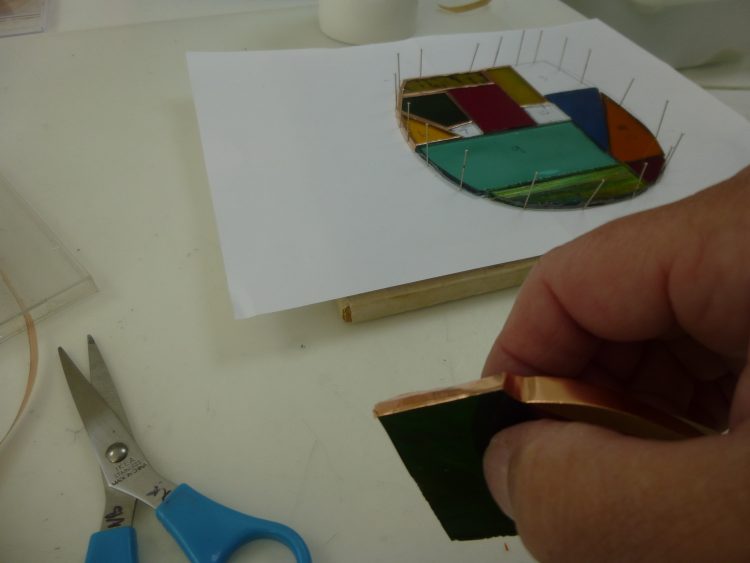 The pieces were anchored into position with pins into a soft board, to ensure that the overall shape did not become distorted.
Once all the foil was on, we brushed flux over the edges, and 'tacked' the pieces in place with blobs of solder. This was then extended along all the edges to make continuous joins.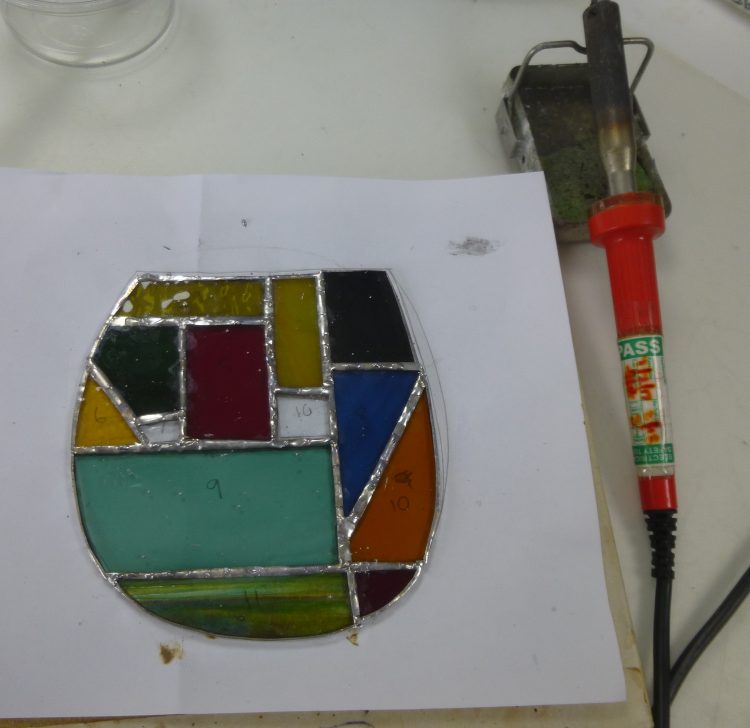 At this stage it looked very mucky, with the sticky flux, and the blobby solder! We then 'beaded' the solder – very tricky! – to make smooth raised lines. Mine were not very smooth nor very raised but I learned a lot. When I'd done both sides Naomi put the hanging rings on for me, as this is really difficult.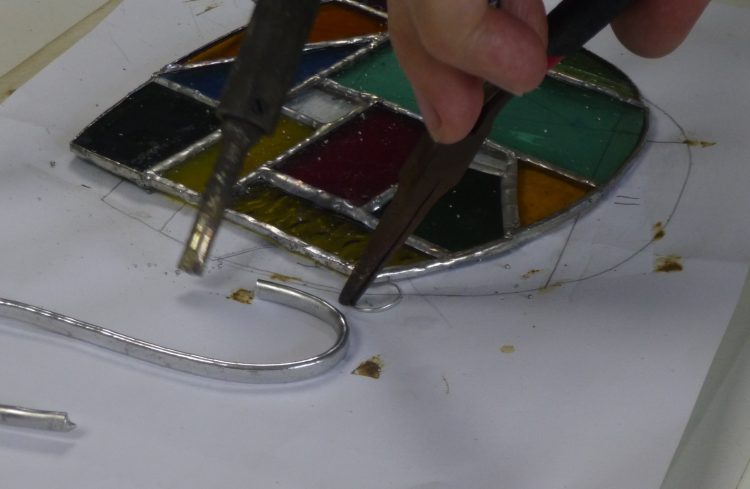 We all had a really good day . . .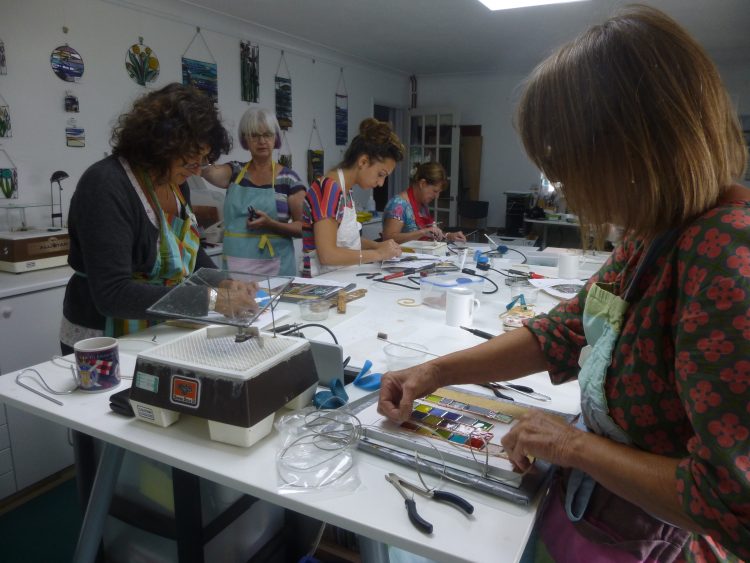 . . . and the results were amazing!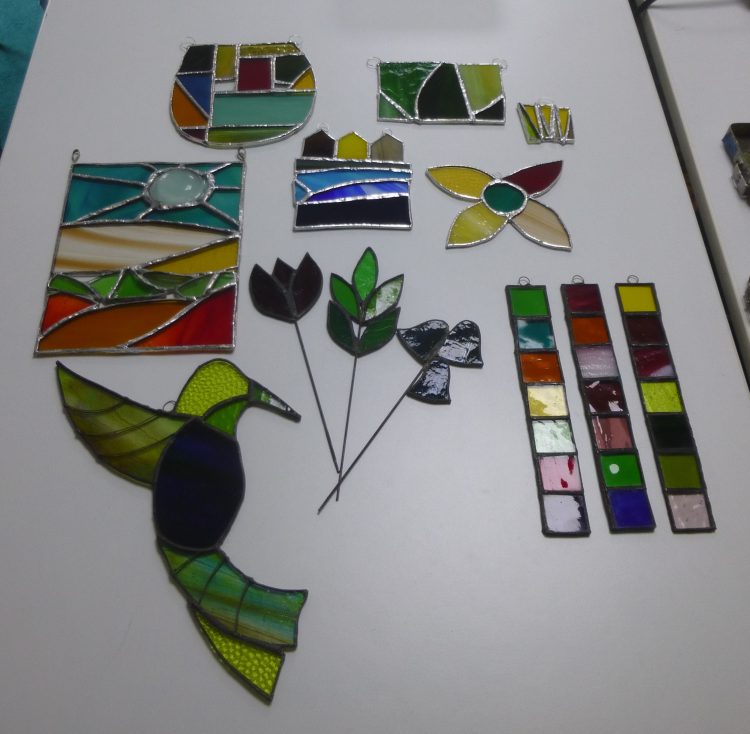 And here is a close up of my horse-shoe, after it had had a good wash!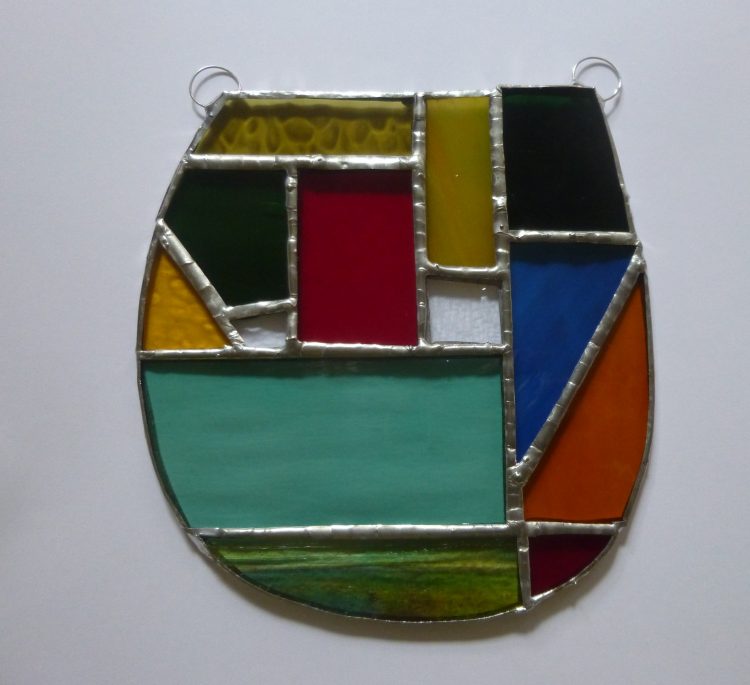 And now I'm looking forward to doing some more – I'm going back for another day in November! 🙂
To find out more about Naomi, her work and her courses go to www.naomi-brangwyn.co.uk
---
Yes, thirty days to go till this year's Open Studios! Two weekends again this year, 16th & 17th September and 23rd & 24th September, open each day from 11.00am – 6.00pm. There will be tea and coffee, biscuits and CAKE available, and absolutely no obligation to buy. Do drop in if you are in the area, bring your friends, come for a browse, a cuppa and a chat. All the details on the Open Studios website www.colchesteropenstudios.org
Last week I put in a big order for frames, to get all my recent work ready to show. Included will be all my 'A Year on Fingringhoe Wick' paintings up to August, (except January, which has already sold), three Ridgeway paintings – II, III and IV (not the first one as it has already sold), two or possibly three dinghies, and I still have just four of the Essex Wood paintings left – February, March, June and December.
I'm getting stocked up with other goodies, too. The jute bags were very popular at my last ARTSTUFF stall – I only had one left –  so I've ordered a lot more of those, each featuring a different month from the Essex Wood project.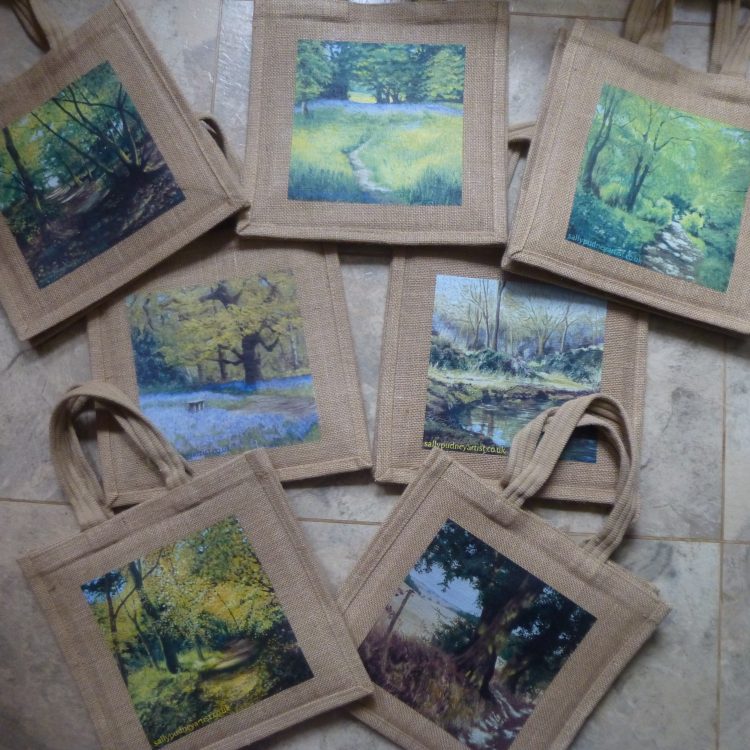 Cute as well as useful!
I almost sold out of the 'Twelve Months in an Essex Wood' books at Lexden Arts Festival in May, so I ordered a lot more of those.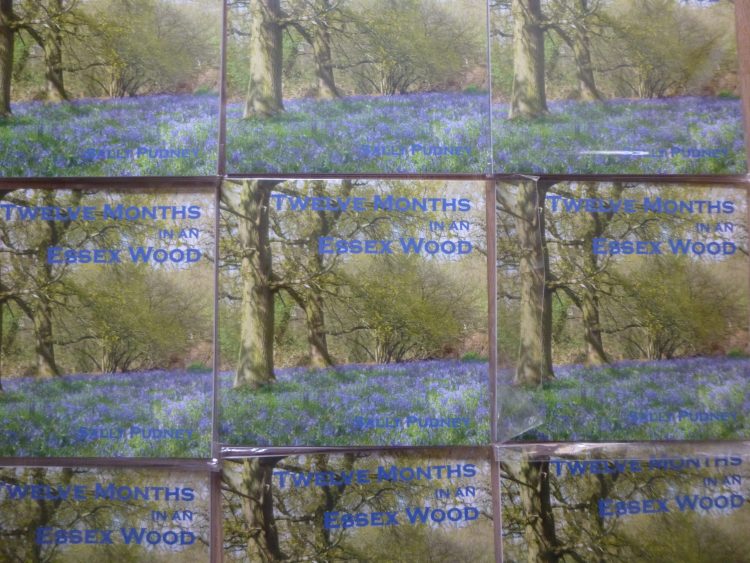 Last year at Open Studios I kept being asked for the Post box Christmas cards which I did in 2015, and of course they had long since sold out, so I ordered some more of these. There are five different designs, and they are in packs of five, with one card of each design, and red envelopes.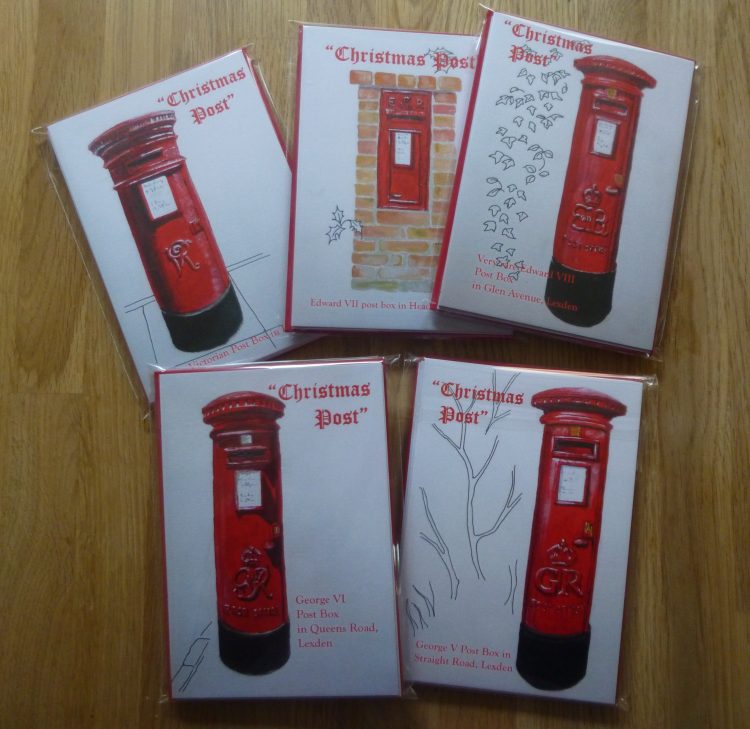 One of the new little things this year will be A6 spiral bound notebooks. These are the designs so far, but I'm hoping to do a few more designs, too.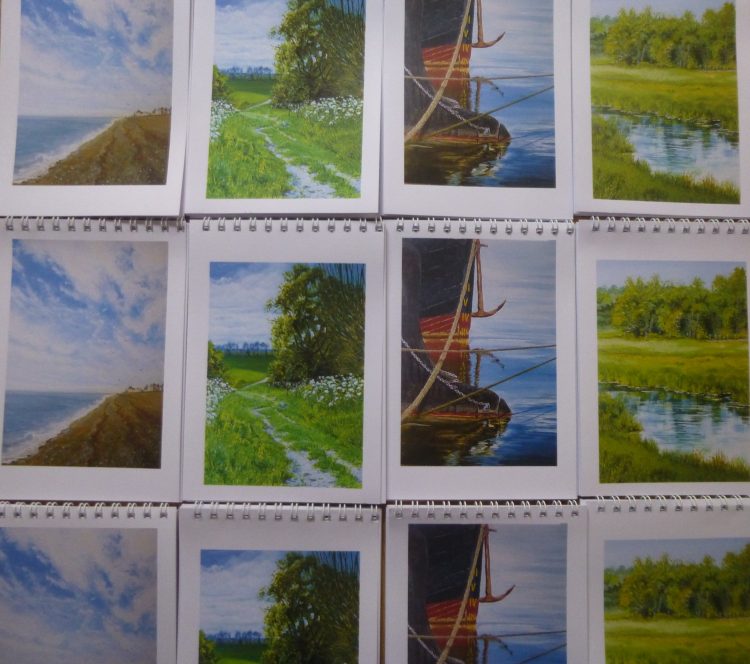 There's lots more, too, but I'll save the rest for another day! Just wondering if I can get it all done in time – only thirty days . . . . ! 🙂
---
Most of last week was spent helping Graham pack and move house to the coast. And on Friday 11th the move was accomplished. And on Saturday I was so tired! 
He is literally five minutes walk from the beach, and we spent a happy day yesterday doing seaside-y things like having fish and chips, eating ice-cream and lying on the sand in the sun.
The Faculty Office are keeping my busy, and I'm gradually working my way through four domestic notarial faculties and two overseas one – three done by today!
And in the studio I've just started Fingringhoe Wick: August. This is as far as I got this afternoon.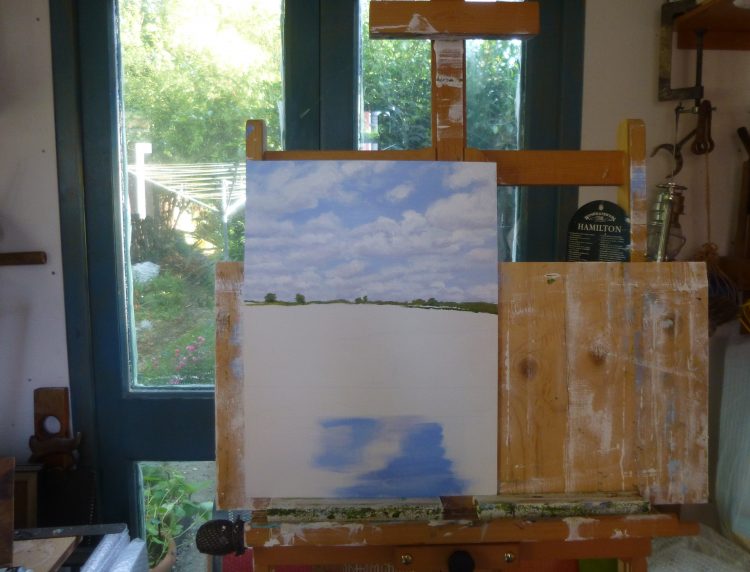 ---
I finished Fingringhoe Wick: July yesterday afternoon – and here is it!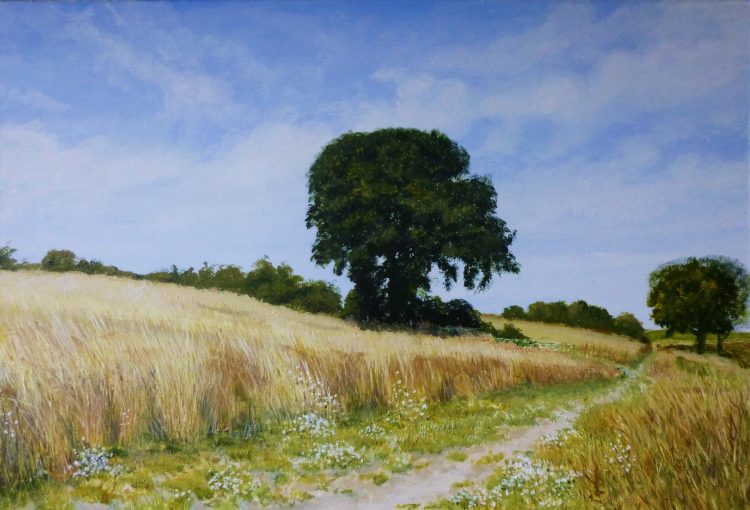 This path is at the bottom of the sloping field, leading to Margaret Hide on the inter-tidal area. In the spring time the field was full of sheep, but now the grasses have all gone to seed and it is just a hay field.
And . . . .
It's 40 days from today until Open Studios! Yes, it's not long. I'm taking part in Colchester and Tendring Open Studios again this year, over two weekends – 16th & 17th September, and 23rd & 24th September. Open from 11.00am to 6.00pm on each of the four days. More details as the days go by, but it would be lovely to meet some of you lovely blog readers then. 🙂
---
Well, it has been a busy week!
On Tuesday I took my friend, Helena, to Fingringhoe Wick. This was 1st August, but I didn't think it would be my 'official' August visit for my painting project. However, I found just the view I want to paint for August – so! – job done!
We saw a number of Black tailed Godwit. This is a new bird I've only just learned to recognise. At present they are in their beautiful chestnut summer plumage.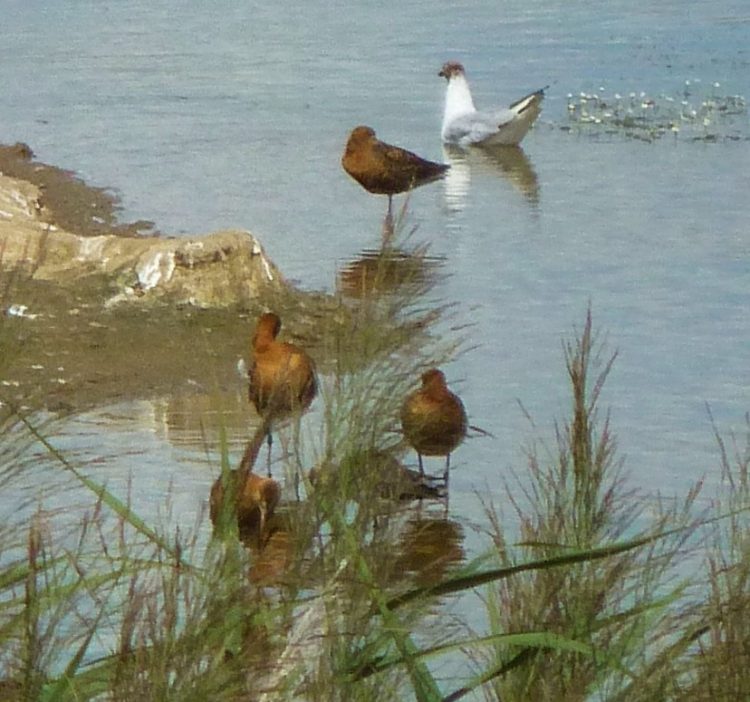 The view from the Kingfisher hide was perfect this month – at last!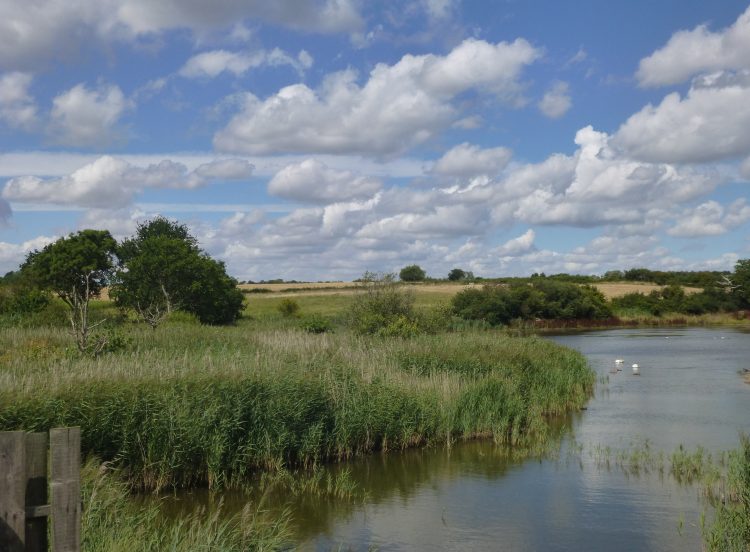 Helena managed to rustle up a carrier bag, and I picked some blackberries. I'm keeping an eye on the elderberries, too, as I want to make some elderberry cordial. They are not quite ready yet.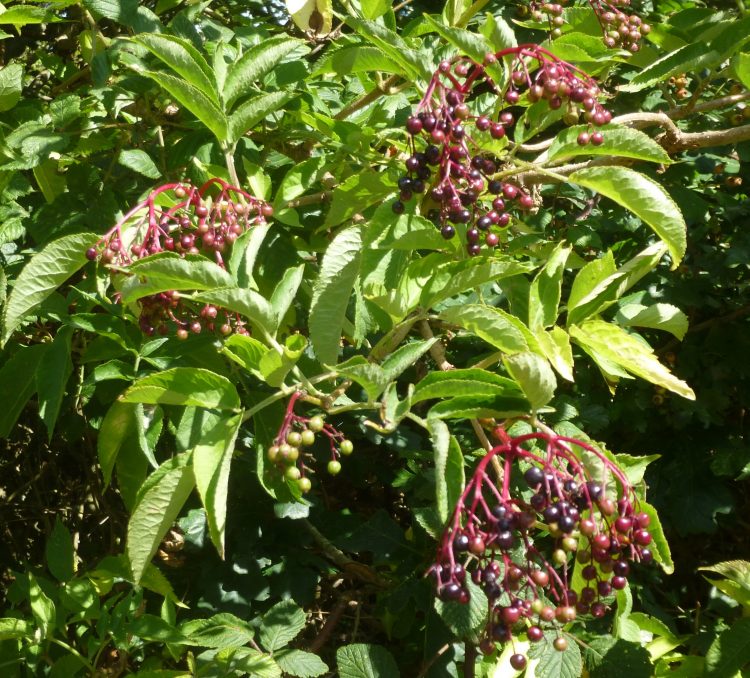 On Thursday I met up with my niece at Piccadilly and I made my second visit to the Royal Academy's Summer Exhibition. I didn't particularly notice anything different from my earlier visit that I liked. But I did manage to get some photos of some of my 'small' favourites which I didn't get when I went with Graham.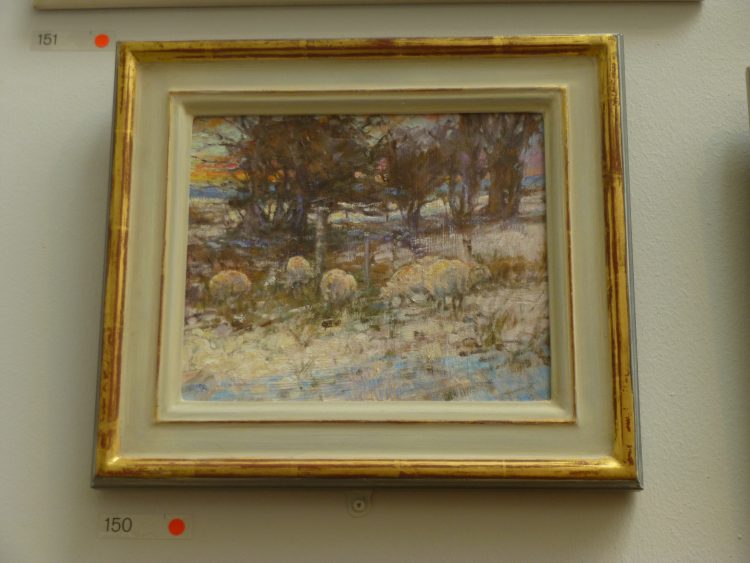 Diana Armfield RA: Winter Sunset, Sheep in the Back
Neil Bousfield's Walking the Tide Line and . . .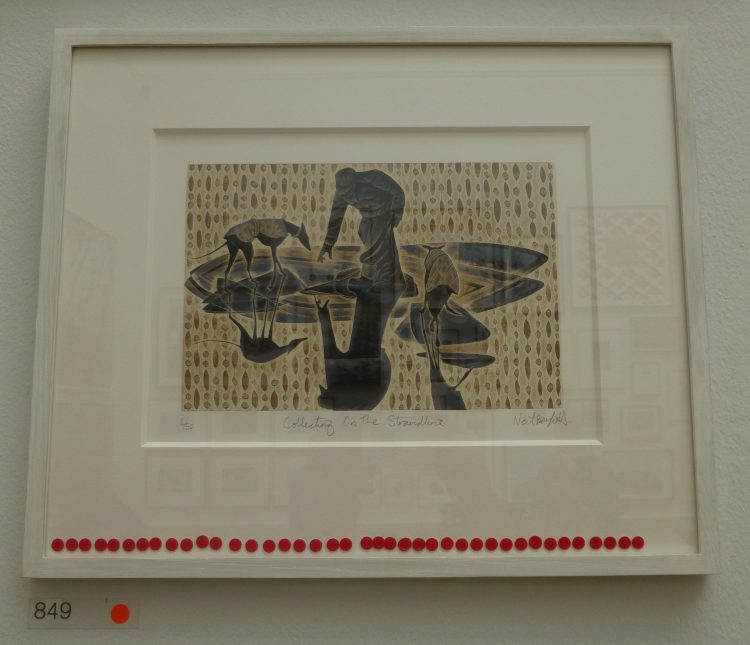 . . .  Collecting on the Strandline.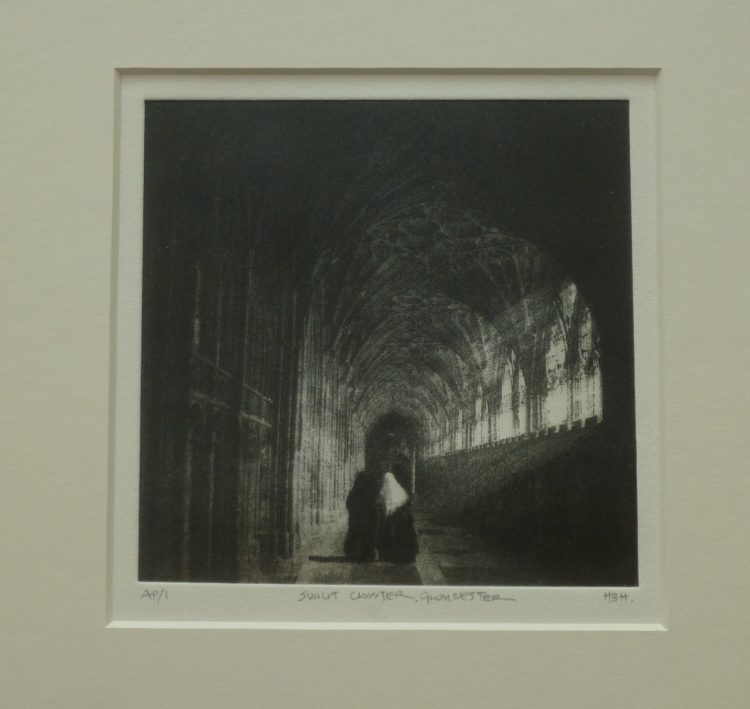 Henry Haggar's Sunlit Cloister Gloucester Cathedral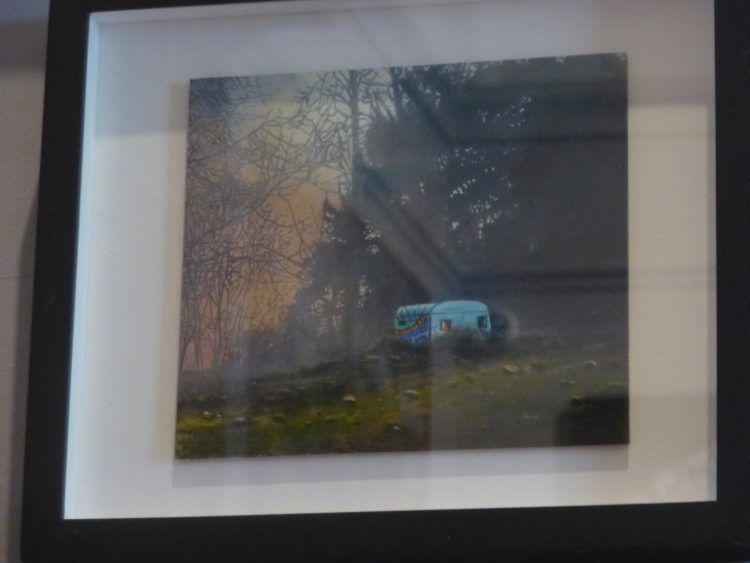 And Lois Wallace's Until Tomorrow. It is a pity this is such a rubbish photo, with lots of reflections, as it is a beautiful little  painting.
Fortnum & Mason's windows were particularly good, using their iconic picnic basket morphed into an aeroplane –
A yellow submarine –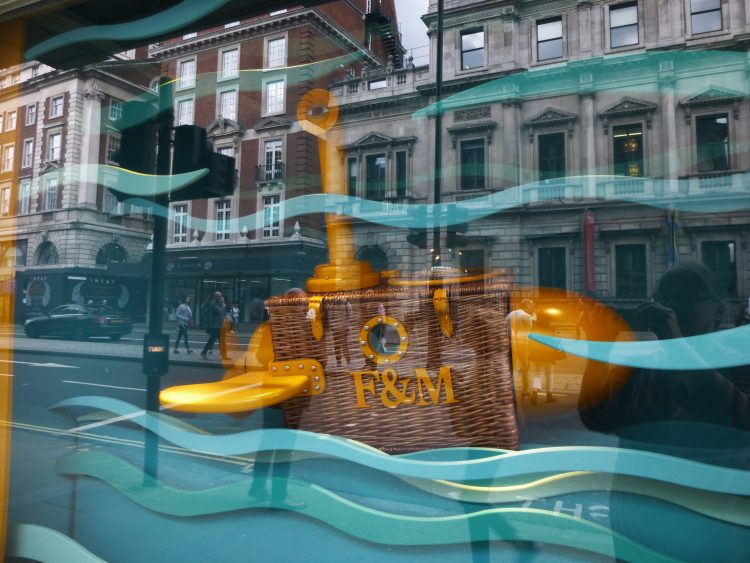 And there was a car, a steam engine and a boat, I think!
Yesterday I went down to Clacton to return the Remembrance Book for St James, Lt Clacton, which I have been updating. This morning did some major pruning of trees and shrubs at the bottom of my garden, and then into the studio to get on with Fingringhoe Wick: July. This is how far I'd got by the end of the afternoon.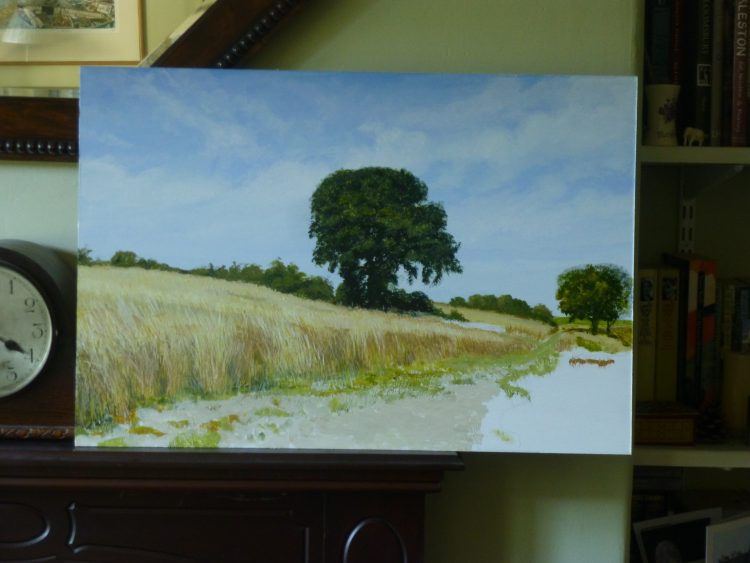 The painting is sitting on the mantelpiece in the sitting room at present – I like to bring them in so I can have a good look and mull over what to do first with it tomorrow.
Hope you're having a good weekend!