Last Thursday I met up with my sister and my Norfolk Niece in London to go to see the Ken Howard exhibition at the Portland Gallery. I have admired Ken Howard's work for a long time. My niece has seen his work at several RA summer shows and is equally enthusiastic. And we were not disappointed! There were over 50 paintings and we really enjoyed looking at them all. I think my favourites were these two :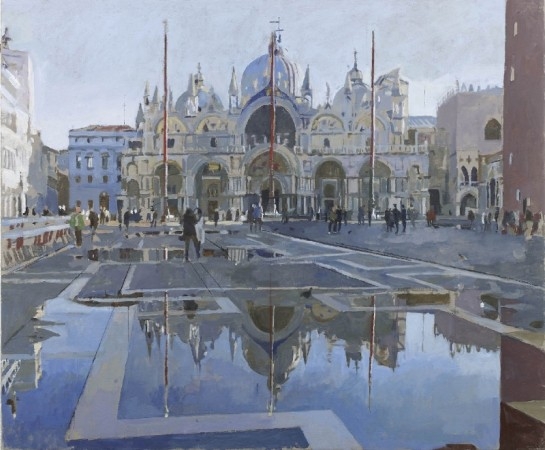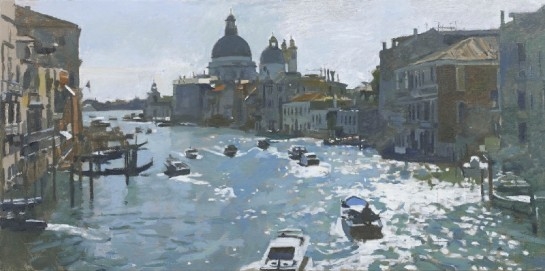 but I also really liked –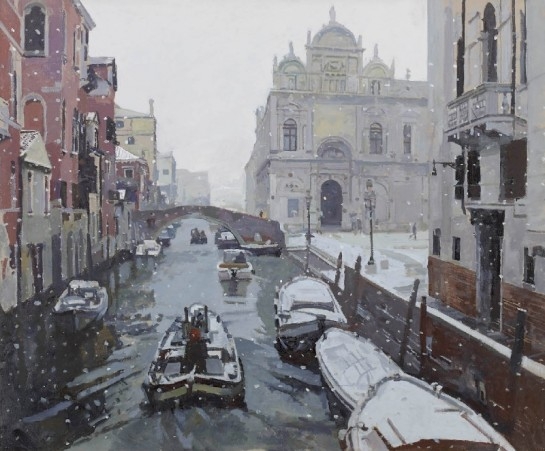 and

There is just time to catch the show, if you are interested, as it continues from Tuesday until Friday, 6th April, open from 10 – 5. The Portland Gallery is situated at the junction of St James Street and Benet Street, just off Piccadilly near the Green Park end – so a short walk from either Piccadilly or Green Park tube stations.
Festival News: I visited another of our All Saint's Arts Festival exhibiting artists last Tuesday. Miranda Chapman is a printmaker, working mainly with etchings. She lives quite near me in Aldham, and I had a lovely morning chatting to her and looking at her work. To find out more about her go to www.mirandajchapman.weebly.com
The tickets for our two evening events go on sale on our website tomorrow, 1st April. They are also available after services at All Saint's Church, or from Maldon Tourist Information Centre. James Russell is giving an illustrated lecture called 'Edward Bawden: Artist and Adventurer' on Friday, 25th May – coming straight from the Dulwich Picture Gallery where he is curating an exhibition of the same name. And on Monday, 28th May Hugh Lupton is coming to enthral us with another storytelling evening – 'The Mabinogion: Welsh Legends Retold,' in connection with his new book being launched at Hay on Wye four days later. For all the details see our festival website www.allsaintsartsfestival.org.uk
Happy Easter! 🙂
---
A new little dinghy up on the gallery page today, another one from Heybridge Basin on the River Blackwater.
Next up on my easel will be the first of my Flatford paintings . . . . . 🙂
---
Well, it's getting closer! This is the 'general' poster for the Festival –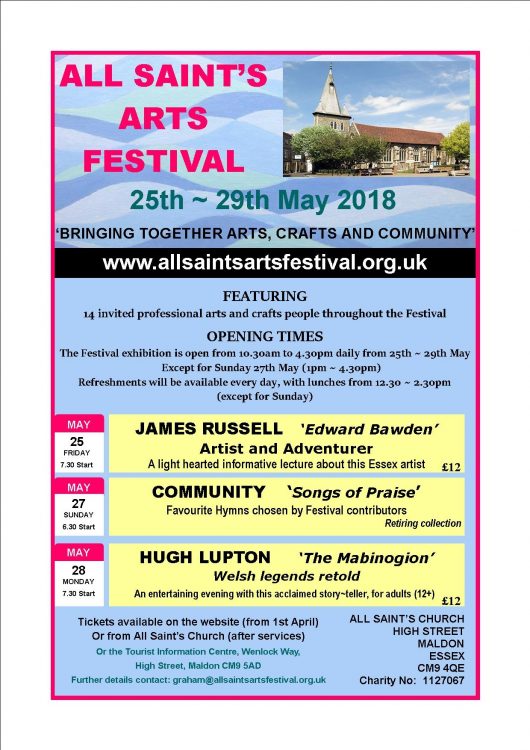 And this one is just about the Art Exhibition –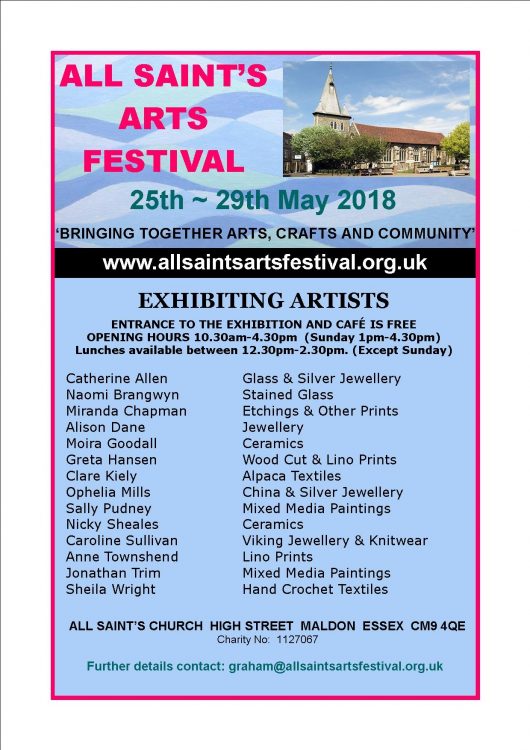 (The posters have been created by Graham – I am not clever at computer things like that!)
Tickets for the evening events will go on sale on 1st April, and will be available from our website, from the church after their regular services, and from the tourist information centre in Maldon.
At the moment I am enjoying going all over Essex and Suffolk meeting the artists – I went to see ceramicist, Nicky Sheales in Brightlingsea on Monday, and last Friday visited Alison Dane, from Walsham-le-Willows in Suffolk, who makes jewellery from her own printed and painted papers – very magical! Earlier last week, I had a trip over to Wivenhoe, to meet jeweller, Ophelia Mills, who makes jewellery from vintage china and sterling silver, (and recently had her work featured in the glossy magazine, World of Interiors), and down to Leigh on Sea in the south east of Essex to visit Jonathan Trim, whose mixed media landscape paintings have been highly popular in the past at our previous Lexden Arts Festival. Links to all their websites are on the Art Exhibition page on the Festival website.
And . . . . in the meantime I'm painting like mad, to get lots of work ready to show! Another dinghy will probably be ready to go up in the gallery website tomorrow. 🙂
---
My third visit to the River Stour, for my 2018 painting project.
I had planned that March, April and May would be my 'Spring' visits. After the snow we had at the weekend and the bitterly cold weather for the last few weeks, it is not very spring-like yet! It was sunny, though, with big cumulous clouds, although the wind was cold and there were still a few patches of snow under the hedges.
There were quite a number of people around by the river at Flatford, walking – and canoe-ing! I walked over the bridge to the Essex side of the river, and up past the lock with the mill race roaring on the other side. Then back through the gates and along the riverbank path to Dedham. Very muddy . . . .! Wonderful old cracked pollarded willows leaning at acute angles.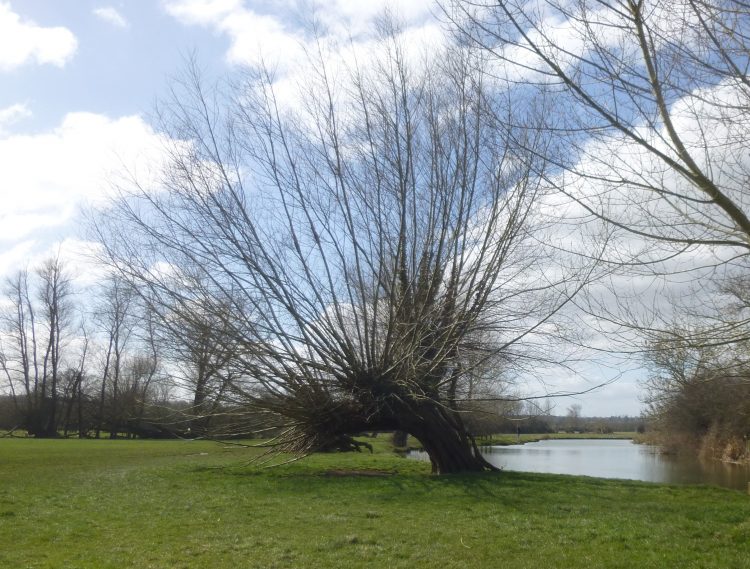 Ducks. Alders and hazels overhanging the water. Deep dark reflections. Back over the bridge, past the mill . . .
– to Willy Lott's House. The iconic view.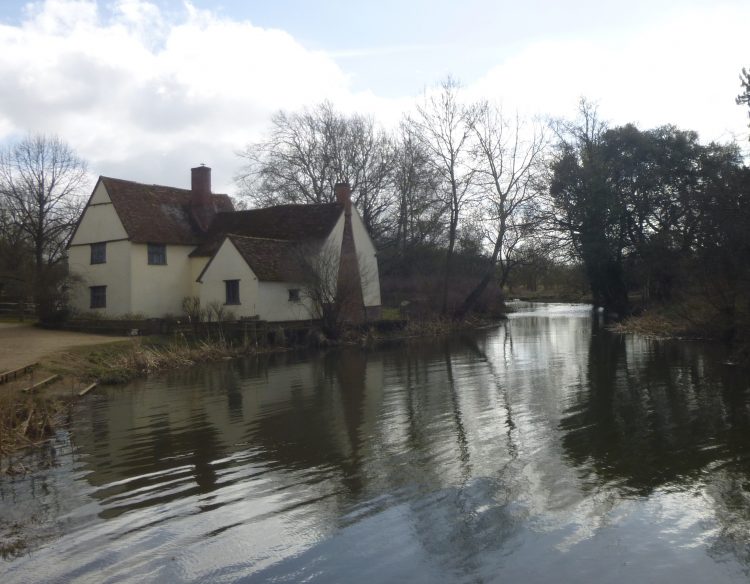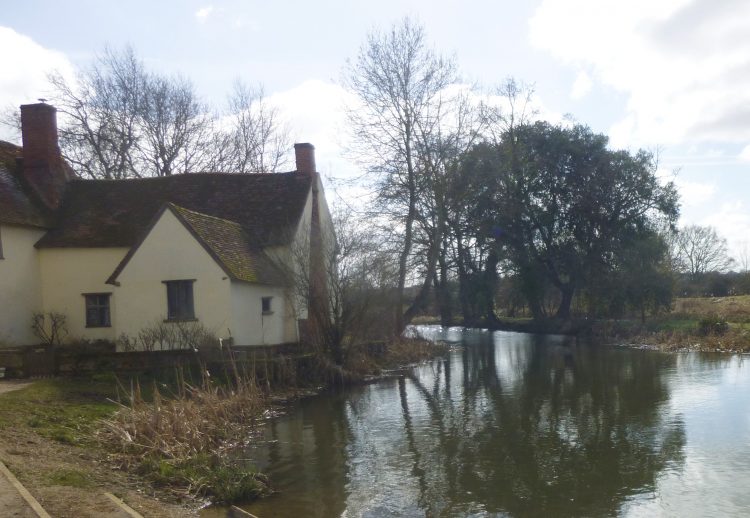 Ronald Blythe, in his little book John Nash at Wormingford, writes that:
Sickert used to warn artists off the Stour Valley, saying it was 'a sucked orange', but John Nash painted it as though he had never heard of it being the mort familiar river territory in English art.
That is the challenge at Flatford, certainly . . . I can't wait to get started!
Happy Vernal Equinox! Or if the day is bringing out your inner Celt, Ostara Greetings! 🙂
---
The next painting in my Landlines series. This was almost finished yesterday, but I put the last few little touches in this afternoon.
This is near Woodbridge on the edge of the River Deben, in fact I was standing on the river bank looking inland.
All Saint's Arts Festival news
I had a trip down to Leigh on Sea this morning to meet up with Jonathan Trim who will be exhibiting his atmospheric mixed media paintings at the Festival. He was our most popular exhibitor ever at the Lexden Arts Festival, and I'm sure he will be a big hit with our new Festival goers, too. To find out about Jonathan and see examples of his work, go to www.jonathantrim.com
Yesterday, down at my seaside outpost with Graham, the sea was calm and blue, and the sun was warm.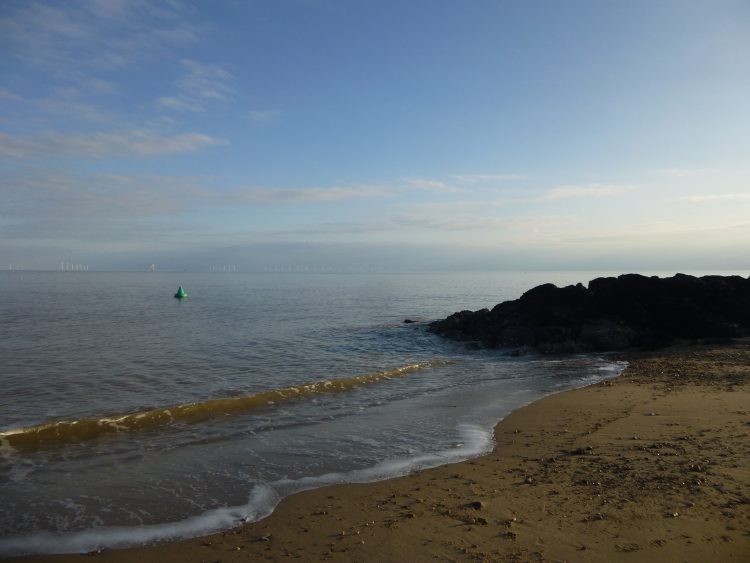 And today it has been warm and sunny all day long. I think winter may be just about over! 🙂
---
Book Recommendation!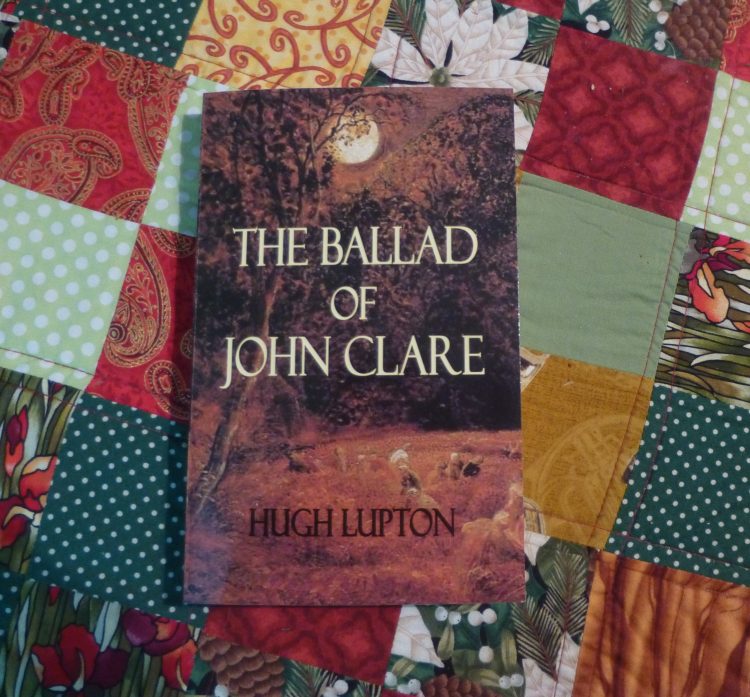 Hugh Lupton and I were at college together a very long time ago.
For the last four years he has come to perform a magical storytelling evening at Lexden Arts Festival, and in May he is coming again to our new Festival in Maldon. Hugh is an internationally acclaimed storyteller and writer, and we feel very lucky to get him!
Last year he gave me a copy of his novel, The Ballad of John Clare. I've only just got round to reading it – and it is brilliant! It is so much in Hugh's style that I could hear his voice reading it to me as I read!
He conjures up John Clare's world – the world of the ordinary rural people in England in 1811 at the time of the enclosures of common land. The cycle of the church year and the farming year are twined together. The story runs from Rogation Sunday in 1811 through May Day, and sheep-shearing, Harvest, Michaelmas, All Hallow's Eve, through Christmas, Plough Monday, St Valentine's Day, Shrove Tuesday, past Easter and back to Rogation Sunday in 1812. The story is a fictionalised account of a year in the life of the poet, John Clare, the year he is 17, but it is also about so much more, bringing to vivid life the landscape and culture in which he lived.
I found myself thinking of my own ancestors at that time – as this is what their lives would have been like, too. James and Frances Pudney in Fordham, Joseph and Mary Firmin in West Bergholt, William and Amelia Gardiner in Tendring, Joseph and Mary Summers in Wix, William and Rose Williams in Stanway – all living though this same period of time, all working on the land in rural Essex.
Do read it! 🙂
Hugh is coming to All Saint's Arts Festival on Monday, 28th May. Tickets £12.00 will go on sale on 1st April from our website www.allsaintsartsfestival.org.uk   His evening, suitable for adults and children over 12, is called The Mabinogion: Welsh Legends Retold. It will be focussed on the tales in his new book which will be launched in Hay on Wye later the same week. Hugh will have pre-launch copies with him available to buy.
---
Graham and I went over to Maldon yesterday to the printers, Point Graphics Ltd. Dan has just printed another batch of cards for me! They are all paintings from my A Year on Fingringhoe Wick series, and I am delighted with how they have turned out. I had twenty copies of each done – here is an example of each card.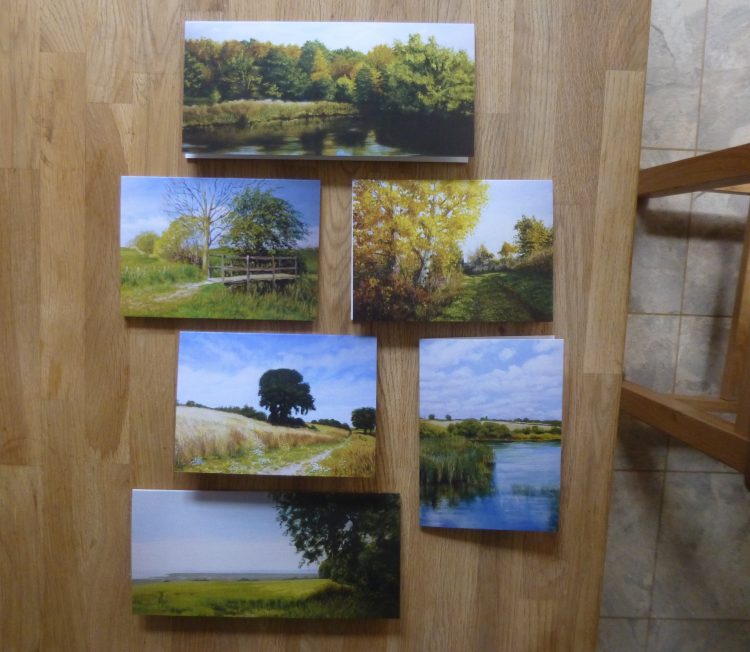 All Saint's Arts Festival news
Our new Festival website is up and running. You might like to take a look on www.allsaintsartsfestival.org.uk if you are interested in what will be happening. We also have a new Festival Facebook page which has quite a few page likes already. Do like and share if you are on Facebook.
Point Graphics Ltd. have become our newest sponsor, for which we are very grateful –  as we are to all our sponsors!
I have made a start on my artist visits for the Festival. On Monday my first visit was to glass artist Naomi Brangwyn in Felixstowe. Her studio is full of new work, including some lovely pieces made especially for Maldon. We had lots to talk about, as we are not only exhibiting together at the Festival but also at Woodbridge in October. To get a taster of Naomi's work go to www.naomi-brangwyn.co.uk
Snow Survival
I have a little bed of hellebores outside my studio. I am amazed at how they survived being under six inches of snow, and have sprung up again looking just as beautiful.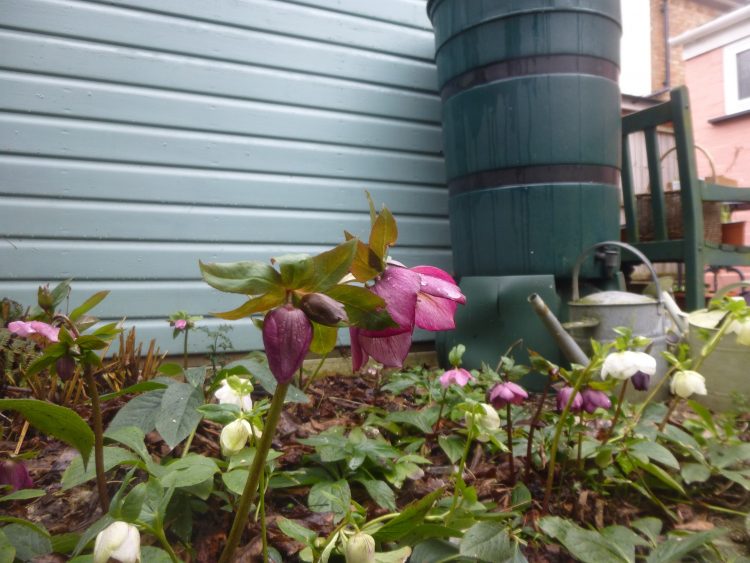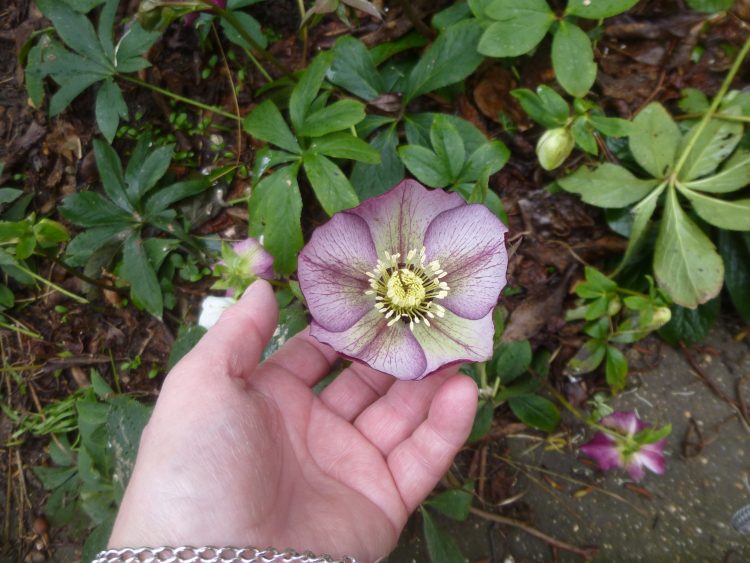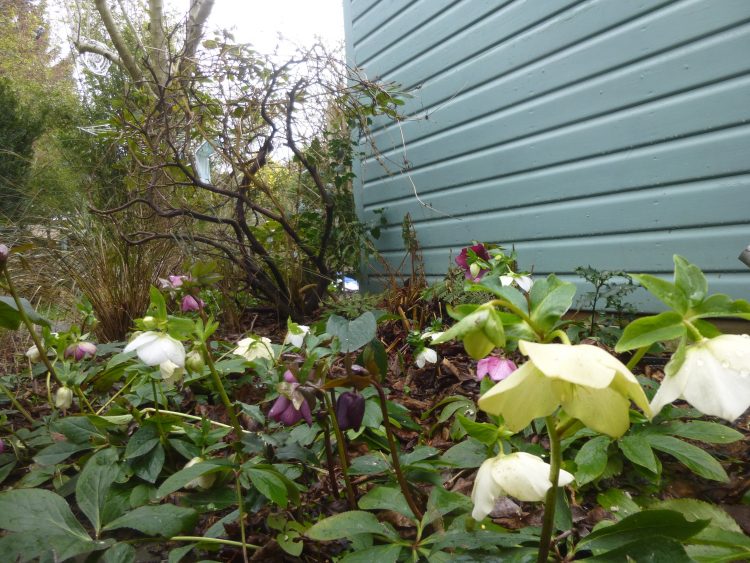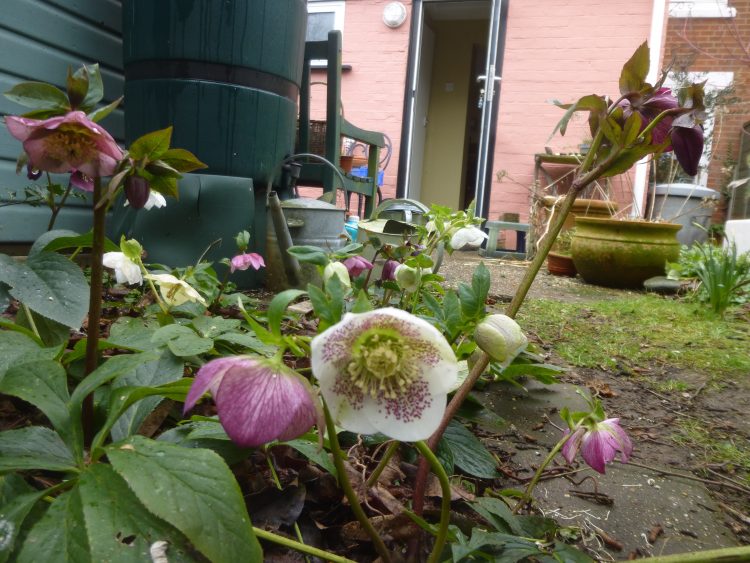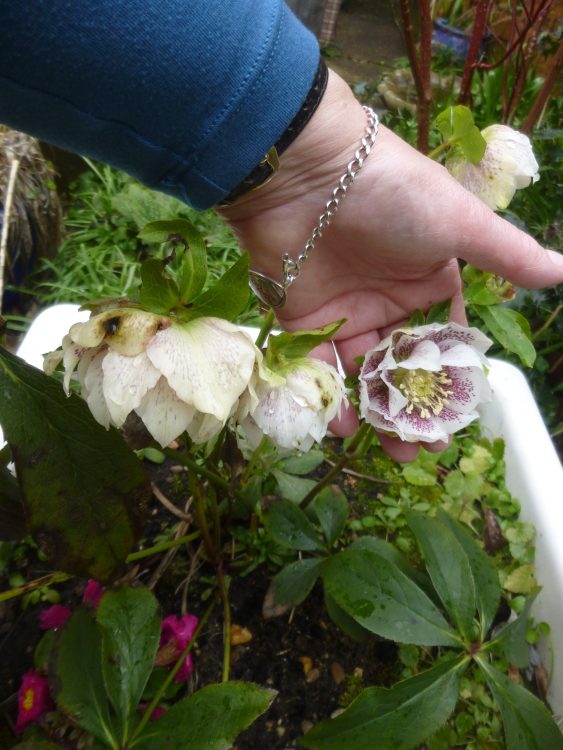 I hope you have also survived the snow unscathed! 🙂