A trip over to printers 'Point Graphics' in Maldon today, to collect my new calendars.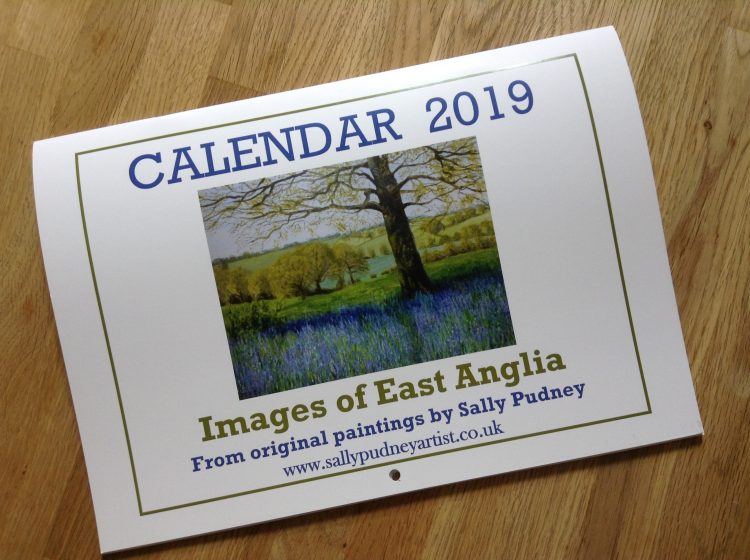 I'm delighted with how they've turned out. The colour reproduction is excellent, and I'm pleased with how well the 'colour co-ordinated' headings for the date page have worked with the images of the paintings.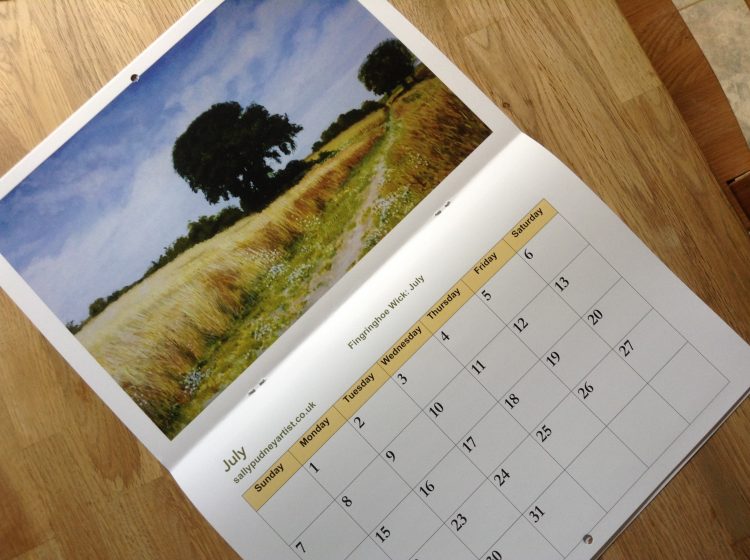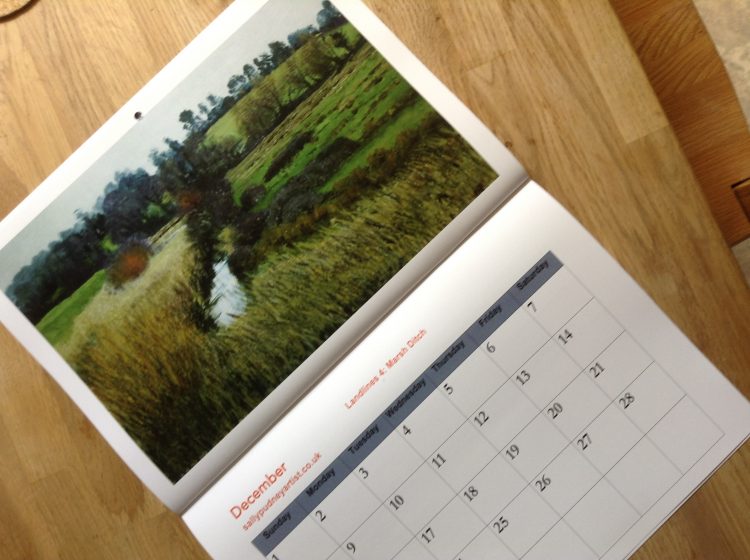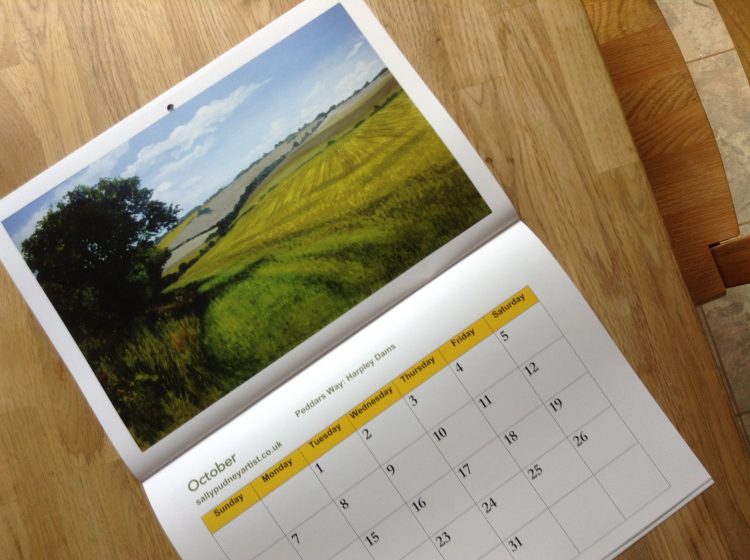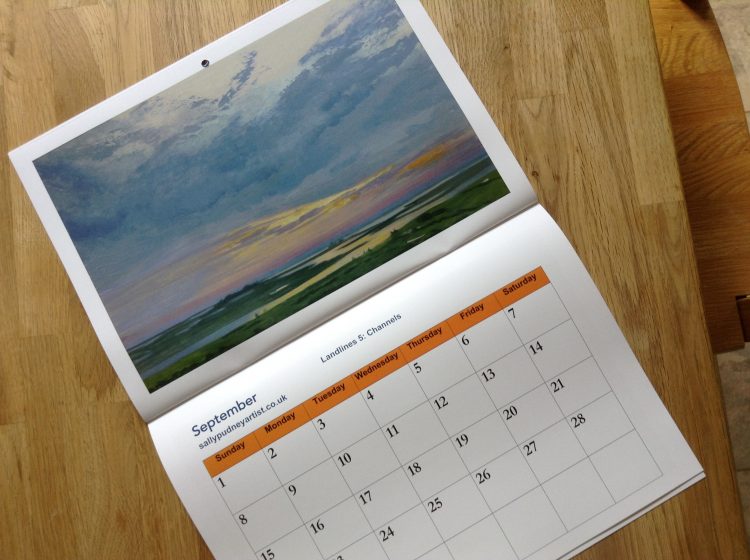 I spent ages fiddling about on my desk-top computer trying out different colours to try to get shades which complemented the painting without being too dominant, and it seems to have payed off.
The calendars will be for sale at my Open Studio weekends. Here are the details again :
Open Studios 8th/9th September, and 15th/16th September, open from 2.00 – 6.00pm on the Saturdays, and from 11.00am – 6.00pm on the Sundays. Tea, coffee and homemade cake – free. Recent paintings, greetings cards, postcards, Christmas cards, 'Landline' mugs, jute bags, Useful  Little Notebooks, Essex Wood and Fingringhoe Wick books – and Calendars! The Anvil House, 45 Heath Road, Lexden, Colchester CO3 4DJ. Do come, no obligation to buy, just come for a browse, a cuppa and a chat.
Hope you enjoy your weekend! 🙂
---
New mugs arrived yesterday from Vistaprint.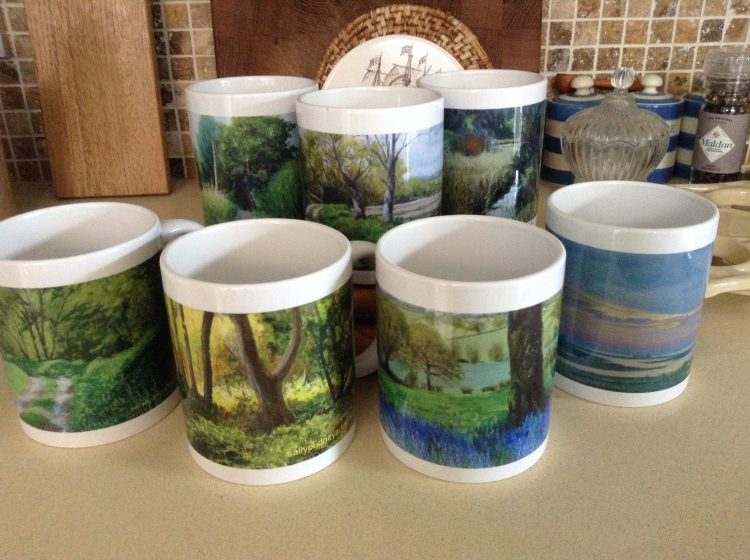 Each one has a wrap-around design taken from a detail of one of my first seven Landline paintings. They've come out rather well! Just one of the things I shall have for sale at Open Studios this year . . .
I went over to Maldon on Wednesday to proof my 2019 calendar, Images of East Anglia, at Point Graphics. The calendars are going to be really good, so much better than I've had in the past. I can't wait to actually have one in my hand, rather than just see the digital proof. I've also ordered copies of a really quirky Christmas card, and have stocked up on my two painting project books, Twelve Months in an Essex Wood, and A Year on Fingringhoe Wick.
What else? Well there will be lots of cards, including eight designs from the Essex Wood series and eight designs of Fingringhoe Wick, and dozens of other designs, both as greetings cards and as postcards, and of course, most important – lots of recent paintings! Some River Stour project ones, some Landlines ones, the last few of my Fingringhoe ones, and one or two others like –
The other day I took the Remembrance Book back to St James at Little Clacton, having updated it for them, and I carried on to my seaside outpost. Graham and I had a lovely walk along the quiet beach in the evening –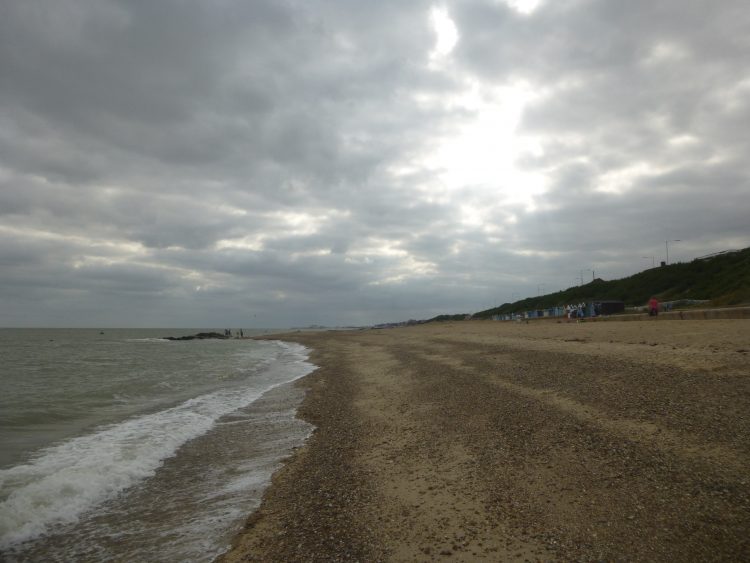 and I was rather taken with some of the beach-hut names.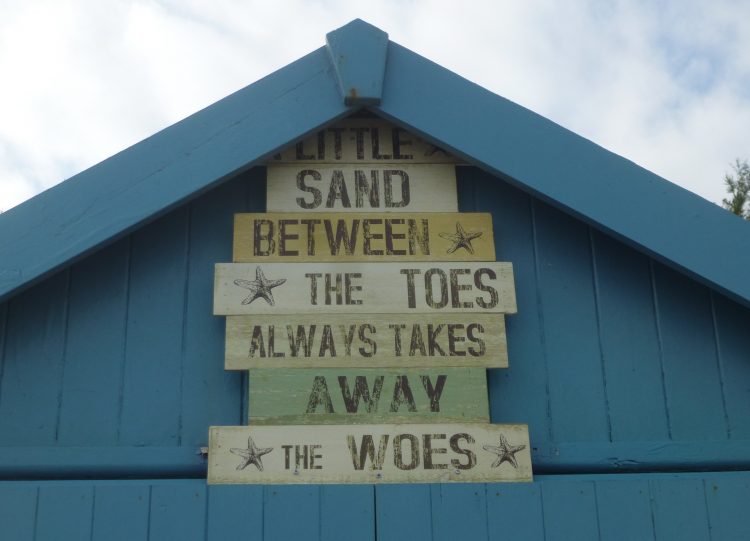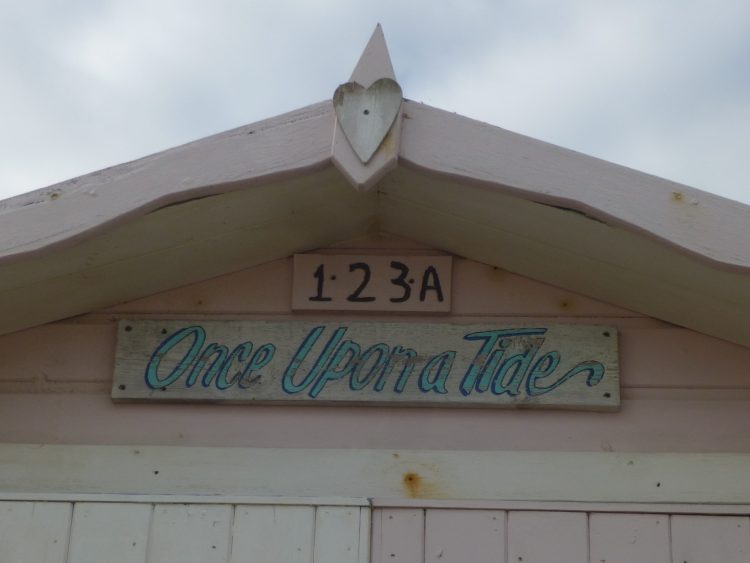 'A little sand between the toes                                                                                                                                                    Always takes away the woes'. What a true saying!
Hope you get to enjoy the Bank Holiday weekend! 🙂
---
The latest painting in the River Stour series, finished last week.
Hard to believe that I am more than half way through my Four Seasons on the Stour project! I did the next visit – to Wormingford this time – last week. This is the view of the Stour from Wormingford Bridge.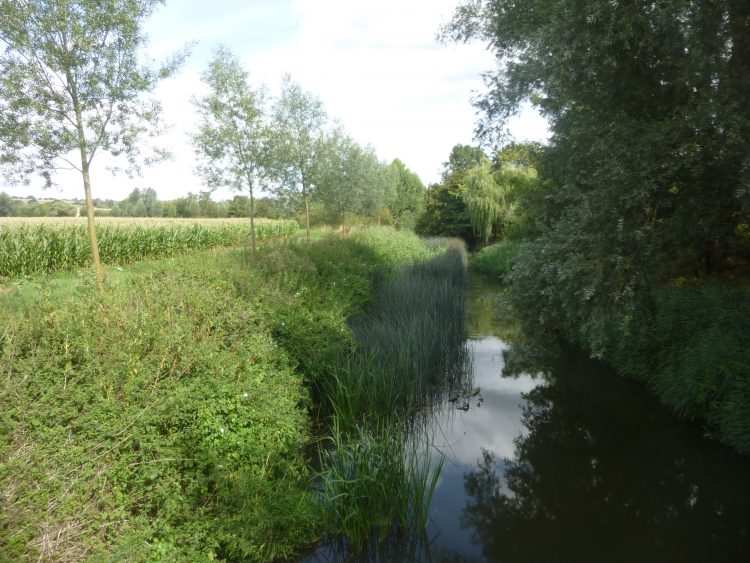 Last time I went out Stour exploring I missed out Wormingford and hopped round from Nayland to Bures, but it really comes between the two.
I have called a bit of a halt on painting until after Open Studios now, as I have so many things to get ready – like Christmas cards, which I have yet to start! I ordered some mugs on Friday which I think should be very attractive. They have complete wrap-around pictures taken from details of my Landlines series of paintings. I'm looking forward to seeing what they are like in real life. Also, my calendars have been ordered, and I am excited to see them as this is the first time I have had them professionally printed. And they are A3 – BIG – which should get round the problem of people looking at my previous calendars and complaining that the boxes are not big enough to write in . . . .
I've just printed off all the Open Studio invitations this morning, so they will start dropping through people's letter boxes in the next week. If you live around Colchester, though, don't wait to be invited – just come! All the details are in my last post, and also on the Colchester and Tendring Open Studios website, not just for me, of course, but for a host of other artists whom you might like to visit. Check out www.colchesteropenstudios.org
Hope you've had a good weekend! 🙂
---
I've been making progress on all sorts of things over the last week.
I've ordered the frame for "Tessa", the last of the four paintings bound for the Geedon Gallery. I get all my frames made at Framewerks.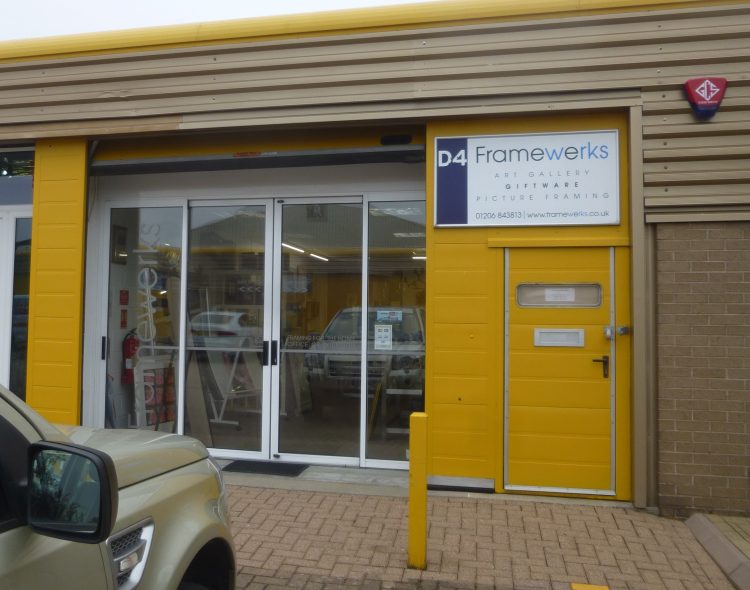 Calendars 2019: I went over to Point Graphics in Maldon and discussed my 2019 calendars with Dan. We have come to an arrangement where he will print the pages for me and I will bind them. They are, however, going to be a rather different format from previous calendars I've done. Not saying any more than that at the moment . . . They are not going to show the 12 paintings from last year's painting project, either. This is the way I've done it for the past two years, using the previous year's project. But with A Year on Fingringhoe Wick it just wasn't possible. One of those paintings is square, one is portrait format, two are landscape format but very long and narrow – there was just no way they were going to work in a calendar. So I have used a few of them, but the whole calendar is called Images of East Anglia. I shall launch them for sale at my Open Studios. Oh yes! – and talking of that –
Open Studios: I'm having two open weekends again this year, with Colchester and Tendring Open Studios. They will be 8th & 9th September, and the 15th & 16th September. On the two Saturdays I will be open from 2.00pm – 6.00pm. and on both Sundays I will be open from 11.00am – 6.00pm. Note the different times this year! – I am NOT open on Saturday mornings. I shall be showing lots of new paintings, plus greetings cards (lots of new designs) 2019 calendars, Essex Wood books and Fingringhoe Wick books, postcards, mugs, jute bags . . .  There will be tea and coffee and home-made cakes available, and absolutely no obligation to buy! If you are going to be around Lexden, put the dates in your diary now and do pop in for a browse, a cuppa and a chat.  My address is The Anvil House, 45 Heath Road, Lexden Colchester CO3 4DJ and there is unrestricted parking in my road.
Higham: Summer is still at quite an early stage, but I'm making progress and expect to have a lot more time for that this week.
AND I was pleased that my Instagram followers went over 100 this week! Don't forget, if you use Instagram you can follow me @sallypudney. There is also a link on the homepage of my website in the top right corner.
Hope your week has got off to a good start. 🙂
---
This little dinghy, just finished this afternoon, on the River Blackwater at Heybridge Basin.
"Tessa" will be going along with Blackwater Dinghy on the Flowing Tide, and two Fingringhoe Wick series landscapes to the Geedon Gallery's autumn exhibition, which starts on 7th October.
The Sentinel Gallery: Yesterday Graham and I went to meet Debra, who, along with her partner James, now owns the Sentinel Gallery in Wivenhoe since the retirement of Pru Green. James and Debra are hiring out the gallery, and we went to have a preliminary look to see what changes had been made since Pru left. In fact, apart from the change in the wall colour in the gallery from white to blue and pale grey, and the absence of ceramics in the portion of the gallery to the right of the front door – it is exactly the same. So – BIG news here!! – I am booking it for a week in October 2019. I already have one of my artist friends, Caroline Sullivan, definitely wanting to show with me. The choice of others will take some mulling over, but I aim to have perhaps five of us involved. The exact dates and details have all got to be finalised yet, but it is an exciting new venture for us and we're very excited about it.
Hope you are enjoying your weekend. I think it's marginally cooler, maybe . . .?  🙂
---
Exploring further up the River Stour today, with my 2018 painting project.
I started off at Nayland. I knew exactly the view I wanted to paint.  Graham and I have often had lunch at the Anchor, and I've always been taken with the bridge just next to the pub. Constable's family used to moor their barges here, and I think there was once a mill.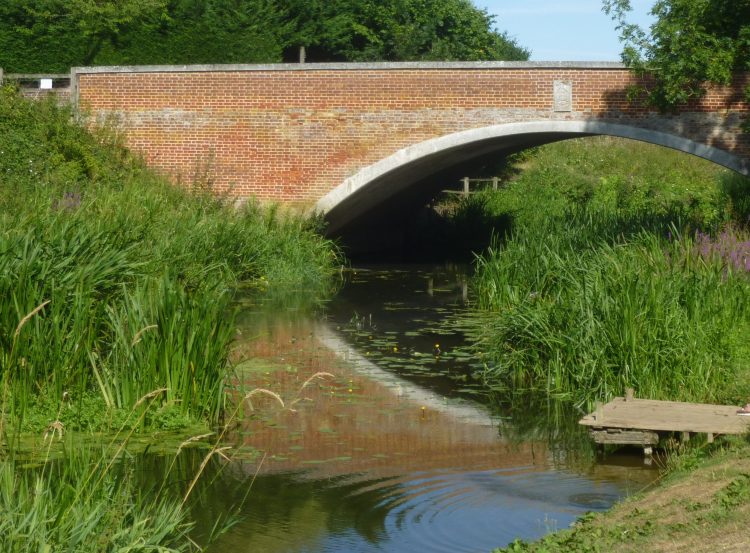 There are very convenient picnic benches along the river bank here, on the edge of the pub car-park.  I was able to sit to draw in comfort for a change! It is a beautiful scene, isn't it, with the wide sweep of the bridge, the reeds, the 'brandy-bottle' yellow waterlilies, and the reflections. Really looking forward to painting this one, although I've still got a bit of catching up to do first, as I've yet to paint my Higham picture!
I drove on through Wissington to Bures, and walked down to the river by the bridge on the southern outskirts of the village. There were lots of children playing on the bridge, daring each other to jump into the river, swimming and shrieking and having fun.
I sat on the landing stage step and drew the reeds and trees looking across the river which is particularly wide here, and clear of much vegetation.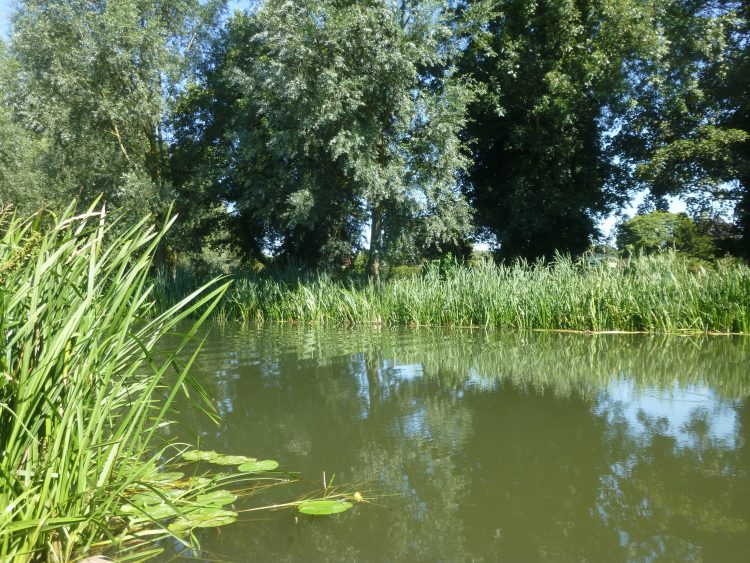 I will be going back down river later in the month to 'fill in' some of the places I've skipped, but it was much too hot today to do very much in the way of walking.
In my studio: I've about half done with another dinghy for the Geedon Gallery, but – again – it is really too hot in there to paint during the day, so just getting a bit done in the evening before the light goes.
And I should have some exciting news about next year to share tomorrow . . . .
Hope your week has gone well. 🙂