The latest in my Four Seasons on the Stour series, finished this afternoon. I thought it was finished yesterday – but on consideration it needed a bit of tweaking!
This is the last of the summer paintings. It shows the view of the Stour by the mill looking down from the bridge.
I have three autumn paintings lined up to do – Bures, Henny Street and Sudbury – and then my next visit sometime in November will be to Long Melford.  I've come a long way from the estuary at Wrabness in January . . .
Gainsborough House: As promised yesterday, a few things of interest from my visit. This very famous painting by Gainsborough –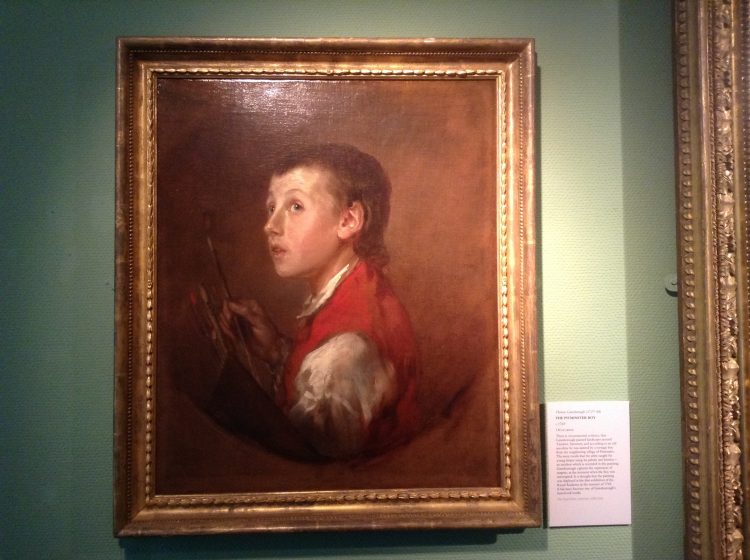 It is so much better to see in real life than as a reproduction – the fine delicate detail, and the realism of the boys surprised glance upwards are amazing.
Then a paint box and brushes that belonged, not to Gainsborough, but to John Constable –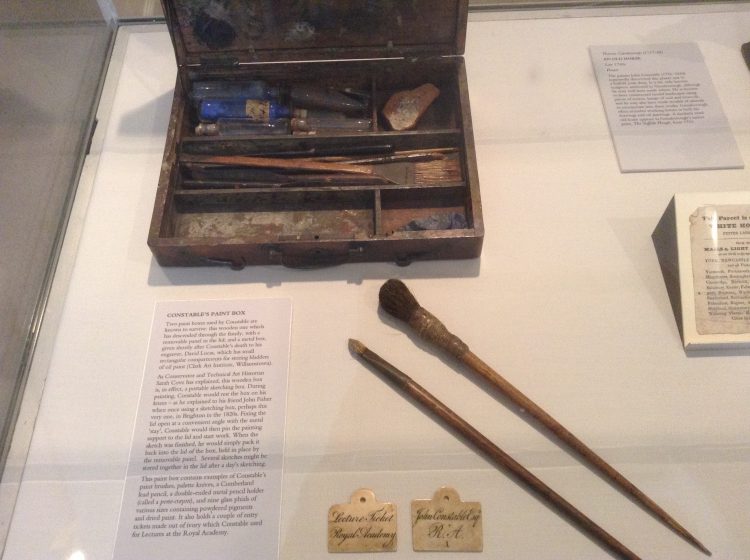 This is what we would now call a pochade box, with a space in the lid for little painting boards, and adjustable hinges so that you could hold the box on your knees and use the lid as an easel to hold the board while you painted.
And beautiful quince and medlar trees in the garden behind the house –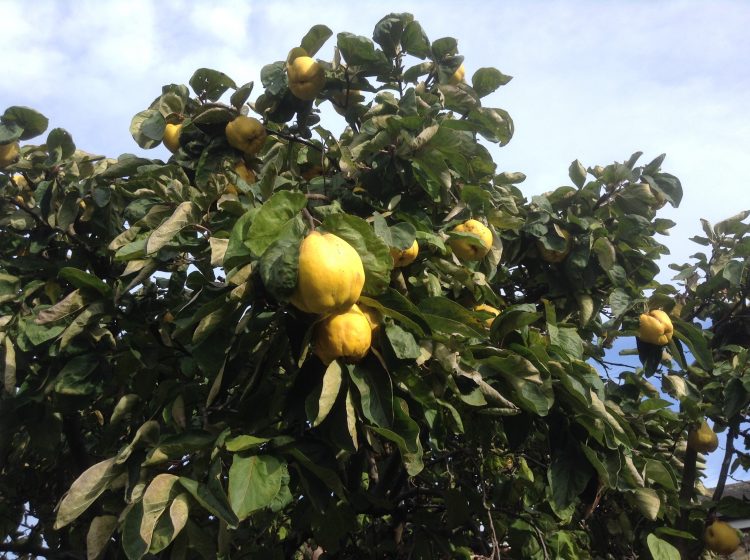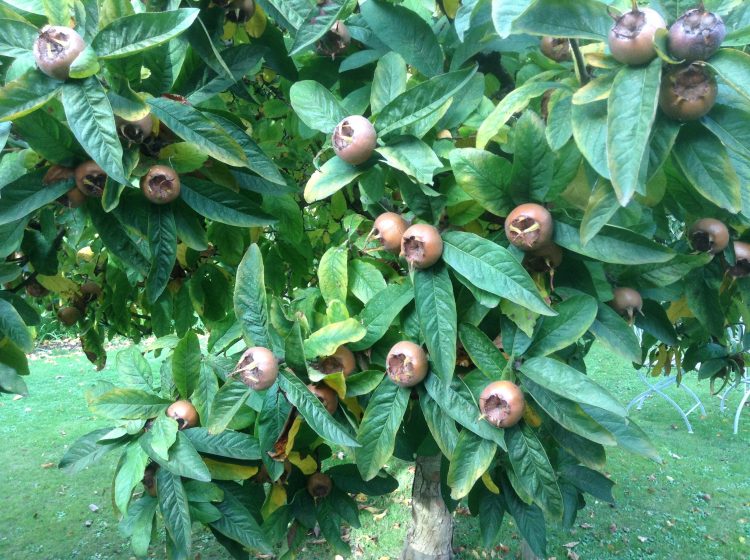 The quinces were HUGE and, as they were selling them in the shop, I bought three to make some quince jelly. 🙂
---
Time for my next painting project visit today – moving a bit further up the River Stour to Sudbury, and the lovely water meadows. After a grey start to the day the sun came out! I parked in the station car-park and walked along the 'Valley Path'.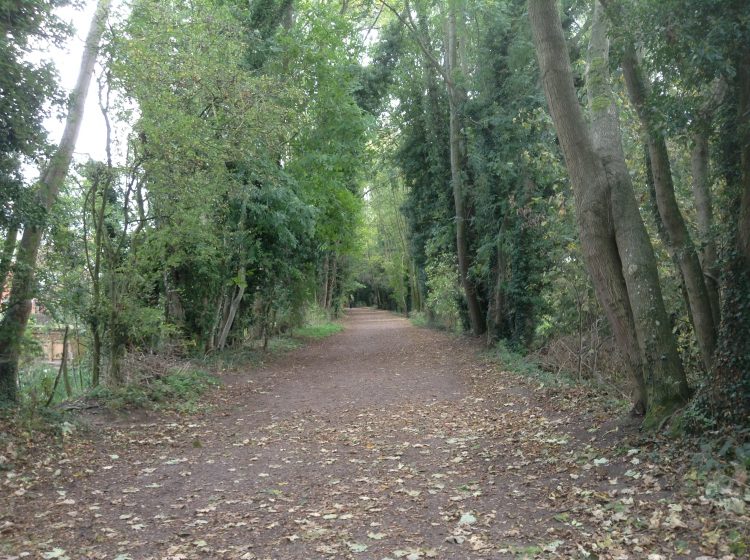 There are a number of paths off to the left down into the meadows. I walked across the meadows to the river which is wide here, and clear of any weeds or reeds growing in the main flow of the water. It's school half term, and a number of canoes and rowing boats went past with assorted families enjoying the river. I had a lovely walk along the river, drawing and taking photos.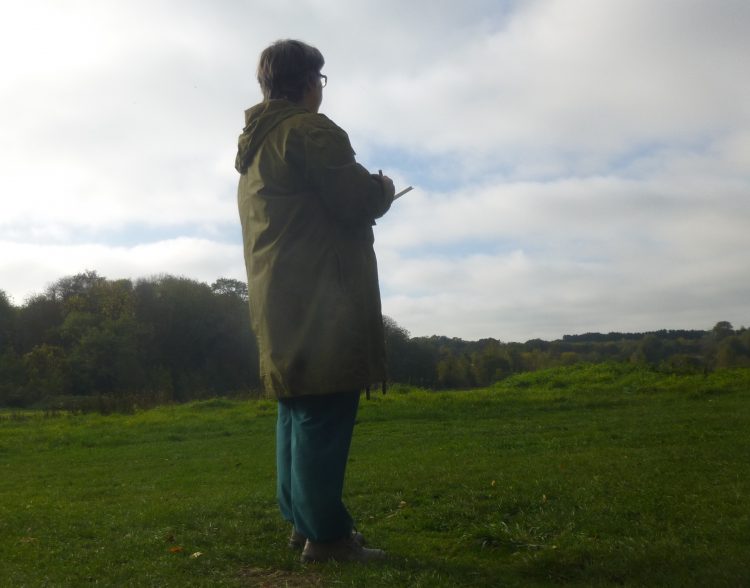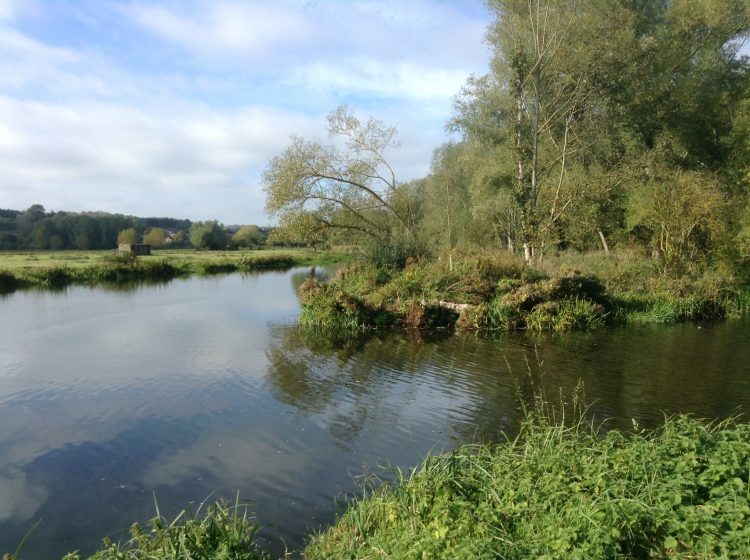 Walking up into the town centre when I'd finished drawing I was struck by the tower of St Peter's church , draped from top to bottom with poppies to commemorate 100 years since the end of the First World War.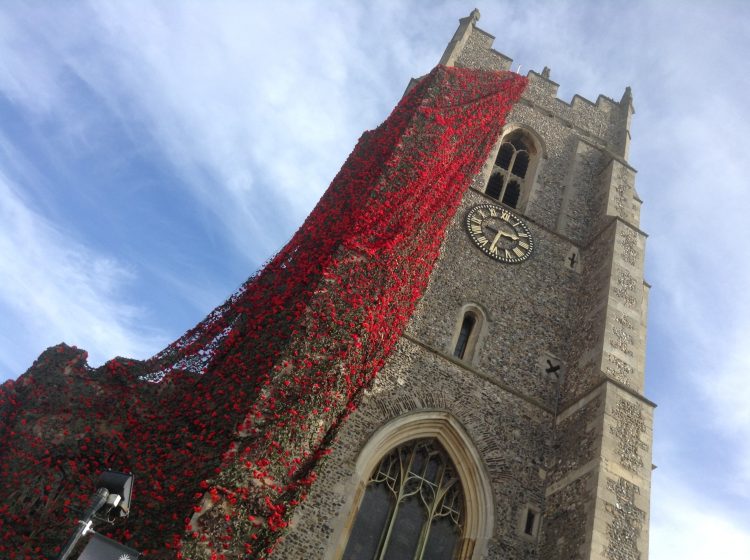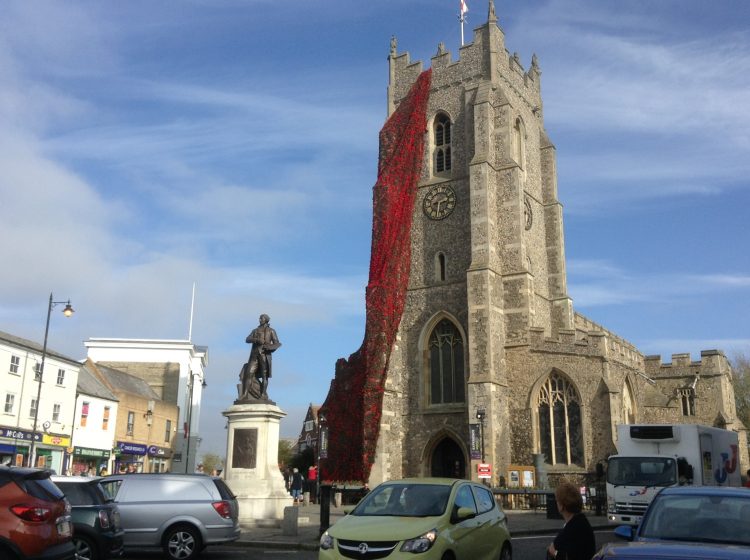 St Peter's church with the statue of Thomas Gainsborough in front of it. I'll share some photos of Gainsborough's House tomorrow.
And in my studio: I think I've finished Boxted Mill: Summer which is the last 'summer' painting in my Four Seasons on the Stour series. I just want to have a good look at it in daylight tomorrow before I say definitely finished! Next up will be Bures. Still quite a bit of catching up to do . . .
Hope your week is going well. 🙂
---
I've often thought the exhibitions at the Mall Galleries sounded interesting, but have never got round to going until today!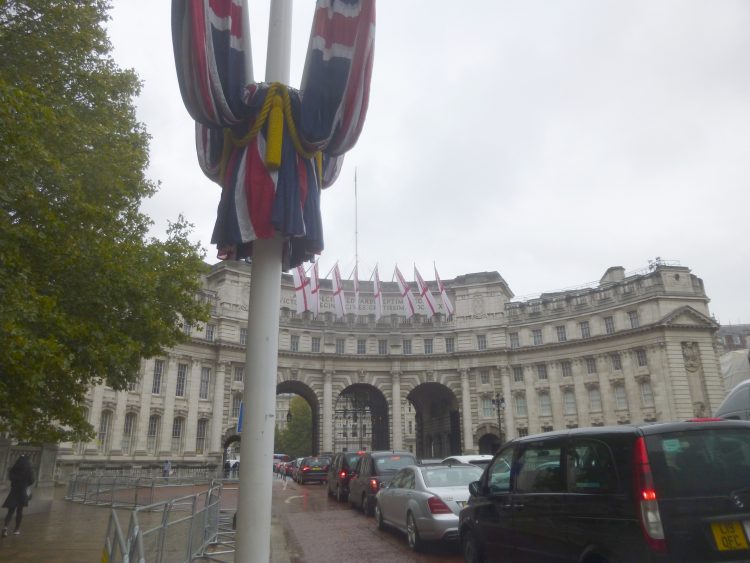 Graham and I went up to see the Royal Society of Marine Artists' exhibition. It was a grey drizzly day in London, but coffee and cake in Café Concerto, at the end of Northumberland Avenue, brightened things up. And then the exhibition in the Mall Galleries was amazing! There were about 400 works on show, and the standard was extremely high. Everywhere we looked there were really stunning paintings.
Here are some of my favourites. Apologies for the rather wonky photos.
The show finishes on 20th October, so not much time to catch it, but it's definitely one to watch out for next year!
In my studio: Not a great deal is happening! I've made a little start on Boxted Mill, but I'm trying to catch up on five Notarial Faculties which I put on hold during the week that I was in Woodbridge – and also decorate my hall, stairs and landing – not enough hours in the day is really the problem! 🙂
---
Yes, that's right – we're over half way through our exhibition at Artspace in Woodbridge! Three more days to go – we close at 5pm on Wednesday afternoon.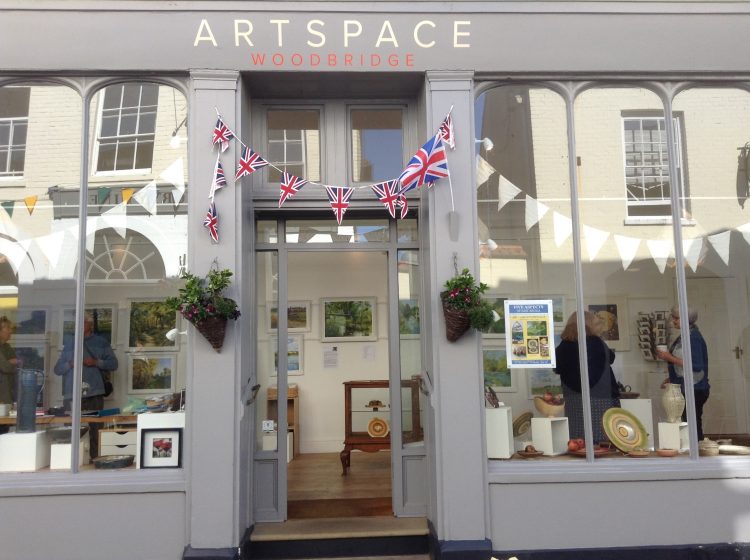 We have had lots of lovely visitors, sales and very interesting conversations – and amongst our visitors have been a number of delightful dogs! I was very taken with a King Charles spaniel yesterday – a little rescue girl called Darcy, and today we had a very pretty whippet /collie cross whose owner explained that her whippet half wanted to chase and kill, and her collie side wanted to herd and fetch so she had something of a personality confusion!
Here are a few shots of the show to give you an idea what it is like – but better still call in and see us: 64, The Thoroughfare, Woodbridge.
We have been very encouraged by the visitors who have commented that it is the best show they have seen so far in Artspace, so worth a trip to Woodbridge!
Hope you've had a good weekend despite of the cold and wet Saturday we had! 🙂