What a strange year it has been!
I've been thinking back over my 'art' year. In some ways it was so bad! And in some ways it was so good!
All the galleries have been closed for most of the year and I had to cancel both Open Studio events. That was bad. I  still have work in the Buckenham Gallery and the Church Street Gallery, but even when they have been allowed to open I imagine that the foot-fall was very low compared to normal, and I have sold nothing through a gallery all year. The Haylett's Gallery has actually given up its  real gallery venue in Maldon and has gone completely on-line which is a big disappointment.
I have sold some paintings from my gallery pages on this website, and a lot of cards, calendars and prints from my on-line Shop. That was good.
But what has been really good, and has kept me going all the year has been my painting project Twelve Months in an Essex Field. I have loved visiting the farm each month and seeing what had changed. I enjoyed learning to recognise new wildflowers, and seeing birds I had never seen before. I enjoyed watching the changes to the trees, and the field itself, and looking out for signs of the wildlife. And all that before I even come on to the paintings, and how much I enjoyed painting them. I hadn't really planned on doing the 'snippings' drawings, or the small  jam-jar paintings, but they became an important aspect of the project – and have in fact lead into one of my 2021 projects as you will see if you pop back tomorrow!
When I started to think about what a main painting project for 2021 might look like I had to think why was this year so good? My 2019 North Sea Project, and 2018 Four Seasons on the Stour were both fun but nothing like as absorbing.  I concluded that this year I have been going back to the same place each month so I was able to really get to know that environment and notice the monthly changes in great detail. And that made a huge difference. I bore that in mind when I planned my 2021 big project!
My Towers and Spires series got off to a good start, and I painted five churches – Marks Tey, Great Bromley, Brightlingsea, Stanway and Lexden. It became difficult to visit further afield during the lockdowns, especially to discover churches which had been suggested by other people but which didn't know myself. I felt I shouldn't really be driving around miles away, so the series rather ran out of steam, but I may paint a few more churches next year.
I added two more paintings to my Landlines series in 2020 – both railway related! The branch line running along the edge of The Field became one subject, and the huge viaduct at Chappel, which was suggested to me by one of my Instagram followers, became a second. If I come across another suitable subject I will continue the series – I'm up to Landlines 11 now!
So, looking back, and then looking forwards, I have three new art projects for the next year, which I will write about tomorrow. If you get my email newsletter you will know already! I am excited to start all of them, and have made sure that Tier 4 restrictions – or even another lockdown – will not stop me working on them. I've ordered some new art materials this afternoon ready for one of the projects  . . .
As this year ends I wish you all, lovely blog readers, a safe and healthy year in 2021 – a year which will gradually fill up (as the vaccine rolls out!) with all the people, activities and places that we have missed during 2020! 🙂
---
It was a bright morning today, so I took the opportunity to re-photograph all twelve of the Snippings drawings from the Essex Field. They needed to be taken in the same light conditions so that the overall colour was the same throughout the series. I thought you might like to see them all together!
So this is January, February, March and April, clockwise from top left –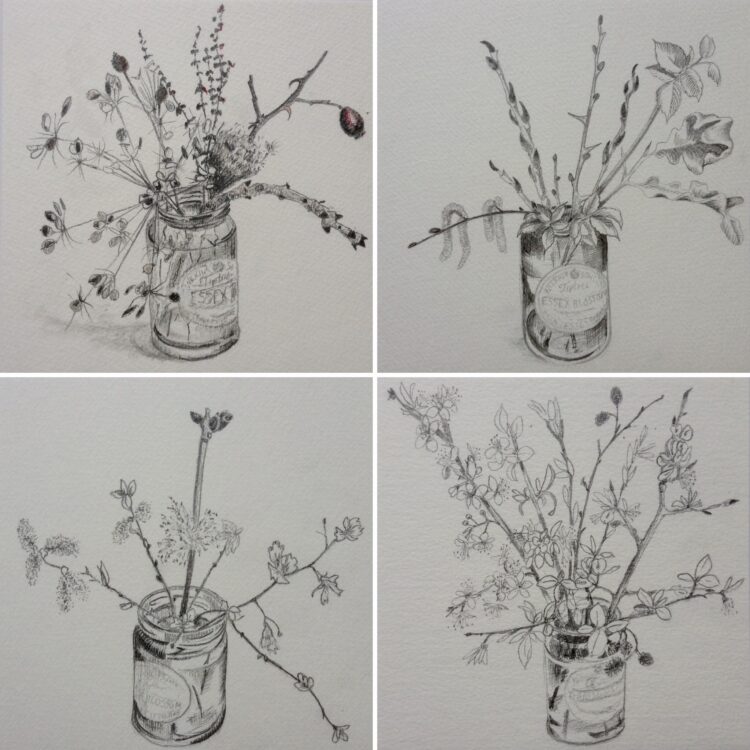 Here is May, June, July and August, clockwise from top left –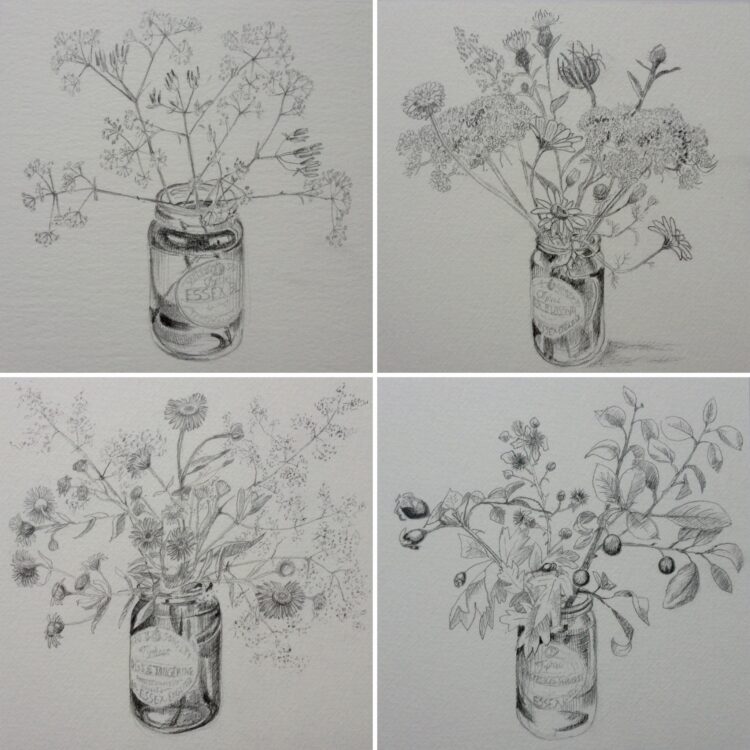 And September, October, November and December, clockwise from top left –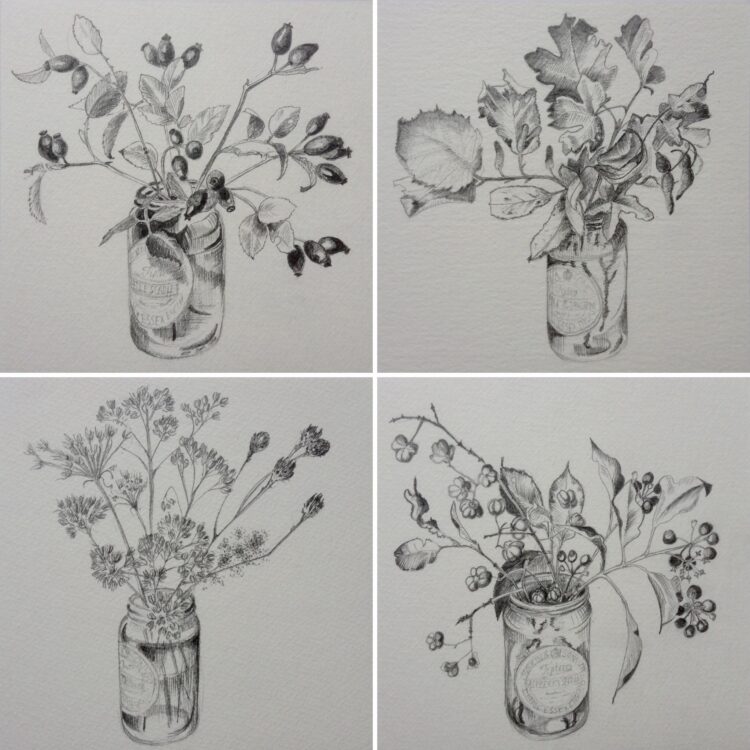 The actual drawings are on a pale cream paper, which curiously is interpreted by the camera to pale grey! Very strange!
I will be having some greetings cards printed from the images, and also some coasters made. Before I do that I may try photographing them again in a brighter light a bit later in the Spring . . . . But this does give an idea of the whole series for now. The original drawings will be mounted in a pale cream mount which is just a shade darker than the paper, and framed in a narrow dark graphite grey frame.
---
This is the last tiny drawing of snippings brought home from my field.
This time it was seed heads from Common Knapweed, Wild Carrot, Agrimony, and – I think – Wild Parsnip. As they were all dried anyway they have been sitting in a jam-jar since I made my last field visit over a fortnight ago, and I only got round to drawing them last night!
I had planned to re-photograph all twelve of the snippings drawings today. Although they are all drawn on the same paper with the same pencil – 18cm square of Bockingford, and a 2B lead in a propelling pencil – the drawings look totally different colours as  the light conditions differed so much during the year as I have photographed them month by month. However, today did not co-operate with my plan! It never really got light. Dark and overcast all day long. I will try again tomorrow . . .  when we are forecast snow. Snow light would be excellent.
My last little extra painting was of a few twigs of Spindle in a Tiptree jam-jar. I finished it over a month ago, but have just realised I've never posted it! So here it is . . .
So that is the whole project Twelve Months in an Essex Field finished! On New Year's Eve I will be blogging some reflections on the year. 
I hope you all managed to have a reasonably good Christmas, despite all the restrictions. Today I decided that was it! – the decorations and cards all came down, and the tree is now back out in the garden!
I had a clear up and started planning my next year's painting project in a bit more detail. I've been thinking about it for weeks, and have settled on a big project, a smaller project and a new technique to learn. Roll on the new year! Pop back in on 1st January for all the details!
---
Yesterday I finished the last painting in my 2020 painting project Twelve Months in an Essex Field, and here it is!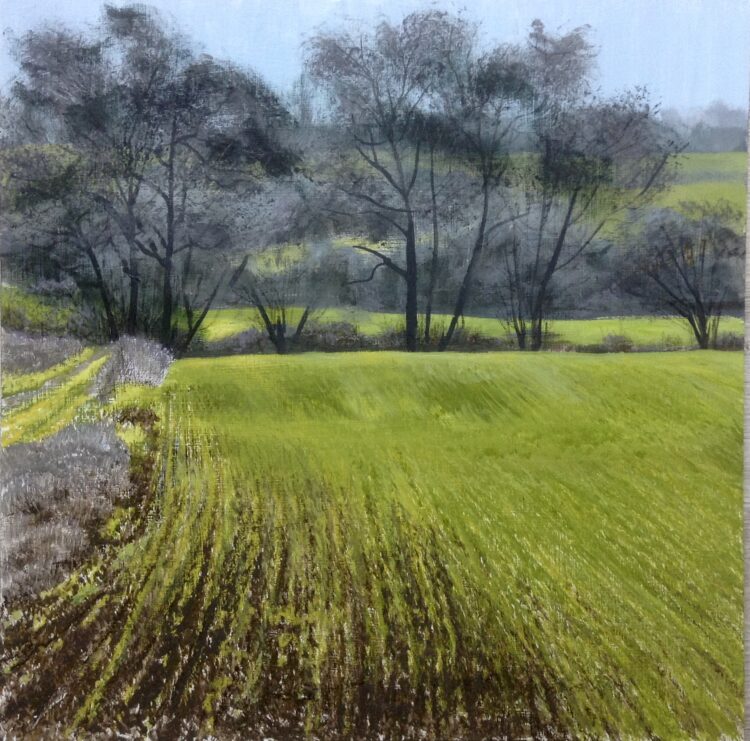 This is the view looking down the eastern side of the field towards the Roman River, with the rye coming up well and the trees by the river completely bare. The more distant fields going up the slope on the other side of the river valley can be seen faintly through the bare branches.
I just have my December snippings drawing to do – all dried seed heads, so they're not coming to any harm! – and then I have completed the whole project. There will just be the little task of the book to put together . . . But I am really looking forward to doing that. In view of the announcements last night about the Covid situation I think I will be rather glad to have an absorbing job to do in the next few weeks.
Hope you are all OK. Christmas will be very strange this year, but we will get through it, enjoying what we can. It is the winter solstice tomorrow – the shortest day – and the light will start returning a tiny step at a time. 🙂
---
It was a nice bright morning – after two days of rain – so I set off on my last visit to The Field. Underfoot it was not so much muddy as flooded in places! Walking down the edge of the cows' meadow to cross over the railway bridge I was ankle deep in water! Thank goodness for wellingtons . . .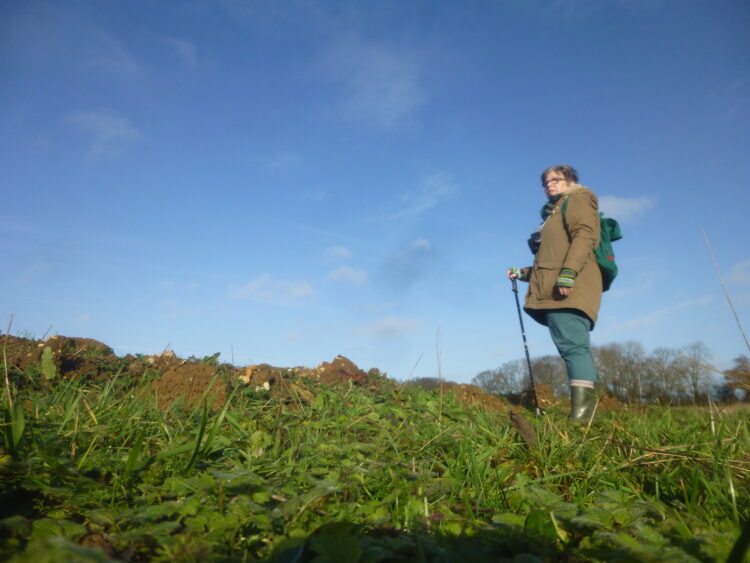 The big oaks along the railway cutting are almost completely bare now, just the odd brown leaf hanging on.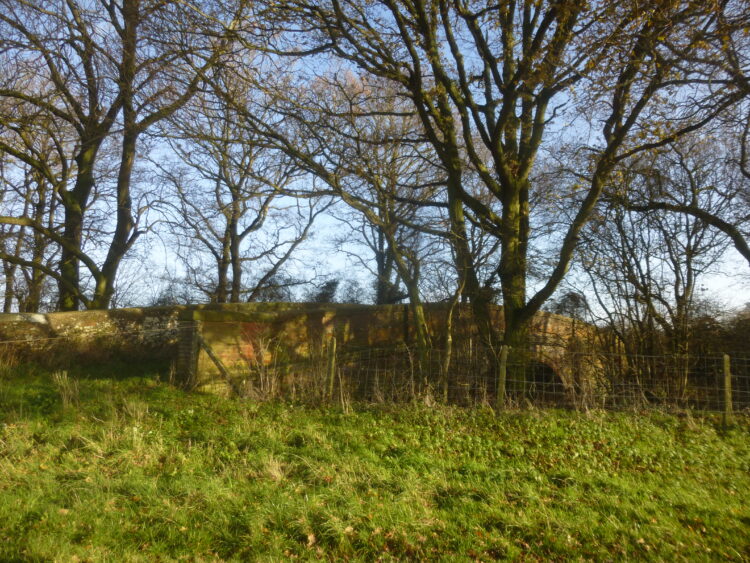 The buzzard took a spin round the bottom of the field just as I arrived, and a flock of woodpigeons periodically surged into the air and then re-roosted in the big willows by the river. While I was standing drawing a magpie hurtled out of the hedge behind me, thought better of it and hurtled back in!
I walked along the top of the field, by the  big hedge along the railway cutting. The ground was covered in rusty brown oak leaves. Between the path along the field margin and the edge of the cultivated ground stood a thick edging of common knapweed and wild carrot, all dark brown, brittle and gone to seed. There were a few red rose hips hanging on in the hedge. Other than that, the colours were the bright green of the young rye and the margin grass, and the dark brownish grey of the mature trees and hedges against the pale watercolour of the sky.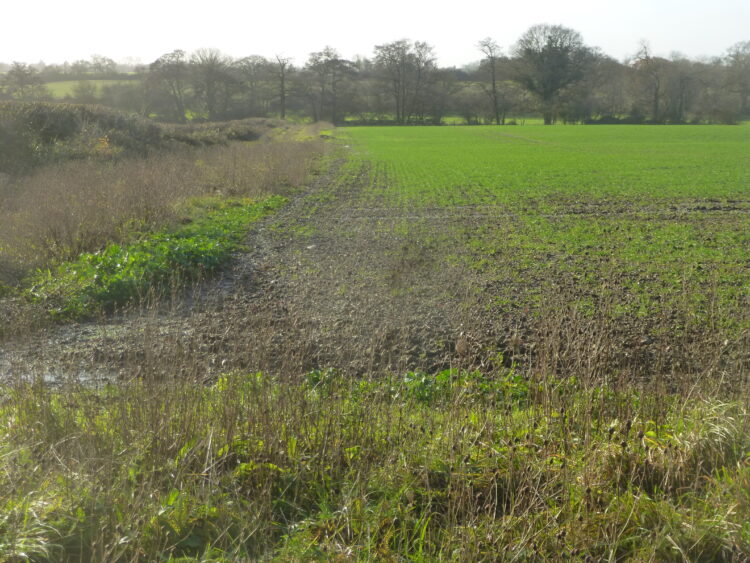 The hedge, between Martins field and How Hill to the east, had been cut back. The ditch alongside it was cleared out. It had been so overgrown with brambles that I had never realised before that there was a ditch. This morning I could hear the water gurgling and pouring down the slope towards the river. Where the tractor had driven down this field margin it had left tracks along which it was easy to walk.
As I left Martins field and walked back along the top of How Hill, the soft mud was imprinted with the hooves of the big deer and the little deer, and the long-clawed paws of the badgers.
One more painting to do, one more 'snippings' drawing to draw, and possibly one more little extra painting to do  – and then my 2020 painting project will be over.
Thank you to those who ordered items from my shop during my Online Open Studio Week. There are just two calendars left if anyone would like one.
Keep safe! 🙂