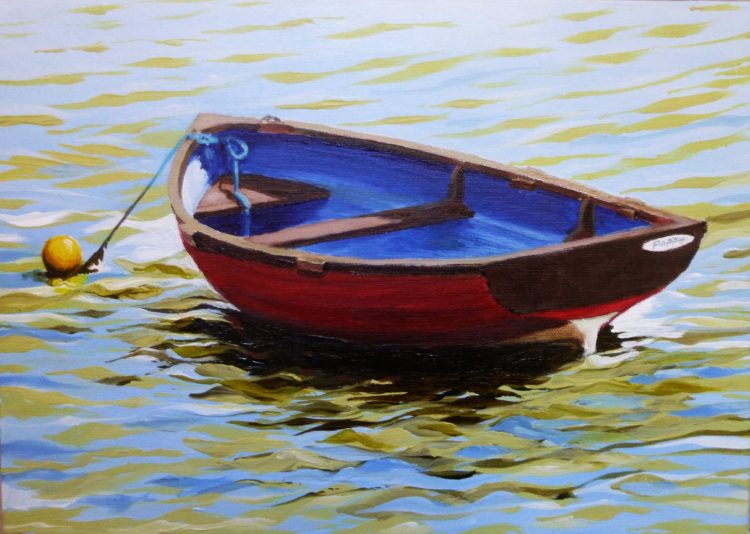 The last day of May, so time for the next canvas print. This one is from another painting of the little red dinghy, Poppy, at Heybridge Basin on the River Blackwater. As usual all the details are on the Canvas Prints page of this website.
Just a reminder, that the price of my canvas prints will be going up after 10th June, so if you'd like one at the old price now is the time to act!
It really doesn't feel like the end of May – we had a tremendous storm in the night, with thunder and heavy rain and strong winds. My first job after I came home from my violin lesson this morning was to tie my white climbing rose, Madame Alfred Carriere, back up to her trellis – the wind had whipped the stems around to such an extent that the wires had broken and the whole thing was thrashing about. I'm really hoping that June is going to get a bit warmer and calmer!
Happy June! 🙂
(Third update from my Wiltshire trip tomorrow.)
---
It would be hard to find an area of the country better endowed with sites of historic interest. Avebury and its surroundings, is a World Heritage Site, and in between walking I visited most of the venues.
Long before I booked to go to Wiltshire I read Adam Thorpe's fascinating book, 'On Silbury Hill', but the first sight of the actual hill is still astonishing!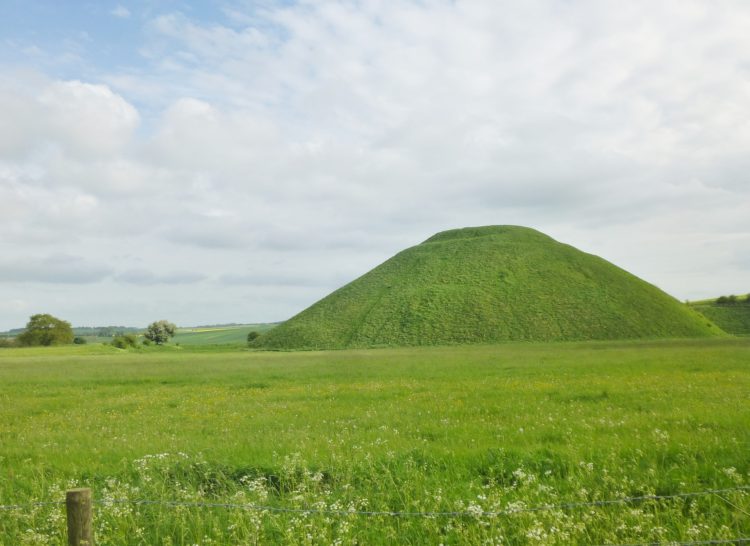 When it was built, at the same time as the Egyptian pyramids, it would have been completely white as it is built from blocks of chalk, though what it's purpose was is not clear.
The village of Avebury is completely enclosed by a henge and circle of giant sarsen stones, some of which are now missing and replaced by markers, but many are still there, and some have actually never been disturbed since Neolithic times when the circle was constructed and the deep henge ditch was dug out – all with antler picks!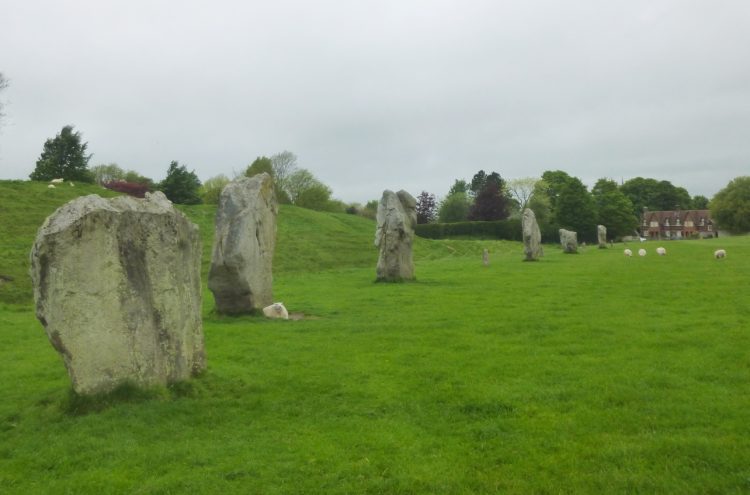 West Kennet Avenue is a green lane, leading up to the Avebury circle, almost certainly used as a processional route, and marked with huge standing stones on either side – often in pairs; one of the pair is a tall column, and the other a wider diamond shape, and they are thought to represent male and female – although why? no-one really knows.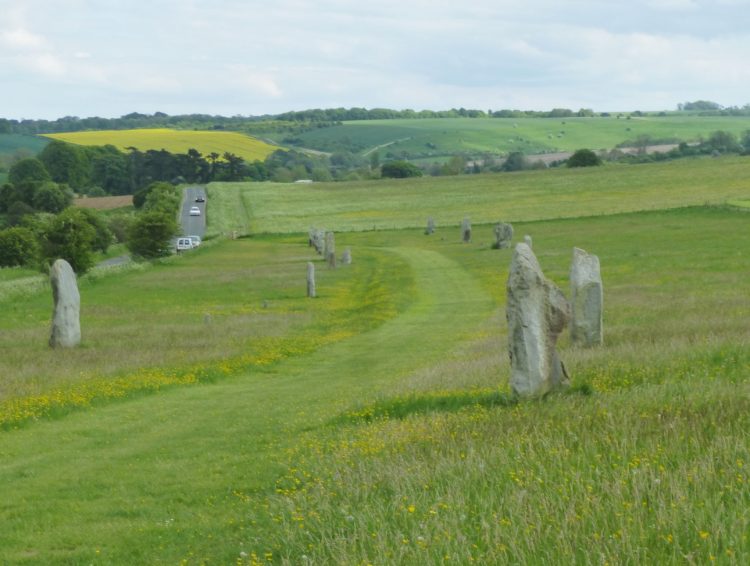 The oldest site of all, established more than five and a half thousand years ago, is Windmill Hill. There are three circle ditches, which now have two Iron Age barrows in them of a much later date, and on this dome shaped hill there is not now really much to be seen from the ground. But I went anyway, and it was a good walk!
I visited some more interesting places while I was in Wiltshire – some more pics tomorrow! 🙂
---
Just back from a week in Wiltshire, partly spent walking some sections of The Ridgeway, an ancient track-way which is now a National Trail, drawing and taking LOTS of photographs, as I intend to do a series of Ridgeway paintings!
It was wonderfully peaceful – the white chalk track stretching up the slopes, the vast skies, the wind, the bright fields of oilseed rape, the cowslips thick on the slopes, blue birds eye and red campions, and billowing waves of cow parsley everywhere.
I saw five Red Kites in different places on my walks, and rooks in huge masses – the beech hangers which particularly featured in the stretch between Hackpen Hill and Barbury Castle (an Iron Age hill fort) where raucous with rooks!
The hedges were heavy and white with may blossom and the sky full of skylarks singing. There were long stretches when I could hear nothing but my own footsteps and the song of the skylarks.
. . . and when I climbed up to the top, I could see that the ditches were thick with cowslips!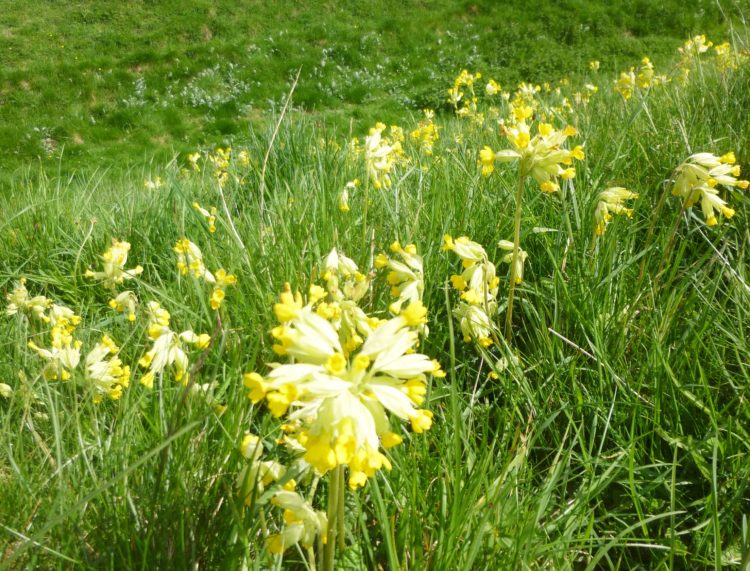 The last stretch that I walked, Smeathe's Ridge, between Barbury Castle and Ogbourne St George, really brought home why the Ridgeway is called the Ridgeway. It is just that – high ridge of ground, totally exposed with no trees, and the land falling quite steeply away on either side. And the wind!
I fitted in lots of other things during my week in Wiltshire – second instalment tomorrow! 🙂
---
I've been really busy since we wrapped up all the admin for the Festival about a week ago. Fifteen paintings framed, and two Ecclesiastical Faculties done and in the post to the Faculty Office!
I now have  twenty-one paintings that are destined for the Naze Tower Gallery for my solo show, all labelled and in bubble wrap in a big stack in my dining room. What did we do before we had bubble wrap . . .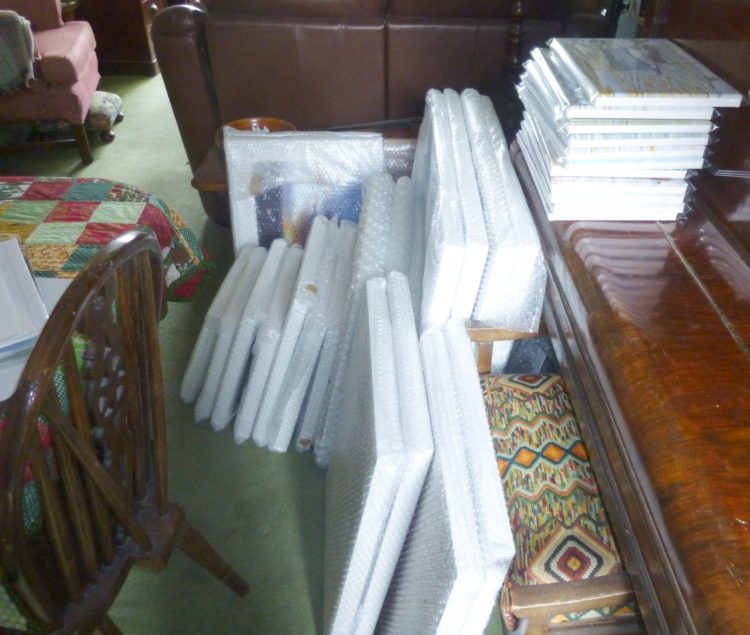 On the edge of the piano you can see a pile of new canvas prints which will be going to the Naze Tower Gallery, too – wrapped up, but still waiting to be labelled. There will also be new greetings cards for sale in the shop at the bottom of the Tower. Everything has to be taken over on 6th June – Liberty Bell -X (my Land Rover) will be loaded high!
Thinking about canvas prints, I realise that I completely forgot to add my new monthly print for the end of April. April 30th was the first Saturday of the Lexden Arts Festival, and I was completely in Festival mode so it never occurred to me! As it is closer to the end of May now I'm just going to skip that one, but will be adding a new print on the last day of May.
Unfortunately, I'm having to put up the price of the canvas prints, as my supplier has increased their price by quite a lot! They will remain at £25.00 (including postage to UK mainland) until the start of the Naze Tower exhibition on 11th June, and from then the price will increase to £28.00. So if you'd like one at the old price, now is the time!
I've got an exciting week coming up – I'll share all about it in due course! 🙂
---
The weather this morning was just perfect for my May visit to the wood, so I made an early-ish start and was there by 9.00am. The wood seemed noticeably darker than last month as the leaf canopy is much fuller now, and the sunlight was coming through in patches.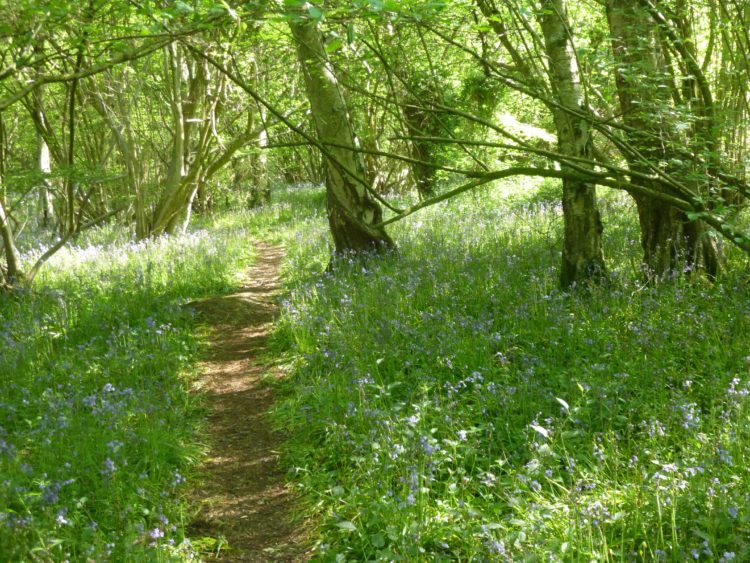 The bluebells are still going strong, but have become rather a grey-blue now, and are definitely past their best. In places the curling fronds of bracken are rising up above the bluebells, and in many areas of the wood sheets of stitchwort scattered with red campions fill the spaces between the trees.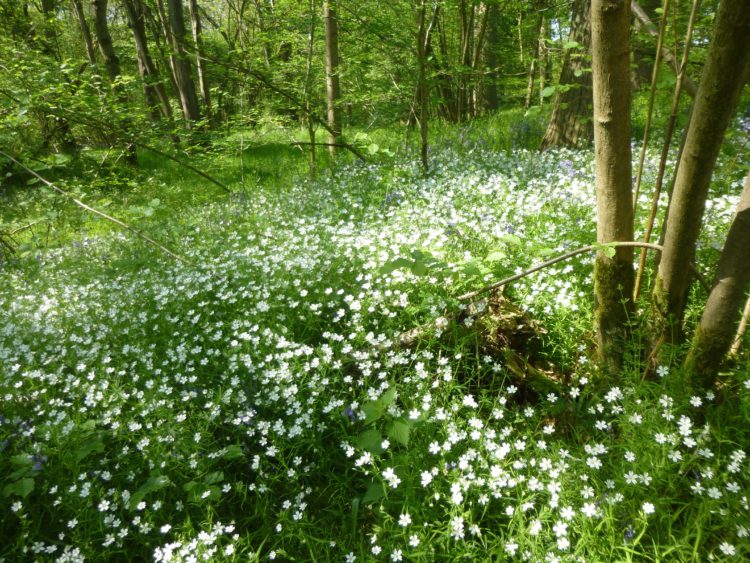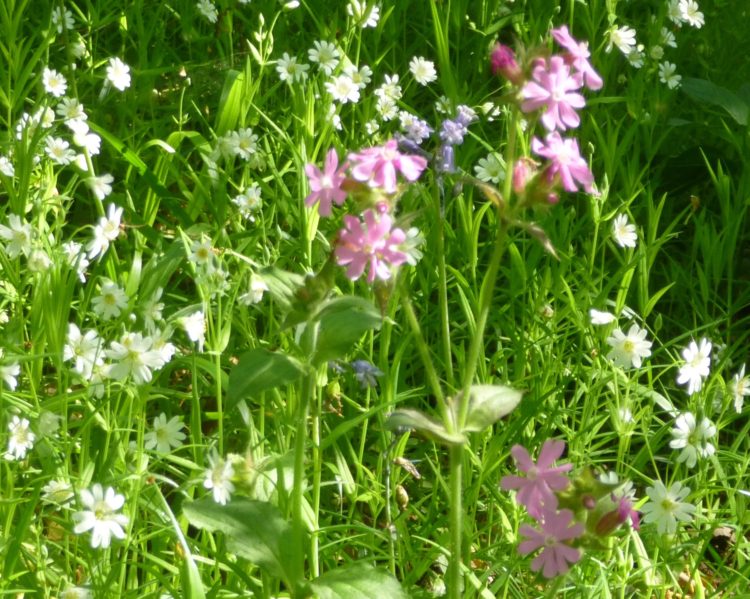 The tree canopy and undergrowth were positively explosive with bird song coming from all directions – nightingales and cuckoos, great tits, jackdaws, pheasants, blackbirds. But mostly nightingales and cuckoos. Completely magical!
The yellow of the new oak leaves is bright green now. The hawthorn is in flower and the elder soon will be. At the edge of the wood the yellow oil seed rape fields are still creating a wonderful contrast with the colours in the wood which are much greener and less golden than last month.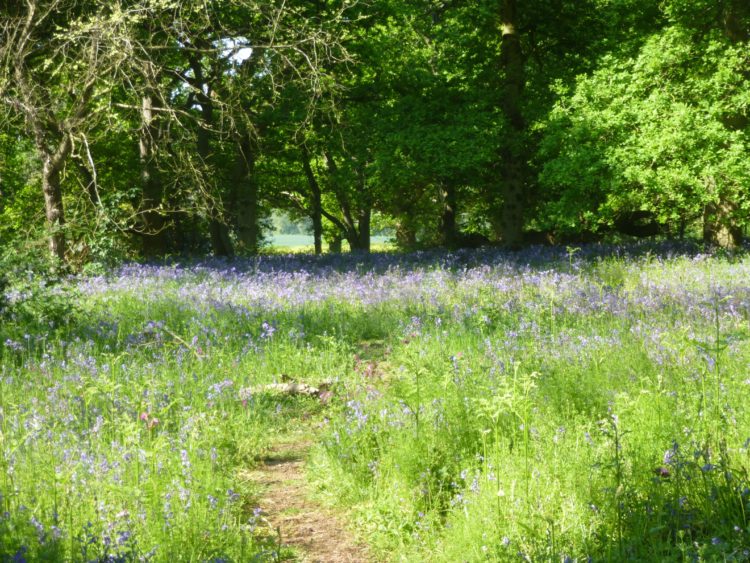 I already have a good idea what the subject of my BIG painting will be – but as I haven't painted the small one for April yet it will be a while before I start it!
I hope you are able to get out somewhere green to enjoy the spring this weekend. 🙂
---
I have just about surfaced now, from the wonderful week we had this year with Lexden Arts Festival. We finished the Festival in fine style, with a brilliant storytelling evening from Hugh Lupton on Friday, followed by a beautiful concert from the Suffolk Villages Festival Soloists on the last Saturday. And just to put the icing on the cake, the last Saturday was one of the best days for sales in the Exhibition! I can only think that people had been mulling over a purchase all the week, and suddenly thought 'If we don't buy it now it will be gone!'.
Here are a few last photos and thoughts.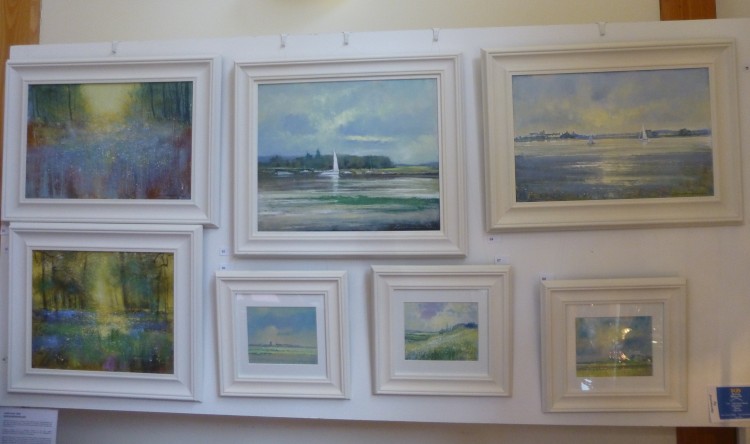 Jonathan Trim was by far our most popular exhibitor ever, selling a magnificent £2555 worth of work – and we have asked him to show with us again next year!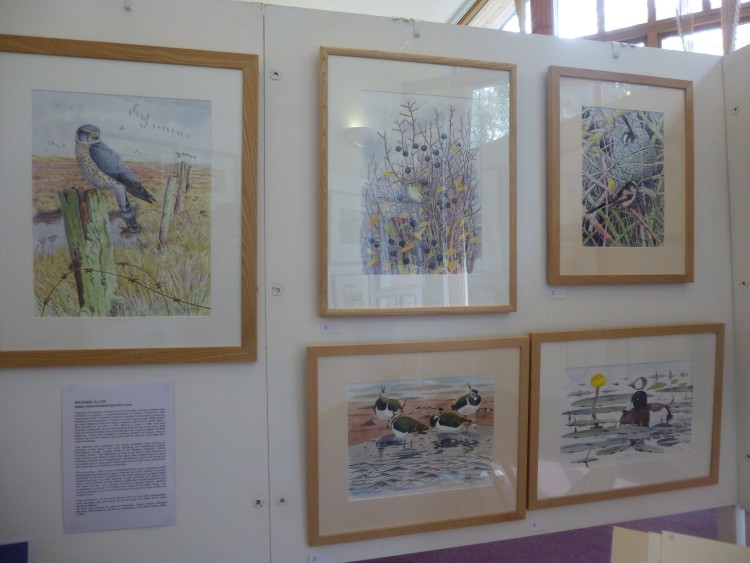 Richard Allen was also very popular and is also showing with us again in 2017, as is . . . .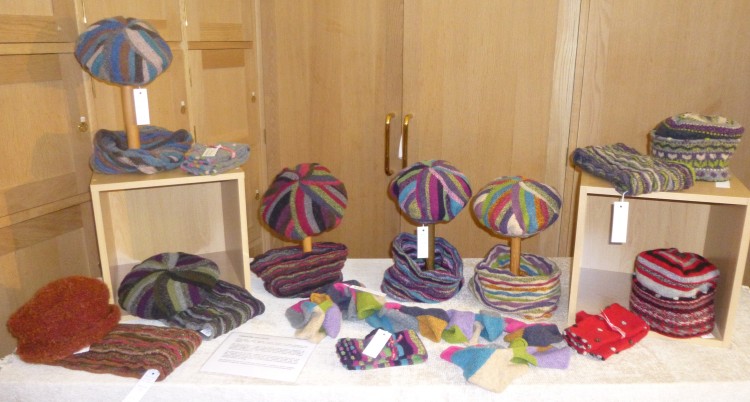 . . . knitwear designer Caroline Sullivan, whose work simply flew out of the door!
That means we have eleven new exhibitors to find for the next Festival, which will be fun.
All day Sunday was spent in dismantling and re-arranging the rooms that we use back to their normal state, and turning the back of the church from Len's Café into . . . the back of the church!
I have been delivering raffle prizes and writing all the cheques for the artists – and enjoying looking at the lovely book of Ravilious' etchings which Tim Mainstone gave me last Wednesday.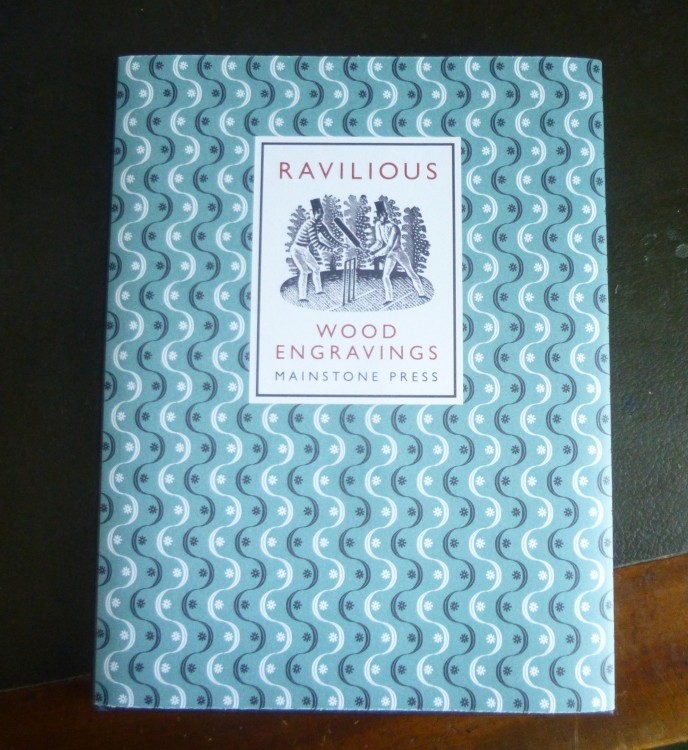 And now that we have just about wrapped up the Festival I am turning my attention to my solo show at the Naze Tower Gallery, which is less than a month away, and have been making a start on framing the last batch of paintings, including the four big Essex Wood paintings completed so far.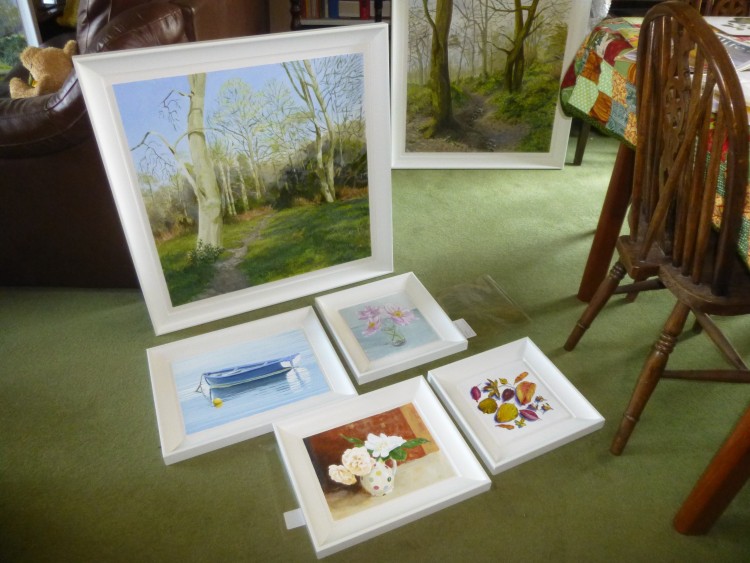 AND I've re-photographed Essex Wood: April to try to get the representation of the bluebell colour a more accurate match for the actual painting. Go over to the Gallery 2016 page to have a look.
Hope you're enjoying the sunshine! Friday tomorrow! 🙂
---
Yesterday – Wednesday – half way through the Festival! The day got off to a great start as I sold Rob Wheeler's biggest pot, and more of Caroline Sullivan's designer knitwear within 15 minutes of opening up in the morning!
The whole day was good, but our evening event was brilliant! James Russell came from Bristol to give a lecture called 'Eric Ravilious and Edward Bawden: An Artistic Friendship' – and the church was full. It was a fascinating talk, which everyone enjoyed, and some of the illustrations I had never seen before. It was lovely to see some of our current exhibiting artists there – Anne Townshend, Tracey Saunders and Penny Bhadresa – and also some artist friends from previous years – printmaker Elizabeth Morris and potter Richard Baxter.
Amazingly we sold £800 of art work in the half hour interval, and James' publisher, Tim Mainstone of The Mainstone Press also sold lots of James' books on Ravilious. I was delighted, at the end of the evening, to be given a beautiful book on Ravilious' wood engravings by Tim!
I heard so many comments in the interval about how interesting the talk was, what a good speaker he is, and how much people were enjoying themselves, that we have already suggested to James Russell that a return visit to next year's Festival would be a Good Idea!
Here are a few photos of the Art Exhibition to finish with.
We are looking forward to Hugh Lupton's storytelling evening tomorrow for 'The Dreaming of Place' – this will be Hugh's third visit to the Festival – and, of course, to another good day today! The sun is shining and the sky is cloudless – that's a good start.
If you are in the locality, do drop by and see us – St Leonard's Church, Lexden Road, Lexden CO3 4BL. The café is open all day, so you could combine your browsing in the exhibition with coffee and home-made cake, or have a delicious lunch, with a glass of wine – or a pint of beer! – before your viewing. Don't forget to say hello! – I'm on the Reception desk all day 🙂
---
Lexden Arts Festival has got off to a great start this year. Having spent all last week working really hard, hanging the exhibition and setting everything up, we've now got to the fun part – welcoming all the visitors, selling lots of wonderful artwork, and enjoying the evening events that we have arranged.
The Private View on Friday evening was a lovely time, with most of the artists able to come, and lots of sales.
Last night we had the first of our evening events, with Hannah James' 'Jigdoll', which was absolutely amazing – even better than I was hoping. Everyone really enjoyed it, and we are hoping to book Hannah again for a future concert. She is such a talented, innovative and delightful performer.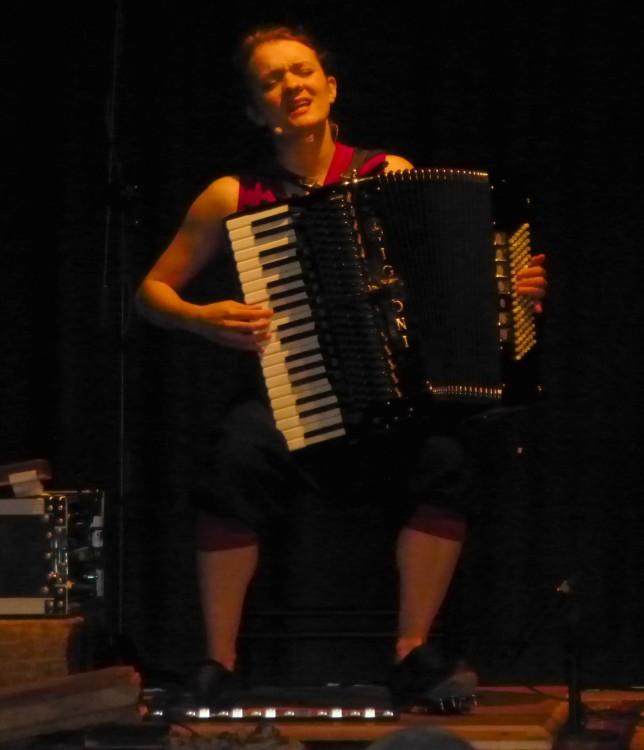 Tomorrow the Art Exhibition and our 'Len's Cafe' are open from 10.30am – 4.30pm with lunches being served from 12.30-2.30pm – if you are in the area do come and see us:)