A new dinghy painting on the website this evening, which I finished painting this afternoon. This is Blackwater Reflections II.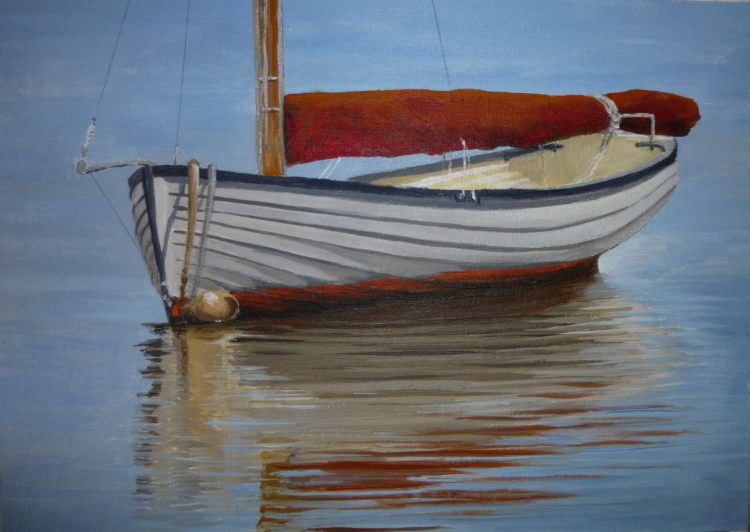 This is a dinghy from Heybridge Basin, near Maldon on the River Blackwater. It is actually the same little boat which features in Waiting for the Tide II. I like it because of the contrast between the warm rusty red of the sail cover and the keel of the boat, and the cool grey of the upper part of the hull.
My next painting to get started will be Essex Wood: September, as it's almost October. I primed up the board  this afternoon . . . 🙂
---
Just a quick post to say that I have another Open Studios weekend coming up tomorrow – open from 11.00am to 6.oopm on Saturday, 24th and Sunday, 25th.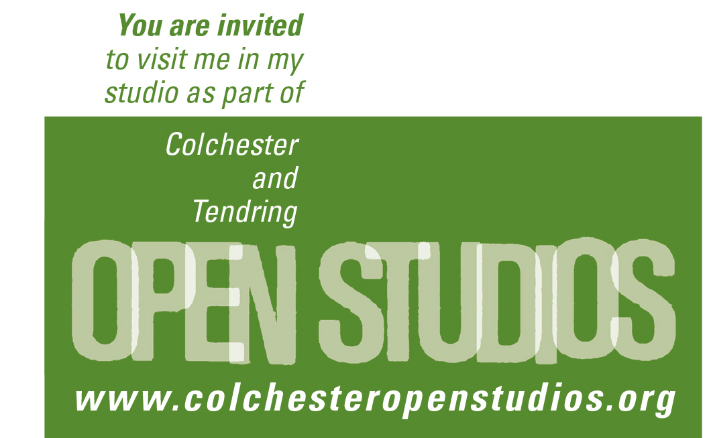 If you haven't been before, all the details including a map are on the Open Studios website shown above.
We had a good time last weekend, with some lovely visitors, and we are hoping this weekend will be just as good – if not better! If you are in the Colchester area, do drop in for a browse, a cuppa and a chat. There is lots to look at! Nineteen recent paintings including the Essex Wood series (except for April and May which are sold already),  four of the Peddars Way paintings, and the first in The Ridgeway series. Packs of 'Peddars Way' greetings cards, featuring the series of 5 Peddars Way paintings. Postcards – two different packs, one featuring landscape paintings, and the other some recent dinghies. My 'telephone box' Christmas cards – "Phone home for Christmas". Cotton tote bags and mugs with images from an assortment of different paintings printed on them. Two different designs of calendar for 2017. Canvas prints, and a huge assortment of other single greetings cards.
And there is NO obligation to buy, although quite a number of last weekend's visitors were stocking up with Christmas presents, as the mugs, calendars, canvas prints and bags would all be suitable as gifts.
So I hope to see some of you lovely blog readers over the weekend – do introduce yourselves!
And Happy Autumnal Equinox for yesterday – I hope you felt nicely balanced! 🙂
---
This morning – a lovely mild hazy-sunshine morning – I made my September visit to the wood.
The sides of the track were rusty with fallen leaves and the fields beside the track are stubble now.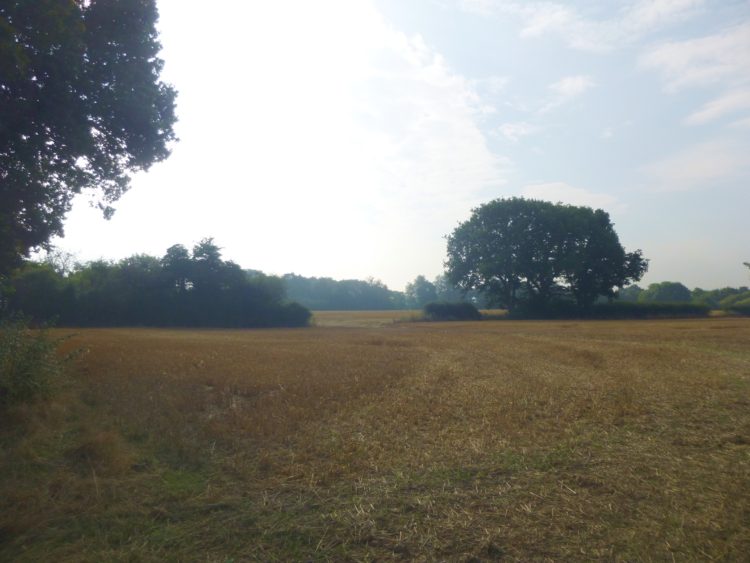 The hedges and trees are very dark, and made long shadows across the fields, which were criss-crossed with tyre marks from harvesting.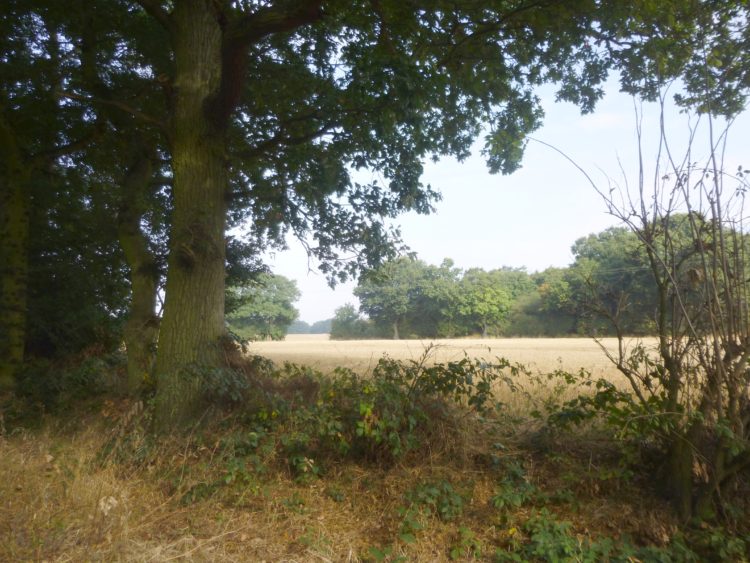 The sycamore trees are heavy with their pale 'keys', and the willow beside the track had dropped slender yellow leaves.
When a breeze stirred the branches there was a pattering storm of falling leaves.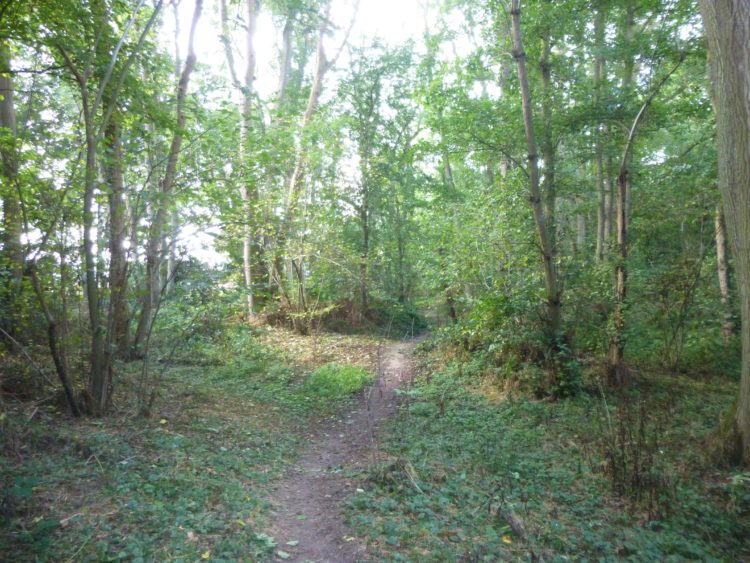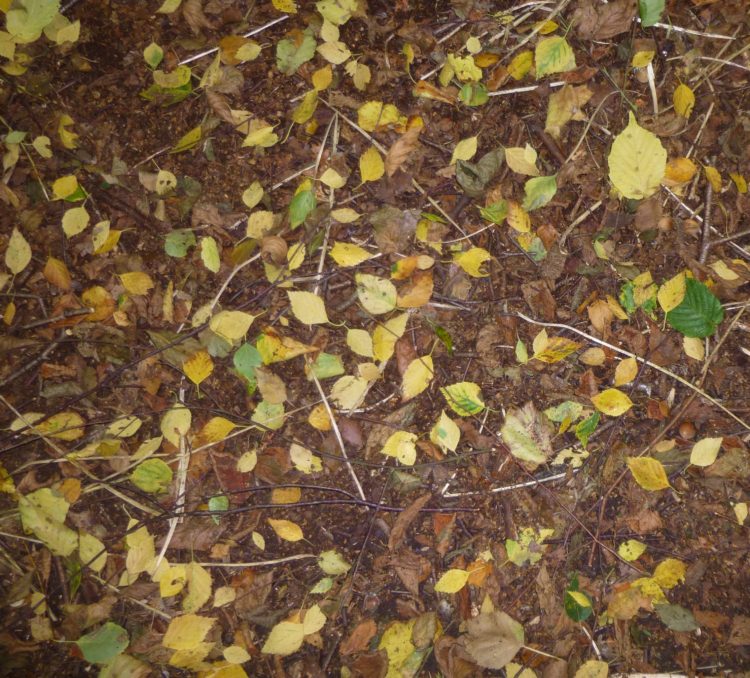 Acorns are beginning to drop along with a few prickly shells of sweet chestnut. I found a number of nibbled shells of hazel nuts. The hollies are thick with berries, which are just beginning to colour.
The stream around the northern edge of the wood was flowing fast, but the other streams have all dried up.
Coppiced hazel leaves are turning yellow and dropping, and the long, spiky edged sweet chestnut leaves are turning an pale ginger-y brown.
I walked down to the kissing gate at the southern entrance to the wood – the subject of Essex Wood: August – and then walked up the west side. There are three areas that I found cordoned off, in order that the habitat may have a chance to recover after the pressure of visitors over the spring and summer.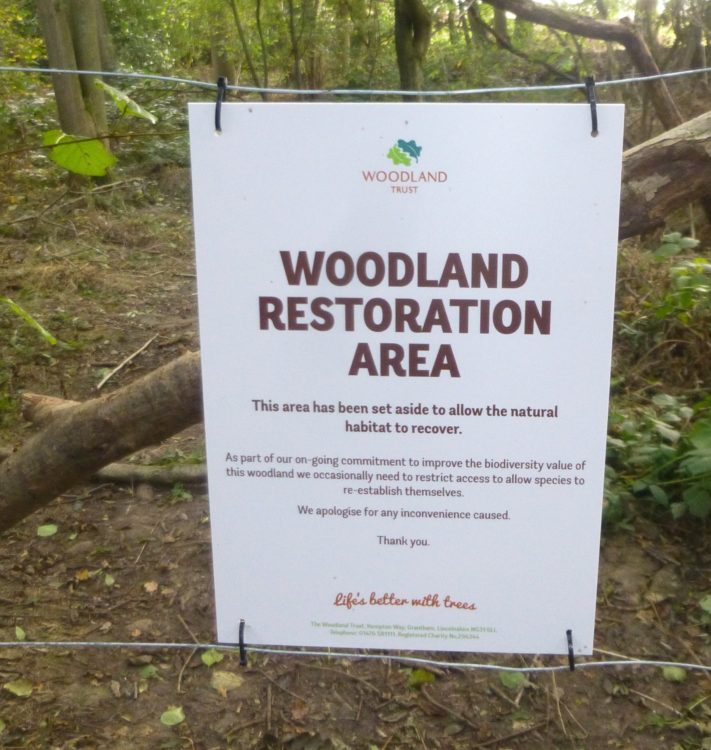 At one place in the wood the trees were twittering! A crowd of long tailed tits, swinging through the small branches and chatting to each other non-stop! I saw several busy squirrels, and the harrowed fields were white with seagulls, but no jays which I expected to see in the oaks. I think the acorns can't be sufficiently ripe yet to attract them.
This is what I brought back – my findings from the September wood!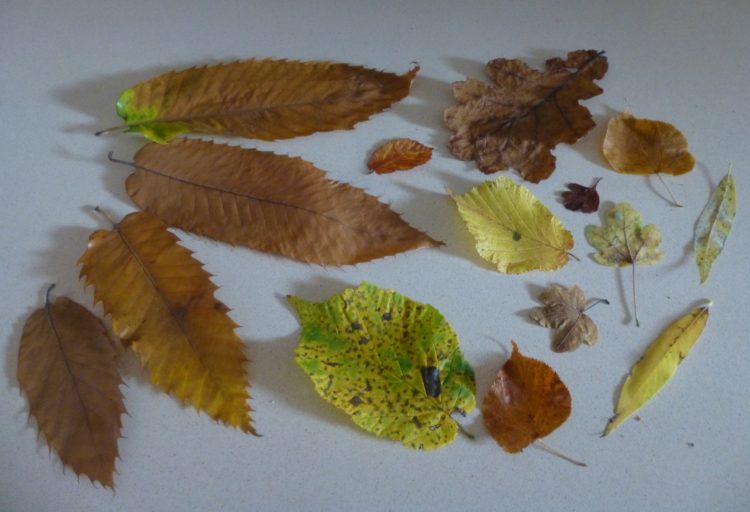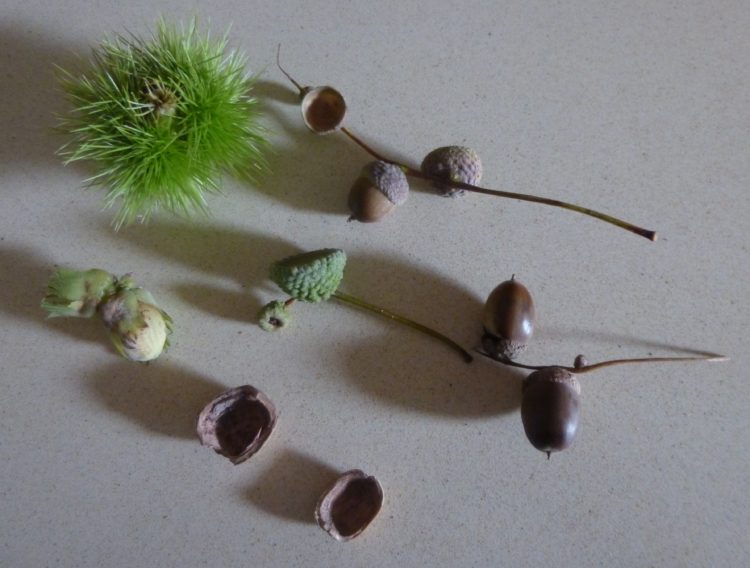 I think next month there will be real changes in the wood, but today it definitely had an autumnal feel. Happy autumnal equinox for tomorrow! 🙂
---
Yes – my first 'Open Studios 2016' weekend starts TOMORROW!!!
If you come you will be able to look inside my actual studio, but it is so small that two people would make it uncomfortably crowded! So – I convert my kitchen and dining room into a shop/gallery!
I've moved all the furniture, hung all the paintings, made all the labels, arranged all the cards, and mugs and bags and postcards, and Christmas card packs, and bought nice biscuits, and extra tea and coffee and milk . . . . in fact I think I'm ready! The only thing I haven't done is hung up the bunting, but it has been SO WET today that there wasn't a chance. It will be my first job in the morning.
Here are a few photos to give you a taster.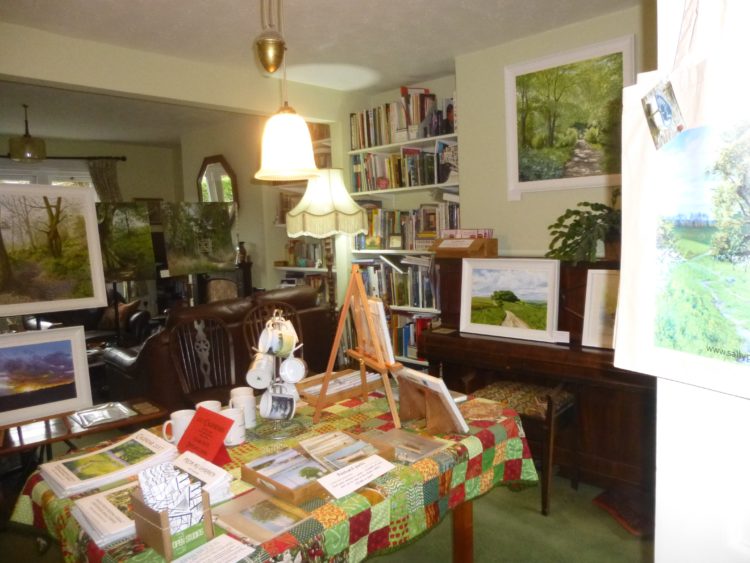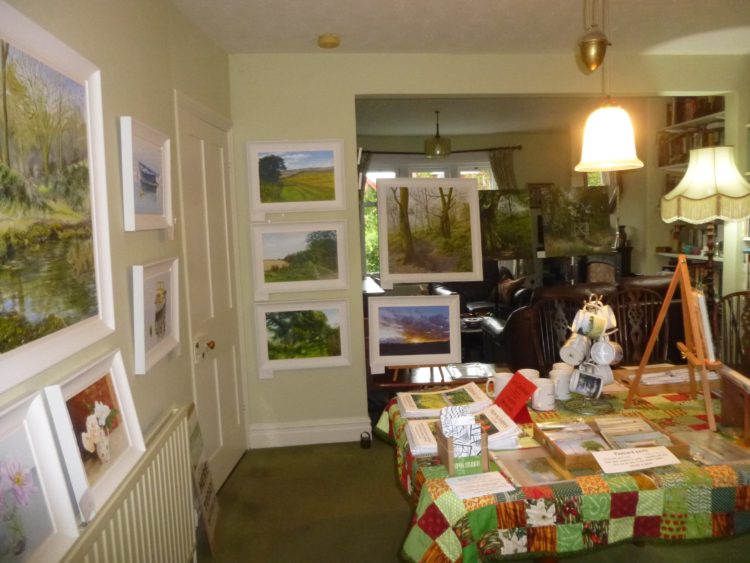 We – Graham is helping me, this is not the royal we! – are open tomorrow and Sunday from 11.00am – 6.00pm, and also next Saturday and Sunday at the same times. There is easy parking outside my house in Heath Road – look out for the easel with the Open Studios poster on it in front of my Land Rover in the drive. And the bunting!
Looking forward to seeing some of you over the weekend! 🙂
---
A bit late – but here it is! Number eight in my project series '12 Months in an Essex Wood'.
This is the most southerly entrance to the wood. It is, actually, the way I went in on my very first visit in January, having got a bit lost, and missed the track to the main entrance. Amazingly, I have never, since, found my way back to this little gate from the inside of the wood. Until my August visit! I went out onto the edge of the stubble field to do the drawing, and take the photos that led to this painting.
---
I've been really working hard on Essex Wood: August – and although it isn't finished it's getting there . . .
I think another two or three good sessions will finish it – rather belatedly as it is well into September! I want to have it finished for Open Studios next weekend, even though it won't be framed by then. Here are the progress shots so far!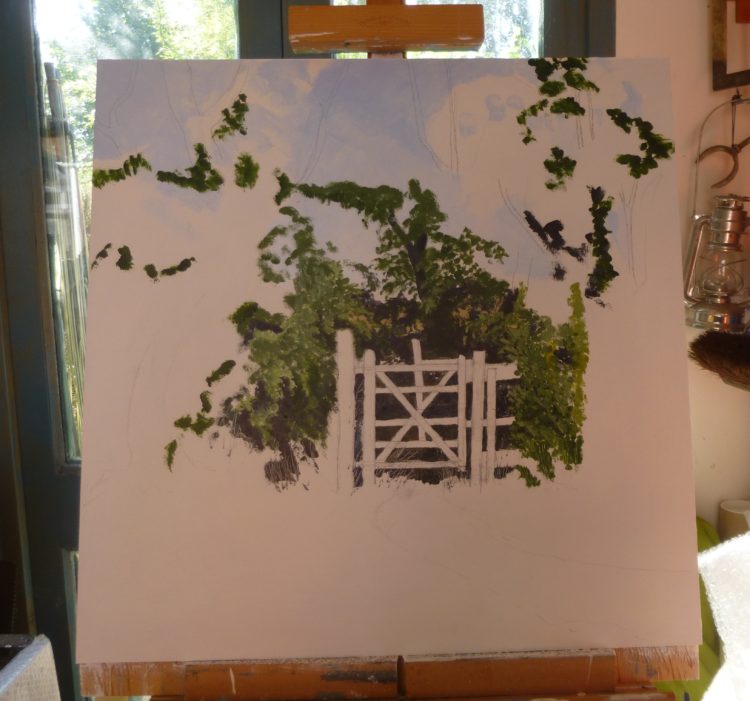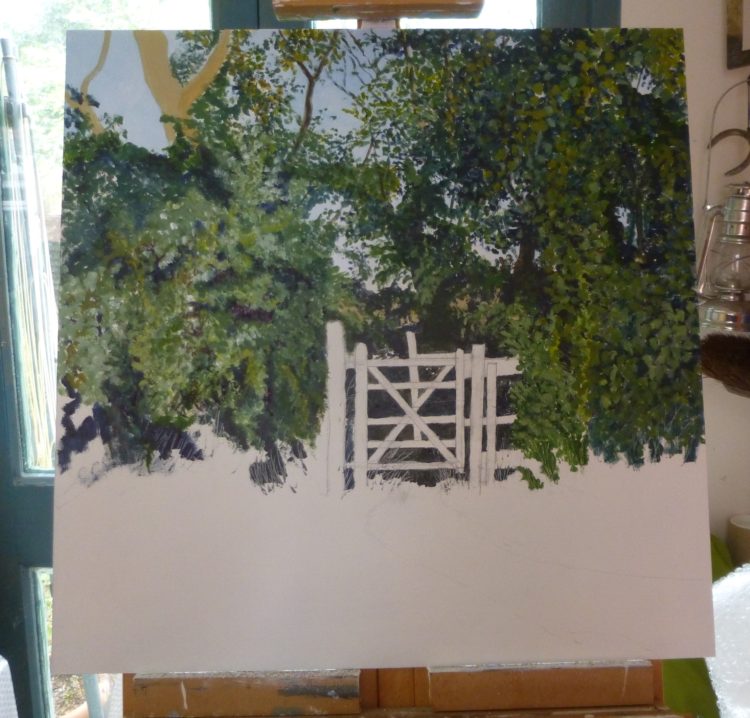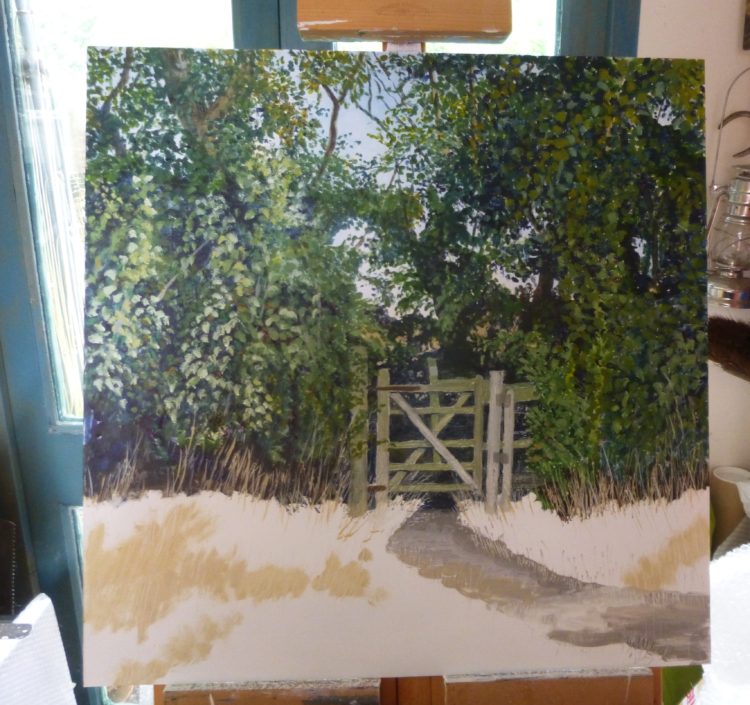 I spent some time this afternoon taking down all the pictures – mostly etchings – which usually hang in my dining room. They will stack up in the spare bedroom while Open Studios is on. In their place I've been hanging up all my paintings – and they look good!! The dining room table is piled high with calendars, cards, mugs, postcards, bags, canvas prints, Christmas cards . . .
So excited for next weekend! But so much to do before it comes!! 🙂
---
As promised in my last post, here is the jug I bought by Pru Green, at the Sentinel Gallery in Wivenhoe!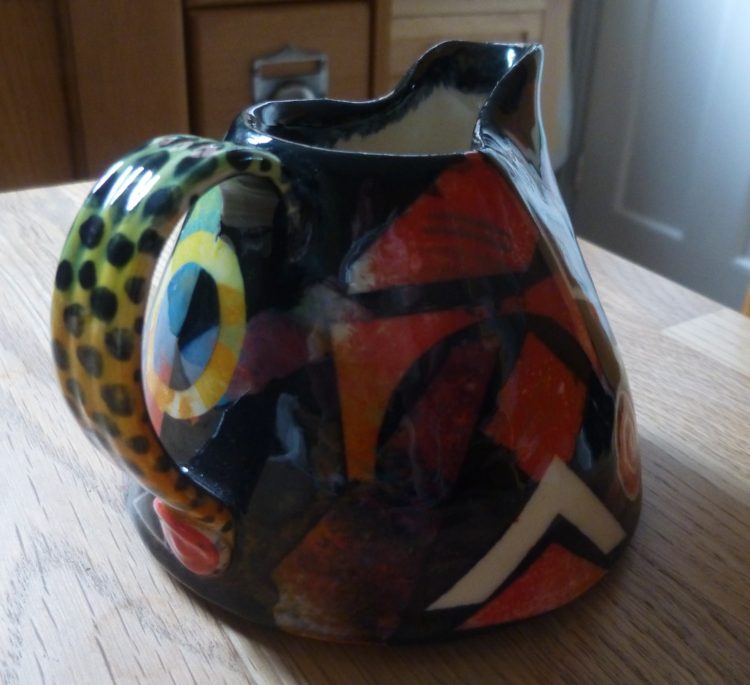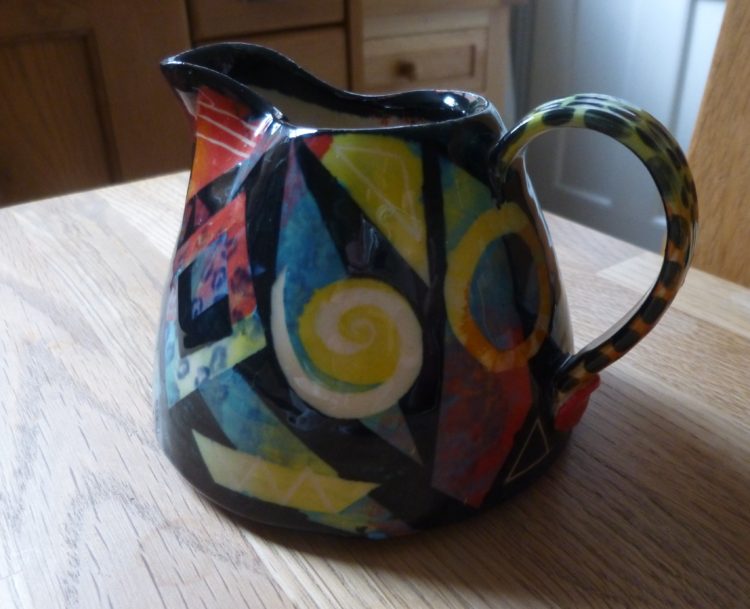 A trip up to Pin Mill on the Orwell estuary today with Graham. I think it's the first time I've ever driven under the Orwell Bridge! There is a convenient car park on the narrow lane down to the estuary, and also the very convenient Butt and Oyster pub, where we had a delicious fish pie for lunch sitting in the sunshine, after a walk through the National Trust woods, with lovely views across the river.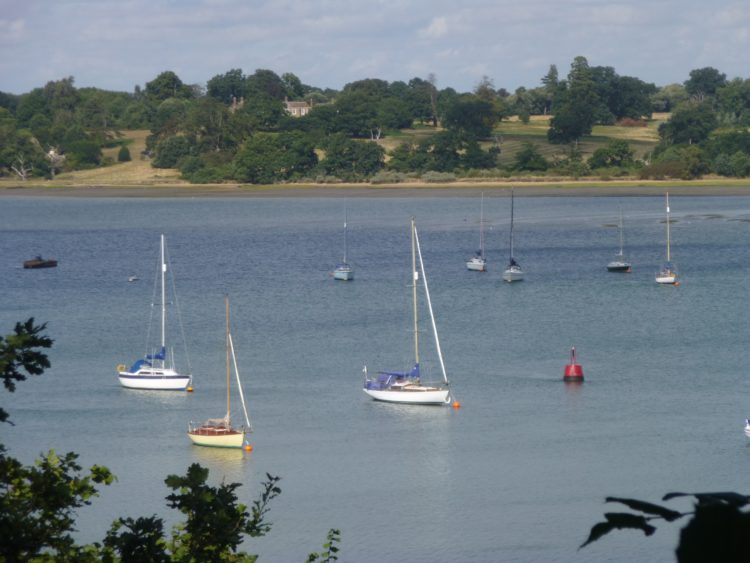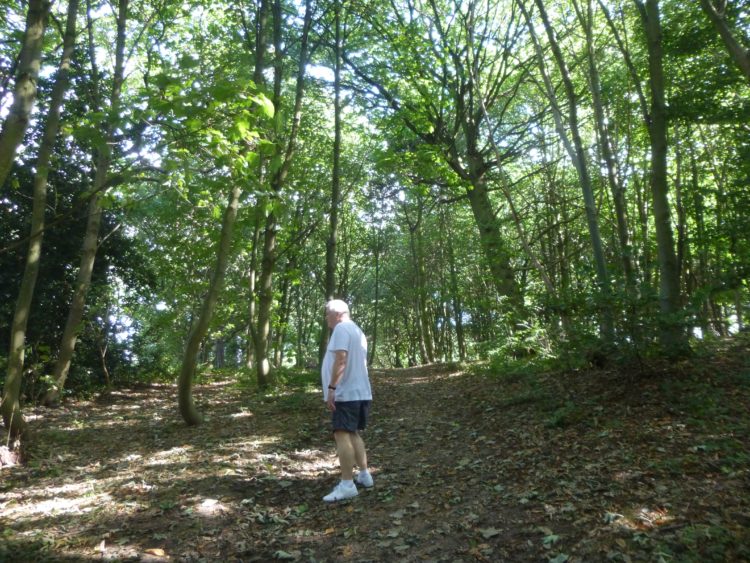 (Not quite sure why I've got my eyes shut in the woods . . . !)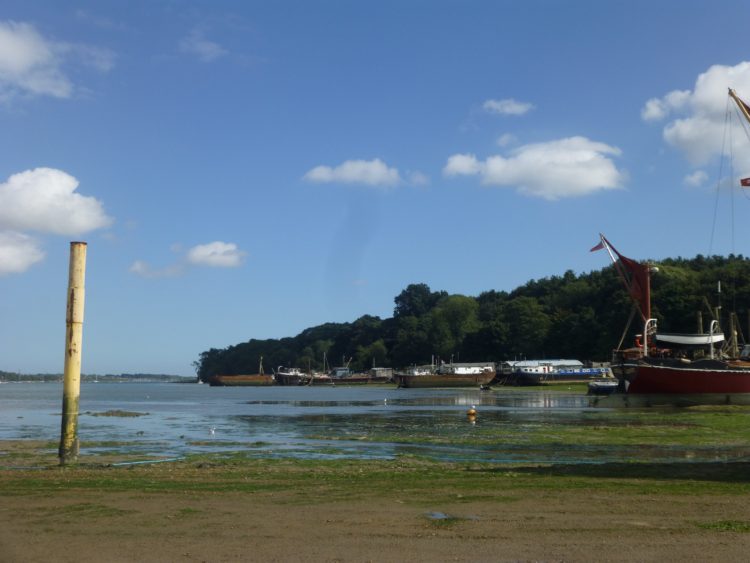 s.b. Melissa of London – when I got home I looked her up in my 2009 Thames Sailing barge guide, and at that time she was under-going restoration at Pin Mill, which was almost complete. She was built in 1899 in Southampton.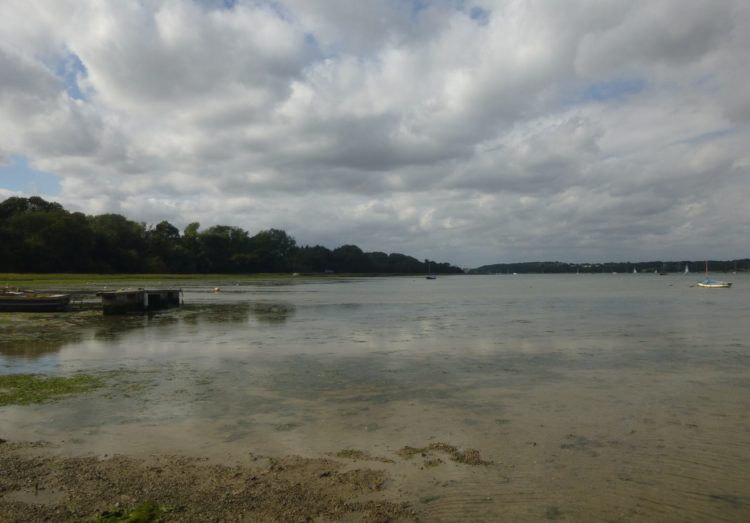 Looking back up the estuary, towards the Orwell bridge.
Back in my studio, I'm working away at Essex Wood: August – yes, I know it's September! I've got a bit behind due to painting the telephone boxes for the Christmas cards.  But it's supposed to be a wet weekend here, so I shall just stay in the studio and get on with it! Will try to update with some progress shots tomorrow.
And finally! – only a week to go to Open Studios! My first weekend is 17th/18th September, open from 11-6. All the details for me, and all the other participating artists are on the website www.colchesteropenstudios.org.uk – and if you have the booklet, I'm on page 19!
Friday – Yay! Hope you have a great weekend. 🙂
---
My parcel arrived from moo.com yesterday – and I'm really pleased with how my red telephone box Christmas Cards have turned out. And no-one guessed the strap line, which is – of course! – "Phone home for Christmas".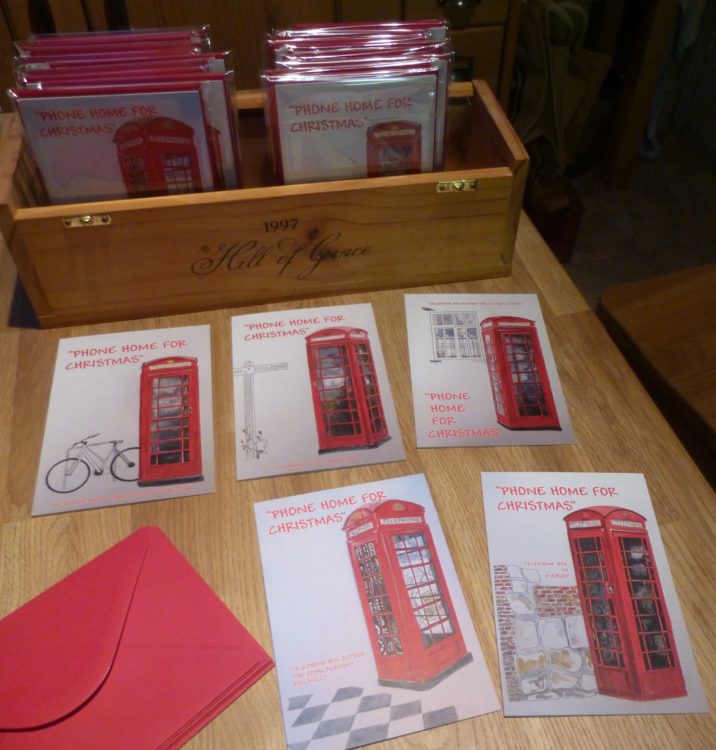 Red telephone boxes are not very common now, and these five come from all over the place! Outside the former Sun Inn at Lexden, from Wormingford, from the entrance to the Royal Academy in Piccadilly, from Salisbury Cathedral close, and outside Avebury post office.
They are bundled up into packs of 5 now, with 5 red envelopes, all ready for Open Studios. And I've also been packing up my Peddars Way greetings cards into packs of 5, and lovely new postcards – two different packs of these, one which is 5 landscapes, and one which is 5 dinghies. And then, of course, there are the calendars, and the mugs, and the cotton tote bags, to say nothing of the paintings! My dining room is so full of art based stuff at the moment it is hard to move around. I am so looking forward to clearing all the usual things out, and turning it into a little gallery/shop for my two Open weekends.
So. It was a good break today to go down to the Sentinel Gallery at Wivenhoe with Graham. Their current show is 'Watercolour now' which is on until 25th September. For details see www.thesentinelgallery.co.uk I bought  a beautiful little jug by Pru Green, which I have forgotten to photo – I'll put it in the next post! I love the way she constantly develops new designs and colour schemes in her work.
And after some lunch at The Greyhound we went down to Holland on Sea for the rest of the afternoon – it was a perfect day for the seaside and  to walk along the warm sand with bare feet . . .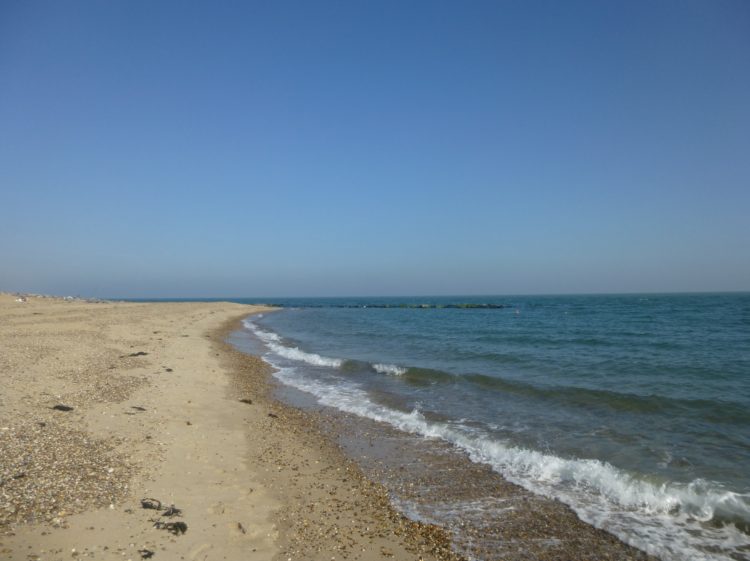 . . . and I found a mermaid's purse.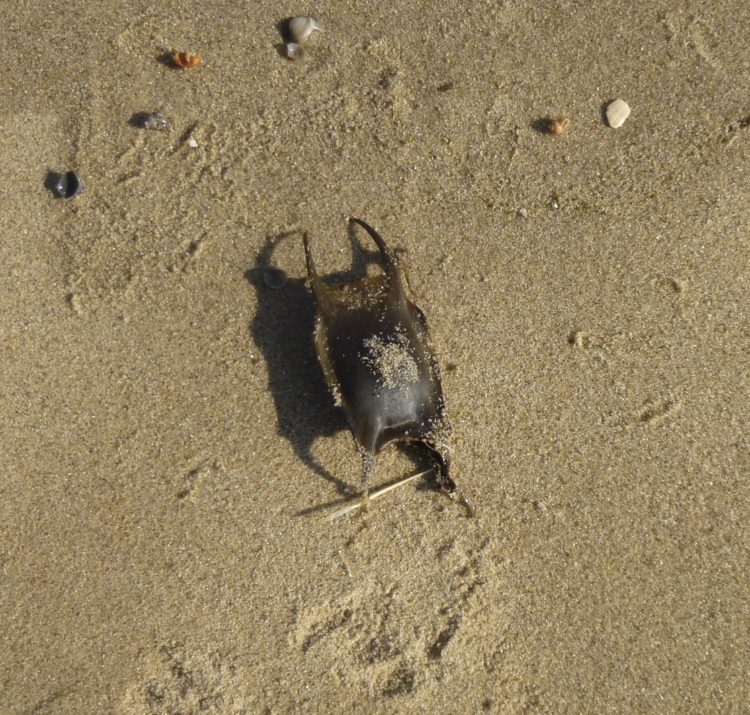 Lovely September days! One of my favourite times of the year! 🙂
---
A trip down to Surrey yesterday, National Trust-ing with my friend Susan. We had a trouble free drive down, and had time to revive ourselves with coffee and cake before meeting at the front of this beautiful Edwardian house for a short introductory talk – and then it was, in NT speak, 'free flow', which is how I like it!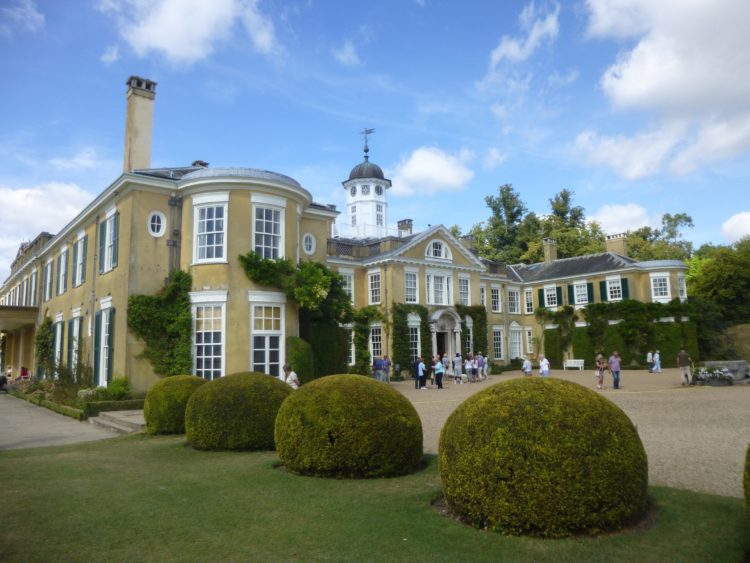 The house is lovely, and has an interesting story, as its owner, Maggie Greville. was the illegitimate daughter of William McEwan, who made a fortune in the Scottish brewing industry, which he left to her. McEwan's beers are still made, and in fact were for sale in the NT shop! Maggie, and her husband Ronnie Greville, were renovating and updating Polesden Lacey as a 'party house' when Ronnie tragically died in his early 40s.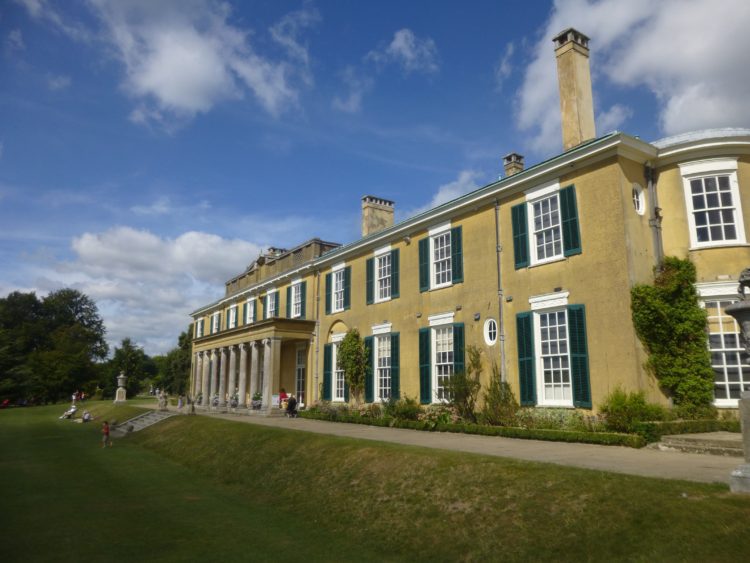 Maggie, though, continued with the renovations and became one of the great society hostesses of her age – any one who was anyone went to stay at Polesden Lacey, from politicians like Winston Churchill, to famous writers and, of course, royalty, including King Edward VII  – and  the future George VI and his wife had their honeymoon there! Queen Elizabeth – the Queen Mother as she later became – said it was 'a delicious house', and I don't think anyone could disagree!
Maggie expressed a wish during the remodelling of the house, that the drawing room should be 'suitable for entertaining mararajahs'. This was the result . . .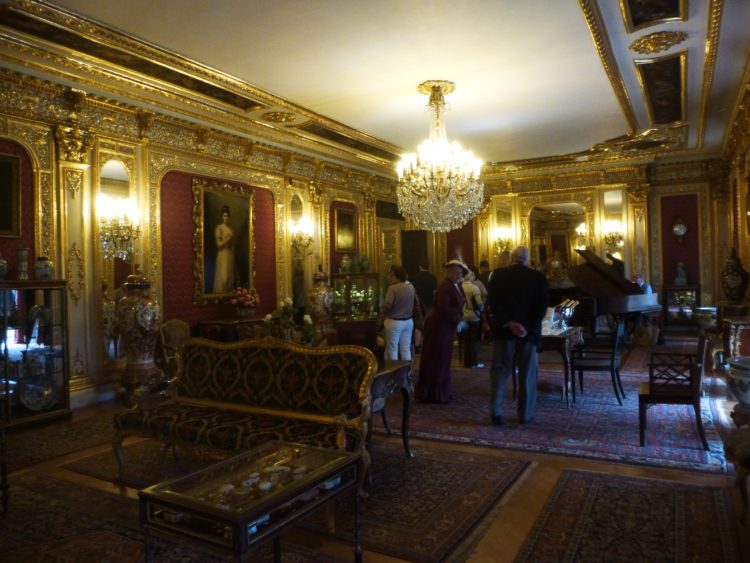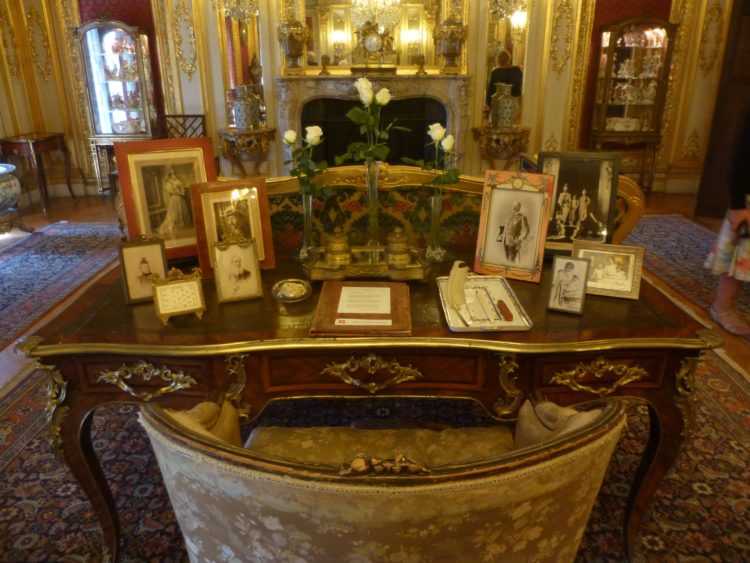 The house is full of paintings, as William McEwan was a great art collector, and I particularly liked this painting of the Port of London, by a Scottish artist, whose name I have forgotten!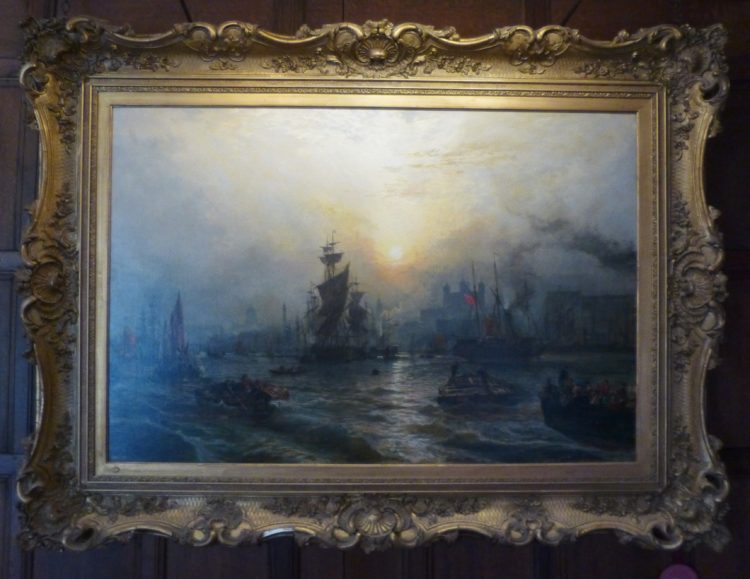 Lunch was long overdue by the time we had finished looking round the house, but after lunch we had plenty of time still to look round some of the enormous grounds. To the south of the house there is a wonderful view as the house is on the North Downs, and there are lovely formal gardens – rose gardens, long herbaceous borders, a cutting garden, kitchen gardens, beautiful crochet lawns, and unusual thatched bridges over a sunken path running below. Lots of people were enjoying sitting in the sun in the NT deckchairs on the south lawns, and lots of picnics had been consumed and a host of little children were running about up and down the grassy slopes.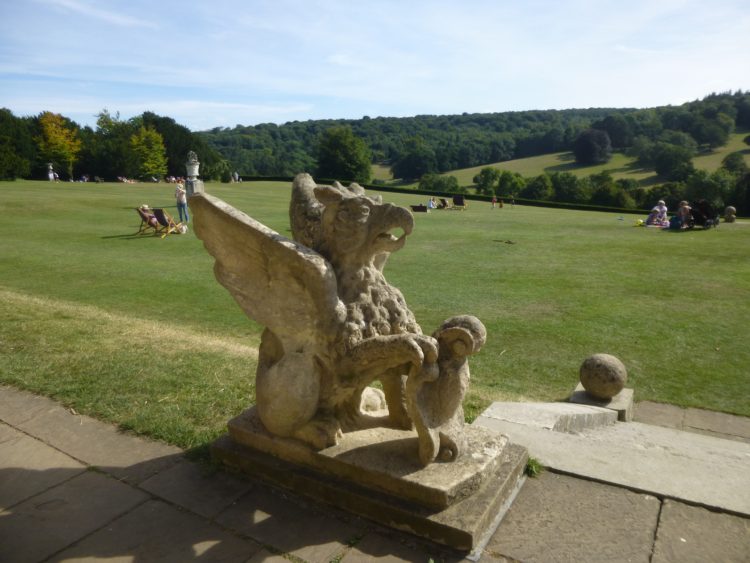 Well worth a visit – and easy to get to as its just off the M25.
On a different subject it is A FORTNIGHT TILL OPEN STUDIOS!!!

Go to www.colchesteropenstudios.org and search my name under 'artists' for all the details including a map. I'm opening on 17th/18th and 24th/25th September, from 11.00am – 6.00pm each day. There will be recent paintings, 2017 calendars (two designs), greetings cards, postcards, mugs, canvas prints, cotton tote bags and Christmas cards – but there is absolutely no obligation to buy. Come for a browse, a cuppa and a chat!
Hope September has got off to a good start for you! 🙂