The last day of July, so time for the next print to go up on the Canvas Print page – this is number 18 and is 'Blackwater Reflections', a little boat in Heybridge Basin. As usual, it is in a limited edition of just six, mounted onto a wooden frame ready to hang, and is £28 including packing and postage to any UK mainland address.
The original of this print is currently at the Haylett's Gallery in Maldon, as part of the Essex Women Artists show there, which goes on until 3rd September. Sally Patrick, the gallery owner, took some photos at the Private View – here is her photo of me!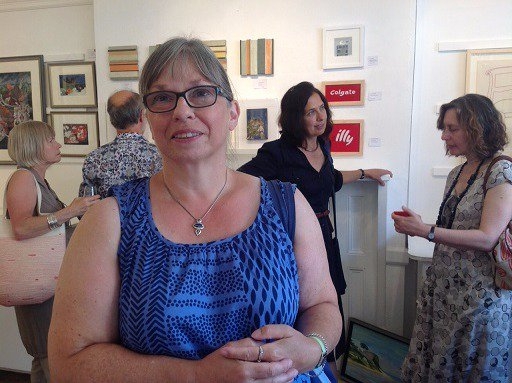 August tomorrow – Happy August! 🙂
---
Yesterday Graham and I headed to Piccadilly to see the Royal Academy Summer Exhibition. It was drizzling when we left Colchester, but as we came up the steps from Piccadilly Tube station it was dry and bright, though not nearly as hot as it has been recently. We started off with lunch at Fish Works – how do they always manage to make everything so delicious? – and then headed into the Royal Academy, which wasn't too busy, so easy to move around and see everything.
Last year, the exhibition started being amazing outside, with the forest of metal trees and then the striped staircase – and this year was no different. Towering over the courtyard is a huge installation by Ron Arad RA called 'Spyre'. A huge tapering articulated cylinder slowly twists and turns through the air, with a camera mounted in the tip, and what it 'sees' is projected onto a digital screen mounted on the front of the Burlington House.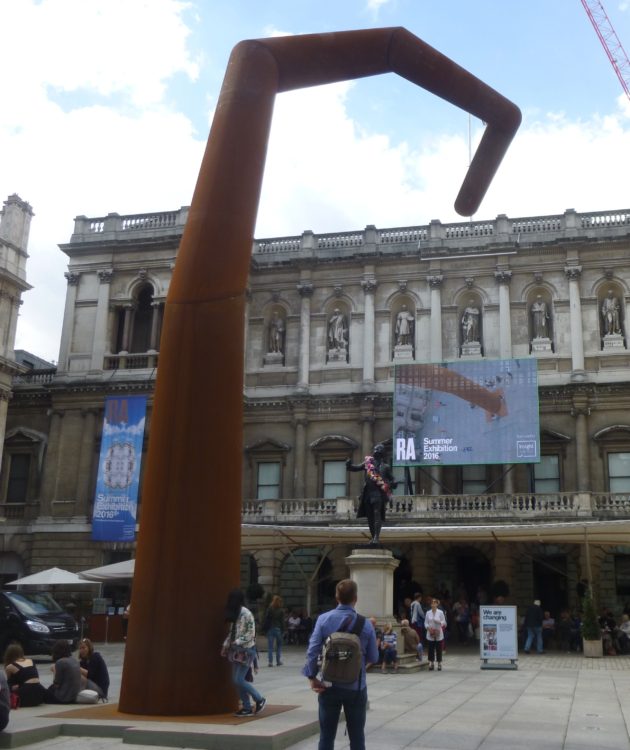 The view from the camera of the surrounding buildings and people and the sky was often sideways and sometimes upside down.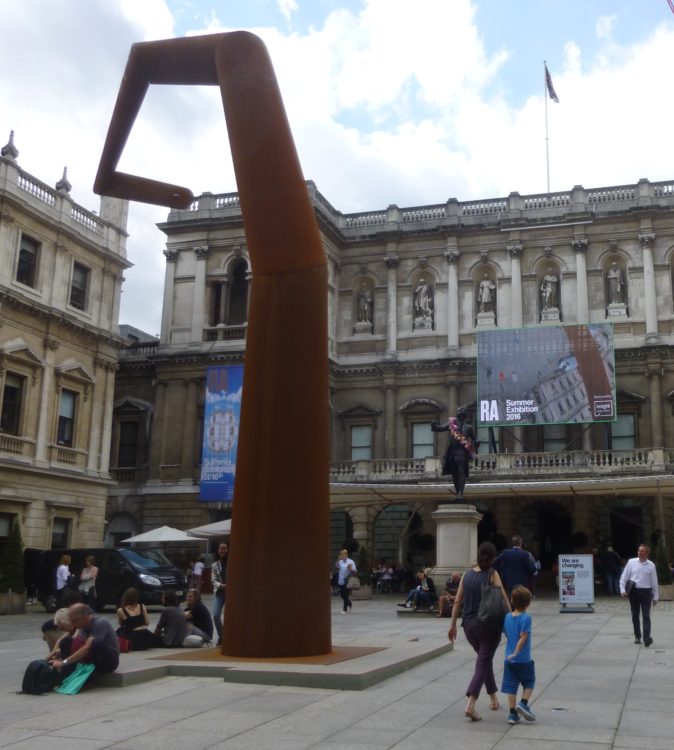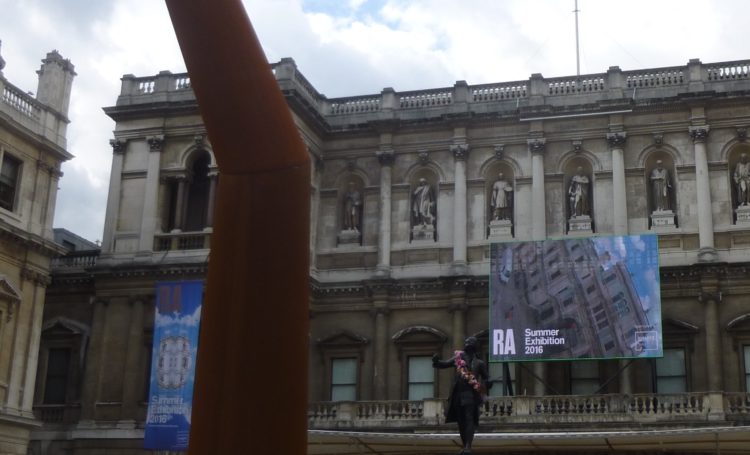 It was rather as if a small version of the Shard had decided to have a look around to see what was near its feet . . .
Once in the gallery I kept a look out as usual for work by Ken Howard RA and Norman Ackroyd RA -I particularly liked Howard's triptych of Venice, and Ackroyd's 'Thirsk Hall Remembered – Black Dexters'. I also loved the colours of Barbara Rae RA's 'Sanctuary – Autumn' and 'Sanctuary – Winter'. In the first big gallery, on the left of the Central Hall, there was a stunning huge painting by the late Albert Irvin RA, with a lot of lovely violet blues and greens and pinks – I always love the way he put colours together. In a much more conventional way I really liked Diana Armfield RA's flower paintings, 'Roses and Sweet-peas on the Kitchen Table', and 'Nasturtiums with the last of the Phlox'. She has such a skill for making the flowers vivid but delicate, clearly formed and yet airy. I am always intrigued by Jennifer Durrant's Ghirlanda series, a structure of semi-circles with fascinating colour combinations, and, sometimes, stripes.
We both noticed that there seemed to be a great many photographs and digital prints this year. Graham's favourite piece in the whole show was 'EC3M 5DJ' by Farshid Moussavi RA, which was a digital print on aluminium, and a very striking image.
I shall be visiting the RA again in about a week with my niece, and I don't doubt I'll notice quite different works then!
Friday tomorrow! – hope your week has gone well. 🙂
---
I spent a happy afternoon in Maldon yesterday at the Private View of the Essex Women Artists exhibition at the Haylett's Gallery. It was lovely to meet some of the artists that I didn't know, and I am delighted to have sold two of my paintings already – Blue Fenders, and Waiting for the Tide III will both be sailing off to new homes!
Here are a few photos of the afternoon.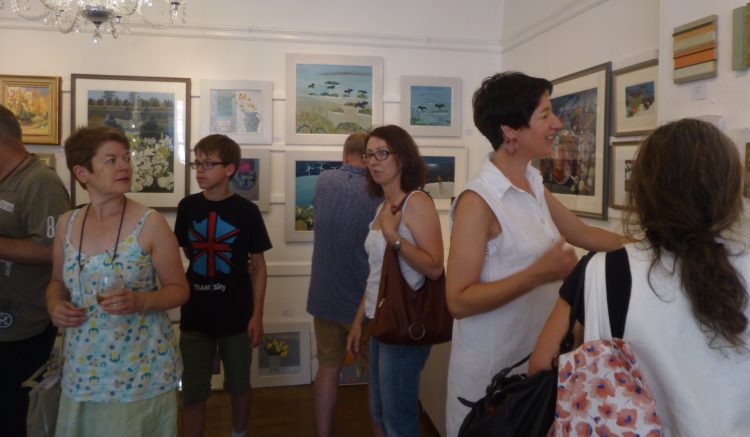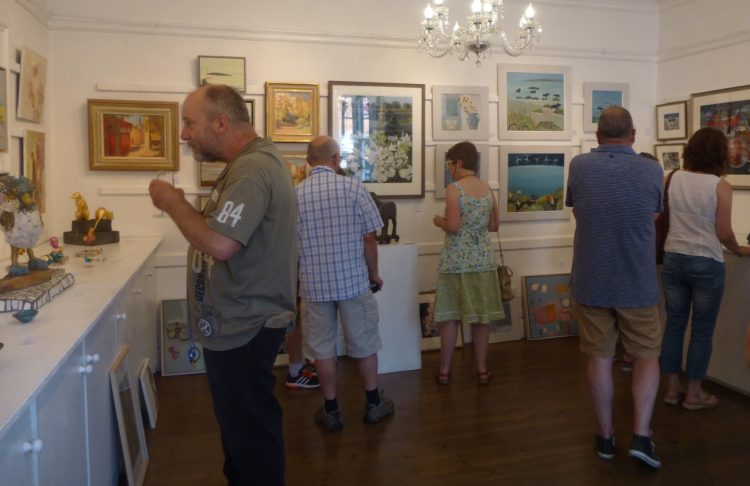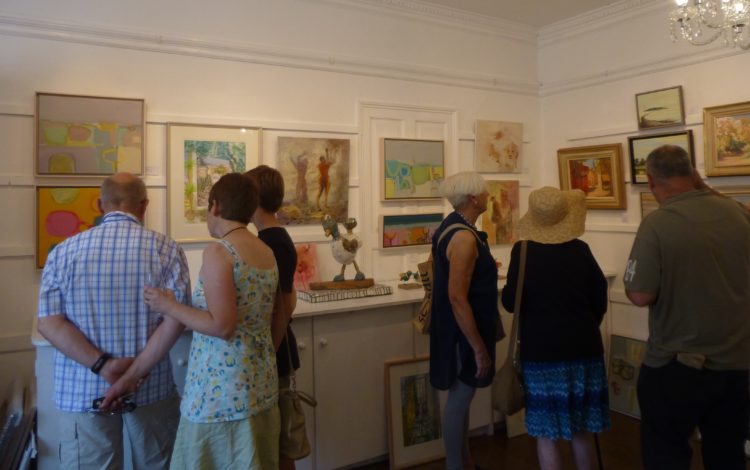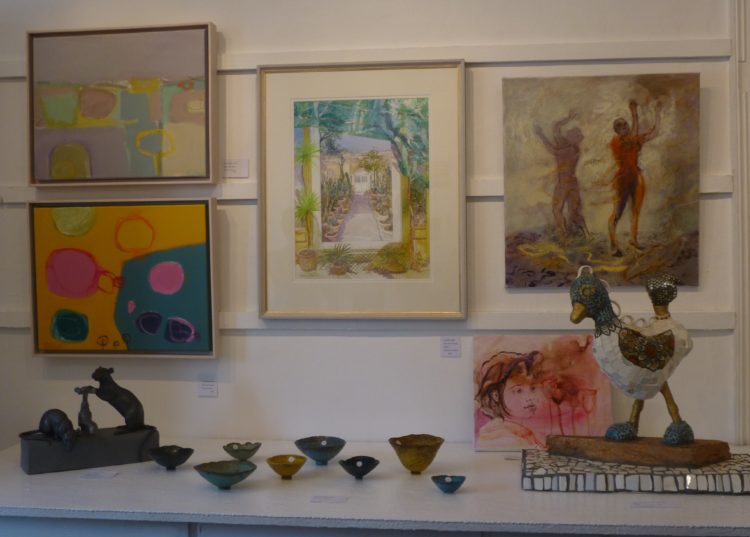 For info about all the work, plus opening times, directions, etc., and the opportunity to buy online, go to www.haylettsgallery.com
Hope you're enjoying the weekend whatever you are doing. 🙂
---
So here is painting number seven in my Essex Wood  project.
This big old oak tree is quite near the centre of the wood – in the spring it was in a clearing which was flooded with bluebells, but now the bracken and brambles have grown up high, and it is a much darker area. There is a bench just near it on which I sat to draw – you can see the bench in Essex Wood: April – and while I was sitting there two dogs came roaring down the path behind me, way ahead of their owner – a German Shepherd, and a sort of chestnut-y Pointer kind of dog, who jumped up and licked my ear in a friendly fashion! There is another little path that leads around the tree, but just seems to peter out in the bracken now, although earlier in the year you could walk through.
Just a reminder that the next exhibition with which I'm involved – Essex Women Artists at the Haylett's Gallery – starts this Saturday, 23rd July, when it is open from 12 noon until 4.00pm. From then it is open Tuesday to Saturday each week from 10.00am – 5.00pm until the first weekend of September.  The address is 2 High Street, Maldon, CM9 5PJ. There are about 15 women artists involved, showing paintings and prints, but also ceramics and sculpture so I'm really looking forward to it! If you are in the area do drop in and say hello! 🙂
---
Last year, when I did Open Studios in September, followed by an ARTSTUFF stall in November, I sold out of all the calendars I had made, and I kept being asked 'Haven't you got any calendars this year?' and I kept having to explain 'Well, I did have calendars . . . ' and I made a note that this year I needed to make more calendars!
Up until now a friend has put the wire binding on for me, but in the interests of being more flexible, and being able to make more at short notice if I need to, I have invested in a brilliant 'Calendar making Kit' from Joyce & Co. Ltd, who have been 'suppliers to the printing and finishing industry since 1834'! And I was very impressed with them. I ordered on Monday afternoon and it came on Tuesday morning. The 'kit' comprises a Socon Studio Wire Binding Machine, a Calendar Buddy thumbcut punch (which makes the little half moon hole at the top), 100 of the binding wires coated in white, and 100 'calendar hangers' also white ( these are the little looped pieces of wire which thread into the binding so you can hang the calendar up – pretty obvious really!)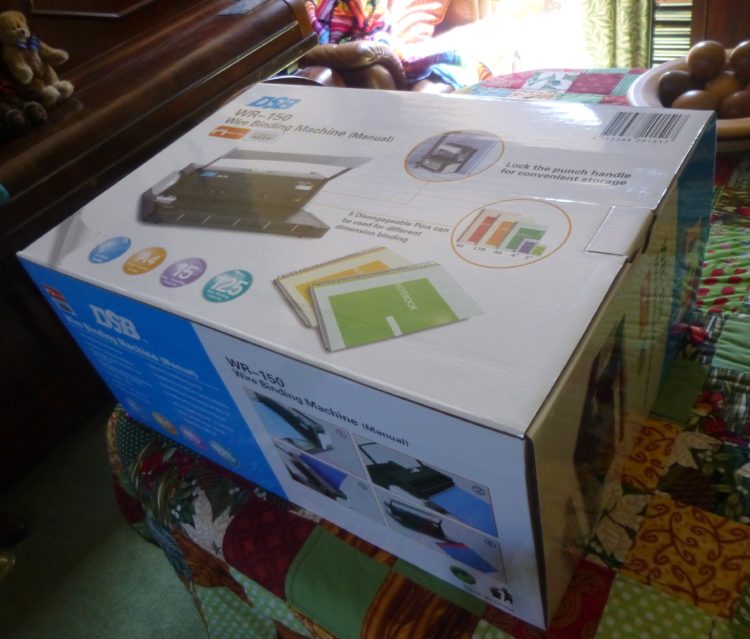 So – this year, as I'm doing two weekends of 'Open Studios' – (have I mentioned this before – I'm doing TWO WEEKENDS OF OPEN STUDIOS!) – I'm going to make twice as many calendars, to start with, but will have the capability to make some more as a rush job before I have my next ARTSTUFF stall, so no possibility of running out this year. I have planned a general one such as I usually do, with a mix of land and seascapes and dinghies, and second one which will be a 'From my Garden' calendar,  with the twelve little flower still life paintings which I did throughout last year. My Open Studio dates are 17/18th September and 24/25th September, open each day from 11.00am – 6.00pm – put the dates in your diary now! I'd be so pleased to see you if you are in the area.
It has been SO HOT here this week, that yesterday seemed a good day to go down to Walton to check how my Naze Tower exhibition is going. The answer was not very encouraging, but it was lovely on the beach, which made up for it.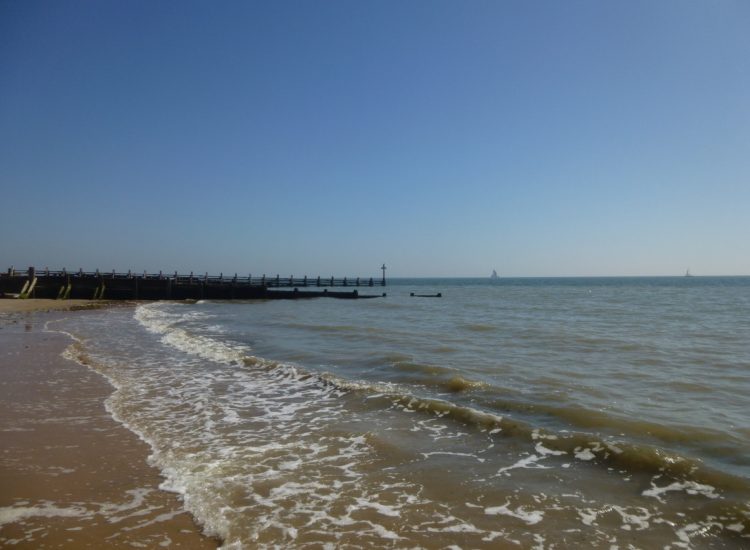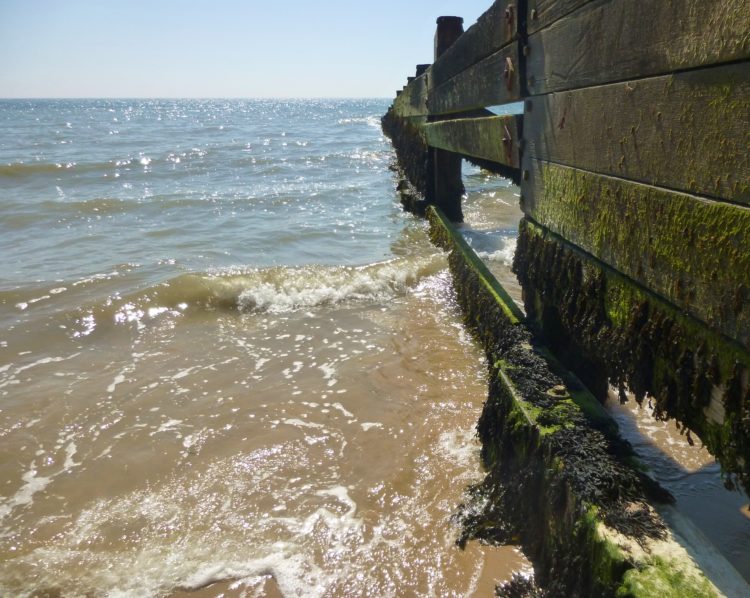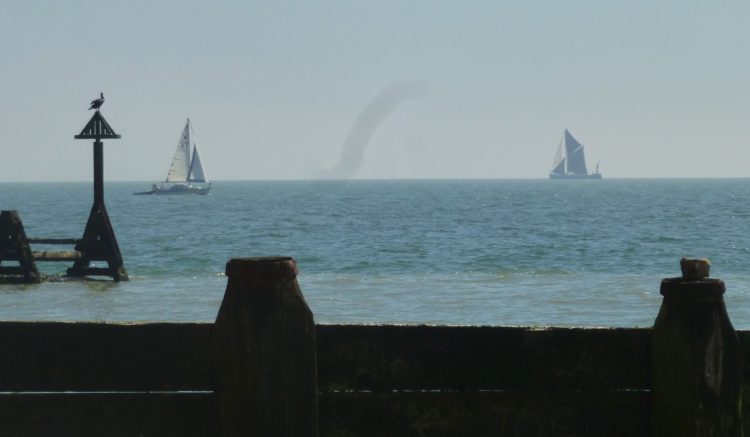 I had a long paddle, and then a snack at the lovely new Essex Wildlife Trust centre, and then walked along the cliffs up the point where the sea wall curves round at Hamford Water and the Walton backwaters of 'Secret Water' fame. The sea and sky rarely achieves this degree of summer blue . . . . .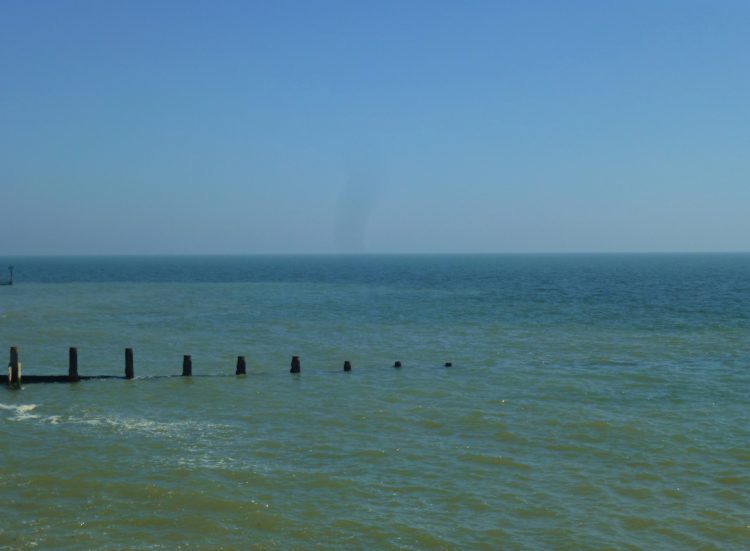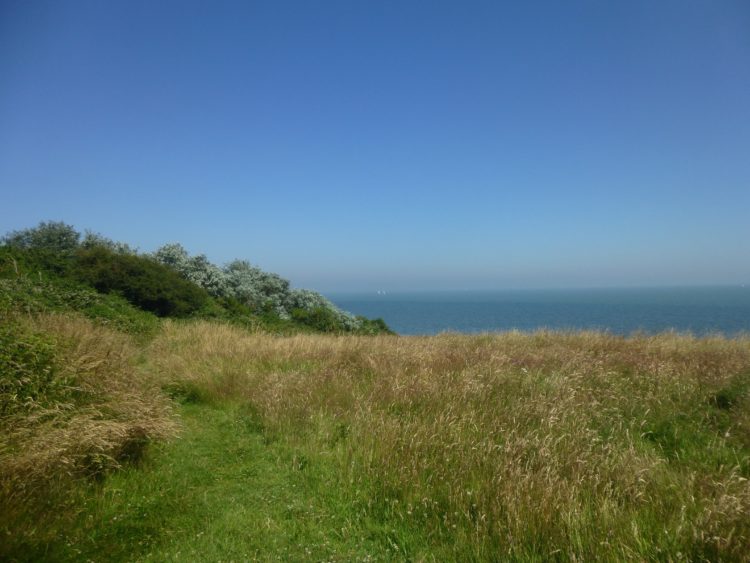 It is a little cooler here, today, with a breeze, so I have been finishing off a notarial Faculty for someone in Brisbane, and I'm hoping to finish off painting Essex Wood: July later, if it's not too hot in the studio – so keep an eye out in the next day or two for it going up in the gallery.
Hope you're managing to keep cool whatever you're doing 🙂
---
So, yesterday, Graham and I took my paintings – seven of them – down to Maldon to deliver to the Haylett's Gallery for the Essex Women Artists Exhibition, which starts a week today!! I was very glad of his help, as there are yellow lines outside the gallery so we had a  way to walk, and the big paintings are – well, BIG. But we got them all delivered safely, and I was delighted to hear from gallery owner, Sally Patrick, that she has two people who have already asked for first refusal on Blue Fenders and Waiting for the Tide III – exciting news!
Blue Fenders was chosen by Sally Patrick as the cover painting for the Private View invitations . . .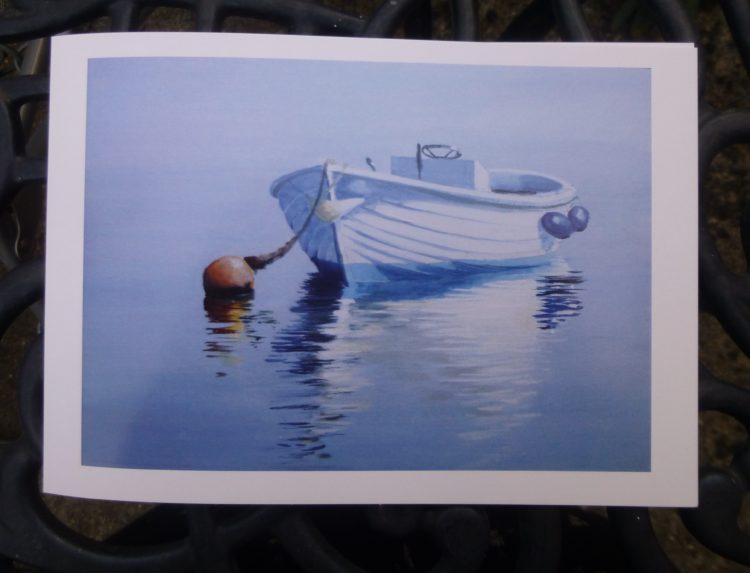 . . . and here is all the info inside . . .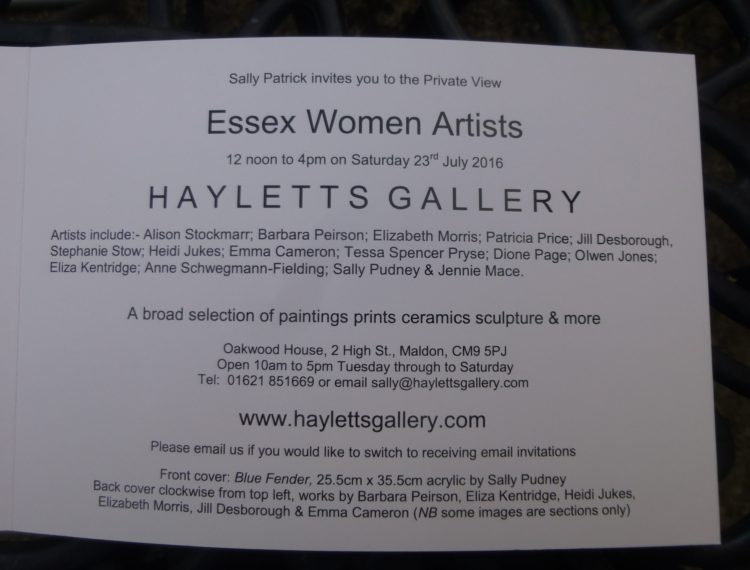 After we left the Haylett's Gallery we went the short distance to Heybridge Basin and had a walk along the sea wall to see if I could spot any new dinghies to paint. The tide was going out rapidly, but there were lots of small boats, on the mud, grounded in shallow water (with lovely reflections), and still afloat further out in the estuary.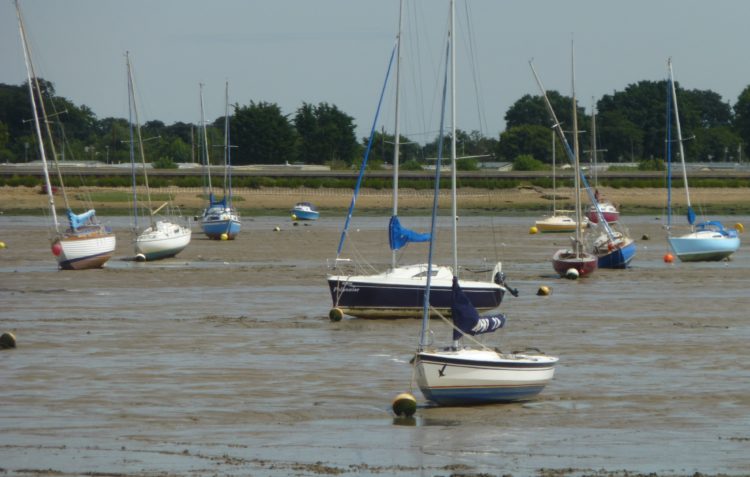 I had found several likely candidates by the time we'd walked to the sailing club and back, to have lunch at The Jolly Sailor.
And in the studio at the moment? – I'm working on Essex Wood: July, which is quite a challenging one! And I'm also planning for Open Studios in September – which will soon come rushing along, I know. More news about that nearer the time!
Hope you're having a good weekend. 🙂
---
My friend Helena and I went over to the wonderful Fabric Rehab shop (on the Manningtree Road leading out of Dedham) last week. We both came home with fabric – I bought some beautiful jade coloured quite heavy linen, and a lovely light patterned jersey in a wonderful mix of colours.
The shop is only open for a few hours on Tuesday and Thursday, but they have an online shop too – well worth a look, as they have a great range of fabric.
So in the next few days I'll be starting Essex Wood: July, and starting some new dressmaking!
And I'll leave you with a photo of a beautiful sunset we had last night . . .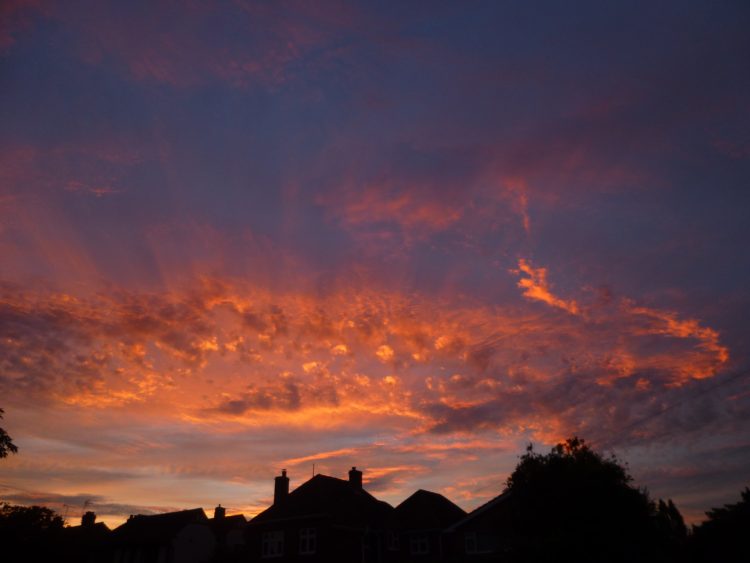 Hope the new week gets off to a good start for you. 🙂
---
This week I made my July visit to the wood – on a sunny warm morning. As I walked down the track that leads from the old church to the wood entrance, there were field roses flowering in the hedge – I thought dog roses until I got home and looked them up! They are pure white and have quite dark stems.
In the grassy verges giant hog weed towered towards the sky, and beautiful violet blue cornflowers, or field scabious bloomed.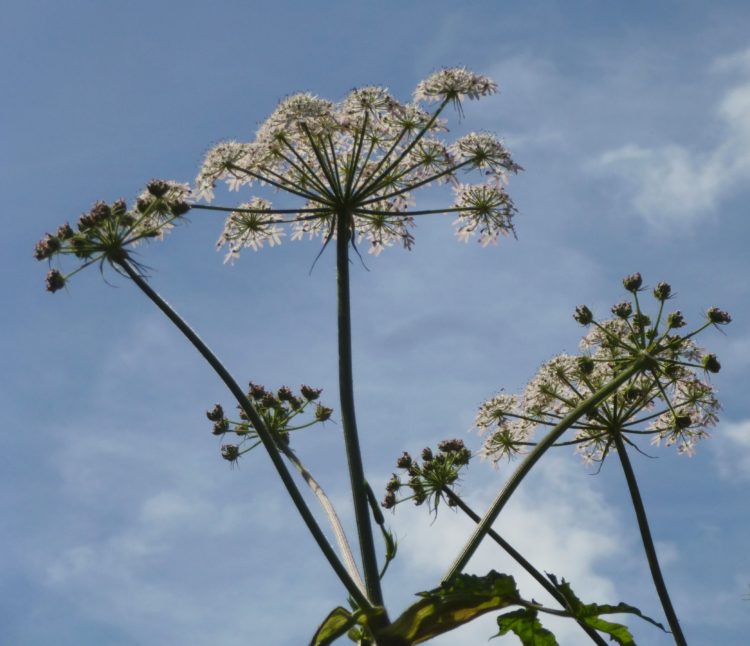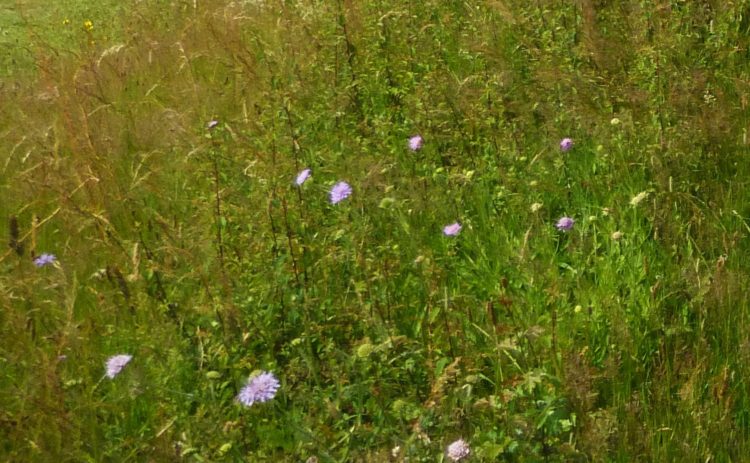 The wood changes every month, but this month it seemed very different – the entrance seemed very dark and shadowy, and narrow, as not only is the leaf canopy thick now, but the undergrowth of bracken, blackberry brambles, nettles and ground elder have all grown up hugely since June. The other big change was the bird song – or lack of it. Apart from the occasional wood pigeon, and a few unidentifiable twitterings, it was very quiet. In places there was a lot of buzzing from bees and other insect life, but very few birds.
I noticed how many coppiced ash trees there are – ancient coppicing which leads to four or five tall mature ashes growing in a tight circle. The elderberries are beginning to form, as are the tiny acorns, and hazel nuts – not much more than their frilled green covers at present.
And these are the findings in the July wood . . .
and . . .
Tomorrow I'm doing my ARTSTUFF stall at St Leonard's Summer Fete  – St Leonard's Church, Lexden Road, Colchester CO3 4BL. Lots of greetings cards, mugs and cotton tote bags for sale. Do come and say hello if you're in the area.
Hope you have a great weekend whatever your plans. 🙂
---
A new painting on the 2016 gallery page today – Hazy Spring Morning, Suffolk is bound for the Haylett's Gallery in Maldon at the end of the month. This peaceful lane, on a morning of hazy sunshine in May, is near Walsham le Willows in West Suffolk.
So, here is how it developed, from my 'thirds' beginning (see last post) . . . .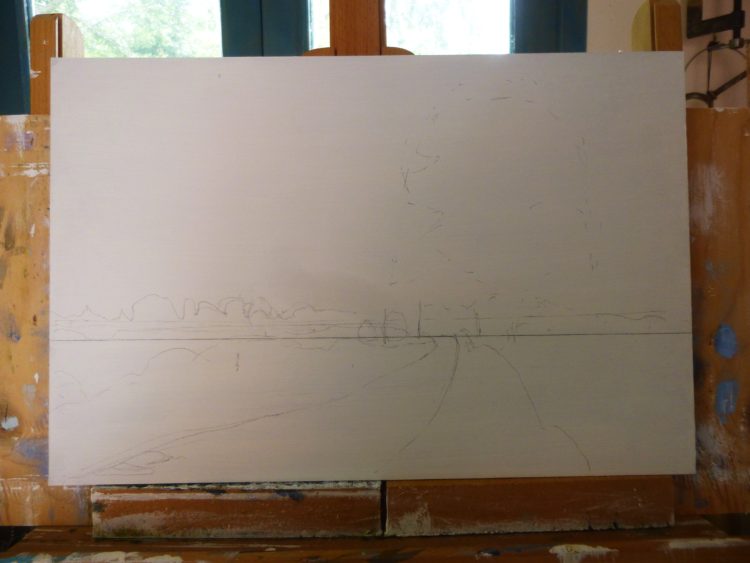 . . . to putting in the distant trees and sky . . .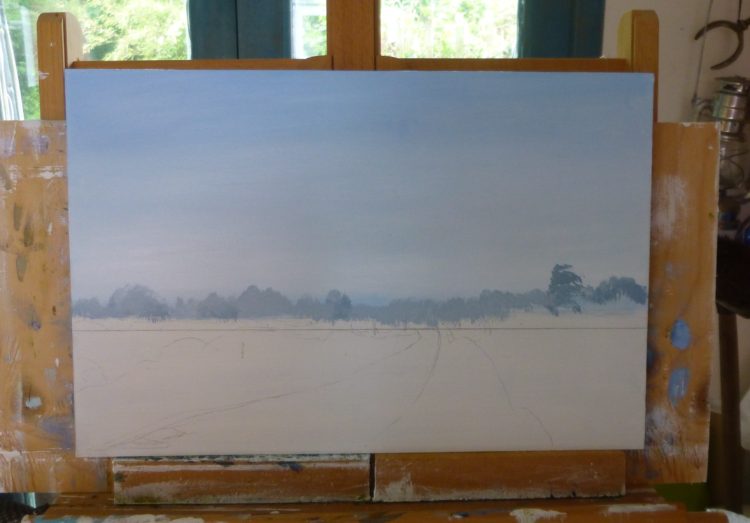 . . . and then working on the foreground, starting with the tree – the bulk of the trees foliage is a third of the total picture width from the right picture edge . . .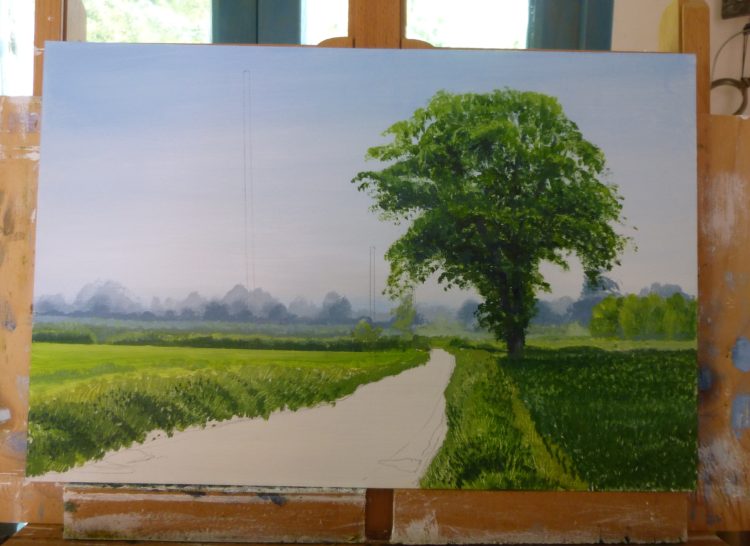 . . . next I worked on the lane, with the puddles and telegraph poles, and continued to add detail to the fields and verges . . .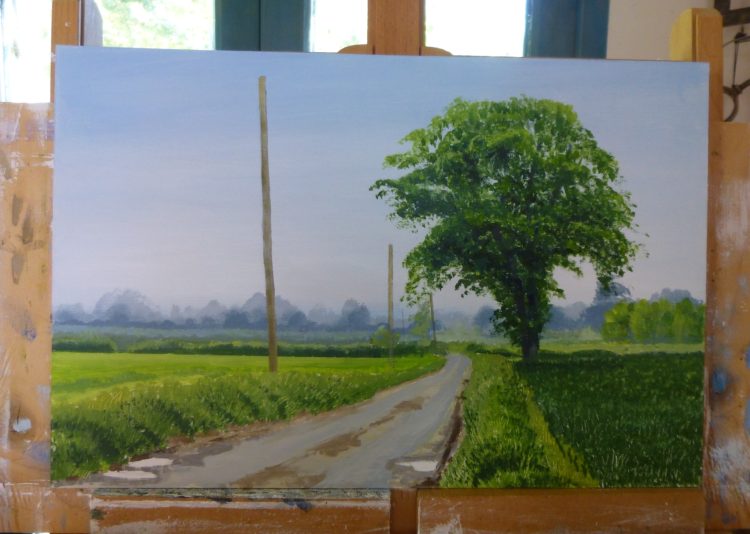 . . . and finally I added the cow parsley, the detail of the puddles, and did a bit of tonal adjusting to the right field and tree, and the telegraph poles . . .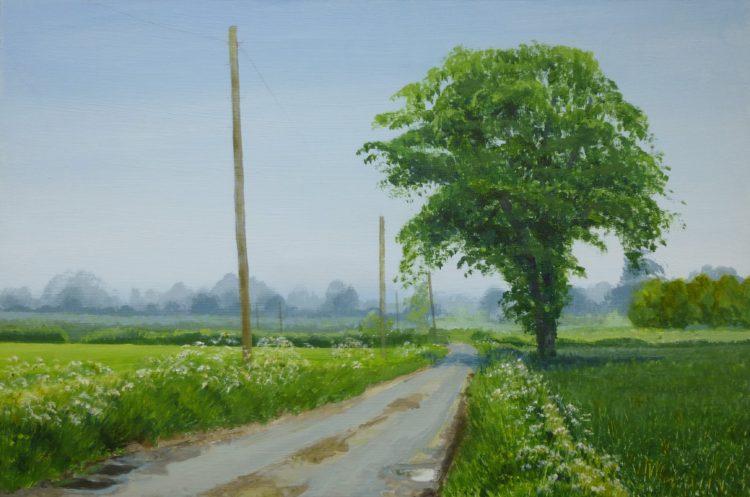 So there it is – finished!
Hope your week has got off to a good start, too 🙂
---
A little tip that I find really useful when starting a new painting – as I have been doing the last couple of days – is the use of thirds – many of you may know about this already, but if you don't it may be a helpful way of thinking about picture composition. I think it was my friend, the lettering artist Martin Wenham, who first taught me about this, and it is something which I often think about when I'm planning out a painting and attempting to get the structure right.
Basically, this is what it is: the horizon line is best either a third down from the top of the picture plane, or a third up from the bottom. (If it is in the middle the picture as an uncomfortable, unbalanced look.) Any strong vertical accents work best if they are a third in from one of the sides. And if there are basically two kinds of area in the painting it is best if the ratio is roughly one third/two thirds.
For example, in my new painting, I started by drawing in an guide horizon line a third up from the bottom of the board.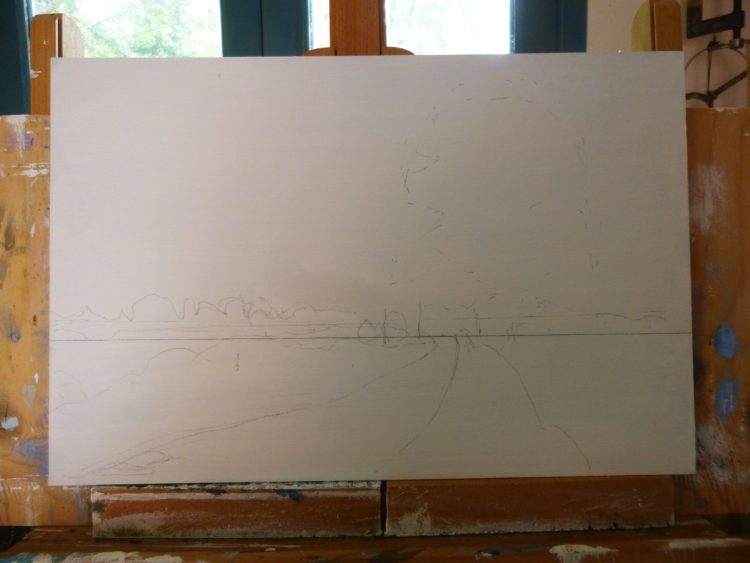 Sometimes there isn't an horizon visible in the picture – for example in Essex Wood: May. What I did here was to use the strong horizontal accent of the top 'edge' of the bluebells as my eye-line – and I positioned this one third down from the top of the painting.
Others, like the dinghy paintings, have no horizons and no strong horizontals either, so this is where the one third/two thirds in picture area  is a useful guide to make them feel balanced. The area of the picture plane which is taken up by the dinghy and it's reflection is about a third of the total, and the area of water is about two thirds of the total area. If you have a look at Blackwater Reflections you will see an example of this. In some of the dinghies I had to think a bit more though! In my newest one, Waiting for the Tide III, the presence of the rope and the anchor dug into the mud visually enlarges the area taken up by the dinghy – the dinghy sort of 'spills over' visually into that space between the bottom keel of the boat and the line of the rope.
I hope that's useful!
We have just had the most tremendous thunder storm here, but I hope you're enjoying your weekend whatever the weather. 🙂
---
On Wednesday, Graham and I went over to Harwich – which was in festival mode, with art exhibitions all over the town!
Our first stop was at Old Bank Studios, owned and run by Bev and Nigel Caleno. It was great to see them again after a number of years, and we were very admiring of the fantastic job they have made of converting the old bank, a rather spectacular building, into a really lovely art venue. The main banking hall was full of display screens with some interesting work – but this is quite unusual for them, as their main purpose is to run courses and workshops in a great range of creative subjects.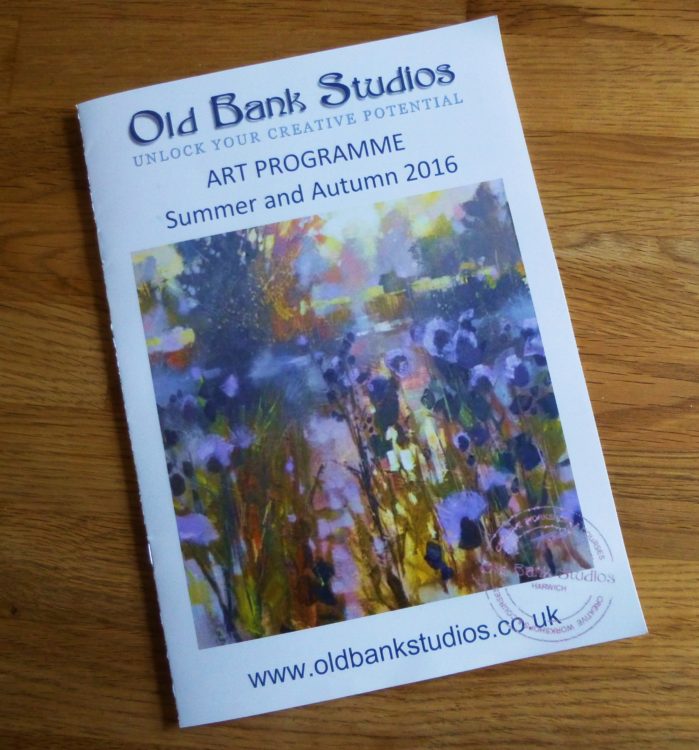 Both one-day workshops and courses that run over several weeks are available – in all manner of art media, and exciting crafts like silver clay jewellery, mosaic panels, and willow weaving.
The Old Bank Studio is at 19 Kings Quay Street, Harwich, CO12 3ER. For more info check out their website at www.oldbankstudios.co.uk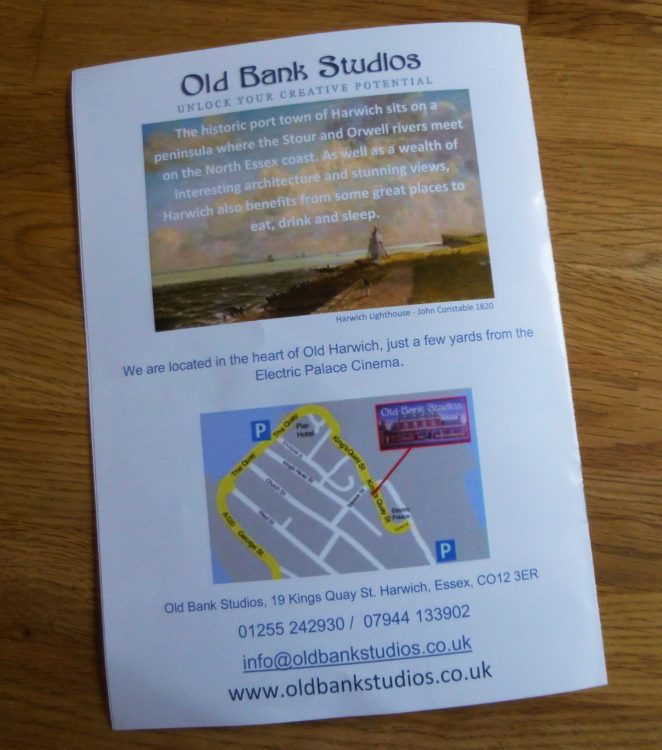 It is really easy to find, with free street parking all around which makes visiting very easy. Do have a look at what's on there.
Hope you have a good weekend – and Happy July! 🙂