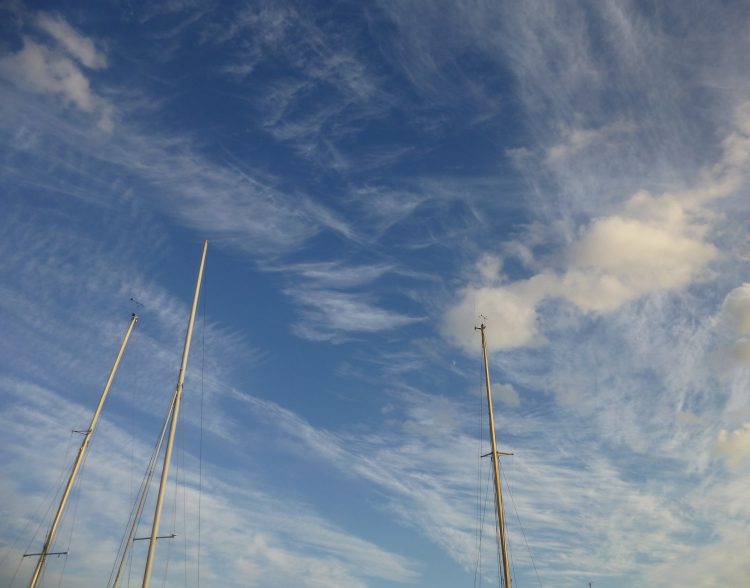 Sitting by the river at Wivenhoe yesterday evening with Graham –  wonderful wispy clouds overhead – planning what I hope is going to be our next big venture! I can't say any more about it YET . . . !
In the studio I've been getting on with Fingringhoe Wick: July this afternoon, sitting down on the job.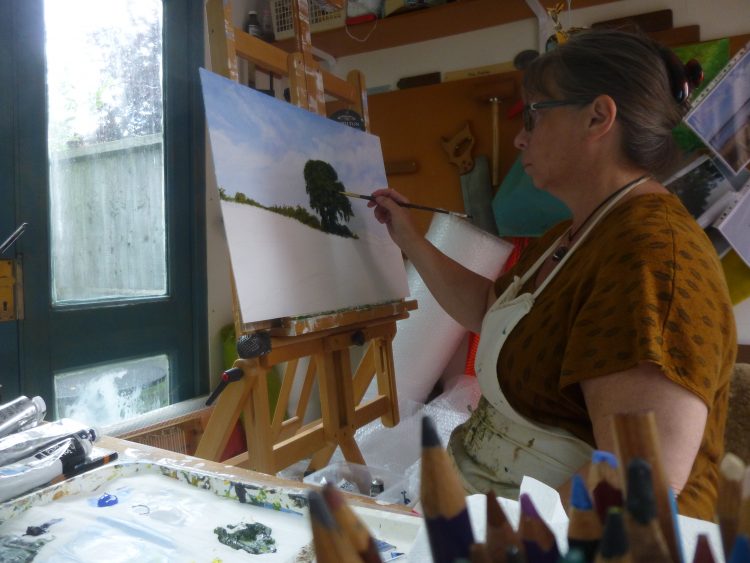 Rather a long way to go still, and it is the first of August tomorrow, but that's just how it is!
Happy August! 🙂
---
A great day out yesterday on Thames Sailing Barge 'Kitty', on a cruise down the Blackwater to celebrate a special birthday for our friend, Robin Greatorex.
Kitty was moored at the Hythe at Maldon.
We had to clamber over her sister barge 'Hydrogen' in order to get aboard. While we were still moored we did the eating and drinking bit – a lovely lunch and very good beer! – and at around 4.15pm, when the tide had come in, we set sail.
Here are some photos to enjoy.
What a great way to celebrate a birthday – and the rain did nothing to dampen our spirits! 🙂
---
I've had to wait a few days before I could collect the painting board for my next Fingringhoe Wick painting, so I thought I would use the time by getting on with the fourth Ridgeway painting. Just finished this afternoon!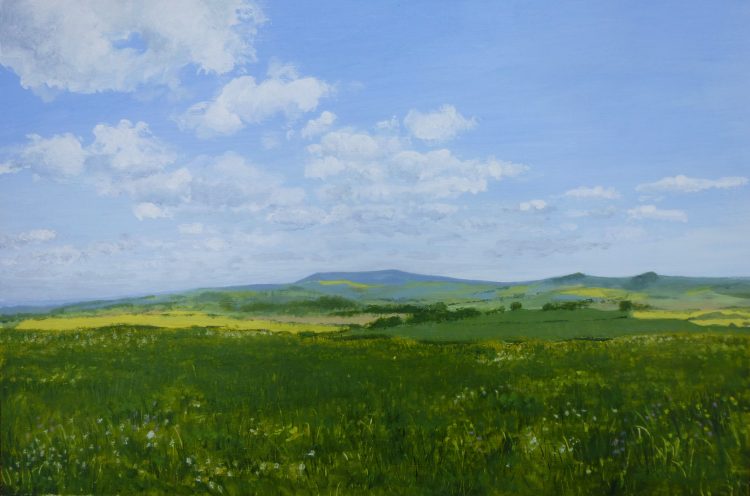 This is the view looking about NNW from Smeathe's Ridge, west of Barbary Castle.
I think there are two, possibly three more Ridgeway paintings to do now, but next up will be Fingringhoe Wick: July.
I've had my builder here the last couple of days completely refitting my downstairs cloakroom. Before and after photos tomorrow, I hope! 🙂
---
Yesterday morning I made my July visit to Fingringhoe Wick, as part of my 2017 painting project.
It was a beautiful morning, very warm and sunny, but with a strong breeze too. I did a circuit of some of my favourite hides and viewing points, starting with the estuary viewing point, and then visiting Kingfisher Hide, Margaret Hide, the various paths above the Inter-tidal area, and Laurie's Hide which was a new one for me.
The surrounding barley fields looked ready to harvest – the bearded heads were hanging right over. Some of the wheat fields on the approach road had already been cut. The meadow above the inter-tidal area, where sheep grazed in the spring, is now a mass of seeded grasses. The oak trees were covered with small immature acorns, and the blackberries are turning red.
The big excitement of the morning was seeing a Peregrine Falcon. I have to confess I would not have recognised it, in fact I probably wouldn't have even seen it, but for two very birdy men who were in the Kingfisher Hide at the same time. They seemed to know everything there is to know about birds! Very lucky for me. I kept very quiet and listened and looked.
Here are a few photos of my morning.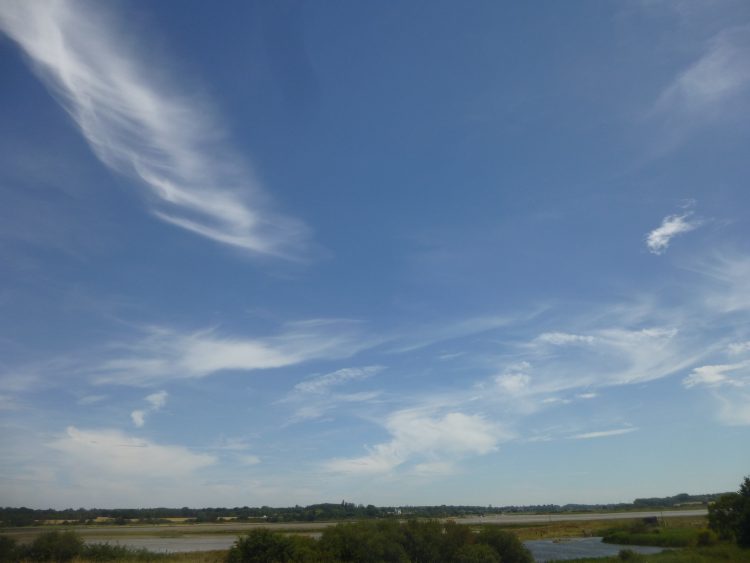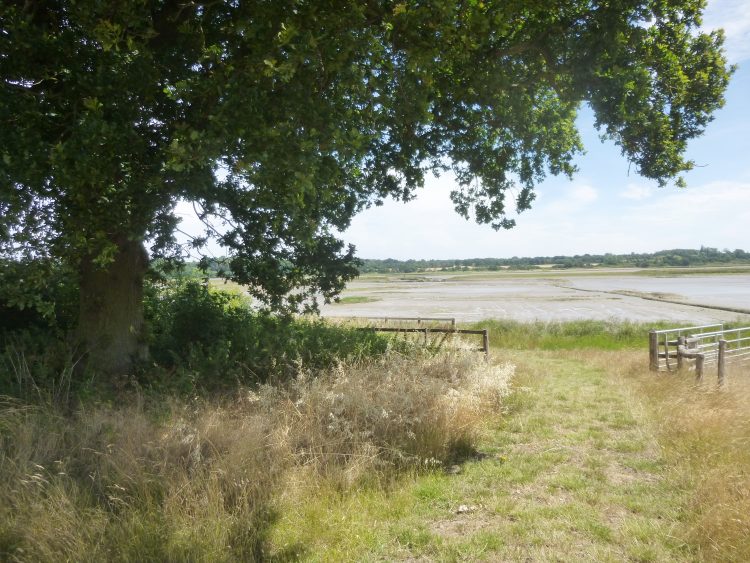 I primed up some board this morning to make a start on my July painting.
And I also made some strawberry jam!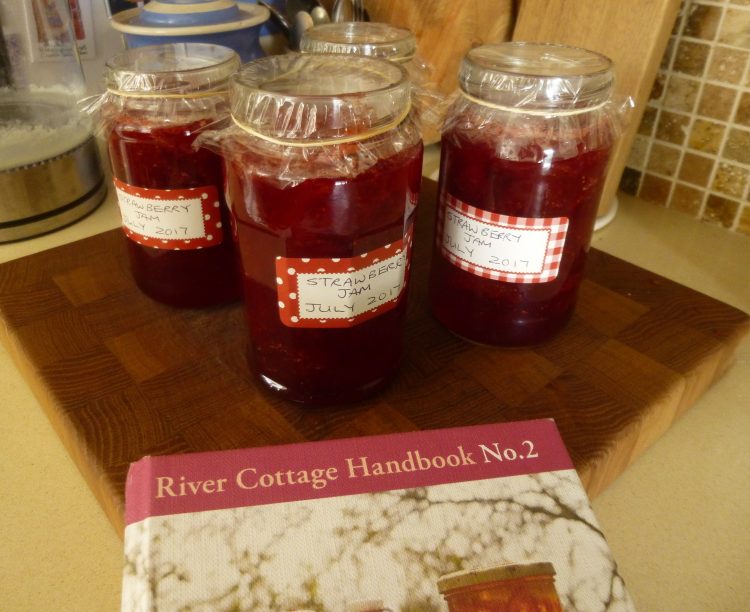 I use the recipe from the River Cottage Handbook Number 2: Preserves, which is such a useful book. Raspberry Jam coming up tomorrow!
Hope your week is going well. 🙂
---
Up on the gallery page this morning – The Ridgeway III!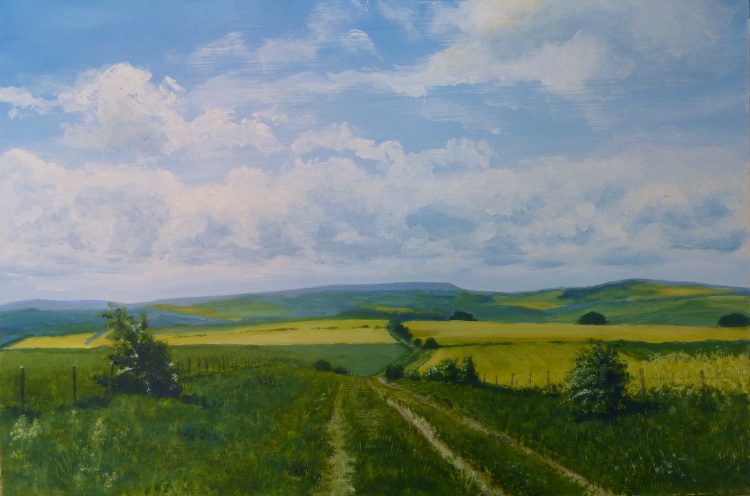 This view is from near Fyfield Down, looking south back towards the start of the Ridgeway at Overton Hill. It was the first morning of my walk. The track is very wide here, with a number of pathways worn into the grass. At this particular spot there were only three – the right hand two being made, I think, by quad bikes which are allowed in summer time.
Further up the hill there were five or six different pathways, some of them worn deep into the chalk, some just flattened into the grass. The chalky tracks were full of flints which were very bluish in colour, unlike the flints round here in north east Essex, which are black or a dark graphite grey.
---
So, as promised, here are some photos of the beautiful shawl designed by Barbara Rae RA, that I bought at the Royal Academy shop on Thursday. It is huge! And, as you can probably make out, it is a landscape, but with wonderful colours.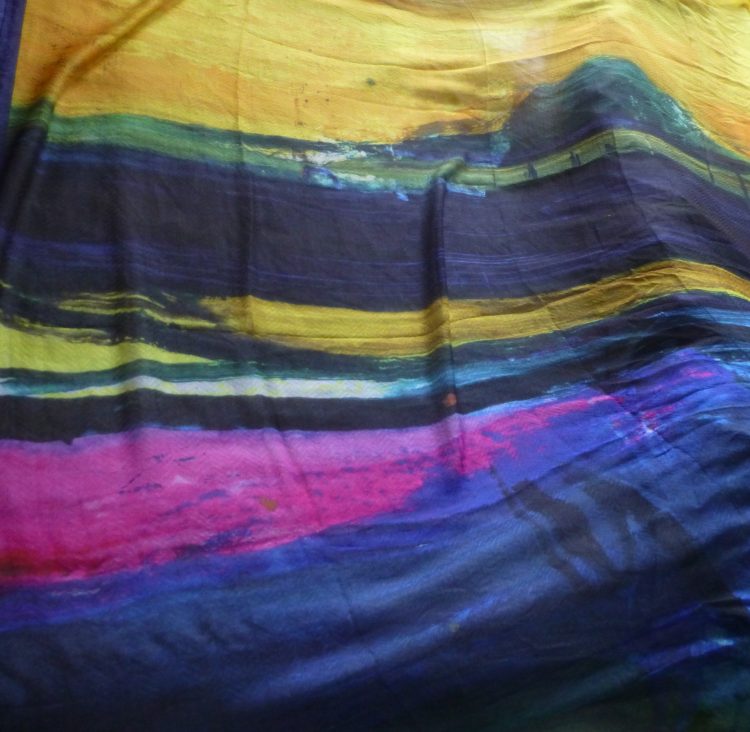 This is only half of it, spread out on my bed.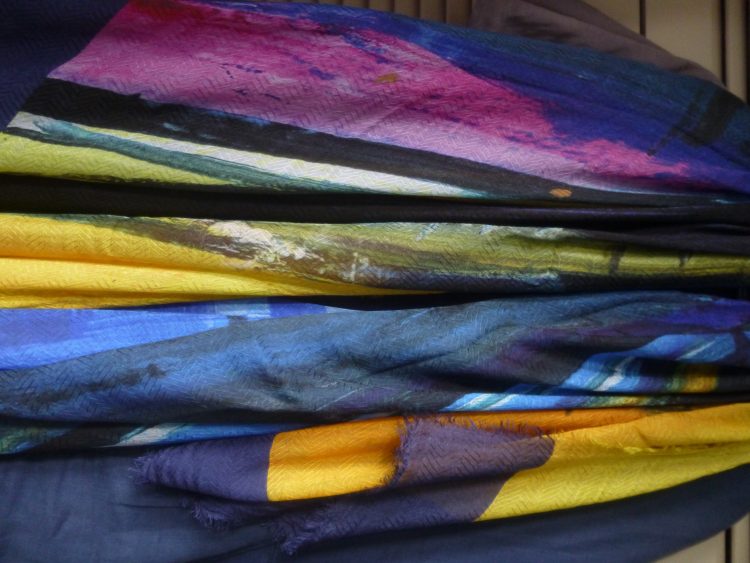 And this is draped round a hanger. (The photo is sideways!)
And I've been working away at The Ridgeway III and progress is being made. This is as far as I'd got yesterday –
– but I've painted quite a lot more this afternoon, and will have time to do some more tomorrow, I think.
Hope you're having a good weekend whatever you are doing. 🙂
---
Off on the train to London yesterday morning with Graham, to the Royal Academy Summer Exhibition.
There is nothing really spectacular in the courtyard this year, unlike the Spyre last year, or the metal 'forest' of the year before. So we went straight in.
The hanging seems better this year. I remember last summer being really irritated by the tiny paintings hung so high they might just as well not have been shown. This year there was one of the fairly large rooms devoted to a lot of smallish paintings, and everything was 'viewable'.
My favourite Academicians did not disappoint. Ken Howard RA had two lovely oils in the first big gallery both showing scenes of Venice. I particularly liked the snow effect one.
Further on I found this smaller one by Ken Howard, Rio Della Fava, Venice, which was actually my favourite.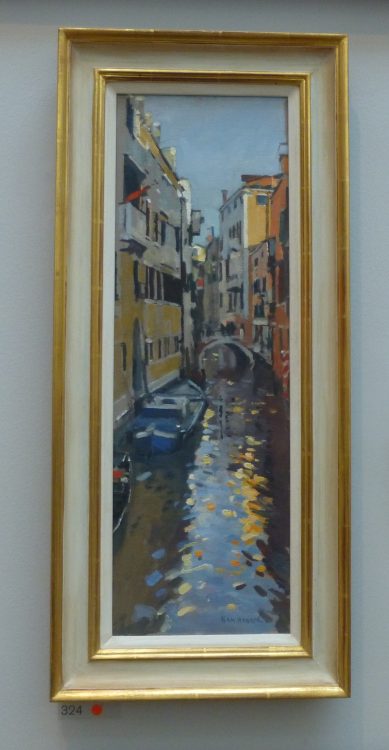 Norman Ackroyd RA had a number of beautiful etchings.
This one is called St Kilda – the Great Stacs.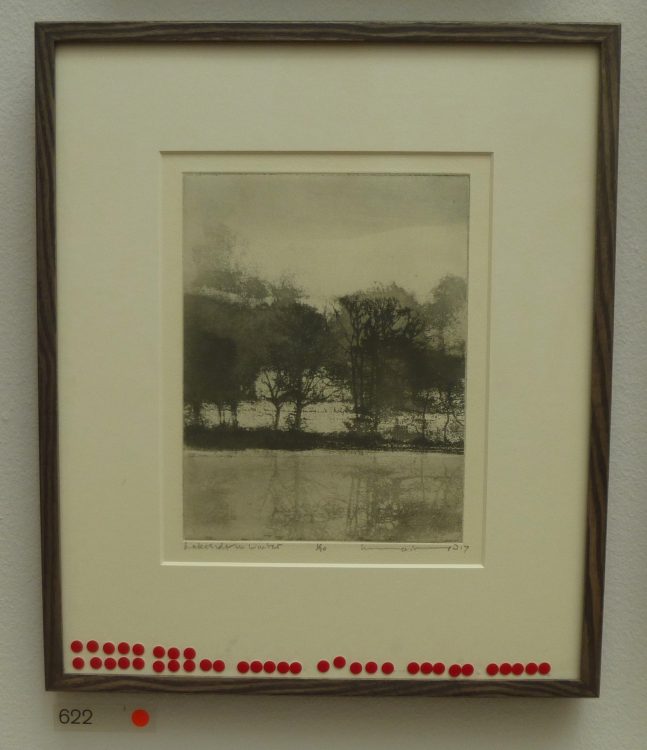 And this was just called Lakeside in Winter.
We found four works by Barbara Rae RA which we both liked. Here are two of them, Sea Sanctuary I & II.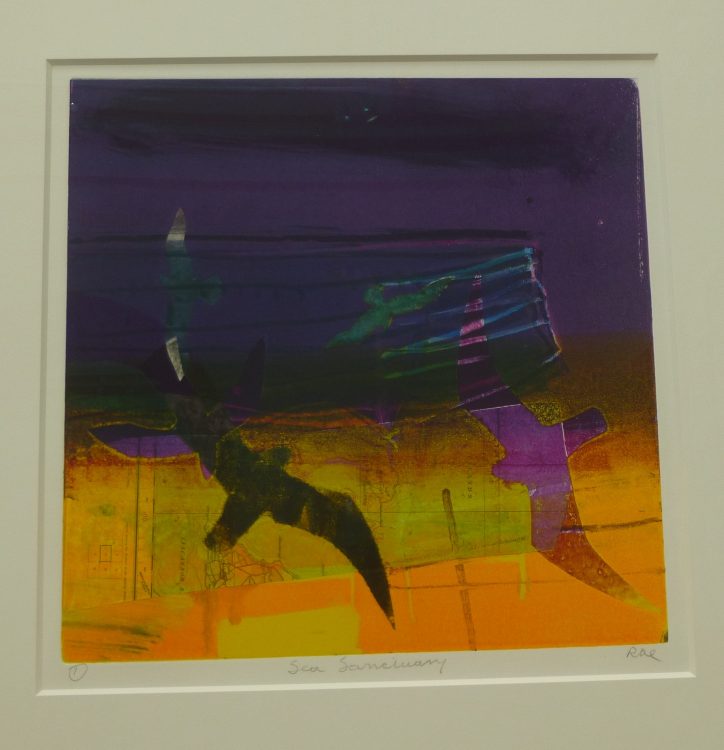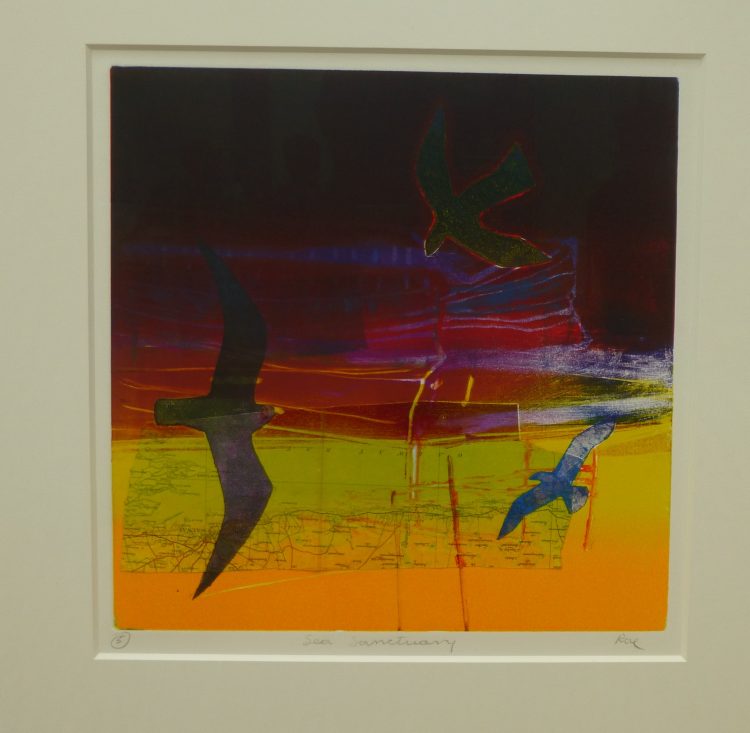 I really liked this small bronze of a swan, called Swan on Ball I by Tim Shaw RA. What a pity it was positioned so high on the wall that it was impossible to see the detail clearly. This photo was with zoom lens on my camera!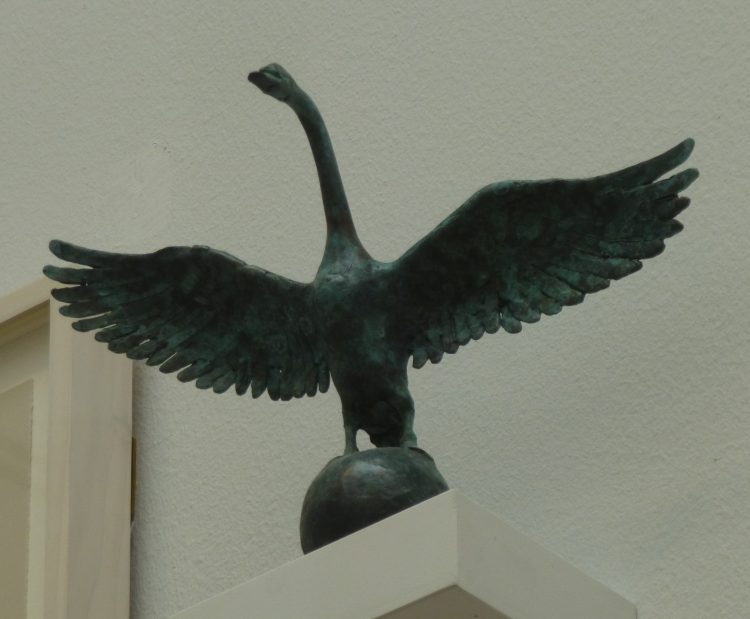 Another intriguing sculpture was a mini version of the metal forest from the courtyard in 2015 – The Dappled Light of the Sun (Study 1) by Conrad Shawcross RA.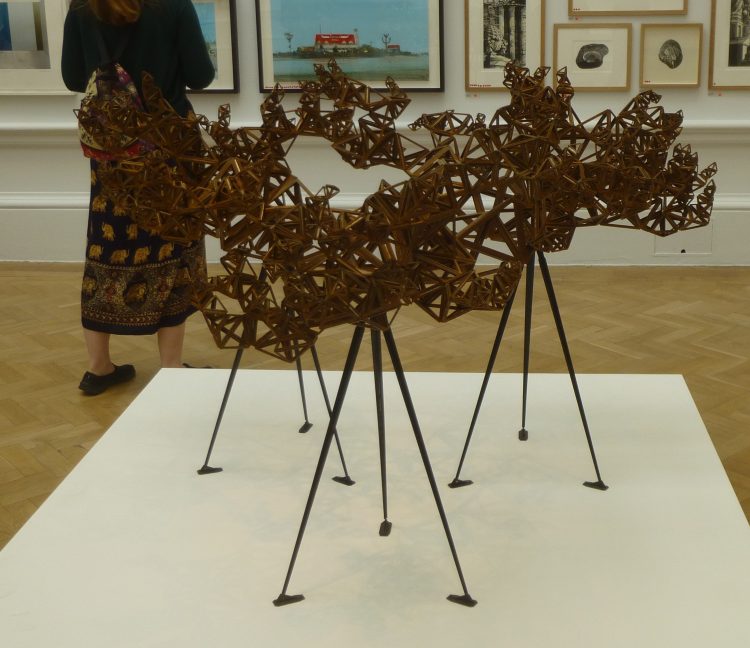 There were a number of very small, very beautifully done works – Henry Haggar's Sunlit Cloister Gloucester Cathedral was lovely, and I really liked the style of Neil Bousfield's Walking the Tideline.
There was a lot of photographic works last year, but very few this year. And we both noticed that the small representational works had sold really well, but the abstract, mostly quite ugly – or very ugly! – and sometimes HUGE!! – works had not. Not really rocket science!
As always it was a very mixed show, but definitely worth a look if you can get into London. I bought a beautiful scarf with a design by Barbara Rae in the shop. Maybe a photo to share tomorrow . . .
Afterwards we had a delicious lunch in Fishworks, and I had a delicious glass of Pimm's!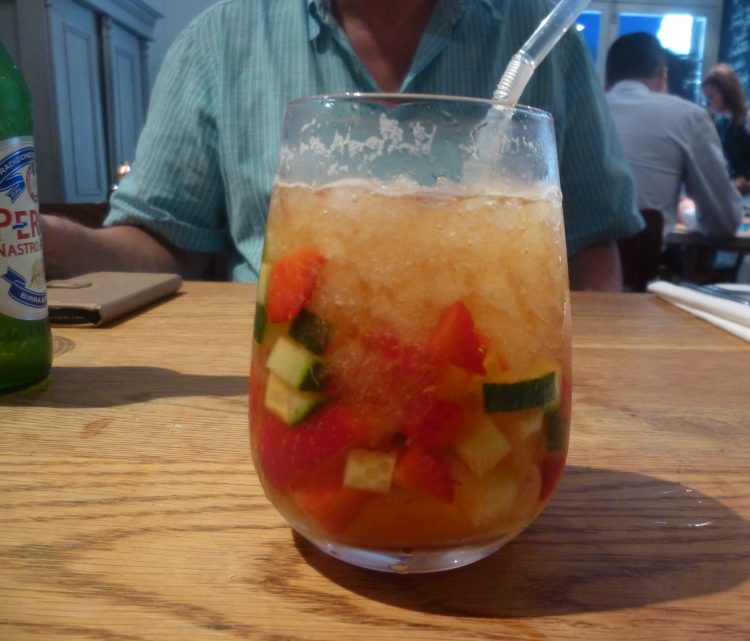 🙂
---
The Summer Fete at St Leonard's went really well and I had some interesting visitors to my ARTSTUFF stall.
The little jute bags were a hit, the mugs were popular as usual, and the new spiral bound notebooks also seemed to appeal to people.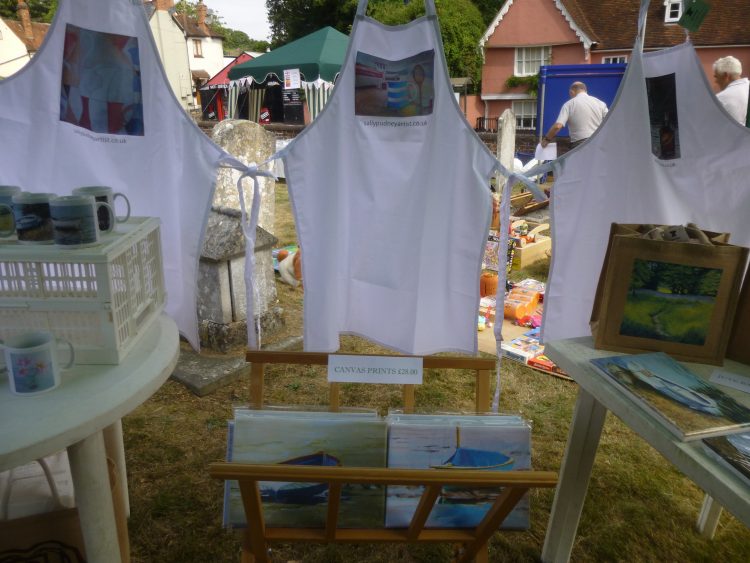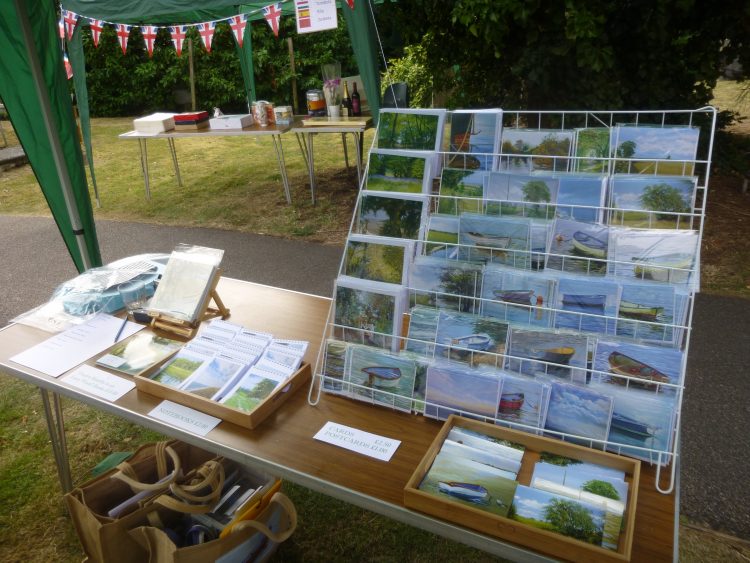 My tent was situated so that I had a good view of the 'Arena', and I was very taken with the portable May-pole.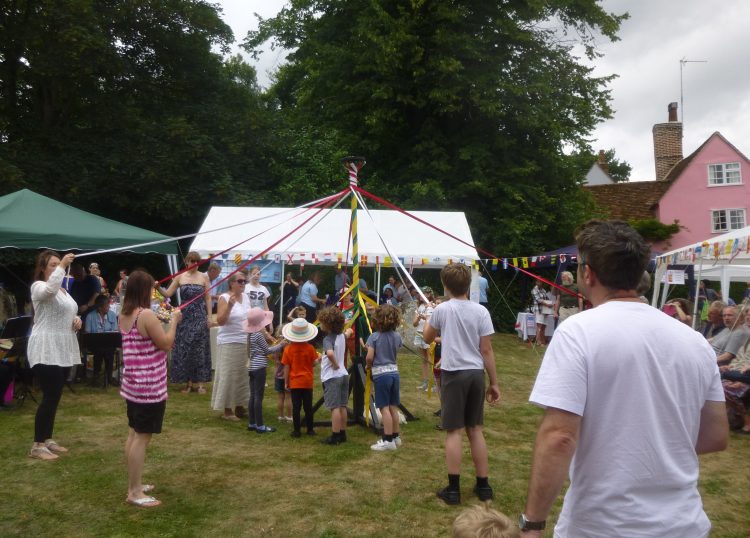 Yes, I know it's July . . . Some really little children took part and managed the weaving in and out of the centre ribbons.
It was very hot by the time we cleared up, and I think everyone involved was pretty exhausted, but it was a fun day and raised over £3700, so worth the effort.
Yesterday was Graham's 65th birthday, and I had been really looking forward to giving him the lovely stained glass panel which I had commissioned from Naomi Brangwyn, one of this year's Festival artists. It is called Making Memories, and shows a very colourful row of beach huts, with bunting flying over them, and the beach and edge of the waves in front. I will try and get a photo of it to share! (He was really pleased with it!) I took him out for dinner last night at The Crown at Stoke by Nayland – our go-to special occasion place as the food is always wonderful and the surroundings are lovely.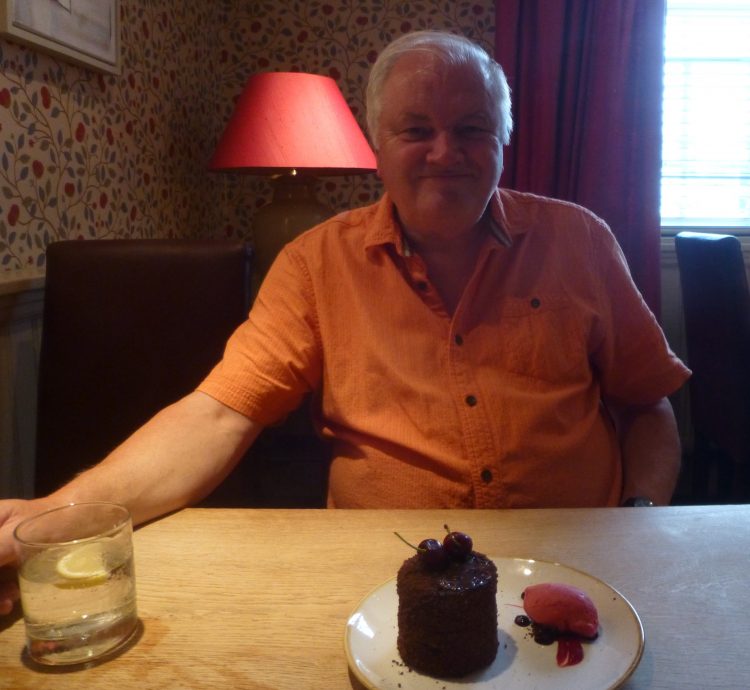 We both had very pretty puddings!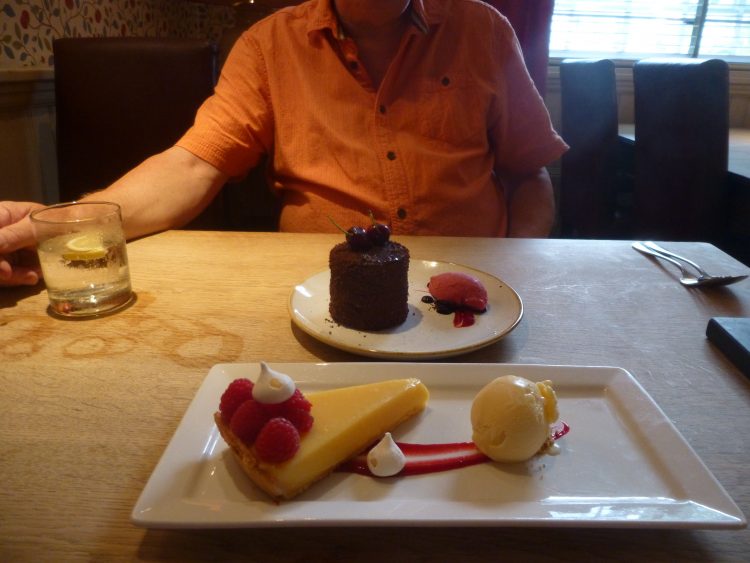 We squeezed in a concert on Sunday afternoon, too, so with one thing and another there hasn't been much studio time over the last few days, but by Friday I hope to be back painting again!
Hope your week is going well. We have rain today – such a relief after all the heat and dust and dryness, and endless watering of the pots in the garden . . .  🙂
---
We've had a lovely weekend of music!
On Friday evening, Graham and I went to a concert at the Thaxted Festival, given by the choir of St John's College, Cambridge. They were breath-taking-ly good! It was a hugely varied programme – Byrd, Haydn, Vaughan Williams, and Britten, amongst others. And as a sort of encore after the encore, the young men of the choir suddenly launched into a fabulous rendition of Surfin' USA. which brought the house down!
Yesterday, we were singing ourselves. We joined the choir at All Saint's Maldon, where our friend Stephen Carter is Vicar, to sing for an ordination service taken by the Bishop of Chelmsford, Stephen Cottrell. The anthem, which we sang during the communion was Stanford's Beati Quorum Via, which was new to both of us. It is a beautiful motet, the third in a set of three, and we have really enjoyed learning it over the last few weeks. It was a wonderful service, and everyone came out on a high!
Back in the studio this afternoon, I've been making a start on The Ridgeway III.
This one is going to be of the first section of the Ridgeway, looking back towards Overton Hill.
Hope your week has got off to a good start 🙂