Yesterday was the most perfect Spring day. Really warm, up to about 22C, blue sky and windless. The first day that it has been warm enough not to even think about a coat. It was, then, a lucky day to have chosen to go to Beth Chatto's Gardens at Elmstead Market with my friend, Helena Hughes.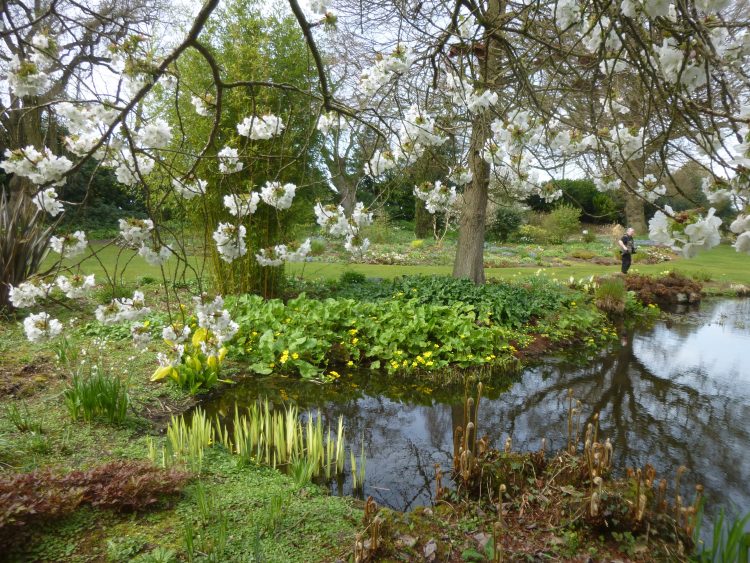 The gardens were looking spectacularly lovely. I don't think I've been before at quite this time of the year. All the spring flowers and blossom were out, but the deciduous trees still leafless, so there was a lovely quality of light.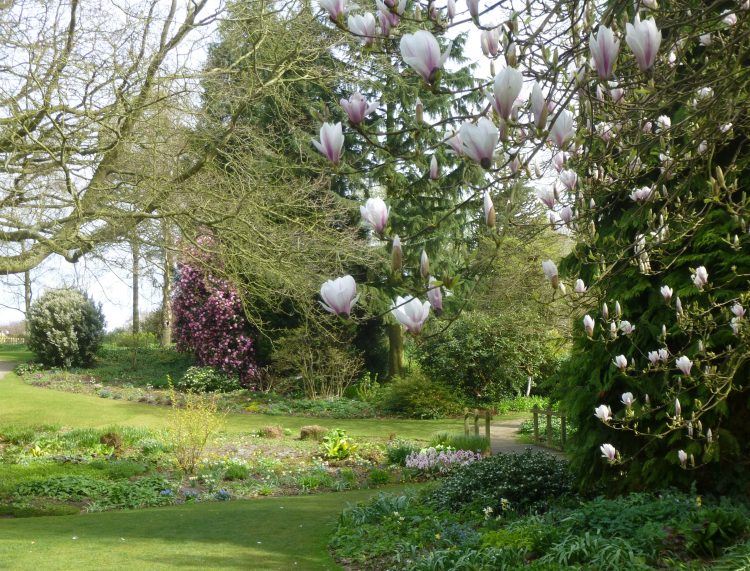 We started off with coffee and scones, then had a long amble round the gardens.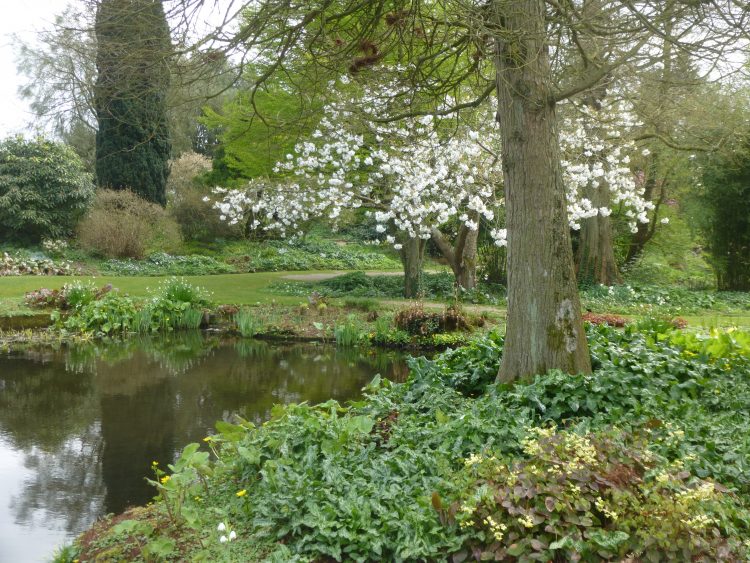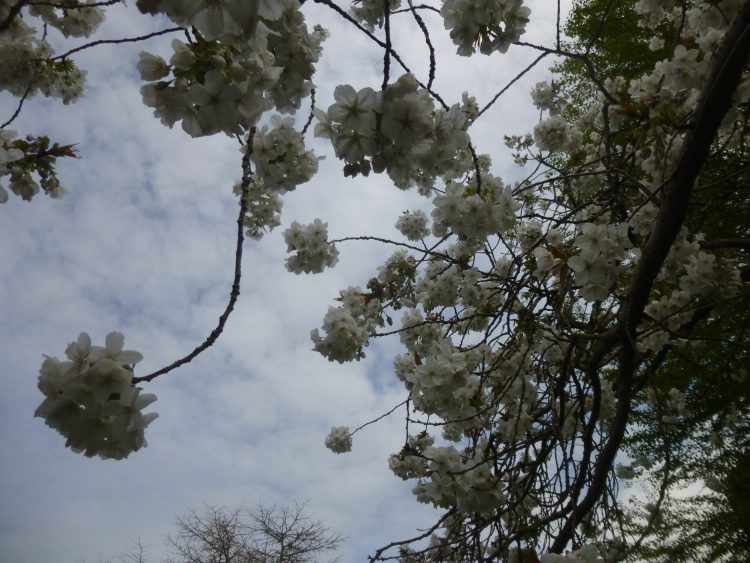 The blossom of the great white cherry was wonderful.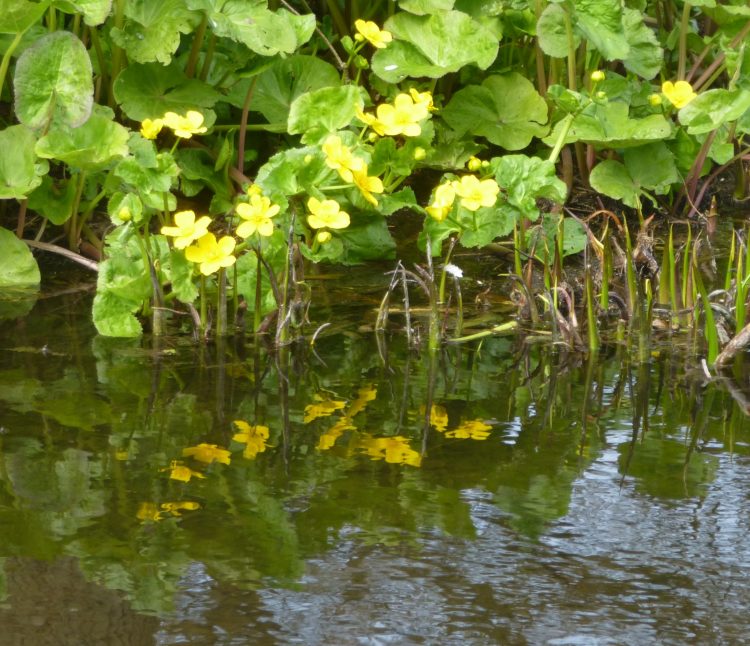 I have never seen such a magnificent camellia as this one – 'Donation' I think.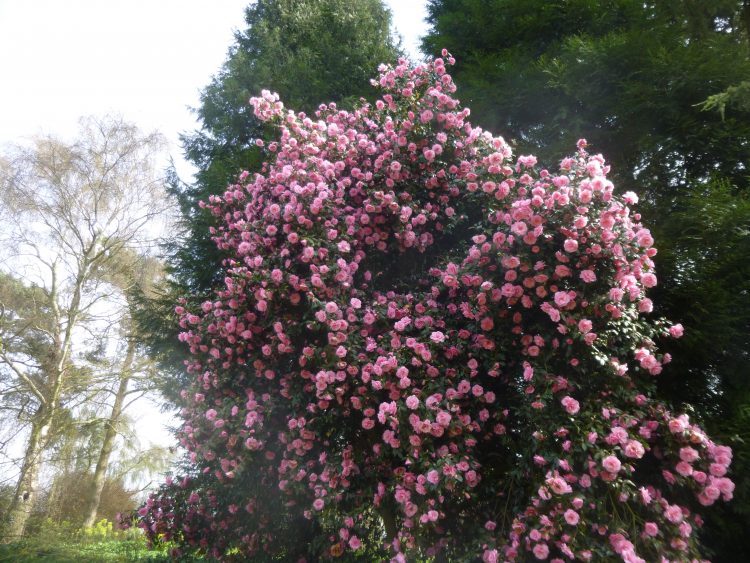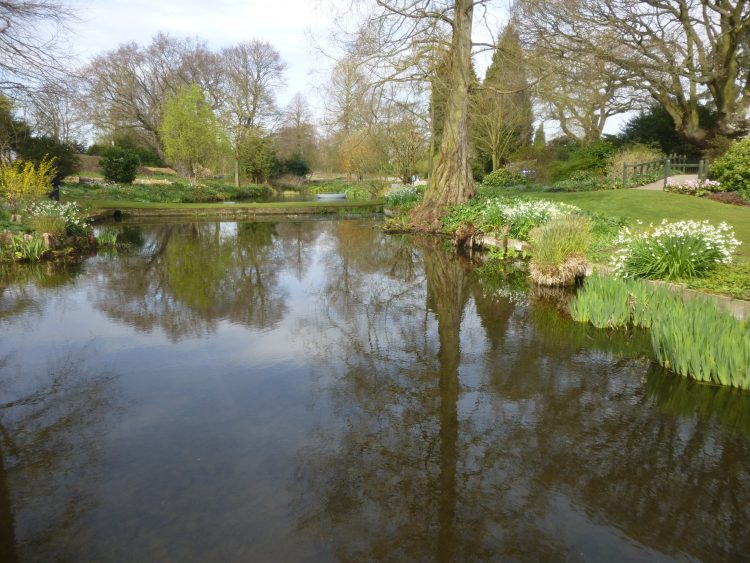 There were lots of thick clumps of fritillary, both the purple and the white, but I like these purple ones best.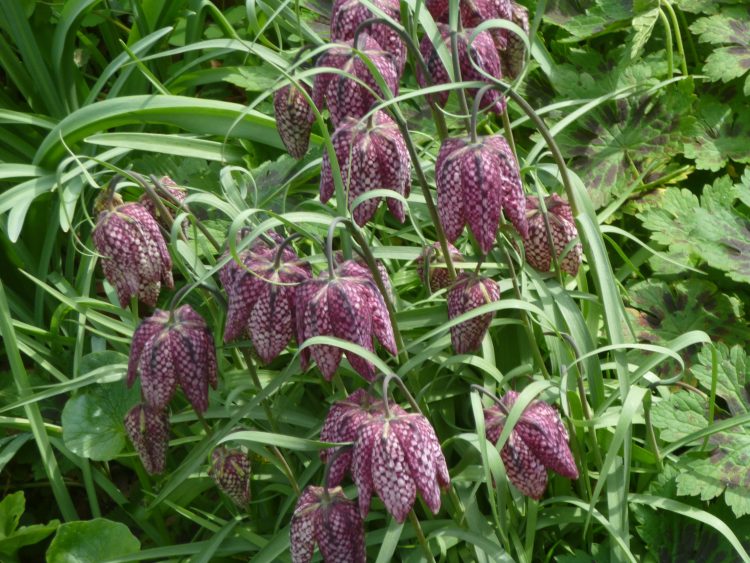 Helena took a lot of photos of the beautiful trees . . .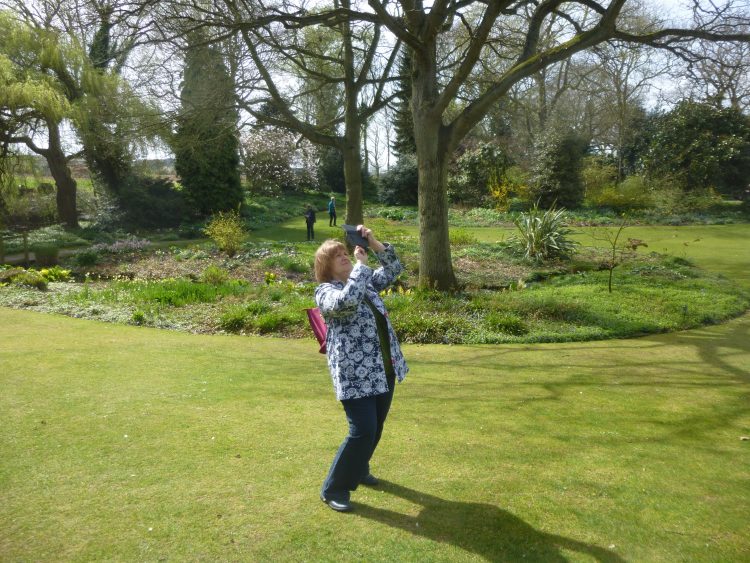 The plant nursery is always a big draw, and I bought another agapanthus for my growing collection. It was described as having 'blue-black buds opening to a very dark rich blue' so really one couldn't resist . . .
The teashop is very good and it was lovely to be able to sit outside to eat. We had a very late lunch, and sat in the sun talking for ages before finishing off with tea and cake.
I'd definitely recommend a visit if you are in the area – a lovely peaceful way to spend a Spring day.
Hope you have some nice plans for your weekend 🙂
---
On Friday I went down to Wivenhoe to visit Richard Allen. At last year's Festival we showed Richard's watercolour paintings and lino prints of birds. They were really popular. I am delighted that he has agreed to show with us again for a second year.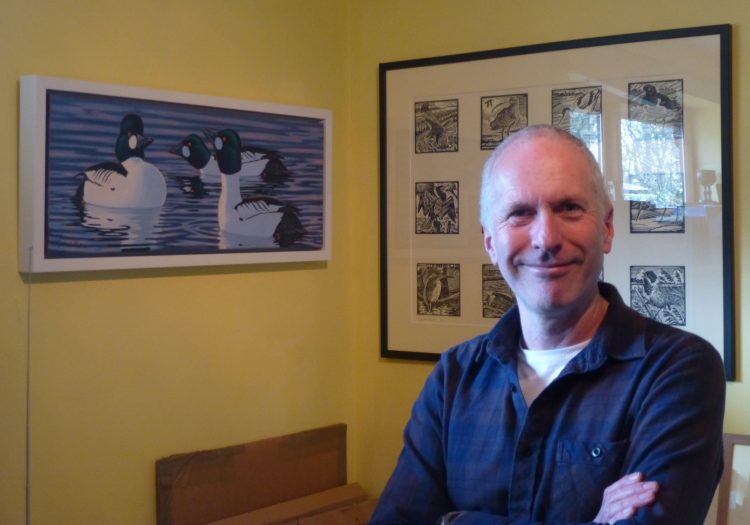 Richard is a member of the Society of Wildlife Artists. He has done lots of illustration work for bird identification guides, and he has an amazing ability to capture the exact character of each bird. He showed me a sheet of lino prints which he is preparing for a new book on Garden Birds, and I was really struck by how the robin was unmistakably a robin, even in black and white.
The Festival publicity states that we will have Richard's watercolours and lino prints, this is not actually true! I was so taken with his oil paintings of Goldeneye that we are actually going to have four oil paintings too! One of them can be seen on the left of Richard in the photo.
To find out more about Richard, and have a preview of his work, go to www.richardallenillustrator.com
---
In January I had a card from Elizabeth Morris to wish me a happy New Year. The card was a image of one of Liz's etchings called Spinning Sprats. I was immediately interested because it was square. Ever since I have had cards printed showing images of my paintings I have had them done by moo.com. And although I have been very pleased with them they have only done rectangular cards. For my Essex Wood cards I needed them to be square.
Liz came me the details of her printers – Point Graphics Ltd, at 21c High Street, Maldon, CM9 5PE. The end result – I went down to Maldon on Friday afternoon to collect 120 cards – 20 each of my six favourite Essex Wood paintings.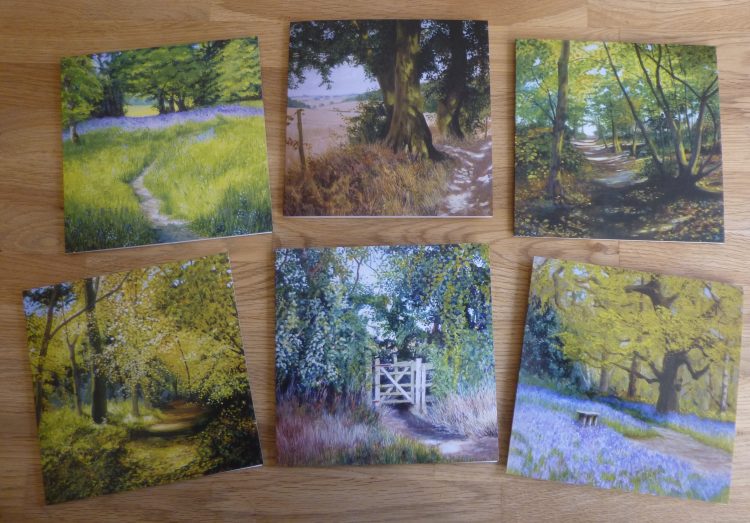 I am so pleased with how they have turned out. The colours are really accurate, and they have a slight silk gloss. On the back is the title of the picture. They will be on sale for the first time at the Lexden Arts Festival at £2.50 each.
I will definitely be going to Point Graphics again!
Hope you're having a good weekend – the weather here is really like Spring! 🙂
---
Up to Martlesham Heath yesterday morning to visit Caroline Sullivan who will be exhibiting with us for the second year. At the 2016 Festival her beautiful knitwear just walked out of the door. I was delighted that she agreed to show with us again.
Caroline has a wonderful sense of colour, and I love the colour schemes that she puts together. She will be exhibiting a number of 'waterfall' style jackets, some with co-ordinating neck warmers. A lovely lime green one can be seen in the photo behind her, with it's neck warmer draped round the hanger.  She will also be showing waistcoats, hats, fingerless mitts and circular scarves. AND – a fairly new venture for Caroline – knitted jewellery! This is made using sterling silver or copper wire, and some pieces feature semi-precious beads as well. I won't begin to explain how the 'knitting' is done, as it looks very complicated! The end results, though, are really beautiful and unusual. Some can be seen on the left of the photo, and Caroline is actually holding some that she is in the process of making. She has made bracelets, ear-rings and rings so far, and she says it is a refreshing change to have two different kinds of creative activity on the go at the same time.
To see some images of Caroline's work go to Instagram.com/byCarolineSullivan
---
Yesterday I finished the third painting in my Fingringhoe Wick painting project . . .
This shows the far corner of the big pond near the Visitor's Centre.  It was a bright day and there was a surprising amount of colour in the trees overhanging the pond, and in the more distant trees. This one will be going into the Lexden Arts Festival exhibition, along with the January and February Fingringhoe paintings.
Outside my studio the magnolia is in full flower now – magnolia stellata 'Leonard Messel'.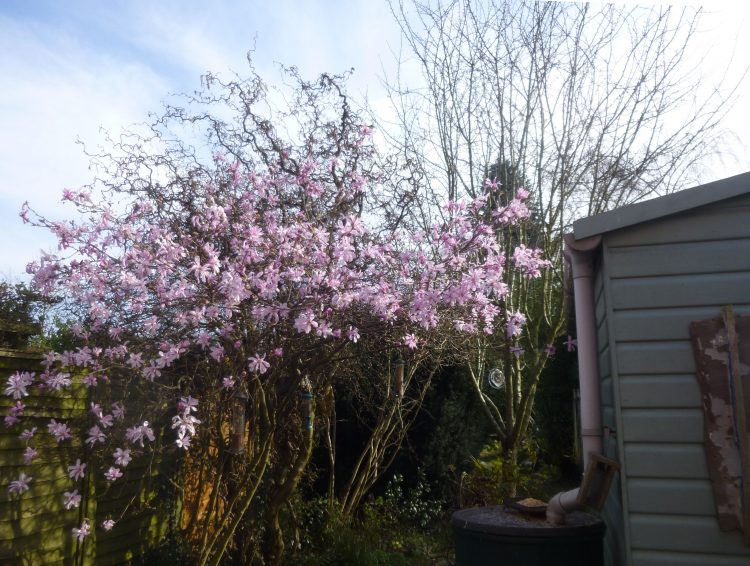 ---
Last Friday I went up to Stowmarket to make my ninth Festival artist visit, to Greta Hansen, who is a printmaker. Greta uses wood cut and lino cut techniques to make her prints, and will also be showing a few collographs.
Greta has a lovely studio, very well converted from her former garage. It houses her two presses, and a variety of prints in every stage of completion: some framed on the walls, and some drying on the work surfaces, waiting for the addition of further layers of ink, and more stashed away in fitted cupboards.
Her subject is landscape, particularly woodland and trees. She said she likes to add a distant animal or figure sometimes to bring the scene to life. She uses a lovely range of soft natural colours, working in a very tonal way. The detail she adds to her work draws the viewer in to examine the print closely.
Greta is a relatively new member of the Suffolk Craft Society – we saw her work first at their  exhibition at the Peter Pears Gallery last summer – and Greta has an online presence on their website www.suffolkcraftsociety.org
---
This morning I got started working in my studio on Fingringhoe Wick: March.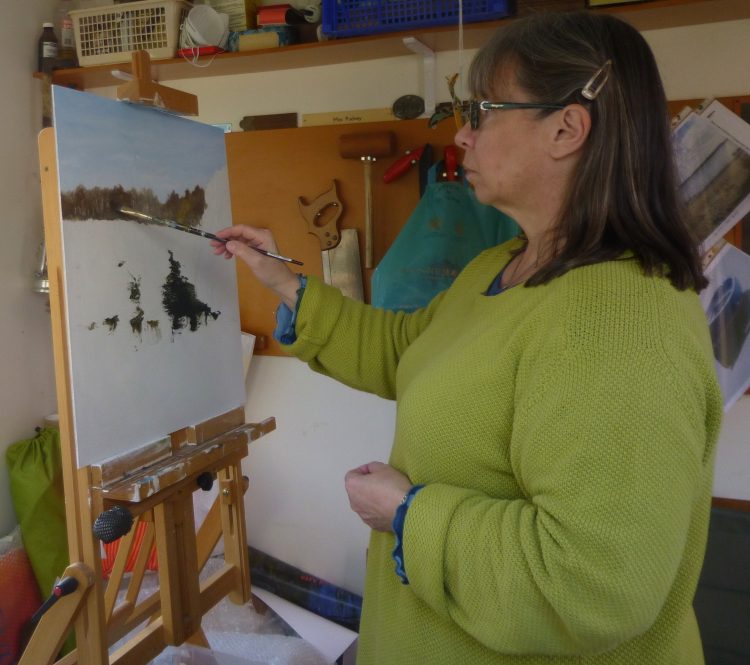 And outside the studio the magnolia flowers all opened in the sunshine!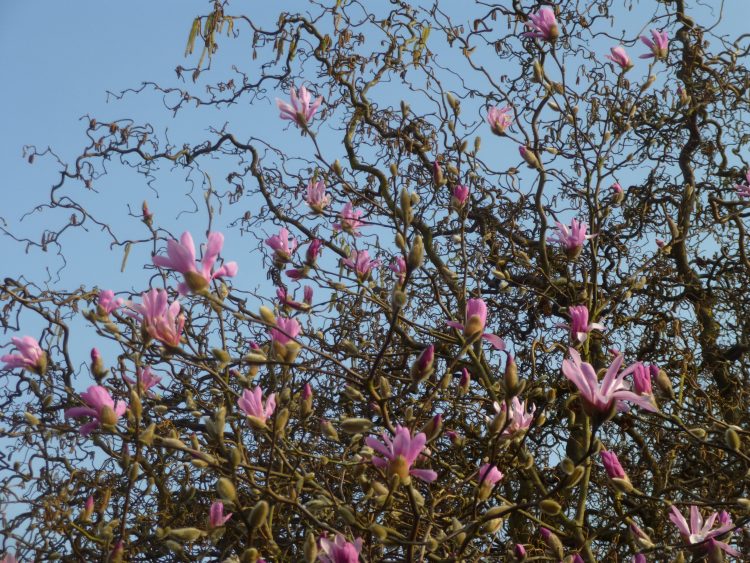 ---
It was a really lovely day here today, so I made my March visit to Fingringhoe Wick. The sky was clear blue with a few vapour trails. There was a little breeze.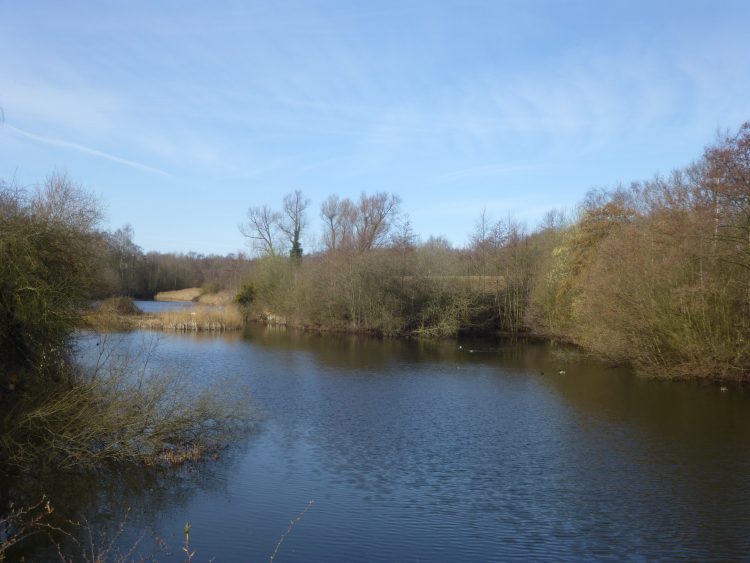 I started off drawing the lake near the Visitors Centre. I have thought about painting it since my first visit. Today, with the bright light and the water reflecting the blue sky, it looked particularly good. When I came back to it at the end of my walk the breeze had dropped and the water was much more reflective and still than it appears in this photo. The tufted ducks were diving, and a mute swan had taken up residence on a reed island near the centre of the lake. Look carefully and you can just see a glimpse of white. I think it is too early for her to be nesting, but she certainly looked as if she'd staked a claim!
I walked down to the edge of the estuary where the old jetty goes down into the water. The tide was high, and the posts had clear reflections.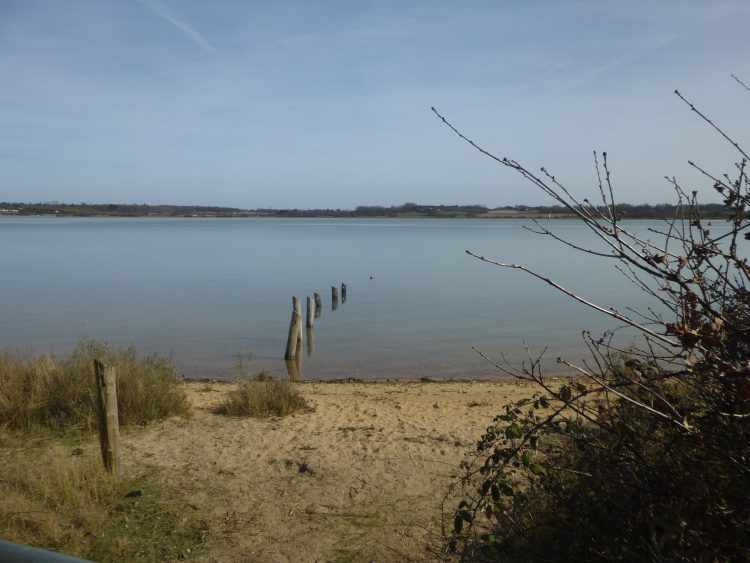 My intention was to walk down to the intertidal area, but somehow I got onto the wrong path and walked through all the woodland area where I've never been before. I heard a green woodpecker – maybe more than one – repeatedly give it's laughing call high in the trees, but I didn't see one. I came out on the track leading into the Reserve – not at all where I'd intended to get to! There were lots of catkins still on the hazel trees, and pussy willow flowering profusely.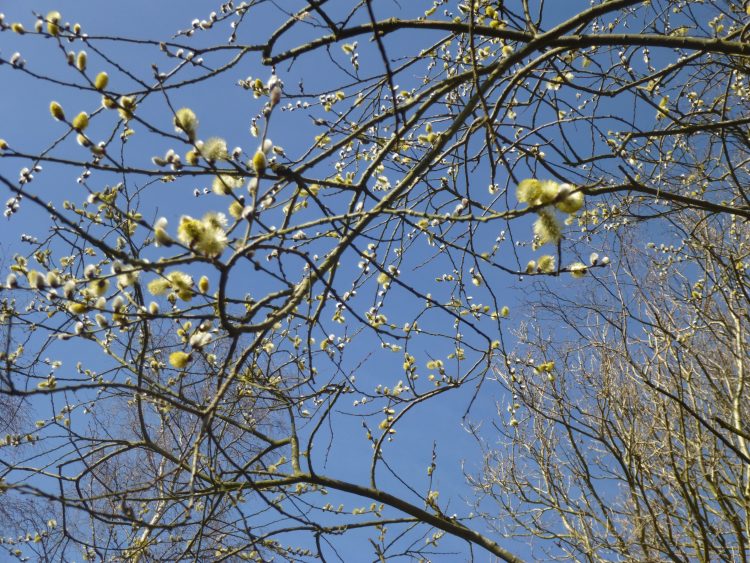 I saw a number of bumble bees and butterflies, including this beautiful peacock butterfly.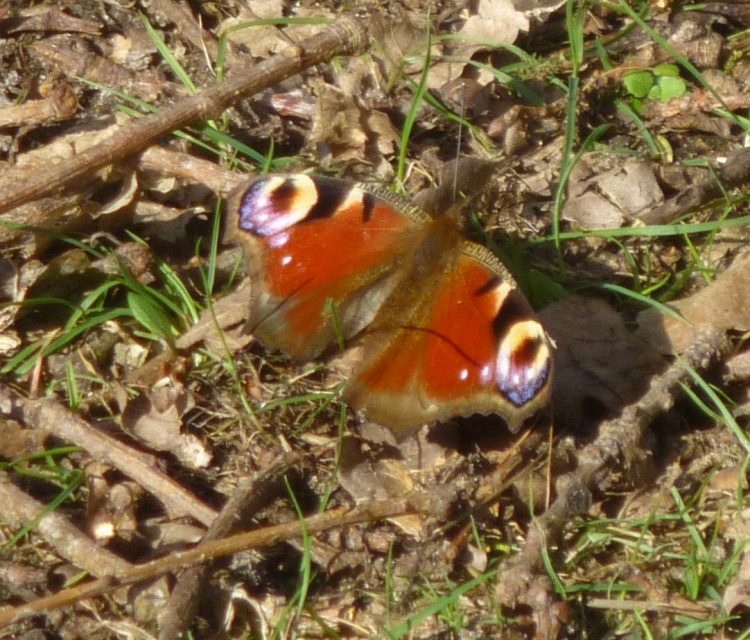 Back at the Visitors Centre it was warm enough to take my tea and cake outside.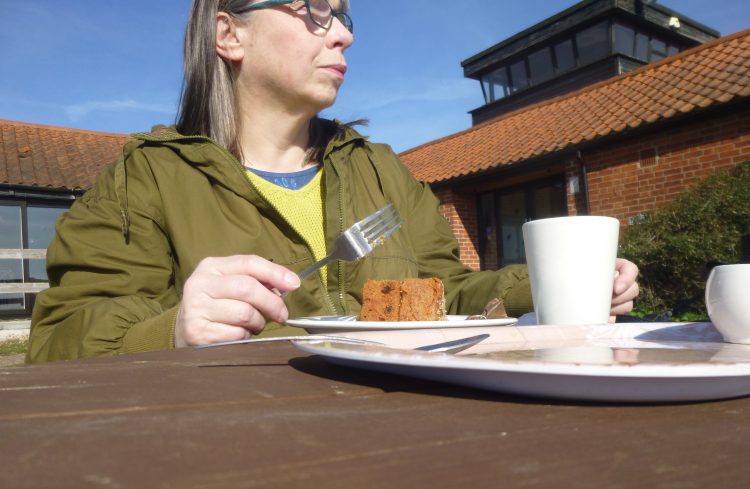 A buzzard was soaring on the air thermals over the marsh as I finished my cake!
A good start to the week! Hope your week has got off to a good start, too. 🙂
---
A new little sailing dinghy finished this afternoon – this is another one from Heybridge Basin.
It was clear from the deep grooves in the mud where the dinghy had settled herself at each former low tide.
I'm hoping to make my March visit to Fingringhoe Wick this coming week, so I got a few boards of different sizes primed up this afternoon so that I'm ready!
The weather here was beautiful yesterday. The hellebores and daffodils in my garden are all flowering, and I noticed today that the first few buds of my Magnolia stellate 'Leonard Messell' are just beginning to show pink petals. Spring is definitely here in North Essex. Hope you've had a good weekend. 🙂
---
On Thursday Graham and I went down to Leigh on Sea, on the Thames estuary to visit two of our LAF artists.
Jonathan Trim exhibited his mixed media landscape paintings with us at the 2016 Festival and they were extremely popular with our visitors. We asked him to show with us again this year, and I am really looking forward to seeing the new paintings.
We had coffee with him in his garden studio on an overcast, drizzly morning, but inside we were surrounded by the brightness and colour of his large canvases.
Jonathan has promised us paintings of the Stour Valley, Mersea and Wivenhoe, amongst the selection. He will also have unframed prints in our print browser, small books showcasing his work, and greetings cards – so lots to choose from!
Moving on to Old Leigh, we visited potter Richard Baxter in his Gallery Workshop 'Old Leigh Studios', which is situated right on the banks of the Thames. Richard last exhibited with us in 2015, and this year he is doing more than just showing his work! On Monday, 1st May at 7.30pm. he will be giving an illustrated talk called 'My Life in Clay', with a live demonstration of some of his techniques and practices using a mobile potter's wheel. I am really looking forward to this –  it will be fascinating.  If you are interested in coming tickets costing £10 each will go on sale on 1st April, and will be available from our website www.lexdenartsfestival.org.uk or from Red Lion Books in Colchester High Street.
Richard works in a variety of styles, from chunky earthenware to delicate, exquisitely coloured porcelain, and he will be exhibiting a group of ceramics representing all of these styles.
To find out more about Richard and his work go to www.richardbaxter.com
To find our more about Jonathan and his work go to www.jonathantrim.com
We finished our visit to Leigh with a very nice lunch at the pub opposite Richard's studio. 🙂
---
A book recommendation!
I have been enjoying reading The January Man by Christopher Somerville very much indeed.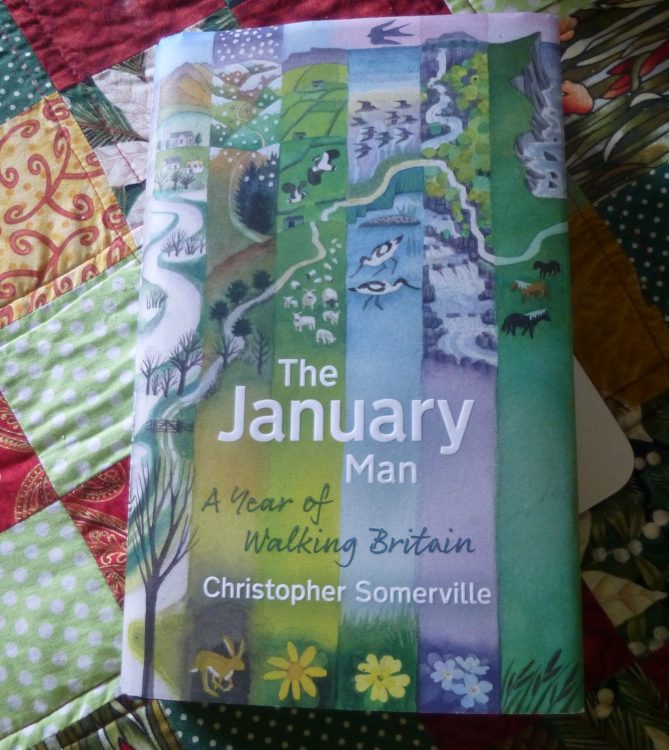 The book describes a year's walking around the British Isles, a different walk each month. Some are undertaken with his wife, some with a friend, some alone. Somerville has based the book around a song of the same name. He writes vividly about the landscape, the people, the wildlife and the weather that he encounters, and also about the memories, the literature, and especially aspects of his relationship with his father, that  are brought to mind  by the places he visits.
Some of the long distance paths that he walks I have walked bits of myself, in North Norfolk and Northumberland. The whole book made me start thinking about where I shall walk next!
A fascinating read for early spring!
---
The second painting in my 2017 project, 'A Year on Fingringhoe Wick' –
This view shows the new intertidal area, as seen from Margaret Hide. I particularly enjoyed painting the sky – there wasn't much in the way of sky showing in any of my 2016 Essex Wood paintings! – and also the subtle colours in the trees on the far side of the estuary.
The First of March today – Happy St David's day, especially to my friends in Wales,  and happy March to everyone 🙂