Well, this is in the nick of time! Number 11 in my 'A Year on Fingringhoe Wick' project for 2017.
If you walk up the track, coming back from the Intertidal Area, and then take the first track leading off downhill on the right, and then turn round and look back up the slope  – that is the site of this painting! I'd never walked down there before. The stunning colour of the silver birch trees attracted me to explore. And I liked the way the low sun shone in through the hedge on the right and lit up the grass up the track.
I've just heard on the radio that tomorrow is officially the start of winter as reckoned by the Met Office. There has been an incredibly cold wind for the last couple of days. We are forecast SNOW tonight! So keep warm and cosy, and Happy December! 🙂
---
The Shipyard Studios in Wivenhoe opened for their 'Christmas Cornucopia' show this weekend. I went down yesterday with my friend Helena to take a look.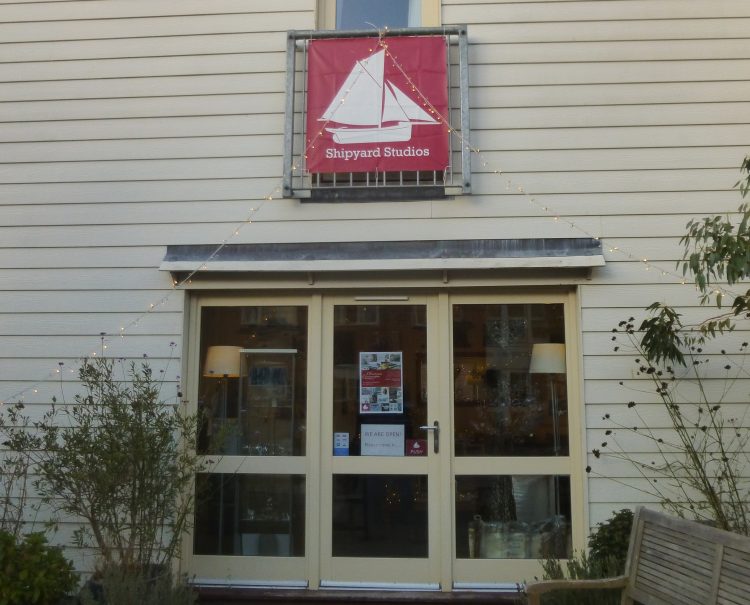 Abi and her helpers always set up a wonderful exhibition. She has a real gift for display and the rooms are packed with lovely things imaginatively arranged – so if you're stuck for Christmas presents you could find just what you're looking for here.  Shipyard Studios is at Keel House, Walter Radcliffe Road, Wivenhoe CO6 9FF and is open from 10 – 5 every day until December 10th. If you're in the Colchester area do take a look!
We walked back along the river to the café near the church for a cuppa and cake, and the afternoon light was beautiful on the river. 🙂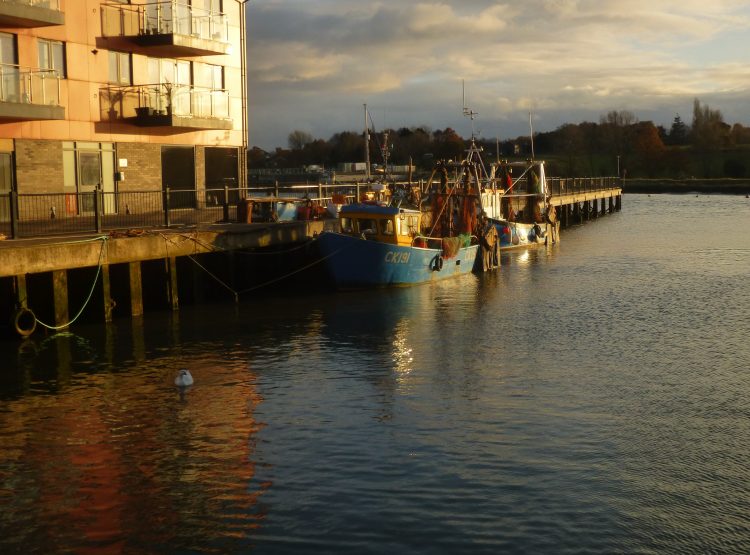 ---
Big announcement today!
Way back on 31st July I mentioned here on my blog that Graham and I were planning an exciting new venture. Well, now it's more than a plan – it is a definite reality. We are moving our Arts Festival from St Leonard's church at Lexden to All Saint's Church in Maldon.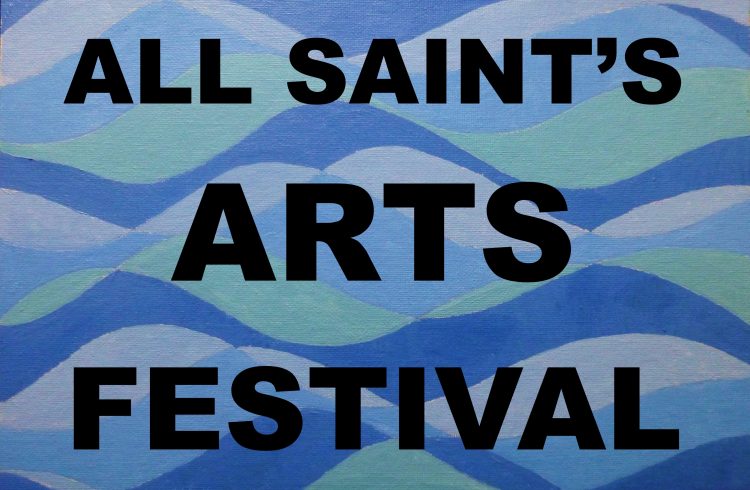 There are numerous advantages: it is a large town centre church in the High Street in Maldon, with lots of passing potential customers. There is a beautiful glassed in Lady Chapel – the D'Arcy Room – where there will be far more room to stage the Art Exhibition. The large well equipped kitchen will be great for food preparation, and there is a large side aisle where we can set up the café.
The first Festival will be from 25th – 29th May in 2018 – make a note of the date right now! It will be open to the public from 10.30am – 4.30pm on Friday, 25th May, Saturday, 26th May, Bank Holiday Monday, 28th May, and Tuesday, 29th May. On Sunday, 27th May it will be open for the afternoon from 1.00pm – 4.00pm. The café will be open at all times, and lunches will be available on every day except Sunday.
We are in the process of planning some evening events, and there will also be a special Festival service on the Sunday evening. I have already invited 10 of the 14 artists we will be showing, and I'm delighted at the enthusiastic response I have had from them.
This is a great new venture for us and holds lots of possibilities for the future. I shall be giving more details about the artists and the evening events as time goes on.
So exciting!! Yay! 🙂
---
Graham and I have been enjoying evening rehearsals with the choir of All Saint's church in Maldon, getting ready for Advent and Christmas.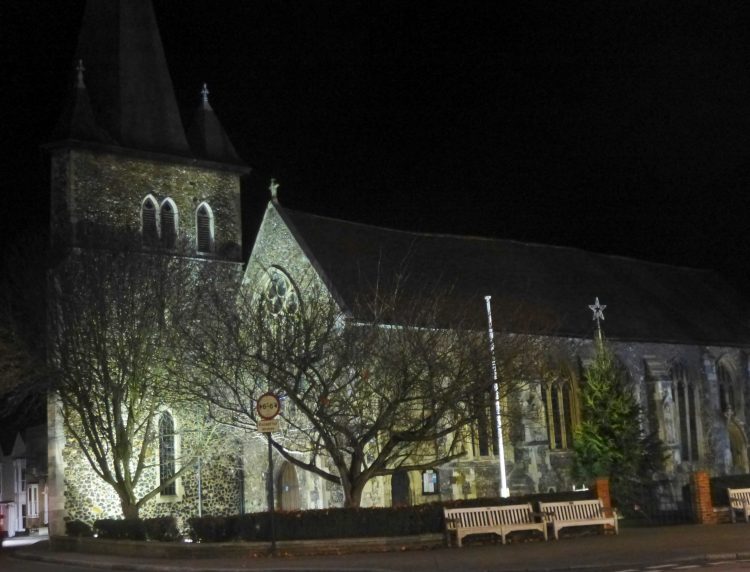 Our exciting new venture is bound up with this lovely medieval church in Maldon High Street. I was going to wait till January to announce it but have changed my mind. All the detail coming tomorrow! But here is a BIG clue . . .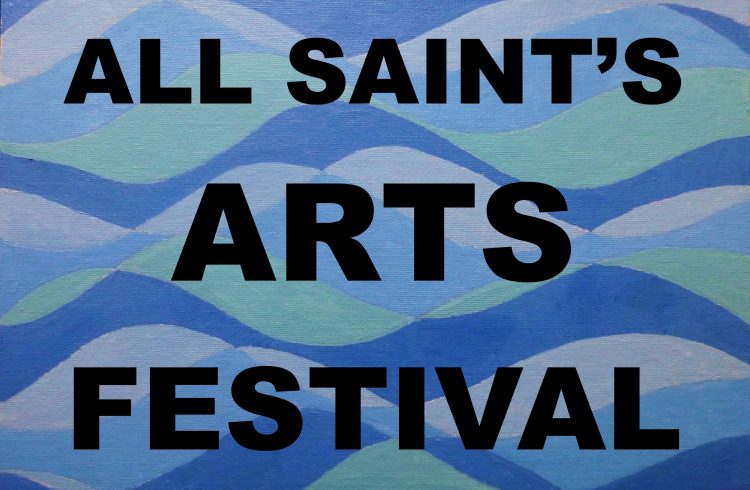 A really frosty feel to the air by late afternoon today and a lovely frosty sunset from my back door . . .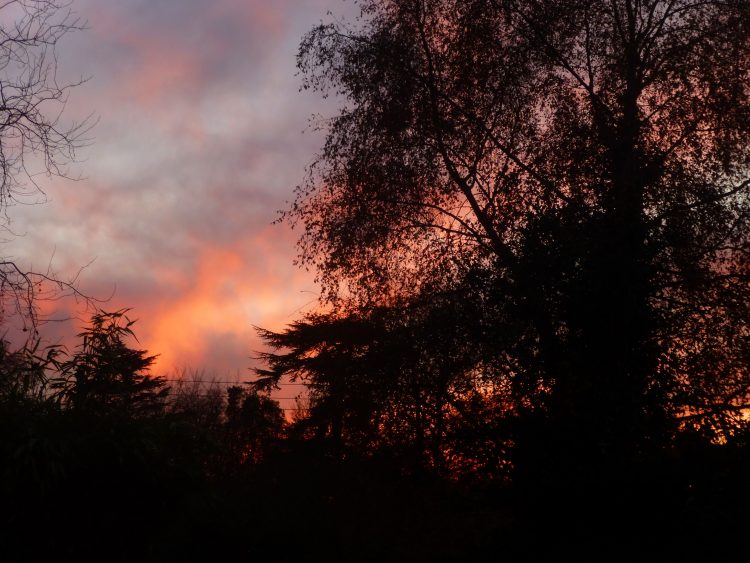 ---
I've been busy this week at my desk doing Faculties, but I managed to get out into my studio this afternoon. I've made a start on Fingringhoe Wick: November,  wielding a palette knife to slide in a smooth cloudless sky with a varied mix of Cobalt Blue Deep and Titanium White. This is very unusual for my paintings, as I usually use Indanthrene Blue and Cerulean Blue Chromium mixed with Titanium White. But the cloudless Autumn sky just called for Cobalt!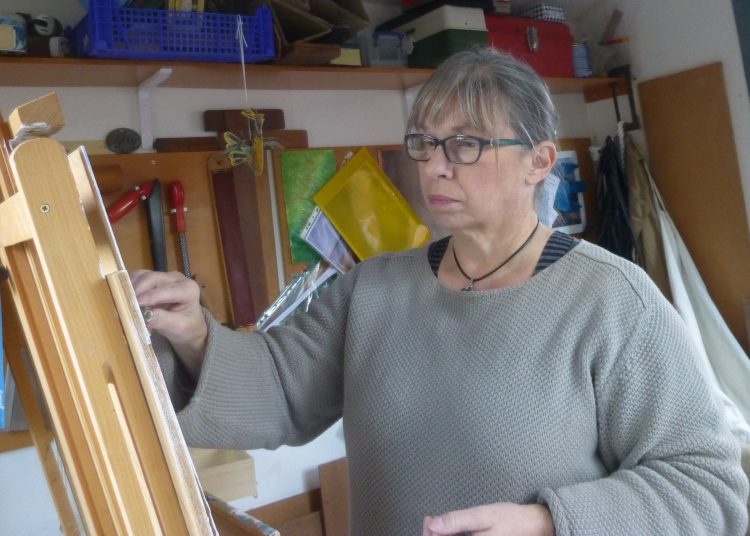 Painting number 11 of this year's painting project – and it only seems a couple of months since I started! But I have been giving a bit of thought to how my book, 'A Year on Fingringhoe Wick,' is going to go together once I've finished all twelve paintings.  And I've also been planning out my 2018 painting project, poring over Ordnance Survey maps and making lists. I'm really excited about the next one, and can't wait to share it and get started.
A new batch of mugs arrived yesterday with some of my paintings on them, which include a few special Christmas ones. This reminds me that it's only just over a week before my next ARTSTUFF stall at St Leonard's Christmas Bazaar. It is in the Church Hall behind St Leonard's Church in Lexden Road CO3 4BL on Saturday, 2nd December 10.30am – 2.00pm. I shall have my 2018 calendars for sale, plus packs of the Post Box Christmas cards, single Telephone Box Christmas cards, Essex Wood cards and books, postcards, notebooks and mugs. If you are in the area do call in and say hello. 🙂
---
A fun day in Felixstowe yesterday, doing a second stained glass workshop day with Naomi Brangwyn. I went all Christmassy and made four Christmas angels. There were a variety of Christmas trees, robins, snowmen, and a Santa hat produced.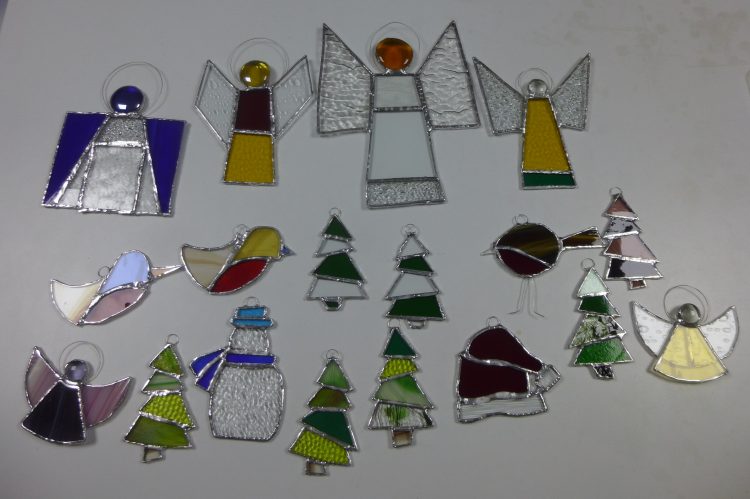 They look great all together, don't they!
Here are my angels after I got them home.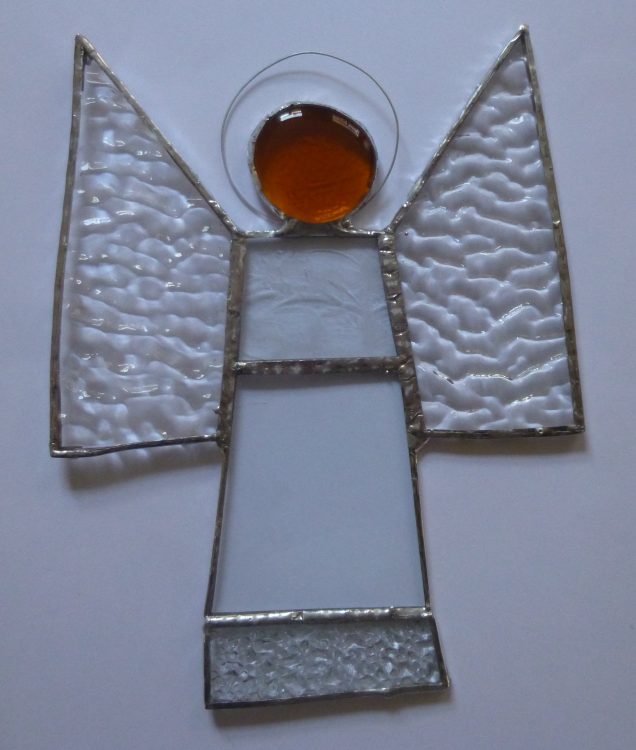 I think this is my favourite one, made of a mixture of clear glass, but with different textures.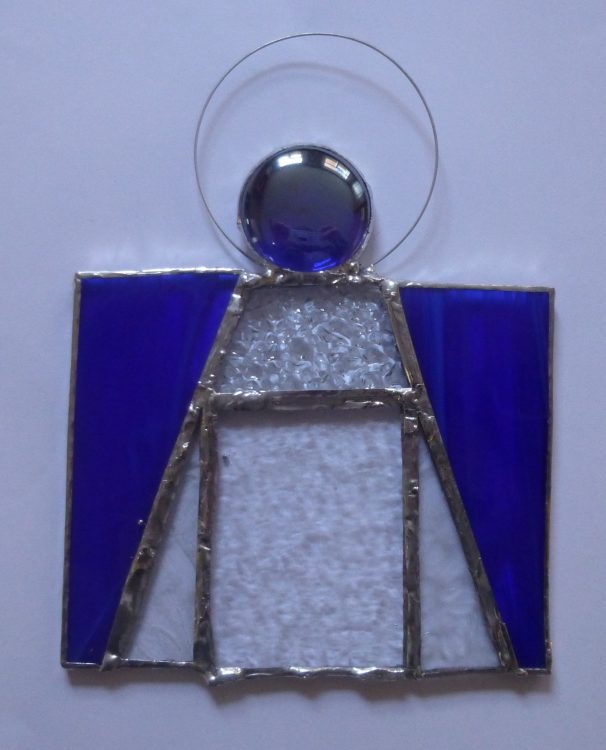 I love the rich blue in this one, and was rather pleased with the design that I worked out. If I'd had time I would have made another of these with red wings.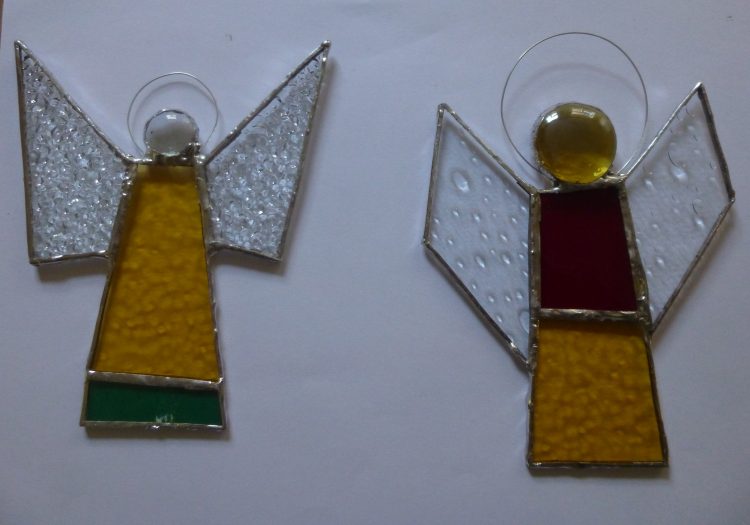 These two were the first ones I made. They all look much better held up to the light, like this –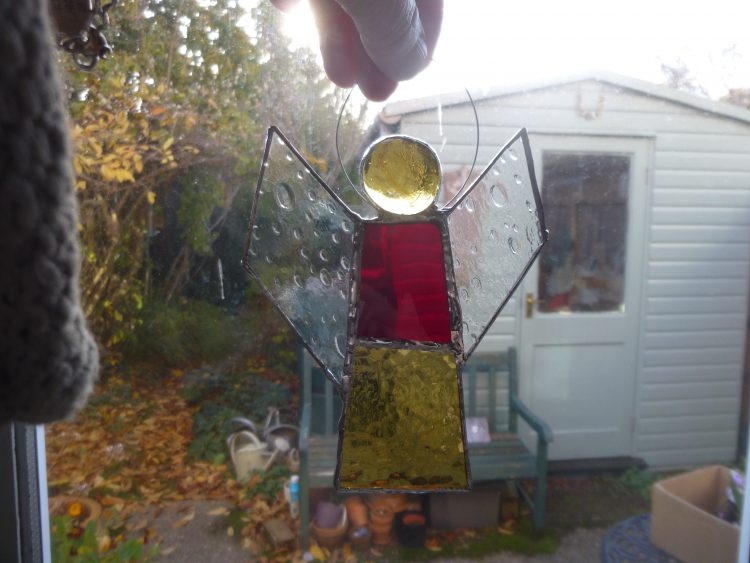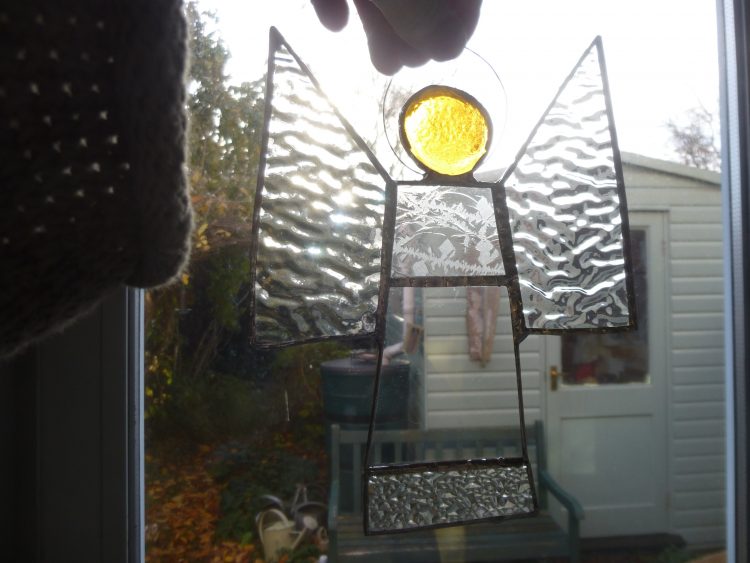 Naomi told us that she has next year's workshop dates up on her website, so if you fancy having a go yourself, check out www.naomi-brangwyn.co.uk. I shall certainly be going back again next year to do some more.
Finally, a shot of the holloway near Stanway Green, when I was out for a walk earlier, in the beautiful Autumn sunshine we've had for the last few days. I love this time of year! 🙂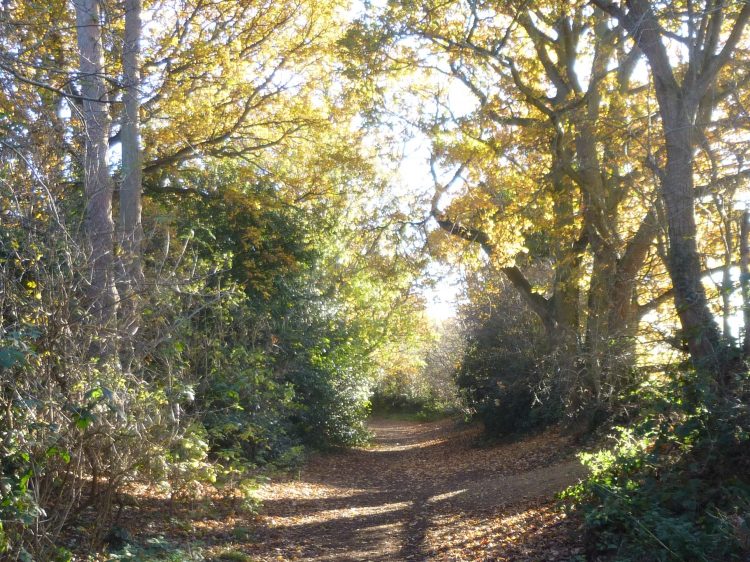 ---
Last night was a frosty, starry night. This morning was a perfect Autumn day – cold, sunny, clear blue sky and no wind.  I've been laid low for the last week or so with a very long lasting flu-ey cold – one of those that keeps nearly going and then coming back! But I've been getting going again over the last few days, so today was the day for my November visit to Fingringhoe Wick.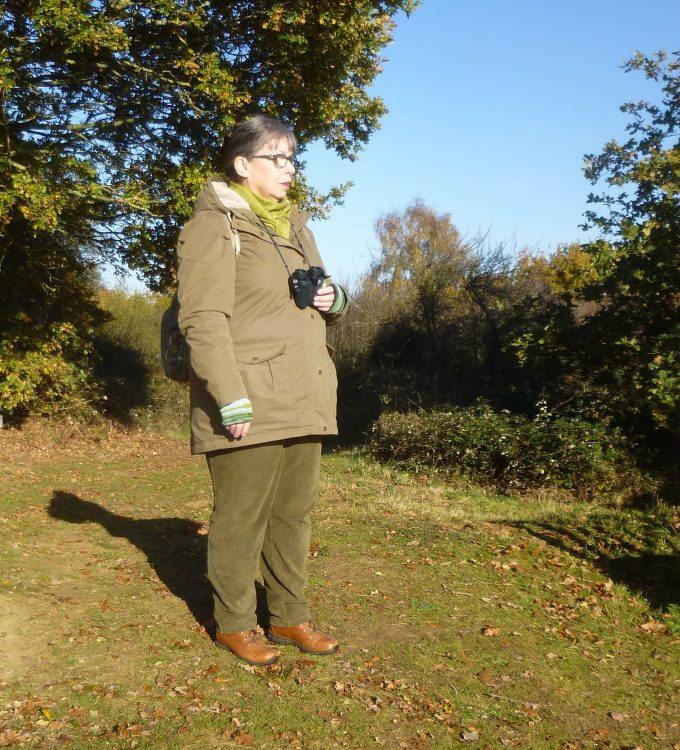 High tide was 11.30am and the estuary looked calm and blue.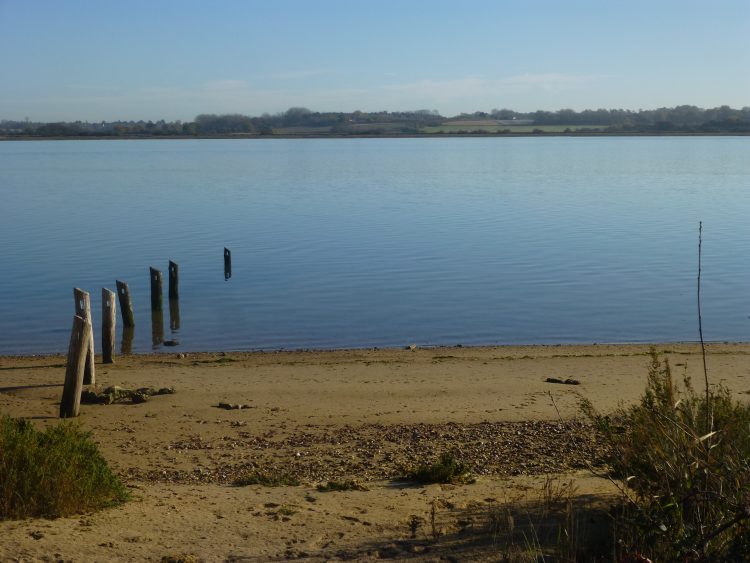 The still air allowed beautiful reflections on Kit's Pond and the pond in front of the Kingfisher Hide.
And look at the colours in the trees on the far side of the river Colne –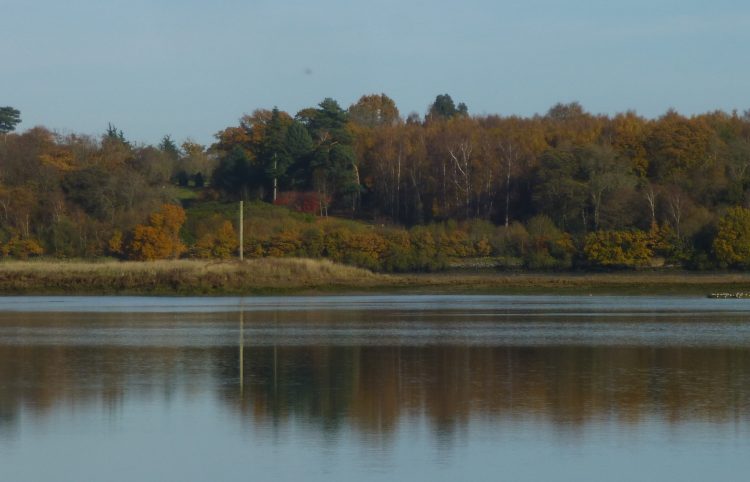 The tree colour all around the reserve was spectacular, actually, particularly the silver birches –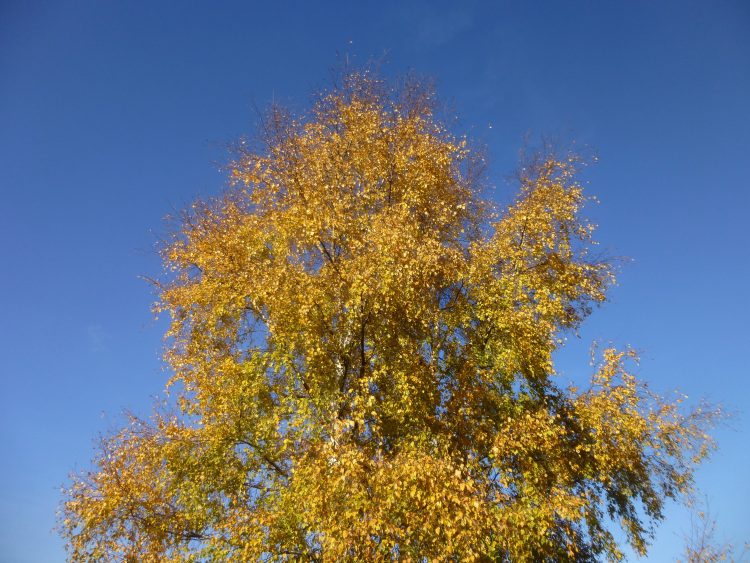 It was really warm in the sunshine but the frost was still thick on the grass in the shade at 1.00pm. It was lovely to sit in the sun and draw – here I am on the bench above the path down to Margaret Hide.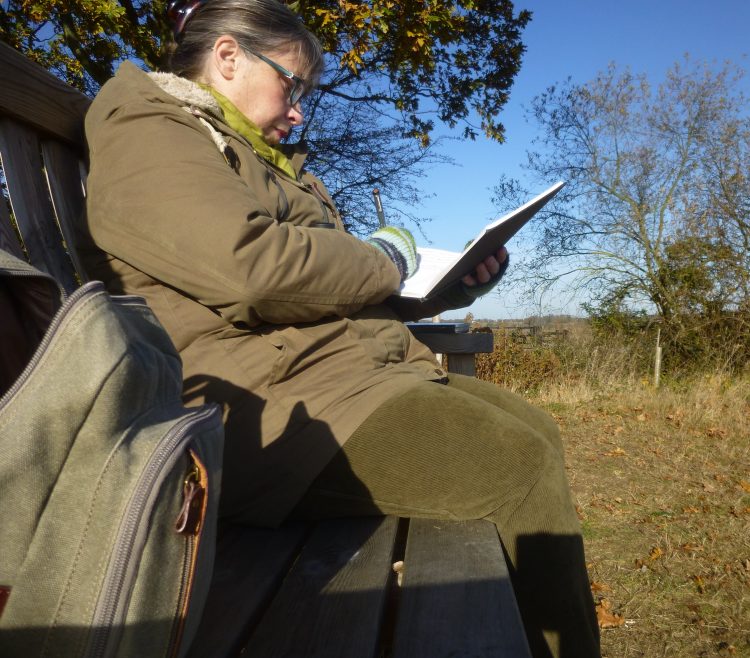 It was quite a good birdy morning, too. I saw a gold-crest flittering about in a gorse bush. Brent geese flying in groups down the estuary, chuntering away to each other. Lots of red shank, Shelduck, big flocks of avocets. A kestrel hovering for minutes on end quite low down. A green woodpecker, also very close. And a female marsh harrier.
It was even warm enough to sit outside for my usual tea and cake. Amazing for mid November!
And finally, what a great sunset tonight!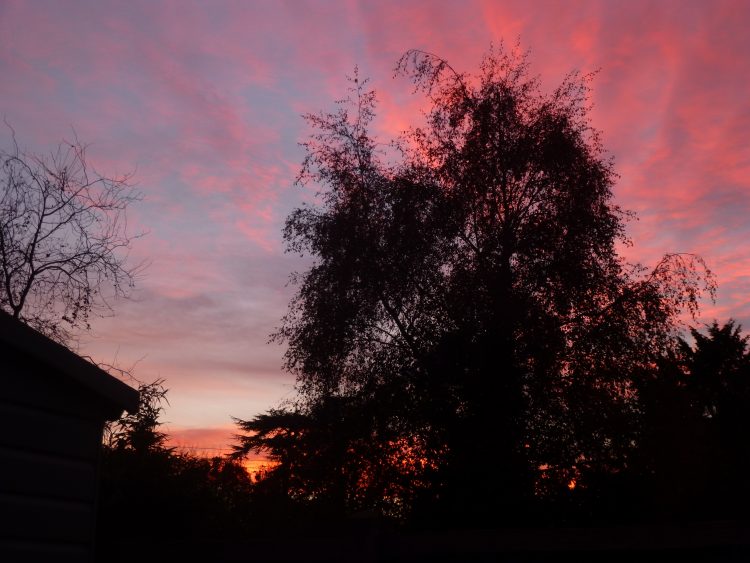 Hope you have a good weekend! 🙂
---
When I was in Galloway in Scotland earlier this year I was delighted to be able to visit The Bookshop in Wigtown. It is the biggest second hand bookshop in Scotland. I found a book I had been wanting to read for ages, Jean Goodman's biography of Edward Seago. I had a little chat with the owner of the shop while I was paying. He was in the middle of checking the proofs for his book, The Diary of a Bookseller. So I was particularly pleased when I found a stack of copies of the very book in our excellent independent bookshop in Colchester High Street, Red Lion Books – The Diary of a Bookseller by Shaun Bythell.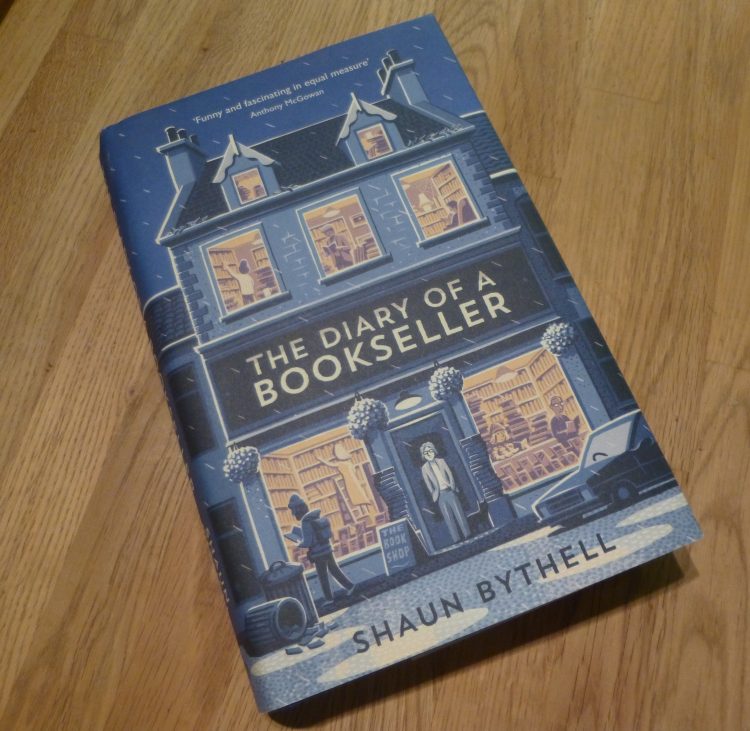 It is a really good read and is  extremely funny. Set out as a diary for a year beginning in February 2014, it includes information on sales and internet orders for each day, but it is the descriptions of the characters that come into the shop and the extraordinary things they say and ask for, plus the completely off-the-wall antics of his part time assistant that really make the book. The student helpers, the bookshop cat – Captain, the many people who ask for their libraries to be valued, the visitors to the Wigtown Festival – they are all described in vivid, sometimes scorching, detail. Highly recommended!
Today was the day I'd set aside to make the Christmas Cake, which is now out of the oven and cooling on it's wire rack. The kitchen smells wonderful . . . 🙂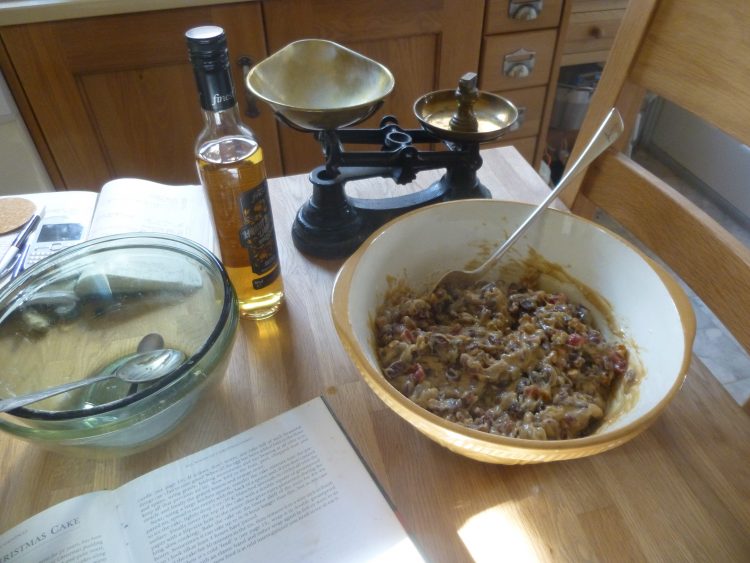 ---
Finished at last! This is painting number ten in my 'A Year on Fingringhoe Wick' project – rather late . . .
The painting shows the view from the seat near the Lake Hide, which is quite near the entrance to the Nature Reserve. I couldn't actually go into the Lake Hide as apparently there was a hornets' nest inside!
I am now waiting for the weather to brighten up a bit in order to make my November visit. And in the meantime I am going to get another little dinghy painted, as I am really low on dinghy paintings at present.
One exciting little piece of news – when I saw Naomi Brangwyn in Ely on Sunday she mentioned that she might have found somewhere that we can exhibit in Woodbridge next year! Waiting to find out more when I go on my next Stained Glass workshop day with her in a couple of weeks.
---
A beautiful cold sunny morning, with the autumn colours looking spectacular along the road as Graham and I went up to the 'Art Unequalled' show at the Maltings in Ely.
My friend, stained glass artist Naomi Brangwyn, was participating, and said she was having a great weekend. She certainly seemed to have a good steady stream of customers while we were there! She had some lovely Christmas pieces in amongst the sea themed ones. I was very taken with the glass mistletoe hanging. To find more about Naomi's work check out her website at www.naomi-brangwyn.com
It was a very good varied show and we enjoyed looking round. I particularly liked the hand made textiles of Maggie Gibbs, trading as Daisy Dumpling and couldn't resist a pair of her crochet fingerless gloves made from British wool , merino and silk.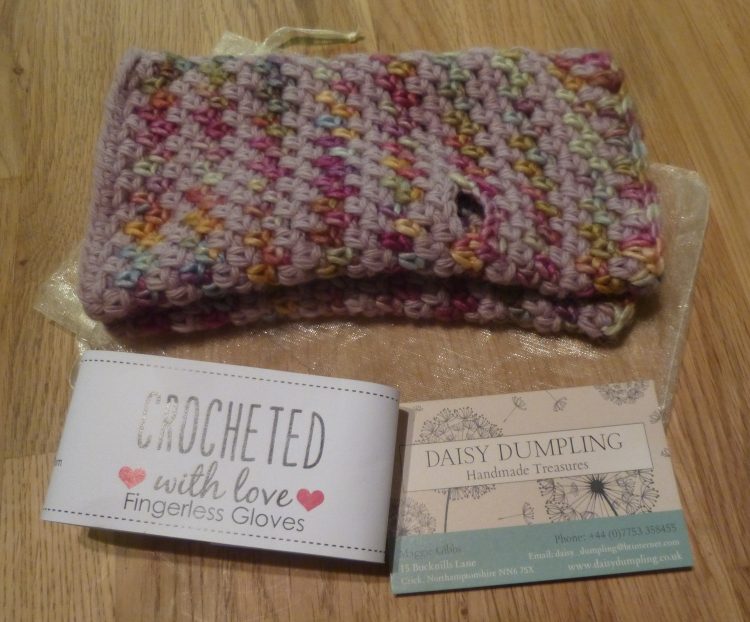 It is impossible to have too many fingerless gloves . . . . ! Maggie comes from Northamptonshire and her website is www.daisydumpling.co.uk
After a nice lunch in the Riverside Restaurant we had a wander round the cathedral – it seemed a shame not to as we were right there, and I haven't been there for a couple of years. Here are a few photos for you to enjoy . . .
The late afternoon sky on the way home was wonderful. The colours, especially once the sun had begun to set, were breath-taking seen across that huge flat Fenland landscape – which is almost all sky.
Hope you've had a good weekend, too 🙂
---
Just a little advance warning for those of you in the Colchester area!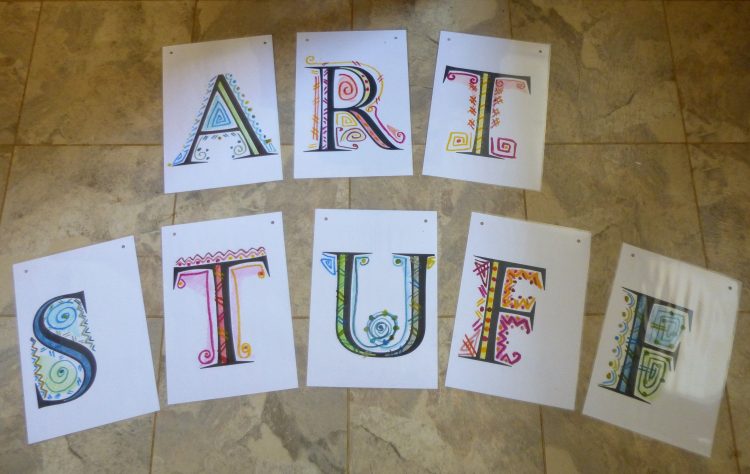 I am having my ARTSTUFF stall again this year at St Leonard's Christmas Bazaar in Lexden. It is on Saturday, 2nd December from 10.30am – 2.00pm. It is held in the Church Hall which is up the path at the back of the church, which is on Lexden Road, CO3 4BL
If you missed coming to my Open Studios weekends in September then this is another opportunity to buy my Essex Wood calendars for 2018, Post Box Christmas cards, and Telephone Box Christmas cards.
I will also have my Essex Wood cards and the little books, 'Twelve Months in an Essex Wood,' for sale. I'm re-stocking on mugs and the little Jute bags, and making some more notebooks before the day, so there should be a few handy 'present' items, too.
As well as my stall there are lots of other traditional Bazaar stalls – cakes, books, toys and games, a tombola, a raffle, refreshments including lunches – and of course Father Christmas will be visiting . . . .
Friday again – yay! Hope you enjoy your weekend! 🙂
---
Two paintings going off to new homes in the next couple of weeks – just as soon as the frames are made by my excellent framers 'Framewerks'.
and –
Happy November! 🙂