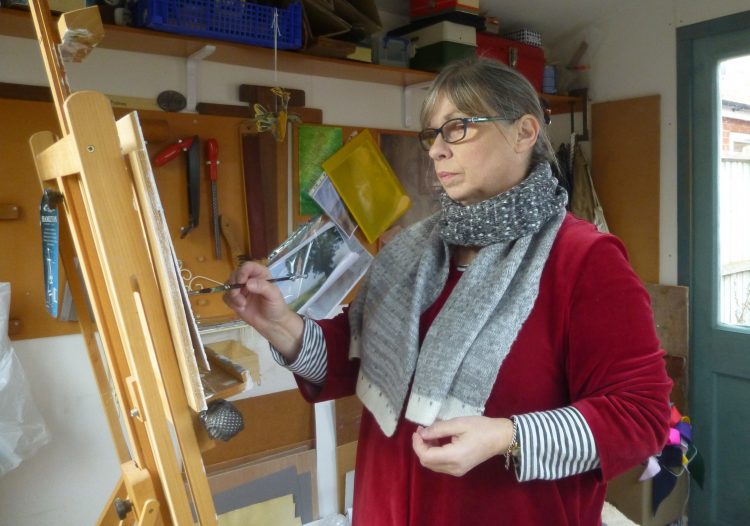 So, here I am in my studio, on the last day of 2017, finishing the last bit of my last painting in my 2017 painting project. I made it! The painting should be up on my website by tomorrow.
Looking back over 2017 . . . it has been the best 'art' year I've had so far! Yes, I know I said that last year, too, but I have topped 2016. More sales, more income, more Open Studios visitors – all round it has been really good, even though I haven't exhibited at nearly as many places this year. (That is about to change in 2018, more on that tomorrow.)
So, looking through the art goals I wrote at the end of 2016 . . .
A Year on Fingringhoe Wick: This has been a hugely enjoyable painting project. The Essex Wildlife Trust reserve is big enough and varied enough that I never had any trouble finding something different to paint each month.  I always really looked forward to going. The group of paintings are very varied in size and subject, and they were all a challenge. I intend to carry on going there, not to find material for painting anymore, but to watch the birds! It has been so good learning to recognise lots of the waders, and some of the most special moments were watching buzzards quartering the fields, seeing my first peregrine falcon and my first marsh harrier, and having great views of kingfishers.
Essex Wood Books: I published these through the online site Blurb, and was delighted with how they turned out. I've sold over thirty copies so far.
Essex Wood Greetings Cards: These have been a huge success, and introduced me to a great printer, Dan Basham of Point Graphics in Maldon who I shall certainly continue to use.
Exhibiting: I showed at the Geedon Gallery in the Spring, at Lexden Arts Festival in early summer, and did my two weekends of Open Studios. So not very much, really! I was very low on 'stock' at the beginning of the year, and also still very much in convalescent mode following major surgery for the cancer I had at the end of 2016, so I deliberately didn't line up too much. I didn't really want any pressure. I only sold two of the four dinghy paintings I showed at the Geedon – usually I sell them all – but this prompted me to show Jacqueline some of my landscapes, which she was very enthusiastic about!  So in 2018 I shall be showing landscapes there for the first time, which I'm so pleased about. Lexden Arts Festival went very well for me, and Open Studios was the best yet in terms of the number of visitors and sales. Most pleasing, though, is the number of paintings I've sold to people who have just seen them on the gallery pages of my site here, and contacted me.
So altogether a good year, and I hope yours has been, too!
Tomorrow I'll be back with my plans for 2018, but now I shall just finish by wishing you all, lovely blog readers, a very happy and healthy year in 2018, filled with exciting times, and peaceful times, and lots of joy, creativity and GREAT ART!! 🙂
---
Well, the cake is now iced –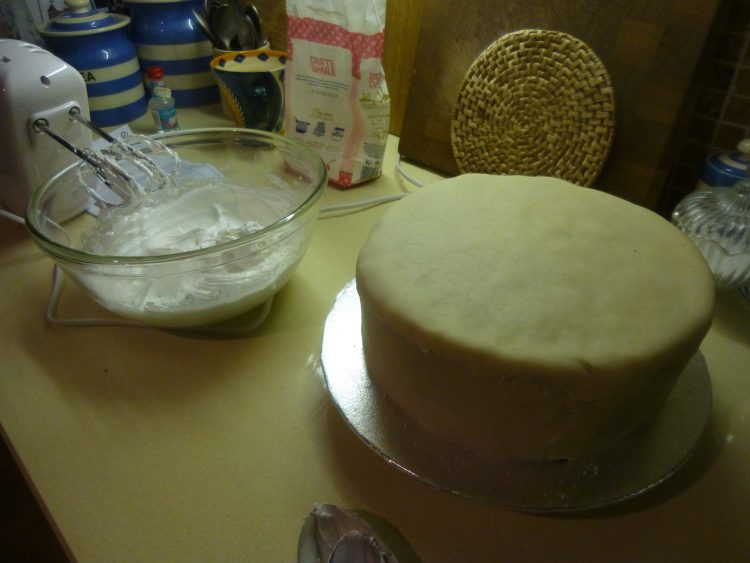 -and Nine Lessons and Carols from King's on the radio is just finishing, and the last of the Christmas baking (to take to some friends tomorrow) is out of the oven, so I think it's time I wished you all, lovely blog readers, a very happy Christmas, filled with joy and peace.:)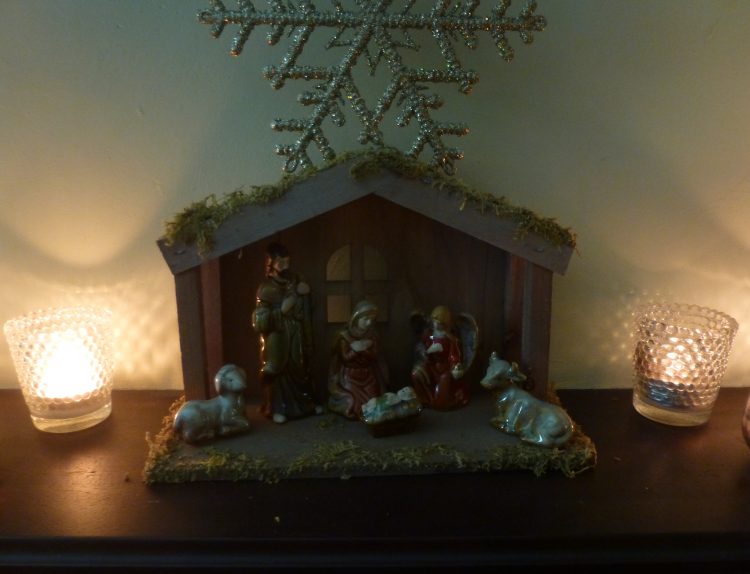 I'll be back on 31st with a bit of a round up of 2017!
---
A trip up to Woodbridge yesterday, to visit my friends, Elizabeth and Sarah, Bethany and Nicholas – and their new boat 'Papillon'!
While I was there the tide came in and the boat floated! It was somehow astonishing to see the water just outside the window –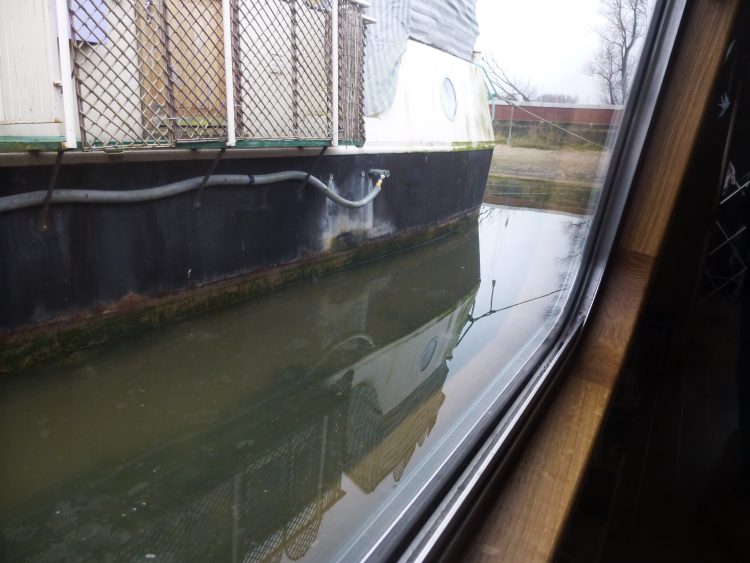 But it all seemed very cosy and comfortable and they are loving living there, which is all good.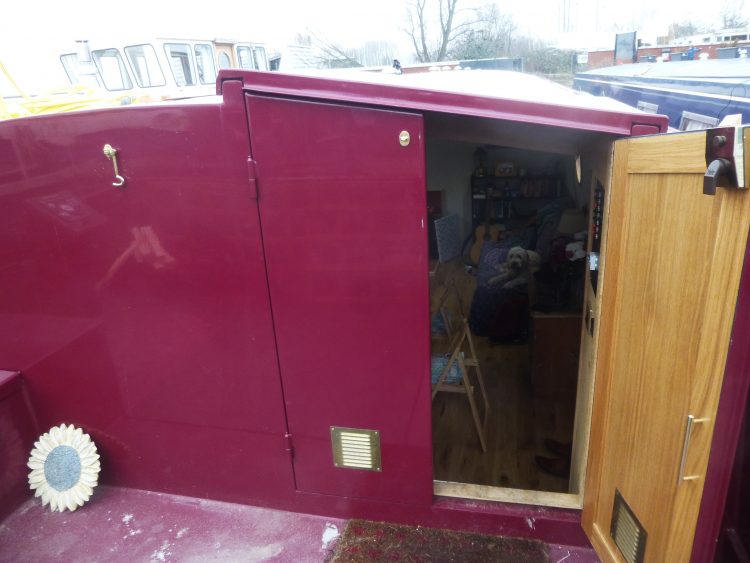 Woodbridge is such a lovely town, with lots of independent shops. We walked up to have a look at 'Artspace' where I will be exhibiting in the Autumn next year. More on this in my New Year plans! I was delighted to see what a great space it is, in a really good location with excellent frontage onto the road.
This morning a little trip up to St Albright's church at Stanway to do the Christmas flowers –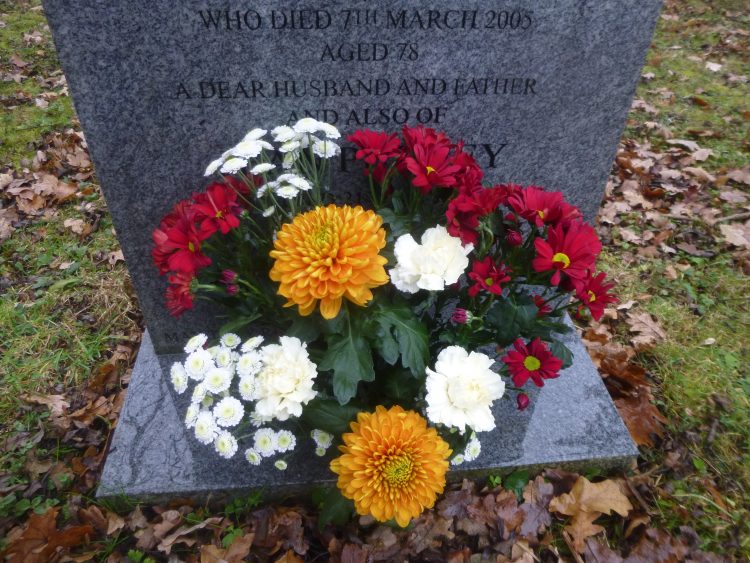 – and now I must ice the Christmas cake! 🙂
---
Happy Winter Solstice, to all you lovely blog readers!
It has been a rather grey, drizzly day here, but I drove over to my seaside outpost and had a lovely solstice lunch with Graham at a very nice old pub called the Robin Hood, so I didn't really notice the weather.
The photo above was not – sadly – this morning's sunrise, but Tuesday's! I took this photo from my back door before I drove up to my sister's home in Norfolk to do the present exchange and have a nice day there. There was an extremely hard frost, and driving up the A12 through Dedham vale, with the fields and trees glittering with frost in the low sun, and a clear cold blue sky with a few vapour trails lit to a golden apricot, was like driving through fairyland!
I read a lovely legend from, I think, Finland, the other day. It described how Mother Reindeer leaps through the long Solstice night with the light of the sun caught in her antlers to carry it into the new year.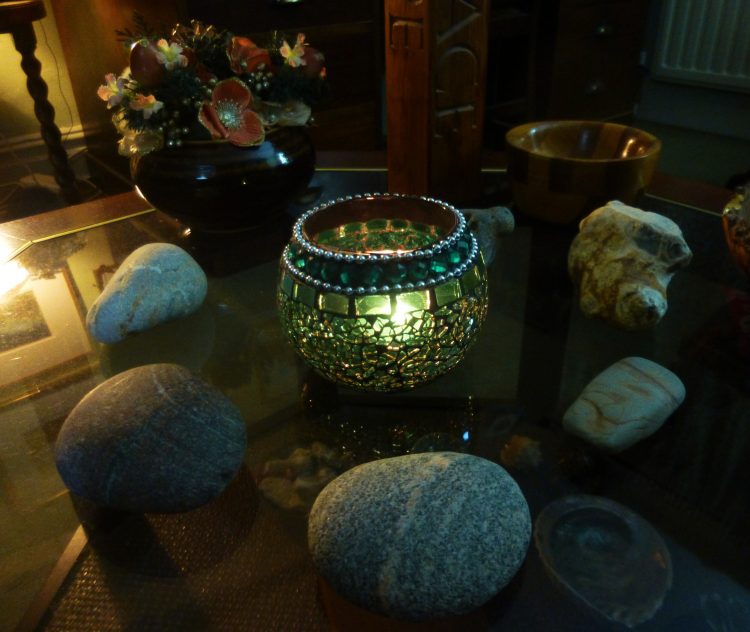 So we can look forward to the light of the Spring – only just around the corner! 🙂
---
A little art work arrived in the post a few days ago. An angel designed and painted by my Norfolk Niece – it is only 3 inches square, and she had made a tiny envelope to fit it. The angelic nature is only revealed when the card is opened out.
She had made over a dozen of these angel cards, each one different. And each one a new 'take' on an angel, not the cliché of blonde hair and blue eyes!
Last night Graham and I really enjoyed singing to a packed church for the Service of Nine Lessons and Carols with the choir of All Saint's in Maldon (the church where our new Arts Festival will be held next year). They had a super Christmas Tree in the sanctuary – really big!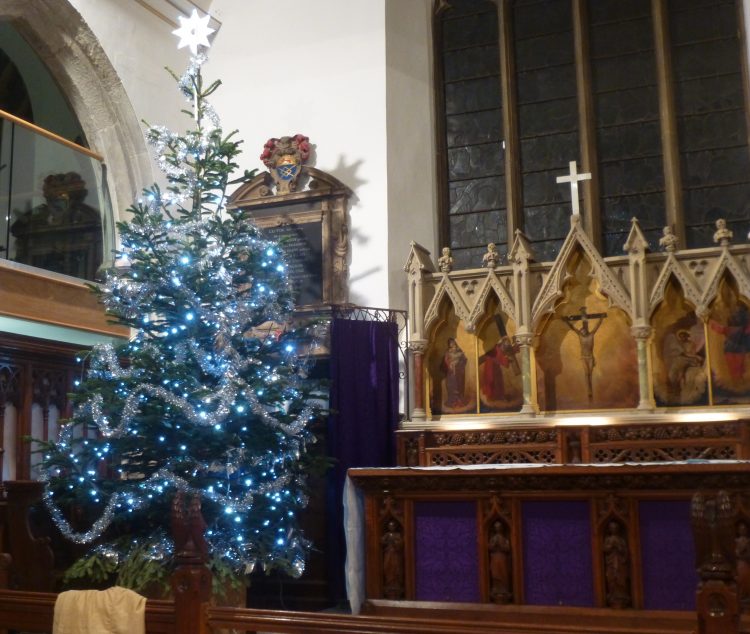 And thinking of Christmas greenery, I went round the garden a couple of days ago and collected up a big bundle of clippings to make some Christmas wreaths.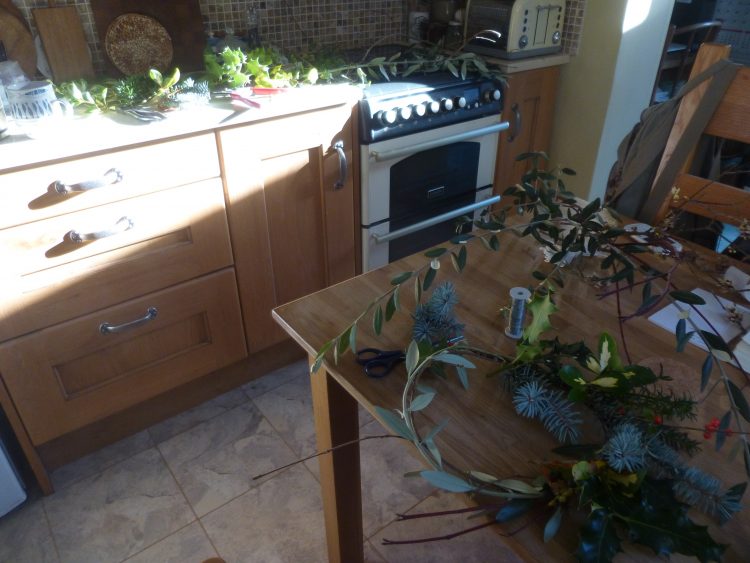 Ivy, holly, yew, bay, spruce and winter sweet, wired onto a ring of hazel and dogwood. I made two, this one for me, which is now hanging on the mirror in my sitting room –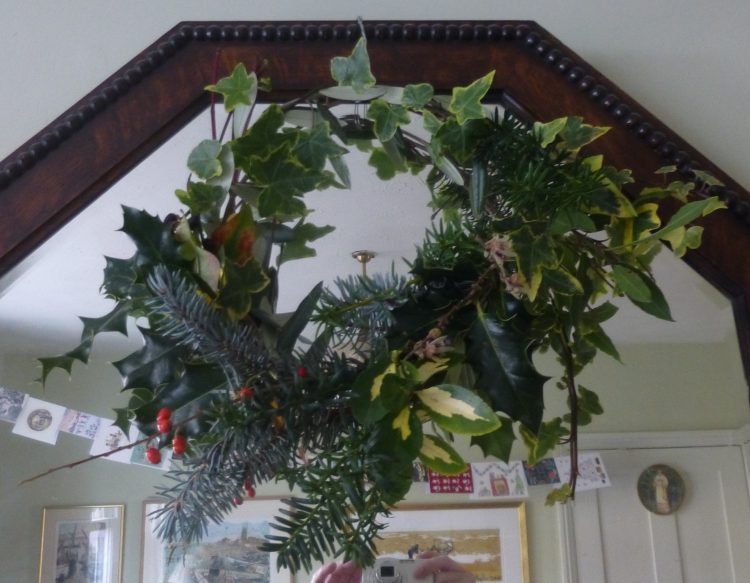 And my second attempt, which turned out much better, which is hanging temporarily over a picture but which is actually for my sister's house.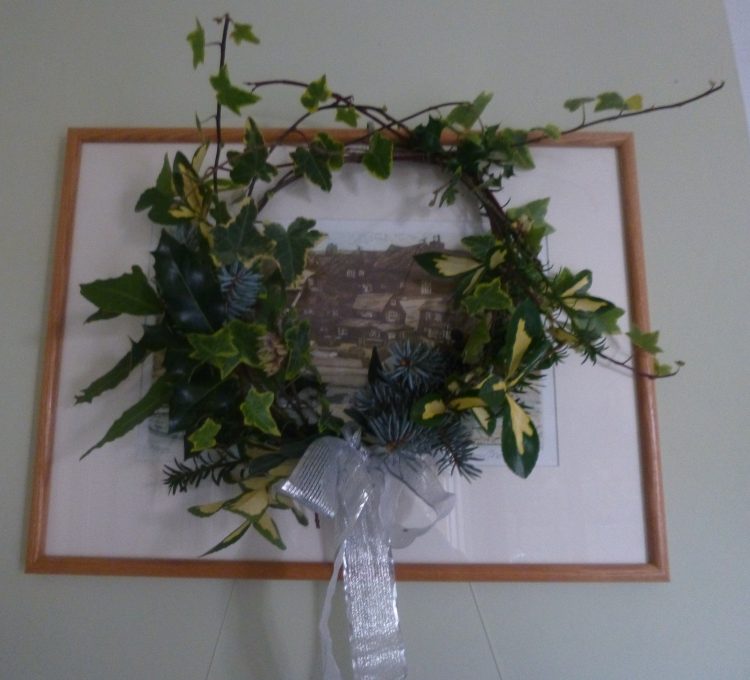 I got the idea from  Seasalt, who are a Cornish clothing company – they have a little tutorial on their blog if your google them!
Hope you are enjoying all your Christmas preparations! 🙂
---
Thursday was a bright, cold, windy morning, and I decided to make my December visit to Fingringhoe Wick. This is the last visit for my 2017 painting project, 'A Year on Fingringhoe Wick'.
I started by walking right to the end of the 'dog walk' lane, where there is a great view across the fields to the estuary.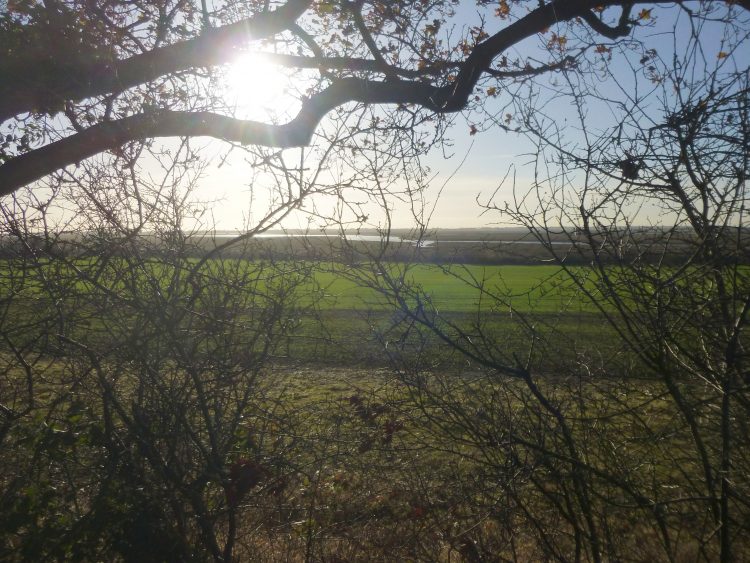 The winter wheat is just greening the fields, and the river was lit up by the low sun. I did a drawing looking south east across the fields. Goodness, it was cold standing still!
Next it was the Intertidal area and Margaret Hide.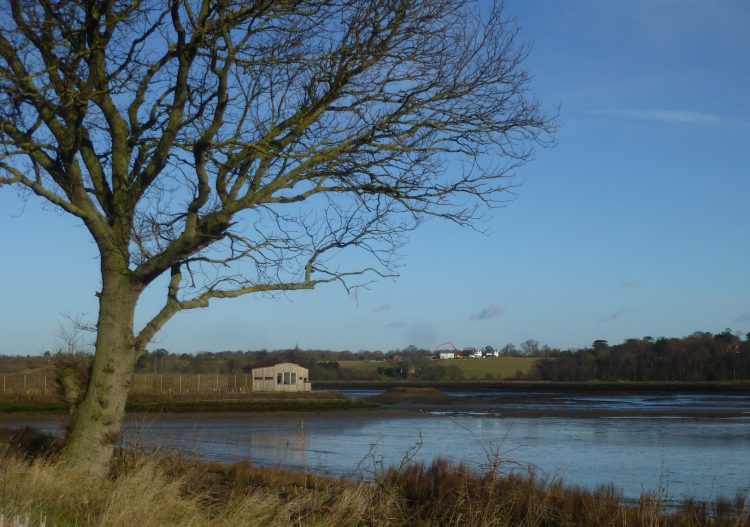 I saw a jay and a kestrel on the way, and three whooper swans flew over and landed further up the river.  The reed mace is beginning to go to seed now, and the smooth brown casings are breaking up.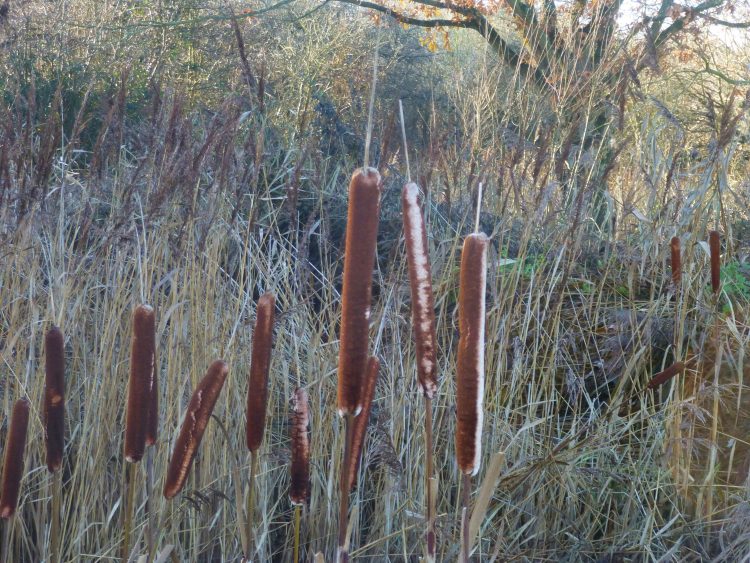 The tide was still fairly high and there was quite a lot of water on the mud flats. Redshank, curlew, a whole flock of shelduck, golden plover, black tailed godwit, were all busy feeding.
As I walked round to Kingfisher Hide, a group of Brent geese circled overhead, just as they had on my first visit in January. I saw a kestrel perched in a tree, who stayed put until I was really close, then swooped off at the last moment.
Two bird-y men in Kingfisher Hide said the kingfisher had been across several times while they were there that morning. But it had now vanished.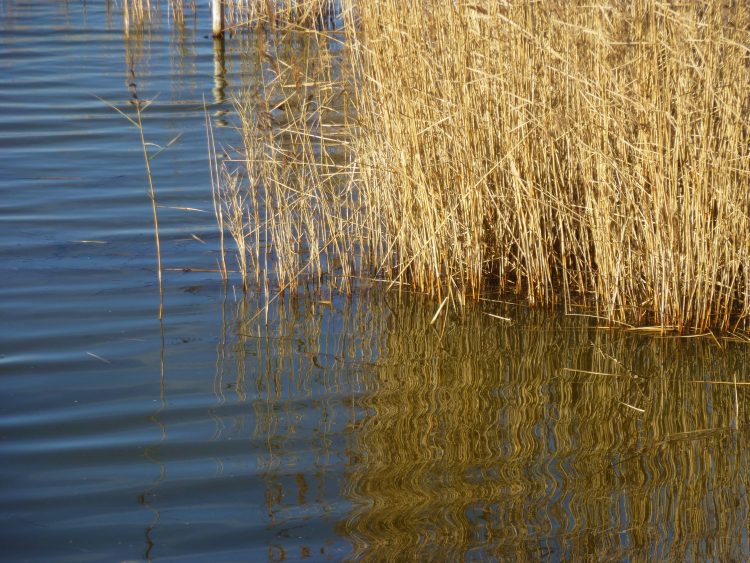 I told them I had never seen a kingfisher in that hide, and it didn't sound like I would be in luck that day either.
How wrong! At that moment a glittering turquoise flash! It landed on the brick culvert on the right of the hide – and just sat there! For minutes on end! Periodically he dived down into the culvert, and then returned with some tasty something. Then he started preening. We didn't have a completely clear view, as the reeds kept blowing this way and that in front of him. but with binoculars I could see every detail. My camera struggled, even on max zoom, but this gives you a little idea –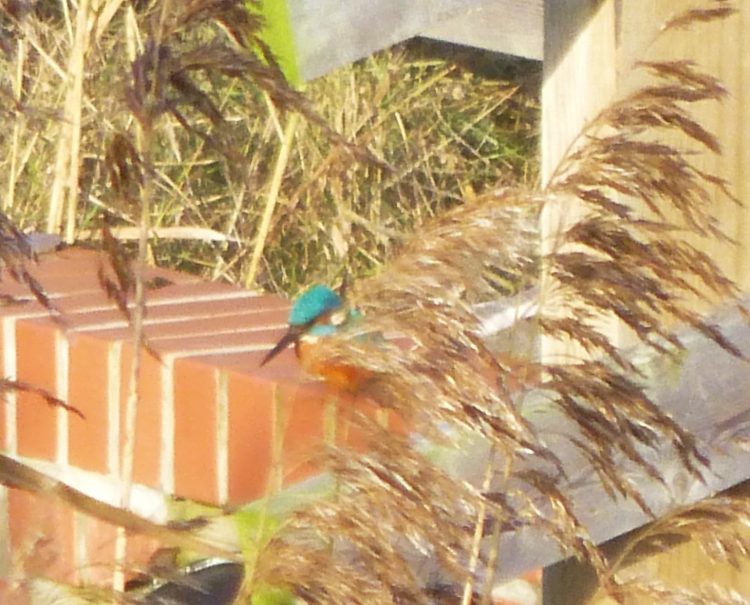 What an amazing end to my year of visiting this wonderful nature reserve! 🙂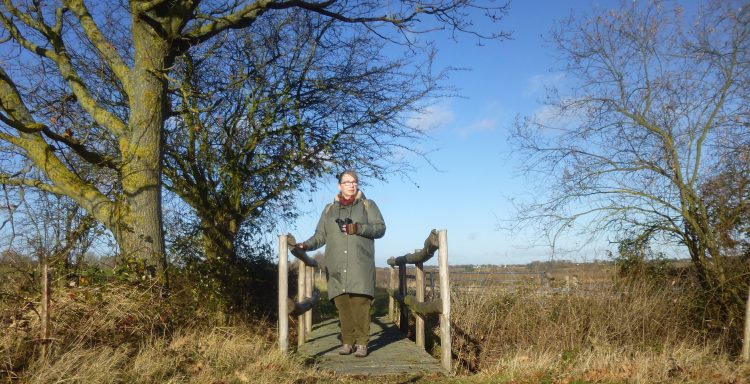 ---
While I was Christmas shopping in Colchester this afternoon, I took a bit of time out to go to the Colchester Art Society's Winter show. It is at The Minories Gallery, 74 High Street Colchester CO1 1UE. All three of the ground floor rooms are filled, and there is some interesting work here. The stand out painting for me – by a long way – was Carol McKue's oil, 'Winter Walk'.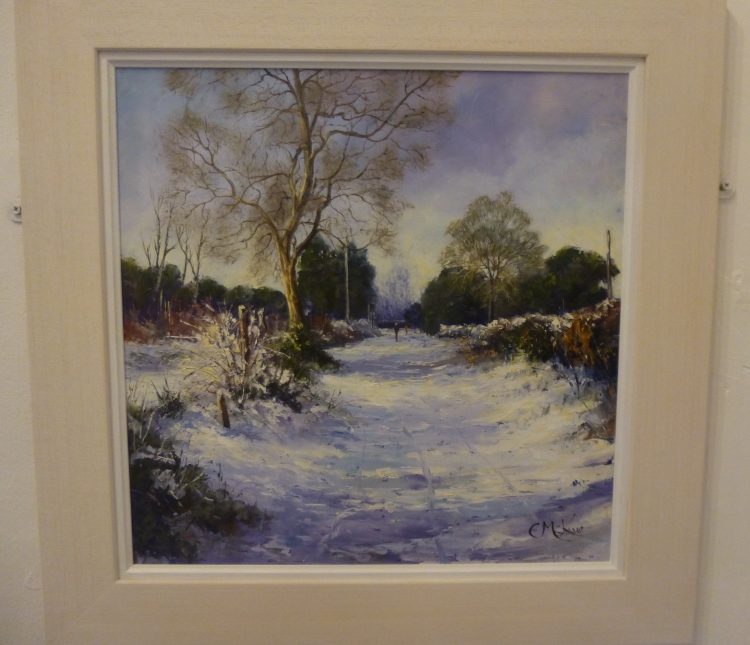 The winter trees are beautifully captured, and I love the violet tones of the shadows on the snow echoed in the clouds and the distant trees. It has a lovely depth to it, and a real feel of crisp frosty cold.
The show runs until Thursday, 21st December and is open from 10.00am – 5.00pm daily except for Sundays. The Minories shop is also open with lots of cards, and small gift ideas – including some very nice pottery and little turned wood trees which were very appealing. So if you're local to the area and still stuck for Christmas presents it would be well worth a visit.
The snow has gone. Now we just have rain . . . . Twelve more days till Christmas!
Hope your week is going well 🙂
---
More snow today, through all the morning and early afternoon, although it seems to be melting now.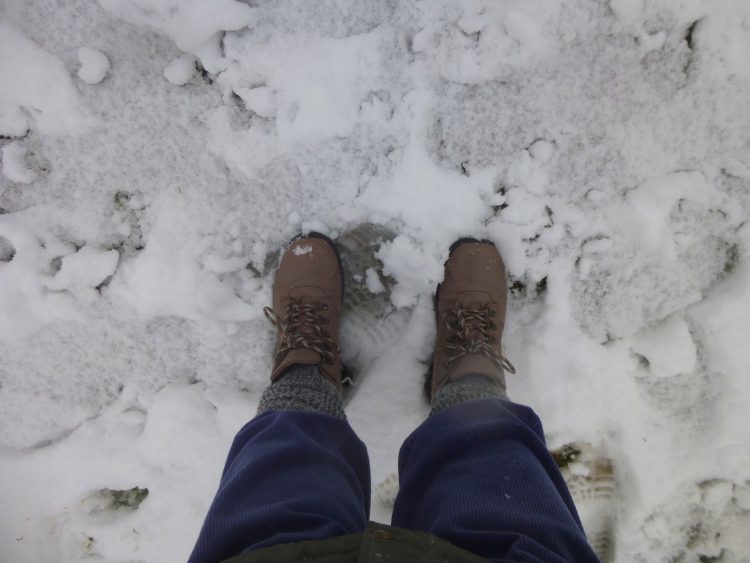 So – more Christmassy baking this afternoon – my mother's Ginger Biscuit recipe. Everyone loves them.
So I thought you might like the recipe to have a go yourself. It's very quick and easy.
In a large bowl mix 1lb Self Raising flour, a pinch of salt, 2 teaspoonsful of bicarbonate of soda, 6 oz brown sugar (muscovado is best) and 4 teaspoonsful of ground ginger.
Rub in 8 oz margarine.
Pour in about 8 oz golden syrup and mix round with a table knife.
Go in with your clean hands and squidge the mixture together until it is one big sticky heap.
Wash your hands again, and then roll balls of the mixture between your palms – about the size of a large walnut is about right. Do not add any extra flour, even if the mixture seems very sticky. Place the balls on a well greased baking tray, spaced about 3cm apart.
Bake at 200C for about 9 minutes. Watch them carefully as they burn quickly.
Remove from the oven and use a table knife to separate the edges of the biscuits if necessary, pushing them apart from each other, before cooling on a wire rack.
They keep very well in a tin for at least a fortnight, and although they are rather desperately high in calories they are a lovely occasional treat for Christmas. 🙂
---
It's been a busy time, though not busy painting-wise. I'm still waiting for a good day to make my 12th and last visit to Fingringhoe Wick, so that I can get on with my December painting. In the meantime I've been getting on with Christmas!
Last weekend was full of lovely Christmas stuff! I had my tiny stall at St Leonard's Christmas Bazaar on Saturday.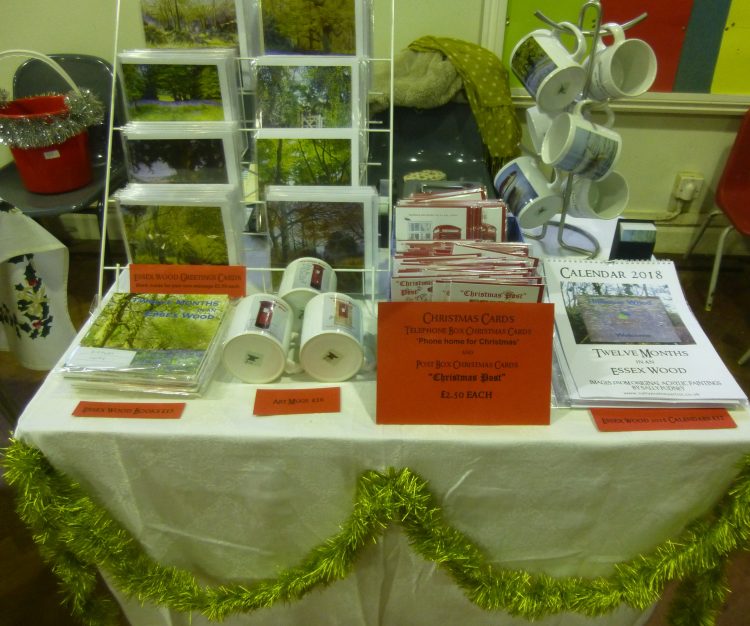 I sold lots of Essex Wood cards – in fact I've now sold out of some months – again! Also mugs, and Essex Wood Books were popular – some books went as Christmas presents – and some Christmas cards. I've still got some 2018 calendars left, at the reduced price of £9.00 – they have all 12 of the Essex Wood paintings in them. Email me if you'd like one on sally@sallypudneyartist.co.uk – once they're gone they're gone, though. 
On Saturday evening Graham sang in a concert with his new choir, Clacton Choral Society, which was very good indeed. The two soloists were excellent – our friend Patrick McCarthy singing baritone, and an amazing tenor who I had not heard before called Stephen Cviic. There was a certain amount of audience participation, and Mary (Patrick's wife) and I really enjoyed singing some of the well known carol descants, to the surprise of the other audience members around us!
On Sunday, after having done 'coffee duty' and read at St Leonard's morning service, Graham and I were off to Maldon for the Advent carol service at All Saints.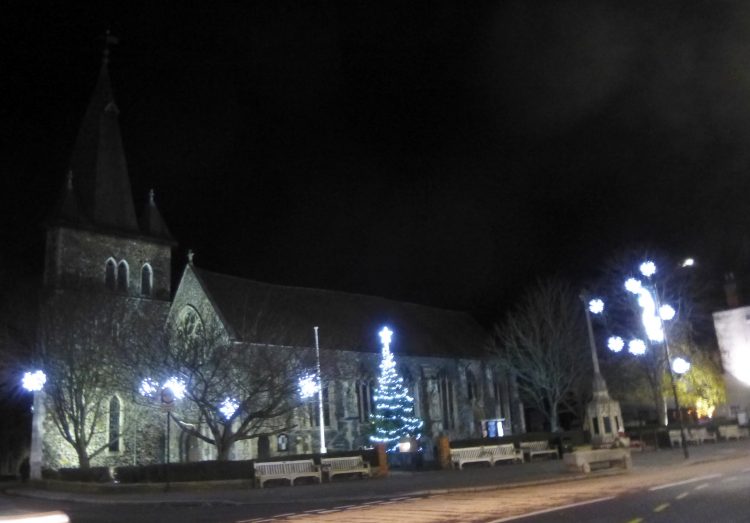 Which was lovely! Graham started the service singing the Advent Prose, unaccompanied in the dark church, as the candles were gradually lit around the nave. A beautiful beginning. Later we sang the spine-tingling Matin Responsory by Palestrina and 'Zion hears the Watchmen's voices', with its delightful tripping organ accompaniment. And after the service off we went to the Vicarage with some other friends for a lovely meal with Stephen and Sue.
I've almost finished writing the Christmas cards, and only have 3 more presents to get, so I'm doing reasonably well.  I had a friend coming to lunch today which had to be postponed because of the snow (SNOW!!!) but I've used the unexpected spare time giving the sitting room a really good clean and sort out ready for The Tree, feeding the Christmas cake with just a bit more apricot brandy, and doing a bit of baking.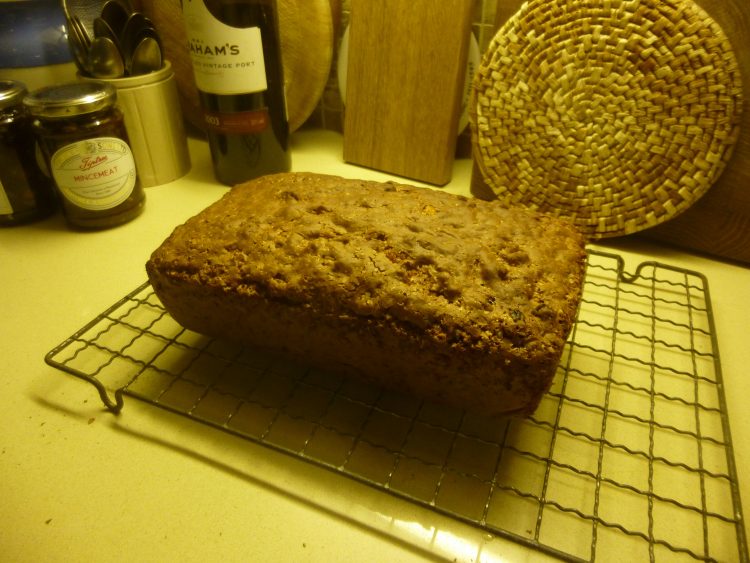 A yummy malt and fruit loaf!
It is dark now, as I write this, but earlier the snow looked beautiful, and the snow-light brilliantly lit up the stained glass angels that I made which are perched on top of the sash frames in the sitting room.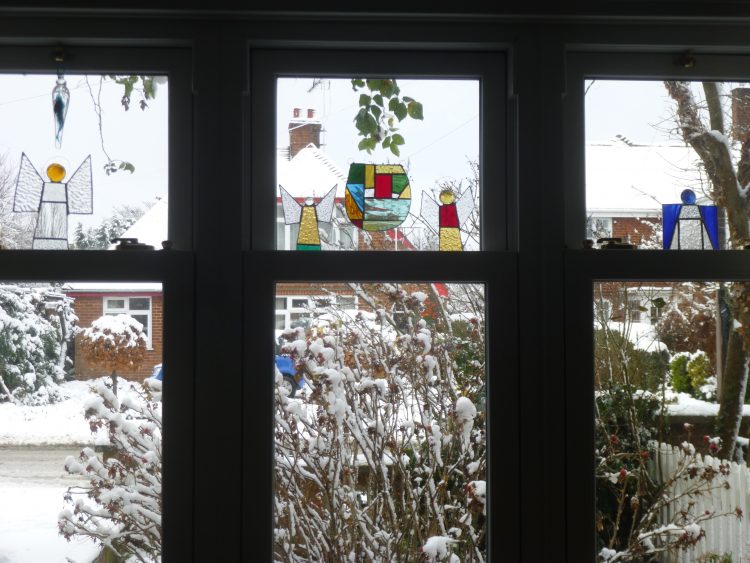 So here are a few more snow photos.
A lot of it has melted off the trees now, but is still quite thick and churned up on the road.
Keep warm and take great care in the morning if you have to travel to work or school! 🙂
---
Last night Graham and I went over to Maldon to sing carols with All Saint's choir for Maldon's Vintage Fair. We didn't really know what to expect. The road was closed off at the roundabout, so we couldn't go up Market Hill like we usually do. It was a job to find somewhere to park. There seemed to be crowds of people walking around. Usually Thursday nights in Maldon are very quiet. Something was obviously going on.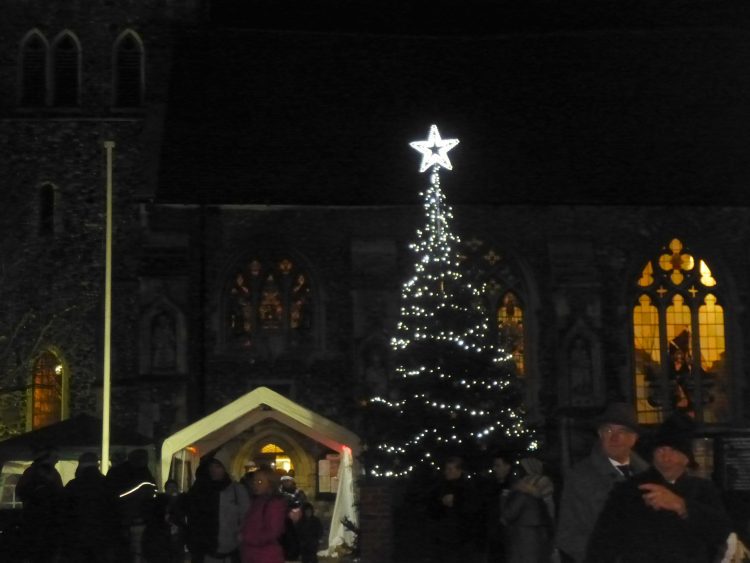 As soon as we had walked up to the High Street we saw why. The whole street was full of stalls selling all kinds of Christmas stuff and all sorts of food, a stage with live music, a roundabout, pop up cafes, beer tents from both Maldon's micro-breweries – and it was all heaving with people. We managed to squeeze our way into the church –  also heaving, with stalls in every little space. The choir did about half an hour of 'request' carol singing. Then outside again, where a troupe of mummers was dancing in the middle of the street.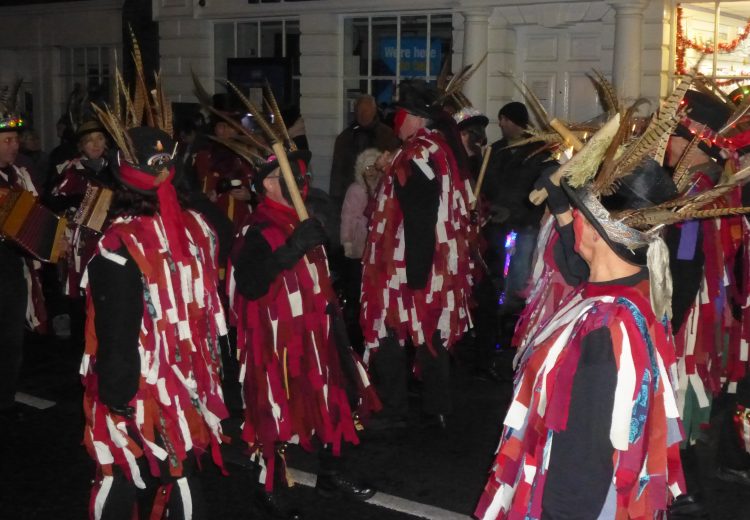 The photo below is not such a good one, but it does show the charming detail that they had Christmas lights round their hats!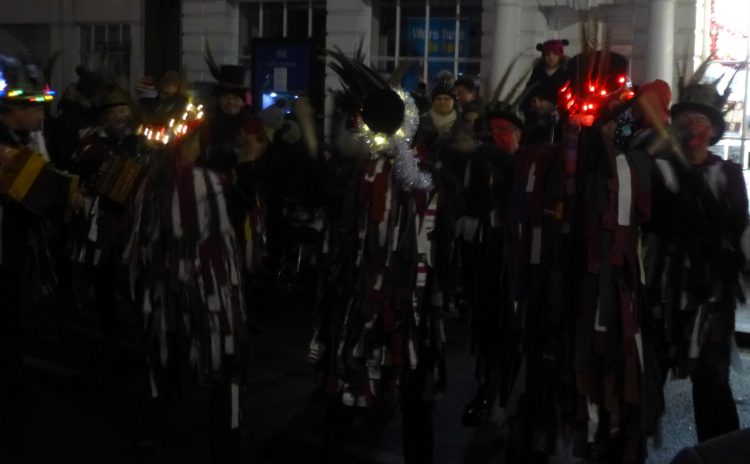 All the shops seemed to be open, and Graham bought me a red Advent candle . . .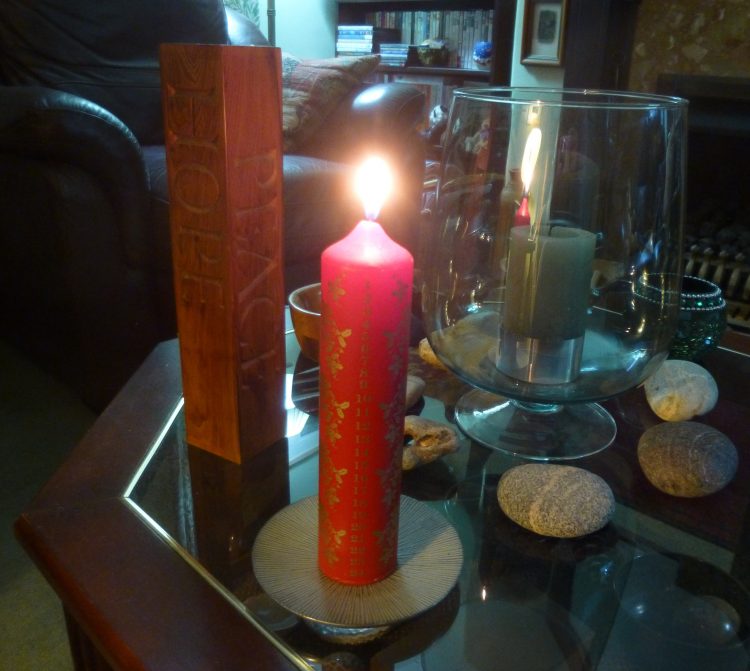 And this morning I opened the first window of this beautiful Advent calendar designed by Angela Harding for Art Angels. And inside the first window was a lamp-post among snowy fir trees –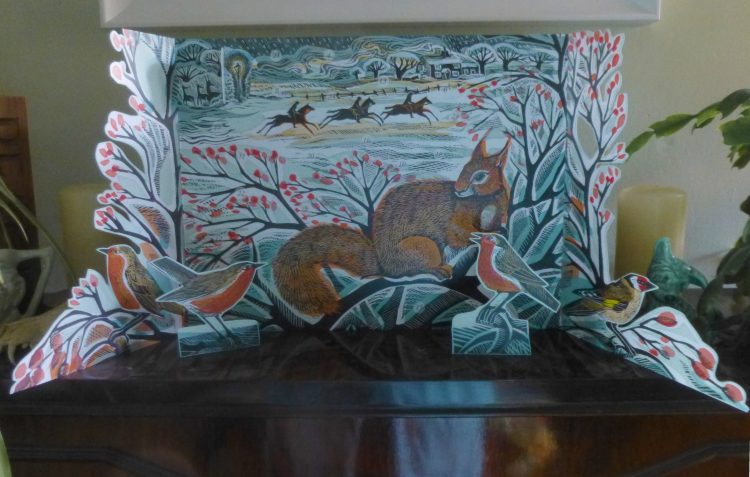 . . . just like the one from Narnia! 🙂
So with one thing and another I'm feeling really Christmassy now!
Quick reminder: St Leonard's Christmas Bazaar tomorrow, from 10.30 – 2.00. I went down to sort my stall out this afternoon. Another chance to buy my Christmas cards, 2018 Calendars, Essex Wood books and cards, and mugs. There are lots of stalls with all the traditional things and lunches and other refreshments available – do pop in if you're in the area, St Leonard's church hall CO3 4BL.