Here is the second February painting in my Essex Wood series, which has just gone on the Gallery page this afternoon. It is called 'Findings from the Wood: February,' and shows some oak leaves, a sweet chestnut leaf and some heavily lichened twigs which I picked up as I walked round the wood on my February visit. It is a small painting, only a foot square.
It is mostly acrylic, with a little oil pastel added, especially on the lichen!
As it is the end of February – Happy Leap Day everyone! – it's time for the next Canvas Print – this is number 14, available to buy on the Canvas Prints page, as always in a limited edition of six prints. The title of this one is 'Dinghy on the Falling Tide', and shows a West Mersea dinghy that I have painted on several occasions.
Late this afternoon I made a start on a new dinghy painting, one of the ones that I found at Heybridge Basin the other day. I thought I just had time to get one in before I start my March Essex Wood paintings!
And – yes – it's March tomorrow! Happy March! 🙂
---
It's hotting up here for the Lexden Arts Festival! Two artist visits in the last few days, both in Wivenhoe, the first on Saturday to Richard Hayward.
Richard is a photographer, and will be exhibition very stylish black and white photos of the local landscape. He has a real feeling for picking out unusual views, details and angles to make the viewer see the familiar with new insight. The largest of the images he will be showing, though, will be the beautiful photograph of a swan which can be seen in the picture behind him. Packs of postcards of some of Richard's images will be available to buy at the Festival, along with unframed prints of his work.
Richard, who also does wedding and occasion photography, is at present revamping his online presence, but when his website is back up you can find out more about him and his work at www.richardhaywardphotography.com
This morning saw us back down in Wivenhoe, this time visiting Richard Allen, who is a printmaker and watercolour artist specialising in birds. Graham and I both loved his watercolours, and have chosen five to exhibit, and Richard will also be exhibiting his black and white lino cut prints of a variety of birds.
He explained that he is an enthusiastic 'birder' and spends hours watching and drawing birds, in order to capture their essence in his work. He has extensively illustrated bird identification books, information boards for wildlife centres, and even postage stamps. His little book, 'Coastal Birds' will also be available at the Festival, along with unframed giclee prints of some of his watercolour paintings.
To find out more about Richard Allen, and his work go to www.richardallenillustrator.com
---
A little trip down to Heybridge Basin yesterday morning, so find some more paintable dinghies. Having delivered four dinghy paintings to the Geedon Gallery on Tuesday for their Spring exhibition, I have none left, and I would like to have two or three for the Naze Tower show in the summer.
It was a beautiful morning – hard frost, cloudless blue sky, and very little wind. I parked in the charmingly named Daisy Meadow car park – which is also free! – and walked down to the sea wall. The estuary was like a mill pond. Gradually, as I walked, some clouds blew up. Wonderful reflections, wonderful cloud patterns, a lovely walk – and the sea wall, in places, is a very convenient height to rest a sketchbook on to draw!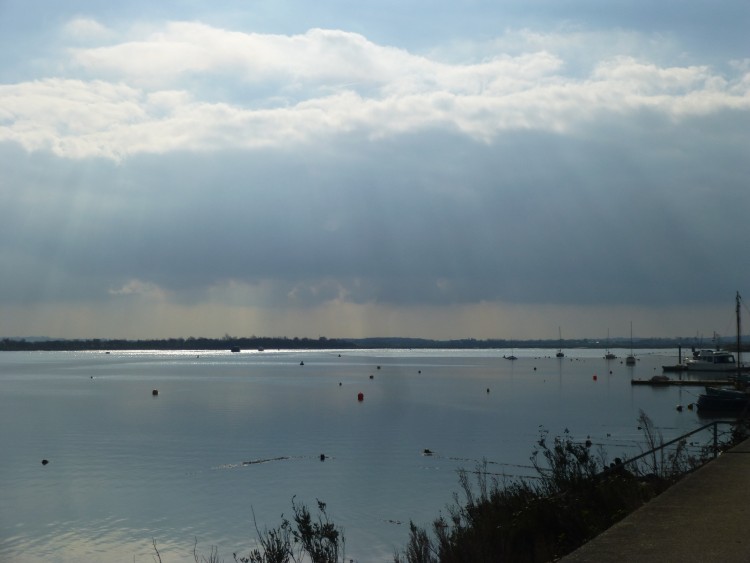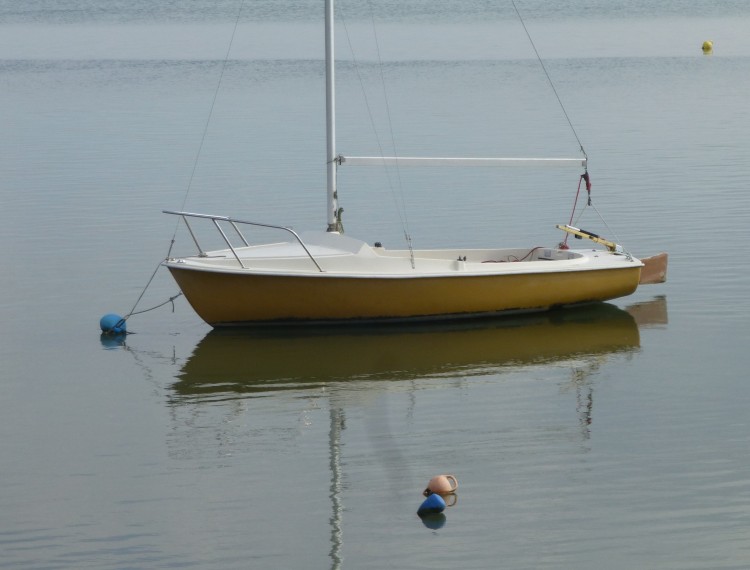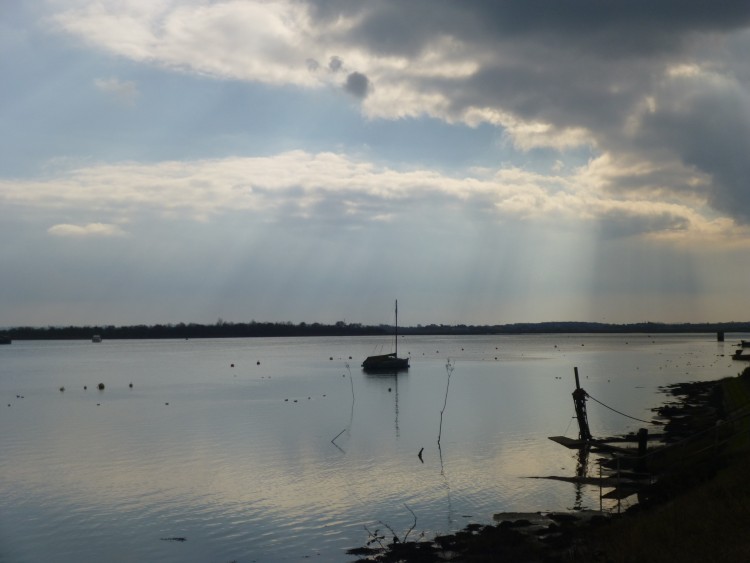 And I did find a few dinghies . . .
Hope you have a good weekend 🙂
---
It was a beautiful sunny, frosty morning here, and I drove down to Leigh on Sea to visit landscape artist Jonathan Trim. He has a lovely studio at the bottom of his garden, with paintings all round, some hung, some stacked on shelves and on the floor.
I really admire his paintings, which are very evocative and atmospheric. At present he is working on some paintings of the Welsh mountains, as can be seen in the photo! It was lovely to see them close up, and see the techniques he uses.
We had a very enjoyable and wide ranging chat, discovering mutual 'art heroes' in Kurt Jackson and Ken Howard, and ending up talking about folk music!
Jonathan intends to paint some work especially for the Lexden Arts Festival, and will also be showing a range of other work, including smaller items like prints, and small books featuring images of his work, which I'm sure will be very popular. I can't wait to see the paintings that he brings us!
For a preview of Jonathan's work, check out his website www.jonathantrim.com
---
So, here is the second 'big' picture in my Essex Wood series!
This one is of a clearing quite near the middle of the wood. I liked the way the sun lit up the bark of the tree on the left – maybe an ash? not quite sure – and the way it soared up into the blue sky, and also the shadow patterns on the grass. The little, worn path dived through the trees at the edge of the clearing into a more wooded area, and the distance was just a haze of trees and shadows. The two central hazel trees, on either side of the path, were covered on their upper branches with catkins.
Hope you like it! 🙂
---
My third artist visit today – this time to Katie Green, who will be exhibiting for the first time at Lexden Arts Festival.
Katie lives on the southern outskirts of the lovely Suffolk town of Long Melford. She is a weaver, using a rigid heddle loom to create beautiful cushions and scarves from luxury yarns in lovely soft colours. The ideas for her work often come from the Suffolk countryside, and she showed me some beautiful cushions inspired by Dunwich Heath when the heather and gorse are in flower, and others based on the beach and sea at Aldeburgh. Her gossamer fine scarves are woven from alpaca and mulberry silk, so are wonderfully soft and warm.
One unique point about her cushions is that every single one is different. She weaves them in 'families' to tone together, but each one is individual.
I noticed tiny sequins sparkling amongst the threads in each cushion, and Katie said she always used a little of this special yarn in each weaving project – rather like a little trade mark!
To find out more about Katie and her work check out her website www.katiegreen.info
Back in my own studio, I have almost finished 'Essex Wood: February' – it just needs a few final touches, so maybe tomorrow . . . .?
Hope your week has got off to a good start 🙂
---
Penny Bhadresa was the top seller of all the artists who exhibited at last year's Lexden Arts Festival, so you may imagine I was delighted that she agreed to exhibit with us again at this year's Festival
Yesterday I drove out to East Bergholt to visit Penny and her husband. It was lovely to see them again, and Penny had sorted out a nice stack of framed lino cut prints with and without chine colle (a collage technique used with the lino printing), and also one picture that was created with collage alone. Most of Penny's work is focussed on wild creatures, plants and landscape, and she said many of her ideas come from travelling on holiday, but sometimes just from taking a walk from her cottage out into the lovely rural area where they live.
I got to work with my listings form and measuring tape, and we went through the pictures one by one. This year we will have blackbirds, hares, partridges, pheasants, and an owl from Penny, along with lovely work inspired by the Shetland Isles, the Hebrides, Burnham Overy Staithe in Norfolk, and Snape in Suffolk – lots to look forward to!
This afternoon, I was back in the studio making a start on 'Essex Wood: February' – the next big one!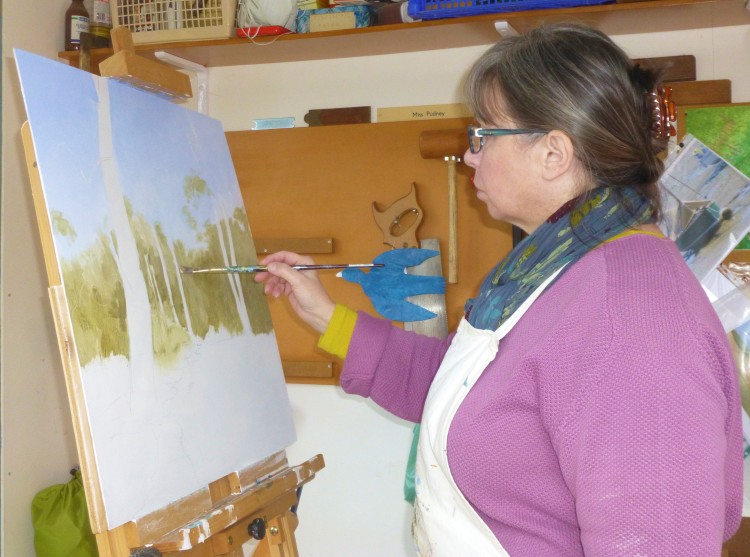 ---
A lovely visit to the Royal Academy yesterday, to see 'Painting the Modern Garden: Monet to Matisse'.
I met up with my sister at Green Park, and, after the usual hot chocolate and muesli cookie at EAT, we walked into the RA's courtyard – and how glad I was to have pre-booked Friend's tickets, as the queue for tickets was out of the door!
The gallery rooms were more crowded than I have ever seen them, although the initial intense crush in the first room soon thinned out, and before long we were able to look at the paintings at a reasonable distance without having crowds of people blocking the view!
And it was so worth it! It is a HUGE exhibition, and there is so much lovely stuff there. I loved all Camille Pissarro's paintings – he is particularly good at trees, and I looked very carefully to see how he had achieved his effects!
We were both bowled over by the spectacular paintings of Santiago Rusinol (1861 – 1931) of whom I had never heard before! He painted the gardens of Spain, and they glowed with light!
Of course, we both loved many of Monet's paintings, and the room devoted to the planning, planting and development of his garden at Giverny was fascinating. But the best was left till last! Monet painted three huge paintings of the lily ponds at Giverny as a triptych, and they remained in his studio until the 1950s, when they were purchased by three separate galleries in the United States. This is the first time they have been reunited in Europe since the time that they left Monet's studio! And they were stunning! The shimmering colour and the depth are magical. Worth going to the exhibition to see them alone!
Here I am, outside the RA after we'd been round the exhibition, and purchased a few goodies from the shop!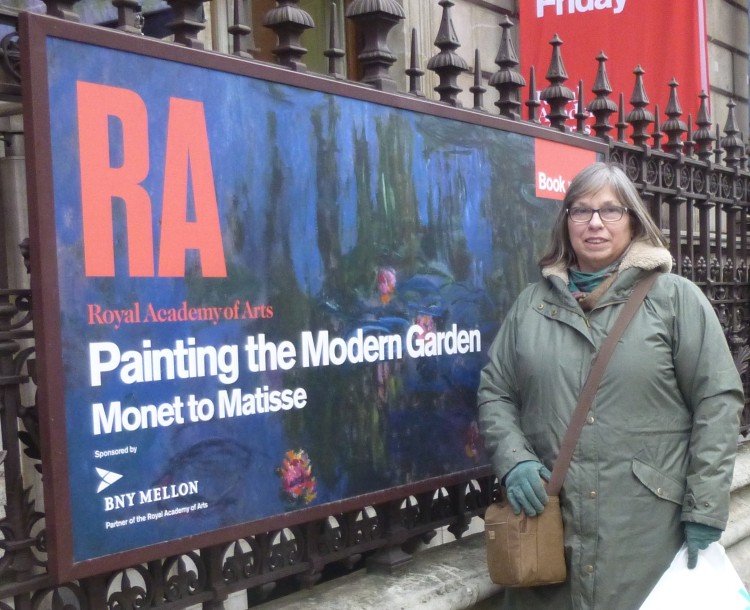 I'm going again in a few weeks time with my niece, so really looking forward to seeing my favourite ones again! The exhibition is on until 20th April, and I would strongly recommend going if you have the chance, although I would book your time slot on the RA's website before you go, to avoid the horrible queues! 🙂
---
You may remember that I wrote in my post on January 1st, that each month, for my '12 Months in an Essex Wood' project, I would complete a large 2 foot square painting, and a small 1 foot square painting . . . . . well, having done the big one, yesterday I completed the small one, and here it is.
This little church, which I believe is unused, or at least not used regularly, is at the start of the track where I leave the car before walking down to the wood. The wall on the right is part of a walled garden, and I liked the way the low winter sun shone round the corner of the wall and across the grass.
I've just been priming up another 2 foot square board to make a start on the big February painting. The light was lovely in the studio today as it has been very bright and sunny – but very cold.
Hope your week is going well – keep warm! 🙂
---
Lots of framing completed this week! Firstly, the four dinghies which I have painted for the Geedon Gallery's Spring exhibition – and I am keeping my fingers crossed that they will be able to show all four!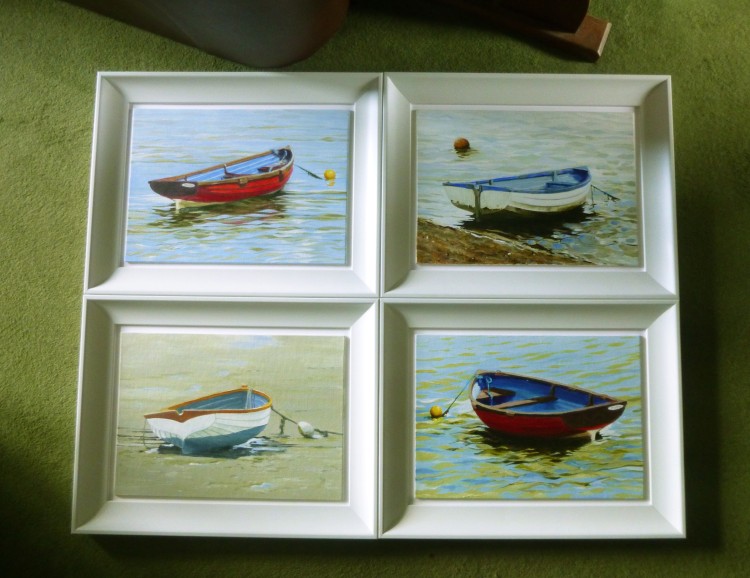 Here they are, all together on my dining room carpet – clockwise from top left, Poppy on the Blackwater, Dinghy on the Falling Tide, Poppy on the Blackwater II, and Waiting for the Tide.
Then a friend has bought two of the From my Garden Series – January and August, and I've framed those, too, this week. Here is 'From my January Garden' . . .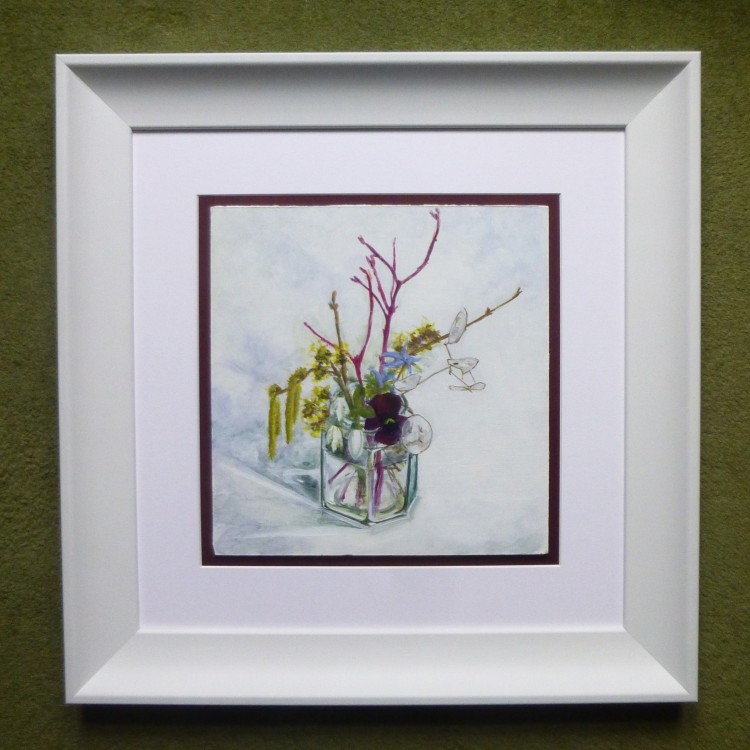 . . . and 'From my August Garden'.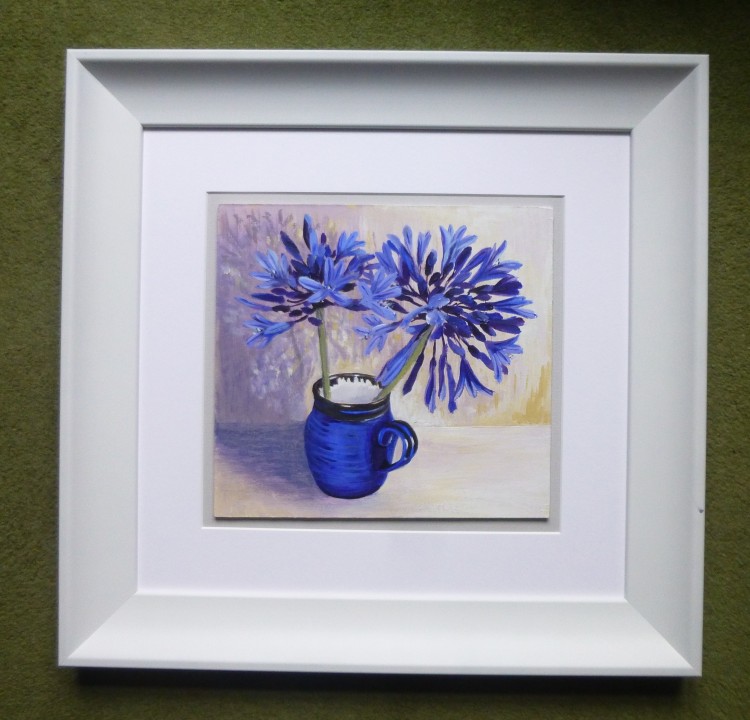 I've also ordered the frames for all of the Peddars Way series, and I'm really looking forward to seeing what they will look like!
This week has flown past! Hope you enjoy your weekend 🙂
---
I was very fortunate to have chosen today to make my February visit to the wood, for my '12 Months in an Essex Wood' project: the weather was perfect – cold and a bit frosty first thing, but no wind, and bright sunshine with a blue sky and a few wispy clouds. Perfect!
My Land Rover, ('Liberty Bell X') said it was only 4C when I parked by the old church, but it didn't feel cold. The leaf litter in the wood was edged with frost, though . . .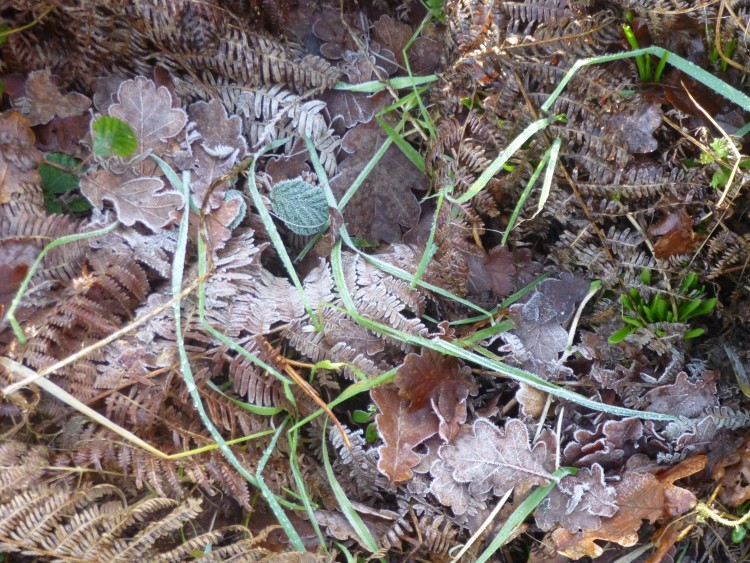 . . . but on the sides of the track going down to the wood there were thick clumps of snowdrops, and in the churchyard the daffodils were out!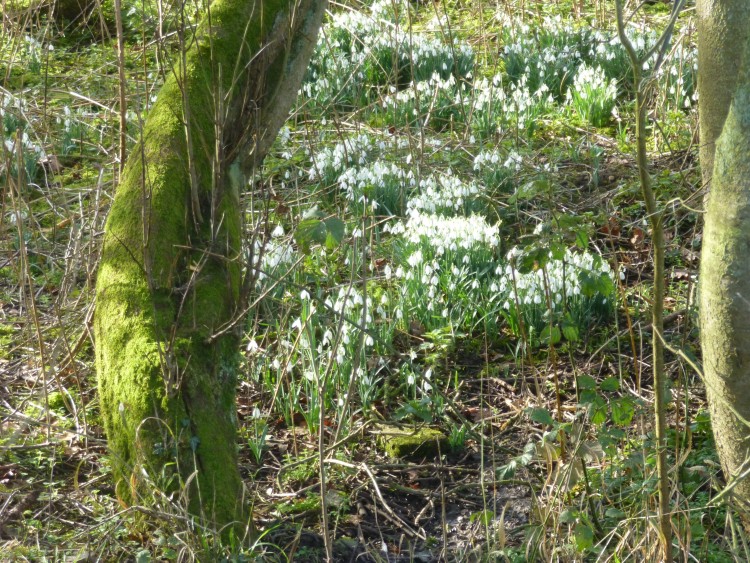 I took the right hand path and walked down through the coppiced hazels which were thick with catkins, and the ground beneath was covered with brilliant green bluebell leaves shooting up.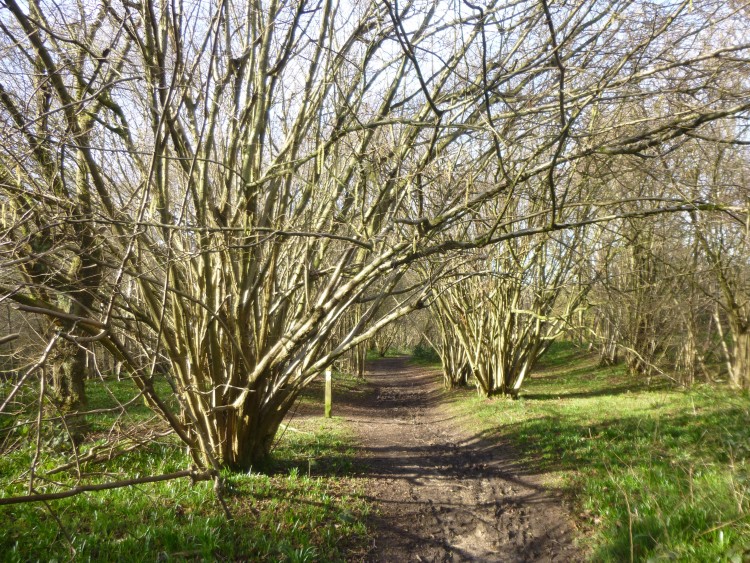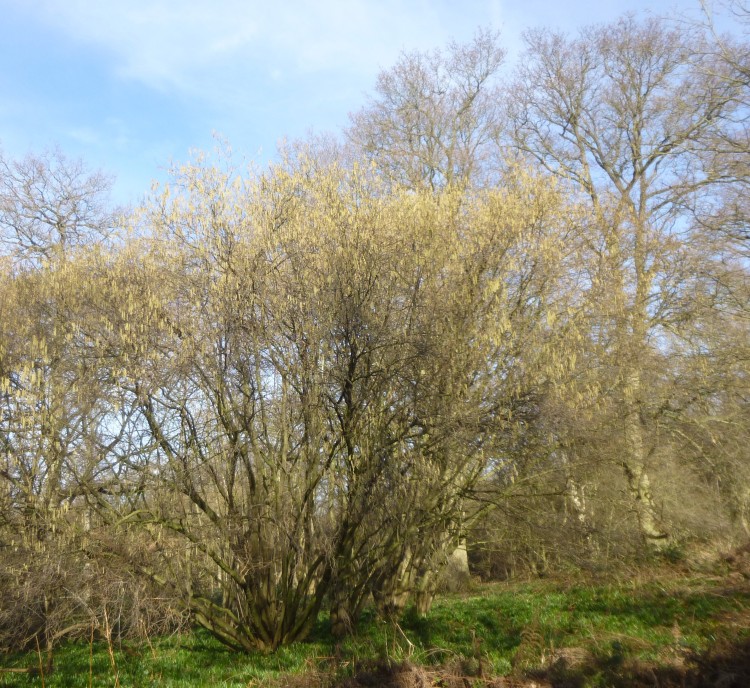 The blue tits were chasing each other through the lower branches, and there was a lot of bird song – robin, blackbird, great tit, jackdaw, crow, pheasant. Distant gun shot. Occasional light aircraft overhead. It was very peaceful and I didn't see a soul.
I made a detailed drawing of an old deeply fissured oak tree, and another drawing of a tree with pale bark lit by the sun, and the path winding through the bracken beyond – which I think will be the subject of my big painting for February. I also picked up oak and sweet chestnut leaves, and some heavily lichened small branches.
---
Today I started visiting the artists who will be exhibiting at this year's Lexden Arts Festival, and first up was Cathy Allen, who is a jeweller and lamp glass bead maker.
Cathy exhibited with us first in 2015, and I am looking forward to seeing what she will be exhibiting this year! She told me that she has invested in some new pieces of equipment, including a gas torch which heats to a much higher temperature. This means that she will be able to work using a different type of glass, which apparently is equivalent to Pyrex glass, but coloured, and with which all kinds of lovely effects can be achieved. Her exhibits this year will have a theme of spring violets and purples, and will incorporate lots of shiny glittery glass (rather than the matt effects she showed last year), as well as her trademark silver clasps, in necklaces, bracelets, and rings which are adjustable to fit most finger sizes. She showed me some lovely examples including a bracelet which had beautifully coloured barrel shapes sections all in shades of violet with a textured silver ring and bar fastening.
Cathy is very involved with the Suffolk Craft Society and Suffolk Open Studios, being on the committee of both and fulfilling various administrative roles within these groups. It made me realise how much work goes on behind the scenes to organise Open Studios and how lucky we are in the Colchester and Tendring area to have someone willing to undertake all of this.
To see examples of Cathy's work, and find out more about her, check out her website at www.paintboxcrafts.co.uk
---
A jaunt to Ely yesterday on the train, to meet up with my sister and her friend, Sandra. And on our walk up from the station to the Cathedral, look what we found!!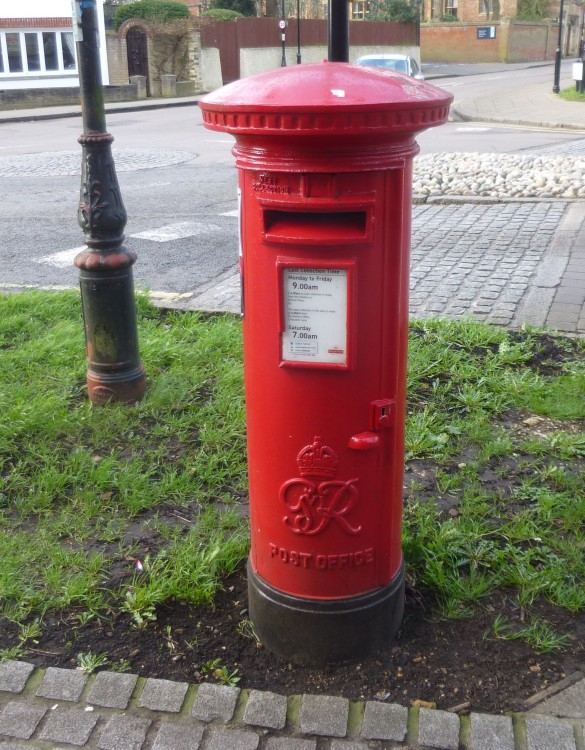 A fine George VI post box! As the weather has still not obliged me with snow this winter, so I am still unable to paint some lovely snow scenes for Christmas cards, I am planning instead to do another set of Historic Post Box Christmas cards, but this time widening the appeal by including boxes from all over East Anglia. I found a nice Edward VII one at Walton on the Naze a while ago, so now only three more to get!
We were actually in Ely to go to an exhibition at the Cathedral . . .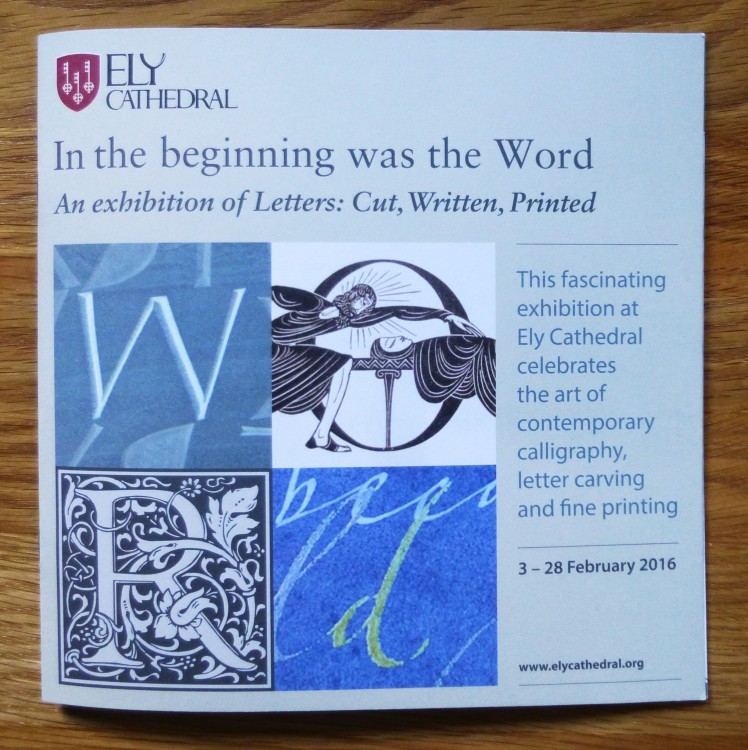 . . . which was held in the beautiful Lady Chapel – and what a wonderful lofty light space that is for holding an exhibition! There were some very interesting exhibits, although the quality I felt was very uneven. I liked several of Gaynor Goffe's pieces, and was interested to see that a Norfolk letter cutter in stone, Teucer Wilson,  had used quotations from Hugh Lupton's writing. It was lovely to see a copy of the Golden Cockerel press' 'Four Gospels', with illustrations by Eric Gill, and a facsimile of William Morris' Works of Geoffrey Chaucer. What I liked best, though, was the 1996 copy of T. S. Eliot's Four Quartets printed by the Rampant Lion Press who were based in Cambridge.
After lunch in the Refectory Café, we had a wander round the town before going back to the station. In the High Street we came across a lovely shop with the wonderful name of 'The Eel Catcher's Daughter'.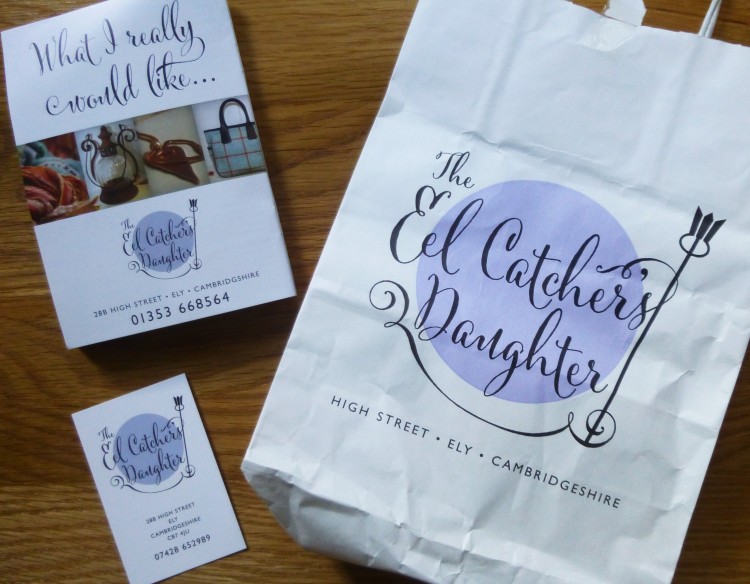 It was full of beautifully displayed accessories and small home décor pieces, and we really enjoyed looking around. After a long time looking through all the lovely scarves, I eventually bought this one – intriguingly it is half spotted and half tartan!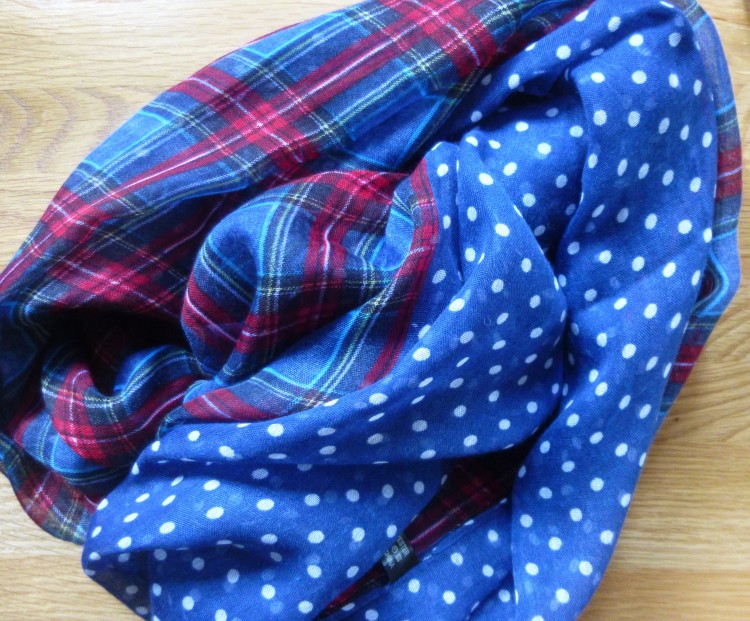 Then it was back along the river in the freezing gale to the station, and home.
The exhibition is on until the end of February, and both it and 'The Eel Catcher's Daughter' are worth a visit if you find yourself in the Ely area. 🙂
---
This afternoon Graham and I went to the Private View of the Sentinel Gallery's first show of 2016 – 'A Collection of 7 Artists'. It is just what it says – seven artists from Wivenhoe, all women, working in very different media.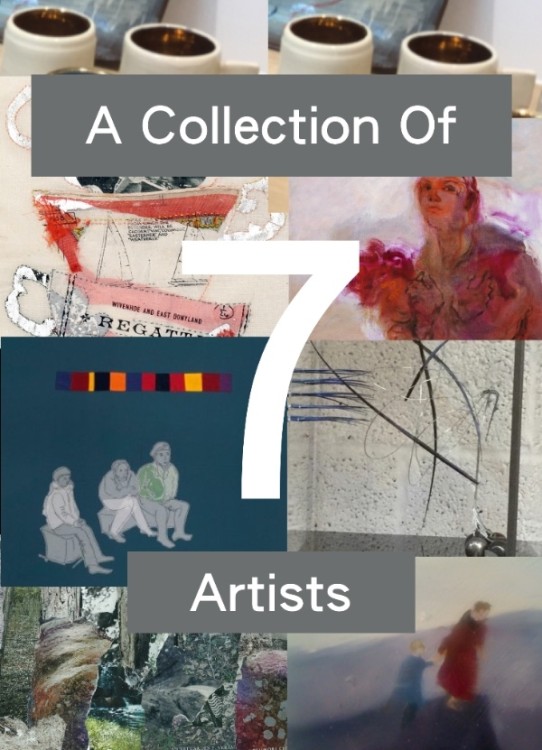 One of our previous Lexden Arts Festival exhibitors, Barbara Peirson is one of the seven, and I saw two red dots on her paintings already, so I'm sure she'll be pleased!
We both liked Catherine Dodds' ceramic pieces – in fact I bought one of her little ceramic boats decorated inside with two gold lustre fishes! She also had some beautiful swan mugs that were causing a lot of interest, and two sold while we were there. It was nice to have a chat with Catherine, who told me that the gold lustre glaze goes on as a brownish sticky gunk – and then when you open the kiln after firing, it has transformed itself into gold – although she said it smelt terrible in the process!
I also liked Olivia Browne's intriguing collage prints, which looked like mysterious landscapes and forests. I was curious to know how she does them, as they seem to have parts of photographs meshed into the images.
In the jewellery cabinet I loved Alison Dane's coloured necklaces – very adaptable as they could be worn long, or in several strands, and very reasonably priced, too.
Lots of lovely things – well worth a visit if you are in the Colchester area. The gallery is open tomorrow from 10am – 5.pm, and then from Wednesday. All the details are on their website www.the sentinelgallery.co.uk – and don't be put off by the road works on the way into Wivenhoe, the diversion is very easy to follow! 🙂
---
So, here it is! The first painting in the Essex Wood project, finished!
It is 2 foot square, and was difficult to photograph – I don't think the colours look very accurate on the screen, so I may have another go at photographing it when the light is a bit better, and give you an update then! But this gives a bit of an idea, anyway.
The end of another week! How has that happened? Hope you enjoy the weekend 🙂
---
I've been working hard this week on the first BIG painting for my Essex Wood project. Here is the progress so far!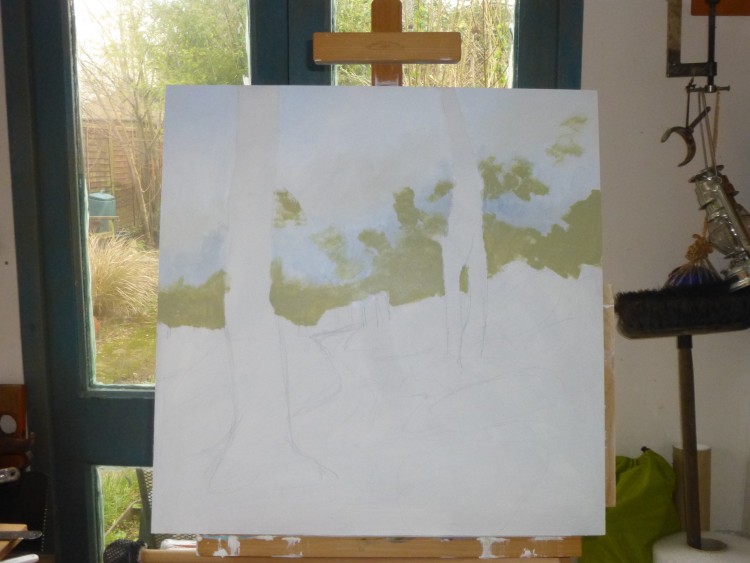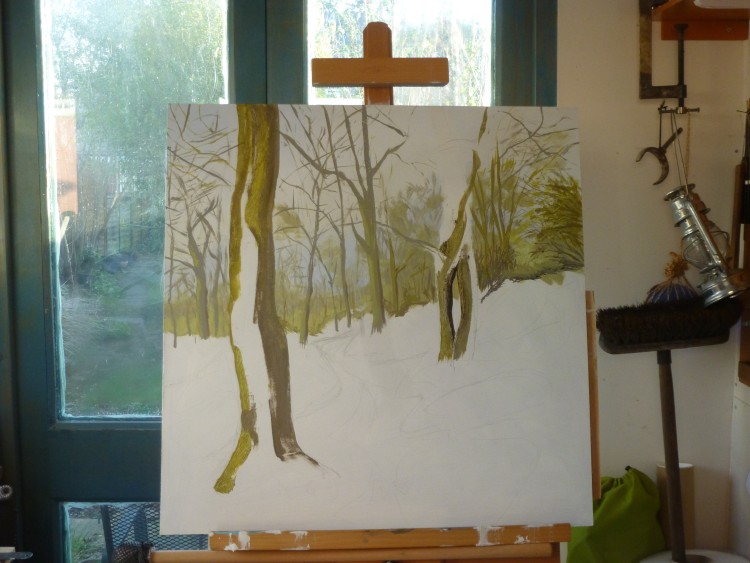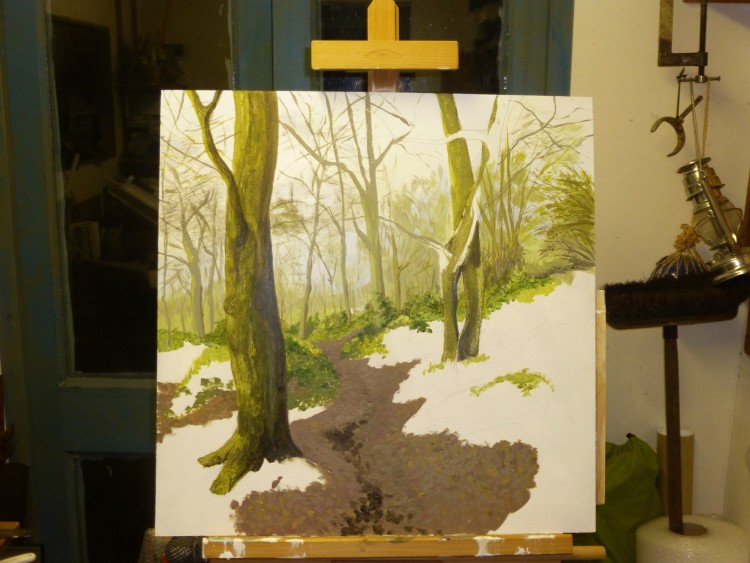 LOTS still to do, but it is beginning to take shape.
This week I've also been contacting all the lovely artists and makers who will be exhibiting at this year's Lexden Arts Festival, to make appointments to visit them. So looking forward to starting my visits next week – this my favourite part of preparing for the Festival. Talking to artists about their work, and seeing their studios is such a pleasure. I always say this, but I think this year's selection is particularly good and interesting, with some really stunning work. If you want to have a little preview, check out our Festival website at www.lexdenartsfestival.org.uk 🙂
---
Having recently updated the incumbents list for Woodham Walter's St Michael's Church, which included adding a 'Pudney' to the list – Revd Malcolm Pudney, now retired – I was invited to go down to the church this last Sunday for a service that Malcolm was coming back to take.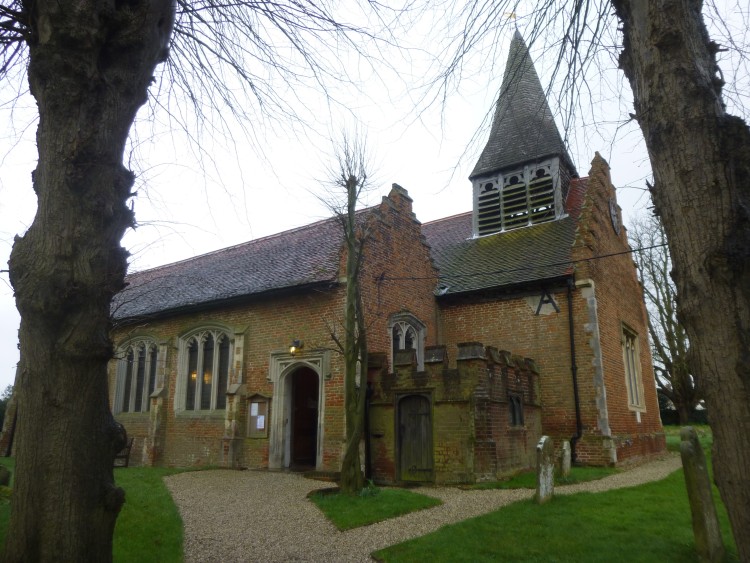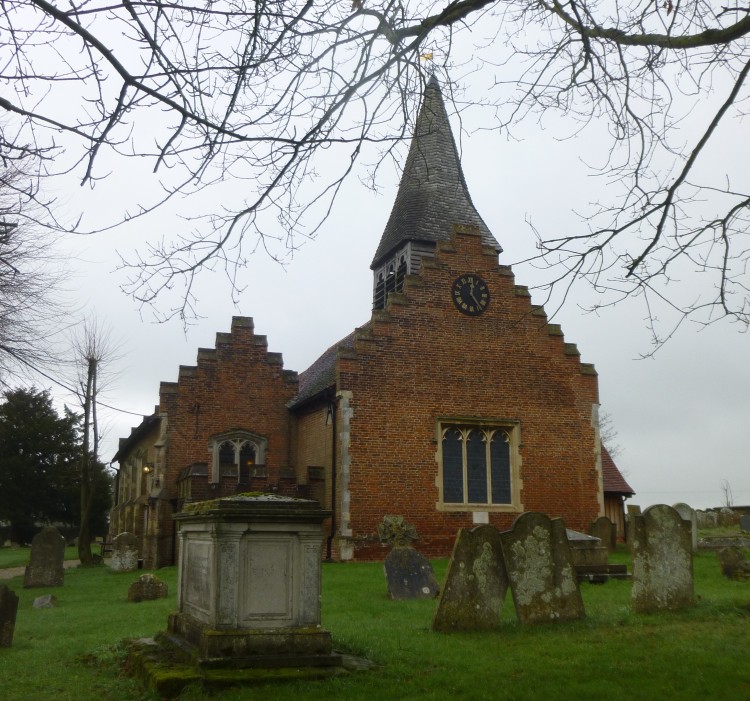 The church is a very pretty brick building with a spire, in open countryside, about ten minutes drive from Maldon. It is special as it is thought to be the first church built in the time of Queen Elizabeth I as a purpose-built Church of England church after the Reformation.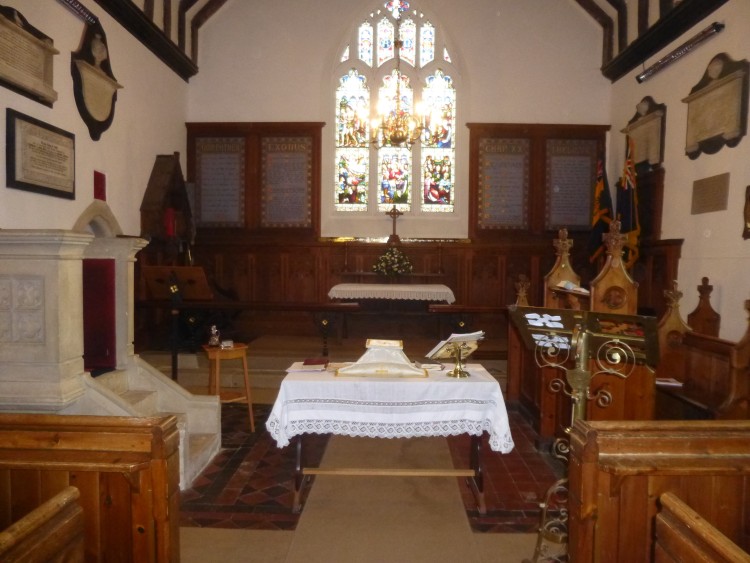 The congregation were so friendly and welcoming, and it was a lovely simple communion service. When I had a look around afterwards, over a cup of coffee, I was rather taken with the 1660 Charles II Royal coat of arms over the South door, complete with a lovely prancing lion and unicorn!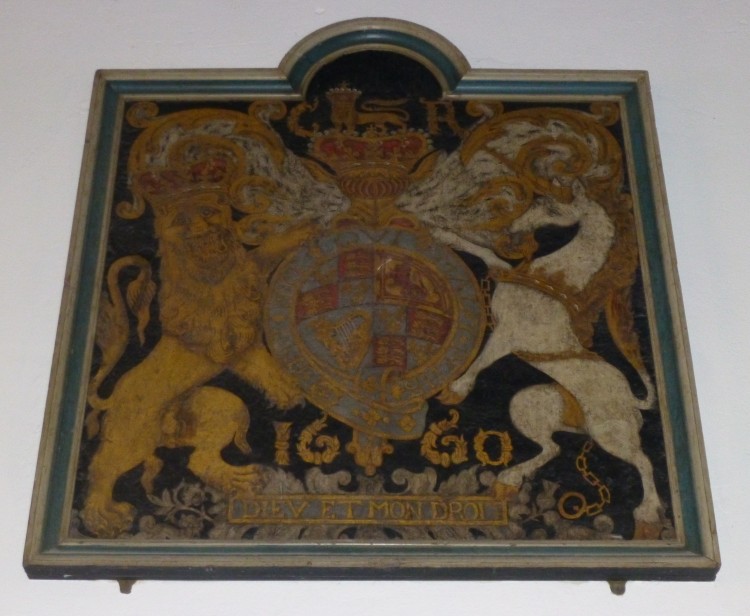 It was lovely to meet Malcolm and his wife, Linda, and I'm going to have a dig around on the Ancestry website to see if I can find how we are related. Pudney is such an unusual surname that there are only about 650 of us in the country, so family history is particularly easy to trace!
Back in the studio yesterday afternoon I made a start on 'Essex Wood: January', and today, after my violin lesson and some time pruning a huge rose bush, I did a bit more work on it. I'll probably share a progress photo tomorrow!
Hope your week is going well 🙂
---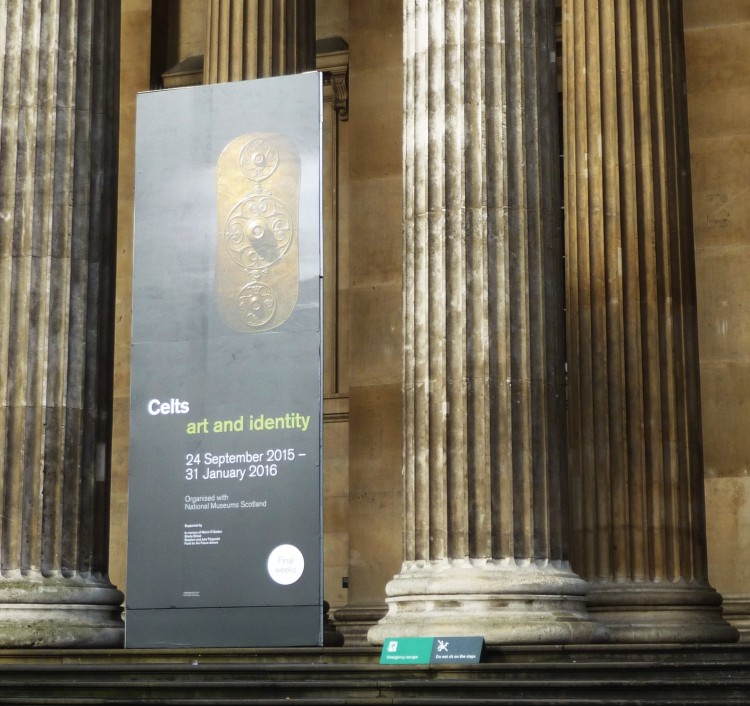 Graham and I went up to the British Museum on Saturday to catch the last but one day of 'Celts'. It was very crowded but fascinating.
My very favourite things were the Great Torque from the Snettisham Hoard – (perfectly beautiful gold work – the skill! And this was from about 150BC!!), a wonderful ring and pin brooch from Hunterston in North Ayrshire made from silver and gold and set with amber, dating from 650AD,  and the replicas of some huge standing stone crosses which were quite awe-inspiring, partly I think because they were 'outdoor scale' objects seen inside.
It was also good to see some paintings I've only seen in reproduction before, like 'Bringing in the Mistletoe' by George Henry and Edward Atkinson, and John Duncan's 'The Riders of the Sidhe'.
I certainly learned a lot!
And we wondered what the amazing glass roofed hall would be like with snow on the roof . . . 🙂